WHERE ARE THE BEST PLACES TO VISIT AS A COUPLE IN AFRICA? WHERE ARE THE BEST HONEYMOON PLACES IN AFRICA?
The African continent is made of giant savanna belts running east and west and another across the middle of the content. Within this giant tropical savanna of Africa, there are many unique adventures for couples to pursue.
Learn all about the African savannahs, their awe-inspiring beauty, and what makes them a perfect unforgettable getaway for any couple looking for adventure in African Savannahs. The savannahs canvas and its vast landscapes are teeming with wildlife and are known for captivating beauty.
"THE AFRICAN SAVANNAHS ARE AWE-INSPIRING"
One can plan thrilling safaris to exciting game reserves on sites like www.naturetrek.co.uk for the harmonious blend of love and excitement in the bush. Remember that November to February months is the hottest and driest, while the winter months of April through October are perfect for a holiday here.
Here is a teaser of what you can experience as a couple in the African Savannahs
Couples looking for exciting getaway ideas in the African Savannahs can go through the following selection of ideas to explore the untamed wilderness.
---
BEST THINGS TO DO AS A COUPLE IN THE AFRICAN SAVANNAHS
1. Meet the local tribes – the Masai people.
Visit the Bomas villages in the savanna to meet the tribe members of the Masai. Plan a full-day safari here to understand their tribble life and click pictures with them. You can even volunteer for community projects in the Masai villages, get a closer look at the cultural land cap, and get a glimpse of authentic nomadic life.
HIGHLIGHT: Exciting shows of tribble dancers, singers, and traditional musicians.
>> BOOK: DAY TOUR AT MASAI VILLAGE
---
2. Plan a night safari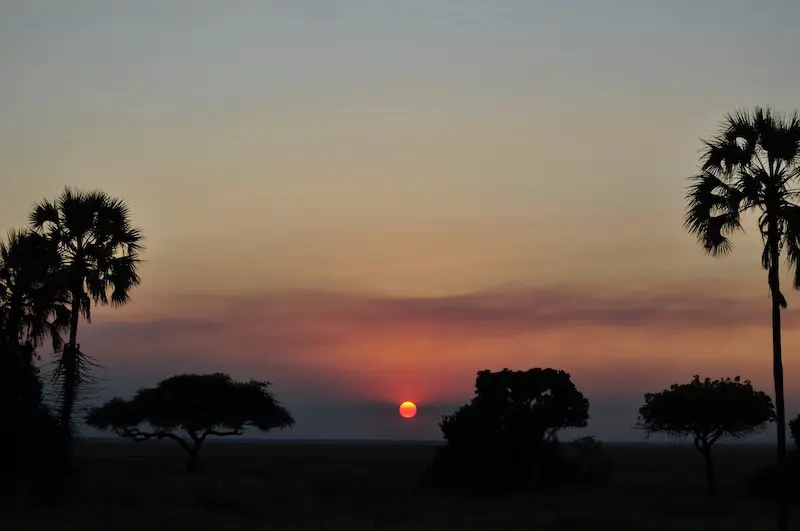 Nothing can compare to the thrill and excitement of a safari at night or just during sunset or just before dawn.
You can drive in a vehicle with an expert guide to enjoy the remarkable wildlife of the savanna, which is most active at these times of day. After a luxurious stay at your lodge or camp, you can enjoy the game drive to witness the elusive wildlife creatures in their natural habitat under a blanket of stars.
HIGHLIGHT: Spot wildlife species such as elephants, warthogs, lions, antelopes, baboons
---
3. Try rafting
Uganda would be perfect for thrill-seeking couples who want to make their vacations in the African savanna truly memorable.
Whitewater rafting will take you right in the middle of the river, which is graded 4 and 5. Get ready for the most exciting and fun rafting experiences in Africa.
HIGHLIGHT: Enjoy spotting the incredible bird life as you plunge through rapids.
---
4. Romance in a hot-air balloon
Riding on a hot air balloon is an amazing experience!
As you ascend slowly, one finds the vast and breathtaking panorama of the savannah unfolding below.
Get a bird eye view of the sweeping plains teeming with wildlife and share the serene experience of watching the sunset with your loved one. A hot air balloon ride is a dream for most couples, and the thrill and beauty of African wildlife only make it more romantic.
HIGHLIGHT: Enjoy a champagne breakfast as you look at the splendid scenery of the vast plains and grasses below.
---
5. Take bush walks
It may look scary, but walking through the savannahs is the best way to experience them.
Just leave the beaten paths behind and explore the unknown under the guidance of an expert and experienced guide. Explore the savannah on foot to get close to the ecosystem, feel the earth beneath your feet, and listen closely to the sounds of the jungle. You will love this hands-on experience that is sure to deepen your love for each other as well as nature and wildlife.
HIGHLIGHT: The bush's walks are all about seeing without being seen or impacting the encountered wildlife.
---
6. Stay in luxury camps and lodges
Another romantic idea for couples is to plan a special experience and share tranquil moments amidst the savannah's beauty.
They can stay in comfortable luxury lodges to create lasting memories and enjoy the unique blend of complete comfort and authenticity in total wilderness. You can have all the amenities you need in your camps or luxurious rooms as you enjoy the spectacular views of nature around you.
HIGHLIGHT: Wake up to glorious sunrise views or watch golden sunsets in the desert
---
7. Bushmen tour of the Kalahari Desert
The sands of the Kalahari Desert, which is a major part of the savanna, span across Botswana, Namibia, and South Africa.
Compared to other regions, there is little plant life here, but the desert boasts of the famous Bushmen village. Eat, dine, and sing with the local community and get the chance to see the most treasured wildlife. As tourism is an important source of revenue for the Bushmen community, support them in every way.
HIGHLIGHT: Try to spot Kalahari birds of prey, such as falcons, goshawks, kestrels, eagles, and owls.
---
8. Renew your vows
Many couples believe in the renewal of marriage vows, and nothing could be more unique and exciting than to plan the vows ceremony in the African savannah.
You can search for lodges and camps that can arrange for an intimate experience and allow you to prove your love and commitment to each other. There is no need to worry about any formal paperwork as it is not a legal ceremony but simply an exchange of personal vows.
HIGHLIGHT: Celebrate your love surrounded by nature and make the most of a special safari with extra special settings.
---
9. Plan photographic safaris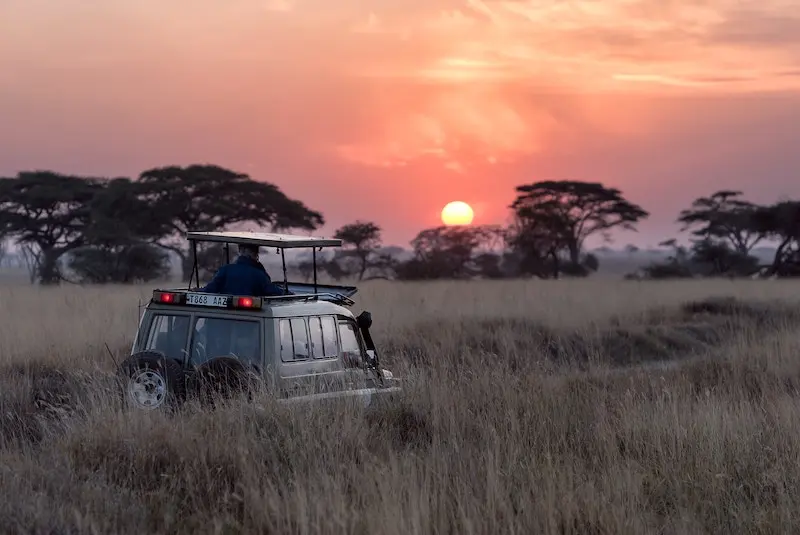 If you are crazy about photographing wildlife, the savannah landscapes would be a treat for you as a couple. Carry a camera that works well even in low light, as the forest can be thick and dark even during daytime.
A photographic safari is a dream come true for all those couples with a passion for photography. This is your chance to exercise your hobby and hone your skills as you capture some stunning images of wildlife in the savannah and the landscapes.
Whether one is a seasoned photographer or a budding one, the savannah landscapes and its wildlife will keep them motivated. As you drive in an exceptionally relaxed vehicle, you can enjoy unique sightings and photographic opportunities.
HIGHLIGHT: Photograph Mountain gorillas, rhinos, wild buffaloes, elephants, and, if you get lucky, lions and cheetahs!
---
IN CONCLUSION ABOUT THE BEST THINGS TO DO AS A COUPLE IN AFRICA
As you can see, there are immense opportunities for couples in the vast African savannahs to plan a special getaway that is both captivating and unforgettable.
Pick from the above-listed ideas for some captivating and unforgettable moments. Discover the myriad of opportunity that exists here in the savannahs and create some cherished memories of a lifetime.
---
RELATED POSTS