COLORADO IN WINTER
As the days grow shorter and the darkness draws in the early evenings, many of us find ourselves getting into the festive spirit. It's a wonderful season – filled with hot drinks, cozy blankets, and winter magic.
If you're looking for the perfect winter escape, Colorado should be at the top of your list. Of the many US states to choose from, Colorado stands out not only in the winter but year-round.
With its classical holiday charm, the state offers everything you could want during the winter season. From Christmas markets to snowcapped mountains, you're sure to find yourself in a winter wonderland if you pay a visit to Colorado during the festive season. Keep reading to discover more about the Centennial State and what it has to offer.
---
BEST REASONS TO VISIT COLORADO IN WINTER
1. Christmas markets
Since Colorado is such a popular destination in the winter months, you can expect to find Christmas markets popping up just about everywhere. The markets are truly magical, offering tasty, hearty food accompanied by plenty of mulled wine to keep you warm as you sit back and admire the scenery.
Once you've had your fill, you can wander through the many stalls from local shops. From handmade knickknacks to beautiful festive decorations, Colorado's Christmas markets are the perfect place to do some last-minute holiday shopping. The Denver Christkindl Market is a particular favorite among locals, offering a wide variety of treats and vendors in a German-style venue. This winter wonderland is open from November through to the end of December, so time your trip well and you'll be able to enjoy Colorado's answer to a traditional Bavarian Christmas.
---
2. Snow sports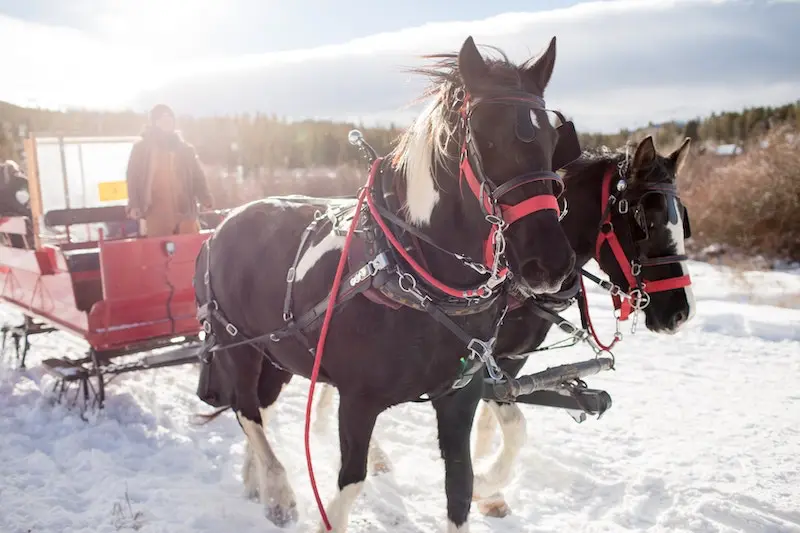 If you're looking to sprinkle some adventure into your winter escape, Colorado is home to some of the world's best ski resorts. With breathtaking slopes and incredibly diverse terrain, it's perfect for anyone looking to try their hand at skiing, snowboarding, snowshoeing, and everything in between. Or if you're an experienced skier, consider embarking on the trek up to the Highland Bowl for a truly exhilarating experience.
If ice skating is more your style, you can find an abundance of rinks to choose from. Colorado is home to some incredible mountain-side rinks with breathtaking views, alongside some more urban rinks in the center of its shopping districts, surrounded by Christmas lights.
Or if you'd prefer to sit back and relax, you could even embark on a horse-drawn sleigh ride, one of Colorado's famous tropes. The sleigh rides are more than just a circular lap in this state – they often include local wine tastings, warm blankets, and delicious food.
---
3. Sunshine during winter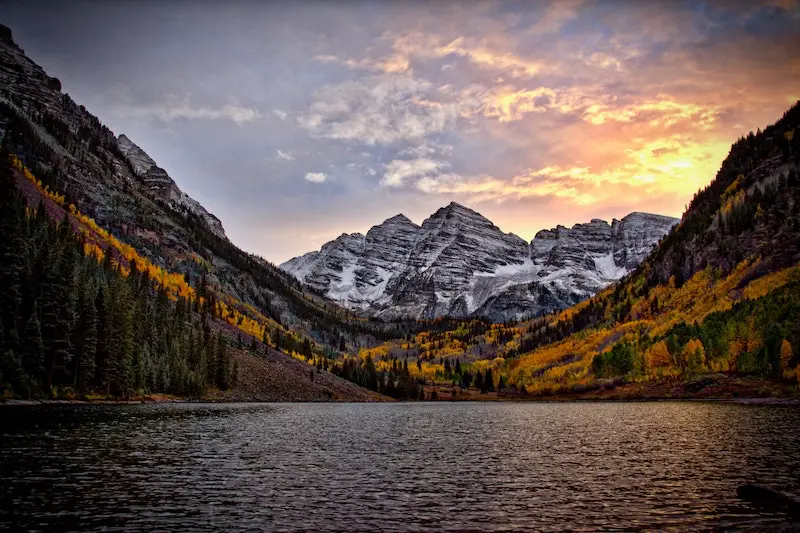 Colorado is one of the few states that still gets a lot of sunshine even during the winter months. Despite its frosty reputation, the state sees an incredible 300 days of annual sunshine, which is more than the likes of Miami or San Diego. This means that you can experience all the joys of snowfall and natural beauty without being uncomfortably cold.
The average temperature will vary depending on which corner of the state you choose to visit, but you can expect them to remain fairly mild across the board. Combined with the clear blue skies and rays of sunshine, they all come together to create the ultimate winter paradise with the perfect backdrop for your seasonal festivities.
---
4. Snowcapped mountains
Despite the frequent sunshine, you can still find plenty of beautiful snow-capped mountains across Colorado. They've become somewhat iconic for the state, as it's also home to some of the famous Rocky Mountains, including the range's peak of Mount Elbert. When these dramatic mountains get draped in snow during the colder months, they are a stunning sight to behold.
Whether you choose to climb one of the many mountains yourself or simply admire their beauty from the flat ground, these giant peaks are sure to leave you awestruck. They also set the perfect backdrop for your winter adventure, representing an escape from the business of daily life and refocusing our minds on nature's tranquillity.
---
Final Thoughts – Colorado in Winter
Colorado offers everything you need to enjoy the holiday season to the maximum.
Whether you're looking for some festive holiday celebrations, adrenaline-fuelled activities or peaceful mountainside adventures, Colorado has it all. Couples, families and even solo travelers can be easily catered to, and whatever the holidays mean to you, you can celebrate them in your own way.
If you choose to plan your next winter vacation here, you're sure to have a wonderful experience and create treasured memories to last a lifetime.
---
Related Posts
HIGHWAY 1 IN CALIFORNIA – 10 BEST THINGS TO SEE [FULL GUIDE]
THE BEST SPOTS TO SURF IN CALIFORNIA