WHAT TO DO IN NEW YORK CITY? FUN THINGS TO DO IN NEW YORK CITY? GUIDE FOR A VISIT TO NEW YORK CITY
If there is one city in the world that lives up to its reputation, it is undoubtedly New York.
The City That Never Sleeps really doesn't close its eyes. Its energetic and vibrant atmosphere makes it an extraordinary place to visit for a breathtaking adventure where it is possible to go from museum to gallery to restaurant to club for a non-stop getaway of pure excitement.
Whatever your taste in vacation enjoyment, New York can provide. Love fine dining? NYC has some of the finest restaurants in the world. Looking for culture and history? The city is full of museums and galleries to blow your socks off. Need an iconic view? There are viewing platforms galore, perched high above the city streets, offering a different perspective on the Big Apple.
So whether you are in town for a NYC vacation or just looking to fill a stretch of time before you set sail on a short cruise from New York to Bermuda, here are some of the best things you can do to guarantee a week of non-stop fun in New York City.
---
FUN ACTIVITIES IN NEW YORK CITY
Iconic Manhattan
Manhattan is the heart of New York, its iconic skyline, and where most of the magic happens. If you are after the most famous sights and attractions, the quintessential New York experience, then the bright lights and electric atmosphere of Manhattan are the perfect way to get started.
You could spend an entire week in Manhattan alone without breaking too much of a sweat, so it is important to plan your visit carefully and choose exactly what highlights you want to see. Take a stroll down Wall Street and see the famous New York Stock Exchange, before heading up to Central Park for an oasis of greenery amidst the urban landscape. Take in the Flatiron Building and Times Square on the way, and don't miss the chance to get a different view of the city from the top of the Empire State Building or Top of the Rock!
Manhattan is also where some of the best food in New York can be found, so don't miss the chance to treat your tastebuds. Try brisket or pastrami at Katz's Deli, a steak at Peter Luger, or a slice at Famous Ray's. For a touch of elegance and grandeur, head to Central Station and dine amidst historic decor and design at the Grand Central Oyster Bar & Restaurant.
Visiting Manhattan is guaranteed non-stop fun in New York City!
---
Museums and Art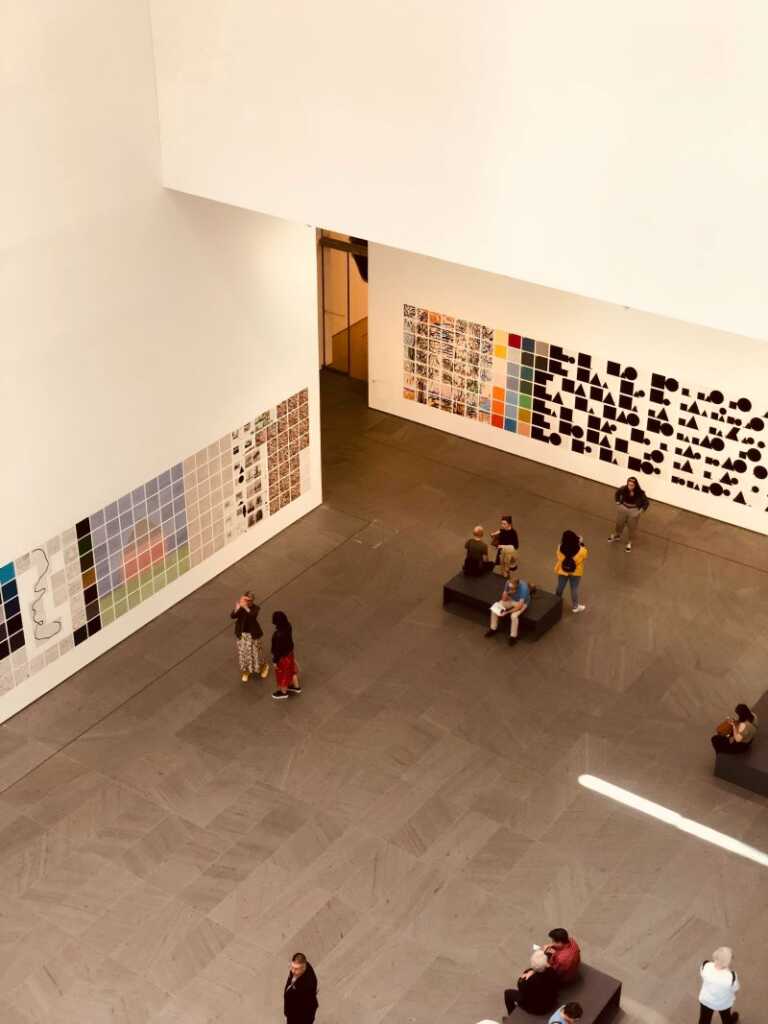 New York is one of the world's great cultural capitals and has more amazing museums and galleries than you could possibly visit in just one trip. In fact, you could probably fill an entire week with nothing but art and culture, if you chose to do so! The unmissable highlights of the New York culture scene are undoubtedly the Metropolitan Museum of Art (the Met), the Museum of Modern Art (MoMA), and the Smithsonian, and you could quite easily devote a whole afternoon (or even a whole day!) to each one.
However, there are plenty of other cultural options to sink your teeth into as well! The American Museum of Natural History on the Upper West Side is a glorious institution, and great fun for kids thanks to its taxidermied animals, creepy crawly exhibits, and recreations of enormous dinosaurs. The Guggenheim is another world-famous art gallery, with work from some of the greatest artists who ever lived. Finally, the 9/11 Memorial & Museum is a harrowing and incredibly moving monument to those who lost their lives in the terror attacks in September 2001.
---
Trendy Brooklyn
Brooklyn is the home of New York's most cutting-edge, alternative fashions and trends, and probably led the way for the concept of hipsterism around the world. From DUMBO (Down Under the Manhattan Bridge Overpass) to the Brooklyn Brewery, there's an awful lot to see, and if you like post-industrial chic, beards, third-wave coffee shops in abandoned laundrettes, and craft beer, then this is the place for you. But Brooklyn isn't just about being ironic, louche, and achingly cool. It offers glorious views of the rest of New York from Brooklyn Heights Promenade, and the Brooklyn Botanic Garden is one of the most picturesque green spaces in the city. A borough of contrasts indeed!
---
Iconic Sights
There are a few must-see attractions in New York that demand attention. Chief among these is the Statue of Liberty. You can take a tour to Liberty Island to see the statue up close and explore the museum and historic immigration station on Ellis Island. You can also get a grandstand view of the statue for free on the Staten Island Ferry, with the bonus feature of being able to explore Staten Island itself afterward!
---
Food, Glorious Food
New York City is a culinary paradise, and no visit would be complete without a comprehensive sampling of the best cuisines that the city has to offer. From a slice of classic, New York-style pizza to fine dining at one of the Michelin-starred restaurants on the Upper West Side, New York offers something for every variety of foodie to try.
New York's best restaurants are ever-changing, with new players arriving on the scene every day, and cultural institutions adapting to shifting palates and tastes. Some of the best and most long-running restaurants include The Odeon in Tribeca, Bamonte's in Williamsburg, and the Nom Wah Tea Parlor. Chinatown is full of hidden gems and incredible flavors, while the double whammy of Lombardi's and Rao's will satisfy anyone with a taste for Italian.
New York City's dynamic blend of culture, history, and entertainment guarantees a week of non-stop excitement, whether you're exploring iconic landmarks or chowing down on diverse cuisine. With so much to see in this exciting city, it is vital to plan your adventure carefully, pick out the attractions and sights you just have to see, and give yourself enough time to enjoy yourself. Whatever you end up doing, a NYC adventure offers an unforgettable experience for every traveler. 
---
Related Articles
TOP REASONS TO MOVE TO ST KITTS AND NEVIS
TOURING THE ICONIC LANDMARKS OF DALLAS
A USEFUL GUIDE FOR THE ROMANTIC: 10 DREAMY DATE IDEAS FOR COUPLES IN CALIFORNIA
A FAMILY-FRIENDLY WEEKEND IN DC: THE ZOO, MUSEUMS, AND MORE