What to do in Monterey?
Monterey is a city full of history with lots of charms and exciting things to do. Located in California in the Monterey Bay, it is just a 2 hour drive from San Francisco and is a very pleasant stop on the Highway 1.
Let's start with a bit of history…
Native Americans were the first to inhabit the area, attracted by the region's abundance of natural resources and mild temperatures.
The site was first seen by Europeans in 1542, when the Portuguese navigator Juan Rodríguez Cabrillo entered the bay he called La Bahia de los Pinos (bay of pines). But it was not until 1602 that the Spanish explorer Sebastián Vizcaíno disembarked with his crew and renamed this place Monte Rey Bay, in homage to the count who ordered this expedition.
In 1770, a mission and a military post, the Presidio, were established by Gaspar de Portolà and the Franciscan father Junípero Serra.The presidio still exists today and can be visited.
Monterey, capital of an era
In 1776, Spain named Monterrey the capital of Upper and Baja California. City soldiers and their wives occupied the Presidio.
In 1822 Mexico gained independence from Spain and Monterey became the Mexican capital. California then promises loyalty to the Mexican government.
The booming commercial city attracts large numbers of Americans, known as Yankee. Many of these new arrivals married locals and became Mexican.
Change of Flag
In 1846, Commodore John Drake Sloat's ship arrived in Monterey Bay and his troops hoisted the American flag. The occupation continued until the Treaty of Guadalupe Hidalgo was signed in 1848. Upper California is now part of the United States. It includes present-day California, Utah, Nevada, as well as parts of Arizona, Colorado, New Mexico, and Wyoming.
In 1850, the United States Congress declared California the thirty-first state of the Union.
During the following decade, the city lost its political influence, but became an important center for the fishing industry.
Tourism
In the 1980s, the local fishing industry disappeared and leaders turned to tourism to revive the local economy.
Today, this is the main industry in Monterey. The resort has an excellent reputation for protecting the environment, which is helping to attract even more visitors.
Interesting fact: Monterey is where the American series Big Little Lies, the famous HBO drama, took place. The city is also the backdrop to several novels by the famous writer John Steinbeck.
So what to do in Monterey? Here is our take on the best things to see:
---
1. 17-Mile Drive
This 17 Mile scenic route runs along the Pacific Ocean and crosses the Del monte forest. Each year it welcomes millions of tourists who travel by car, bicycle or on foot. Along the way, in addition to the breathtaking scenery, you will come across a solitary cypress over 200 years old, and wonderful places to stop such as Spanish Bay or Fanshell Overlook.
Not to mention the famous golf courses of the Pebble Beach Resort and the many restaurants that line this route. Note that the entry is not free, you'll need to pay $ 10.25 to enter by car.
17mile drive links Monterey to Carmel-by-the-Sea. You can check out our full post about Carmel-by-the-Sea here for more information.
---
2. Monterey Bay Aquarium
The Monterey Bay Aquarium is one of the largest aquariums in North America and a major attraction in Monterey. In addition to its pool measuring more than 8 m high, it brings together different themes, numerous exhibitions, and offers a particularly fun visit that will delight visitors of all ages.
---
3. Monterey Historic State Park
Here you can see many historic buildings. It offers the opportunity to travel into the city's past by following the footsteps of important figures who have set foot on its cobblestones (Monterey Walking Path of History). Note that some buildings require the presence of a guide to be visited.
---
4. Whale Watching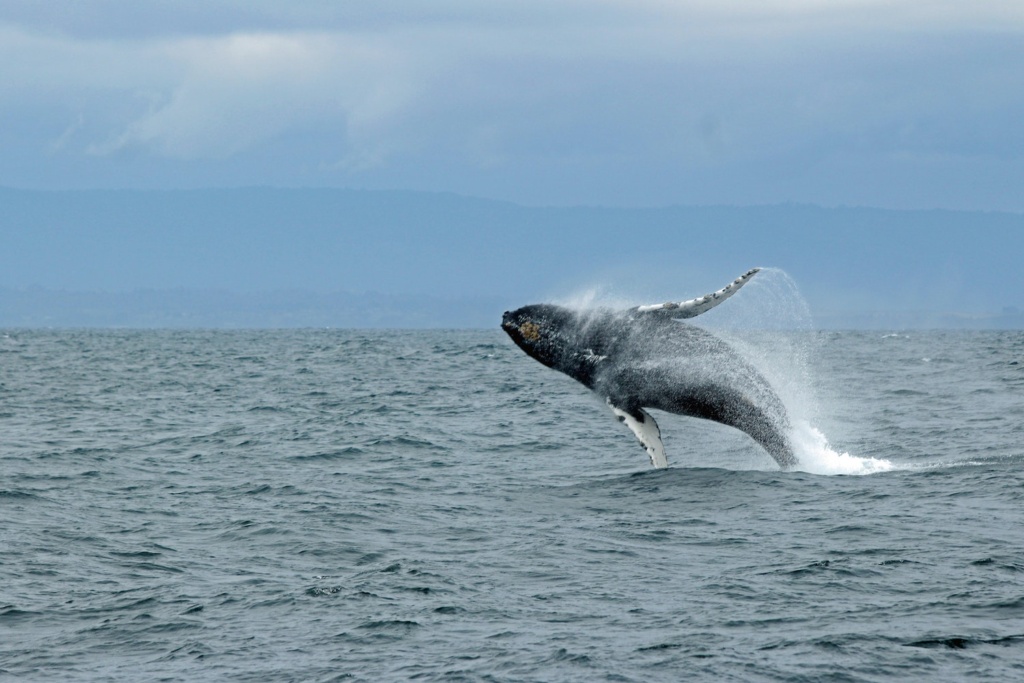 Whale watching was one the highlight of our trip to California.
The city is the ideal starting point for a sea excursion, the highlight of which will be the sight of different species of whales. You may even see Whales far away from the shore (if you are lucky).
For that, we decided to choose the company called Monterey Bay Whale Watch (website) . It was a fantastic trip, where we saw Humpback Whales. It is preferable to book in advance. You can do so directly here.
---
5. Kayaking at Monterey Bay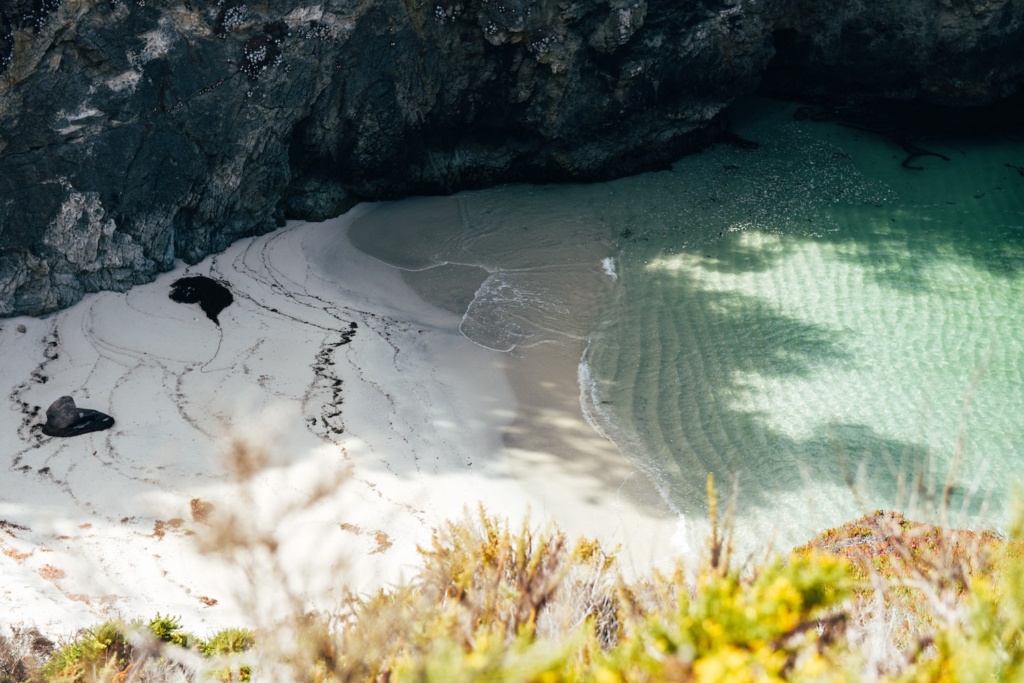 Combining sport and wildlife observation is the perfect combo! A kayak trip is a great way to admire the city and the coasts from the open sea, but also to observe many animals such as sea otters, sea lions, seals, pelicans, etc.
You can book your trip directly here. Also suitable for beginners.
---
6. Monterey Bay Coastal Recreation Trail
This trail runs along the Monterey Bay coast and stretches for approximately 29 km from Castroville to Pacific Grove. It will take you to several of the city's attractions (Fisherman's Wharf, Cannery Row and the Aquarium), as well as beaches and parks. You can choose to walk, rent bikes or roller skates.
---
7. Fisherman's Wharf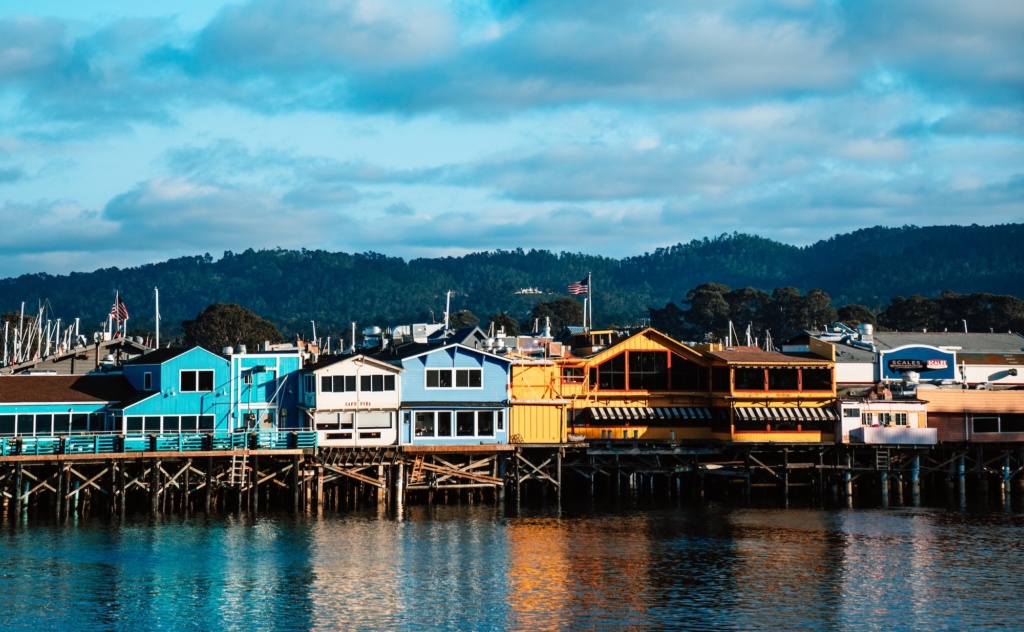 Take your time to stroll on Fisherman's Wharf, a small place, a bit more touristy, but still charming and worth a visit. There are many shops, cafes, restaurants. This is also where the boats start their whale watching tour.
In terms of restaurant we recommend either in the Old Fisherman's Grotto or Grotto Fish Market
Make sure to taste the traditional dish of Monterey: the Clam Chowder. It is a kind of clam soup that can be served in a round loaf or in a bowl. It tastes delicious, so we highly recommend you to try. With a fresh beer to go with it, it makes it a very good meal, and very local!
---
Where to Sleep?
Monterey Plaza Hotel & Spa – Full on Monterey experience
If you want a stunning view on the Monterey Bay, then Monterey Plaza Hotel & Spa has the best view in Monterey! The hotel has a private beach, spa, cafe, restaurant and of course beautiful rooms. It is also conveniently located, just 10 min walk from the Aquarium. Find out more here.
Seven Grables Inn – Our favorite
Seven Grables Inn, is our favorite hotel in Monterey. This oceanfront inn, offers a majestic view of the Ocean, beautiful rooms, and personalized services. If they are not full yet, do hesitate and book right away here.
---
Local tips
Things to know:
The MST Trolley allows you to move around Monterey for free. It serves downtown, Fisherman's Wharf, Cannery Row and the aquarium.
Golf players can take advantage of some superb oceanfront courses, ranked among the best in California.
The Monterey Jazz Festival takes place every year in September and has seen famous musicians. A "must see" if you are there during this period! (

more info here

)
Access
By Plane: Monterey Regional Airport offers flights to and from Monterey, with daily flights to Los Angeles, San Francisco, Salt Lake City, Phoenix, Denver, San Diego and Las Vegas. Compare the flights here to get the best deals.
By car: Monterey is located on Pacific Coast Highway 1 which stretches along the west coast, 187 km south of San Francisco and descends towards Los Angeles.
Visiting
Two days and one night on site will allow you to enjoy the city but also its aquarium which, by itself, already takes a good part of the day to visit. You can combine Monterey and Carmel-by-the-Sea within 2-3 days.
The best time to visit Monterey is between June and September with pleasant temperatures.
---
Links to related articles
CALIFORNIA: best things to see: here
HIGHWAY1: best stops: here
CARMEL-BY-THE-SEA: a charming city in California: here
POINT LOBOS: richest underwater reserve in the US: here
LOS ANGELES: Full guide for visiting LA: here
SAN DIEGO: What to do this beautiful city: here
SANTA BARBARA: Discover our favorite town in the US: here
ROMANTIC DATES IN CALIFORNIA: 10 Best Date Ideas: here