Point Lobos State Natural Reserve is a beautiful, wild and preserved area in California, in the northern part of Big Sur on the Pacific coast, along Highway 1.
Point Lobos is without a doubt the most beautiful place to admire the California coast! It is home to the largest underwater reserve in the United States, and also one of the richest. You can admire sea lions, seals, otters, thousands of birds and even whales depending on the season.
With multiple trails along the shore, Point Lobos State Natural Reserve is a relaxing place to visit and easily accessible. If you Visit California and drive on the Highway 1, it is a must see. We wrote a full post about the Highway 1 here if you want to know more about the best stops along the way.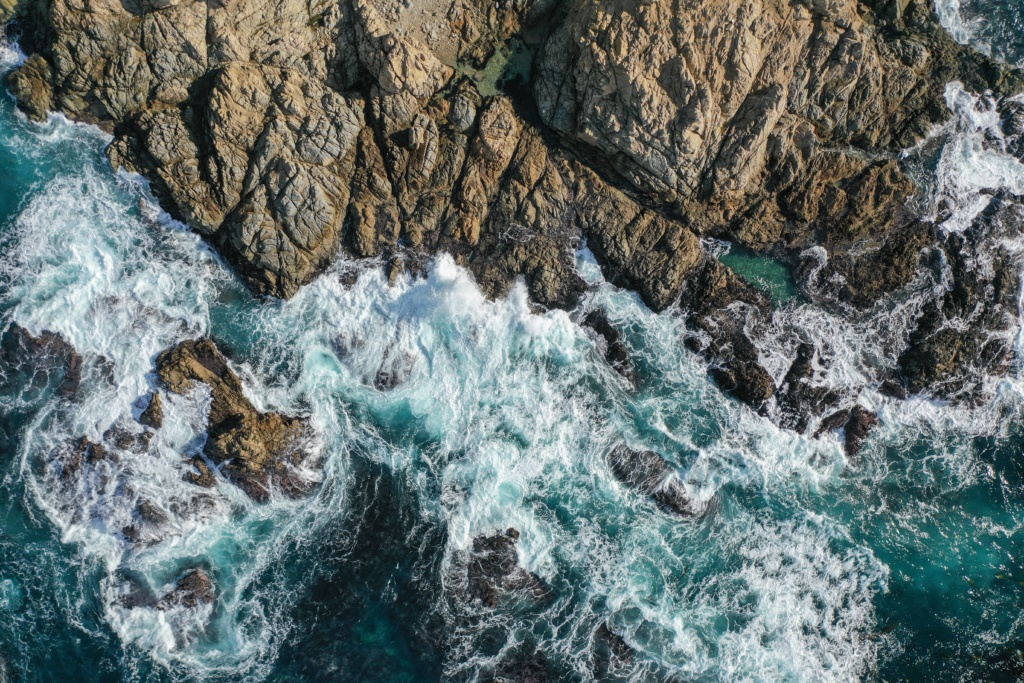 Let's start with a bit of history…
Big Sur has long been populated by three Native American tribes, the Esselen, Salinan and Ohlone, who had adopted a nomadic lifestyle. Point Lobos history actually dates back 2500 years when Rumsien Indians, a group belonging to the Ohlone, started to live there seasonally.
The Spanish went there in the 16th century and the colonization of the region began in Monterey in 1770. Then, since 1851, groups of Chinese, Portuguese, Japanese, and Americans inhabited these lands. Their commercial activities consisted of whales fishing, granite quarrying and abolone harvesting. You can discover more about at Whalers Cove, one of the main attraction of Point Lobos Natural State Reserve.
The marine reserve was designated an ecological reserve in 1973, and in 1992 became part of the Monterey Bay National Marine Sanctuary, the nation's largest marine sanctuary.
Like all of Big Sur, Point Lobos State Natural Reserve is still preserved, and offers miles of jagged coastline, scenic coves, and sandy beaches. The jewel of the Pacific coast is an ideal place to relax, far away from the hustle and bustle of San Francisco and other major cities in California.
So what to see in Point Lobos. Here is a full guide:
First of all, when you enter Point Lobos with you car, there are multiple parkings spaces scattered in the reserve. We recommend the Bird Island Trail car park. It offers panoramic views between nature and the ocean and provides access to the main points of interest.
---
1. Whalers Cove
Whalers Cove, a diving cove with a pretty beach, north of the reserve. You can also admire the Whalers Cabin, built in 1850 to provide shelter for Japanese and Chinese fishermen who came to hunt whales. Today it acts as a museum, dedicated to Point Lobos and its history.
---
2. China Cove
China Cove is another small cove, on the south this time, less crowded and really wild. Its crystal clear waters are ideal for kayaking, snorkeling, diving … The rocks that surround the beach form arches under which you can sneak in while swimming.
---
3. Weston Beach
The nature reserve shelters eight beaches, but this one does not have fine sand: when the tide is low, you can however admire the tide pools, these small pools of stagnant water which form in the rock cavities. Certain plants, animals and micro-organisms then become easily visible.
---
4. Bird Island
Thousands of birds (pelicans, cormorants, herons, gulls …) gather on this islet which faces China Cove, offering a rather spectacular view.
---
5. Whale watching
Position yourself along the coast to admire gray whales during their migration period, from December to April. Be aware that the flora and fauna are very rich here, it is for this reason that the reserve is protected.
---
6. Hiking
Hiking is the most popular activity on the reserve. There is a trail for everyone: the South Shore Trail (2.5 miles) to follow the ocean, Sea Lion Point Trail (0.7 miles) to meet marine animals, especially sea lions or South Plateau Trail (1.6 miles) in the heart of the wilderness reserve… There are many trails, and most of them are connected to each other. Note that bikes are prohibited on hiking trails.
---
Where to stay?
It is not possible to camp at Point Lobos State Natural Reserve, but many hotels and motels can be found in the immediate vicinity of the park, particularly in the town of Carmel-by-the-Sea or Monterey.
Here are a few recommendations:
Seven Grables Inn in Monterey
Seven Grables Inn, is our favorite hotel in Monterey. This oceanfront inn, offers a majestic view of the Ocean, beautiful rooms, and personalized services. If they are not full yet, do hesitate and book right away here.
Carmel Country Inn
Enchanting and peaceful surroundings, personal care, royal breakfast: the Carmel Country Inn is a real gem, especially for a romantic night. From the large bedroom to the studio, each space benefits from a fireplace and a luxurious bathroom, some with jacuzzi. Find out more
READ: A USEFUL GUIDE FOR THE ROMANTIC: 10 DREAMY DATE IDEAS FOR COUPLES IN CALIFORNIA
---
Local tips
Things to know:
Parking within the reserve is limited to 150 cars. Try to arrive early, before 9:30 a.m. in summer, so you don't have to park outside.We arrived around 10:30 and the parking was already full. We had to park along the road before the entrance. It is not that far, but if you want to save times, it is obviously much better to park inside the park.
Guided hikes, led by volunteers, are offered free of charge and are available almost every day. Ask at the kiosk at the entrance.
Access
Point Lobos is located in Monterey County. The north entrance is three miles south of the town of Carmel-by-the-Sea on Highway 1.
Visiting
1 day is sufficient to visit Point Lobos. If you have a tighter schedule, then half day is also fine. Just select the best sights and fewer trails.
Schedule and entrance fee
The nature reserve is open every day from 8 a.m. to 7 p.m., last entry at 5.30 p.m. In winter, closing 30 minutes before sunset. It can be closed during thunderstorms.
The entrance fee is $ 10.00 per car. Free entry if you are on foot.
When to go?
Summer is the season when the reserve attracts most people, so it is best to wait until September and October to get there, when the temperatures are high and the sky is clear. The months of April and May are also very pleasant and are the period of birth of baby seals.
---
Links to related articles