Flying with a private jet to Singapore involves several steps, including planning, booking, and ensuring compliance with aviation regulations. Here's a general outline of how to arrange a private jet flight to Singapore:
---
Things You Need to Know Before You Fly
1. Choose your private jet company wisely
Before diving into this iconic city, here are some tips when flying on a private plane. Before you hop on your private jet, look at your budget and in-flight requirements.
Before you hop on your private jet, should look at air charter companies with a stellar industry reputation, such as Air Charter Services (ACS). They operate around 23,000 charter flights annually, so you can be sure you'll find exactly what you need with ACS. No matter what you want to do on board, you can relax comfortably and privately and even plan your Singapore itinerary onboard.
---
2. Set Your Budget
Chartering a plane is something anyone can do, but remember to be mindful of the costs associated with luxury air travel. Several factors influence the price, including the aircraft type, destination, flight duration, and customized services.
What makes private travel particularly great, though, is the fact that you and a group of friends can pool your cash and charter a private plane. You'll need to speak to the charter services to understand the cost breakdown.
Then, you can plan and budget accordingly for a trip to your dream destination. If it's Singapore, keep reading to discover places you can visit!
READ: HOW MUCH DOES IT COST TO FLY A PRIVATE JET TO SINGAPORE
---
3. Make sure you are happy with the Onboard Flight Amenities
If you are flying via a private plane, you want the entire experience. This includes premium concierge services. These services are designed to cater to your every need.
From picking you up at your home in a luxury car to carrying your bags to the plane, you will not have to lift a finger. Then there is the onboard amenities' personalization, which is quite a treat. The first thing you can look at is in-flight entertainment. Want to watch movies or series on board? Or simply listen to music? That can be arranged.
Regarding dining, you can rest assured that a private chef will cook your meal. This can be customized, too. Before your trip, share some ideas of what you would like to eat and any dietary requirements you may have. Next, you should consider comfort. What is going to make your flight comfortable? Once you have this in mind, share it with the charter company to see if it is possible.
---
4. Define and Agree on your itinerary with the Jet Company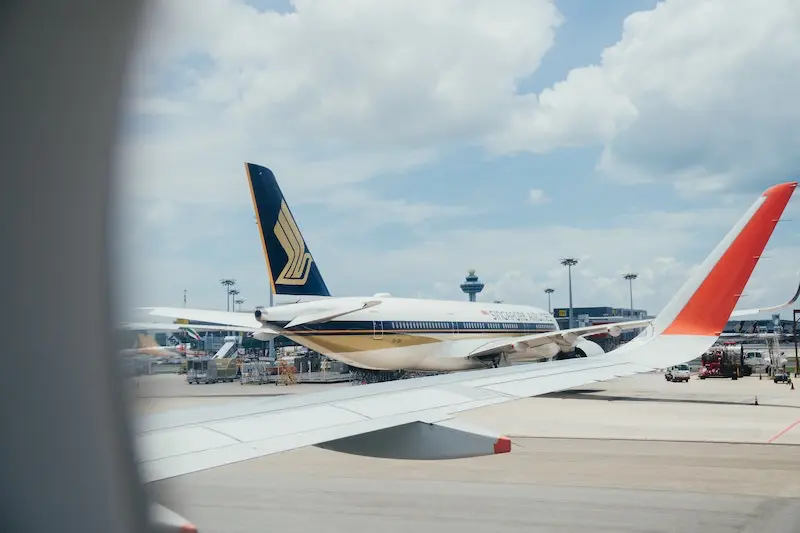 If you only want to hop to Singapore and explore other places in Asia such as Vietnam, Bali, Malaysia etc. check the itinerary first with your plane charter company.
Every country has different regulations and not all airports do allow private jets. So it's important to plan well in advance.
---
5. Other important things to finalize before your private flight to Singapore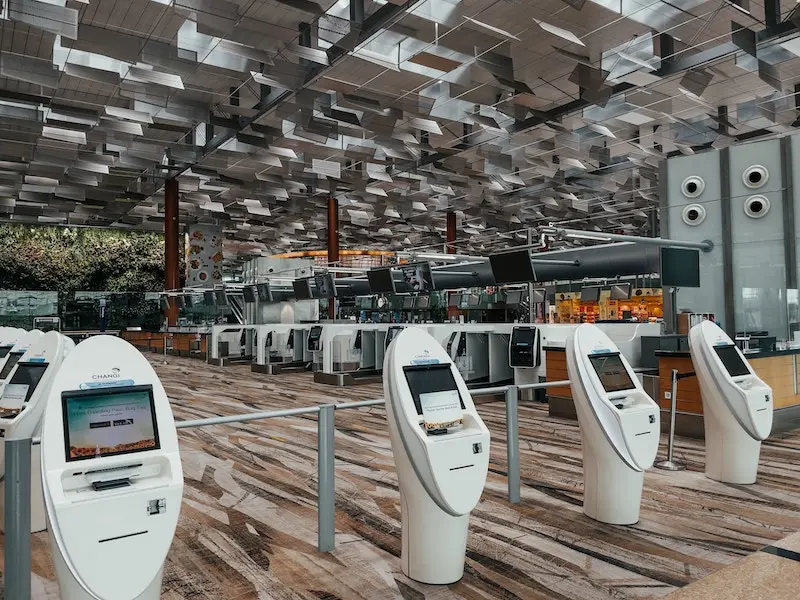 Customs and Immigration: You'll need to clear customs and immigration upon arrival in Singapore. Ensure that all passengers have the required travel documents, including visas if necessary.
Clearance and Permits: Work with your private jet service to obtain any necessary permits and clearances for your flight. They will be familiar with the regulatory requirements and can assist you in obtaining the necessary permissions.
Ground Transportation: Arrange for ground transportation to and from the airports in both your departure and arrival locations. Private jet services often provide this as part of their package.
>> BOOK: Luxury ground transportation in Singapore
---
About Singapore Airport
Singapore's Changi Airport is renowned worldwide for its efficiency, luxury, and innovative design, Changi Airport is more than just a transportation hub; it's an experience in itself.
Changi Airport consistently ranks as the world's best airport, thanks to its unparalleled services, extensive flight connectivity, and modern amenities. With a strong focus on passenger experience, it offers a glimpse into the future of air travel.
Singapore's reputation for punctuality extends to its airport. Changi is a well-oiled machine, with timely departures and arrivals, and smooth passenger flows, making travel hassle-free and enjoyable.
Changi Airport in Singapore is not merely a stopover point but an experience that enhances your journey. Its unwavering commitment to excellence, innovative design, sustainability, and top-tier services make it a true marvel of aviation infrastructure.
---
Some of the best things to see in Singapore
1. Gardens by the Bay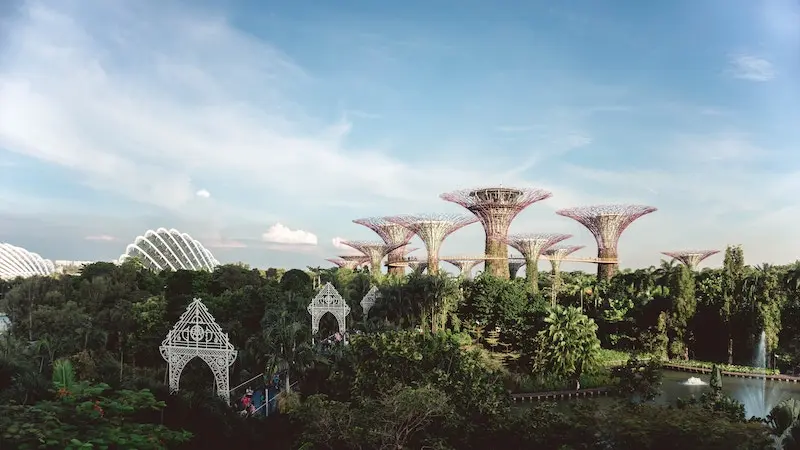 Not only is this gorgeous Southeast Asian city listed as a place where you will never get bored, but it also has incredible views. One such place is Gardens by the Bay.
A picture cannot express how beautiful this place is, and it is primarily thanks to its Supertree Grove and indoor waterfall. The entire compound is quite large and divided into different sections.
In Bay South, the glass greenhouse, the Flower Dome, features regular exhibitions like the Orchid Extravaganza. You can see the Cloud Forest in another conservatory area, mimicking cloud-mist ecology. Walking to the waterfall, you can enjoy a treetop walk above the 35-metre water feature. With nearly 163,000 plants featuring all kinds of species, you will be in for a real treat.
---
2. Marina Bay Sands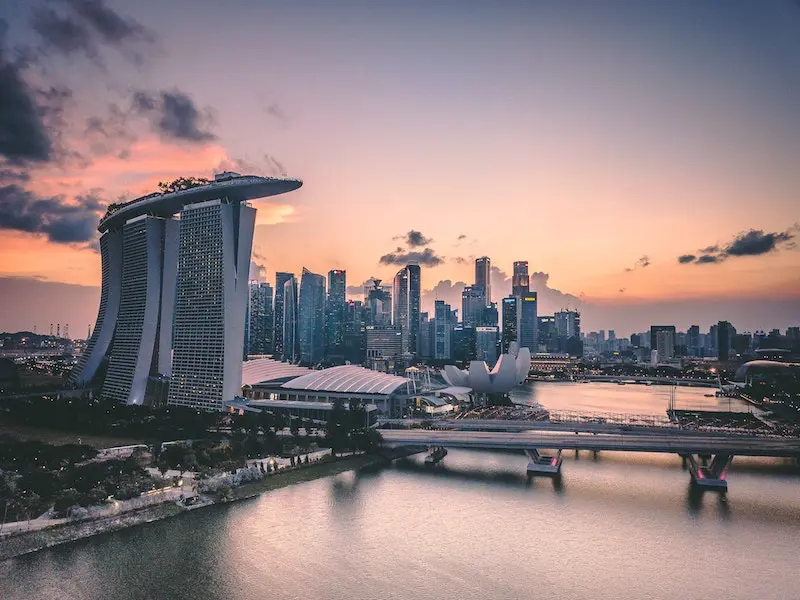 Marina Bay Sands, with its three imposing towers, elevates Singapore's beauty a hundredfold.
Perched 57 stories above ground, Marina Bay Sands is as luxurious and opulent as they come. It's a mall, casino, convention center, hotel, and an overall iconic building (its rooftop pool overlooks the skyline, like something from a Hollywood movie) that can rival the best in the world.
You may even have seen it in "Crazy Rich Asians" — an actual Hollywood movie! It also features a great collection of luxury boutiques, a Ferris wheel inside, and a whopping 2,500 hotel rooms.
---
3. Singapore Botanical Gardens
There is something magical about spending time in nature. And that is exactly what the Singapore Botanical Gardens is going to serve you… magic. A testament to the country's reputation, the botanical Garden is Singapore's very first UNESCO Heritage Site.
First established in 1859 by the agri-horticultural society, we would see 60 acres of land transform into a paradise. While the area is known for its world-class vegetation, it is also a great place for those who have a keen interest in jogging, dining, and just lazying about. Some of our favorite highlights include the National Orchid Garden which features over 60 000 species of plants including orchids. 
As always, be aware of cultural differences, no matter where you are heading. And this is because you must not disrespect the locals. Remember that you are a guest in the country and must act respectfully.
---
Read Also
8 AWESOME THINGS TO SEE IN SINGAPORE
25 BEST HONEYMOON DESTINATIONS
30 AWESOME THINGS TO SEE IN TOKYO
25 BEST THINGS TO SEE IN HANOI, VIETNAM