Taean-Haean National Marine Park, also called Taean is located on the West Coast of South Korea, about 2.5 ~ 3 hour drive from Seoul. It is well known by locals for its kilometers long and sandy beaches. It is also popular for camping (especially at Mongsanpo Beach), and picking up all sorts of sea creatures on the beach during low tide..
Taean covers 327 sq km of land and sea with 130 islands and more than 30 beaches. For us who love beaches, ocean and fresh sea breeze, we couldn't wait to visit this part of South Korea. We went there in the month of June, and we had an amazing time. We can't wait to share all about Taean in this article.
You may have heard of Taean, not only for its beauty, but also because it was badly hit by South Korea's worst ever oil spill in December 2007. Since then, the coast has been cleaned up and fishing as well as tourism have resumed normally.
At the Southern part of Taean is Anmyeondo, the park's largest island. This is also where we decided to stay for a few nights. Anmyeondo is also Korea's sixth largest island. Don't worry you do not need to take a boat to reach Anmyeondo, as there is a nicely built bridge.
So here is our take on the best things to do in Taean:
---
1. Surf in Mallipo Beach (만리포해수욕장)
You might be surprised to hear that it is possible to surf in South Korea. Taean is a great place to learn how to surf. We wrote a full post about Surfing in Korea here, check it out if you want to know more.
Head to MLP surf shop to rent your board or get your lesson. It's a beautiful surf shop located right by the beach with a very nice owner who can speak English.
Mallipo is sometimes nicknamed the California of South Korea. We wouldn't say it looks exactly like California, but yes it definitely has a special and relaxing vibe overall.
Though Mallipo is seeing more and more development every year, it's still a fine stretch of sand. It's a also a 15min walk to the quieter Cheollipo Beach and also close to Cheollipo Arboretum. We will talk about Cheollipo in the next section of this post.
More info
MLP Surf: here
---
2. Visit Cheollipo Arboretum
(천리포수목원)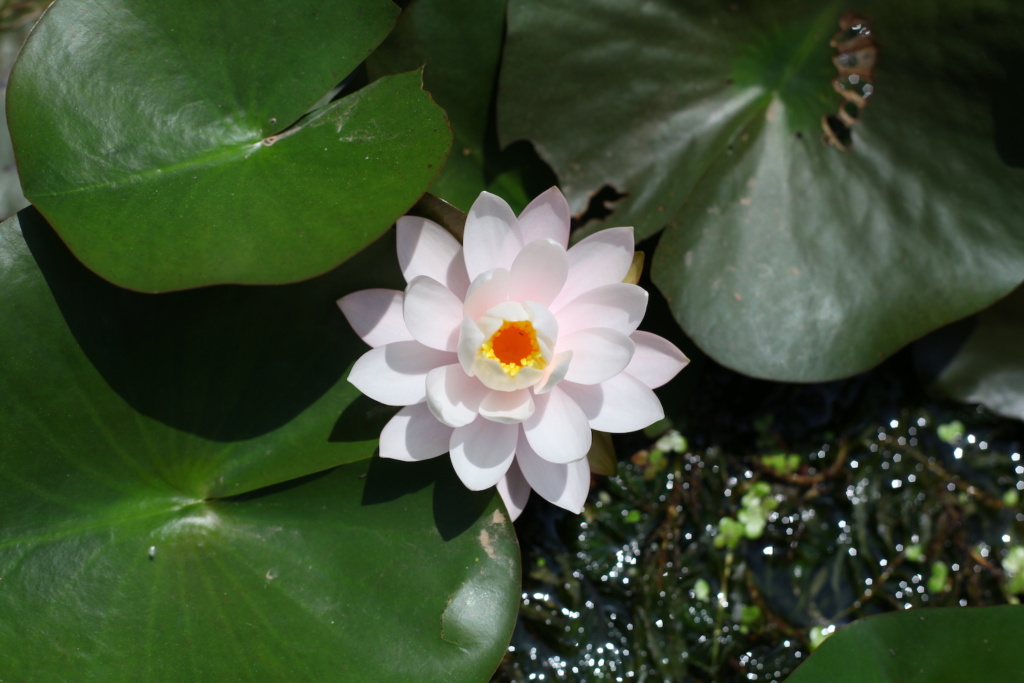 Cheollipo Arboretum is among Asia's top botanical institutions with a collection of more than 13,000 species from over 60 countries. The park was formed by an American, Carl Ferris Miller who was a banker in Seoul in the 1970s. His intention when he bought the land was for his weekend retreat.
He kept on adding flowers over the years and he also relocated several Korean Hanok houses in order to preserve them. Today you can stay in one of the room inside the Hanok for about KRW 100,000 a night.
Carl Ferris Miller died at the age of 81 in 2002 and never stopped working on his beautiful garden right by the sea.
Only certain parts of the park are open to public. But it is still worth it and really magnificent. A must-do in Taean. Especially in Spring when most flowers are blooming or Autumn when all trees change to red, orange and yellow colors. A great place, which we highly recommend.
More info
WEBSITE: here
ADDRESS: 187, Cheollipo 1-gil, Sowon-myeon, Taean-gun, Chungcheongnam-do, 32121, Rep. of KOREA
TEL: 041-672-9982
OPENING HOURS: 9:00 – 18:00
---
3. Sinduri Beach and Sinduri Coastal Dune (신두리 해안 사구)
Sinduri Beach was clearly one of our favorite place to visit while in Taean. The beautiful beach stretches for kilometers with no-one in sight. It is located about 10min drive from Mallipo Beach.
Right behind Sinduri Beach, you can visit the Sinduri Coastal Sand Dune. It is believed to have been formed about 15,000 years ago after the ice age. At that time strong winds carried sand from the sea which then formed the current Sinduri Coastal Sand Dune.
There you can actually walk in marked wooden path in the middle of the Dune. We spent a very good time at Sinduri. The view from the Dune is breathtaking.
Sinduri Beach and Sinduri Coastal Sand Dune are one of the main attraction in Taean which we highly recommend for a unique "desert-like" experience.
More info
ADDRESS: 201-122 Sinduhaebyeon-gil, Wonbuk-myeon, Taean-gun, Chungcheongnam-do
---
4. Anmyeon-do recreational forest (안면도자연휴양림)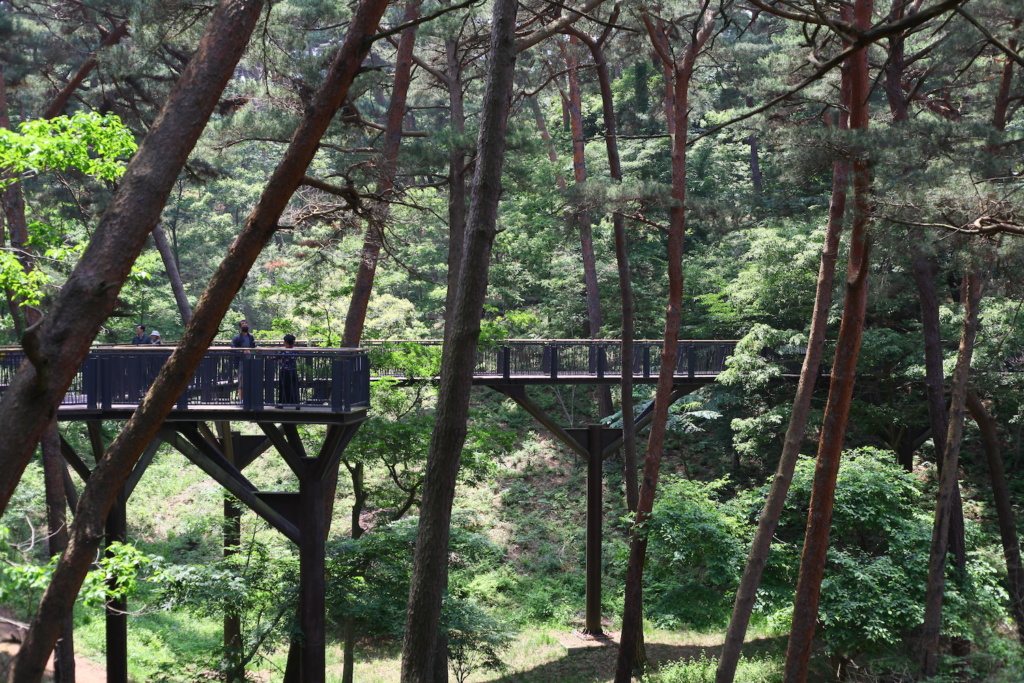 Anmyeon-do recreational forest in Taean is home to a 100 year old pine tree forest that is very special in Korea. Indeed, the pine trees of Anmyeon-do were used as wood to build royal palaces during the Joseong Dynasty. It was also used to build ships. The trees of Anmyeon-do are known to be of high quality.
Today, the forest of Anmyeon-do is well protected and open to visitors. The sight of the huge pine trees will certainly take your breath away. We had such an amazing time at Anmyeon-do forest. Count at least 2 hours to visit and take your time to enjoy the serenity of the forest.
They also have cabins in the forest to stay overnight. If you want a unique experience, staying in one of the cabin in the middle of the forest must be amazing.
More info
WEBSITE: here
OPENING HOURS: Closed during the first Monday of the month. March-October 09:00-18:00 / November – February 09:00-17:00
ENTRANCE FEE: KRW 1,500 per adult
---
5. Anmyeondo Arboretum
From Anmyeondo Forest, you can go under a tunnel and easily reach Anmyeondo Arboretum. The entrance fee of Anmyeondo Forest also gives you access to the Arboretum.
During our visit to Anmyeondo it was a really hot day. Hence, walking through the forest under the trees was really pleasant. Besides, the park was really beautiful, with water ponds, lots of flowers, great viewpoints etc.
We highly recommend to spend half a day visiting Anmyeondo Forest and Anmyeondo Arboretum. You won't regret it.
---
6. Walk on Taean's Coastal Trail – Haebyeongil
Open in 2012, The Haebyeongil is a series of trails stretching nearly 100km through Taean. The trail is divided into seven parts. It's not entirely linked together and some parts run along existing roads. However, there are day long hikes running from beach to beach, over hills, cliffs, crossing bridges, passing fishing village etc. The whole route is well indicated with signpost. So you can't really go wrong.
We chose the strech from Kkotji Beach to Sambong Beach. And OH MY GOD ! How beautiful and relaxing was this hike. We did it in the afternoon, it lasted a few hours, and perhaps met less than 10 people on the way. We felt a great sense of freedom and ended up watching a gorgeous sunset on Sambong Beach. By far our favorite beach in Taean. We will talk about Sambong beach in the next section.
---
7. Sambong Beach (한국관광공사)
Taean is famous for its endless sandy beaches. We visited a few, but instantly fell in love with Sambong Beach for its natural beauty.
Sambong Beach is located South of the famous Mongsanpo Beach in Taean. It stretches over 3 km and is a protected area. Meaning, there is no hotel, camping, shop or anything, simply Nature. Which is why we really like this beach.
Sambong Beach is actually known for the Three Sambong Rocks which you can see from the beach. This is actually where the name Sambong is coming from. Right behind you will find a forest of pine trees. The sight is simply breathtaking, especially at sunset. You can also check out the Sand Dune at the southern part of the Beach which is a must see at Sambong Beach.
---
8. Korea Flower Park (태안 세계튤립공원)
The Korea Flower Park located at Kkotji Beach is world famous for its Tulip Festival in April ~ May. The Korea Flower Park is a flower theme park where you can also enjoy a beautiful sunset due to its prime location.
The Park has many flowers, which makes it a beautiful place to visit in any season. Besides the Tulip Festival, you can also enjoy the Allium Festival as well as the Autumn Flower Festival. The Park also opens at night where you will see fabulous lighting everywhere.
The Korea Flower Park is open all year round. Next to the Park you can also enjoy some great street food along Kkotji Beach.
More info
WEBSITE: here
OPENING HOURS: 9:00 – 22:00 all year round
---
9. Camping at Mongsanpo Beach (몽산포해수욕장)
In Taean, Mongsanpo Beach is well known by locals for Camping. There are many camping places all along the beach. However, be aware that during Spring and Summer you will need to book your spot well in advance as it gets quite often fully booked.
Mongsanpo's white sand beach is around 3-km long. Mongsanpo is also well known for shellfish hunt in the early morning and evening when the tide is low.
If you don't want to be surrounded by other tent, we recommend going to Batgae Haebyeon Beach. The Beach is equally beautiful, the camping sight gorgeous right next to the water and we felt much more peaceful. Batgae Haebyeon is just a few minutes drive, south of Mongsanpo beach.
More info
WEBSITE: here
---
10. Watch Sunset at Kkotji Beach (꽃지해수욕장)
Kkotji Beach is most famous for its Flower Park and to watch Sunset. The beach in itself is not the nicest one in Taean though.
Kkotji Beach is said to be one of the best places to watch the sunset in Taean. So don't be surprised if you are not the only one there in the evening. It is famous because of Halmibawi, or 'Grandmother Rock', and Halabibawi, or 'Grandfather Rock', at the north end of the beach. The sun sets right between these 2 rocks, making it a great sight.
Legend has it that a wife turned to stone while she was waiting for her husband that did not return from war…
---
11. Pick up seashell and eat Blue Crab
Taean is famous with locals to bring the kids and hunt for seashell during low tide in the morning and evening with hand lamps. At times you may spot hundreds of people digging holes in the wet sands to catch all kinds of seashell on the beach. One of the most popular is called gaebul. It looks like a sea worm. To catch one, first look for small holes on the sand. Then start digging deep. Others throw some salts to make them come out of the hole.
The worms are known in Korea to boost male stamina. They are often eaten raw with some soy sauce.
Another delicacy from Taean, is the Blue Crab. Female crabs are most delicious in Spring since they are full of eggs. Male crabs full of meat are the best in fall. While driving through Taean, you will see many Crabs restaurants along the way. In Korea, most of the blue crabs are caught in the West Sea. Those caught near the Taean Peninsula are known to be particularly tasty.
We had such a feast !
---
12. For kids visit Anmyondo Jurassic Museum
This indoor and outdoor Dinosaurs Museum is ideal for kids. There are many things to learn and plenty of great photo opportunities around the Park.
Overall the museum has great information about Dinosaurs a lot of interactive things to do. There is even a VR experience.
More info
WEBSITE: here
---
13. Go on a road trip around Taean Peninsula
As we had a car while visiting Taean, we were really keen to explore more of Taean and check out fishing villages and more remote places. We decided to explore Wonsando Island which is at the most southern part of Taean, and still linked with a bridge.
The view from the Bridge was stunning. You can actually stop your car half way there.
The island was really pretty with many spots to explore. We then headed to Obongsan Beach and Sachang Beach. We were the only one on kilometers long beaches surrounded by wild forests. It was fantastic. We then drove to Putsal fishing village and checked out the fishermen and locals in their daily lives.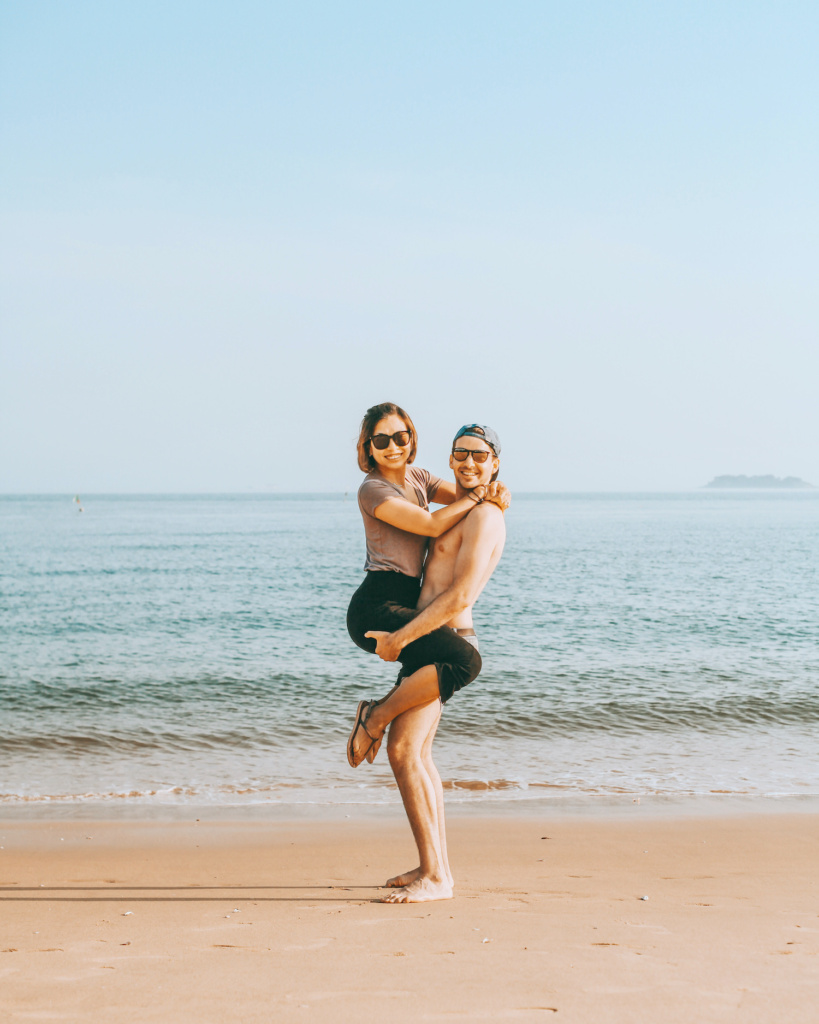 To catch the sunset we decided to drive to Bamseom Island. We had a great time and it was worth exploring something off the beaten tracks in Korea.
---
All you need to know
How to get there?
You can get to Taean and Anmyeon by bus from Seoul (KRW 11,000 for 2.5 hours). To book, check the website here. The easiest and most practical would be to take a car. Then you can explore more things in Taean.
Where to stay?
Anmyeondo Plaza Hotel: Close to the beach, and near some of the main attractions, Anmyeondo Plaza Hotel is ideal for a stay in Taean. You can book here.
Hotel Mallipo: if you want to go surfing while in Taean, then Hotel Mallipo located right in the front of the beach is the ideal place. You can check it out here.
Other practical info:
To know more about Taean and plan your trip, you can check out Taean official website here.