WHAT TO SEE IN GANGNAM? IS GANGNAM WORTH IT? WHAT ARE THE BEST RESTAURANTS IN GANGNAM?
Seoul, the bustling capital of South Korea, is a city that seamlessly blends tradition and modernity.
Among its vibrant districts, Gangnam stands out as a symbol of luxury, style, and entertainment.
Made famous by the viral hit song "Gangnam Style," this district offers an array of exciting activities and attractions that cater to all interests.
"Gangnam is one of Seoul's most exciting districts"
This is one of Seoul's most dynamic neighborhood, a neighborhood where fashion and technology blends together perfectly. Besides, Gangnam's skyscrapers and fashion will make you feel the vibe of the trendy South Korean culture in a unique way.
In this post, discover the very modern aspect of the culture in Korea! Let yourself be surprised by Gangnam!
Gangnam is considered one of the busiest part of Seoul. During the week, Gangnam is mostly frequented by businessmen working in finance, commerce and technology. Younger people generally go out in Gangnam in the evening for dinner, drinks and clubbing and during the weekend for shopping.
While wandering in Gangnam, you will also observe the many plastic surgery clinics all around the neighborhood. South Korea is the country where the most plastic surgery is performed. Apparently, more than 20% of women had plastic surgery in South Korea. If you ever thought about getting a perfect nose, then Gangnam is certainly the place to be!
So aside from plastic surgery, what is interesting to see in Gangnam? What are the main attractions? Here are the top things to do and see in Gangnam.
Check out some first impressions of Gangnam in this video:
---
WHAT TO DO IN GANGNAM?
1. Stroll through Garosu-gil, you may spot a K-pop star!
Begin your Gangnam adventure by taking a leisurely stroll along Garosu-gil, a trendy tree-lined street that oozes charm and sophistication.
This fashionable district is lined with high-end boutiques, stylish cafes, art galleries, and charming restaurants. Whether you're a fashion enthusiast, an art lover, or simply seeking a unique shopping experience, Garosu-gil will capture your heart.
Explore the narrow alleys and discover hidden gems, and don't forget to stop by the iconic Rodeo Street for a taste of luxury shopping.
The green color of the trees gives an impression of freshness in the summer while the leaves of the ginkgo trees color the street in yellow in autumn, making this a perfect area for photos.
Although the ginkgo trees contribute to the fame of the place, the area has grown in popularity for other reasons.
Indeed, it is mainly thanks to the cafes, restaurants and the fashion boutiques that this district has started to become popular. The place is frequented all year round by fashion enthusiasts while being popular with couples. It is also not rare to spot a K-pop star in Garuso-gil!
Garuso-gil is one of our favorite things to see in Gangnam.
(Photo by Seoul Metropolitan Government/Penta Press)
---
2. Apgujeong Rodeo Street
Apgujeong Rodeo Street and Cheongdam-dong Fashion Area are full of luxury brand stores from mega malls that sell luxury goods and from showrooms to studios and beauty stores.
Rodeo Street in Apgujeong is one of Korea's fashion strongholds, considered a shopping hotspot as well as a vast cultural area.
The street enjoys a unique atmosphere, full of stores ranging from famous foreign brands and designer boutiques to reasonably priced ready-to-wear stores, not to mention small accessory shops. There are many cafes with unique interior designs offering Korean, Thai, and Japanese cuisine.
Recently, there are also a number of theaters that have moved to the surrounding area, emerging Rodeo Street 'as a new theatrical and cultural area. With the opening of Multi-Plex Cine-City, theaters such as Cinehouse, Cineplus and the Nanta Theater (non-verbal performances) have also taken over the area.
---
3. Check out K-Star Road
From Rodeo Street, you can easily get to K-Star Road in front of Galleria Department Store.
K-Star Road is a unique street created by the city of Seoul for visitors interested in Hallyu (Korean culture waves: K-pop, K-drama etc.). It has now become one of the must-see destinations for hallyu fans while traveling to Korea.
Along this street, you will find 'art toy' sculptures and 'road maps' to make it easier for Hallyu fans to visit.
With these road maps, it is possible to know the location of major companies such as SM Entertainment or FNC Entertainment as well as the good restaurants that the Hallyu stars have visited.
K-Star Road is one of the best things to see in Gangnam.
---
4. Visit COEX Mall and Library
COEX is a huge shopping mall including a convention center, exhibition hall, an aquarium, cinemas, hotels, restaurants and so much more. You can easily spend 1 full day in COEX. For more information about COEX you can visit their website here.
One of the most popular places in COEX, is the library. The architecture, the layout, the lights, everything is so beautiful. It is a great spot for your Instagram shots.
As you enter from the top floor, you have a bird's eye view of the scene and it's…. wow! Four gigantic pillars at the four corners seem to support the glass ceiling. They are full of books!
The first thing that comes to mind is, how do you catch the books that are up there? There are over 50,000 books on offer.
If you ever visit COEX, make sure to stop by the library. It is really worth it.
---
5. Embrace tranquility at Bongeunsa Temple
Bongeunsa Temple is located right in front of COEX. We love going there after a visit to the shopping mall as the contrast is simply incredible.
Right in the middle of Gangnam, the busiest and most modern area of Seoul, you can visit this incredible temple.
Bongeunsa was built in 794 under the Shilla Dynasty as the Gyeonseongsa Temple. Usually Buddhist temples are found on the mountains due to the political problem at the beginning of the Chosun dynasty.
Unlike other temples, the Bongeunsa is located right in the middle of the city on the north side of COEX. It was also the largest temple in the Chosun dynasty. You can take advantage of a temple stay program here to learn about the daily life and culture of a monk.
For more details on Templastay in Bongeunsa, visit here.
---
6. Have fun at Lotte World
If you are visiting Seoul with your kids or want to see Seoul's breathtaking nightlife scene, Lotte World is the best place. You can enjoy Lotte World amusement park, aquarium, shopping malls, restaurants, cinemas and ice rink all in one place.
Lotte Amusement Park is not as big as Disney World Orlando, but it consists of the largest indoor amusement park in the world. It is also a good choice if it is raining. Fun guaranteed with your kids!
Lotte World is located in Jamsil and you can directly access the building from Jamsil station via metro line # 2, green line.
You can book cheaper ticket online, here.
---
7. Seoul Sky Observatory
As part of the Lotte World, you can go all the way up to the Lotte Tower, the tallest building in South Korea (and fifth in the world) with its 555 meters high. It's called the Seoul Sky Observatory. You can enter from the shopping mall at the base of the Lotte Tower.
The exciting Seoul Sky Observatory shows exceptional views of Seoul. The observatory deck has two story with glass windows for a 360 degree view. It sits between the 117 and 123rd floors of Lotte World Tower.
Opening hours: 10 a.m. ~ 10 p.m. (11 p.m. Friday and Saturday)
For cheaper ticket, make sure to book online here.
---
8. Get lost at the Olympic Park
Seoul Olympic Park is really huge. It has many different cafes, restaurants, convenient stores, a K-pop museum, several fitness centers, basketball courts, and ice rinks. The scenery is beautiful and serves as a perfect place to get away from hustle and bustle of Gangnam.
You can rent, bicycles, kites, skates on site. The whole park is full of activities.
Address: 424 Olympic Park, Olympic-ro, Songpa-gu, Seoul, South Korea
---
9. Samneung Park
Samneung Park is full of history. It holds several tombs, including King Jungjong Cemetery. There are three tombs at this location: King Seongjong, the ninth king of the Joseon dynasty, his wife Queen Jeonghyeon, and King Jungjong, the 11th king of the Joseon dynasty.
The surrounding forest brings a pleasant change from the dense metropolitan area, making it a popular place just to stroll and relax. The Tombs of the Two Kings are designated a UNESCO World Heritage Site, as are those of the Joseon Dynasty.
Address: Samneung Park, Seolleung-ro 100-gil, Gangnam-gu, Seoul, South Korea +8225681291
---
10. Seorae Maeul village, the French district
Seorae Maeul village which is located in Banpo-dong district (Seocho-gu district) is called "Little France". Since the move of the French Highschool in Seoul in 1985 from the Hannam-dong district to the Banpo-dong district, French have started to move to Seorae around the school.
The village has now a very unique atmosphere with its chic cafes and upscale boutiques. We recommend taking a nice coffee with croissant and stroll through the village. After visiting Seorae village, go to Montmartre Park. It is a forest located in the city center where you can find a beautiful glass bridge.
---
Best restaurants in Gangnam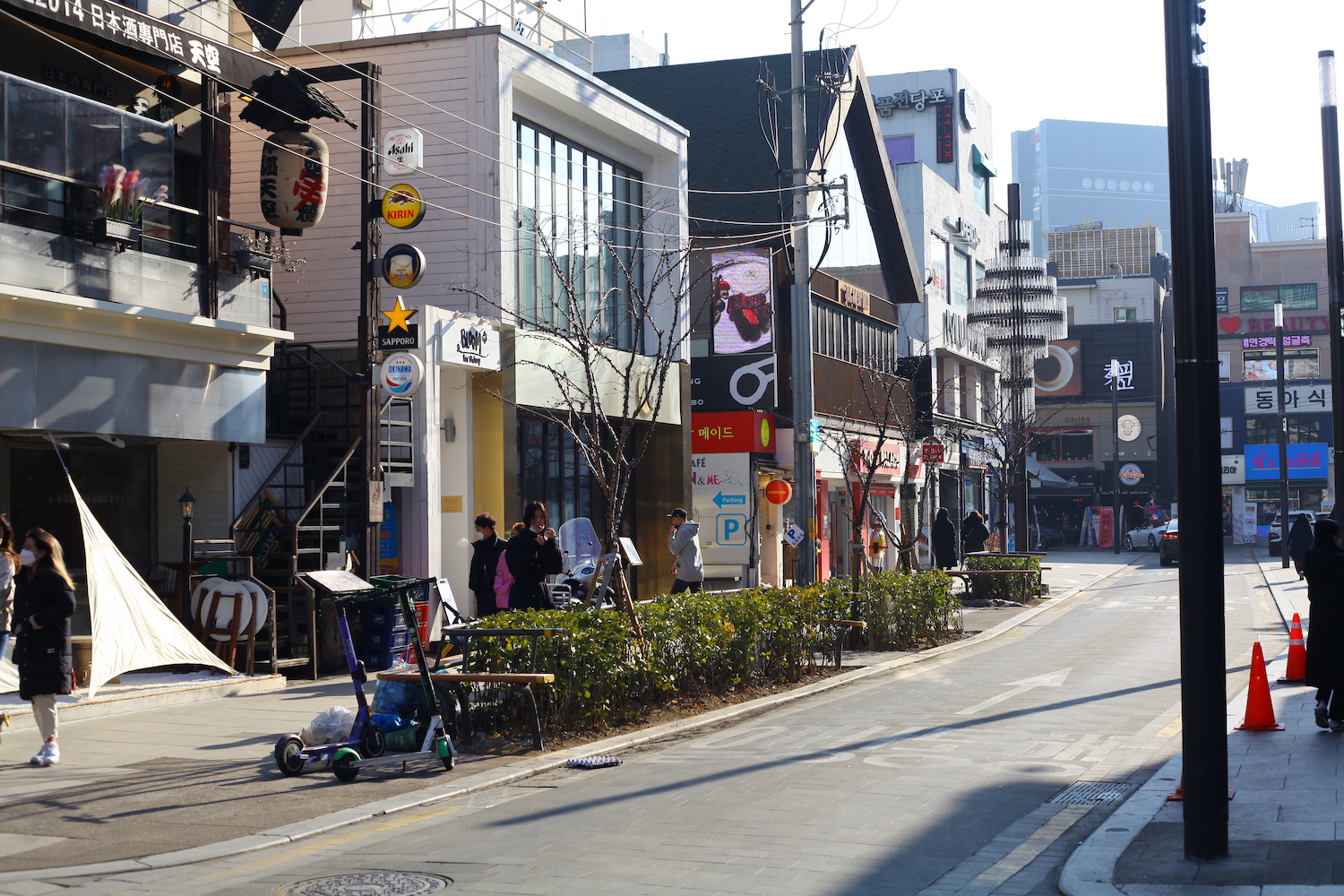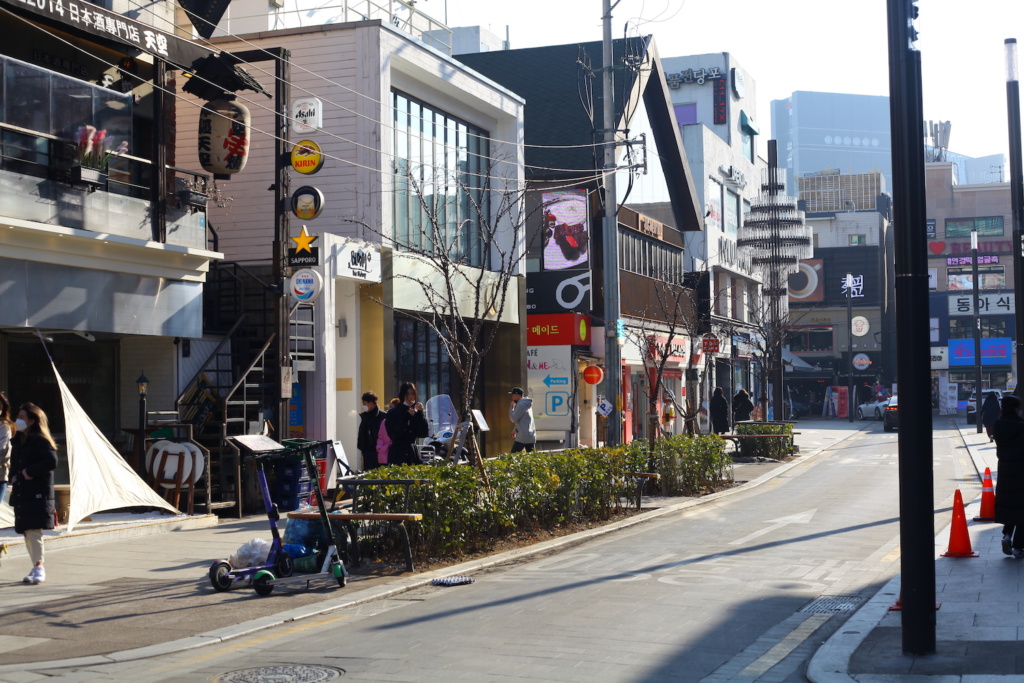 One of the pleasures and attractions of visiting Korea is food, and Gangnam has plenty of it. From sit-down restaurants to street food stalls and ice cream, you can find all kinds of cuisines in Gangnam. Look for fried rice cakes, fish cakes, and Korean fried chicken on the streets of this vibrant part of the city.
Gangnam is a culinary paradise!
Western style restaurants
Stop by the popular Brick Oven New York Pizza to try one of the best pizza in Seoul. This family-friendly dining spot located at 31 Gangnam-daero 102-gil, Yeoksam-dong, Gangnam-gu allows you to choose your toppings.
Dos Tacos, located at 455 Gangnam-daero, Seocho 4 (sa) -dong, Seocho-gu offers Californian Tex-Mex-style Mexican cuisine that wouldn't be out of place in the American Southwest. The menu is full of nachos and burritos with vegetarian and meat-filled options.
Korean restaurants
If you're looking for more authentic Korean cuisine, stop by Yang Good, a Korean barbecue restaurant with grilled beef, lamb and chicken. This family-run restaurant is located at Nonhyeon-ro, 95 Gil KR Seoul, Gangnam-gu 15.
Discover Gaon for fine Korean cuisine and wine pairings. This chic restaurant located at 317 Dosan-daero, Sinsa-dong, Gangnam-gu offers traditional Korean dishes served in an elegant dining room.
---
Our favorite hotels in Gangnam
With a wide array of accommodation choices, you're sure to find a hotel or home near the attractions you want to visit. Here is a list of hotels we particularly enjoyed in Gangnam.
Located at 1303-14 Seocho 4 (sa) -dong [(12 Sapyeong-daero 58-gil)], Seocho-gu, Gangnam, the hotel has air conditioning and free wifi in all rooms. This hotel is located near the Korean Embroidery Museum and a great location to visit the main attractions in Gangnam.
Conveniently located right next to COEX. It has 4 stars and includes a very nice bar and restaurant.
Located at 6 Gangnam-daero 107-gil, Seocho-gu, Apgujeong, the hotel is close to Sinsa metro station and offers free wifi in all rooms. Riverside Hotel is located right by Gangnam's main shopping avenue with boutiques, cafes, and restaurants. Venture to some of the cute side streets to find smaller stores and boutique.
---
Nightlife in Gangnam
The nightclubs in Gangnam are lively and bustling. The neighborhood is a great place to dance until dawn.
There isn't exactly a nightclub district, so the clubs aren't side by side, but it's easy to get from one address to another by taxi. Many dance clubs in Seoul are open until 6 or 7 a.m., and clubs in Gangnam are no exception. You can easily dance the night away in Gangnam nightclubs.
Check out Club Octagon, located at B1 / B2 New Hilltop Hotel, 152 Nonhyeon-dong, which is built in an unusual octagonal shape and has multiple levels, each with different styles of music, large video screens, and food and beverage menus.
Rasputin Seoul, is an amazing and trendy club in Gangnam near Garosu-Gil! Check it out, you'll be blown away.
---
Transportation in Gangnam
Gangnam, like most places in Seoul, is well served by the Seoul metro system and regional bus network. There is also an express bus system as well as a bus and taxi service to the airport. Gangnam's attractions are easily accessible by public transportation system.
Seoul subway system
Gangnam is served by the Seoul Metro, with lines 2 and 3 going through the area. The Seoul metro system is made up of lines 1 to 9 as well as several named lines. Ring Line 2 connects to Gangnam Station, and Line 3 connects to the Express Bus Terminal.
Bus services
Seoul has a good color-coded regional public bus system. The buses are blue, red, yellow or green and the routes match the physical color. Each bus color has its own fare schedule and its own region. Gangnam Express Bus Station is Seoul's main bus station and is the easiest way to get from central areas to the outskirts of the city.
Taxi services
Taxis can be booked to travel anywhere in Seoul. The easiest way to book a taxi in via Kakao Taxi app. Payment can be made by credit card or cash.
---
Conclusion about the best things to do in Gangnam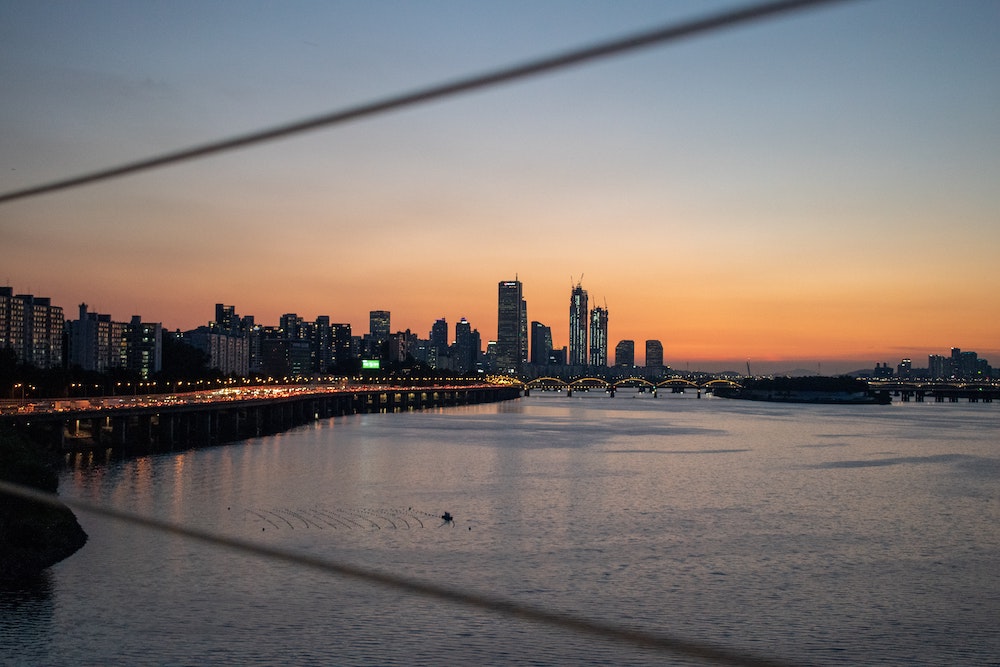 Gangnam is a district that epitomizes the essence of modern Seoul. With its captivating blend of luxury, culture, and entertainment, it offers an abundance of unforgettable experiences.
From exploring trendy streets like Garosu-gil to immersing yourself in the world of K-Pop at COEX Artium, and from finding serenity at Bongeunsa Temple to indulging in the vibrant culinary scene, Gangnam has something to offer every visitor.
So, the next time you find yourself in Seoul, make sure to venture into this glamorous neighborhood and let Gangnam's allure enchant you with its unique blend of style, culture, and excitement.
We hope that you found this article useful on the best things to do in Gangmam. We lived in Seoul for 3 years and wrote many articles about South Korea. To know more, check out this link here.
---
Links to related articles
BEST THINGS TO DO IN HONGDAE, THE STUDENT DISTRICT OF SEOUL
EXPLORE IKSEON DONG THE CUTEST PLACE IN SEOUL
MOST INCREDIBLE CAFES IN SOUTH KOREA
BEST DAY TRIPS FROM SOUTH KOREA
CHECK OUT INSADONG, ONE OF OUR FAVORITE AREAS IN SEOUL