Who has never dreamed of flying to the United States to visit Los Angeles? Hollywood, Beverly Hills, Santa Monica, Venice Beach, Sunset Boulevard, Huntington Beach, Malibu etc…. there are so many names in Los Angeles, which should sound familiar to you.
Los Angeles continues to fascinate many people. After New York, it is quite simply the largest city in the United States and the tourism industry is very developed there. But faced with the gigantic size of the "City of Angels", it is sometimes difficult to navigate there. So what to do in Los Angeles? What are the essential visits of the city? To help you plan your stay in advance, we have listed our top things to do in LA:
---
1. Hollywood and the walk of fame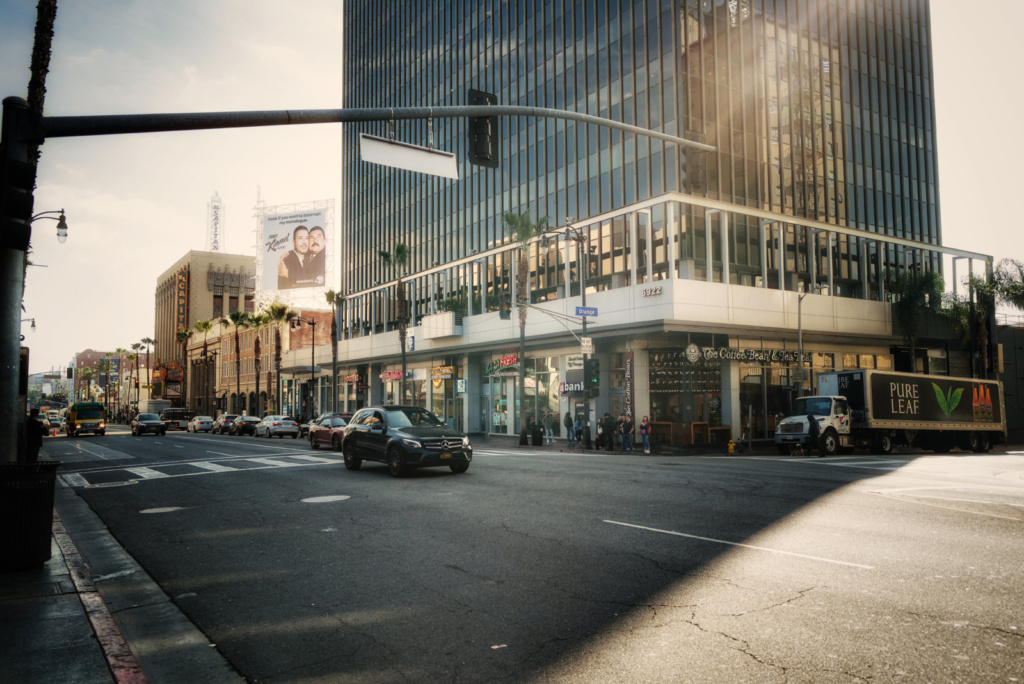 This is still a must-see, as it is legendary! Searching for the names of the stars is actually quite fun on the walk of fame. If several of them were unknown to us, it's rather nice to come across famous names such as Steven Spielberg! Everyone can then take their photo (or selfie …) in front of the name of their favorite star (provided you find the tile!).
In addition to the Walk of Fame, we recommend that you visit the Hollywood Museum and Madame Tussauds. There is no safety cord, so you can take cool pictures with the different statues and see them very close. Accessories are even provided to increase interaction! We advise you to make the visit at the end of the evening, shortly before the last authorized entry (the guards then leave you 1 hour to visit the place). We did that and we were almost alone in the museum!
You can also see a film at Grauman's Chinese Theater (TCL), one of the most famous cinemas in the world! If you are not interested in any of the films on display, you can take a guided tour of the rooms or admire the building from the outside. The same goes for the Dolby Theater, the famous hall where the Oscars take place! You can take a guided tour of this building or just see its exterior facade.
Finally, you can pass by the Hollywood & Highland Center, a shopping complex with a beautiful view of the famous HOLLYWOOD sign.
Hollywood Sign
This famous sign has been erected since 1923 on the south slope of Mount Lee, a hill overlooking the Hollywood district. The sign is huge, with a height of just over 13 meters for each letter and a total length of over 106 meters! It just makes it the biggest billboard in the world! The sign is erected at an altitude of 478 meters. It is therefore possible to see it from several places in the city, but access to the site remains prohibited. The best known views are:
From Griffith Observatory
The view of Los Angeles is really beautiful and interesting, but it is not the ideal place to observe the sign, it is too far away and from the side.
From Lake Hollywood Park
Our #1 recommendation. his pretty site offers a beautiful central view on the sign. It is also possible to get closer to the letters by parking your car at the dog park and along the road. You will have a beautiful view after only 10 minutes walk. Continue with an additional 30 minutes walk, still along the road, and discover the most beautiful view of the sign. You can also take the Lake Hollywood Trail, a beautiful walk of around 2 hours around an artificial lake, but the view is a bit further away.
From Hollywood & Highland Center
This shopping center brings together many shops and restaurants. Its architecture has been designed to offer a beautiful view of the signboard, and it is therefore an ideal place to observe it. The place is located on Hollywood Boulevard and is therefore easily accessible.
During a horse ride
These guided outings take place in a group in the Hollywood hills. They offer superb panoramas as well as a beautiful view on the sign.
---
2. Rodeo drive and Beverly Hills
Do you all have in mind the film "Pretty Woman" where Julia Roberts ransacks all the luxury boutiques with Richard Gere? Rodeo Drive, it's the ultimate high-end shopping in the heart of Beverly Hills: between Chanel, Cartier, Gucci, Christian Dior, Armani, Tiffany & Co or Burberry, you are sure to find the high-end store that suits you. A great opportunity to window shop, meet wealthy people for a few minutes, be able to dream and heat your credit card.
Beverly Hills is surely the richest and best protected district in the whole city. A place where many stars live. Drive around some of the side streets to admire huge and beautiful villas… who knows, you might see one of you favorite actors…
---
3. Venice Beach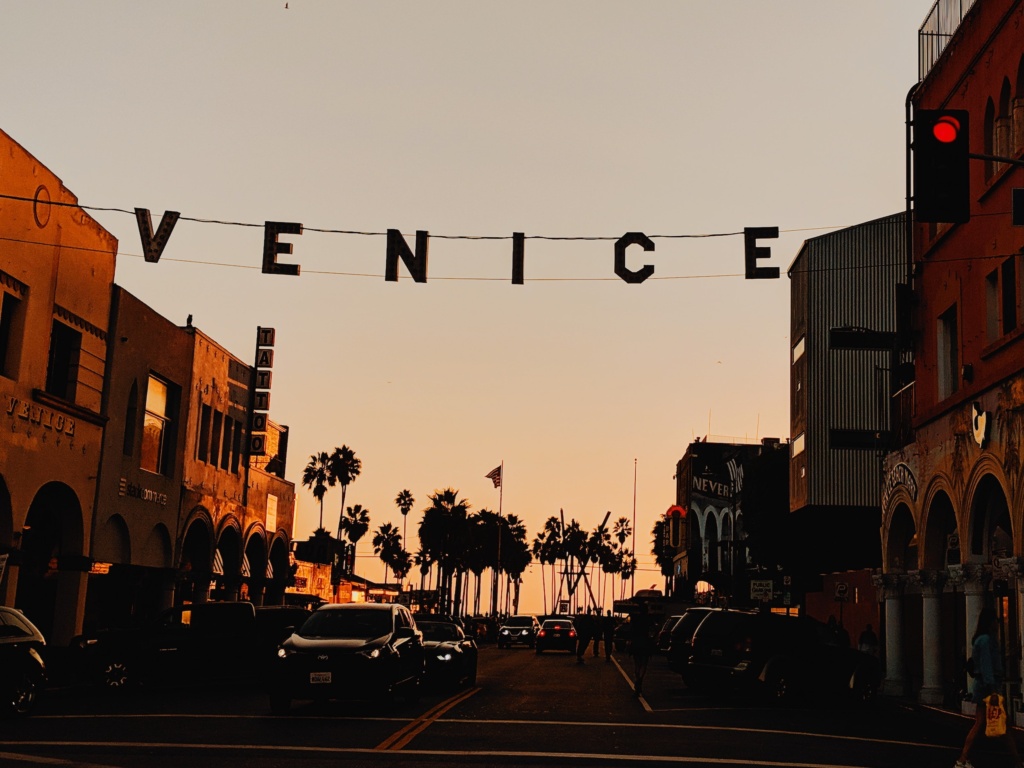 Venice Beach it known for its bohemian and artistic atmosphere. This is our favorite beach in Los Angeles! Do not miss the Boardwalk, where the shops overlook the beach and follow one another in a very relaxed atmosphere. There are outdoor gyms, a large skatepark and lots of places for jogging / rollerblading! It's super exciting and representative of what California is all about! The icing on the cake: just a few minutes from the beach are the canals of Venice Beach. This is one of the most charming places in Los Angeles with an atmosphere totally different from the rest of the city!
The beaches of Santa Monica and Venice Beach are located next to each other. The best way to discover them is to rent a bicycle or rollerblades and take the cycle paths along the sand (there are many rental shops). The view and the atmosphere are simply amazing! You can also take the pedestrian path to get from Pacific Park to the canals of Venice Beach. This is the route we had taken and it is the one that we recommend.
If you want to continue the ride, you can also take the 26 miles bike path. This cycle route runs approximately 40 km along the coast from Will Rogers State Beach to Torrance State Beach.
---
4. Griffith park and observatory
You've probably seen Griffith Park and the observatory in movies such as La La Land, Transformers or Terminator, or even in the video game GTA 5. We advise you to go there shortly before sunset. You can then take advantage of the beautiful lights, while watching the city buildings lighting up in the distance!
You can also plan a whole day to stroll in the park and take advantage of the activities and the numerous hiking trails (more than 80 km!). In any case, remember to bring water bottles (some trails cross almost desert areas). In the park, there are various attractions including the "Los Angeles Zoo & Botanical Gardens".
This zoo features over 1,200 species of animals from around the world. You can especially observe gorillas, koalas or komodo, as well as many exotic plants. You can also visit an open-air amphitheater and small museums. One of them is particularly interesting for Western fans: the Other Museum of the American West. There are various exhibits devoted to life in the West and the Gold Rush era.
---
5. Santa Monica
A coastal city for ages, Santa Monica has everything you need . Beautiful beach, a perfect spot to admire the sunset from Santa Monica Pier, a perfect for shopping, and food. Santa Monica has built a reputation among affluent families and young professionals and attracts many locals and tourists.
You can't visit Los Angeles without spending time on its famous beaches! This will be an opportunity to bathe in the warm waters of the Pacific Ocean, take pictures of the famous lifeguard huts and take beautiful walks by the sea. Santa Monica has a beautiful sandy beachs where volleyball was born in the 1920s and great waves for surfers from all over the world. You should definitely go to the famous Pier, a pier in the sea where there is a small amusement park, the Pacific Park (composed of several rides and a big wheel).
We really enjoyed walking on the pier on the top the ocean, to enjoy the scenery and the atmosphere (even better at sunset). The downside: it's a place full of tourists, but a visit is still worth it.
---
6. Huntington Beach and Newport Beach
Continuing on the road to San Diego, you will find other beaches that may be worth a look. Huntington is a surfer's paradise! From the pier, you can watch experienced surfers take the biggest waves, while surf lessons also allow you to try it out (lessons are also offered at other beaches, but Huntington is the most famous) . In Newport Beach, it's especially the small neighborhoods by the sea that we invite you to discover. The houses have beautiful architecture and it's a really nice place to walk around.
---
7. Relax at Malibu
Surfing capital, Malibu is a seaside city privileged by Hollywood stars. Many Europeans dream of going to set foot on its fine and warm sand. This small strip of sand separating the overpriced stilt houses and the Pacific is stunning. Malibu is also its surrounded hills where it is good to hike in spring or autumn.
---
8. Have fun at universal studio
Universal Studios is one of the best amusement parks in the world! There are not only great attractions (roller coasters, 4D rides, etc.), but also the largest outdoor studios in the world! We can thus see the sets of films and series. So if you are looking for things to do in Los Angeles with kids, going to Universal Studio is definitely a must!
Like all amusement parks, Universal Studios Hollywood is divided into several sections. The two unmissable sections are obviously those dedicated to the movie studios and the world of Harry Potter™! The studios can be visited on a small train, and you will discover different sets The world of Harry Potter ™ is magnificent for all its decorations… It really looks like it! There are also some good classic roller coasters (The Mummy is very nice) but also in 4D (with fire and 3D effects). Among the last attractions of the park, it is now possible to walk through scenery inspired by the series The Walking Dead, with actors made up into zombies! This type of attraction frightens some and annoys others, but I think it is worth it for its oppressive atmosphere.
If you like amusement parks, you can also go to Disneyland. The site is organized in two separate parks (you have to pay an entry for each park): Disneyland (the very first park created by Walt Disney, has a world dedicated to the universe of Star Wars and Disney California Adventures (a slightly more original park with a beautiful roller coaster, a ferris wheel and a magnificent sound and light show. They are located in Anaheim, about 1 hour from Downtown Los Angeles. Note that you will pay less by booking a combined ticket for both. parks.
---
9. Visit fantastic museums
The city of Los Angeles has many amazing museums. Good news, many of them are free! The collections, rich and varied, will delight lovers of art, science, cars or even dinosaurs!
Petersen Automotive Museum
This museum dedicated to cars has an exterior facade with a very original architecture. Inside, you can see more than 100 models that have marked the history of the automobile and cinema! You'll be able to see the famous Aston Martin from Skyfall (James Bond), the Batmobile from Batman Returns or even a full-size model from Lightning Mcqueen, the car from the animated film Cars!
The Brea Tar Pits and Museum
This site is absolutely unique since it is the last fossil deposit still exploited in the United States! Fossils of mammoths, saber-toothed tigers and other prehistoric animals (10,000 to 40,000 years old) have already been found there. You can walk for free in the park. To discover the hundreds of fossils and skeletons of prehistoric animals collected on the site, you must pay admission to the museum. The ticket also allows you to observe researchers in full activity (research on excavation sites and in the laboratory). It is a very interesting visit that we recommend!
NHM – Natural History Museum
This is the largest natural history museum in all of Western America! You can admire the most beautiful collections of dinosaurs in the world, with around twenty whole skeletons! There are also many fossils, minerals, precious stones etc.
Madame Tussauds & Hollywood Museum
These two museums exhibit wax statues of the biggest stars on the planet (Madame Tussauds) and film costumes and accessories (Hollywood Museum). If you are looking for activities to do in Los Angeles with kids, this may be a good choice!
The Nevercutt Museum & Collection
This museum also has an extensive collection of cars, but particularly vintage models. There are more than 250 models ranging from 1898 to 1997.
California Science Center
Access to the permanent collections of this science museum is free. On site, you can participate in different interactive experiences. Ideal for an outing with children.
Getty Center
This art museum is actually a gigantic cultural complex. Five main buildings, with modern and original architecture, are built around a central courtyard. Four of these buildings present the permanent collections while the fifth is devoted to temporary exhibitions. There are mainly collections of magnificent European paintings, ancient art, manuscripts, decorative art, photographs and drawings.
The Broad
This museum of contemporary art presents more than 2,000 works collected by the philanthropists Eli and Edythe Broad. We advise you to book a tour online (free), to avoid the queue at the entrance. When you arrive, book your ticket for the Infinity Mirrored Room (you can only get it once at the museum). You will then access, alone and for 45 seconds, an incredible room filled with mirrors and LED lights (both beautiful and indescribable).
LACMA – Los Angeles County Museum of Art
This is the largest art museum in the city, but also in California! Thousands of works can be found there, spread over 7 buildings. The collections come from many arts (American, Korean, Japanese, Chinese, European, Polynesian, Egyptian, Islamic, modern, etc.).
The Getty Villa
This rich home presents the Getty Museum's Greek and Roman art collections. Entrance to the museum is free but must be booked in advance, at a specific time.
To save money for visiting museums and amusements parks, we highly recommend to buy the Go Los Angeles all-inclusive card. You can buy it here at a cheaper price.
---
10. Party on Sunset Boulevard
Sunset Boulevard… Difficult to find a name that sounds more Californian! This huge highway spans nearly 39 km from east of Los Angeles to the Pacific coast. It crosses legendary districts of the city, such as Hollywood and Beverly Hills. It is also a very famous place for nightlife, with many bars, restaurants and nightclubs. The busiest part of Sunset Boulevard is the Sunset Strip, which stretches 2.4 km. People started partying there since the 1930s, and many establishments are regularly frequented by celebrities. Among the most famous bars and clubs are:
– Whiskey A Go Go: this legendary bar / club is linked to the history of Rock. Many bands have performed there, such as Led Zeppelin, Foo Fighters or The Doors.
– Bar Marmont: this bar, attached to the luxury Château Marmont hotel, is one of the best known in the city. Drinks are expensive there, but it's one of the best places to meet stars if you're interested.
– Pearl's Rooftop: This chic bar is actually a rooftop (outdoor terrace built on the roof of a building), offering one of the most beautiful views on Sunset Strip. You can also taste good cocktails there.
There are many other quality bars and clubs, which you can discover while walking down Sunset Strip.
---
Los Angeles is an exciting place to visit. There are so many things to do that you will never feel board. We enjoyed Santa Monica and Venice Beach the most during our stay in LA. This city is a must-see for every road trip through California.
---
Where to stay in LOS ANGELES?
Los Angeles is a very big city. If you want to see most of it, the location of your hotel would be crucial. We highly recommend to stay either at Santa Monica, Venice Beach or Beverly Hills, as you will be the near the main attractions.
During our stay in LA, we decided for Santa Monica, and we loved it. We stayed at a hotel called Palihouse Santa Monica. Our stay there was perfect, first of all we got a free upgrade at one of their suite… Fantastic. It is located a few steps away from Santa Monica shopping area and very close to the beach. The breakfast was super yummy and the staff very friendly. The decor and charm of the place is really unique, it has an old vintage vibe and felt like an hidden gem in Los Angeles.
The hotels in LA can be quite expensive, however Palihouse Santa Monica has one of the best value for money. You can also park the car free in the some of the side streets if you do not wait to pay for the otel parking. You can book your stay at Palihouse Santa Monica here.
---
Related posts
CALIFORNIA: best things to see: here
HIGHWAY1: best stops: here
CARMEL-BY-THE-SEA: a charming city in California: here
POINT LOBOS: richest underwater reserve in the US: here
LOS ANGELES: Full guide for visiting LA: here
SAN DIEGO: What to do this beautiful city: here
SANTA BARBARA: Discover our favorite town in the US: here
ROMANTIC DATES IN CALIFORNIA: 10 Best Date Ideas: here