WHAT TO DO IN JEJU? WHICH ARE THE BEST BEACHES IN JEJU? WHY IS JEJU ISLAND IN SOUTH KOREA SO FAMOUS? HOW TO GET AROUND IN JEJU?
Jeju or Jeju-do is a beautiful island situated in South Korea. Nicknamed the "Hawaii" of Korea due to its partly tropical climate, this island is one of our favorite destinations in South Korea.
With its breathtaking landscapes, stunning beaches, vibrant culture, and unique natural wonders, Jeju offers a wealth of experiences for every traveler.
"Jeju, the Hawaii of Korea"
Whether you're an outdoor enthusiast, passionate about culture, or a food lover, Jeju has something special to offer. If you are going to Jeju for holidays, a school trip, a romantic weekend, or a solo trip, any reason is good for spending a few days on Jeju Island…
During the time we lived in South Korea, we visited Jeju many times. It is the perfect gateway to the city life in Seoul.
You must be excited about your upcoming trip to Jeju. In this post, you will find all you need to know about the best things to see in Jeju!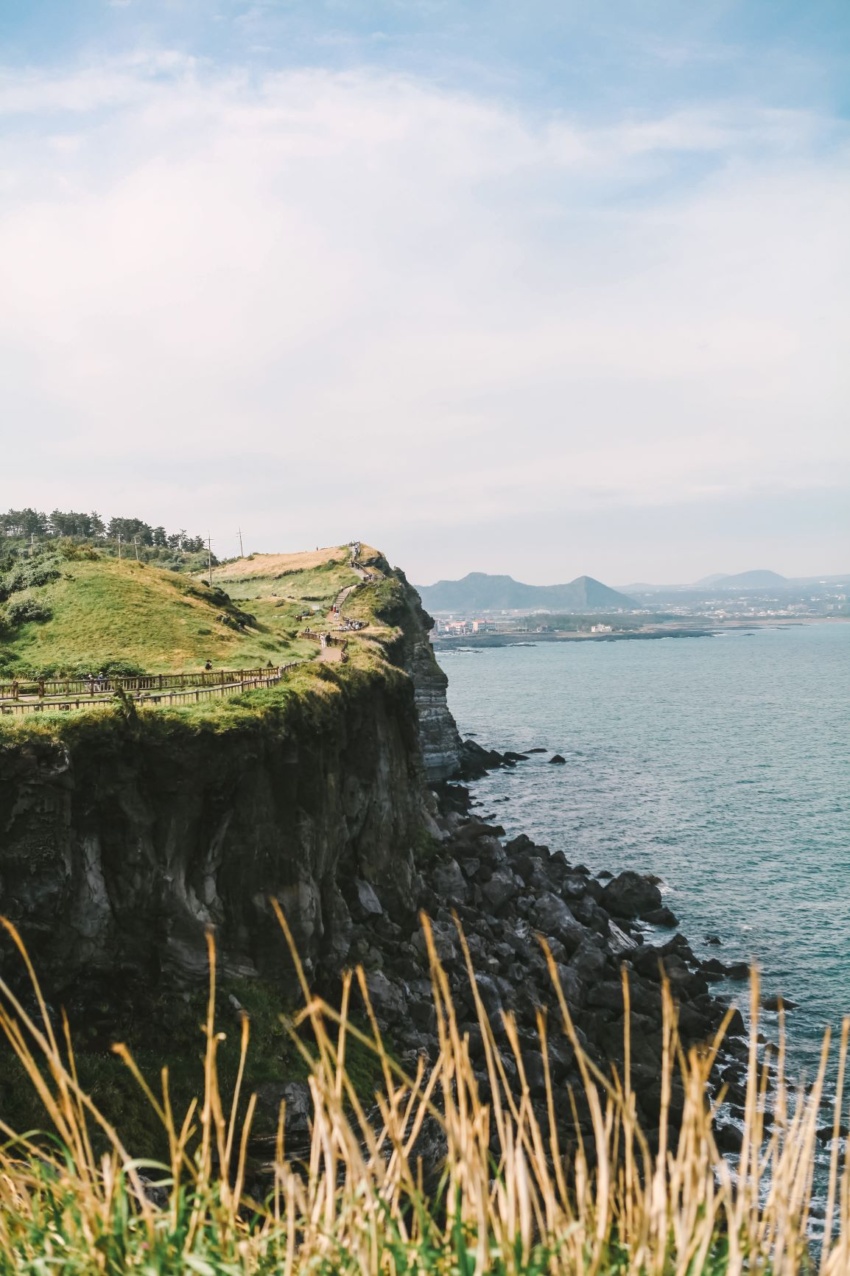 While living in South Korea for 3 years, we could not miss the chance of visiting this romantic island. We went to Jeju a couple of times, each time exploring another part of the island.
We always enjoyed our stay in such a relaxing environment. Expect volcanos, surfing, hikes, diving, sunbathing, seafood and so much more. This island is unforgettable and a nice gateway from the hectic and sometimes stressful city life of Seoul.
Here is a glimpse of what to expect during a trip to Jeju:
So let's find out about the best things to see in Jeju! Enjoy your trip 🙂
---
WHAT TO DO IN JEJU?
1. Start your trip to Jeju by enjoying a gorgeous sunrise from Seongsan Ilchulbong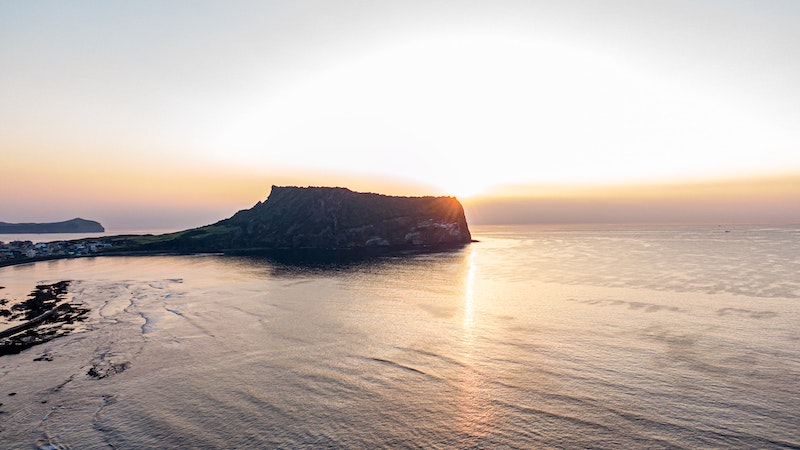 Whether you are a sunrise lover or a passionate hiker, visiting Seongsan Ilchulbong is one of the best things to do in Jeju!
A 45-minute hike will take you to the edges of the crater of this extinct volcano that offers breathtaking views of the Pacific Ocean. Do not hesitate to get up early to admire the sunrise from this unique place, you will not regret it!
We are not inventing anything since "Ilchulbong" means "peak of the rising sun".
Seongsan Ilchulbong is clearly one of the must-see places on Jeju Island. This volcanic cone is located on the east side of the island. Like Mount Hallasan, the tallest mountain in Jeju and South Korea, Seongsan Ilchulbong is a UNESCO World Heritage Site.
The best place to admire this Volcano is to hike around Seopjikoji. There a beautiful trail along the coast with a superb view on Seongsan Ilchulbong.
Simply gorgeous!
ADDRESS: 284-12, Ilchul-ro, Seogwipo-si, Jeju-do 제주특별자치도 서귀포시 성산읍 일출로 284-12.
LOCATION: HERE
ADMISSION: 2,000 won for adults and 1,000 won for children (It's free for seniors from 65)
OTHER ACTIVITIES NEARBY:
Why not explore Jeju underwater? Indeed near Seongsan Ilchulbong, there is a very nice diving spot. You can book your diving tour here.
Another great activity near Seongdan Ilchubong is taking a jet boat. MORE INFO HERE
---
2. Hike Mount. Hallasan, the highest peak in Korea
Are you a hiking enthusiast? You've chosen the right destination: Jeju Island is full of paths to explore! The must-hike? Take on Mount Halla (or Hallasan), the highest point on the island (and even the highest peak in South Korea) with its 1,950 meters above sea level.
This national park offers different trails, with varying distances and levels of difficulty.
The first part is done in the forest and therefore with a fairly limited view. However, in the second part, the hike is magnificent! This is clearly the best hike to do in Jeju.
Be prepared though, this is not a hike for beginners, as it can be very steep and it will take you the entire day for a round trip. For us, it took 8.5 hours! Our longest hike to date… hehe
Once at the top of the volcano, you can see the impressive crater over 400 meters wide. Inside the crater, you can see a lake. During the rainy season, its size increases sharply and the lake can exceed 100 meters in depth!
Learn more about the different trails before starting the climb to Hallasan.
Hiking to the top of Hallasan requires some preparation and it is MANDATORY to book online first. Indeed there is a restriction on the number of people hiking Hallasan per day.
READ: OUR FULL GUIDE FOR HIKING TO THE TOP OF HALLASAN IN JEJU
---
3. Hike around Jeju Island on the beautiful Olle-Gil Trail
Another hike?? Yes indeed, Jeju is full of amazing hikes. However, no worries, we'll come soon to the best beaches in Jeju and more relaxing activities. Bear with us.
Jeju is made up of many different landscapes, and the Olle Gil trail will allow you to hike all around Jeju Island! There are 26 different routes.
It's up to you to decide whether to do it in full over a few weeks or just pick 1 or 2 routes during your stay in Jeju.
Jeju Olle Gil trails total 425 km. The 26 routes have different levels of difficulty. Three are rated difficult, four easy, and the others have an average level.
The shortest takes about an hour and the longest can take up to eight hours. It is therefore very important to plan your route. You can take a close look at each of the circuits, their difficulty, travel time, characteristics, and tourist attractions in our complete guide here.
The Jeju Olle Gil trail will take you to make scenic parts around Jeju. This is one of the best things to do in Jeju!
READ: OUR FULL GUIDE FOR HIKING THE OLLE GIL TRAIL JEJU
OFFICIAL OLLE GIL WEBSITE: HERE
---
4. Learn more about the Haenyeo, the symbol of Jeju Island
The haenyeo are among the symbols of Jeju Island. The haenyeo are women divers.
They dive in order to collect different shells. Haenyeo literally means woman of the sea.
The culture of haenyeo is classified as a UNESCO intangible world heritage. This culture is endangered. Indeed, with South Korea's economic boom and the development of tourism on Jeju Island, many other professions are attracting young people.
However, it is still possible to see haenyeo during your stay on Jeju Island. Several options are possible: a demonstration for tourists takes place every day at the Seongsan Ilchulbong site in the village of Seongsan.
It is also possible to see some Haenyeo in other parts of Jeju while strolling along the coast if you want to avoid the tourist show.
There is also a museum dedicated to Haenyeo: Jeju Haenyeo Museum (해녀박물관). This museum traces the history and origins of the haenyeo.
---
5. Relax at Hamdeok Beach, one of the best beaches in Jeju!
Hamdeok Beach is located near Jeju city.
From the airport after renting our vehicle, this is always our first destination.
We love this place. The beach is simply stunning, the color of the sea magnificent, and there are always many activities.
There is always something to do in Hamdeok: concerts, sporting events, and nightlife, and the beach is very popular with locals and foreigners. Hotels, restaurants, and cafes are numerous in this part of the island, it is easy to practice some water activities such as kayaking, Stand-Up paddling and even surfing if the waves are big enough.
At Hamdeok Beach, you will also see Café Delmoondo. This is one of the most famous cafes in Jeju.
Located on a small high dune it sits between the first two beaches. Café Delmoondo is almost as popular as Hamdeok Beach itself. The view from the cafe is stunning, you can watch the gorgeous clear blue water the entire day.
After you are done with your cafe, hike more east from Hamdeok Beach. There is a pleasant trail to admire the beautiful sea and volcanic rocks as part of the Jeju Olle Gil Trail.
The contrast is simply stunning. Continue more east and you will see a big hill. You can hike all the way to the top. On the way there you will see goats and horses. Hamdeok Beach is the perfect start for your holiday.
READ: DISCOVER THE BEST THINGS TO DO IN HAMDEOK BEACH
LOCATION: HERE
GO SNORKELING: why not explore Hamdeok underwater? You can book a snorkeling or scuba diving activity at Hamdeok Beach. More info here.
---
6. Hyeopjae and Geumneung, 2 other beautiful beaches in Jeju
We told you! After so many hikes, it was finally time to relax. Here are 2 other amazing beaches in Jeju.
Hyeopjae is definitely the most beautiful beach on Jeju Island. This stretch of white sand, its turquoise blue water, and its pine forest offer an absolutely exceptional landscape. Hyeopjae stretches for about 200 meters and is 60 meters wide.
Due to its shallow depth, it is an ideal beach for children.
You can also go to Geumneung Beach connected by a long strip of sand backed by grassy dunes from Hyeojae Beach. It offers another equally magnificent panorama!
During windy days, Geumneung Beach is a great spot for Kitesurfers. Head to the rooftop of the Para Todos Cafe right beside Geumneung for the perfect view of the beach.
READ: 10 MOST BEAUTIFUL BEACHES IN JEJU
LOCATION: HERE
---
7. Jungmun Beach in the South, one of our favorite beaches in Jeju!
One of our favorite beaches on the Island of Jeju is Jungmun Beach. This beach is also famous for being one of the best surf spots on the island if the swell is pumping. We actually had one of our best surf sessions on this beach while living in Korea!
Jungmun feels more preserved as there aren't many hotels visible from the beach. Jungmun Beach is surrounded by a cliff. To access it, you need to hike down the cliff from the main parking lot.
On the way down, you will then see the bar/restaurant called The Cliff. This is a very trendy place in Jeju, ideal for a sunset drink after a good surf session.
READ: 10 BEST SPOTS FOR SURING IN SOUTH KOREA
LOCATION: HERE
---
8. Admire Jeongbang Waterfall, one of the best things to see in Jeju
Jeju is also known for its waterfalls. There are several on the island, especially in the southern part.
Without a doubt, the most famous waterfall on Jeju Island is Jeongbang. Indeed, Jeongbang Waterfall is famous to be the only waterfall in Asia to jump directly into the sea.
You need to pay a small entrance fee to get there. Be aware of the opening hours, it usually closes around 5:30pm.
LOCATION: HERE
ADMISSION FEE: 2,000 won for adults, 1,000 won for children
---
9. Visit Cheonjeyeon Waterfalls, another unmissable thing to see in Jeju
This waterfall is called "the pond of the emperor of the sky" or also "the pond of god". This is one of the prettiest waterfalls in Jeju!
Before reaching the waterfall you will find the fountain of the 5 blessings. A fountain depicting a dragon for honor, a boar for wealth, a turtle for longevity, a carp for fertility, and a duck for love.
According to the stories, if you place a bag of coins in front of one of these statues, the blessing will come true. In addition, the money deposited will be used to help the poorest people.
A little further on, you will pass a 128-m-long bridge made up of 34 stone lanterns. On this bridge are sculpted 7 nymphs with their musical instruments.
Finally, you'll arrive at the waterfalls. There are 3 waterfalls in total actually. All so beautiful!
LOCATION: HERE
ADMISSION: Adults 2,500 won / Children 1,350 won
---
10. Explore the longest lava tunnel in the world at Manjanggul cave
Manjanggul Cave is located in the northeast of Jeju Island. This is one of the most impressive lava tunnels on Jeju Island. Manjanggul Cave has formed over 250,000 years ago! Its total length exceeds 13 kilometers.
It is possible to visit a portion of about one kilometer. The tunnel is huge: 18 meters in width on average and over 20 meters in height.
Manjanggul is one of the longest Laval tunnels in the world and has the largest Laval column worldwide with 7m in height. We highly recommend checking it out.
The visit takes about 40 to 60 min inside the cave. Bring a small jacket as the temperatures are as low as 10C degrees the deeper you go.
LOCATION: HERE
ADMISSION: Adults 4,000 won / Teenagers & Children 2,000 won
OPENING HOURS: 09:00-18:00
READ: FULL GUIDE FOR A VISIT AT MANJANGGUL CAVE IN JEJU
---
11. Go on a half-day trip to Udo island, Jeju's sister island
A visit to Udo Island is one of the best things to do in Jeju!
Udo Island is very close to Jeju. It takes less than 15 minutes by ferry to get there. It is located east of Jeju and the ferry departs from Seongsan. There is a ferry every 30 minutes.
The best way to visit the island is to rent a cute electric motorcycle or buggy. You can then easily stop all around the island.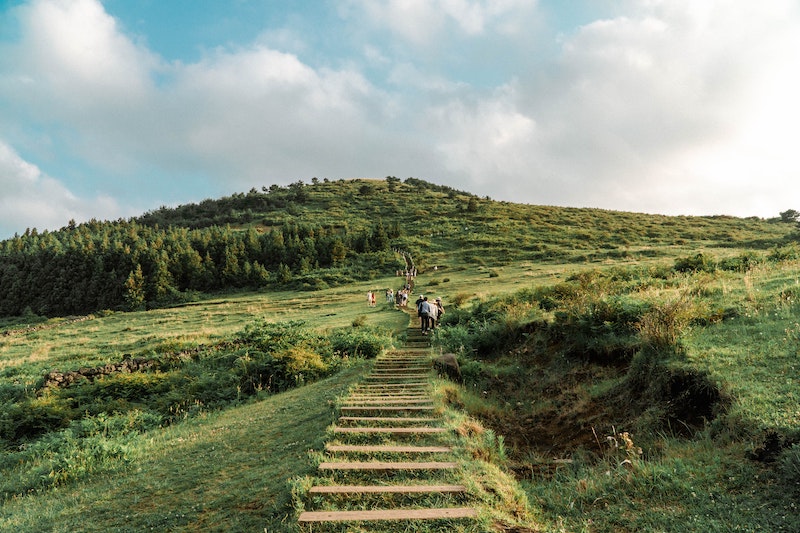 Our day on Udo Island was perhaps our best memory in Jeju. We had so much fun that day. The weather was perfect and the island is stunning.
We highly recommend this cute and preserved island, count 3 to 4 hours to visit.
READ: THE BEST THINGS TO SEE ON UDO ISLAND [ULTIMATE GUIDE]
Here are some of the highlights of things to see in Udo:
Jeonpo mangdo: the view from the ferry that leads to Udo;
Seobin baeksa: a superb white sand beach with turquoise waters;
Dong'an gyeonggul: a cliff with an underwater cave in the southeast of the island;
Huhae seokbyeok: the view from the sea on Udobong peak;
Jidu cheongsa: the green meadow that leads to Udobong peak, from which you can see a panorama of Seongsan Ilchulbong peak;
Jugan myeongweol: another cavity, where the morning sun is reflected on the walls, forming the pattern of the moon;
Cheonjin gwansa: the view of Mount Hallasan from Cheongjin village.
Best activities on Udo Islands: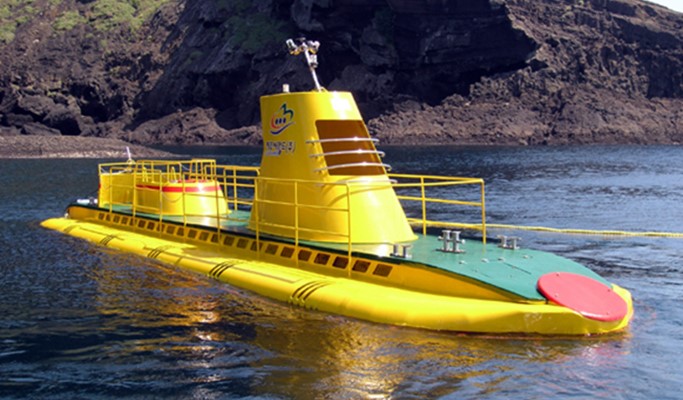 Ever dreamed of stepping into a submarine? It's possible on Udo Island. This is one of the most fun activities on the island. MORE ABOUT IT HERE.
---
12. Visit Daepo Jusangjeolli Cliff, an impressive place in Jeju
Another stunning sight near Seogwipo is the Jusangjeolli Cliff, a surreal cliff formed by eerie volcanic pillars. These characteristic features have been formed by the dried lava of Hallasan over the past centuries.
As well as admiring the scenery from here, head to the cliff face during low tide to see the pillars up close and take a leisurely stroll through the surrounding pine forest.
We love the park surrounding Jusangjeolli. It is one of our favorite places to chill on Jeju Island. And the cliffs are simply surreal.
LOCATION: HERE
ADMISSION: Adults 2,000 won / Teenagers & Children 1,000 won
OPENING HOURS: 09:00-19:00
---
13. Go Surfing on Jeju Island!
Jeju is one of the places to surf in South Korea. For other great surf spots in South Korea, check out our other post for this topic.
Jungmun Beach is a very well-known surf spot. Woljeongri in the east is often pumping with good waves (more info here about Woljeongri) and there are many surf shops all around to rent surfboards.
Gwakji Beach and Hamdeok Beach are other surf spots in Jeju for great surfing in the northern area of the island. Lastly, Pyoseon Beach also offers great waves from time to time.
You can book your surf lesson in Jeju here.
---
14. Visit the gorgeous Camellia Hill, one of the most beautiful gardens in Jeju
Camellia Hill located on Jeju Island, is a gorgeous park spread over ​​199,000m². Camellia Hill is home to 6,000 camellias of 500 different species, including those that produce the most advanced and largest flowering in the world.
The Forest for Love and Healing is what people call Camellia Hill. The park which features the nature of Jeju, boasts a 30-year-long history of passion and love and is the biggest arboretum in Asia.
The park is also rich in palm trees, wildflowers, and other plants which makes it such a unique place in Jeju. (book your discounted ticket here)
Its area forms a thick forest of more than 6,000 trees of over 500 camellia species native to 80 countries that are in full bloom in different seasons ranging from autumn to spring.
READ: FULL GUIDE FOR A VISITI OF CAMELIA HILL IN JEJU
LOCATION: HERE
ADMISSION: book your ticket here for cheaper price.
OPENING HOURS: 8:30AM–6PM
---
15. Visit the stunning beach of Woljeongri, our favorite vibe in Jeju
Just imagine emerald water, white sandy beach, gorgeous cafes facing the sea, super cute restaurants, a traditional village, surfers everywhere, and very friendly locals, this is how we would summarize Woljeongri, one of our favorite spots on Jeju Island.
We love this place so much, that the last time we went to Jeju, we decided to stay 2 weeks in Woljeongri.
Woljeongri, is actually a village located on the east side of Jeju Island. In Korean it means "the moon stays".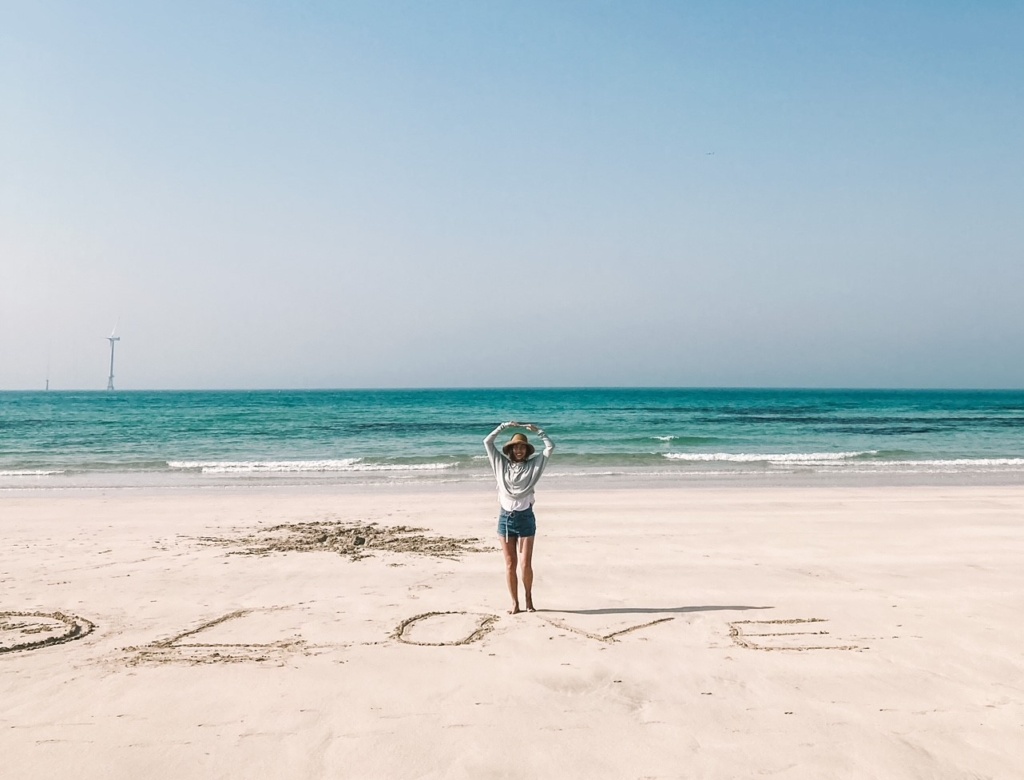 The shallow water is perfect for families with children to play in the water. Woljeongri is becoming more and more popular among tourists due to its gorgeous scenery and amazing vibes. However, the village still kept its authenticity. Which we really love about this place.
READ: THE BEST THINGS TO SEE IN WOLJEONGRI [FULL GUIDE]
We also recommend visiting Woljeongri with an e-scooter for even more fun. You can check it out here.
---
16. Visit some beautiful Temples all around Jeju Island
Like everywhere in South Korea, there are several Buddhist temples on Jeju Island. Even if it is not the number 1 attraction of Jeju Island, some temples are worth a visit.
Gwaneumsa Temple in Jeju in particular. Gwaneumsa temple is the oldest Buddhist temple on Jeju Island.
This temple is located on the edge of Hallasan National Park. You will pass a few hundred meters from it if you plan to climb Mount Hallasan. A short detour to the temple is therefore recommended.
Beyond the Gwaneumsa temple, other Buddhist temples may be worth a visit in particular Yakcheonsa temple, which is located in the south of Jeju Island. 
After crossing a beautiful garden, you will arrive in front of the main building with a tower on each side. Yakcheonsa temple is a beautiful temple and you can even sleep there if you are interested.
---
17. Check out the unique Cactus Village of Wollyeongri
Less known in Jeju, and often not in the most guide book (sadly), is the village of Wollyeongri.
We ended up there by chance, as we stopped randomly along the coast while driving back to the airport. However, we were quite surprised to see a village with thousands of Cactuses. (Yes, Cactuses!?).
Although Jeju is not a desert, it has a village covered in cactuses.
These cactuses grow naturally in between the rocks of Wollyeong. These species are originally from Mexico. As of today, no one knows how come those cactuses ended up on Jeju Island.
We were very lucky to stop in this village, as on top of finding out about his place by chance, all cactuses were blooming with amazing yellow flowers. Their flowers, only blossom in the summer.
At Wollyeongri, you can enjoy a beautiful coastal walk surrounded by Cactus and lava rock. What an experience!
LOCATION: HERE
ADMISSION: FREE
---
18. Discover the Dol Hareubang, the symbol of Jeju
Dol Hareubang is stone statues representing ancient deities who were believed to protect the people of Jeju Island. These stone statues are the symbol of Jeju.
You can see them everywhere: in decoration, in souvenir shops, in front of houses etc. You can't go to Jeju without seeing these Dol Hareubangs!
In the north of Jeju Island, some 20 km east of Jeju-si (or Jeju City), you can visit Dol Hareubang Park (location).
In this really cool park, you can see many statues representing these Dol Hareubangs.
---
19. Hallim Park, a gorgeous tropical garden in Jeju
This is a huge park of nearly 30 hectares located near the west coast of the island, behind Hyeopjae Beach.
A visit to Hallim Park is one of the best things to do in Jeju! The park is home to a diverse flora, including subtropical plants, palms, cactus, and o much more. Hallim Park is also part of the Geomunoreum lava tunnel system with the entrance to the Hyeopjaegul and Ssangyonggul Caves.
As a garden, the best time to visit Hallim Park would be spring, as this is the time when flowers such as tulips, cherry blossoms, and canola are blooming. Make sure to book your discounted ticket here and skip the queue.
We had no idea about how huge the park is. It actually took us almost 3 hours to visit everything. In the end, we were so tired that we even skipped some parts. So count a complete half day to visit.
READ: DISCOVER THE STUNNING HALLIM PARK IN JEJU
LOCATION: HERE
---
20. Have fun at Jeju Maze Park in Gimnyeong
At Jeju Maze Park in Gimnyeong, guaranteed fun awaits you. For us it was the first time we went in a Maze and absolutely loved it. It was recommended to us by friends who visited Jeju Maze Park before.
Jeju Maze Park is located very near the Majanggul Cave. We recommend combining the visit to the cave and then the Maze. Both are really great experiences in Jeju.
It is not every day that you can experience going on a real Maze and find your childhood spirit back. Hence we 100% recommend experiencing Jeju Maze Park in Gimnyeong.
On average it takes less than 30min to get out of the Maze. However, there are other games to play around the Maze such as mini-golf, basketball, small zipline, and many other fun activities for adults and kids. All these other activities are free.
READ: DISCOVER JEJU MAZE PARK IN GIMNYEONG
LOCATION: HERE
---
21. Discover the area of Sanbangsan in the Southwest of the Island
During our last day on Jeju Island, we drove all the way to the southwest of the island, which is usually less touristy. We were actually really surprised by how beautiful this part of Jeju is.
There are a few beautiful stops along the way: Yongmeori Haean to see amazing cliffs, One and Only Cafe for a perfect view on the beach, and Sangangsan Mountain which is a very impressive hill sticking out of the landscape.
We highly recommend a trip to the southwest part of Jeju to see a more remote landscape and the wildest part of the island.
On the way, we stopped at Tropical Brunch Cafe (here). It was some of the best food we ate during our trip to Jeju with many vegan options. Yummy!
READ: BEST VEGAN RESTAURANTS IN JEJU
---
22. Go sailing to spot dolphins
If you are lucky in Jeju, you can spot pods of dolphins from the beach. However, the best way to see them is to go on a sailing tour. There are different sailing tours offered on the island. We opted for the one in Gimnyeong, near Woljeongri.
The tour was absolutely superb! We chose the sunset time to get out at sea. The catamaran was beautiful.
On the boat we were allowed to fish (and a few people caught small fish), they offer drinks such as wine and beer, and the rest of the time we just chilled watching the sunset and looking out for dolphins. You can book directly here.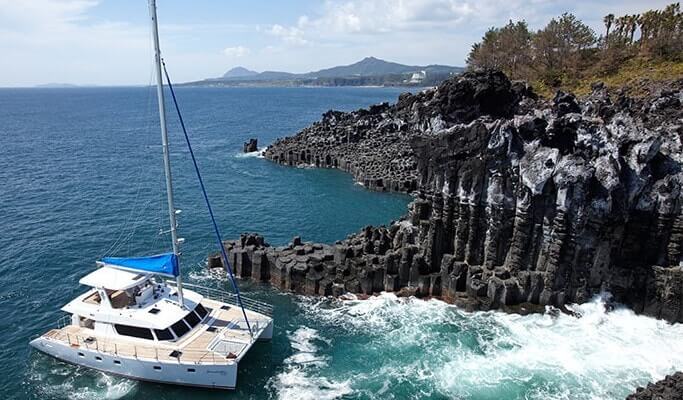 There is another place to go on a boat, and this is in Jungmun. You can hop on another luxury catamaran called the Grande Bleue. The boat brings you to see Jusangjeolli which is a great way to see this sight from another angle. You also have a chance to see dolphins on this side of the island.
To book your sailing trip from Jungmun, you can check out this link.
---
23. Enjoy the beautiful trail at Seopjikoji
Seopjikoji is a gorgeous trail along the coast of Jeju. It is one of the best spots to admire the rugged coastline of Jeju and see some natural wonders which the island has plenty to offer.
Seopjikoji is located on the east side of Jeju Island. Seopji means "a narrow piece of land" in the local dialect, and koji means "a promontory".
We actually drove to Seopjikoji after our hike to Seongsan Ilchulbong Peak. It's just a few minutes drive from it. We really wanted to check it out, as usually, the trails on the coastline of Jeju are really beautiful. We love watching the ocean and the waves crashing against the volcanic cliff. And Seopjikoji is probably one of the best spots to do just that! 
The shoreline is covered with volcanic red rocks and pebbles, and many of the rocks are of strange and spectacular shapes. Make sure to check our Seopjikoji, this is one of the best things to do in Jeju!
READ: FULL GUIDE FOR EXPLORING SEOPJIKOJI COASTLINE IN JEJU
---
24. Hike in gorgeous Songaksan, the southernmost point of Jeju
Songaksan Mountain is located in the southernmost point of Jeju. Hiking in Songaksan is one of the best things to do in Jeju!
The trail is going around the volcanic mountain alongside the coast, making it a beautiful spot to admire the gorgeous nature that Jeju has to offer.
From Songaksan you can see Gapado and Marado islands, you can admire the Hallasan Mountain in the middle of Jeju and the impressive Sonbangsan Mountain. We actually really like this part of the island. It is wilder than the rest of Jeju.
This hike is very easy and suitable for the whole family. It takes less than 2 hours to complete the hike around Songaksan and it's totally worth it! We loved it.
READ: COMPLETE GUIDE FOR HIKING SONGAKSAN IN JEJU
---
25. Visit Jeju Aqualand, the largest aquarium in Asia!
Jeju Aqua Planet (아쿠아플라넷제주), is one of Asia's largest aquariums, home to over 5,000 sea creatures! It's absolutely stunning and really impressive!
If you are a sea lover like us, this is a great attraction in Jeju! It's also a good place to visit on a rainy day.
This place is huge! Count at least 2 hours to visit Jeju Aqua Planet.
LOCATION: HERE
ADMISSION: BOOK HERE FOR DISCOUNTED PRICE
OPENING HOURS: 9:30AM–7PM
WEBSITE: HERE
---
26. Enjoy a great cup of coffee at one of the many amazing cafes
Like everywhere in Korea, Jeju is full of amazing cafes! Everywhere you go you can explore beautiful cafes facing the sea or the gorgeous nature on the island.
Some of the most beautiful cafes on Jeju Island are:
Café Delmoondo on Hamdeok beach. This place is legendary! Every Korean knows about this place! A must-see in Jeju. (website)
Woodstock cafe at Woljeongri. This cafe is directly facing the sea at one of our favorite areas of Jeju! Check it out (instagram)
The Cliff at Jungmun Beach. No introduction is needed for this one! You just must go to believe it! THIS PLACE IS INCREDIBLE! (instagram)
One and Only in Seogwipo: this is one of our favorite places in Jeju. It looks like an oasis in the middle of the desert! (instagram)
Mônsant de Aewol, another stunning and modern cafe in Jeju (more info here)
---
27. Check out Ossuloc Tea Plantations and Tea Museum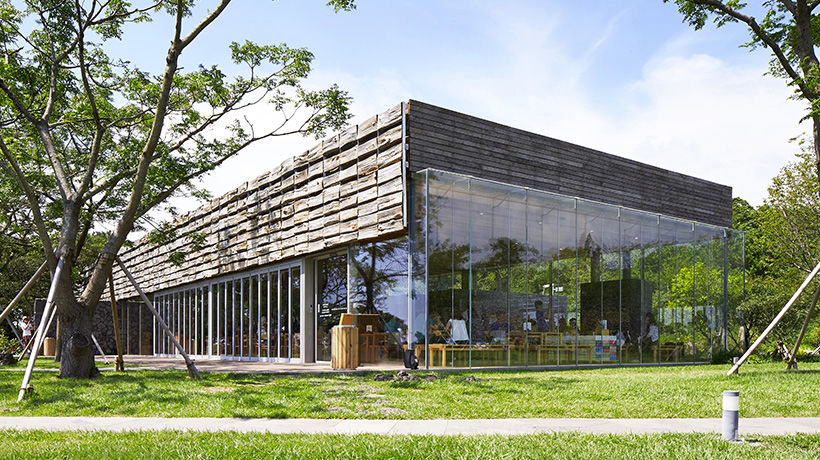 One of the best things to see in Jeju is the Ossuloc Tea Plantation. Combine your visit to the gorgeous tea plantation with the Tea Museum, sample various kinds of tea products at the restaurant, and shop at Innisfree!
This is a great visit in Jeju, make sure to check it out.
LOCATION: HERE
ADMISSION: FRE
OPENING HOURS: 9AM–7PM
WEBSITE: HERE
---
28. Learn more about the island's History at the Jeju Folk Village
Jeju Folk Village is one of the best things to see during a visit to Jeju.
This spacious museum features traditional Korean houses from Jeju. The exhibits focus on the living culture and history of Jeju Island. A visit to this museum is a great experience to learn more about the traditions of Jeju. It is also relaxing to take a stroll inside the folk village.
There are plenty of things to see at the Jeju Folk Village, so count 1h to complete your visit.
LOCATION: HERE
ADMISSION: Adults 11,000 won / Senior citizens & 9,000 won / Teenagers 8,000 won / Children 7,000 won
OPENING HOURS: 8:30AM–6PM
WEBSITE: HERE
---
29. Check out Jeju Mysterious road!
One of the unique things to see in Jeju is the mysterious road… What is it?
At first, it looks like a simple and normal road. But look a bit deeper and you will understand why this place is so unique! There is an illusion actually.
While the road looks like going uphill it's actually going down. You may see many people trying to roll a bottle on the floor. You might be surprised that the bottle is rolling in the opposite direction of what you would expect!
Hard to believe? Check it out for yourself. Here is the location.
---
30. Visit Jeju Stone Park
The Stone Park is a fascinating attraction that showcases the natural wonders of the region.
This park is a captivating blend of art, culture, and natural beauty, offering visitors a unique experience. As you explore the park, you'll be greeted by an array of intricate stone sculptures and formations that have been crafted by nature itself over thousands of years.
These sculptures, shaped by volcanic activity and erosion, take on various forms, from animals and mythical creatures to abstract designs.
The park also features traditional Korean gardens, where you can appreciate the harmony between the stone sculptures and lush greenery.
Additionally, visitors can learn about the geological history of Jeju through informative exhibits and displays that provide insights into the island's volcanic origins. Whether you're a nature enthusiast, an art lover, or simply seeking a peaceful retreat, Stone Park is a must-visit destination that will leave you in awe of the island's natural wonders.
WEBSITE: here
---
31. Check out the famous Iho Tewoo Horse Lighthouse
Perched on the dramatic cliffs of Jeju Island's coastline, the Iho Tewoo Horse Lighthouse stands as a captivating symbol of maritime history and natural beauty.
This iconic lighthouse, named after the Iho Tewoo rock formations that resemble horses, offers visitors a mesmerizing sight against the backdrop of the sparkling sea and rugged cliffs.
The lighthouse serves as a guiding beacon for ships, providing safety along the treacherous coastal waters.
As you approach the lighthouse, you'll be greeted by stunning panoramic views of the ocean, where waves crash against the rocks with an awe-inspiring force.
The surrounding area boasts well-maintained walking paths that allow visitors to take leisurely strolls along the coast, immersing themselves in the tranquil ambiance of the area.
---
32. Enjoy Jeju traditional food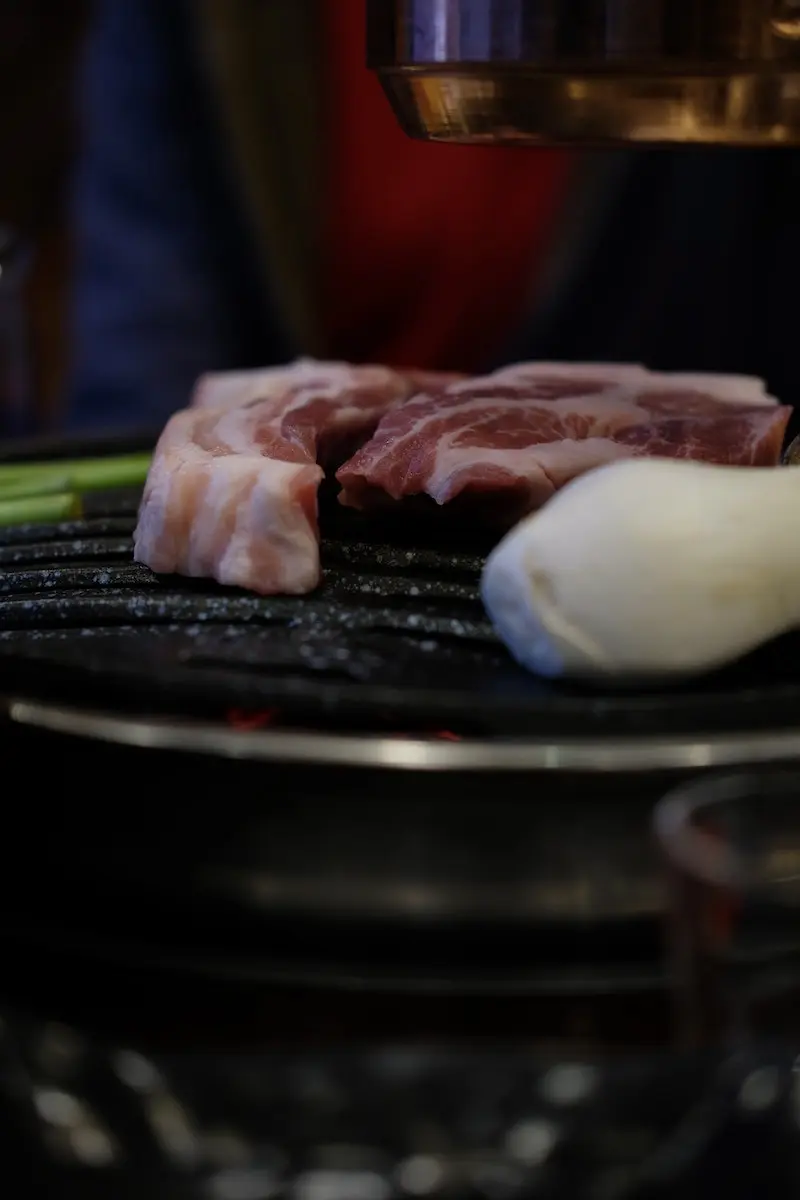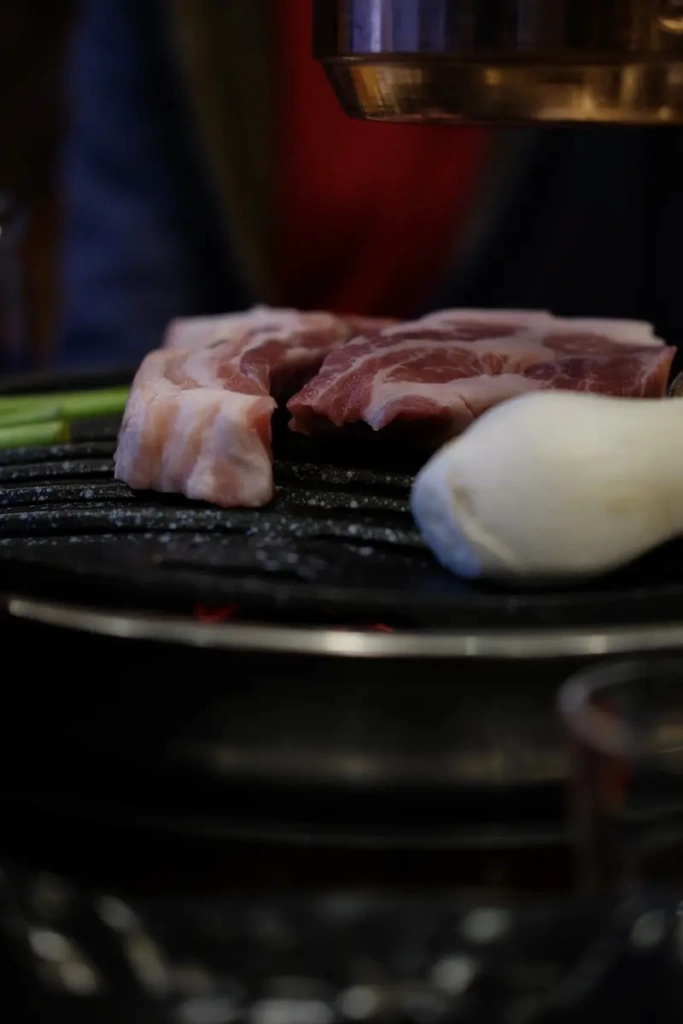 The traditional dishes of Jeju Island are a delightful fusion of local ingredients, cultural influences, and culinary craftsmanship.
With an abundance of fresh seafood, fertile farmlands, and unique regional specialties, Jeju's traditional cuisine offers a diverse range of flavors and textures.
One iconic dish is the Jeju Black Pork, known for its succulent and tender meat, which is often enjoyed in a savory barbecue style.
Another must-try dish is Haemul Jeongol, a hearty seafood stew filled with an assortment of fresh fish, clams, squid, and vegetables, simmered in a flavorful broth.
Jeju also takes pride in its seafood delicacies, such as Gejang (marinated raw crabs) and Gaebul (sea worms), both offering a unique taste experience.
For vegetarians, there's the famous Jeju Kongbiji, a creamy and nourishing dish made from ground soybeans.
Don't forget to savor Jeju's diverse array of banchan (side dishes), which may include seaweed soup, radish kimchi, and mandarin.
Exploring the traditional dishes of this island is not just a culinary adventure but also an opportunity to immerse yourself in the rich cultural heritage and the flavors of its bountiful natural surroundings.
---
33. Check out the impressive Fire Festival!
The Jeju Fire Festival is an annual event that sets the island ablaze with excitement and cultural fervor.
Held in October, this vibrant festival pays homage to the volcanic origins and fiery spirit of the region.
As day turns to night, the festival grounds come alive with an array of fiery performances, dazzling fireworks, and traditional rituals.
Visitors are treated to breathtaking fire dances, mesmerizing fire shows, and thrilling displays of fire-breathing prowess. The torch parade, where participants carry flaming torches, creates a mesmerizing spectacle as it winds through the festival, illuminating the night with its warm glow.
Alongside the fiery performances, the festival also showcases traditional music, dance, and cultural exhibits, offering a deeper understanding of the island's rich heritage.
The Fire Festival is a captivating celebration that ignites the senses, leaving participants with lasting memories of the island's vibrant energy and cultural significance.
WEBSITE: here
---
34. Pick your own fruit at Jeju Tangerine Farms
Experience Jeju Tangerine Farms and immerse yourself in the fragrant and juicy world of the island's renowned citrus fruit.
Jeju's tangerines are celebrated for their exceptional sweetness and vibrant flavors, making a visit to the farms a delightful and refreshing experience.
Explore the lush orchards, where rows of tangerine trees laden with ripe fruit stretch as far as the eye can see. Engage in tangerine picking, plucking the sun-kissed fruit directly from the trees, and savoring its irresistible taste.
The farms also offer guided tours, providing insights into the cultivation and harvesting processes, as well as the importance of tangerines to the local economy.
Enjoy the warm hospitality of the farmers, who are often eager to share stories and knowledge about their cherished crops. Additionally, don't miss the opportunity to taste and purchase an array of tangerine-inspired products, from freshly squeezed juices and jams to candies and skincare items.
BOOK: here
---
35. Enjoy a visit to many other museums in Jeju
The island is full of various museums and theme parks. There are so many to choose from depending on your interest. Visiting a museum is a great activity during rainy days.
Here are some of our recommendations:
Jeju National Museum (국립제주박물관): Presents the history and cultural heritage of Jeju-do from prehistoric times to the Joseon Dynasty.
Folklore and Natural History Museum (민속자연사박물관): Showcases flora, fauna, marine life, and rock types, as well as the evolution of the lives of the inhabitants on the island.
Teseum Safari (제주테지움): Exhibition bringing together hundreds of stuffed animals (mostly bears) and dolls of all kinds through different themes.
---
Where to stay on Jeju Island?
Visby JEJU & Palm Village – the best value for money with full sea view
In our second trip to the island, we decided to stay near Seogwipo and Jungmun Beach to surf as much as possible. We found this excellent hotel, Visby Jeju & Palm Village, facing the ocean, in a quiet area, including breakfast and a beautiful swimming pool. We had breakfast every day facing the sea and listening to the waves… couldn't start our day any better.
The hotel has 2 options, the private villa or the rooms. We actually thought the rooms were much nicer, as they had a private jacuzzi balcony facing the sea.
By far our favorite hotel on the island! We highly recommend staying there. Visby Jeju & Palm Village is conveniently located, near the main attractions in the southern part of Jeju. You can book here.
---
Bayhill Pool & Villa – the best design and most luxurious
We stayed at Bayhill Pool & Villa for 1 night, for our wedding anniversary. Oh dear, what to say about this hotel? Beautiful, Gorgeous, Stunning, Extraordinary? Not sure we have the right word, but yes, it is a really nice hotel. We chose a room with a private pool.
We could see the ocean in the background. Check out the Bayhill Pool & Villa, you won't be disappointed. You can book here directly.
---
Sun and Moon Resort for the best sea view
When looking for hotels in Jeju, we always prioritized a full sea view. Sun & Moon resort is directly located by the sea in a very quiet area of Jeju, yet with many things to visit, such as hiking around Songaksan Volcano.
This is one of the most beautiful trails in Jeju. We stayed at Sun & Moon Resort on one of our last visits and felt that it was a great hotel if you want to be in a peaceful area and really disconnect from the busy city life of Seoul. Check it out here.
---
The Shilla Jeju, the best service and most family-oriented
If you have been living in South Korea for some time, you will know that Shilla hotels are a great sign of quality. Well, in Jeju they even topped it off a notch by providing extra care services. By staying at Shilla Jeju Hotel, you can be guaranteed that you will have a great time for you but also the whole family.
They have 6 different restaurants, 2 pools, a spa, fitness center, and the hotel is located just a few minutes walk to Jungmun Beach. If like us, you love sea views, they also have rooms with the perfect lookout to the ocean. We loved our stay at Shilla Jeju and can only highly recommend this hotel. You can book here.
---
How to get to Jeju?
Fly to Jeju
The most obvious way to get to Jeju to by taking a flight from Seoul or Busan.
You can see the cheapest flight options here
You can only buy a full package Flight + Hotel, which are usually a very good deal in Korea. Check out the availability here.
---
Take a ferry to Jeju
The 2nd option, which we actually like the most, is to take the ferry from Mokpo on the southern part of Korea. It takes about 4.5 hours to get to Jeju from Mokpo.
When traveling to Jeju, it is much more convenient if you have internet, in order to check the map, get the gps function if you rent a car, or simply translate things when ordering food at the restaurant. You can simply buy an eSim card here. It's cheap and very convenient!
---
How to get around the island?
Renting a car
Renting a car in Korea as a foreigner is not always easy. Most websites are only in Korean and the website that offers English translation usually charges much more for foreigners… sad truth 🙁
We then figured out that for foreigners one of the best options is to book with Trazy. They do offer preferential rates for foreigners only. We would always go via Trazy when renting a car on the island. To do so, you can book here.
---
Private tour
Another good option if you want to take it easy and let someone drive you around the island, is to hire a driver with a car. You can do so here at an affordable rate. This is a great option if you are traveling as a group.
This is also the most peace of mind solution if you want to enjoy your holidays to the fullest!
---
Public transportation
We highly recommend renting a car when visiting Jeju! It is doable by bus but very inconvenient! You will lose lots of time going from A to B.
However, you can choose the Jeju Hop On/Hop Off bus, which is much more convenient. MORE INFO HERE
---
Visit Jeju by bicycle
If you only intend to visit one part of the island, then renting a bicycle is a great option. What's even better is to rent an e-bike. You can do so here!
---
Best time to visit Jeju?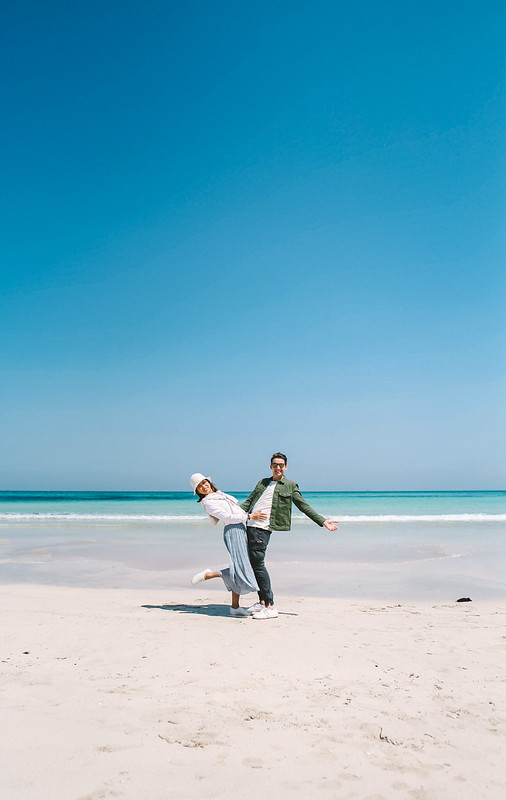 The best time to visit Jeju is from Spring to Autumn. During that time the weather will be really nice and you will be able to swim.
Winter is also nice, as you might get some snow on the island. We saw some photos of Mount Hallasan fully covered in snow, it looks beautiful!
---
In conclusion about the best things to do in Jeju
Jeju is considered the #1 destination for South Korea. Its climate quite different from the rest of South Korea certainly plays into this feeling that the Koreans have toward Jeju Island.
Nevertheless, Jeju Island should not be summed up as an island where one goes just for idleness and the beach. We highly recommend that you include Jeju Island in your travel itinerary. We recommend spending 3 or 4 days at least. 
If you are going to visit Jeju Island soon and have additional questions about your stay, please do not hesitate to send us your comment.
---
Related posts about Jeju
UDO ISLAND All you need to know before you go to Jeju: here
HALLASAN MOUNTAIN, a full guide for hikers: here
HALLIM PARK a gorgeous subtropical park in Jeju: here
HAMDEOK Beach our favorite beach in Jeju: here
CAMELLIA HILL a beautiful park in Jeju: here
OLLE GIL TRAIL your ultimate guide: here
WOLJEONGRI a beautiful beach in Jeju: here
SEOPJIKOJI to admire the rugged coastline of Jeju: here
SONGAKSAN the southernmost point of Jeju: here
MANJANGGUL CAVE, one of the largest Lava tunnel in the world: here
FERRY TO JEJU: all you need to know to take the ferry from Mokpo to Jeju: here
JEJU MAZE PARK, guaranteed fun awaits you: here
MOKPO a fabulous coastal city in Korea: here
SOUTH KOREA: best things to do in Korea: here