Lombok is an island located close to Bali in Indonesia. Lombok is ideal for those looking to escape the crowds and immerse themselves in the local culture while enjoying the beautiful beaches. Indeed the island attracts less tourists than Bali, so you will have more chances to have some beautiful places all for yourself!
If you want to visit Lombok, we have listed all the essential information in this post. Check it out!
Lombok offers diverse and unforgettable experiences. Home to an active volcano, Mount Rinjani, this island is also full of ideal places for romantic getaways or for strolling on surreal pink sand beaches. We absolutely fell in love with Lombok, and can't wait to visit again to explore even more remote places.
Agriculture is one of the main activities of the inhabitants of the island. The land is suitable for many crops, including rice, coffee, corn, cotton and tobacco. To the south, the villages have preserved their authenticity, shaped by unspoiled landscapes. Although the beaches are magnificent in the South of Lombok, the island remains untouched by mass tourism.
The western part of the island is the preferred destination for tourists traveling to Lombok. This is surely due to the proximity of the Gili Islands.
To the north, Mount Rinjani dominates the panorama. The blue of the ocean gives way to mountain landscapes punctuated by waterfalls and rice fields.
Let's start with a bit of history about Lombok
In contrary to Bali, Lombok inhabitants have opted for a globally orthodox Islam. Despite the internal migratory flows from within Indonesia, attesting to a strong presence of Balinese, but also Javanese and Chinese, around 80% of the population of Lombok still belong to the Sasak ethnic group.
Mataram is the capital of Lombok, with roughly 400,000 inhabitants. We will talk about Mataram a bit later in this post.
Rice and tobacco crops dominate the agricultural sector and, if the land is more arid than in Bali, the slopes of the Rinjani volcano – from the top of its 3,726 meters – abound with fertile land suitable for the cultivation of coffee without forgetting that famous peppers, called… Lombok!
The Rinjani experienced its last eruption in 1994; its vast area is partially filled by Lake Segara from which emerges the more recent crater of Baru. The summit of the volcano is reached after a trek – usually 3 to 5 days – relatively difficult but very popular with tourists and Western backpackers. Since 1997, the Rinjani area has included an Indonesian national park, a heritage and tourism operation which improved the management of the site.
It is primarily fishing that occupies the locals, while tourists enjoy diving and surfing, of which Lombok offers very beautiful sites.
Going from Bali to Lombok, is not only a change of island, is also a change of world, religion, culture, landscape etc.
---
1. Senggigi Beach
For this post we had a hard time to choose which would be the first thing we would recommend to do in Lombok. As there are so many amazing things to see, we couldn't agree on the top spot…
So to start with, we will tell you all about Senggigi Beach, which was also the first sight we visited after landing in Lombok (yes we flew there, but you can also take a boat from Bali, we will tell you more later, on how to get to Lombok). Our Hotel, Jeeva Klui Resort (stunning place by the way and probably one of the best hotel we stayed at in Indonesia) was also located nearby. After renting a scooter from the hotel, we headed to Senggigi Beach.
Senggigi Beach was the perfect place to relax after a few hours flight. The area of Senggigi has a series of white sandy beaches and safe swimming areas. In the center, it has good waves for surfers. As we arrived there we spotted a few kids surfing decent waves. We couldn't resist and 5min later after arriving at the beach, we were already on surfboards waiting for our first wave in Lombok.
Beautiful waters, transparent, regular waves, amazing surrounding… We couldn't hope for a better start of our trip. Swimming is safe as well.
Senggigi Beach has a beautiful and colorful reef which offers shelter to a wide variety of marine life and corals. It is also an ideal place for diving. During the dry season, there is a whole collection of boats moored in the bay waiting to take divers. The town of Senggigi is about 10 km of coastal road. This road continues north to Bangsal, the port for the Gili Islands.
The beauty of Senggigi Beach is so overwhelming that even Indonesian novelist Mira W. has written a novel called Segurat Bianglala di Pantai Senggigi (The Rainbow of Senggigi Beach). The unspoiled Senggigi Beach is a perfect backdrop for a sunset. The beach offers a picturesque view of Mount Agung in Bali and breathtaking sunsets with the silhouette of the volcano stretching out as far as the eye can see.
Senggigi is one of the most touristy area in Lombok (but still nothing compared to Bali).
---
2. Pura Batu Bolong Beach
After Senggigi, visit Pura Batu, a rocky area south of Senggigi. There is a lovely spot here for snorkelling in the sheltered bay around the headland.
Pura Batu is also a Hindu temple located in the middle of an idyllic setting: overlooking the rocky coastline, it allows you to come and admire the splendid sunset on the seaside while enjoying the peaceful atmosphere and the spirituality emanating from the place. Its numerous pagodas and statues help to reinforce the tranquility of the place.
The temple is considered to be one of the best preserved in Indonesia, which has kept its original style. Many Indonesians come to make offerings
It's not the most impressive temple in size but it's one of our favorite things to see in Lombok!
---
3. Kuta Lombok
Kuta Lombok is located in the south of the island. It has nothing to do with Kuta in Bali which is a very touristy seaside area.
Here in Lombok, Kuta has kept its authenticity because there are not many hotels or bars and restaurants. Kuta gives the impression of having a nice and calming vibe.
Kuta Lombok, is well known for its surf spot. One of the best in the island. Hence it is not uncommon to cross path with surfers while visiting Kuta.
What we particularly enjoy in Kuta, is to continue walking pass the beach, head to Pantai Seger for an amazing vista of Lombok and then continue to Mandalika Queen Beach and climb the rock in-between both beaches. There the view for sunset is simply stunning.
If you have sufficient time, head all the way to Merese Hill, for another perfect viewpoint. The walk to there is very pleasant, simply walk along the coast and the beach, you will always find a path.
From the viewpoints you will quickly understand what Lombok is all about: a perfect island, still preserved from tourist, surrounding by a beautiful sea, and surfers here and there… We fell in love instantly !
---
4. Selong Balanak Beach
If we were to choose 1 beach in Lombok, it would probably be Selong Belanak Beach.
Selong Belanak Beach is well known for its white sand beach and crystal clear water, but also for beginner surfers. If you are lucky, you will also have the opportunity to see farmers pass by with their herds of cows. Splendid sunset too and when night falls you will see the light of the fishing boats on the sea.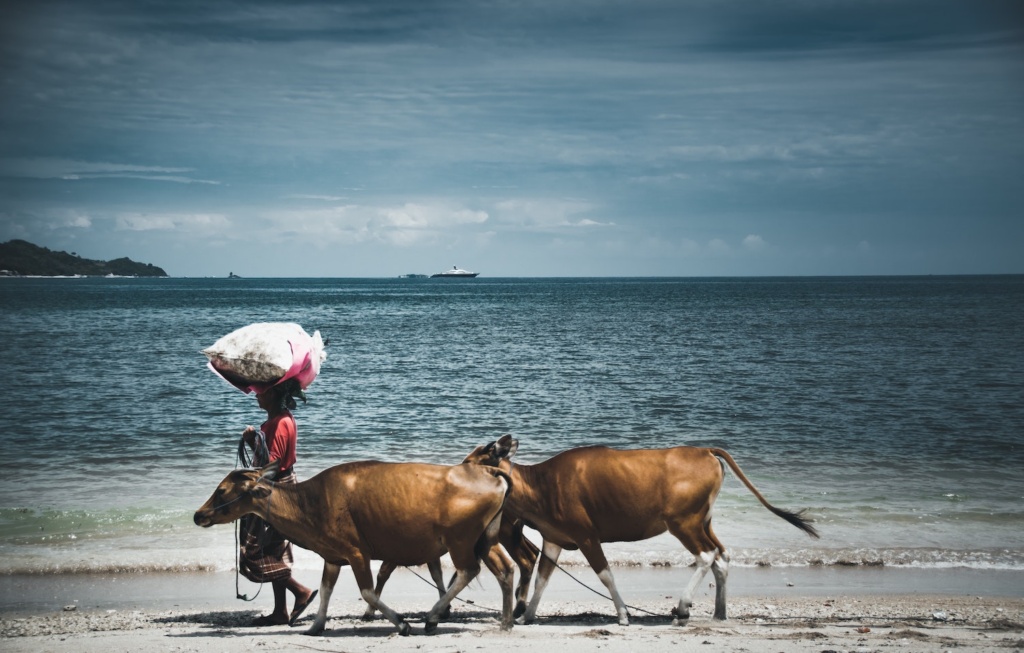 Get there was a bit of ride with our scooter and a bit chaotic to park as we were not the only one on that day, but absolutely worth the trip.
There are a few eateries on the beach and you can also rent surfboards right on the beach. Surfing in Selong Belanak is one of the main activity, and it's a perfect spot to learn how to surf as the waves are very gentle and the beach is not very deep.
---
5. Malimbu Beach and Malimbu Hill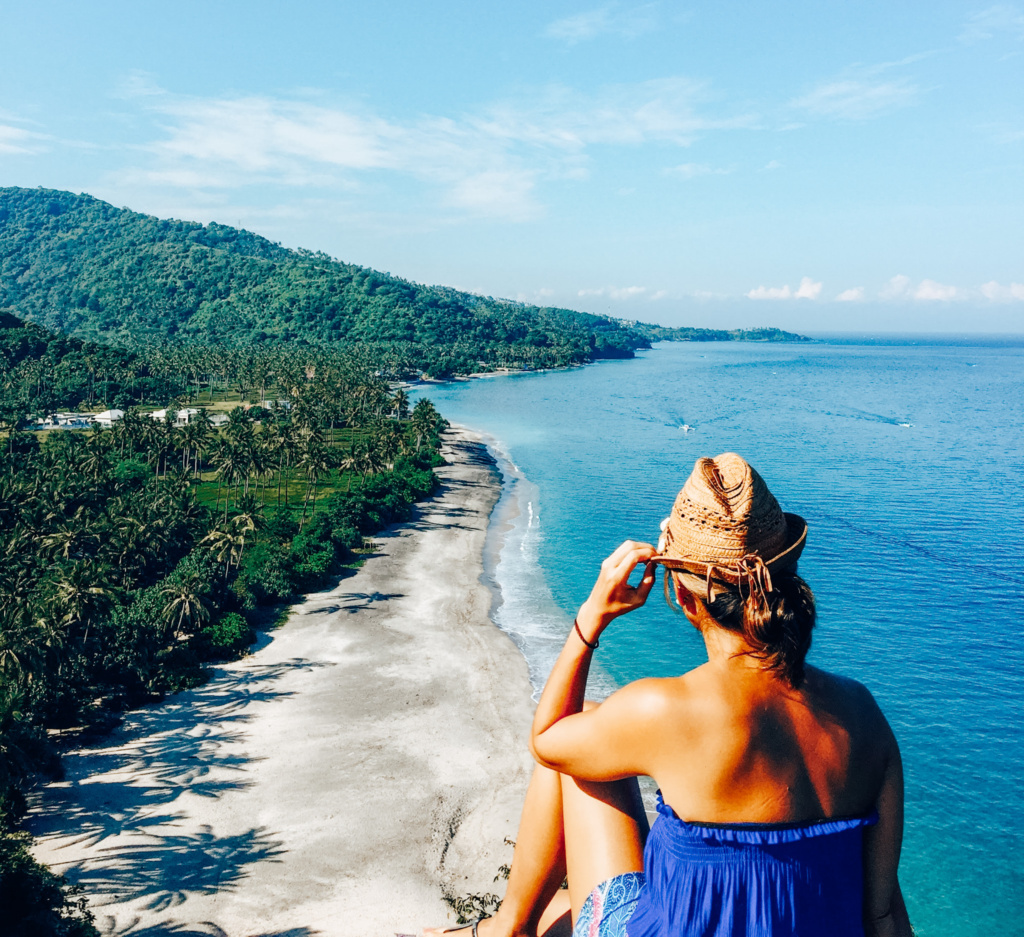 Actually there is not much to do in Malimbu Beach, but there are 2 perfect spots to take great pictures! Those spots were recommended by 1 of our tour guide, which we took one day to visit some waterfalls. We will come to that in a second.
The first spot is located in an abandoned villa right by the coast. The villa is called Villa Hantu Senggigi, you can easily find it on Google Map. From there, enter the abandoned villa and head to the rooftop. The view on Malimbu Beach and Ludmila Beach is simply amazing.
There should be other tourists there, so don't be afraid to enter the villa.
The other great instagrammable spot is located at Bukit Malimbu, also called Malimbu Hill. Stop on the side of the road, and take the trail to reach the edge of the rocky cliffs. There you will see one of the most photographed spot in Lombok.
---
6. Semeti Beach
In Semeti Beach you may feel on another planet.
The many stones here look like the crystal box on the famous Planet Krypton where Superman was born, which is why this place is also called Krypton Beach. Semeti Beach has rocks shaped like pyramids that rise steadily from the middle of the sea.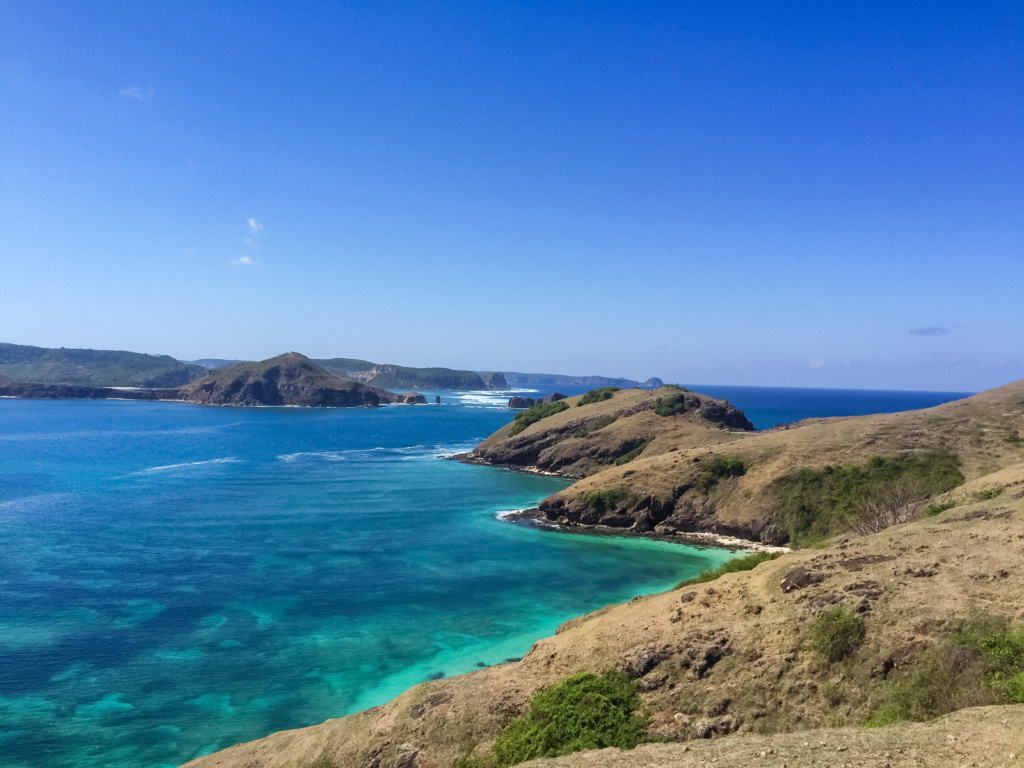 The path is difficult and extremely rocky. Make sure you wear closed shoes as you will likely have to climb rocks over 20 meters high to get to the other side of the cliff. But at the end the view is really stunning and worth all the trouble.
---
7. Pink Beach
Yes, you read that right: the pink beach. The quirky and picturesque Pink Beach looks like it came straight out of a fantasy movie.
The pink sand is caused by a tiny red organism that grows on dead coral reefs. The best times to go there would be before 8 a.m. and after 4 p.m. when the sand reflects the morning sun rays, providing a grand spectacle.
Conditions on the road can make the journey difficult. If you don't want to ride on a bumpy road, you can hire a boat from Telong-Elong (village next door). The place is still natural and untapped, so there is no toilet or shelter. Bring your own food and drinks.
After visiting the Pink Beach we decided to explore the surroundings, and wow, it was stunning. We walked for a few hours over the cliffs, discover small hidden beaches everywhere. This is where we decided to strike our signature yoga pose.
---
8. Mangku Sakti waterfalls
Here is a natural sculpture worthy of an Antoni Gaudi collection. The formation of the waterfall is truly impressive.
Natural erosion has carved a canyon of marble through which water winds calmly. The river flows from Lake Segar Anak of Mount Rinjani. The water is milky because of its sulfur content which is known to relieve many skin conditions.
Access:
This waterfall is located in Sajang village, Sembalun, Lombok East district. It is 50km from Selong if you go through the Sembalun hills.
At Papar Sekretariat, in the village of Sajang, you can, if you wish, hire a guide. From the office it is about 3km by car or scooter. The trail is not optimal though, some sections are steep with loose rocks and mud making them a bit dangerous. Once you arrive at the parking lot, you will have to walk 20 to 30 minutes to reach the river and the magnificent waterfalls of Mangku Sakti.
---
9. Benang Kelambu Falls
Benang Kelambu waterfalls are unique. The 6 waterfalls passing through the trees, similar to water curtains. We loved it !
They are easily accessible from the parking lot, but well hidden in the rice fields. The waterfall is located at the foot of Mount Rinjani.
To get there, it's a 500-meter mountain hike that awaits you to the waterfall. Remember to bring water and some snacks for the walk. You can also visit the nearby waterfall, Benang Stokel, located 1km away.
Access:
There is no public transport to see these waterfalls. They are located about 32km from Mataram, or about an hour by car. From Mataram you will need to go to Narmada City, Sedau, then head east to the Pancor North intersection. Turn northeast until you find the Teratak Market intersection, then head north. Don't hesitate to ask the locals if you feel lost, as there is only one sign indicating the direction of the falls. For your safety, you can also ask a guide to take you there, which we did and highly recommend.
---
10. Air Terjun Tiu Kelep Waterfall
Air Terjun Tiu Kelep was probably our favorite waterfalls in Lombok, right in the middle of the jungle.
Mother Nature certainly has the gift of preserving its most beautiful landscapes by hiding them in remote regions, making sure to keep these breathtaking treasures intact.
If you want to visit Air Terjun Tiu Kelep, you will have to spend a little time and effort, at least 3 hours from Mataram.
The condition of the road to the waterfalls is not optimal. Rocky paths, fallen tree trunks and fast currents make access difficult. We therefore recommend that you hire a guide.
According to a local myth, taking a bath in a waterfall gives access to eternal youth. The bottom of the waterfall's soft and flat pool allows visitors to swim in it. This waterfall is located in the area of ​​Mount Rinjani National Park, taking its source in Lake Segara Anak at the top of Mount Rinjani.
Access:
The waterfall is located about 60km from the capital Mataram. To get back to the village of Senaru, it takes 2 to 3 hours by car from the center of Mataram. You can choose between 2 routes to get there: the first through Pusuk, and the second through Senggigi Beach. There is no public transport leading directly to this location.
---
11. Sendang Gile Waterfall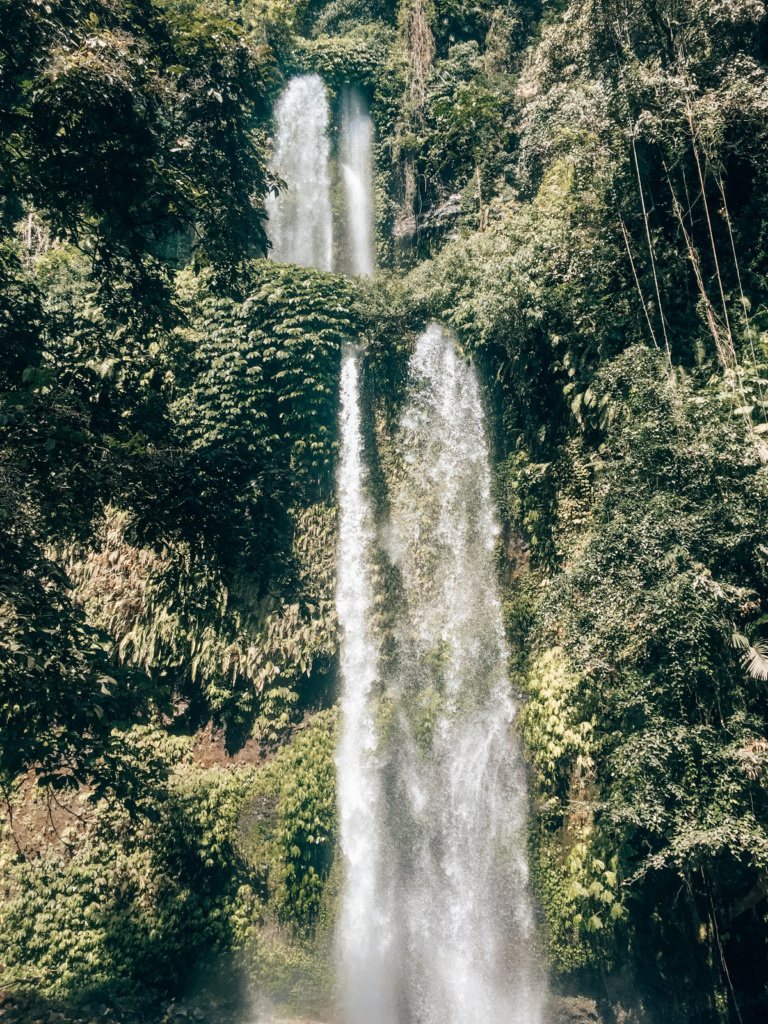 On the way to Air Tejun Tru Kelep Waterfall you will pass by Sendang Gile Waterfall. You can't miss it.
Sendang Gile is a very impressive and again very unique with it's two-tiered waterfall which are extremely powerful. It is most definitely one of the best waterfall in Lombok.
The Waterfall can get a bit crowded a midday, so we recommend to go a bit earlier to have all for yourself and get the best shot at the waterfall.
---
12. The Rinjani Lodge hotel: a swim in the infinite pool at the foot of the volcano
Raised at the foot of the volcano, the Rinjani Lodge hotel is a window on Mount Rinjani. Visually stunning and set against a magnificent backdrop, the infinity pool is undoubtedly a great place to lounge. You can simply head to the restaurants and enjoy the infinite pool. A stay at the hotel is not mandatory to enjoy the facility. Although we highly recommend the lodge if you decide to spend a night in the area.
Head to Rinjani Lodge Hotel before or after your visit to Tru Kelep and Sendang Gile Waterfalls as it's only a 40min drive to there. Free wifi in the mountains is really a bonus here.
Address: Jalan Periwisata Senaru Bayan, Senaru, Kabupaten Lombok Utara, Nusa Tenggara Bar. 83354
Contact: +62 0819 0738 4944
Price: $ 109 / night for a deluxe double room
---
13. Hike Mount Rinjani
From the top of Mount Rinjani, you can admire one of the most beautiful view in Indonesia.
This extraordinary volcano offers a stunning panoramic view which makes it one of the best attractions in the world.
At 3,726m tall, making it Indonesia's second highest mountain, the 4-day, 3-night hike to the summit is challenging. Loose volcanic rocks, sand and high altitude require some physical form without which you will not be able to enjoy this trek.
Even though you won't be able to shower, with an endless 3-day walk sweating profusely, the view from the top is totally worth it!
Tips:
The best time to climb Mount Rinjani is from April to December. Mount Rinjani National Park is closed from January to March due to heavy rain. The last eruption was in 2010, but be sure to check volcano activity and the weather forecast before attempting to climb.
Although it is possible to climb Mount Rinjani without a guide, it is highly recommended to go there as part of a guided tour, unless you are experienced, well prepared, in good shape and well equipped, ready to carry all your food supply, sleeping bags and tents for 4 days. Otherwise, hire a guide who can do all of this for you.
Acute mountain sickness is common at this altitude, learn about the symptoms and take the necessary exams before climbing.
The temperature can drop to as low as 0 ° C at the summit, so plan on warm, windproof clothes for the day you reach the summit. Take only what is necessary… at the risk of carrying 10 kg of luggage for 4 days!
---
14. Visit the Gili islands
The Gili Islands are certainly the most attractive islands around Lombok. With their relaxed atmosphere, they are a perfect option for those looking for calm and sublime beaches. Whether you are a lover of idleness or underwater discovery in the company of turtles, you will certainly find your happiness there.
Spend an evening at one of Gili Trawangan's most idyllic attractions: swing in the middle of the sea at Hotel Ombak Sunset. Imagine a night out with your travel partner, just swinging in the calm waters of the Gili Islands … Isn't that a romantic way to end your day?
However, you can simply do a day trip from Lombok if you do not want to spend the night on the island. Book your trip here.
---
15. Surf at Gerupuk
Surfing in Gerupuk is not easily accessible as you can also get there by boat… but OH my dear lord !!! This was one of a kind exeperience and to date one of our best surf session ever.
Once you reach the village of Gerupuk, stop by at one of the many surf shops. There arrange for your boat driver to take you to the surf spot. To save cost, wait until other surfers gather at the port and hire a boat driver altogether. The boat driver will either wait for you for 2hours on the boat, or simply jump with you a catch a few waves. What an experience… Guaranteed fun in Lombok! Get there really early to be the first and maybe even the only one in the water.
Be careful, they only work at mid-tide and high tide.
---
16. Bangkang cave
Bangkang cave in Lombok really looks like it's in an Indiana Jones movie!
The cave, dating back several hundred years, is located in a local village that has remained unexplored by tourists. The treasures are long gone, but you can equip yourself with a fish-eye lens to take interesting photos.
It is also the home of thousands of bats. Sunset is the best time to visit to see thousands of bats leaving their nest and coming out of the cave at dusk.
Access:
Leaving Kuta, a few kilometers before the Mawun beach exit, turn right at the white and red sign leading to a rocky path. Goa Bangkang is located under the hill.
Address: Bangkang Village, Pujut Sub-District, Lombok Center Regency, West Nusa Tenggara
---
17. Mataram the capital city of Lombok
If you have some time to spare in Lombok, we recommend a short visit to Mataram, the capital city of Lombok. There are a few cultural site to visit as well as the market which is pretty interesting.
Visit Mayura Water Palace, a major Hindu pilgrimage site. Admire the distinctive Meru Temple, the second largest Hindu monument from Lombok. Walk among exotic flora and fauna in Narmada Park.
In the morning head to Mataram market in Ampenan (Pasar Kebon Roek): a real beautiful covered market with vegetables, fruits, meats, fish etc. A market the way we love them. You won't see many tourists here, which makes it a great experience and good occasion to interact with locals.
---
18. Go for a massage
After all the exploring, trekking, surfing and sight seeing, you will definitely need a good massage to relax and enjoy your holiday. For that, we've found the perfect place for you. Head to Puris Mas Spa Resort for a wonderful time in a stunning location. You can also enjoy the facility such as their fantastic pool.
Get all information here.
---
All you need to know
When to visit?
With a tropical climate, Lombok s pleasant to visit for its temperatures hovering around 30 degrees throughout the year. There are two distinct seasons between the dry season and the rainy season. We therefore advise you to visit Lombok during the months of May, June, July, August, September or October. If you want to avoid mass tourism, avoid the months of July and August!
How to get there?
Lombok is well connected to both its neighbor islands of Bali as well as to Sumbawa. You can travel between these islands via public ferries that operate daily.
How to get to Lombok from Bali: From Bali, public ferries leave from Padang Bai and arrive in Lembak, just south of the island. There are also options to book speedboats (high speed boats) which reduce crossing times but of course more expensive.
Going to Lombok from Sumbawa: From Sumbawa, you can reach Lombok via public ferries that connect the two islands. From Lombok, they depart from the east of the island (Labuan Kayangan) and arrive in Pototano (area west of Sumbawa).
The good thing about Lombok is that it also has an international airport. So it's possible to fly directly to Lombok from pretty much anywhere else.
Where to stay?
Jeeva Klui Resort: simply one of the most amazing resort in Lombok but also one of our favorite place to stay EVER ! Breakfast by the sea, yoga in the morning, villa facing the ocean, surf spot right next door, massage room and lovely staff. Don't wait any longer, book Jeeva Klui Resort if you stay in Lombok.
Rinjani Lodge Hotel: if you decide to stay near Mount Rinjani before your trek, we highly recommend Rinjani Lodge Hotel. The infinite pool overlooking the Lombok is simply amazing.
Hotel Ombak Sunset: if you head to Gili Island and decide to spend a night on the island. Search no longer, and book a magical stay at Hotel Ombak Sunset.
Other practical info:
The best way to explore the island is by renting a motorbike.
When visiting small towns, Sasak villages, temples or mosques, always be respectful of people and customs, including dress codes.
If you want to go climbing at Mount Rinjani, don't try to do it on your own. The ascent is difficult and due to its altitude temperatures are generally low at night. The agencies will provide you with basic mountain equipment, a sleeping bag, a tent and above all a high mountain guide will accompany you. In addition to your safety, you will contribute to the development of sustainable tourism in the region.
---
RELATED POSTS
10 MOST INCREDIBLE HOTELS IN BALI
FULL GUIDE FOR PERERENAN IN BALI
AWESOME THINGS TO DO IN CANGGU