WHAT TO SEE ON THE HIGHWAY 1 IN CALIFORNIA? WHAT ARE THE BEST SPOTS ON THE HIGHWAY 1? MOST INSTAGRAMMABLE PLACES ON THE HIGHWAY 1?
It is often said that Highway 1 in California, also known as the Pacific Coast Highway or California Dream Highway, is the most beautiful scenic route in the world. We certainly think so too. So, what to do on the Highway 1, where to stop, which part is more beautiful? We prepared this post to answer these questions and describe the best spots on the Highway 1, which are all so majestic.
"THE HIGHWAY 1 IS THE MOST BEAUTIFUL SCENIC ROUTE IN THE WORLD!"
There is 1 section in particular which really stands out in our opinion, it is from Santa Barbara to Monterey, which is in our opinion the most beautiful town on the west coast.
We will describe each stop on the Highway 1 in respective order starting from Santa Barbara.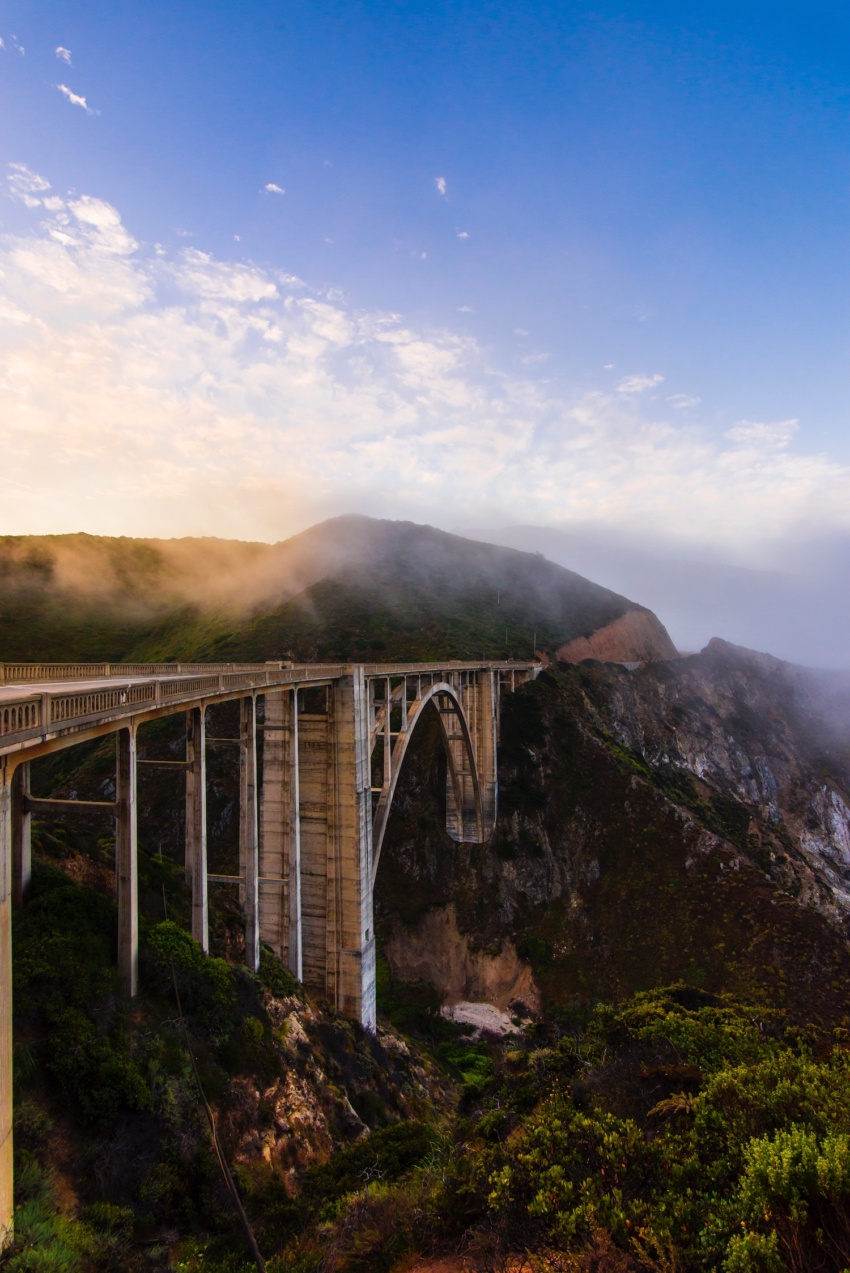 California State Route 1, or under its most famous name, the Pacific Coast Highway stretches along the Pacific from Capistrano Beach 100 kilometers south of Los Angeles to Legget 350 kilometers north of San Francisco.
These almost 900 kilometers will offer you breathtaking views, a coastline jagged by the Pacific Ocean, magnificent beaches, cliffs, nature reserves where the flora and fauna are exceptional.
Here is a teaser of what to expect during a road trip on the Highway 1 in California
---
As always, let's start with a bit of history…
The construction of Highway 1 began in 1919, thanks to doctor John L.D. Roberts. At that time, there was no road to go from Monterey to Big Sur to visit his patients. He had to go with his horse which took him more than 4 hours for 20km. After a major shipwreck, which led him to urgently go and save people along the coast, he started to alert politicians to build a road.
Estimated at $1.5 million, construction began in 1921 with federal funds and the first section was created between Carmel and San Simeon. The construction is labor intensive and these are prisoners who will be forced to do hard labor in exchange for 35 cents an hour and a reduced sentence. The initial cost was largely exceeded, since it took 10 million dollars and 19 years to complete the Californian Dream Road.
---
WHERE ARE THE BEST SPOTS ON THE HIGHWAY 1?
1. Santa Barbara
In this blog, we talked about Santa Barbara a lot, check out more about it here. The most beautiful part of the Highway 1 starts here in the South.
Santa Barbara is often called the "California Riviera" in reference to the French Riviera. Both are very similar in many ways: fantastic weather all year round, cool-chic atmosphere, beautiful beaches, great restaurants… It does feel like Santa Barbara is always on vacation.
Many stars from Los Angeles decided to move to this pleasant town with lots of history. We recommend to spend at least 1 night in Santa Barbara. Since we had a lot of time to visit California, decided to take it easy and to enjoy life in Santa Barbara, so we spent 3 nights. WE LOVED IT!
Make sure to visit the Santa Barbara Mission, the Stearn Wharf, Santa Barbara County Courthouse, check out the funk zone and the Harbour. If you like wine, make sure to go wine tasting in the many shops around town. Savor the astonishing feeling of serenity and kindness that the locals cultivate.
---
Loca Tips
HOTELS: We decide to stay at Simpson House Inn, a hidden gem in the heart of Santa Barbara. Simpson House Inn is an old Victorian villa built in 1874, beautifully restored. Surrounded by lush gardens, it makes it such a majestic and relaxing place to stay. The owner and the staffs have been so amazing and made our stay unforgettable. We highly recommend Simpson House Inn.
ACTIVITIES: During our holidays, we tried to be very active and would usually try out new adventures. For that, Santa Barbara has a lot to offer, you can check it out here. We opted for horse riding with Circle Bar B Stables, we loved it. Check it out here.
---
2. Pismo Beach
At first we didn't have Pismo beach on our radar, but it was highly recommended by locals we met in Santa Barbara. With almost 400 meters long beach, Pismo Beach is a well known spot to surfers.
They weren't too many tourist in Pismo beach, but we loved it. It's the perfect Californian vibe. So we decided to start with a surf session in the morning, right next to Pismo beach Pier. You can rent surfboards right next to the beach. We had an amazing morning with great waves and beautiful scenery of the long beach under the majestic Californian sun.
Make sure to take a stroll on Pismo Beach Pier and through the streets of the city to discover many shops, cafes and restaurant.
In Pismo Beach you will also find many activities to do during your visit besides surfing. You can for instance try sea kayaking or ATV on the dunes which would be a highlight of your trip.
In addition, an astonishing landscape awaits you there, as Pismo Beach is surrounded by dunes and hills on each side of the city.
Stop at Oceano Dunes Natural Preserve to discover a huge area of dunes in the town of Oceano about 3 miles south of Pismo Beach. It is recognized by scientists, environmentalists and visitors as the most beautiful and the largest coastal dunes remaining in California.
If you stay overnight, and if the weather is nice, you will be treated with one of the most beautiful sunset on the West coast.
---
Local Tips
If you love photography, make sure to stop at Chris Burkard Gallery: the shop is for all lovers of landscape photography. Chris Burkard is a true legend of outdoor photography. It is a great opportunity to discover the beautiful shots of the photographer, but also to exchange and chat photo with his team (and also meet him, if he is there!). More info here. Also if you are not following him yet, check out his instagram here.
---
3. Hearst Castle
In 1919, newspaper publisher billionaire William Randolph Hearst began the construction of a vast and sumptuous estate nestled on a wild hill overlooking the village of San Simeon and the Pacific Ocean, the Cuesta Encantada… the Enchanted Hill. William Randolph Hearst had huge ambitions and the means to realize them, he imagined an entire city, halfway between San Francisco and Los Angeles. 28 years later, if his imaginary city is nothing more than an evaporated dream, Hearst built a palace representing his own excess: the Hearst Castle!
Hearst Castle is located on the heights of San Simeon, 1 mile / 1.6 km from the village (just 5 minutes by car). From San Simeon, join PCH1 and turn off onto Hearst Castle Road.
Hearst Castle is home to no less than 165 rooms (8,300 m2 of living space!) And just over 51 hectares of garden! The site has been preserved and restored by the California State Park Service since 1951.
Several guided tours are available, reservations are recommended, check out the official website here.
---
4. Elephant Seal Vista Point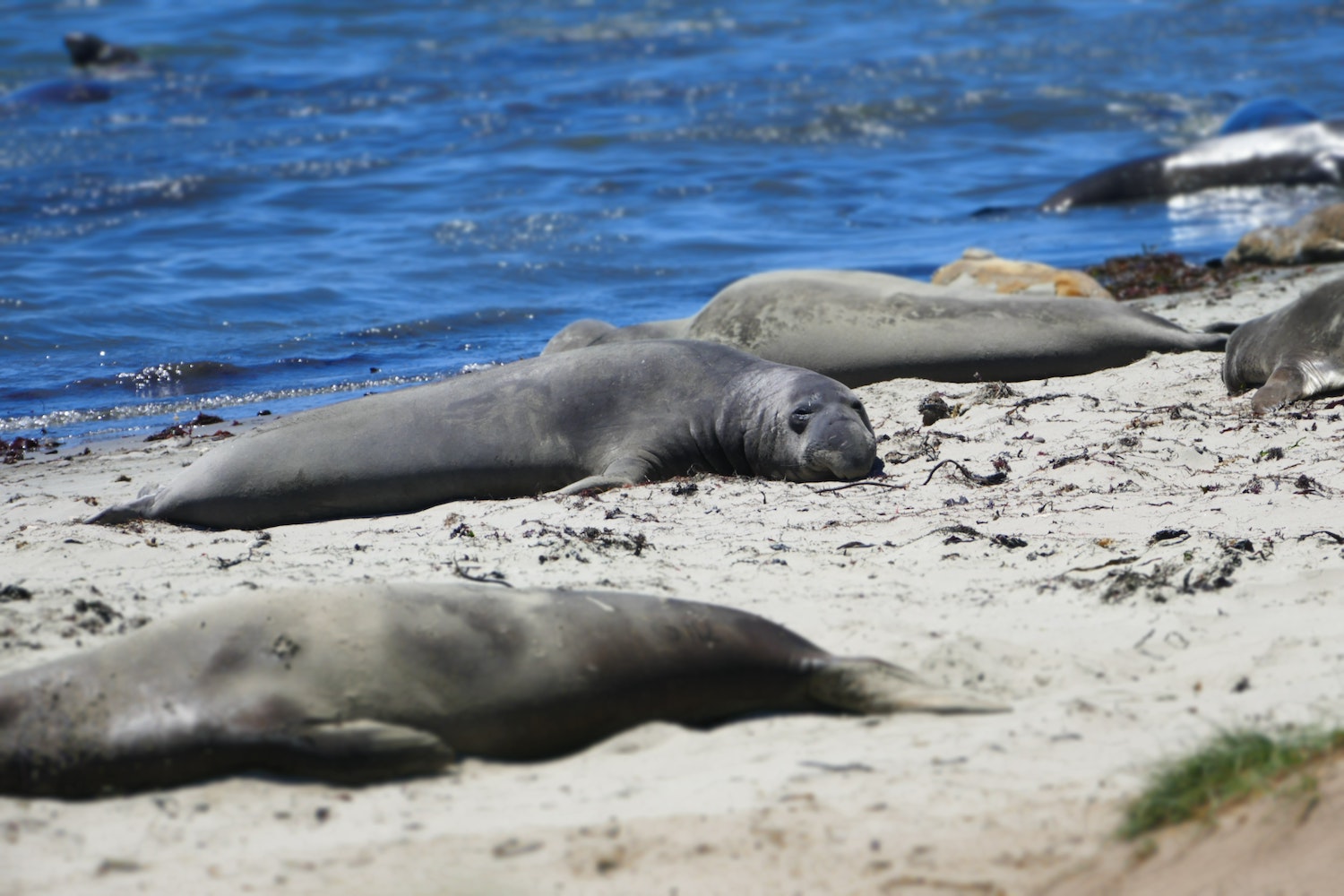 The Californian coast is also famous for the presence of a beautiful marine fauna: whales, otters, and elephant seals! There are some beaches between Cambria and Big Sur, for example in San Simeon, where you can easily observe them. Head to The Elephant Seal Vista Point for the best sight.
It is the perfect place to see beautiful and enormous elephant seals, usually taking a nap on the beach just a few meters from the trails.
And even if they don't do much except sleep, the elephant seals are a real spectacle. Some just snore really loud, others spray sands on the others, and powerful males keep their territory (and their conquests) safe from young elephant seals looking for companionship. Next to them, other seals sleep peacefully.
This stop doesn't take too long, as you can park right before the Elephant Seal Vista Point from the Highway 1. 30min should be sufficient to enjoy this unique spectacle.
---
Local Tip
From San Simeon starts Big Sur, all the way to Carmel. Big Sur, a rugged stretch of California's central coast, is the most beautiful and wildest part of the Pacific Coast Highway. It unfolds its wonders along the Highway, like a necklace of pearls, each most beautiful than the others.
In this impressive wild coast you can admire cliffs, beaches, forests and parks. But beyond this magical encounter between the mountains of Santa Lucia and the Pacific Ocean, Big Sur always kept its state of mind, of a generation in love with dreams and freedom!
Allow at least 1 day to connect San Simeon from Carmel, several days if you hike in the parks or plan activities.
---
5. McWay Fall
McWay Falls, is one of our favorite stop on the HIghway 1. There you can see this magnificent paradise falls from the top of a steep cliff and breaks 24 meters below directly on the beach. A unique sight in California.
To access McWay Falls, you need to park at the public parking space and start the 1 kilometer round trip trail to look a the falls. This easy trail leads straight to a promontory overlooking the Pacific Ocean and offering breathtaking views of McWay Falls. This will certainly be a Wow-moment.
This beach is closed to the public. So you can appreciate all the wildness of the place.
---
6. Nepenthe
If you want to find a place for lunch, make sure to stop at Nepenthe.
In the area, only seagulls have a better view of Big Sur than from this restaurant perched on the cliff and truly unmissable. In Nepenthe, located on Highway 1 between the bridge of Pfeiffer Canyon and Castro Canyon, the views extend over the coast and the mountains of Santa Lucia and plunge into the majestic fog of the Pacific Ocean. Locals and tourists come here to enjoy the relaxed atmosphere created by Lolly and Bill Fassett in 1949. The restaurant is still run by this same family today!
For lunch, try the famous Ambrosia burger, or roast chicken – Lolly's flagship dish – or a variety of vegetarian dishes. And of course there is this panoramic view. Take a table on the terrace or in the main building, designed by a student of Frank Lloyd Wright, alluding to the architectural style of his master who liked to merge the structure with its natural environment.
Check out their website here for more info on opening time and menu.
---
7. Bixby Bridge
The Bixby Bridge is the icon of the Pacific Coast Highway. Just search for "Highway 1" in Google Images and you will find that the Bixby Creek Bridge is in the majority of the photos.
You can stop north or south of the bridge to take a photo, in a rest area just for this purpose. Personally, we found that the North stop offers the possibility of taking better photos. It is said, however, that the South stop is preferable at sunset.
---
A bit of History
Completed in 1932 for the for $ 200,000, this concrete bridge was one of the tallest bridges at in the world, rising 79 meters above a steep canyon carved by Bixby Creek. It is easy to imagine the difficulty in building this bridge, with the crumbling and falling cliffs. A massive wooden frame had first to be built, and the materials had to be brought in via a road which was still at the time only a narrow, single-lane road with steep turns.
Over 45,000 bags of cement had to be hoisted to the top of the frame … without the heavy machinery we have today! Each bag therefore had to be transported via a system of platforms and straps suspended by cables 91 meters above the creek. Paradoxically, construction was completed before the road was built, and it took another five years before the road from Carmel to San Luis Obispo was opened.
---
8. Point Lobos State Nature Reserve
Point Lobos is without a doubt the most beautiful place to admire the Californian coast! It is home to the largest underwater reserve in the United States, and also one of the richest. You can admire sea lions, seals, otters, thousands of birds and even whales depending on the season in their natural habitat. Point Lobos State Nature Reserve is easily accessible, peaceful and a sublime site just 4 miles / 6.4 km south of Carmel-by-the-Sea. Not to stop there would really be a pity. It was one of our highlight in our California adventure.
Plan at least ½ day visit if you want to take advantage of this magnificent site.
The Point Lobos Nature Reserve offers many relatively short and easy hiking trails, allowing you to observe magnificent panoramas, access wild beaches and enjoy marine life. We invite you to discover the most emblematic walks in the park: Cypress Grove Trail, Sea Lion Point Trail and Bird Island Trail.
For more information on Point Lobos, check out our full guide here.
---
9. Carmel-by-the-sea
Carmel-by-the-Sea, is probably the cutest town located on the Highway 1 on the Monterey Peninsula. Facing the Pacific Ocean and bathed in the scent of cypress and eucalyptus, Carmel-by-the-sea attracts many tourists all year round.
With the appearance of a small European village, it looks like it was straight out of a tale by the Brothers Grimm. It is good to stroll downtown, in the small picturesque streets, in the middle of the cozy cottages. And if your budget allows, why not trying a romantic getaway on the Clint Eastwood ranch! You can also check out the full post about Carmel-by-the-Sea here.
READ: A USEFUL GUIDE FOR THE ROMANTIC: 10 DREAMY DATE IDEAS FOR COUPLES IN CALIFORNIA
---
Carmel beach
Wanna have a nice stroll on the beach, swim, surf, play volleyball? Head to Carmel Beach, a beautiful place bordered by the famous cypresses. This place is simply one of the most beautiful beach on the west coast. Many locals walk their dogs during the day, and hangout at the beach. It is a fantastic place to spend the day.
---
17 Miles road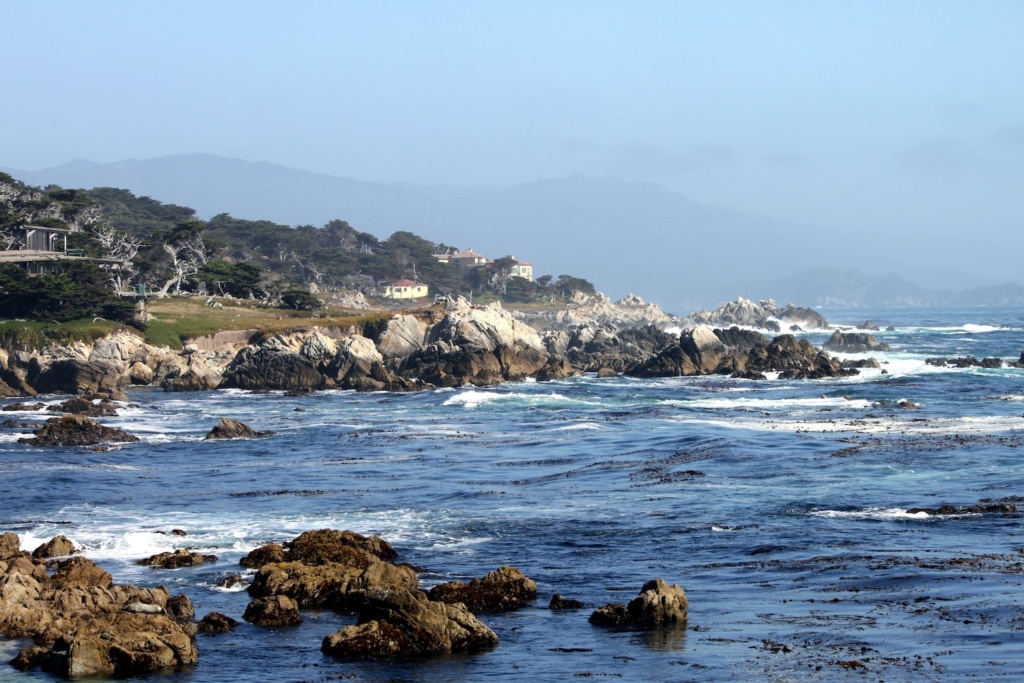 This rather famous and scenic 17 km long road runs along the Pacific Ocean and crosses the Del monte forest. Each year it welcomes millions of tourists who travel by car, bicycle or on foot. Along the way, in addition to the breathtaking scenery, you will come across a solitary cypress over 200 years old, and wonderful places to stop such as Spanish Bay or Fanshell Beach outlook.
Not to mention the famous golf courses of the Pebble Beach Resort and the many restaurants along the road. Note that there is a fee to enter the road ($ 10.25). Probably one of the most expensive road for only 17km but well worth it when you see how beautiful it is.
---
10. Monterey
Monterey is our last stop on what we think is the most beautiful part of the Highway 1 in California.
City of 28,000 inhabitants, Monterey was the capital of California from 1777 to 1849, before giving way to Sacramento. Today it is mainly a city that lives from tourism with its aquarium and cruises to see whales…
The most visited place in Monterey is its aquarium, because it is quite simply one of the largest in the world and also one of the most spectacular. Note that the Monterey Bay Aquarium is home to more than 35,000 animals and plants and more than 550 species, many of them from California.
Then take the time to stroll on Fisherman's Wharf, a places filled with restaurants and many shops. From here, you can take a boat tour to see Whales. As we've never seen Whales before, we decided to go for it. We booked a few days in advance here. And off we went. After 30min rides we already spot our first Whale. What a spectacle! We then followed the Whale for a while after spotting another one, a beautiful Humpback Whale, jumping in front of us… WOW! We highly recommend the boat tour to anyone visiting Monterey.
To learn more about Monterey, you can check out our full post here.
---
USEFUL INFORMATION ABOUT THE HIGHWAY 1 IN CALIFORNIA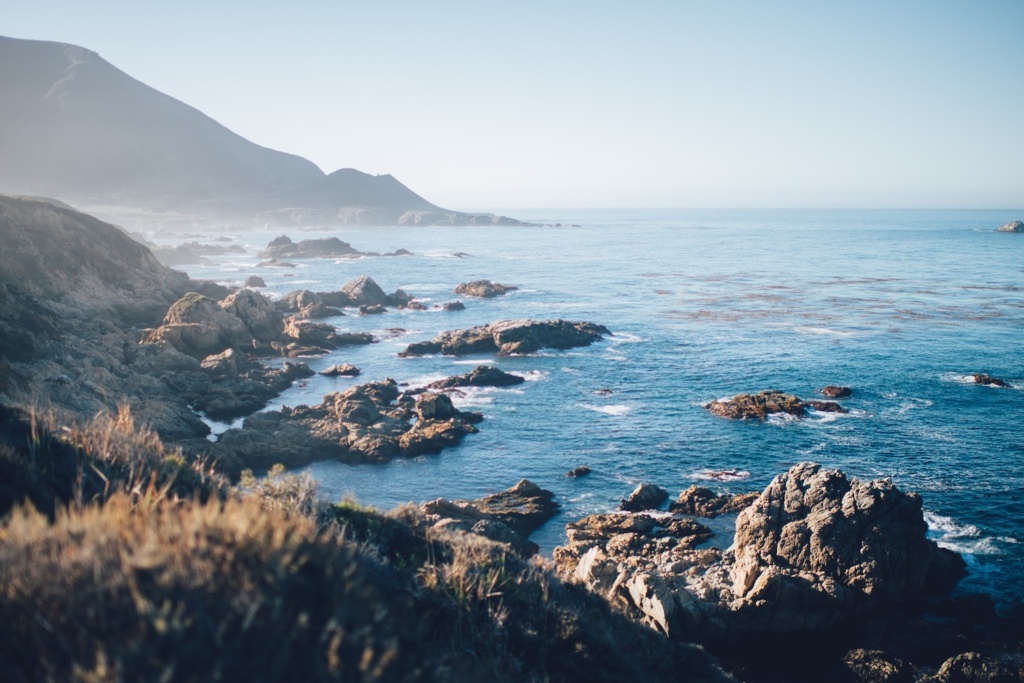 Are you ready to embark on an unforgettable journey along the scenic route of California's Highway 1? Whether you're a seasoned road tripper or a first-time traveler, here are all the essential information you need to make the most of your Highway 1 adventure.
Planning Your Itinerary
The first step in your Highway 1 adventure is planning your itinerary. Consider the following tips:
Duration: Decide how many days you want to spend on your road trip. While it's possible to drive the entire route in a single day, we recommend taking at least 3-4 days to truly savor the experience.
Direction: Choose whether you want to start in Northern or Southern California. Many travelers prefer the classic south-to-north route, as it allows for unobstructed ocean views from the passenger's side of the car.
---
When to Go
The best time to travel Highway 1 largely depends on your preferences:
Weather: The weather along Highway 1 can vary. Summer (June to August) offers pleasant temperatures but can be crowded. Spring (March to May) and fall (September to November) provide milder weather and fewer crowds. Winter (December to February) is the least crowded but can be rainy.
Wildlife: If you're interested in whale-watching, visit from December to April when gray whales migrate along the coast.
---
What to Pack
Packing wisely is crucial for a successful road trip:
Clothing: Dress in layers, as the coastal climate can change rapidly. Don't forget comfortable walking shoes, swimwear, and a light jacket for chilly evenings.
Camera: A good camera or smartphone is essential for capturing the stunning vistas and wildlife you'll encounter.
Snacks and Water: Stock up on snacks and water for the drive, as some stretches of the highway may have limited dining options.
Travel Documents: Ensure you have your driver's license, vehicle registration, and any necessary permits for camping or parking.
---
Accommodation Options
Highway 1 offers various accommodation options to suit every traveler's preferences:
Camping: Experience the great outdoors at state parks like Julia Pfeiffer Burns State Park and Andrew Molera State Park. Be sure to book your campsite in advance.
Hotels and Motels: There are plenty of cozy lodgings in towns along the route. Make reservations early, especially during the summer months.
Airbnb and Vacation Rentals: Consider renting a beachfront cottage or a cabin in the redwoods for a unique stay.
---
Driving Tips
Navigating Highway 1 requires some careful driving:
Road Conditions: Be prepared for winding roads, narrow bridges, and occasional closures due to landslides. Check for road closures and conditions before you start your trip.
Gas Stations: Fill up your gas tank whenever you get the chance, as gas stations can be sparse in certain areas.
Take Your Time: Don't rush your journey. Pull over at scenic viewpoints, hike the trails, and soak in the beauty of the coastline.
Stay Safe: Drive cautiously, especially at night or during adverse weather conditions. Watch out for wildlife, such as deer, on the road.
---
Respecting Nature
Finally, remember to be a responsible traveler:
Leave No Trace: Practice Leave No Trace principles by packing out all trash and respecting the environment.
Wildlife Observation: Keep a safe distance from wildlife and never feed them.
---
IN CONCLUSION ABOUT THE BEST SPOTS ON THE PACIFIC COAST HIGHWAY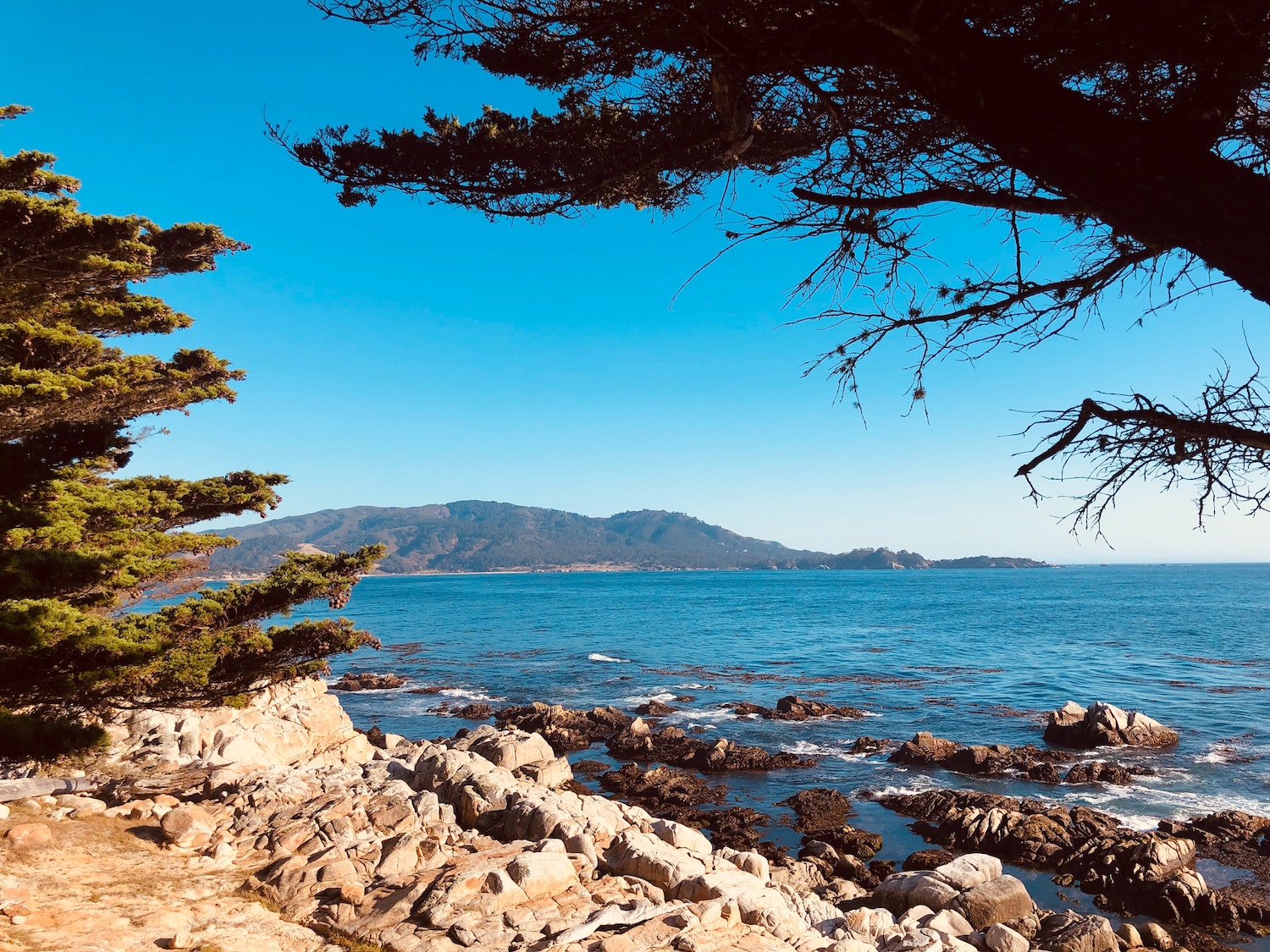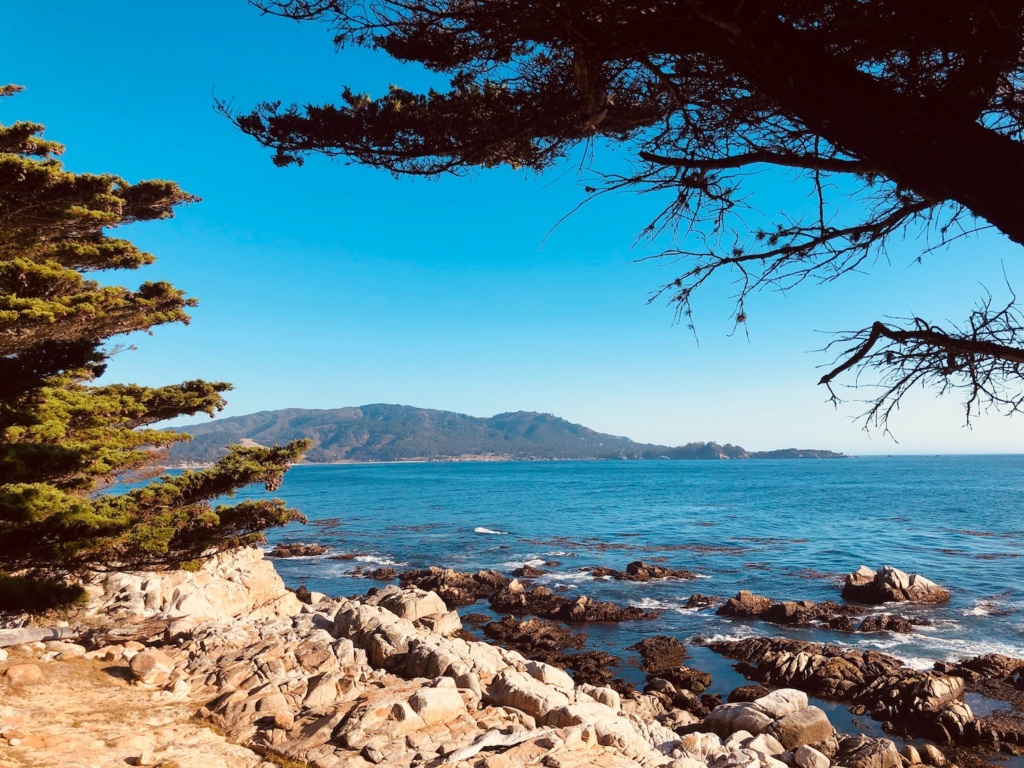 The Highway 1 or Pacific Coast Highway was one of the major highlight of our trip to California. A beautiful road, filled with unique landscapes, beautiful beaches, amazing nature, wild animals and so much more. Our biggest advice, is TAKE YOUR TIME AND ENJOY.
To found out more about the best things to do in California, check out this post, and to read more posts about other places in California, click here.
If you continue your road trip all the way to San Francisco, read this post here.
---
BEST THINS TO SEE IN CALIFORNIA
DISCOVER POINT LOBOS IN CALIFORNIA
FULL GUIDE FOR VISITING LOS ANGELES
BEST THINGS TO DO IN SANTA BARBARA
MOST AWESOME THINGS TO DO IN CARMEL-BY-THE-SEA
ALL YOU NEED TO KNOW ABOUT SAN FRANCISCO