Located just south of Monterey, the small town of Carmel-by-the-Sea attracts visitors and locals all year round. Beautiful, sweet, bohemian, it is a peaceful place with houses straight out of a storybook of Brothers Grimm. Residents are particularly welcoming. With a rich historical and artistic culture, Carmel-by-the-Sea is a seaside destination that will please anyone visiting California.
We also wrote a full post about Monterey here. You can combine a visit to Monterey and Carmel-by-the-Sea, as both are beautiful and very near to each other.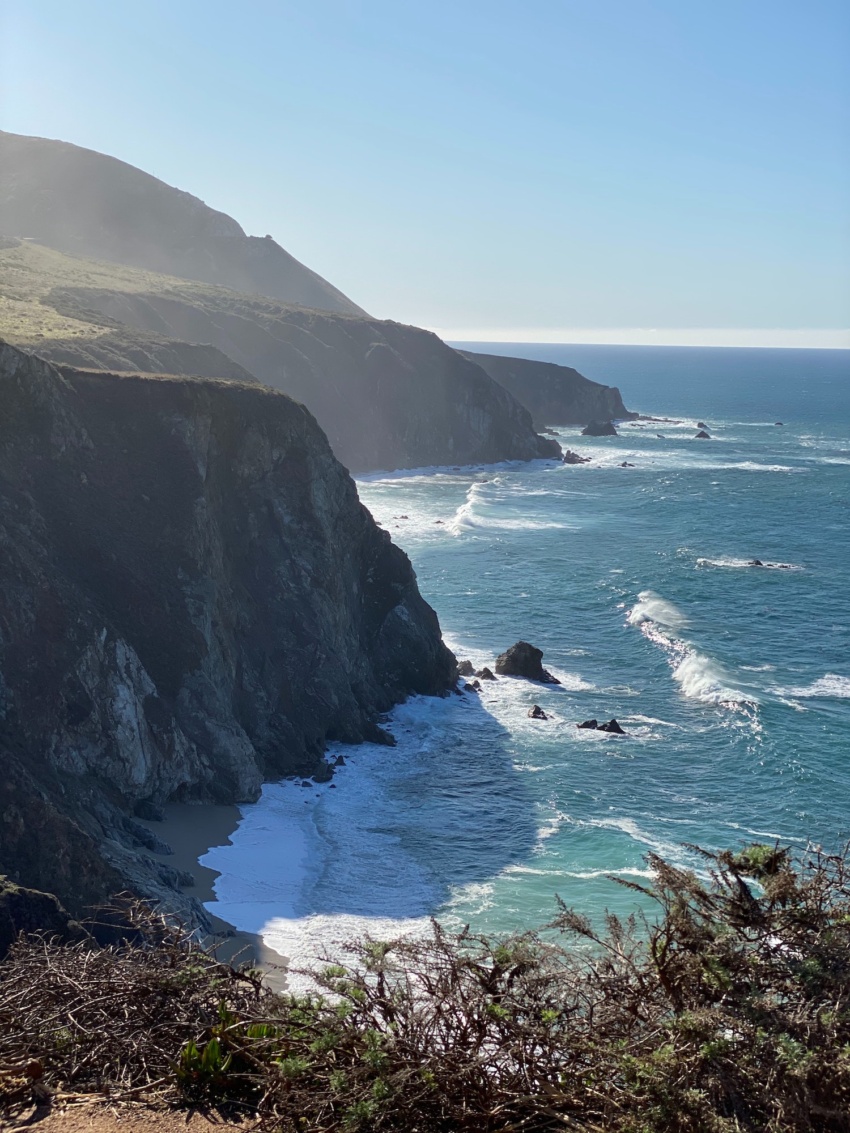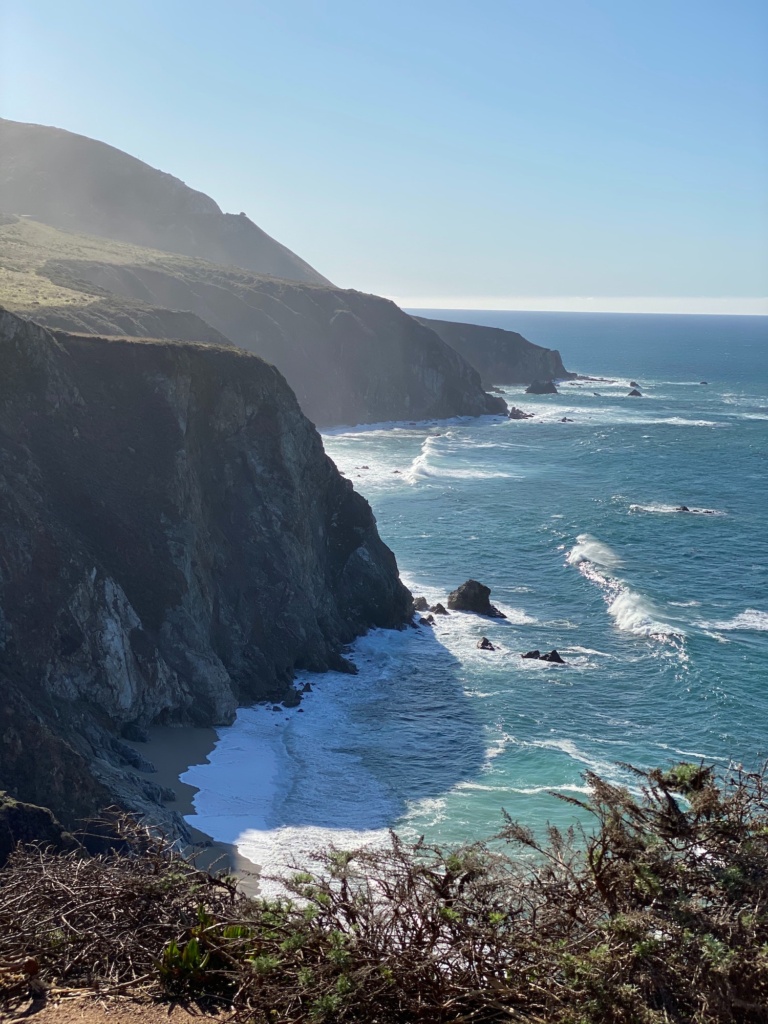 Let's start with a bit of history…
The arrival of Spaniards
In 1603, Spanish explorer Sebastian Vizcaino arrived in Monterey Bay. He discovers what today constitutes the city of Carmel-by-the-Sea, namely a beach and a river which he baptizes Carmela, in homage to the three Carmelite brothers who accompanied him.
In 1771, the Mission San Carlos de Borromeo was founded by Father Junipero Serra on a hill overlooking the Carmelo river. This building is now one of nine missions established by Serra in California. It is also in this Mission that lies his body.
Carmel's transformation
For many years, Carmel-by-the-Sea was only a small colony surrounded by a breathtaking maritime landscape.
Then, around 1900, the leaders of the Carmel Development Company, J. Frank Devendorf and Frank H. Powers, decided to make this place worthy of its exceptional setting. They ordered the planting of 100 cypresses along the coast. And Michael J. Murphy, a carpenter by training, was chosen by Devendorf to build houses on his land.
The builder's reputation grew rapidly and the latter received more and more requests. Several hundred buildings at Carmel-by-the-Sea are attributed to him. Among the best known, The Highlands Inn, The Carmel Art Association, The Holiday House, The Harrison Memorial Library, The Pine Inn, etc. The First Murphy House also acts as the city's visitor center.
The number of tourists quickly increased, while its population remained stable. In 1906, a terrible earthquake struck the city of San Francisco, forcing a large number of its inhabitants to take refuge on the Monterey peninsula, and mainly in Carmel-by-the-Sea. Among these are many artists such as Jack London and George Sterling.
Carmel-by-the-Sea
In 1916, Carmel-by-the-Sea officially became a city and its population included many personalities (authors, poets, etc.). It was then considered a haven of peace for artists, to which were later added talented entrepreneurs, architects and renowned designers.
In 1986, Carmel-by-the-Sea reached an apogee and was talked about on the international scene when Hollywood actor Clint Eastwood, resident of the city, also became Mayor of the city. A position he held for two years.
Today, Carmel-by-the-Sea is a little gem on the west coast, appreciated for its undeniable charm, its artistic and cultural atmosphere, its cosmopolitan and picturesque vibe.
Here is our take on the best things to do in Carmel-by-the-Sea:
---
1. 17-Mile Drive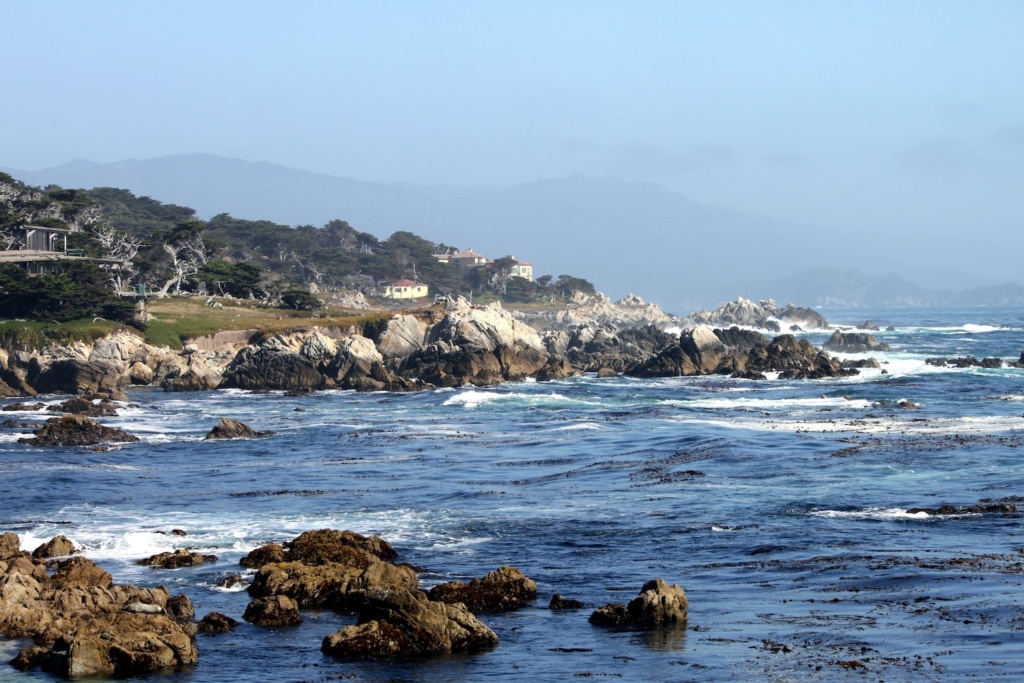 This 17 Mile scenic route runs along the Pacific Ocean and crosses the Del monte forest. Each year it welcomes millions of tourists who travel by car, bicycle or on foot. Along the way, in addition to the breathtaking scenery, you will come across a solitary cypress over 200 years old, and wonderful places to stop such as Spanish Bay or Fanshell Overlook.
Not to mention the famous golf courses of the Pebble Beach Resort and the many restaurants that line this route. Note that the entry is not free, you'll need to pay $ 10.25 to enter by car.
---
2. Carmel Beach
For us, the beach at Carmel-by-the-Sea, is one of the most stunning beach in Califonira. The white sandy beach, the beautiful Monterey Bay right in front and Big Sur on the side, makes the landscape simply picture-perfect. The beach is bordered by famous cypresses, a must-see and much appreciated by locals and visitors alike for its enchanting setting. A stroll on the beach, or on the path just beside, is a perfect way to start a beautiful day in California.
---
3. San Carlos Borromeo Mission
A true gem of the region, this Mission, built in 1771, is classified as a historic monument and is a must-see if you spend a day in Carmel-by-the-Sea. In fact, it is one of the most beautiful Mission on the West Coast. It has also five museums, a church, beautiful and peaceful gardens, as well as various particularly interesting exhibitions.
There are 21 missions in California, from San Diego to the north of San Francisco, they are religious centers, organized around a church, created during the Spanish colonization, from 1769.
The Spanish came from South America and sought to extend their empire to the Californian lands, occupied by numerous Indian tribes. The role of the Mission was to Christianize everyone. This ended when Mexico gained independence and ousted the Spanish in 1821. California remained Mexican for a few years before the United States set out to conquer it.
---
4. Hugh Comstock Historical District
Perfect examples of Carmel-by-the-Sea's unique appearance, the little houses / cottages built by Hugh Comstock, seem to come out of a fairy tale. The latter was not an architect or builder, but began by building a chalet that would allow his wife to exhibit and sell the dolls that she made.
This unusual cottage made such an impact on the locals that Hugh was commissioned to built more houses. Today, the twenty or so cottages he has designed are among the city's flagship attractions. Do not miss Hansel, Gretel, Obers, the Tuck Box and the others.
---
5. Tor House
COPYRIGHT: TOR HOUSE – WWW.TORHOUSE.ORG
Perched high on a windy hill, you will find this strange stone building. It was built by the famous American poet Robinson Jeffers to live there with his wife and twins. To visit this place, a reflection of the bohemian side of Carmel, you will need to book a guided tour here.
---
6. Wine and Food
Carmel-by-the-Sea is a city for lovers of good food. With its gourmet restaurants, its numerous wine bars, its tasting rooms and its local stores, will not have time to get bored.
Among the most known ones, La Bicyclette bistro or Mission Ranch for its delicious brunches.
Without forgetting the Gourmet Fest which takes place every year in Carmel-by-the-Sea over four days, with Chefs de Relais & Châteaux.
---
7. Carmel River State Beach
Just south of the city, off Highway 1, you will find Carmel River State Beach for those seeking a natural getaway. The place is perfect for watching the sunset, watching the birds or discovering underwater life with mask and snorkel. We love this place.
---
8. Point Lobos State Nature Reserve
Point Lobos is without a doubt the most beautiful place to admire the Californian coast! It is home to the largest underwater reserve in the United States, and also one of the richest. You can admire sea lions, seals, otters, thousands of birds and even whales depending on the season in their natural habitat.
Point Lobos State Nature Reserve is easily accessible, peaceful and a sublime site just 4 miles / 6.4 km south of Carmel-by-the-Sea.
Check out our full guide about Point Lobos State Natural Reserve here.
---
Where to Sleep?
Carmen Garden Inn – Hotel with excellent value for money
This charming establishment has ten spacious, warm and comfortable rooms, each with a fireplace. Some even have a small private terrace. The welcome at this hotel is particularly warm and the breakfast much appreciated by visitors.
The Carmen Garden Inn is just steps from Ocean Avenue and the famous Hansel and Gretel cottages. Find out more
Carmel Country Inn – Our favorite
Enchanting and peaceful surroundings, personal care, royal breakfast: the Carmel Country Inn is a real gem, especially for a romantic night. From the large bedroom to the studio, each space benefits from a fireplace and a luxurious bathroom, some with jacuzzi. Find out more
Normandy Inn – Our choice of low-cost accommodation
Located in the heart of the city and not far from Carmel Beach, this small hotel offers very reasonable prices including free parking, breakfast and a swimming pool where it is good to swim during summer. The rooms are relatively simple but spacious, clean and comfortable. Find out more
---
Local tips
Things to know:
Carmel-by-the-Sea is an extremely dog ​​friendly city. You and your faithful companion will be welcomed there with open arms. So much so that some restaurants even offer dishes for dogs.
If you're there in January, take a sea excursion to watch Whales. Although Wales can be seen all year round, January seems to be the best month.
If you are looking for an address in Carmel, note that the houses in the city do not have a number.
Ladies, be aware that wearing high heels is prohibited on the streets of Carmel. Yup, the mayor made it so…
Access
By car: Carmel is located 193 km south of San Francisco. From the airport, Highway 1 is not the quickest route, but certainly the most beautiful.
The closest airport to Carmel is Monterey. It is about 10 minutes by car.
Visiting
Carmel is perfect for a weekend getaway. Plan at least one night, or even two to visit everything and discover the surroundings.
Carmel-by-the-Sea enjoys a Mediterranean climate and moderate temperatures all year round. Although summer is the most popular season, be aware that fall is actually the most recommended. The temperatures remain very pleasant, the city is sunnier than ever, and you avoid the summer crowds.
Useful Links
Official site of the city
San Carlos Borromeo Mission
Map of the historic city tour
---
Links to related articles
CALIFORNIA: best things to see: here
HIGHWAY1: best stops: here
MONTEREY: all you need to know: here
POINT LOBOS: richest underwater reserve in the US: here
LOS ANGELES: Full guide for visiting LA: here
SAN DIEGO: What to do this beautiful city: here
SANTA BARBARA: Discover our favorite town in the US: here
ROMANTIC DATES IN CALIFORNIA: 10 Best Date Ideas: here