San Francisco is a beautiful city in California. For many it is considered one of the best city in the US. It's has a European flair, that seduces many of its visitors. It's a city where people are tolerant, open and progressive. In this post we explain about the best things to do in San Fransisco.
The city is only about 10 square kilometers, and the traffic is not as bad as it is in New York or Los Angeles. It is therefore possible to visit San Francisco in just a few days. For many it's also the starting point of a road trip on the Highway 1. We wrote a full post on best stops along the Highway 1 here. So here are the best things to do in San Francisco, ideal for a first stay of a few days.
Let's start with a bit of history…
The arrival of Spaniards
Like many cities in California, the history starts with the arrivals of Spaniards. The Bay of San Francisco has long been inhabited by indigenous tribes. When the Spanish arrived, the natives belonged to the tribe of the Majaves (or Mohaves) and spoke Yuma.
On September 28, 1542, the Spanish Juan Rodríguez Cabrillo was the first European to set foot in California. In 1577, British captain Francis Drake also visited California. He then called it the "New Albion". However, it was the Spanish Jesuits who were the first to settle there, during their famous evangelization missions.
Independance
Under the command of John Drake Sloat, California obtained its independence from Mexico. It was declared territory of the United States in 1846. A year later, on January 30, 1847, the Americans changed its original name, Yerba Buena, to "San Francisco".
---
1. Golden Gate Bridge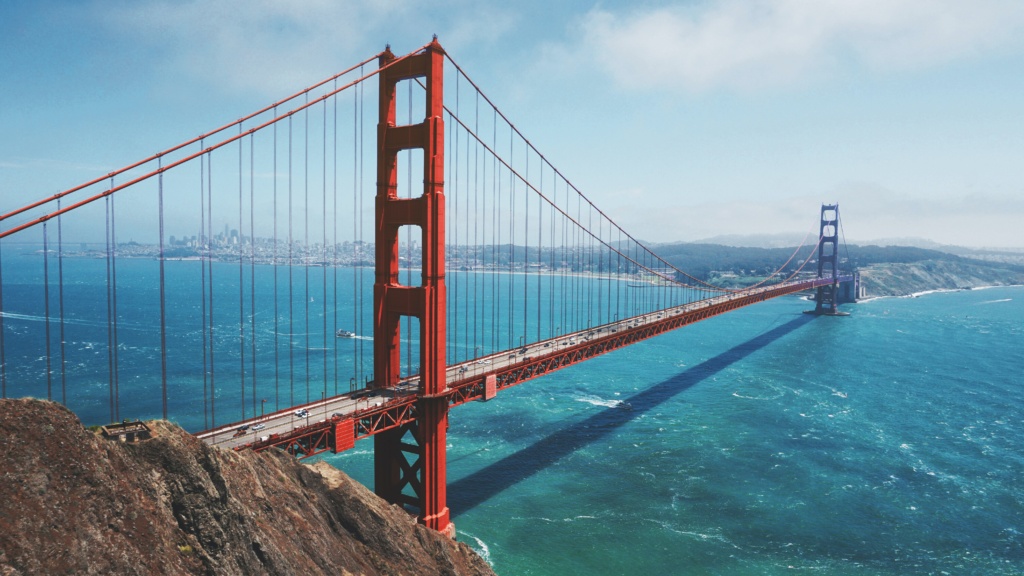 Among the must-sees in San Francisco, the Golden Gate bridge definitely is No. 1. This world famous bridge with its beautiful orange vaulted arches was opened in 1937. Since then, the Bridge has been seen in countless films and is one of the great symbols of the West Coast of the United States. It owes its name to the Golden Gate Strait which flows at its feet and which connects the Pacific to San Francisco Bay.
It is possible to cross the Bridge by car, bus, on foot or by bicycle.
The Golden Gate Bridge offers breathtaking panoramas of San Fransisco Bay and Marin County. To take a picture of the bridge itself, Vista Point is one of the best places. The Golden Gate bridge can be seen both from its structure and from afar.
We also recommend to stop at Battery East Parking if you come by car, and walk around the area for an amazing view of the Bridge. Then walk the hill down to Torpedo Wharf for another great view of the bridge. It's a pleasant walk. If time allows go all way to Crissy Field, and pass by the Crissy Field East Beach and St. Francis Yacht Club. From there you will catch another great view of the Bridge.
---
2. Visit Alcatraz notorious prison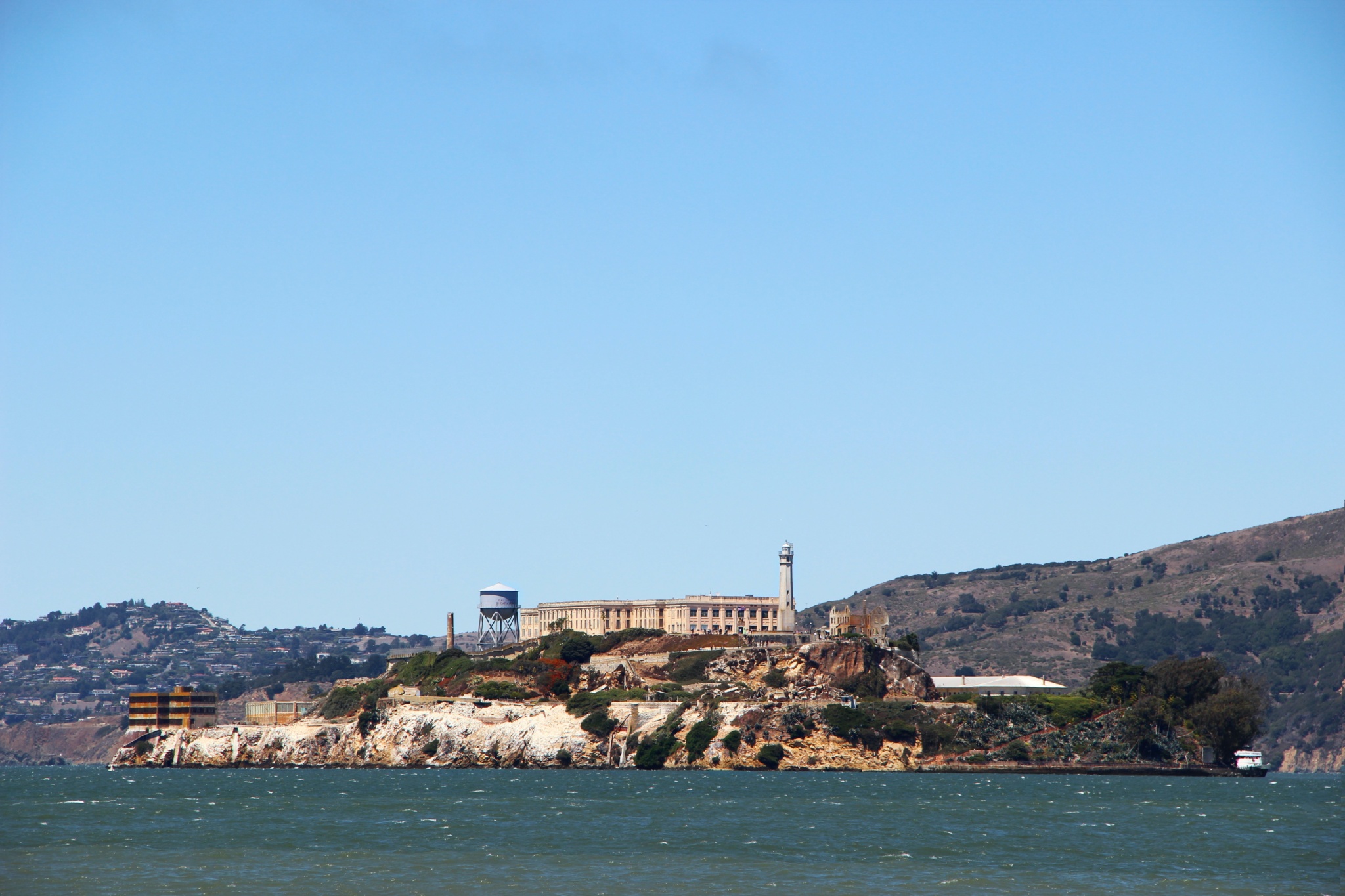 Located on the small Alcatraz island, Alcatraz prison, nicknamed "The Rock", is definitely one of the must-see in San Francisco. Indeed, this former prison establishment is world famous and for good reason, it has retained within its walls famous criminals like Al Capone.
Military, then federal prison, it was closed twice and became a historic site managed by the national parks service in 1972. Today, it is an attraction which attracts nearly a million visitors each year. It offers not only the opportunity to visit the interior of the building and the cells, but also the island and at the same time take a pleasant boat trip. The view of San Francisco Bay from The Rock is simply superb.
Tips: When booking a tour, be sure to check that it includes a visit to the prison and not just the boat tour to go around the island. You can book here.
---
3. Fisherman's Wharf
Fisherman's Wharf, located north of the city, is the starting point for visiting Alcatraz but not only.
The Fisherman's Wharf draws people to shop, eat and stroll along the waterfront. There are museums there and there are many choices for entertainment. For those looking to go out on the bay, excursion boats and ferries to Alcatraz depart from Fisherman's Wharf. Take the opportunity to see Pier 39 and nearby Ghirardelli Square.
We recommend that you go through Pier 39 where hundreds of sea lions have taken up residence. It's really funny to observe sea lions who "fight" for a place in the sun.
Fisherman's Wharf is also a fishing port. And therefore probably one of the best places to taste lobster or crab. It is so yummy – you gotta try!

---
4. Ride in a cable car "tramways"
Iconic, fun and unique to San Francisco, Cable Cars "Tramways" are a must-experience in the city. The famous Tramways were introduced in 1873 to help locals climb the many hills on which the city is built. Today, the few Cable Cars still in service provide tourists with a great way to explore the city in a historic way.
Since 1964, these Tramways have long had the distinction of being the only public transport system to be classified as a historic monument. The Powell-Mason and Powell-Hyde lines are the most picturesque. The Cable Cars will take you to major attractions such as the Fisherman's Wharf, Ghirardelli Square, the Ferry Building, Nob Hill, and Lombard Street. If you decide to visit San Francisco for several days, consider purchasing a Pass.
---
5. Golden Gate Park
This superb green space, sometimes compared to Central Park (although it does not reach the size or the number of visitors) is one of the essentials of San Francisco as it offers so many things to see and do. Pleasant strolls, picnics on the grass, breaks in the sun, playgrounds and sports grounds are praised by locals.
Not to be missed, the Japanese garden whose five hectares are a real invitation to contemplation. Visit de Young museum, the conservatory of flowers and its multitude of colorful specimens, the bison paddock, or the California Academy of Sciences including a aquarium, planetarium, natural history museum, as well as the replica of a humid forest environment with its animals.
A whole day would not be enough to discover the range of activities offered in this park.
---
6. Lombard Street
Although presented as "the windiest street in the United States", Lombard Street is actually not. It's not the steepest either, but it's probably the best known. Only eight blocks long, its eight sharp turns are lined with colorful flowers. Most tourists go down the street, it is a one-way street. It is one of the must-see in the city.
---
7. China Town
With its lanterns, its pagodas and its shops, the Chinatown of San Francisco is an amazing place to visit. Founded in 1848, it is the oldest Chinatown in North America. It is also home to the largest Chinese community outside of Asia.
The entrance to Chinatown, at the crossroads of Bush Street and Grant Avenue, is marked by the "Dragon Gate", a pagoda with two statues of lions at its ends. Once through the door, you will be transported to another world with illuminated signs everywhere, Chinese characters, historic buildings etc.
On the edge of the North Beach district, northeast of Chinatown, the House of Nanking restaurant is popular with locals and tourists alike. You can taste delicious dumplings, won ton soup, noodles, fried tofu or the restaurant specialty: chicken with sesame!
If shopping is your thing, you will also find everything in the hundreds of shops in the main shopping streets of Chinatown: Stockton Street and Grant Avenue. Look for kites, cooking woks, kimonos at Old Shanghai or musical instruments at Clarion Music Store etc.
China Town is a must-see in San Francisco.
---
8. Twin Peaks
From the Twin Peaks you will have a privileged view of the city and Bay Area. The Twin Peaks are located in the geographic center of San Francisco, so there is no better place for a beautiful vista. This should be a must stop on your list of places to visit in San Francisco.
In the lower part of Twin Peaks, a residential community has developed, with colored houses, built on the side of the mountain which is also worth a sight.
How to get there?
The best way to get to Twin Peaks is by car. If you don't have one, you can also use public transport or walk all the way up. You can take the subway to Forest Hill station (lines K, L or M). Once at the station, you can cross the street and take bus 36 to the Marview Way stop with Skywiew Way. From there, you will have to walk up to the heights and take a dirt road until you reach Twin Peaks.
---
9. Alamo Square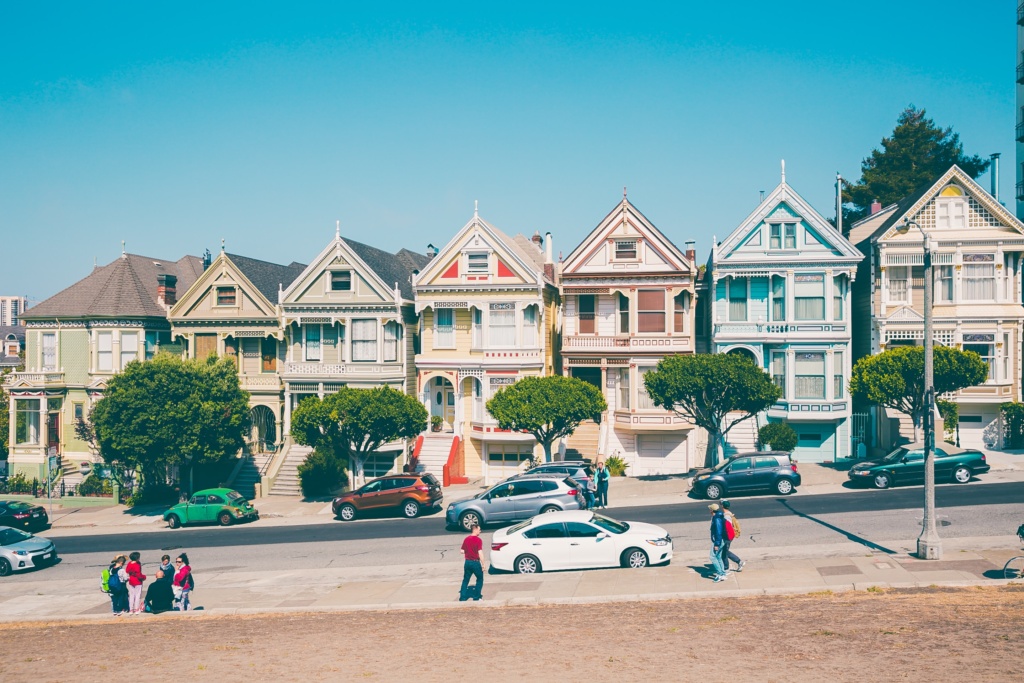 Alamo Square, located in the Western Addition district, is a residential area of ​​San Francisco that takes its name from the park at its heart. The Victorian houses there are worth a look, including the famous Painted Ladies, the most photographed and always featured in tourist brochures!
Be sure to stroll the adjacent streets to admire the other houses in the neighborhood. It's not just the Seven Sisters in the neighborhood, you just have to look around the park and further down to see it. Take time to explore Fulton, McAllister, Grove streets to name a few, and open your eyes as well as turn on your camera.
---
10. Mission District and Mission Dolores Park
Mission district is the oldest district of San Francisco, where the Franciscans installed Mission Dolores, from 1776. It then gave birth to the city.
Mostly Latino-American, this sunny district (it is protected from the ocean mists by the Twin Peaks) is very cosmopolitan and lively. Allow half a day to visit and enjoy the atmosphere of this district. Here is a proposed walking route:
Mission Dolores: the facade of the old church (dated 1791) can be seen from Dolores Street, next to the most recent Basilica (1913). The visit of the interior, the cemetery and the gardens is not free, but well worth it.
Mission Dolores Park: ideal for a picnic or for a moment of relaxation! You will have a beautiful view of the city from this park.
The Murals: these murals traditionally evoke immigration, human rights and are often militant. Check out Balmy Alley, Clarion Alley and Women's Building.
---
11. Palace of Fine Arts
The Palace of Fine Arts is It is one of the favorite sites for locals as well as tourists and one of the most photographed in the San Francisco, including for wedding photos: the Palace of Fine Arts is located in the Marina district, very close to the Presidio and Golden Gate Bridge.
People go there especially for its park: the monuments, of Greco-Roman inspiration, are surrounded by a magnificent pond, bordered with flowers and filled with animals (swans, birds, turtles, raccoons …). It is good to go for a walk, picnic on the lawns or simply sit on a bench. The Palace of Fine Arts theater also hosts shows, plays and concerts.
---
12. Museums
World class aquariums, interactive science exhibits and some of the most diverse art collections in the country make the museums of San Francisco a must for any visitor. But the art collections aren't the only ones to be magnificent: the critically acclaimed architecture and some of the city's most incredible views justify visiting the museums of San Francisco. Be sure to visit some of these amazing museums:
de Young Museum
Located in Golden Gate Park in San Francisco, Young's collection exceeds 27,000 art pieces and is renowned for his 17th to 21st century American art, modern and contemporary art, photography, textiles and international costumes and his works of art from Africa, Oceania and the Americas. Be sure to visit the observatory on the 9th floor of the museum's Hamon Tower and enjoy breathtaking 360 ° views of San Francisco and the Pacific Ocean.
San Francisco Museum of Modern Art (SFMoMA)
San Francisco lives and breathes art, and modern art follows the progressive spirit of San Francisco. Thus, the recently enlarged San Francisco Museum of Modern Art, equivalent to its big sister in New York, is the collective basis for all works of modern art. After almost three years of closure for renovation, the new SFMoMA has become a unique museum with an addition of nearly 22,000 square meters and more than seven floors of gallery space, making SFMoMA the largest museum in California.
The new building includes more than 4,000 square meters of space, which is free to access. This makes SFMoMA a vital cultural and social center for art in the heart of San Francisco. It is also the first museum on the West Coast to devote itself entirely to modern and contemporary art.
California Academy of Sciences
Home to an aquarium, planetarium, natural history museum, and educational and research programs, the California Academy of Sciences is a must-see destination in San Francisco. Diving penguins from the African room with wild flowers growing on the roof, the building overflows with life. A tropical forest on 4th floor and an impressive ecosystem of coral reefs enchant visitors of all ages, while the immersive shows of the planetarium take you on a journey through space and time to discover our planet from a new perspective. The Academy is also topped by a green roof of more than 10,000 m2, which is an essential element of its design and its ecological functioning within Golden Gate Park.
There are many other museums to visit if you have time such as Legion of Honor, Walt Disney Family Museum, Cable Car Museum, Asian Art Museum, Yerba Buena Center for the Arts etc.
---
13. Silicon Valley
Silicon Valley is a region full of dynamism which has inspired many industrial centers all over the world. The one that houses Stanford University has also seen the emergence of web giants such as Google, Facebook, Apple and Tesla. Visiting the Silicon Valley and its essential places is great thing to do while in San Francisco.
Stanford University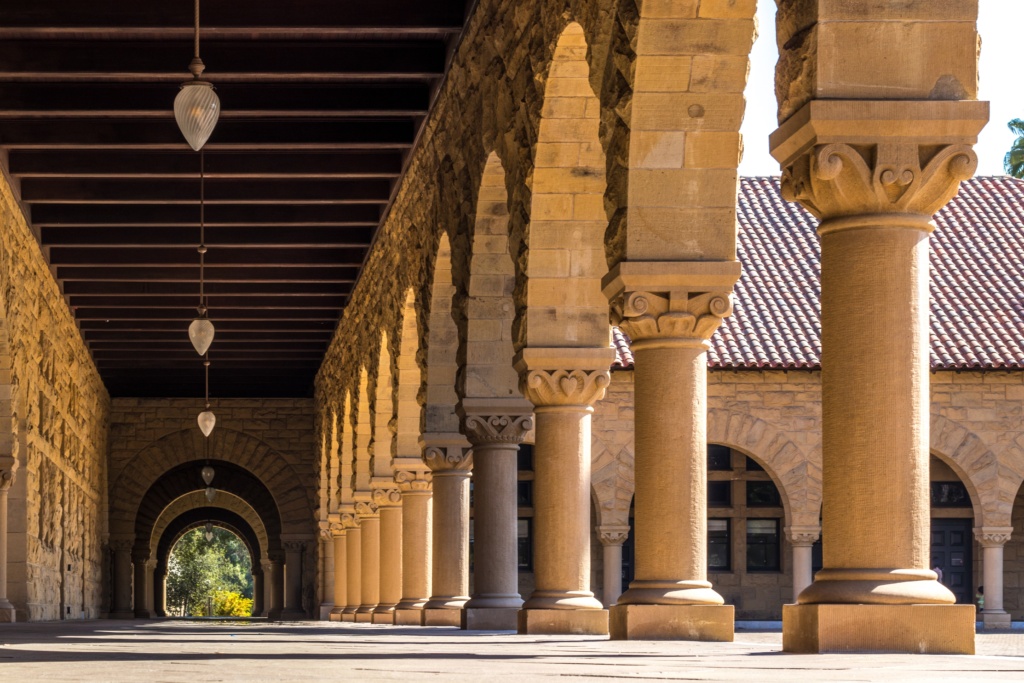 When you plan to take a tour of Silicon Valley, you naturally imagine the big companies on the web. But before going to work in these companies, you have to study. And it is indeed at Stanford that many Californian students dream of going. The Stanford University campus is just amazing. It extends over a large space and offers a very beautiful architecture between red brick and sandstone. Stanford is a little gem that makes you want to be a student again
Visit Google or Facebook Campus
Google and Facebook are major symbols of Silicon Valley. It's impossible to evoke this space without thinking of these American giants so present in our daily lives. The Google and Facebook campus are a city within a city. Googleplex is Google's headquarters located in the heart of Silicon Valley near San Jose. The company has purchased many buildings over the years and spans over Amphitheater Parkway, Crittenden Lane, Garcia Avenue and North Whisman Road in particular. To visit Facebook head to 1 Hacker Way, and take a picture in front of the famous sign. If you know an employee of Google or Facebook, you will be allowed to visit the facilities. We did, and it was truly mind-blowing…
Computer History Museum
The Computer History Museum is also an iconic place in Silicon Valley. Founded in 1996, it moved in 2002 to reopen in 2003 at 1401 North Shoreline Boulevard in Mountain View. From clay tablets to iPod, discover an incredible technological evolution. You are going to take a trip back in time here with computers that we see today only in the old American series.
---
14. Surf in Half Moon Bay
Half Moon Bay is a huge sandy beach that traces a yellow crescent on the coast. Often Beaten by strong winds and mist, the beach comes alive on sunny days. The locals then walk their dogs, the children take out some kites and beach lovers bathe in the sun.
At the northern tip of Half Moon Bay is Moss Beach Distillery. During the Prohibition, cargo ships loaded with liquors and other prohibited liquors took advantage of the mist to deliver their stowaways.
Further south is a place called Princeton-by-the-Sea on Pillar Point Harbor. At the end of Capistrano Road you will find the Half Moon Bay Brewing Company. Facing the raging ocean, you can enjoy a cold beer on the outdoor patio on sunny days, or by the fire on stormy days. This is also where the world famous surf spot is located; Mavericks. Every year, the international big wave surfing competition takes place here.
---
Where to Sleep?
Nineteen 06 Mission – Hotel with excellent value for money
Bright rooms with modern and refined decor, delicious breakfast, attentive staff: this B&B is a little bubble of comfort and tranquility located not far from most attractions in the city. Another strong point, the staff is particularly welcoming and available. Find out more
Parker Guest House – Our favorite
This beautiful Victorian-style mansion is simply superb with its large, comfortable and elegant bedrooms, each with a private bathroom. It has a veranda where you can eat or relax, as well as a beautiful garden to enjoy the sunny mornings. In addition breakfast is included and private parking available to guests. Find out more
Green Tortoise Hostel – Our choice of low-cost accommodation
This charming hostel is located in the North Beach district, with a large communal kitchen and a lounge with table football and billiards. In addition to being accessible on price, the place has the advantage of offering a friendly atmosphere and organizing joint activities. Regarding the rooms and dormitories, they are perfectly equipped, comfortable and clean. Check it out here.
---
Local tips
Access
Even if you have a car to go to San Francisco (as part of your road trip), it is easier to visit San Francisco on foot and by using public transport. Indeed, leaving your car near your hotel in a parking lot is the most practical and economical solution.
Visiting
Any month in the year is fine to visit San Francisco. Perhaps it would be best to go there between April and October / November. The mildest months are from June to September.
San Francisco is a big city where you can spend several days without getting bored. We recommend to stay at least 3 days in San Francisco to discover the city, stroll near the Golden Gate Bridge and visit the city's main districts. It is difficult to soak up San Francisco and its special atmosphere over a shorter period.
Useful Links
DoTheBay
SF Travel
Atlas Obscura
---
Links to related articles
CALIFORNIA: best things to see: here
HIGHWAY1: best stops: here
MONTEREY: all you need to know: here
POINT LOBOS: richest underwater reserve in the US: here
LOS ANGELES: Full guide for visiting LA: here
SAN DIEGO: What to do this beautiful city: here
SANTA BARBARA: Discover our favorite town in the US: here
ROMANTIC DATES IN CALIFORNIA: 10 best date ideas: here