WHAT TO SEE IN DA NANG, VIETNAM?
Da Nang is Vietnam's fourth largest city. It is modern and lively city located along a stunning coastline full of gorgeous beaches.
Da Nang is THE favorite destination for Vietnamese families during the summer (May – September), and also attracts many foreigners tourists throughout the year. If you are visiting Vietnam, a stop in Da Nang is a must!
WHY VISITING DA NANG IN VIETNAM?
Flights are really cheap from Hanoi or Ho Chi Minh City (buy cheap flight tickets HERE)
The beaches are beautiful in Da Nang
Da Nang offers some of the best cuisine in Vietnam
It is easy to find a beautiful, inexpensive villa or hotel located near the beach
There are great day trips organised from Da Nang, such as Hoi An or Hue the ancient capital of Vietnam
We spent a little more than a week in Da Nang, exploring this great city and all its surroundings. We compiled everything in this guide for visiting Da Nang, including the best restaurants, best hotels, and best day trips.
Our first impressions of Da Nang
If you already visited Ho Chi Minh City or Hanoi, then Da Nang, will look quite different. This city is not as busy as other places in Vietnam and is much more modern. The city has the ambition to make Da Nang another Singapore or Hong Kong. Here streets are wide, modern buildings start to mushroom everywhere in the city, beautiful bridges are being built, and the airport is highly developed.
After landing, we went straight to our hotel by the beach. The waterfront is stunning! A long promenade full of palm trees built along the beach makes it for pleasant evening walks.
So here is all you need to know about Da Nang in Vietnam.
ENJOY YOUR TRIP!
---
Best things to see in Da Nang
1. Start your visit with Lady Buddha
From the beach, if you look on your left, you will quickly see a huge white statue sticking out from the mountain. This is Lady Buddha.
It's a bit like Danang's lighthouse. Lady Buddha is a large statue, the largest Buddha in Vietnam, 67m, overlooking the beach. Next to the statue you can visit the huge Linh Ung pagoda. The different Buddha statues in the pagoda, although smaller, are also magnificent.
At the top, you have a magical view of Da Nang Bay. If you are a pagoda lover, this is the place to go.
Free Entrance and free parking.
Location: here
---
2. Relax at the beach
Da Nang has many huge pristine beaches with white sand and crystal clear blue water.
The beaches are good for swimming all year round, but especially from May to August when the waves are more gentle.
Phạm Văn Đồng and Mỹ Khê are the two most popular beaches with locals and visitors.
Mỹ Khê Beach in Da Nang is in the top 6 of the most beautiful beaches in the world, according to the ranking of Forbes magazine. It is an idyllic beach with smooth sand and a gentle slope. In front of the beach, you will find several hotels, restaurants, spas etc.
---
3. Go surfing, one of the best things to do in Da Nang!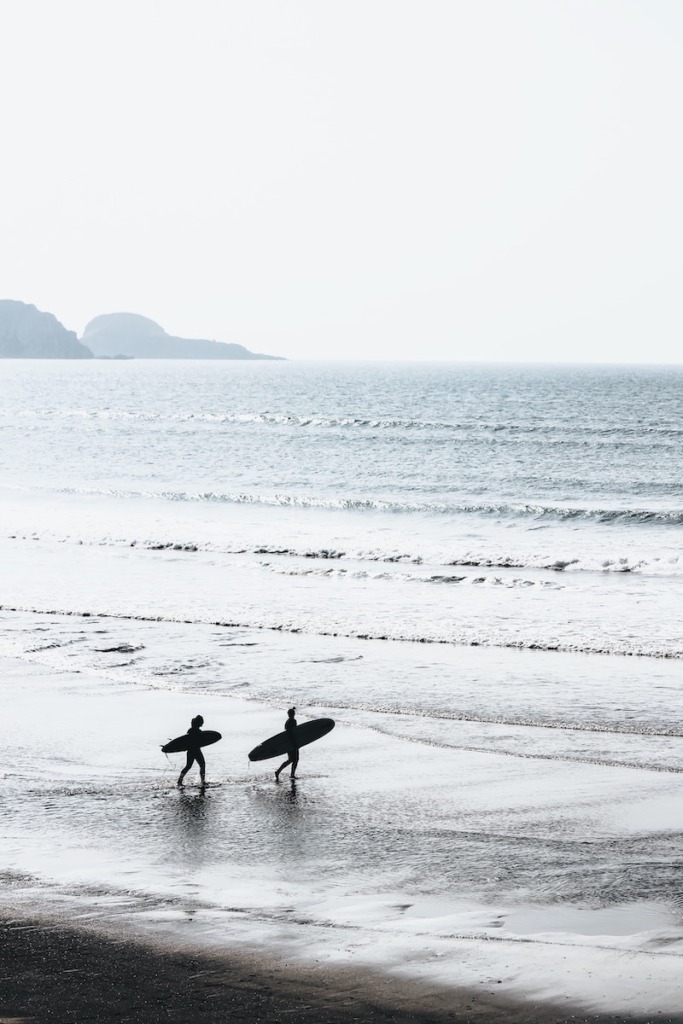 If like us you like surfing, then Da Nang is for you. During the months of September to April, Da Nang offers consistent waves, great for beginners to intermediate.
It is possible to rent surfboards on the beach in Mỹ Khê, or even take surf lessons (here).
---
4. Next head to Marble Mountains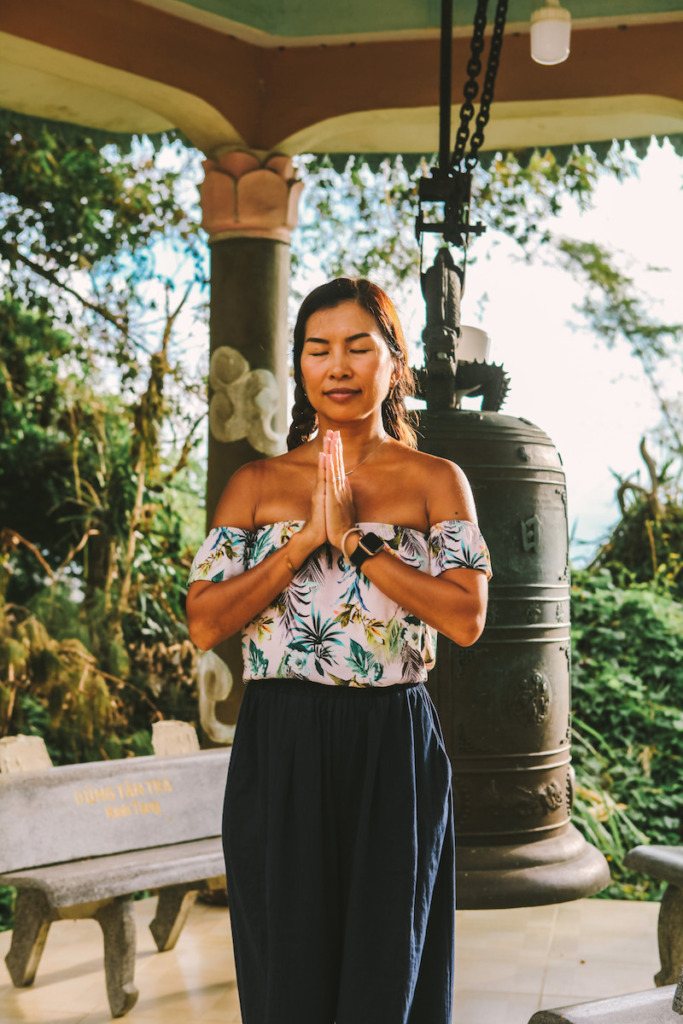 The Marble Mountains are Da Nang's number one attraction. These hills are made of a combination of marble and limestone. This is one of the best things to see in Da Nang!
Here you can walk around the mountains full of caves, temples, pagodas, tunnel etc. The view from the top of the mountain is also stunning, where you can admire the entire coastline of Da Nang!
There are actually a few mountains, but only 1 is open to public, the biggest one. You can climb to the top of the mountain, or take a lift for small extra fee (worth it, considering the huge amount of stairs to climb). As for us, we took the lift up, but hike down. Which was perfect!
Visiting the huge caves was really impressive and so unique! We highly recommend a stop in the Marble Mountains!
Admission fee: 40,000 vnd (+15,000vnd for the elevator – optional)
Location: here
READ: ULTIMATE GUIDE FOR VISITING THE MARBLE MOUNTAINS IN DA NANG, VIETNAM
More options for visiting Marble Mountains
---
5. Discovery of Ba Na Hills and its stunning bridge
Ba Na Hills is an amusement park perched at an altitude of 1,500m, located 25km southwest of Da Nang. The climate is cool all year round. If you are visiting Da Nang in summer, spending a day in Ba Na Hills, can be quite refreshing.
Ba Na Hills are west of Da Nang in the Truong Son Mountains. In 1919, the area was created by the French, who used it as a temperate and cool playground. It consisted of hundreds of villas, restaurants and hotels. However, during the war, the urban center of Ba Na was destroyed. Some ruins can still be found.
Ba Na Hills was completely transformed to an amusement park later on, reconstituting a french village.
To get there, you will need to take a cable car. Ba Na Cable Cars hold the record for the longest wire rope in the world with a total length of over 5,771 meters, they also hold the record for the greatest height difference between start and finish, with over 1,369 meters, but also the longest fiber cable with a length of 11,587 meters and the heaviest roll of cable in the world with 141.24 tons.
There, you can join a few roller coasters, and take plenty of photos, feeling like you are France. It's mostly popular with Asian tourists or families with kids.
THE MAIN ATTRACTION: THE GOLDEN BRIDGE
Located in the Thien Thai Garden, the Golden Bridge is considered the link between this side of the resort and the French Village and Le Jardin D'Amour's flower garden.
The Golden Bridge was part of a $2 billion investment to raise the level of tourism in the area, and it worked! It grabbed the attention of visitors by dominating social media pages around the world.
The bridge looks like a wisp of gold in the sky. Held by monolithic hands the dense jungle seems to struggle to recover. The bridge looks east, over the lush greenery towards Da Nang, and has no obstacles obstructing the view.
Location: here
To get there, you can book a guided tour here.
---
6. Check out the traditional fishermen on the beach
When walking on the beach in Da Nang, you can't help but see many fishermen using traditional fishing techniques.
Some form a group of 10 to 15 fishermen, pulling huge fishing nets out of the water from two different ends. Some are in a round-shaped basket boat.
You can see these basket boats all along the southern coast of Vietnam. Apparently, the origin of these boats started during the French colonial era. As the French increased taxes on boats, fishermen designed those baskets which they could use as boats. Without paying tax obviously.
We can only imagine that it's not easy to maneuver a basket boat due to its round shape without any keel.
---
7. Check out the Dragon Bridge
With a length of 666m, the Dragon Bridge is the symbol of the city of Da Nang. It is especially beautiful at night with great illuminations.
Check it out on the weekend at 9pm as fire comes out of the head of the Dragon at each end of the bridge combined with water performance! A great show in Da Nang and it's free.
You can also simply take a walk along the bridge at night and admire the view of the city of Da Nang.
---
8. Enjoy some street food at the night market
Next to the Dragon Bridge, you can enjoy street food and shopping at the night market starting every day at 5:30pm. This is the Dragon Bridge Night market also called Chợ Đêm Sơn Trà in Vietnamese.
If you like seafood, this is a great place to eat some at good price. We especially enjoyed the huge lobsters!
Location: here
---
9. Take a long walk by the Han River in Da Nang
At night, a great thing to do in Da Nang, is to take a long walk by the river and enjoy the cooler temperature. Locals and tourists love coming here in the evening.
We started our walk in front of Madame Lân restaurant (one of the best dinners we had in Da Nang), here. And we continued all the way to the Dragon Bridge. It was perfect!
---
10. Explore Cồn Market in Da Nang
In Da Nang there are several markets, but our favorite one is Cồn Market. There you can see the daily activities of the locals, taste some typical dishes and buy some great souvenirs!
Location: here
---
11. Enjoy a drink on a rooftop
There are several bars in Da Nang where you can enjoy a drink while admiring the city from above. Some well-known bars such as: Sky Bar 36, A la carte rooftop bar, New space bar.
Sky Bar 36 is located on the 35-36th floors of Novotel Danang Premier Han River hotel, the highest skybar in Vietnam. It is an exceptional place to contemplate the beauty of the sea, the poetic Han River and the majestic mountains.
---
12. Go snorkeling in the beautiful Chàm Islands
Declared a protected area, the Cham Islands Natural Park is an archipelago of seven islands and islets located off the coast of Da Nang.
The main island is dominated by a 517 m high mountain, covered with tropical vegetation, and irrigated by numerous streams and waterfalls. It is the only one that is inhabited, with two villages on the south coast, Bai Lang and Bai Huong, with 2,000 and 400 inhabitants respectively. Everyone, or almost, is a fisherman.
In 2020, an entrance fee for the Cham Islands was introduced. This is a nominal fee of 70,000 dong per adult. The entrance fee is valid for your entire stay on the Cham Islands.
The best time to visit the Cham Islands is from March to September, due to the sunny weather and excellent water conditions. If you plan on diving or snorkeling during your visit, we highly recommend visiting between June and August. Many dive centers and tourist companies offer day trips to Cu Lao Cham Marine Park, where you will find a wide variety of colorful corals and marine life.
Interested in visiting Cham Islands? Check out the tour here.
---
13. Go on a day trip to the magnificent Hoi An
For us, Hoi An is the prettiest town in Vietnam. Even according to Tripadvisor, Hoi An is in the list of top 25 most favorite travel destinations in the world! We understand why!
Located on the UNESCO heritage route, Hoi An is an old town which has been particularly well preserved. It is a unique place in Vietnam and has been recognized as a UNESCO World Heritage Site since 1999.
The fusion of the cultures of Hoi An is found in the original architecture of the houses, the temples, the bridges, the communal houses; the way of life of the inhabitants and its varied gastronomy.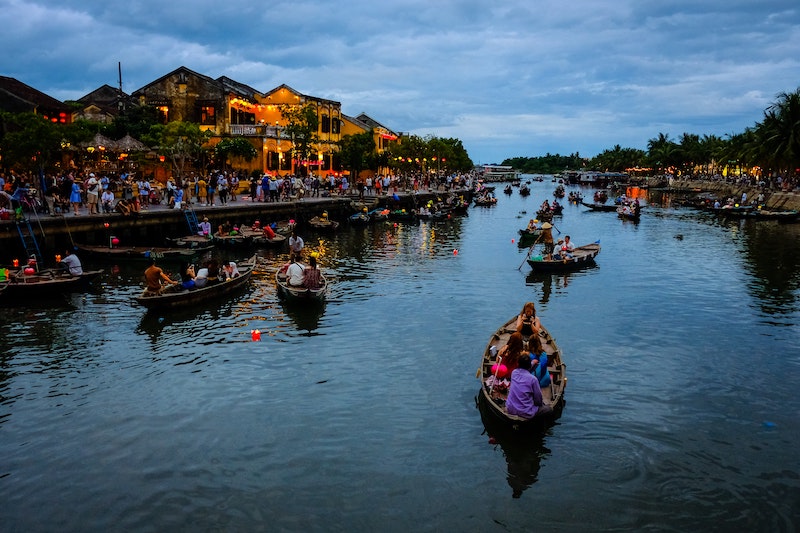 Make sure to stay in Hoi An in the evening, as the town is illuminated with thousands of lanterns everywhere. It is at night that Hoi An is even more beautiful!
To get to Hoi An take a taxi (you can use Grab) or book a day trip here. It takes about 45min to reach Hoi An from Da Nang.
Location: here
READ: 16 BEST THINGS TO SEE IN HOI AN, VIETNAM
---
14. Go on a day trip to Hue, the ancient capital of Vietnam
If you are visiting Vietnam, then a stop to Hue is a must! The good news, is that you can reach Hue from Da Nang during a day trip!
Hue is the last royal capital of Vietnam under the Nguyên dynasty. The city is classified as a UNESCO World Cultural Heritage Site.
Unmissable for its formidable historical heritage as well as for its divine gastronomy, visiting Hue was one of the best things we did in Vietnam.
Make sure to visit the old royal citadel. This is the symbol of Hue, where kings used to reside. It looks a bit like the forbidden city in Beijing (full guide here). Although having suffered from the Vietnam War, the citadel of Hue offers a very beautiful historical and cultural heritage.
In Hue you can also take a cruise on the Perfume River to appreciate all the poetic beauty of Hue. The river owes its name to the scent given off in spring by the flowers of the fruit trees growing along its banks.
After the cruise head to the tombs of the emperors. There are seven imperial tombs of the Nguyen dynasty erected along the Perfume River. Each mausoleum has a different layout, aesthetic, architecture and natural setting.
Make sure to also discover the Thien Mu Pagoda also called the Heavenly Lady. This is the tallest pagoda in Vietnam. During your visit, you will discover the legend surrounding its construction in 1601 by Lord Nguyễn Hoàng.
It takes a 2.5 hours to reach Hue, you can book a full day tour here.
READ: FULL GUIDE FOR VISITING HUE, VIETNAM ANCIENT CAPITAL
---
15. Drive through the Hải Vân Pass, one of the most scenic drives in Vietnam
Hai Van Pass, also called Cloud Pass, was part of the Mandarin Route linking North to South Vietnam during feudal times. It is located 500m above sea level. This 20km long scenic and winding goes through the Bạch Mã mountain. From the pass, you can enjoy a breathtaking view of Lang Co Bay.
If you a book a tour to Hue, you will drive through the Hai Van pass. Your driver will most likely stop for you to take photos of the beautiful surrounding landscapes around the mountain and Lang Co Bay.
---
16. Go on a half-day trip to explore the sanctuary of My Son
The My Son sanctuary (pronounced "Mee Son") and its ruins are considered the most important constructions of the Champa civilization. This was the main reason why My Son Sanctuary was declared a UNESCO World Cultural Heritage Site in 1999.
Before going to the temple complex, we recommend that you first visit the My Son Shrine Museum, located 100 meters behind the ticket office. With a permanent and thematic exhibition, it provides historical, archaeological and religious information about My Son and the Cham civilization.
Opposite the museum is the bridge and the road leading to the My Son complex. Apart from the religious features that deeply reflect the cultural values ​​of My Son Sanctuary, the architecture is the most striking feature of this World Heritage Site.
This archaeological site is unique with its creations influenced by the Indian style. At each stage of history, each temple was built to honor a different dynasty. It, therefore, reflects its own architectural style with different impressions and unique characteristics.
With many outstanding temples and monuments, you need half a day to experience all the beauty of My Son.
You can book a tour here.
---
Best food in Da Nang? Where to eat in Da Nang?
One of the "must-do" in Da Nang is to taste fresh seafood, and discover the local cuisine which is really delicious. For us Vietnamese food is considered one of the best food in Asia. Our top 3 would be Japanese food, Vietnamese food and Thai food in Asia.
Some of the main dishes you must try in Da Nang:
"Bánh xèo" (pancake made from rice flour, folded in half and garnished with sliced ​​or minced pork, shrimp, seeds and bean sprouts)
"Bánh tráng cuốn thịt heo" (Pork meat wrapped in a rice cake)
"Mi Quang" (shrimp noodle soup)
"Ram cuốn lá cải" (nem rolled up in a vegetable leaf and a rice cake)
"Bún mắm" (noodle soup)
And there are a lot of seafood places by the beach. A must-try in Da Nang.
Our favorite restaurants in Da Nang:
Madame Lan: a great setting, which looks like Da Nang, serving amazing food. Our best dishes we had in Da Nang. Location: here
Bếp Cuốn Đà Nẵng: A must try in Da Nang for the Bánh xèo (vietnamese pancake). We would consider going back to Da Nang just to eat Bánh xèo at this place. Simply amazing. Location: here
Thìa Gỗ Restaurant Da Nang, another amazing Vietnamese restaurants in Da Nang. A must try, we loved the spring rolls there. Location: here
| Tip
Do you want to learn more about the local cuisine? Then consider taking this Da Nang Local Food Tour with a local guide. You will try such traditional dishes as banh xeo, banh nam, and banh canh. You will also visit a local night market.
---
Best hotels in Da Nang? Where to stay in Da Nang?
If you are coming to Da Nang, we highly recommend a hotel by the beach. If you want to stay in the city center, then choose a hotel by the river.
Here is a list of our recommended hotels in Da Nang.
Pullman Da Nang – $$$$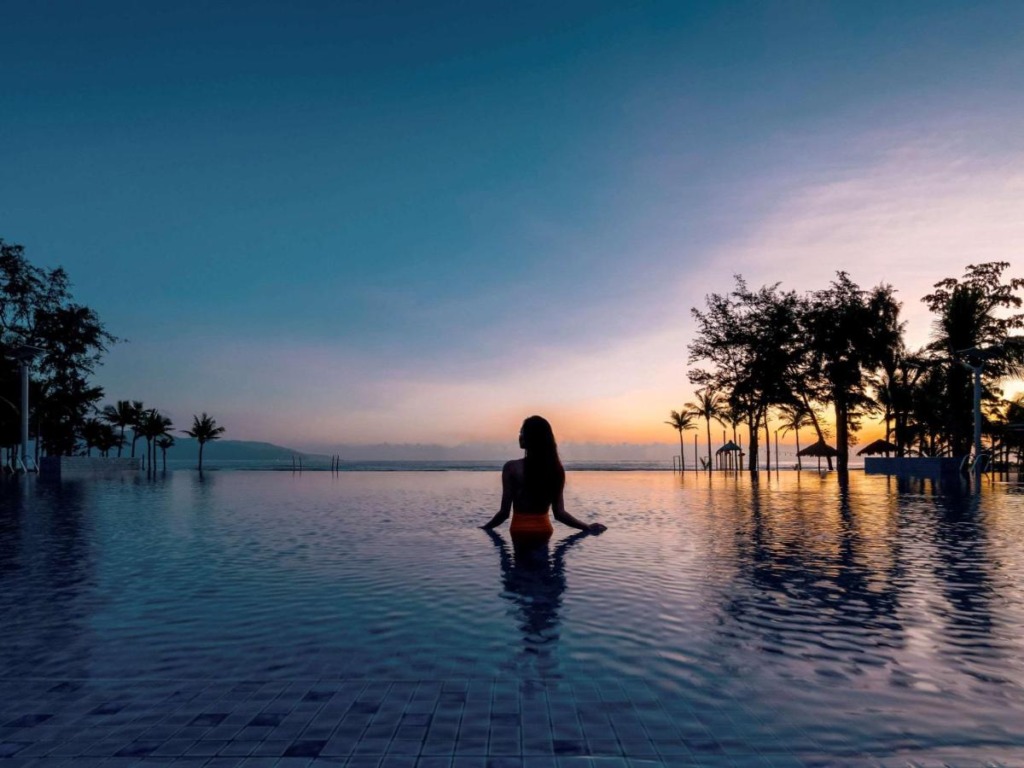 The advantage of the Pullman hotel, is that the hotel is located right by the sea, with all the amenities you would expect from a 5-star resort.
However, the big "plus", is that the hotel is also walking distance to many restaurants, bars and attractions in Da Nang. Which makes it one of the best hotels to stay in in Da Nang! Many other hotels by the beach are located in the middle between Da Nang and Hoi An, so if you want to get dinner outside, you will spend a lot time and money on taxi…
Check the availability and book here.
---
Fusion Suites Da Nang – $$$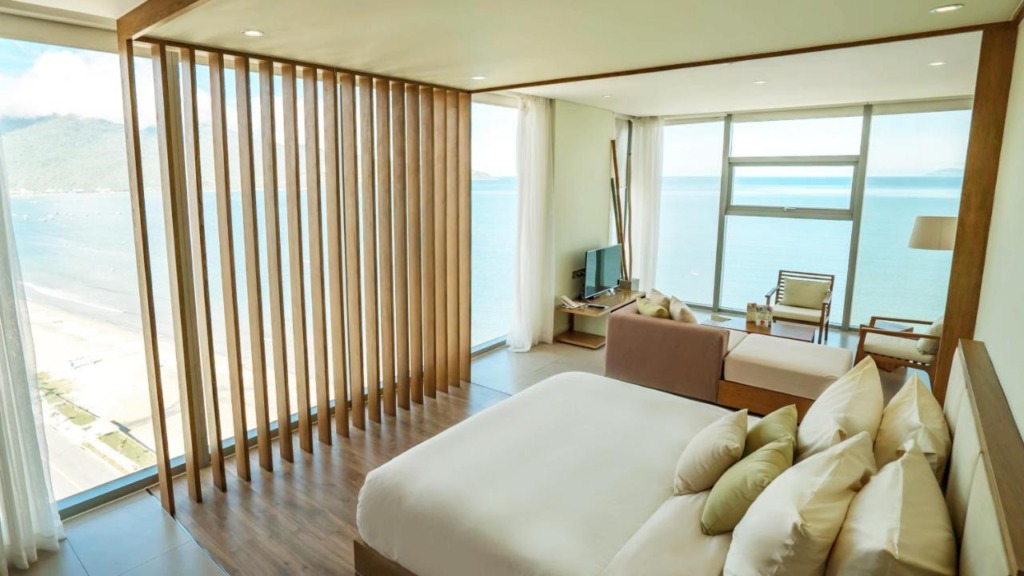 For us, the best value for money is the Fusion Suites in Da Nang. Why? In the area, this is the only hotel having a pool area by the beach.
The view from the pool is absolutely stunning. Besides, the room are just HUGE! All rooms come with a fully equipped kitchen, living room area and large beds! The breakfast is also delicious. If you are still looking for a hotel in Da Nang, this is the one.
---
Novotel Da Nang – $$$
If you prefer to stay in the middle of the city to enjoy all the bars, restaurants, river cruise, etc. then Novotel Da Nang is a fantastic choice! The hotel is located by the river. The view from the rooms at night is breathtaking. On top of that, Novotel, has one of the best rooftop bars in Da Nang!
---
How to get to Da Nang/ How to get around in Da Nang?
To get around Da Nang, you can
Rent a motorbike in hotels or a car with driver
Use Grab application (like Uber) – which we did most of the time
Take a taxi, make sure to ask them to turn the meter on
How to get to Da Nang?
Hanoi Da Nang/ Da Nang Hanoi by train, bus, plane:
You can go from Hanoi to Da Nang and vice versa by train, bus or plane. The plane option is most recommended because the prices are very low, and it will take you 1 hour only. Check it out here.
If you have more time, then we recommend the train. This option will take you 15 hours though…
You can see the timetables and prices for bus, train and plane here.
Ho Chi Minh city Da Nang/ Da Nang Ho Chi Minh city by plane, bus, train
The distance between Ho Chi Minh City and Da Nang is similar to Hanoi. Flying between both places are most convenient. However it is possible to take bus or train as well. You can book a flight at cheaper price here.
See timetables and prices for travel by bus, train, plane here
Da Nang Airport
Da Nang Airport is located 4-5km from Da Nang Beach. If your hotel is by the beach and near Da Nang, a taxi ride from the airport will cost you around 200,000 to 300,000 vnd.
Buying a Sim Card
When traveling to Vietnam you can simply buy an e-Sim Card. This is the best and easiest way to stay connected all the time and to find your way around Da Nang.
---
How long to stay in Da Nang?
If you include 1 or 2 day trips in Hoi An (a must) and Hue for example, then at least 3-4 nights is recommended. Here is our proposed itinerary:
Day 1: arrive at the hotel, and explore the beach in Da Nang. In the evening, try some great food at Madame Lan
Day 2: start your visit with Lady Buddha, then Marble Mountains and finally Hoi An. Spend the evening in Hoi An to see all the lanterns.
Day 3: Take a full day trip to Hue, the ancient capital of Vietnam. On the way you will Start your day at 8am. Have dinner in the night market in Da Nang and take a nice walk near the Dragon Bridge.
Day 4: Chill at your hotel or by the beach, or spend a half day trip to My Son. If you have kids, you may want to check Ba Na Hills!
If you decide to stay longer in Da Nang, then make sure to check Cham Islands!
---
When is the best time to visit Da Nang? Is there a rainy season in Da Nang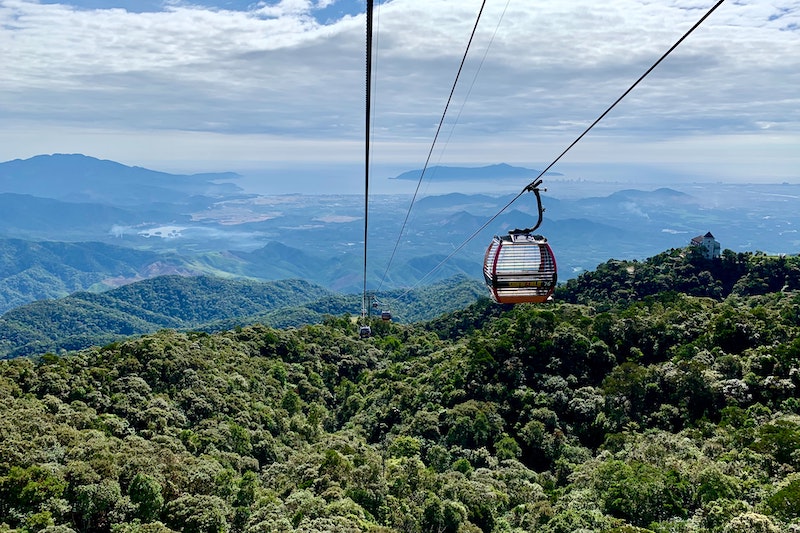 The climate in Da Nang is one of the best in the country. Since the city is located by the sea, there is always a pleasant breeze. The average annual temperature is 25.9°C.
Hottest months in Da Nang: June, July, August. Temperatures during these months vary between 28-30°C
The coldest months in Da Nang: December, January, February. Temperatures during these months vary between 18-23°C.
The rainy season: It rains more in Da Nang during the months of September, October and November.
---
In conclusion about the best things to see in Da Nang
Da Nang offer a relaxing break from the other busy cities of Hanoi and Ho Chi Minh City. There people are much more relaxed, there is almost no traffic on the road, and the beaches are stunning!
Hence, we highly recommend adding a stop in Da Nang if you are visiting Vietnam. Besides it is located near Hoi An, our ultimate favorite town in Vietnam!
We hope that you found this post useful about the best things to see in Da Nang. Feel free to reach out to us if you have any questions, by leaving a comment below.
For more posts about Vietnam, click here.
Enjoy your trip to this wonderful country!
---
Related Posts
16 BEST THINGS TO SEE IN HOI AN, VIETNAM
ULTIMATE GUIDE TO VISIT THE MARBLE MOUNTAINS IN DA NANG, VIETNAM
25 BEST THINGS TO SEE IN HO CHI MINH CITY, VIETNAM
25 AWESOME THINGS TO SEE IN HANOI, VIETNAM
VISIT HUE, VIETNAM ANCIENT CAPITAL