WHAT TO SEE IN HUE, THE FORMER IMPERIAL CAPITAL OF VIETNAM?
If you travel through Vietnam, a stop to Hue, Vietnam's ancient capital is an absolute must.
There, you will understand a bit more about the history of Vietnam. You will be visiting the imperial citadel, tombs from previous Kings, see magnificent Pagodas, travel through the Perfume River and eat delicious food!
Hue is located Central Vietnam, a bit more north from Da Nang and Hoi An, another 2 must-sees in Vietnam. Y
ou can do a day trip from both of these places to Hue (more info here), although it is recommended to spend a night in Hue to see most of it.
Hue, the former imperial capital of Vietnam from 1802 to 1945 occupies an important place in Vietnamese history. It was the political, cultural and religious center of the country during the 19th century.
The group of historical monuments in Hue has been listed as a UNESCO World Heritage Site since 1993.
Some of the most important monuments to visit are:
The Imperial Citadel (full guide here)
The mausoleums and tombs of the kings.
Temples, pagodas and some other historical buildings.
Our first impressions of Hue
When we first arrived in Hue, it actually felt like any other big cities in Vietnam, busy, full of scooters on the road, and lots of life on the streets.
However, once we arrived at the imperial citadel, we stepped back into the past right away. Looking like the forbidden city in Beijing, this place is really special. From there we met our guide which explained us a lot about the Kings life. By the way we absolutely recommend taking a guide with you to understand the history of the various places in Hue. You can book a guided tour of Hue here.
From the citadel we visited a series of historical places. We quickly understood why Hue was so special. And then comes the food… Absolutely delicious.
So yes, a visit to Hue is an absolute MUST!
Here we listed the best things to see in Hue. Enjoy your trip 🙂
---
1. START YOUR VISIT OF HUE WITH THE IMPERIAL CITADEL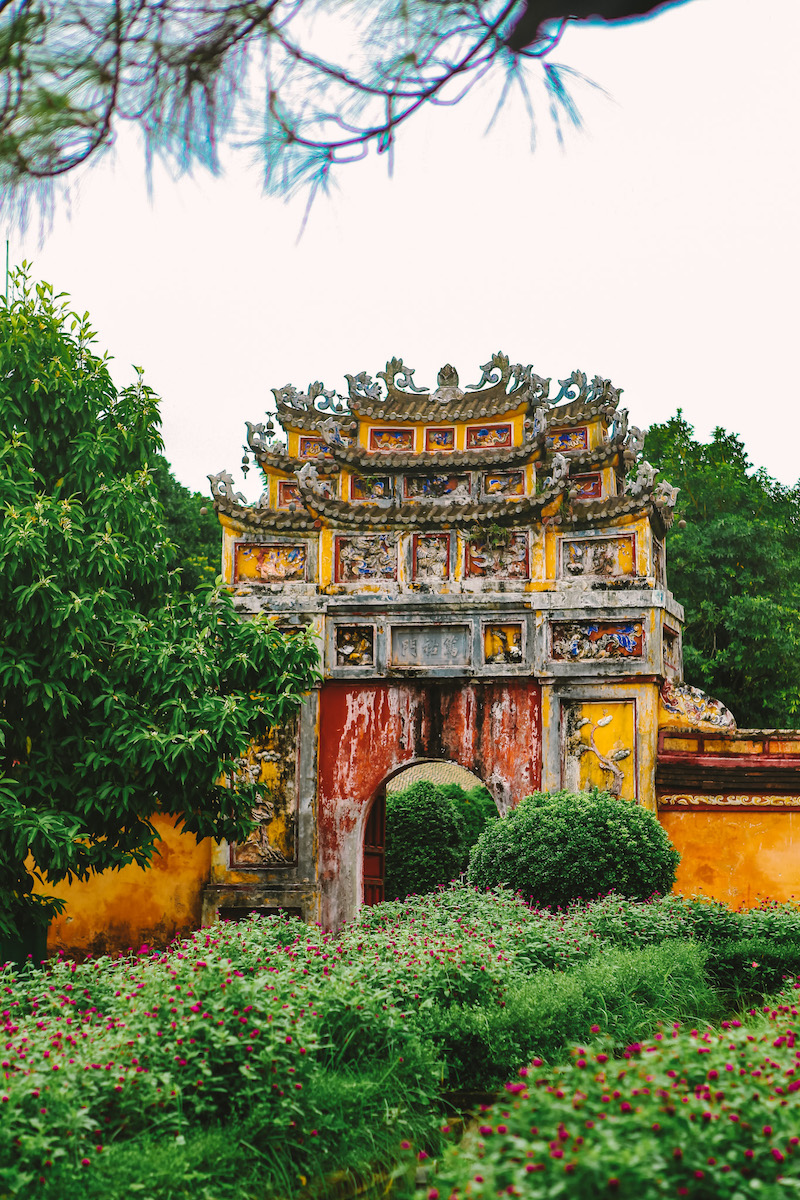 The Imperial Citadel is the highlight of Hue, and one of the best things to see in the whole of Vietnam!
Listed by UNESCO in 1993, It is the most famous and visited monument in Hue. Although 80% of it was partly destroyed by the Americans (it is being restored), it is nonetheless an amazing place to visit and really big!
Some of the remaining buildings are just beautiful. A room is dedicated to old photos which gives an overview of what the Citadel looked like at the time.
The imperial city is located inside the citadel, where the emperors and their families lived. On the map, it looks like a smaller place inside the citadel, on its southern side. This space is also behind thick walls and was only accessible to selected guests and servants.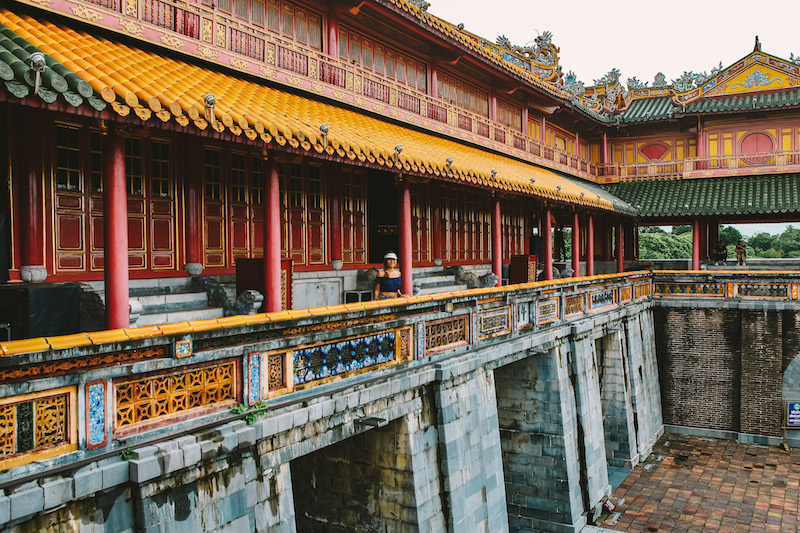 Enter the Imperial City through the beautifully restored Noon Gate. The entrance is stunning!
Finally, at the very center of the Imperial City, you will find the Purple Forbidden City. This is where the emperor's consorts lived. At the time, the only people allowed access to this place were the emperor himself and the eunuchs who served the royal consorts. It was the best kept place in the country.
Sadly most of it was destroyed during the Battle of Hue in the Vietnam War, but work is underway to restore as much as possible.
READ: FULL GUIDE FOR VISITING THE IMPERIAL CITY IN HUE
Important information:
Entrance fee: 150,000 vnd
Location: here
Opening hours: 8AM–5:30PM
Duration of the visit: Count 1.5 to 2 hours to visit the main part of the citadel. However, you could easily spend a day to cover it all…
Guide: book here
---
2. NEXT, HEAD TO THIEN MU PAGODA
Also called the Old Lady Heavenly Pagoda, Thien Mu Pagoda is one of the best things to see in Hue!
This splendid Pagoda is located near the Perfume River. It is easily accessible by bicycle from the center of Hue.
Thien Mu Pagoda was built in 1601. The pagoda features golden images of the Buddha at its base, as well as the large bell and a stone turtle on which a 17th-century marble stele is engraved.
Thien Mu Pagoda also called the Heavenly Lady Pagoda, overlooking the Perfume River, is iconic and a symbol of Hue. Vietnamese usually say, "If you come to Hue without visiting Thien Mu Pagoda, it means you have never been to Hue".
The 7-story pagoda was originally built in 1601 but has been destroyed and rebuilt several times since. The pagoda is still a religious site today and it is common to see monks wandering the gardens.
Important information:
Entrance fee: FREE
Location: here
Opening hours: 8AM–6PM
Duration of the visit: 1h is sufficient to cover it all.
---
3. MAUSOLEUM OF EMPEROR KHAI DINH
Although Emperor Khai Dinh was very unpopular with the Vietnamese people, his tomb is among the most visited sites in Hue. Made with rich decorations such as ceramic and porcelain ornaments, this tomb is very elaborate and a true masterpiece!
It is famous for its impressive mix of European and Vietnamese architectural styles which is said to originate from Khai Dinh's travels in Europe where he was impressed with the style and designs of the buildings he saw.
Important information:
Entrance fee: 100,000 vnd
Location: here
Opening hours: 7AM–5:30PM
Duration of the visit: 1 to 1.5 hours
---
4. CRUISE ALONG THE PERFUME RIVER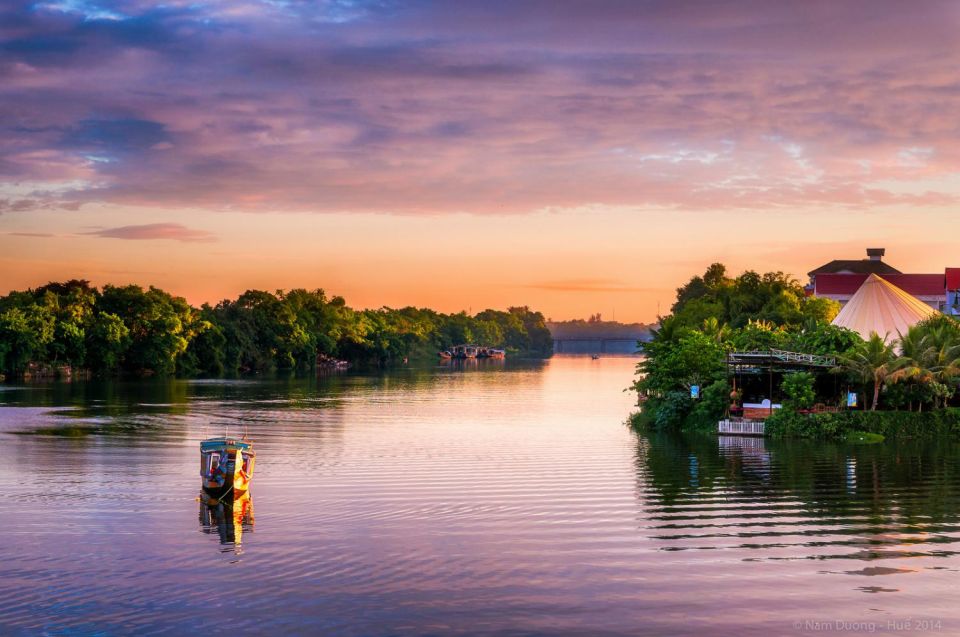 The Perfume River is as much a landmark as Hue itself.
First named after the sweet scents of tropical flora and fauna, it quickly rose to prominence as a trade route linking Hue to nearby towns and villages.
As the river meanders gently through the town and surrounding countryside, it provides a place of calm and tranquility, quite the opposite of the hustle and bustle of the city. Come here to take a walk along the banks and spot several historical sites on its shores.
We also recommend taking a cruise along the river to fully appreciate its beauty. You can book a river tour here.
If you visit Hue as part of a day trip from Da Nang or Hoi An, then your visit of Hue would end here. These would be the highlights of what you can see in a day in Hue.
However, if you decide to spend a night in Hue, then read the rest of the posts, as there are a lot more you can see in the ancient capital!
---
5. DISCOVER THE MAUSOLEUM OF MINH MANG
In the village of An Bang, twelve kilometers from Hue, you will find the tomb of Emperor Minh Mang. It was built by his son and successor Thieu Tri and consists of several buildings, pagodas as well as a lake.
Climb the steep staircase to enter the compound through its imposing, beautiful gate and reach the main courtyard. From here, you can see the temple in honor of the emperor and empress, visit the Minh Mang sepulcher and take a walk around the vast grounds.
Important information:
Entrance fee: 100,000 vnd
Location: here
Opening hours: 7:30AM–5PM
Duration of the visit: 1h
---
6. CONTINUE ALONG THE RIVER AND VISIT THE TOMB OF TU DUC
Emperor Tu Duc's tomb is one of the most visited in Hue and should not be missed. Tu Duc was the longest reigning monarch of the Nguyen Dynasty and he designed his own tomb.
It is made up of several parts, including the main hall, a lake with a small island, and a large area covered in lush greenery. One thing that makes this place special is that Tu Duc was not buried here but asked to be rested in an unknown place. Until today, the exact location remains a mystery.
Important information:
Entrance fee: 100,000 vnd
Location: here
Opening hours: 7AM–5:30PM
Duration of the visit: 1h
---
7. VISIT THAN TOAN JAPANESE BRIDGE
If you've already visited Hoi An, you've most likely seen a very similar Japanese Bridge in the center of the ancient town.
This Japanese covered bridge of Hue (Thanh Toan Bridge), is one of the best places to see during your stay in Hue. It is surrounded by a small, fairly quiet village and rice fields. A good way to take a bicyle ride in Hue's country side.
There is also a small agricultural museum right next door. You can even try out some tools.
Location: here
---
8. VISIT HO QUYEN ANCIENT TIGER ARENA
Ho Quyen arena is Located 3km from Hue, it was used for animal fighting. Quite unknown, it is not the essential place in Hue but it is still a great place to see if you have already visited other places such as the Citadel and the Tombs.
Ho Quyen was built in 1830. It was used for tiger and elephant fights.
Location: here
---
9. EAT SOME TRADITIONAL DISHES IN HUE
Hue is well known around Vietnam to serve delicious food. Well, we love the food everywhere in Vietnam, so for us it would be hard to say which places serve the best food.
However, the gastronomy of Hue is characterised by the technique of preparation and sophisticated cooking. The list of Hué specialties is quite long: cơm hến (rice with shellfish); bún bò Hué (beef soup – see photo above); cakes bánh bèo, bánh bột lọc etc.
Almost all dishes in Hue are spicy. If you don't like chilli, let the waiter know before ordering.
If you stay 1 night and 2 days in Hue, this is pretty much the main highlights during your visit. However, you can easily spend an extra day and visit the following sights in the ancient capital and its surroundings.
---
10. CHILL AT ONE OF THE BEACHES NEAR HUE
While Da Nang and Hoi An usually get all the credit (and visitors!) for their wonderful coastlines, Hue also has a claim to wonderful beaches in Vietnam.
For a refreshing swim, a magnificent view of the surrounding majestic mountains and a colorful sunrise, head to Luang Co and Thuan An. There expect soft white sands and blue waters. And chances are, that you will be the only tourist on the beach!
---
11. BE AMAZED AT TAM GIANG LAGOON
Located 15km from Hue, the lagoon of Tam Giang offers a magnificent landscape and magical colors. We advise you to go there around 4 p.m. to catch the sunset during your visit. The entire area of the park is, 52km2, immersed in a bright yellow color.
This is THE best place to watch the sunset in Vietnam!
You should not miss the opportunity to visit Thai Duong Ha fishing village. It is a small oasis on the lagoon. Also not to be missed is the Rucha mangrove forest.
Location: here
---
12. Wander at Dong Ba Market

Dong Ba market is located on Tran Hung Dao street, right on the bank and in the middle of Truong Tien and Gia Hoi bridge. You will see a traditional market with an imposing space as all of the life, culture and customs of the people of Hue. This is an opportunity for you to better understand the unique cultural characteristics of the local people.
If you are looking for a shopping area mainly for fabrics and clothes, you can reach the 3rd floor. There you can find all kinds of outfits. On the lower floor, you will find works of art, exquisitely represented by the famous villages of traditional craftsmen. You can also taste the regional cuisine.
Location: here
---
13. WANNA SEE SOMETHING QUIRKY? VISIT THE ABANDONED WATER PARK OF HO THUY TIEN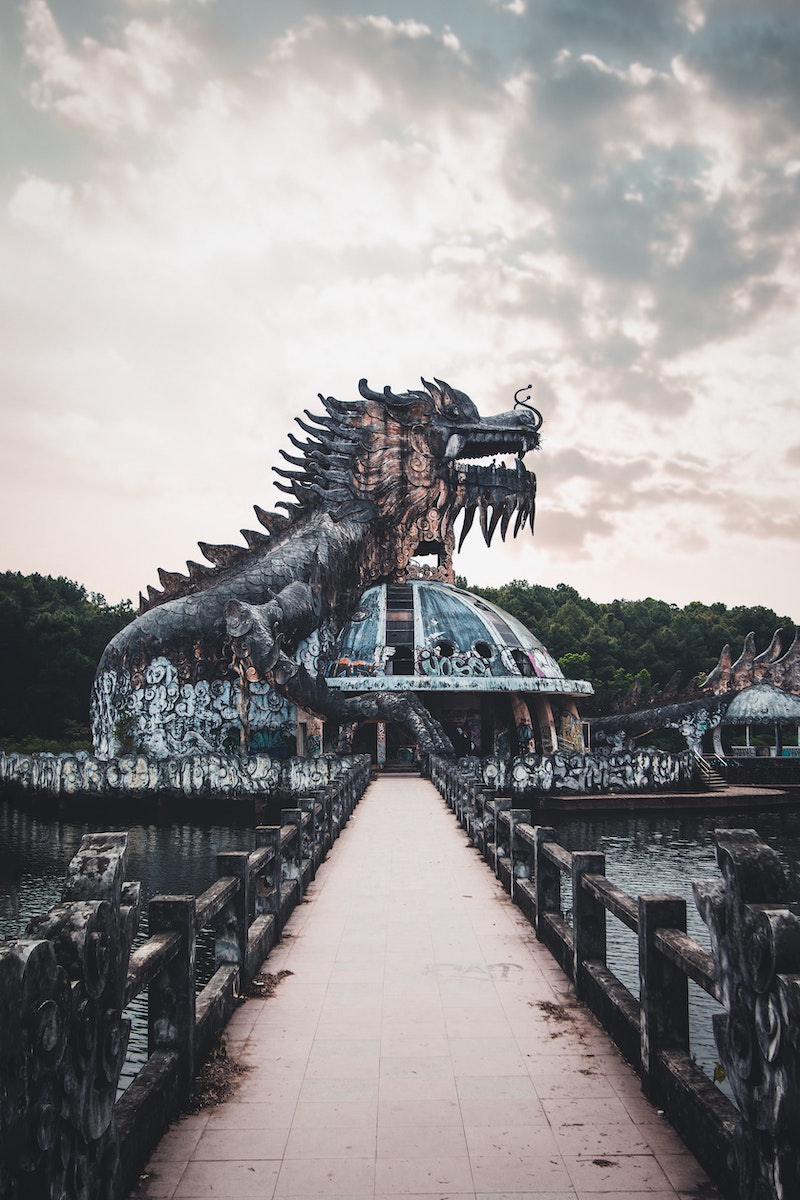 Opened in 2004, this aquatic and recreational park was only in operation for a few years before being closed. Originally, it was planned that families would come and enjoy a weekend of fun rides, interesting aquariums and entertaining shows.
Today it has become a popular spot for those who enjoy the eerie feeling of all things abandoned. If you are one of them, Ho Thuy Tien is a great way to spend a few hours.
Located about eight kilometers from the main tourist area of ​​Hue and clearly marked with signs, it is easy to find and reach. The park is open, so you don't need to climb fences or pass security guards to enter.
Once there, wander through abandoned buildings, rides and empty aquariums. Climb inside the dragon in the lake and enjoy breathtaking views of the park and its surrounding landscape.
For the best photos, go early in the morning or at sunset. This way you will get cool visual effects and the long shadows will add to the disturbing atmosphere of the park.
Location: here
---
Our favorite restaurants in Hue
There are many amazing places in Hue. Here is a list of a few of our favorite restaurants:
Maison Trang: This place is AMAZING. Here you taste many of the traditional cuisines of Hue. The food is of high quality and super tasty. You can order a set menu to try a bit of everything! A must try in Hue.
Hahn Pancake: another great restaurant in Hue serving amazing traditional food from the region. Maison Trang and Hahn are both delicious.
Nhà Hàng Chay Vạn Hạnh; if you are Vegan, then you will find many vegan places in Vietnam as most people are buddhists and many of them do not eat meat! The most famous vegan place in Hue is Nhà Hàng Chay Vạn Hạnh. We loved the food there, our guide brought us there, it was such a nice surprise!
---
Best hotels in Hue? Where to stay in Hue?
There are many amazing places to stay in Hue, some are big resort by the river, some are charming homestay and you can even find beautiful villas all to yourself!
Here is a selection of a few of our favorite hotels in Hue.
Pilgrimage Village Boutique Resort & Spa – $$$$
This is probably the most amazing place in Hue! If the nightly rate fits your budget, then without a doubt this is for you! The hotel is just breathtaking at every aspect. This luxury resort, just a few minutes from the main attractions in Hue, has a beautiful pool, serves amazing breakfast, the rooms are spacious and comfortable and the entire service top notch!
If you are looking for the best hotel in Hue, this one would be hard to beat!
---
Saigon Morin Hotel – $$$$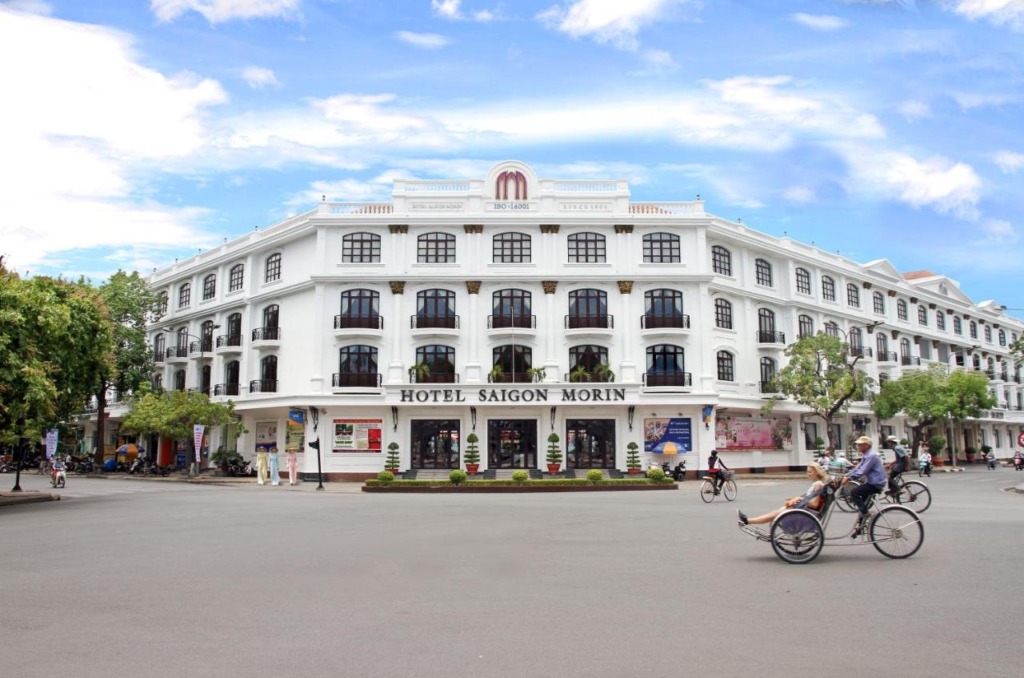 Saigon Morin Hotel is another beautiful hotel located in the center of Hue near the Imperial Citadel, which makes it a very convenient place to visit Hue.
This Hotel is a fantastic piece of history, as the building is an historical place featuring french colonial architectural style. We love this place too and would recommend it to anyone coming to visit Hue.
---
Hue River Side Villa – $$$
Why not staying in your own villa during your visit of Hue. The villas are located by the Perfume River, featuring a magnificent view from the garden! The location is perfect; you are in the center of Hue but still out of the hustle and noise of the city.
---
Le Robinet Homestay – $$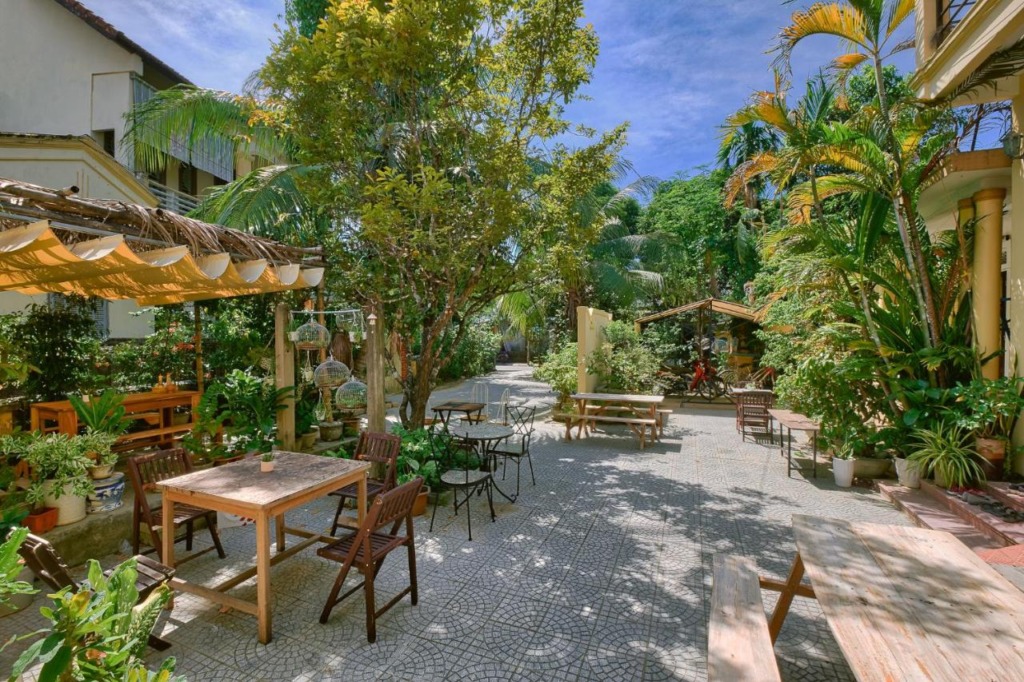 If you are more on a budget during your trip to Vietnam, then we recommend the charming Le Robinet Homestay. This is one of the best value for money. The place is super clean and the staff is super friendly! This place has a lot of character, reflecting how wonderfully unspoilt Hue is, and it's wonderful slow pace.
---
How to get to Hue/ How to get around in Hue?
There are many ways to get to Hue:
From Hanoi
By plane: the easiest, most convenient and fastest is to get to Hue from Hanoi by plane. The flights are relatively cheap, and it takes 1.5 hours to get there. You can check the place tickets here.
By train: it is possible to take a train from Hanoi to Hue. Overnight train would be the most convenient option to save time during your trip. It takes 13h. You can see the train schedule and book your train ticket here.
By bus: the overnight bus from Hanoi to Hue is actually super comfortable. You can be almost completely flat on your seat, which is great for sleeping. This is the cheapest option. It takes a bit more than 14h. You can see the bus schedule and book your ticket here.
READ: 25 BEST THINGS TO SEE IN HANOI
From Ho Chi Minh City
By plane: Same as for Hanoi, taking a flight to Hue would be the fastest way to get there. You can check the place tickets here.
By train: it is also possible to take a train from Ho Chi Minh City. Check it out here. It takes 14h.
By bus: there is also an overnight bus from Ho Chi Minh City: schedule and price here.
From Da Nang / Hoi An
By train: From Da Nang you can easily take the train to reach Hue. It takes 3h to get there. See here.
Limousine bus: you can book a small shared limousine bus for a little more. More info here.
Organized tour as a day trip: if you are staying in Da Nang or Hoi An, and just want to see the main monuments in Hue, you can join a private or group tour from Da Nang. More information here.
How to get around in Hue
Most sights can be reached by bicycle. There are many bicycle rental shops around Hue, but most likely your hotel can also provide you with a bicycle.
Another option is to hire a driver for a day, who will drive you the main attractions and wait for you each time. It can be joined with an English guide as well. More info here.
---
How long to stay in Hue?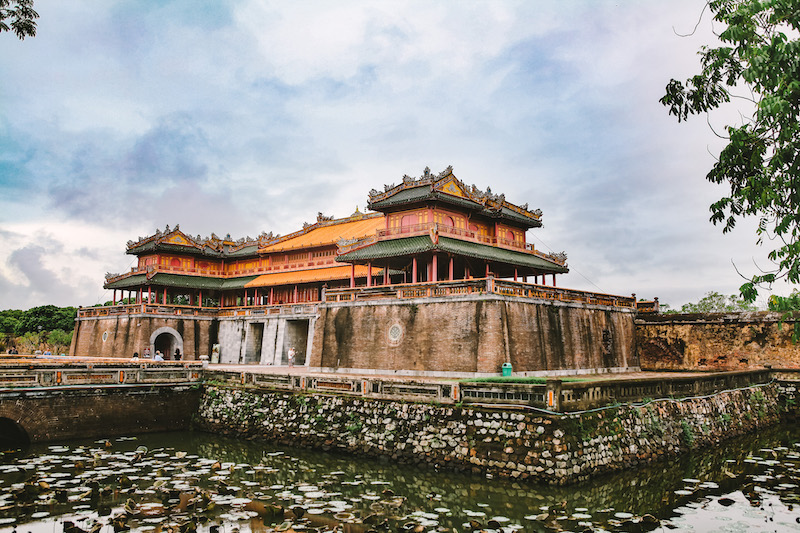 For the main highlights Hue can be done during a day trip from Da Nang or Hoi An, however we recommend spending at least 1 night to fully appreciate the place and not rushing everything.
---
When is the best time to visit Hue? Is there a rainy season in Hue?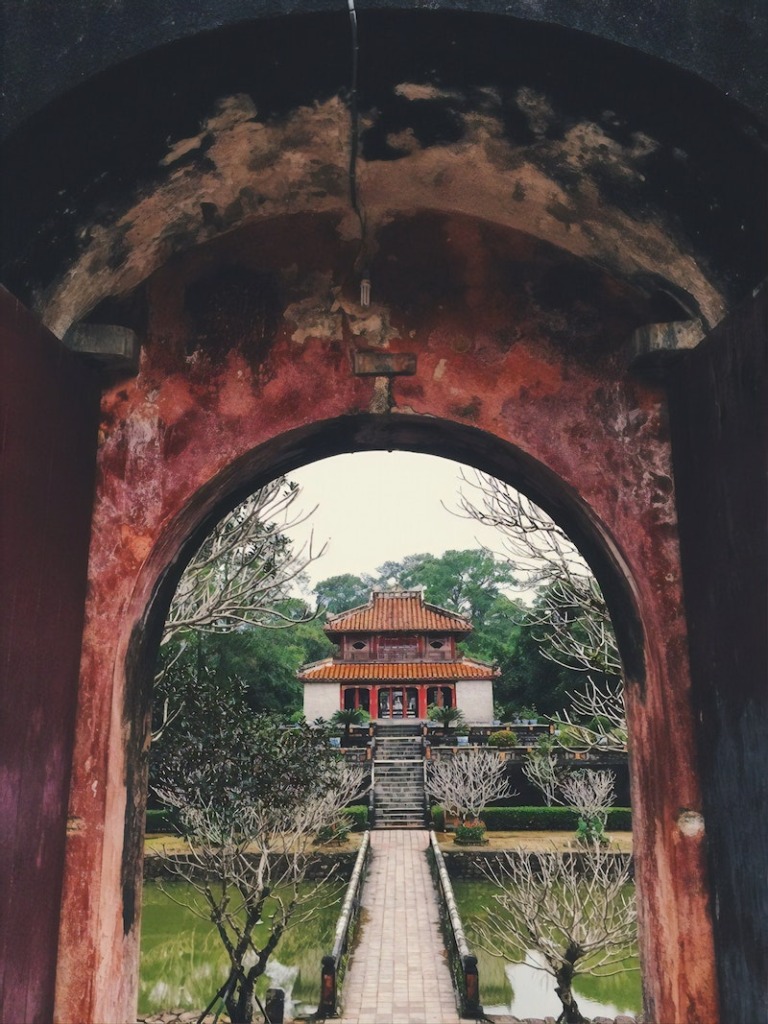 The climate in Hue is one of the best in the country. Since the city is located near the sea, there is always a pleasant breeze. The average annual temperature is 25.9°C.
Hottest months in Hue: June, July, August. Temperatures during these months vary between 28-30°C
The coldest months in Hue: December, January, February. Temperatures during these months vary between 18-23°C.
The rainy season: It rains more in Hue during the months of September, October and November, which is also the typhoon season in this part of Vietnam…
---
In conclusion about the best things to see in Hue
Hue is a great place to visit in Vietnam. The Imperial Citadel and the Kings tombs are really impressive. Again, we highly recommend taking a guide. Before going there, we read many reviews of many people saying that they didn't really like Hue. Which we can understand if you don't take a guide to explain you the background of each monuments and the many stories about the Kings.
At the end, this is what we will remember most about our trip to Hue. All the things we learned about Vietnam and Hue. Our guide was extremely knowledgeable. We asked her so many questions, not only about the history of Hue and Vietnam, but also about certain traditions of Vietnamese people. She also recommended us all the great dishes we had to try in Vietnam.
So overall, we keep a really great memory of our trip to Hue.
We hope that you found this post useful about the best things to see in Hue. Feel free to reach out to us if you have any question, by leaving a comment below.
For more posts about Vietnam, click here.
Enjoy your trip to this wonderful country!
---
Related Posts
VISITING THE IMPERIAL CITY IN HUE: here
25 AWESOME THINGS TO SEE IN HANOI, VIETNAM: here
16 BEST THINGS TO SEE IN DA NANG, VIETNAM: here
ULTIMATE GUIDE TO VISIT THE MARBLE MOUNTAINS IN DA NANG, VIETNAM: here
16 AWESOME THINGS TO SEE IN HOI AN, VIETNAM: here
25 BEST THINGS TO SEE IN HO CHI MINH CITY, VIETNAM: here