WHAT TO SEE IN HOI AN, VIETNAM?
The city of Hoi An is a real gem in central Vietnam. In fact, this is our favorite town in the whole of Vietnam.
We are not the only who think so, Hoi An is often ranked as one of the best destinations in the world!
So, if you are visiting Vietnam, a day in Hoi An is an absolute must! It is listed as one of UNESCO heritage site! Hoi An was lucky enough to be preserved during the wars against the French and Americans. So the town was well preserved over the years.
In this post we describe all you need to know about Hoi An!
WHY VISITING HOI AN IN VIETNAM?
In 1999 the old town was declared a World Heritage Site by UNESCO
At night the whole town is illuminated with thousands of lanterns, something you will not see anywhere else in the world!
The food is amazing (like everywhere in Vietnam)
There are many other things to see around Hoi An
Our first impressions of Hoi An
Walking through the old town of Hoi An, is like stepping back into the past. Nothing much has changed, at least it feels like it. Old houses painted in yellow everywhere, traditional boats crossing the river, local merchants selling fruits and other local products, the smell of coffee when passing the many cafes around town. In a nutshell, it's a beautiful place!
And when the night comes, the city becomes even more stunning with thousands of lanterns everywhere illuminating the city.
We will never forget Hoi An. We actually visited this place twice. And we felt like kids twice, discovering this magical place.
Here we listed the best things to see in Hoi An:
---
1. Discover Hoi An's old town, a UNESCO site
Described as a living museum of history and culture, the Old Town is a wonderful throwback to its glorious past. Built in the 16th century, Hoi An was an important trading port for Chinese, Japanese, Indians and Europeans.
But due to political changes and changing rulers, the city was abandoned at the beginning of the 19th century. However, its buildings remained intact and it was this preservation that led to it being recognized as a UNESCO World Heritage Site in 1999.
The old town comprises 1,107 timber-framed buildings, including houses, shops, pagodas and religious buildings. All arranged side by side in tight rows in narrow pedestrian streets. By decree of UNESCO, more than 800 historical buildings of Hoi An have been preserved. Therefore, much of the old town looks as it did centuries ago.
Here are the main sites not to be missed during your visit:
---
2. Visit Hoi An at night to see all the lanterns and the night market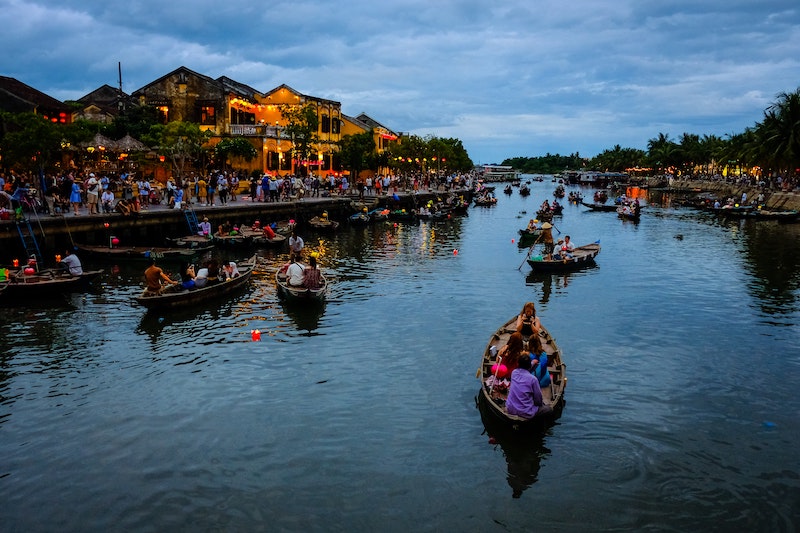 How to describe Hoi An without visiting the old town in the evening where activities come alive to our delight.
At sunset, it's time to stroll along the alleys illuminated by a thousand shimmering lanterns, but also in the night markets to enjoy an exclusive atmosphere on the banks of the river.
You can also join a boat tour by the river with their own lanterns, or light a candle on a small box and let it float on the river.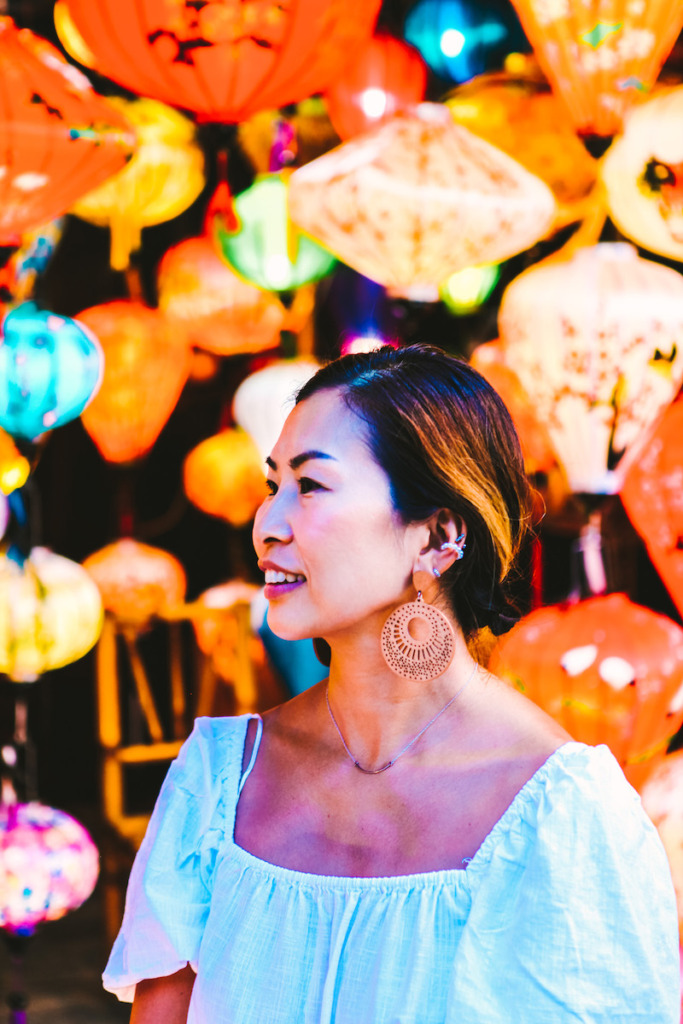 You should also visit the beautiful night market, starting around 4pm until 11pm. There you will see many stalls with hundreds of lanterns on display! It's stunning.
Location of the market: here
---
3. Visit Hoi An Central Market
The Central Market of Hoi An is a must-see when visiting the town. The market offers a wide array of delicious local foods! including Cao Lau one of the most traditional dish in Hoi An.
There is also an excellent Banh Xeo (Vietnamese pancake), much better than many restaurants in Hoi An. Although the market is touristy, it is still authentic and the locals still go there.
The Central Market, is one of the best things to see in Hoi An.
Location: here
---
4. Get tailor-made clothes
Hoi An is filled with tailors. Why? As this town used to be a trading port on the silk route, Hoi An kept the tradition of making silk clothes and passed it over generations. There are so many tailor shops in Hoi An, that it can get quite overwhelming choosing a good one. There are about 400 tailor-made clothing shops in Hoi An! Crazy, right!
Well, one thing is for sure, here in Hoi An, the prices of tailor made clothes are unbeatable! For example, you can get a tailor-made genuine leather jacket for less than 150 EUR. You can also get a nice quality suit for about the same price or less, depending on the quality of the fabric.
To make your lives easier, we selected a few of the best tailor shops in Hoi An with good reputations:
Yaly Couture – top of the range, known for 20 years (here)
At Dong Silk – known for high good quality suit (here)
Bebe Tailor Hoi An – good choice for an evening dress, wedding dress, or a luxury, high-end, high-priced suit (here)
It normally takes 2-3 days to make the most complex garments, with alterations. If you don't have enough time in Hoi An, the shops can send your purchases to your hotel in Vietnam, or directly to your home in Europe or US at an additional cost.
---
5. Buy a custom-made leather shoes or bag in Hoi An
It is difficult to leave Hoi An without having a custom-made bag or leather shoes made there. Be sure to choose the store carefully, to ensure the quality of the leathers used.
You can pay around 150 EUR for a bespoke leather bag, which would sells for 500-600 usd in European countries. Several major French fashion brands use leather exported from Hoi An.
We recommend The Friendly Leather Bag Shop (here) and Da Bao Real Leather Hoi An (here)
---
6. Discovery the countryside on a bicycle
Hoi An is a good place for riding a bicycle between rice fields and to see lots of water buffaloes. It is a great way to discover another side of Hoi An. Most of the time, hotels provide free bicycle in Hoi An, otherwise you will find a few shops around town renting them out.
Besides getting lost in the rice fields, you can also visit the old town by bicycle, go to An Bang beach, the Terra Cotta terracotta park or the islets around the old town.
For example, you can discover the islet of Cam Kim (more on that later in this post), cross many rice fields, villages, schools and visit a fishing boat construction or some craft factories. This is one of the best things to see around Hoi An.
If you are unsure about venturing yourself with a bicycle, why not joining a guided bicycle tour for a full day or half day. More info here.
---
7. Go for a massage in Hoi An
There are many spa around Hoi An, but our ultimate favorite is at Na Spa Escape (website). This spa is surrounded by rice fields, in a beautiful mansion. Just getting there is already so beautiful.
We decided to get our bicycle to get there. We crossed multiple rice fields from the old town to reach this spa. Once there, we got treated like Kind and Queen! The massage and spa treatment were outstanding! Highly recommended.
---
8. Take a boat ride in Cam Thanh
Leaving Hoi An, the Cam Thanh region located 3km from the city center is a great place to discover the country side of Vietnam.
Here, locals cultivate and work the leaves of submerged coconut trees. If you come around 4-5pm, you can see the Vietnamese working the leaves by picking them up and spreading them on the roads.
It is also here that you can go on a basket boat, these famous round fishing boats in the middle of the mangrove of submerged coconut trees. It takes 100,000 vnd to 150,000 vnd for 1 hour for a basket boat ride.
Cam Thanh is one of the best things to see in Hoi An.
---
9. Relax at the beach in An Bang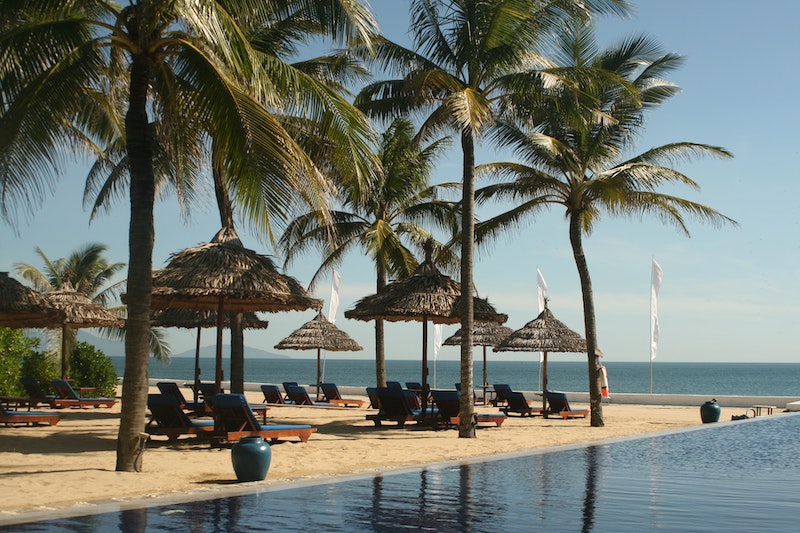 If you are looking for the most beautiful beach in Hoi An, it is An Bang!
An Bang beach is located about 5km from the old town. You can get there by taxi, motorbike or bicycle, through rice fields. It remains relatively wild, especially compared to the other beaches of Da Nang. T
he place is mostly crowded in the late afternoon. Soul Kitchen (here) is our favorite restaurant and bar on this beach.
---
10. Visit the traditional village of Tra Que near Hoi An
Trà Quế (pronounced Tcha wé) is an eco village, where you can observe ancient cultivation techniques. You will discover the know-how of traditional farming without pesticides, without mechanical machines and without tractors. It is halfway between the old town and An Bang beach.
The village supplies vegetables to almost every restaurant in Hoi An.
On site, you can participate in field work or attend a simple cooking class with the locals.
The gardeners work early in the morning and late afternoon. From 11 a.m. to 4 p.m., the village will be almost empty, especially because of the heat.
One of the best way to visit the village, is with a guided bicycle tour, more info here.
---
11. Visit Terracotta Park and Thanh Hà Pottery Village
Thanh Hà pottery village is located 3km from the old town of Hoi An, on the banks of the Thu Bon River. The Terra Cotta park is right next to the village and includes:
a museum
terracotta exhibits
a pottery workshop
a garden with miniature reproductions of famous monuments such as: Egyptian pyramids, the French Arc de Triomphe, the Indian Taj Mahal temple, the Sydney Opera House etc.
You can take part in pottery-making workshops in the park or in the nearby village.
The village is easily accessible by bicycle.
Location: here
---
12. Go on a half day trip to My Son
Located 1 hour from Hoi An, My Son Sanctuary looks like the Cambodian temple of Angkor Wat!
My Son sanctuary (pronounced "Mee Son") and its ruins are considered the most important constructions of the Champa civilization. This was the main reason why My Son Sanctuary was declared a UNESCO World Cultural Heritage Site in 1999.
Before going to the temple complex, we recommend that you first visit the My Son Shrine Museum, located 100 meters behind the ticket office. With a permanent and thematic exhibition, it provides historical, archaeological and religious information about My Son and the Cham civilization.
Opposite the museum is the bridge and the road leading to the My Son complex. Apart from the religious features that deeply reflect the cultural values ​​of My Son Sanctuary, the architecture is the most striking feature of this World Heritage Site.
This archaeological site is unique with its creations influenced by the Indian style. At each stage of history, each temple was built to honor a different dynasty. It therefore reflects its own architectural style with different impressions and unique characteristics.
With many outstanding temples and monuments, you need half a day to experience all the beauty of My Son.
You can book a tour here.
Location: here
---
13. Visit The Cham Islands during summer
Declared a protected area, the Cham Islands Natural Park is an archipelago of seven islands and islets located off the coast of Da Nang.
The main island is dominated by a 517 m high mountain, covered with tropical vegetation, and irrigated by numerous streams and waterfalls. It is the only one that is inhabited, with two villages on the south coast, Bai Lang and Bai Huong, with 2,000 and 400 inhabitants respectively. Everyone, or almost, is a fisherman.
In 2020, an entrance fee for the Cham Islands was introduced. This is a nominal fee of 70,000 dong per adult. The entrance fee is valid for your entire stay on the Cham Islands.
The best time to visit the Cham Islands is from March to September, due to the sunny weather and excellent water conditions. If you plan on diving or snorkeling during your visit, we highly recommend visiting between June and August. Many dive centers and tourist companies offer day trips to Cu Lao Cham Marine Park, where you will find a wide variety of colorful corals and marine life.
Interested in visiting Cham Islands? Check out the tour here.
---
14. Go on a day trip to Da Nang
Da Nang is Vietnam's fourth largest city. It is modern and lively city located along a stunning coastline full of gorgeous beaches.
Da Nang is THE favorite destination for Vietnamese families during the summer (May – September), and also attracts many foreigners tourists throughout the year. If you are visiting Vietnam, a stop in Da Nang is a must!
In Da Nang you can visit the beautiful Marble Mountains, enjoy a walk on one of the best beaches in the world, in My Khe. You can also discover Ba Na Hills with it's impressive Golden Bridge, made very popular on social media.
READ: 16 AWESOME THINGS TO SEE IN DA NANG & ALL YOU NEED TO KNOW ABOUT THE MARBLE MOUNTAINS
---
15. Visit Cam Kim islang near Hoi An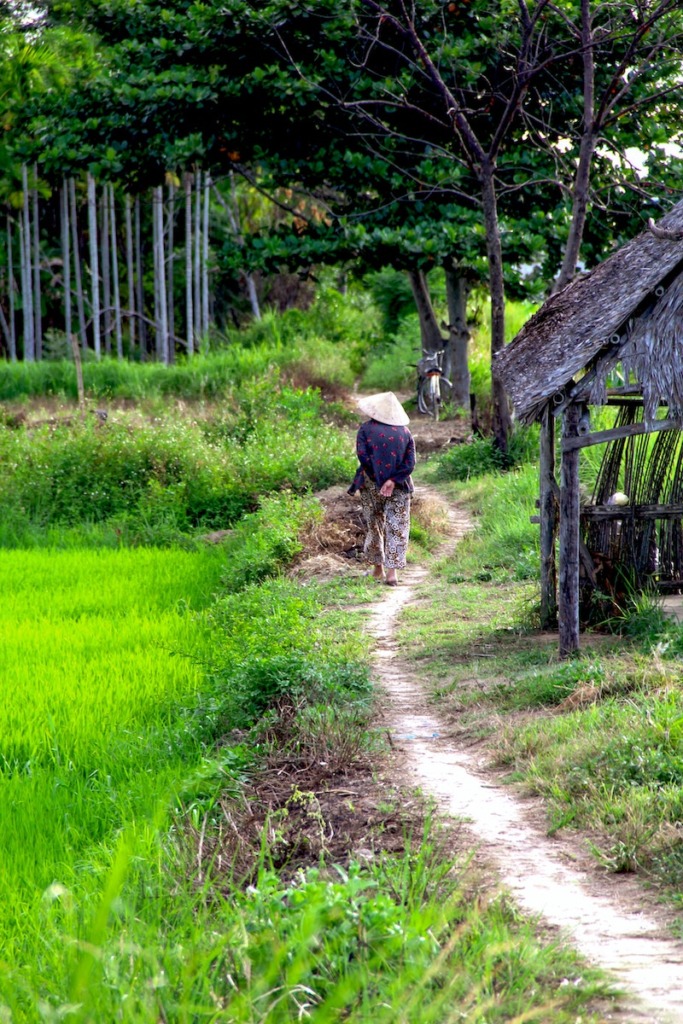 Cam Kim Island is a unique place. Few tourists venture here, which means that the island is still very well preserved and retained its authenticity. You are more likely to encounter a water buffalo than a tourist or a car.
The island is accessible by a bridge and is located 500m from Hoi An. This is one of our favorite places in Hoi An after the old town.
The best way to explore this small island is by renting a bicycle, and ride through the island and the rice fields.
You will be able to see the wood carving village of Kim Bong, the shipyards but also a large number of craftsmen such as mat weavers, Vietnamese round boat makers, Mi Quang noodle makers (a dish from the region of Hoi An) as well as fantastic landscapes with rice fields as far as the eye can see and the water buffaloes everywhere.
Location: here
---
16. Eat some delicious food in Hoi An and take a cooking class
Hoi An is the perfect place to discover many of the best specialties of central Vietnam. Here are some typical dishes:
The cơm gà, rice with chicken: This is Hoi An's best-known dish. It appears on the menu of every restaurant in town. Hoi An chicken rice is prepared in a simple way: the chicken is shredded, mixed with onion, laksa leaves and spices. After cooking, the chicken retains the original flavor of the chicken well.
Mì Quảng, noodle soup: This is a very popular and famous dish from Quảng Nam province. Its ingredients are: rice noodles, pork, shrimp, broth, peanuts, rice crackers and aromatic herbs. It can also be found in many restaurants around the old town of Hoi An.
Cao lầu, Hoi An noodles: Cao lầu is also a specialty of Hoi An, which is made of noodles, pork, soy, aromatic herbs. British newspaper The Guardian published an article praising the flavor of cao lầu and described it as the story of Hoi An town in a bowl.
Bánh mì, Vietnamese sandwich: A trip to vietnam without eating a Bahn Mi wouldn't be complete. This Vietnamese sandwich, is found everywhere in Vietnam.
A popular things to do in Hoi An is to take cooking class. You can book your class here.
---
Our favorite restaurants in Hoi An
There are many amazing places in Hoi An. Here is a list of a few of our favorite restaurants:
Morning Glory Signature: take a table at the 2nd floor for dinner to enjoy the view of the river and enjoy watching the boats with their lanterns passing by. Besides, the food is absolutely delicious! (Location: here)
Little Faifo Restaurant: right in the center of the old town, this is a great place for a traditional meal. Good food, beautiful and romantic setting, a must-try in Hoi An. (location: here)
Brother's Café Hoi An: located next to the legendary Anantara Hoi An Resort, by the river, Brother's Café Hoi An offers an incredibly romantic setting with great food and drinks away from the bustle and hustle of the old town. (Location: here)
---
Best hotels in Hoi An? Where to stay in Hoi An?
If you are coming to Hoi An, we highly recommend a hotel near the old town. It would be much more convenient to explore the city on foot and not having to take a taxi each time. The other alternative is to stay near the beach in a luxury resort if you a more relaxed trip.
Here is a list of our recommended hotels in Hoi An.
Anantara Hoi An Resort – $$$$
This is our favorite hotel in Hoi An. If we were to go back to Hoi An, we would book it again in a heartbeat.
Set along Thu Bon River, Anantara Hoi An Resort is just a few steps away from the old town. The hotel features a French colonial architecture with beautiful rooms, amazing breakfast and great amenities.
Look no further for your trip to Hoi An, this is the one. Book here.
---
Maison Vy – $$$
Maison Vy in Hoi An, is our second favorite places to stay in Hoi An. This place is cheaper than Anantara. Besides, the service is top notch, the decoration inside the hotel and the room is super stylish, and they offer free bicycle rental. This is a great place to stay in Hoi An!
---
Four Seasons – $$$$
If you want to take it easy and also enjoy a few days by the beach, then we recommend the Four Seasons. The new hotel is directly by the beach, featuring a beautiful pool, a great restaurant as well as a relaxing spa. You can even rent a private villa by the beach, which is great if you are a group of people.
---
How to get to Hoi An/ How to get around in Hoi An?
To get around in Hoi An, you can do pretty much everything on foot and/or by renting a bicycle, which we highly recommend.
To get to Hoi An, you will have to fly to Da Nang first and from there take a taxi ride (45min). You can use Grab for the best price.
You can also opt for the train or bus from Ho Chi Minh City and Hanoi, which will stop in Da Nang. It takes about 15 hours.
More details to go from Hanoi to Hoi An: here
More details to go from Ho Chi Minh City to Hoi An: here
---
How long to stay in Hoi An?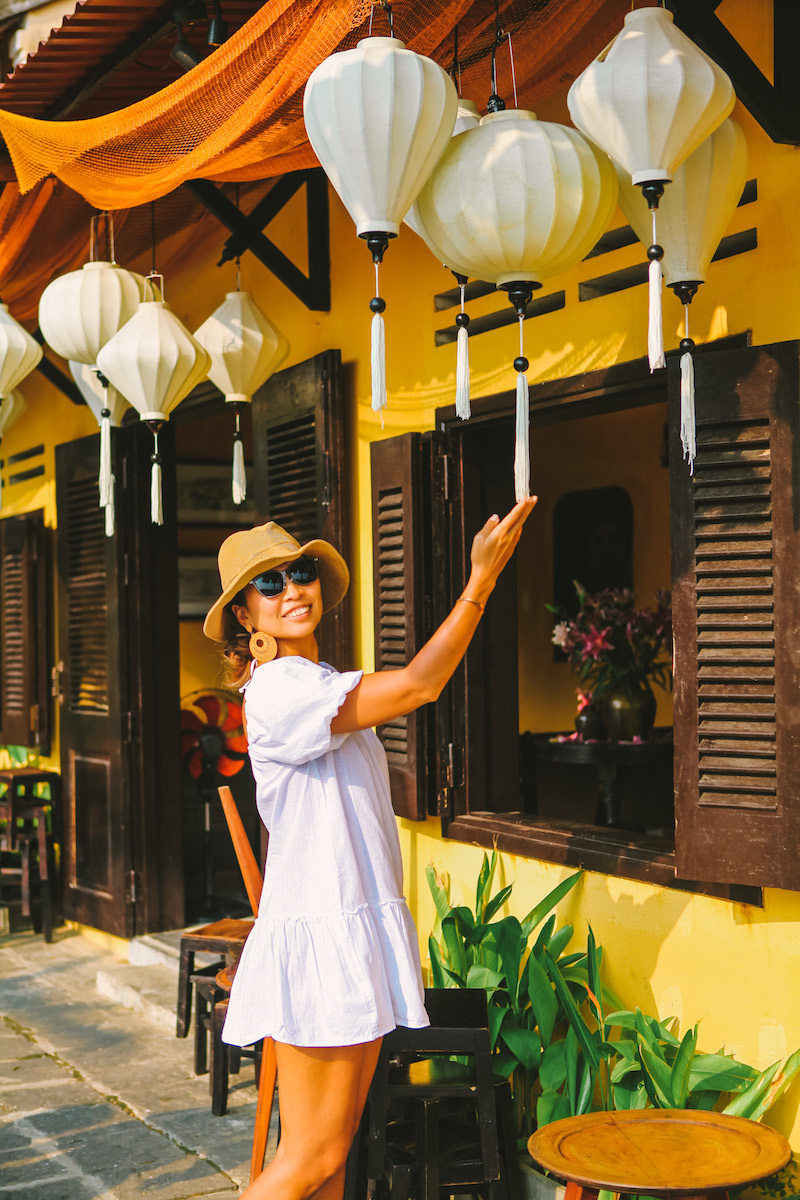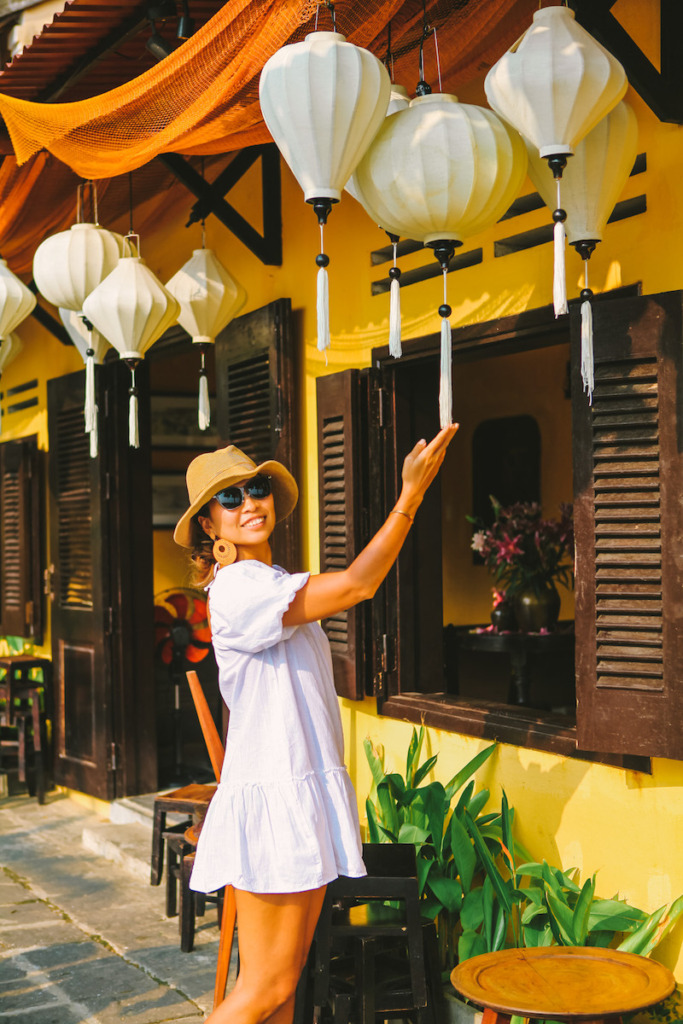 If you only want to explore the old town in Hoi An, you can visit it in 1 day. However, for the other attractions such as My Son, Cam Kim, Da Nang or spending a day at the beach etc., then you can easily spend a week in Hoi An and won't get bored.
---
When is the best time to visit Hoi An? Is there a rainy season in Hoi An?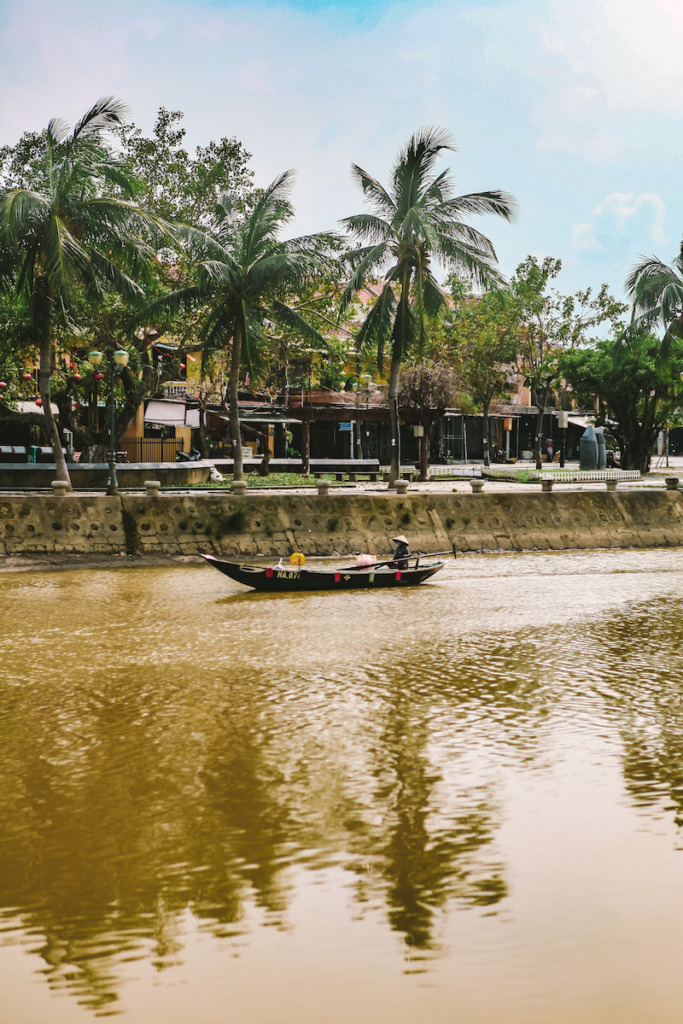 The climate in Hoi An is one of the best in the country. Since the city is located near the sea, there is always a pleasant breeze. The average annual temperature is 25.9°C.
Hottest months in Hoi An: June, July, August. Temperatures during these months vary between 28-30°C
The coldest months in Hoi An: December, January, February. Temperatures during these months vary between 18-23°C.
The rainy season: It rains more in Hoi An during the months of September, October and November, which is also the typhoon season in this part of Vietnam…
---
In conclusion about the best things to see in Hoi An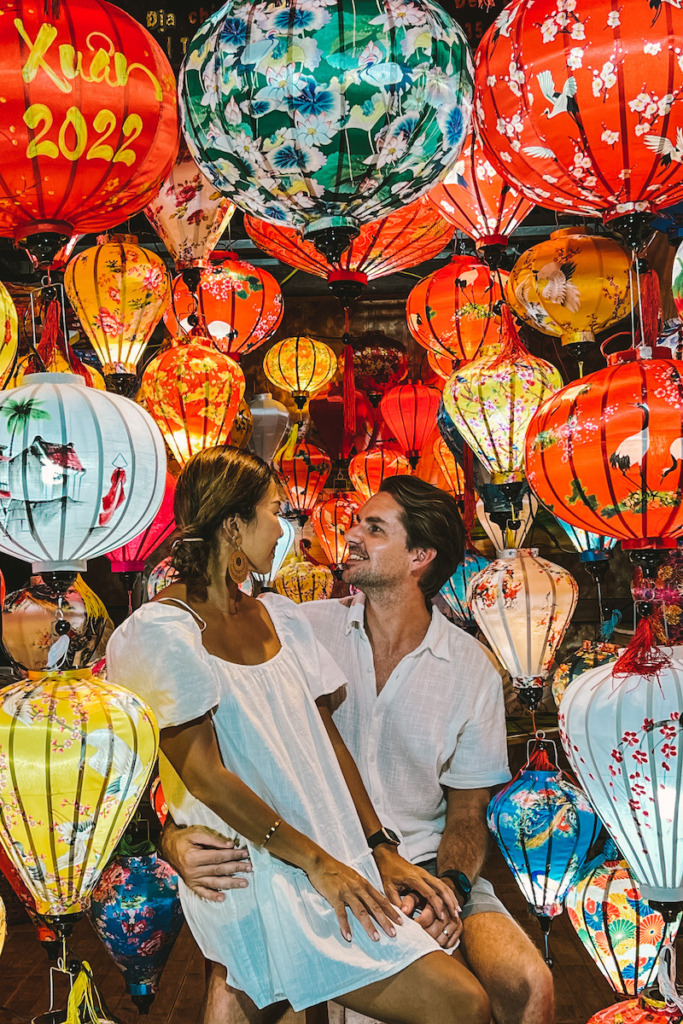 You will probably never forget your visit to Hoi An. For us, we always recommend a visit to Hoi An to anyone traveling to Vietnam. It is simply one of the best town in the country and a place we will never forget.
Besides there are many things to see around Hoi An, including a wonderful beach. So you can easily spend a week there.
We hope that you found this post useful about the best things to see in Hoi An. Feel free to reach out to us if you have any question, by leaving a comment below.
For more posts about Vietnam, click here.
Enjoy your trip to this wonderful country!
---
Related Posts
VISITING THE IMPERIAL CITY IN HUE: here
16 BEST THINGS TO SEE IN DA NANG, VIETNAM: here
25 AWESOME THINGS TO SEE IN HANOI, VIETNAM: here
ULTIMATE GUIDE TO VISIT THE MARBLE MOUNTAINS IN DA NANG, VIETNAM: here
25 BEST THINGS TO SEE IN HO CHI MINH CITY, VIETNAM: here
VISIT HUE, VIETNAM ANCIENT CAPITAL: here
BEST THINGS TO SEE IN THE SOUTH OF SRI LANKA: here
15 BEST PLACES FOR DIGITAL NOMADS: here
10 MOST INCREDIBLE HOTELS IN BALI: here