WHAT TO DO AND SEE IN HANOI, VIETNAM'S CAPITAL?
If you are visiting Hanoi for the first time, you might be wondering what to visit in the capital. How long to stay in Hanoi to cover all the main sights? Which are the best restaurants? What are the best day trips from Hanoi? Is there any good place for shopping in Hanoi?
In this post we cover all you need to know to prepare your visit to Hanoi, an incredible place in Asia, which we enjoyed visiting a lot.
Hanoi is our favorite city in Vietnam
We actually spent a little more than a week in Hanoi. We like to explore a lot about a place to later give the best recommendations in our blog. However, Hanoi without any day trips to Halong Bay for instance, can easily be covered in 2-3 days only.
Hanoi is the capital and second largest city of Vietnam, after Ho Chi Minh City. However, the vibe of these two cities is totally different: Hanoi is older and more traditional, while Ho Chi Minh City (HCMC) is younger, more vibrant, and more Western-like.
For more information about Visa and Visa application for Vietnam or other destinations, you can check out Visa Express.
The history of Hanoi explains its culture: thousands of years ago, Vietnamese territory was much smaller, comprising only a few provinces, in present-day northern Vietnam, before being invaded and occupied by the Chinese for almost a thousand year.
Northern Vietnam, including Hanoi, has been strongly influenced by Chinese culture. Following several wars of resistance, the Vietnamese gradually regained the northern territories, before expanding to the south. Hanoi has a thousand-year-old historical and cultural richness while HCMC is only a few centuries old.
Population: 8 million inhabitants
Check out some impressions of Hanoi in this video:
So here is our list of the best things to see in Hanoi. Later in this post, we recommend the best hotels and best areas to stay in Hanoi.
---
WHAT TO DO IN HANOI?
1. Start your visit of Hanoi in the old quarter
The old quarter is the heart of Hanoi. If this is the first time you visit Asia, the old quarter will give you a huge cultural shock! The bustling streets are full of life! You can look anywhere around you, something will be going on.
Either people eating on the streets, old ladies selling fruits and vegetables, people driving motorcycle, kids playing on the sidewalk, workers having a break and enjoying a cup of coffee, countless shops selling all sorts of things. You got the point! This is one of the best things to see in Hanoi!
The Old Quarter of Hanoi is considered Vietnam's first commercial center, covering more than 100ha, east of the Imperial City of Thăng Long. After the transfer of the capital from Hoa Lư to Đại La (present-day Hanoi) in the 11th century, the city became the meeting point for many artisans and merchants.
"Hanoi's Old Quarter has 76 streets, of which about 47 have kept their original name which begins with the word Hàng, meaning "goods". Each quarter bears the traces of its history. The names of the streets still recall the goods that were produced there or which are still produced: Hàng Dào street (silk street), Hàng Duong street (sugar street), Hàng Thiêc street (tinsmiths street), Hàng Bông (cotton street)…
The Old Quarter is definitely our favorite place in Hanoi. We could spend hours just getting lost in the charming alleys and streets.
Location: here
---
2. Take a walk around Hoan Kiem Lake
Hoàn Kiếm Lake is the soul of Hanoi. If you want a break from hustle & bustle of the old quarter, come here to enjoy a relaxing break around this gorgeous lake.
Hoàn Kiếm Lake or the Lake of the Restored Sword is a very important, almost like a sacred place for the people in Hanoi. If you ask any Vietnamese: What is there to see in Hanoi? the answer would be: "Hoàn Kiếm Lake and its Turtle Tower".
Hoàn Kiếm Lake is located within Hanoi's Old Quarter. The name of the lake refers to an old legend according to which the emperor Lê Lợi would have defeated and repelled the Chinese thanks to a sword fished out of this lake. On his return from the fighting, he was arrested on this same lake by a turtle demanding the weapon.
Understanding that it was a divine gift to defeat the invaders and that his mission was accomplished, he returned the sword to the animal.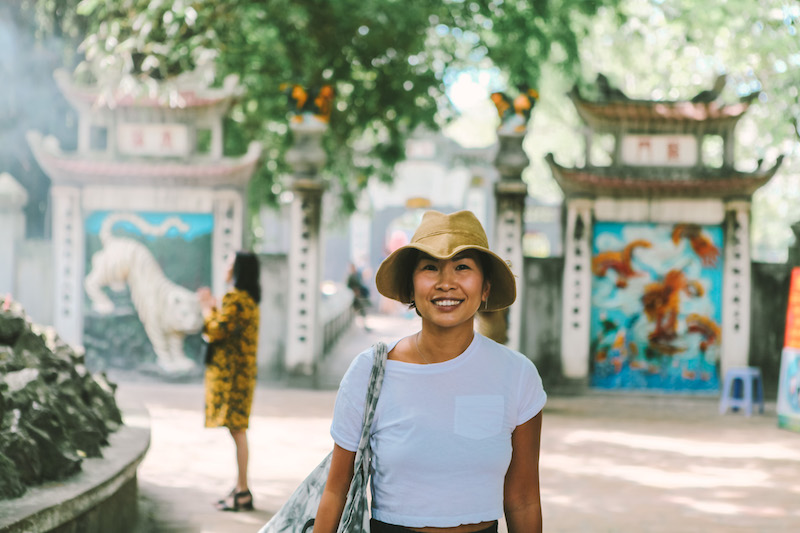 At Hoàn Kiếm, you will see a beautiful red bridge reaching a small island within the lake: Jade island, which hosts the Ngọc Sơn Temple (Jade Temple) built around the 14th century. It houses, among other things, a giant tortoise mummified in the 15th century that lived in the lake. There is a small entry costs of 30,000VND to visit Jade Island.
If you are in Hanoi during the weekend, the roads around the lake are blocked, and many events, concerts and other animations are organised around the lake. Make sure to check it out!
The lake is one of the best things to see in Hanoi!
---
3. Continue your visit of Hanoi at the French Quarter
The good thing about visiting Hanoi, is that everything can be done on foot if you stay near the old quarter, which is very convenient to explore the city!
To fully grasp and understand the history of Hanoi, head to the French Quarter, located near Hoàn Kiếm Lake, one of the best things to see in Hanoi.
During the French colonial era Hanoi was divided into three regions: French zone, Vietnamese zone, and concession zone.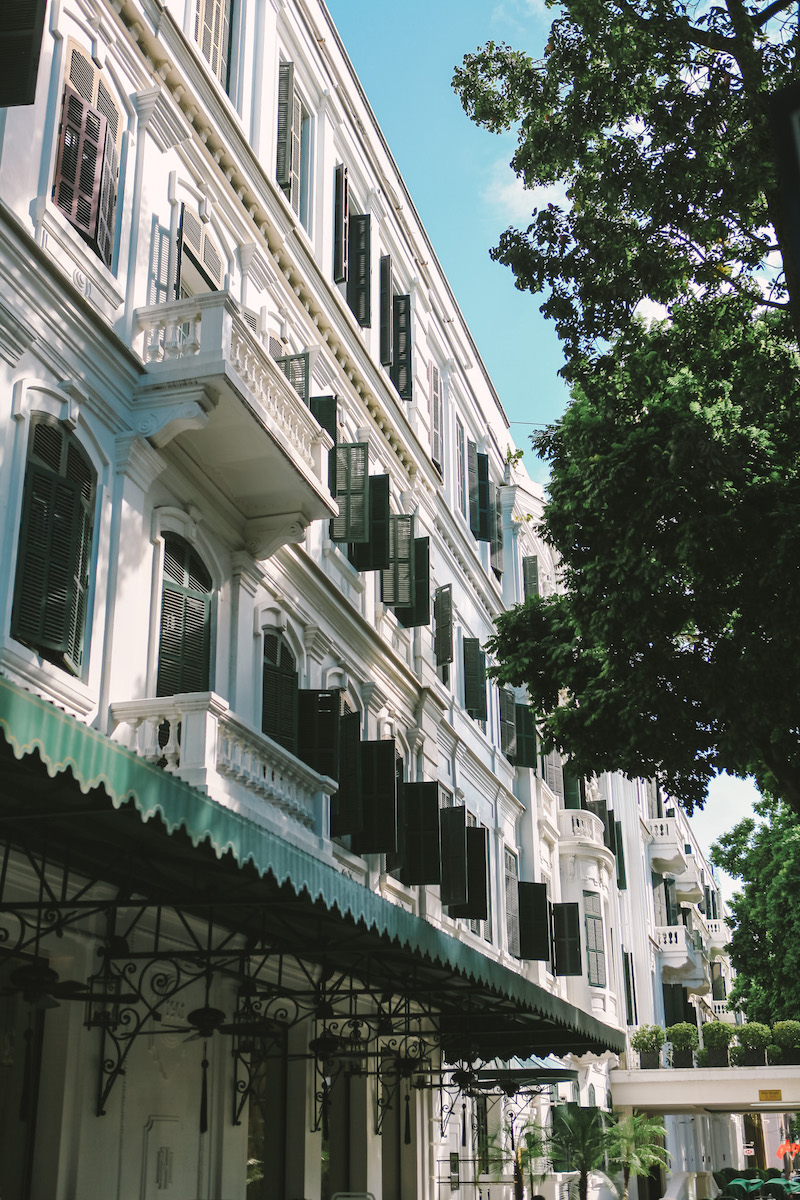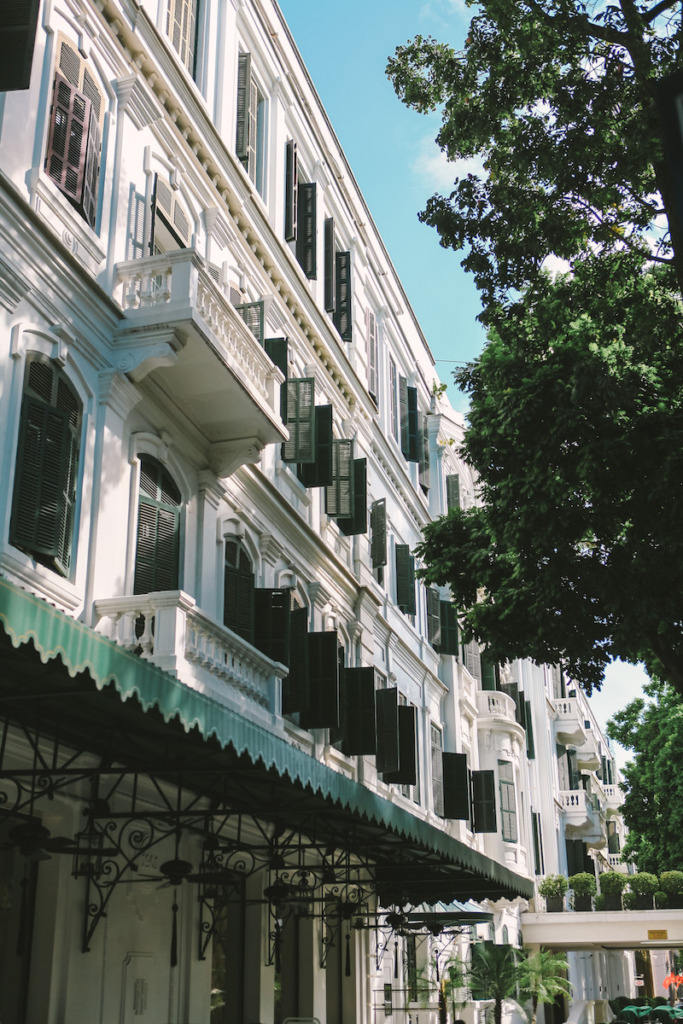 Compared to Hanoi's Old Quarter, the French Quarter is not as lively but it would take you to another part of Hanoi's soul. The streets are charming and stylish, feeling like you suddenly walk around a nice neighborhood of Paris. We recommend visiting this area of Hanoi, as this is such a contrast to the Old Quarter!
At the end of the 19th century, with its large villas, entertainment centers and municipal buildings, the French Quarter became very different to the rest of Hanoi. Head to the area around the SOFITEL (by the way, one of the best hotels in Hanoi, check it out here). There you can have a nice lunch/dinner/coffee or drinks in the evening. A must-see if you are in Hanoi!
---
4. Visit the Opera of Hanoi
As one of the 20 most famous opera houses in the world, come and admire the majestic Opera House, located in the heart of Hanoi, within the French Quarter, just a few steps away from Hoan Kiem Lake.
The Hanoi Opera was completed in 1911, representative of French architecture, inspired by the Opera Garnier in Paris! The interior of the Opera is even more majestic! One of the best things to see in Hanoi!
Check out the program here in case you want to watch a show.
Location: here
---
5. Stay near Hoan Kiem Lake and visit Saint Joseph Cathedral
Built in 1886 by the French, this cathedral is somewhat reminiscent of Notre-Dame de Paris, but smaller, and more exotic. The facade has been completely blackened by the humidity.
What we like the most are the small cafes on the first floor around the square which has a few chairs on the terrace right in front of the cathedral. Just sit down, enjoy a coffee and look at the world go by…
Location: here (google location is a bit misleading, you have to walk to the opposite street to see the cathedral)
---
6. Near Saint Joseph Cathedral, right by the lake, visit the beautiful Quán Thánh Temple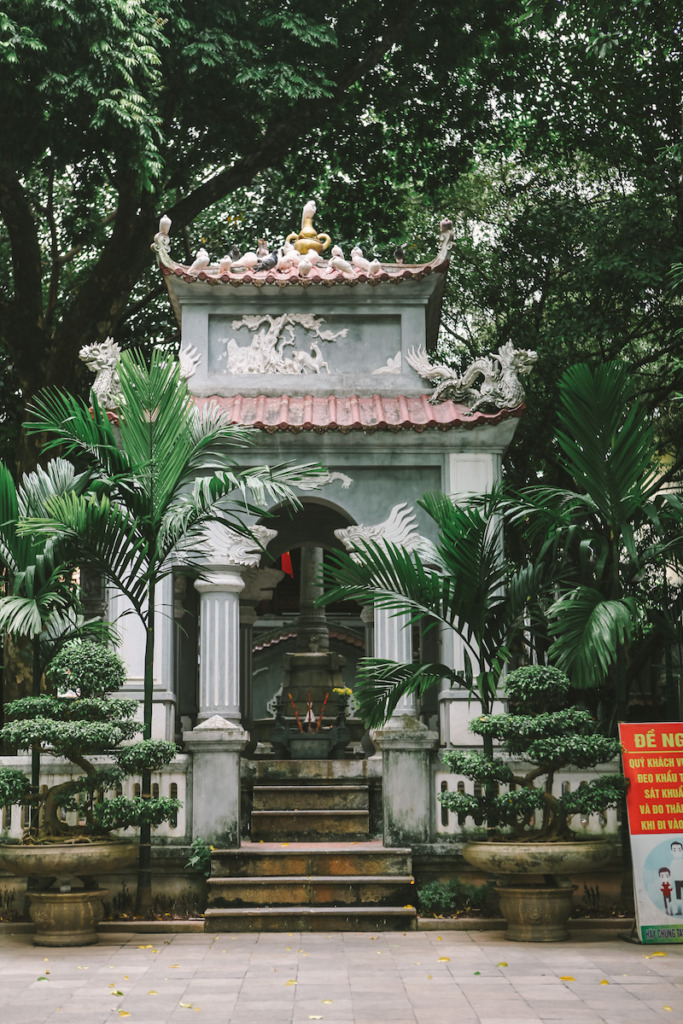 Built in the 11th century, the Quan Thanh temple houses the largest bronze statue in Vietnam. All you have to do is touch the foot of this huge statue for your wishes to be granted.
This statue dates from the 17th century and represents the guardian genius of the north. Continuing your visit, you will notice many cult objects, such as sabers or spears.
The temple is not big and the visit can be done relatively quickly, but don't miss it, this is another best things to see in Hanoi.
---
7. Visit Hoa Lo Prison Museum
This might not be the most joyful thing you will see during your visit of Hanoi, but it is unmissable to understand the history of Hanoi.
A visit to this museum in Hoa Lo Prison is a must to learn about Vietnamese history under the French colonial empire. Be aware that this place is rather sad and shocking for the most part. We were quite emotional during the visit…
At that time, it was the largest prison in Indochina. Its function was to incarcerate Vietnamese patriots and revolutionary fighters. It was also a place of torture and execution.
From 1964 to 1973 it became a prison for captured American pilots, which is why it is also ironically called Hanoi Hilton.
Ticket: 30,000 VND
Opening Hours: 8 a.m. to 5 p.m. daily
Location: here
---
8. Drink an egg-coffee, Hanoi's speciality
You may not know it but Vietnam is one of the largest coffee producers in the world. Its cultivation dates back to the early 1800s, when French settlers brought the first coffee trees.
Today, most of the country produces robusta, a type of very strong coffee different from what we are used to in the West (arabica). So don't be surprised by the difference in taste.
However, Hanoi is most famous for it's egg-coffee! Yes you read that right: "EGG". It may sound weird at first, but honestly, it is… DELICIOUS!!!! Really, we had many of them while in Hanoi, we can't recall. We completely fell in love with it.
There are 2 very famous places to try egg-coffee (although you can find it pretty much anywhere in Hanoi), both located in Hanoi:
Cafe Giảng: This place has a reputation of serving some of the coffees in town and especially the egg-coffee. We tried our first egg-coffee there and as you know, fell in love with it. This place gets very crowded, especially on weekend. (location)
Đinh Café: it took us a while to find this place. The entrance looks nothing like the entrance of a coffee shop. It's like a very tiny alley, with stairs going up from the back of a kitchen… We hesitated to go up as we thought we had taken the wrong way. But yes, it was there. This is supposed to be the birthplace of Egg Coffee. Here the coffee is very well presented! A must in Hanoi! (location)
---
9. Visit Vietnam Museum of Ethnography
Here you will discover the traditions and customs of the 54 ethnic groups of Vietnam through nearly 25,000 objects, numerous costumes and reconstructions of dwellings.
Particularly well suited to young audiences, the museum also offers a traditional water puppet show.
Opening hours: 8.30 a.m. – 5.30 p.m. every day except Monday
Entrance fee: 40,000VND (50,000VND more for the right to take photos)
Location: here
Water puppet show every day at 10:00 a.m., 11:30 a.m., 2:30 p.m., 4:00 p.m. (entrance ticket: 90,000 VND)
---
10. Visit the Temple of Literature
Another unmissable thing to see in Hanoi is the sublime Temple of Literature. In addition to being the largest Confucius mausoleum in Vietnam, it is also a quiet place in the heart of Hanoi's.
You will find a statue of the sacred turtle and the phoenix. Vietnamese people come to touch these two statues before their exams to bring them luck. The turtle brings wisdom and the phoenix peace.
Once they have graduated, the young people come to do photoshoots in traditional clothes to remember their success. You will see, it is colorful and quite a fun environment!
Opening hours: daily from 8 a.m. to 6 p.m. and Saturday from 8 a.m. to 9 p.m.
Entrance: 30,000VND
Location: here
---
11. Check out Ho Chi Minh Mausoleum in Hanoi
The Ho Chi Minh mausoleum, located on Ba Dinh square was built to accommodate the remains of the founder of the Republic of Vietnam, otherwise known as Ho Chi Minh.
Regarding the visit itself, we strongly advise you to go early to avoid wasting too much time waiting in line (note: it is only open in the morning!).
You can also discover a nice gardens, Ho Chi Minh's old car, his house, you can see the One Pillar Pagoda and the Ho Chi Minh Museum.
Opening hours: Tue to Thu from 7:30 a.m. to 10:30 a.m. and Sat / Sun from 7:30 am to 11:00 am (CLOSED on Fri and Mon)
Entrance: free
Location: here
---
12. Next, visit the Imperial Citadel of Thang Long
Classified as a UNESCO World Heritage Site, the citadel is a visit quite often forgotten by tourists. It was opened to visitors only in 2010.
Before that, it was a Forbidden City, then a monument reserved for soldiers and their families. This visit will teach you a lot about the history of Hanoi. For us, it was one of the best things we saw in Hanoi.
Opening Hours: every day except Monday from 8:30 a.m. to 11:30 a.m. and from 2 p.m. to 5 p.m.
Entrance: 30,000VND
Location: here
---
13. Watch a water puppet show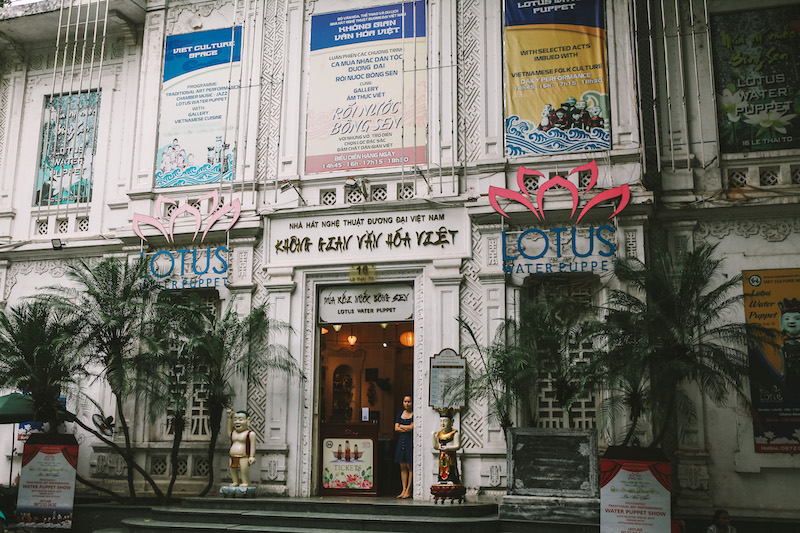 Water puppets are a tradition in northern Vietnam dating back to the 11th century. The peasants made lacquered wooden puppets and made them come alive on the surface of the flooded rice fields to tell stories.
Today there is the Thang Long Water Puppet Theater, located in the heart of Hanoi, which offers at least one show a day.
Although more appealing to kids, it is suitable for everyone. Certainly one of the best things to see in Hanoi.
Check out the schedule and book your ticket here
Location: here
---
14. Eat the best Banh Mi in town at Banh Mi 25
Bánh mì, the Vietnamese sandwich is one of our favorite food in Vietnam and it's super cheap! It is a combination of French and Vietnamese cuisine (ingredients: Vietnamese baguette, pâté, mayonnaise, meats, soy sauce, coriander etc…).
At Banh Mi 25 they take it to the next level. Here you have vegan options, and more western-style options such as avocado and egg Banh Mi.
Be prepared to wait a bit especially at lunch time, as this place is very famous in Hanoi.
Location: here
---
15. Visit The Memorial House of Ho Chi Minh
When wandering around the old quarter, you can make a quick stop at The Memorial House of Ho Chi Minh. This is where Ho Chi Minh lived and wrote the Declaration of Independence on a set of tables and chairs still preserved to this day.
You may not notice it from the outside, but when coming in, this place is full of great information. The visit doesn't last long, but it's very informative.
Opening hours: every day from 8:30–11:30AM & 1:30–4:30PM
Location: here
---
16. Do some shopping at Hanoi night market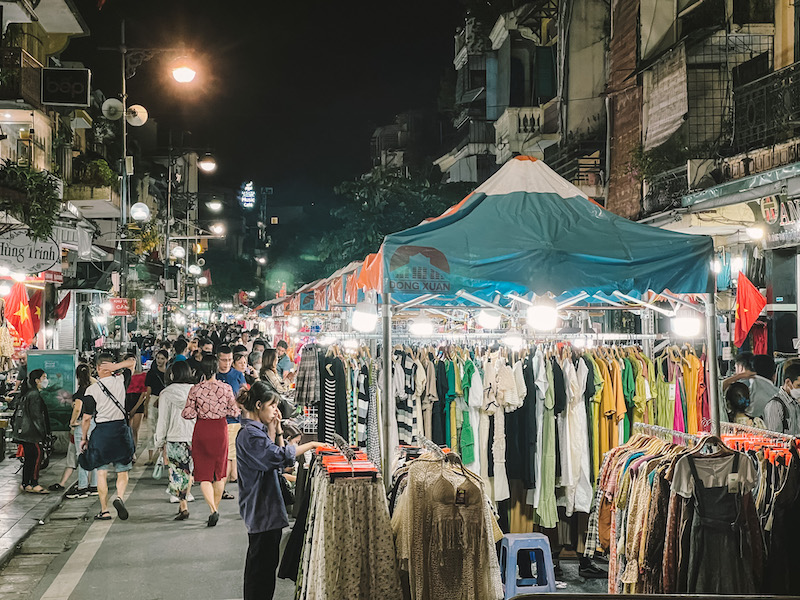 If you are staying on the weekend in Hanoi, then make sure to visit the night market at Hanoi Old Quarter. The market is held from Friday evening until Sunday evening from 6pm to 11pm.
The market is held on Hang Dao street, as the street becomes a pedestrian-only alley. You can easily find the market in the Old Quarter. It is not far from Hoan Kiem lake.
At the market, you will find a wide range of handicrafts, paintings, jewelry, and toys at very interesting prices. It's the perfect time to purchase souvenirs from your trip to Hanoi.
This is one of the best things to see in Hanoi, make sure to check it out.
Location of the night market: here
---
17. Enjoy a drink on one of the great rooftops of Hanoi
Like most cities in Vietnam, checking out a rooftop is pretty much a must. You got to enjoy a very nice drink + the view of the city! In Hanoi there are a few options. We recommend the following rooftops:
Skyline Hanoi: this is one of the most popular rooftop bars in Hanoi. Get there just before sunset to enjoy a Happy Hour and the magnificent view of the city. Skyline Hanoi is located in the Old Quarter here.
La Mejor Hotel & Sky Bar: on top of La Mejor Hotel (which we highly recommend if you are in Hanoi, more info here), there is a sumptuous rooftop. If you are visiting Hanoi with your loved one, then check this place out. This is one of the most romantic rooftops in Hanoi. Location here.
Terraço Sky Bar: for a more premium and luxurious experience, we highly recommend Terraço Sky Bar located in the French Quarter. Here you can drink amazing cocktails from the extensive menu. Check it out here.
---
18. Try the delicious local dishes
The food in Vietnam, is one of our favorite cuisines in the world! It's fresh, full of flavor, and easy to eat. You can't go to Vietnam and not try the local food.
Some of the dishes are typically from Hanoi, such as:
Chả cá, grilled fish with dill (THIS IS DIVINE!!! TRY, TRY, TRY!!!)
Chả cá is a culinary specialty of Hanoi which we enjoyed the most (besides the amazing egg coffee). They will bring the fish and plenty of dill, which you will have to pan-fried yourself on the table. The taste is so so good, especially with all the dill. Normally it will be served with Vietnamese rice noodles on the side.
There are many restaurants offering this dish, but THE best one is Chả Cá Thăng Long (location). At this restaurant, there is no menu! They only serve this dish.
Phở, Hanoian beef/chicken soup
You've probably heard of phở – Vietnam's national dish. It is included in the list of the 100 best dishes in the world. If this is your first time traveling to Vietnam, you can't leave Vietnam without trying a phở. And no worries, if you are vegetarian, they have a version with veggies only. Phở is served in so many places around Hanoi. Simply try one when it's on the menu!
Bún chả, rice vermicelli with grilled pork
A "bun cha" consists of charcoal-grilled pork left in a bowl of sweet and sour nuoc mam sauce with thinly sliced ​​carrots and papayas. It is eaten with rice vermicelli and aromatic herbs. A delight!
For the best bun chan, head to Bún chả Hương Liên, also called Bún chả Obama! This is where former president Obama enjoyed a bun cha during his visit of Hanoi. (location)
---
19. Visit Bach Ma Temple in Hanoi
After all these foods and drinks, it is time to visit the rest of Hanoi. Next on your list: the beautiful Bach Ma Temple.
A legend says that King Ly Thai Tô, who reigned in the 11th century around Hanoi, had seen a white horse in a dream. This horse had come to take him at night from his citadel and had led him to the site of the battle against the Mongols. Once this battle was fought, the horse again came to fetch the king and carried him to the site that was to become the new capital, Thang Long. To thank him, the king built this temple: Bach Ma.
Overall Bach Ma is a peaceful and beautiful temple, worth a visit if you are in Hanoi.
Location: here
---
20. Hanoi Train Street (closed for tourists)
You have probably seen this on TV, or on the internet: the train alley in Hanoi's Old Quarter. Here the trains pass a few centimetres from the houses and cafes in the middle of a very narrow alley. This used to be one of the main attractions in Hanoi.
If like us you are so excited to see the train in this narrow alley, we are sorry to announce, that this place has been closed to tourists…
For security reasons, the train street has been closed to the public by the Vietnamese government. There must have been lots of accidents.
---
21. Tour the National Historical Museum
The Vietnamese History Museum in Hanoi is one of the best museums in Hanoi. First of the all the building's architecture is stunning.
The museum is located in the former building of the French School of the Far East built by the French architect Ernest Hébrard in 1932 during the time of French Indochina. It is an example of the eclectic Indochinese style, of which Hébrard was the founder. The building is part of the national heritage.
The Vietnam History Museum is located in the French Quarter behind the Opera House.
Now the museum is rather big. So we don't recommend going through everything, as otherwise, you may start to get bored.
The Vietnamese History Museum is divided into several sections:
Prehistory, from the Stone Age – 30,000 / 40,000 years ago to – 4,000 / 5,000 years ago;
From nation-building to the Tran dynasty: from – 2000 to 1400.
From the Ho dynasty to the Nguyen dynasty: 1400 to 1945.
Focus rather on the last part to understand the modern history of Vietnam.
Opening hours: 08:00–12:00 & 13:30–17:00
Entrance fee: 40,000 VND
Website: here
Location: here
---
22. Visit Tran Quoc Pagoda
Located north of the Hoan Kiem district, West Lake is a nice place to visit in Hanoi. In fact, it is the largest lake in Hanoi. It gives access to the Tay Ho district in the North which is the popular district for expats.
A road crosses the lake, leading to the Trân Quôc pagoda. This is one of our favorite pagodas and one of the best things to see in Hanoi. Another beautiful piece of architecture in the city.
Opening hours: from 7:30 a.m. to 11:30 a.m. and from 1:30 p.m. to 6:30 p.m.
Admission: Free
Location: here
---
23. Check out Long Bien Bridge
Long Bien Bridge is located in the Long Bien district. It was formerly called Paul-Doumer bridge after the former governor of French Indochina.
Why is it worth a visit? It is long! With 1,680 meters in total. It crosses the Red River. It is built in Eiffel style. You can walk on it to enjoy the view of the river and the surrounding gardens.
Visit at sunset to enjoy the best view of the Red River!
---
24. Go on a day trip to Halong Bay
You will enjoy a scenic drive through the rural landscapes of northern Vietnam, followed by a cruise in Halong Bay. This full-day, round-trip tour from Hanoi includes kayaking and a seafood lunch served on board.
There are many tours offering day trip from Hanoi, we recommend this one.
---
25. Go on a day trip to the stunning Ninh Binh
Ninh Binh is a province in northern Vietnam, 100km south of Hanoi. It is home to the landscape of Trang An, a UNESCO site, and Tam Coc (three caves), where scenes from many movies were filmed.
Ninh Binh is in the list of top 4 most visited travel destinations in northern Vietnam, along with Hanoi, Sapa and Halong Bay.
Apart from the natural sites, you can discover several cultural and historical sites. It was the capital of Vietnam in the 10th and 11th centuries.
---
BEST HOTELS IN HANOI? WHERE TO STAY IN HANOI?
If you are coming to Hanoi, we highly recommend a hotel either in the Old Quarter or the French Quarter. From both locations, you can visit the main sights in Hanoi on foot.
Here is a list of our recommended hotels in Hanoi.
SOFITEL HANOI – $$$$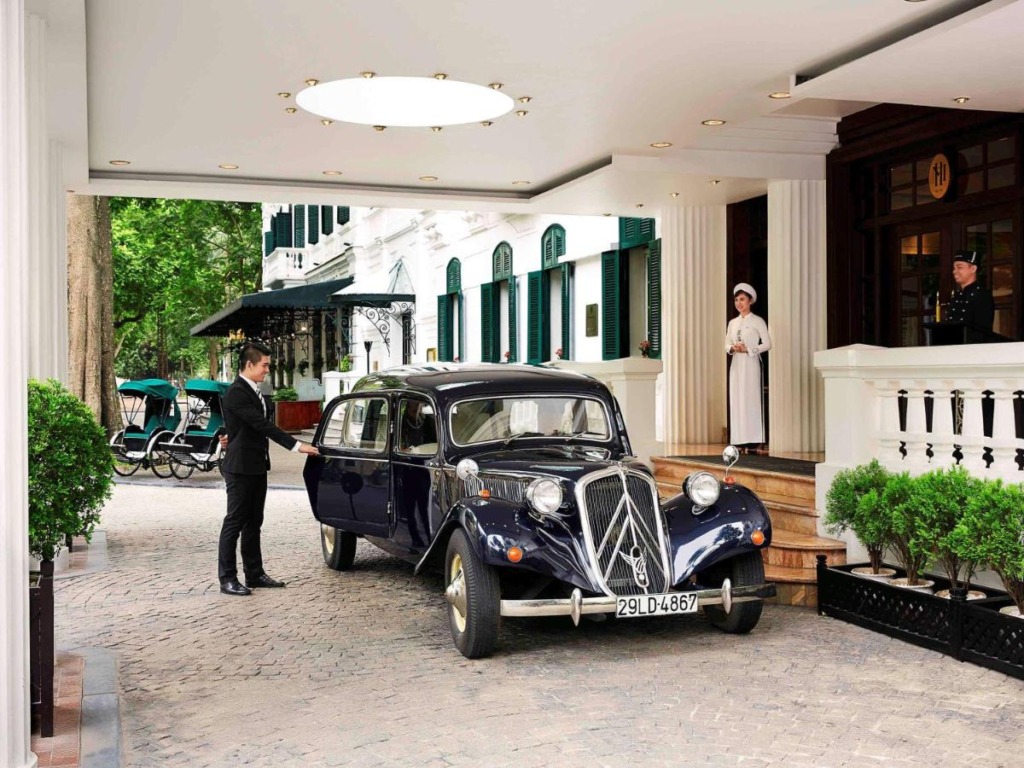 This 5-star resort, is the ultimate luxury hotel in Hanoi. If you want to get pampered during your trip to Hanoi, then this is the place to be!
This historical landmark was built in 1901 in the center of Hanoi, in the French Quarter. Rooms are elegant featuring French classic decor. The hotel offers an amazing spa and great amenities including a beautiful swimming pool and nice restaurants.
This is THE best hotel in Hanoi. Check it out here.
---
LA MEJOR HANOI – $$$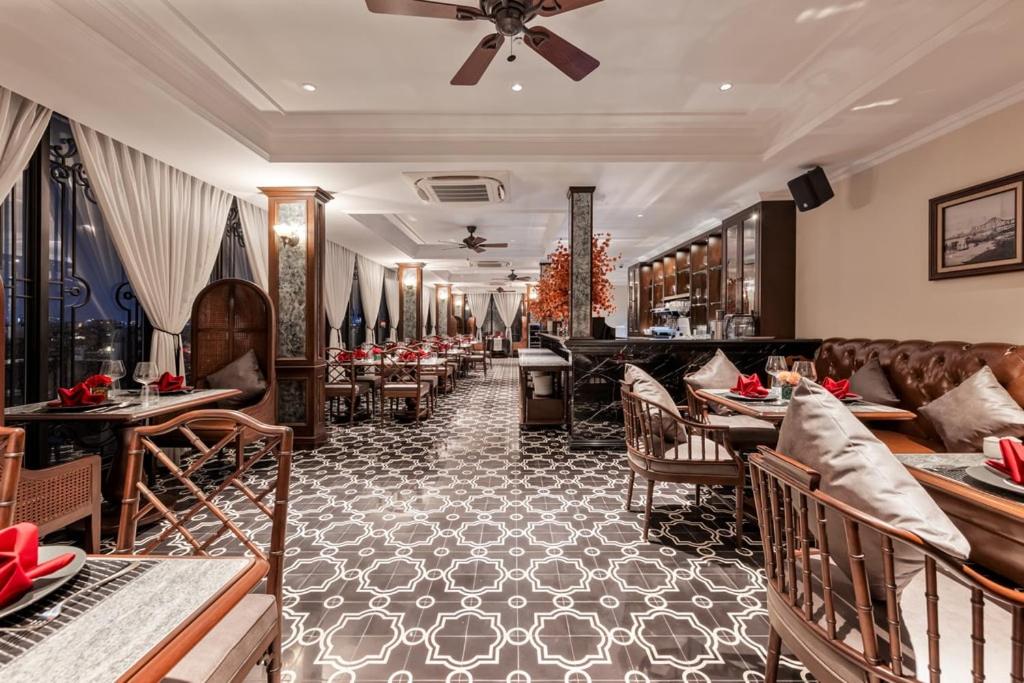 For the best value for money, opt for La Mejor Hanoi. This hotel is not only located in the heart of Hanoi's Old Quarter, it has beautiful rooms, a delicious restaurants offering a great breakfast, and one of the best rooftops in Hanoi.
Although this place is very central with lots of restaurants and bars around, the rooms are actually very quiet, which makes it one of the best hotels in Hanoi. More info here.
---
HANOI PRIME CENTER HOTEL – $$
If you are more on a budget, then Hanoi Prime Center Hotel, is the right hotel for you. The room rate is extremely affordable and the quality of the room as well as the cleanliness top notch!
---
HOW TO GET TO HANOI/HOW TO GET AROUND IN HANOI?
If you are traveling from Da Nang or from Ho Chi Minh City, then we highly recommend flying to Hanoi. From Da Nang you also have the option of taking a bus or train, however the journey is 14h, whereas with a flight the journey lasts 1.5h. Besides flight prices are really affordable, you can compare the best prices here.
To get around in Hanoi, the good thing is that the majority of the things to see in the city are within walking distance around the Old Quarters. However, you can also take a taxi (or GRAB), or a cylco, a type of carriage you will see everywhere in Hanoi. A good way to discover the city. You can hire the cyclo per hour.
READ: 16 BEST THINGS TO SEE IN DA NANG
---
HOW LONG TO STAY IN HANOI?
If you do not include any day trips, then in 2 days you can cover most sights in Hanoi. However, you can easily spend more time in the capital as there is so much to see. If you include 1 or 2-day trips, then consider 4 to 5 days to see it all.
---
WHEN IS THE BEST TIME TO VISIT HANOI? IS THERE A RAINY SEASON?
Hanoi can be visited all year round. However, we recommend September to November. During this time temperature gets really pleasant, less hot and less humid.
The summer in Hanoi is very hot and humid with more chances of rain. Spring, March – April, is another good time to visit Hanoi.
---
IN CONCLUSION ABOUT THE BEST THINGS TO SEE IN HANOI?
A popular destination for travelers, Hanoi is one of the best things to visit during a trip to Vietnam. Multi-ethnic, preserved, lively and joyful, the capital will delight anyone who sets foot there.
We enjoyed every single moment in Hanoi and loved all our encounters and exchanges with locals. We could spend hours just sitting in the Old Quarters watching outside. And then comes the food. Absolutely delicious. Every single dish we tried, being in upscale restaurants, street food, snack in the market, and normal local restaurants, everywhere it was just amazing!
Enjoy your time in this wonderful place and this wonderful country!
For more posts about Vietnam, click here.
---
RELATED POSTS
16 BEST THINGS TO SEE IN HOI AN, VIETNAM
25 BEST THINGS TO SEE IN HO CHI MINH CITY, VIETNAM
BEST THINGS TO DO IN DA NANG, VIETNAM
ULTIMATE GUIDE TO VISIT THE MARBLE MOUNTAINS IN DA NANG, VIETNAM
VISIT HUE, VIETNAM ANCIENT CAPITAL
VISITING THE IMPERIAL CITY IN HUE