Visit Lisbon: what are the best things to do and see in Lisbon?
Lisbon is a perfect destination for a city trip. The capital of Portugal has indeed many assets to please: lively and dynamic city, sunny climate, Mediterranean atmosphere, rich historical and cultural heritage, fantastic cuisine, low cost of living… No wonder why Lisbon has become very popular over the last few years. Lisbon also attracts many digital nomads, as the quality of life in the city has become one of the best in Europe!
In this post, we listed the best things to see in Lisbon and all you need to know about the city.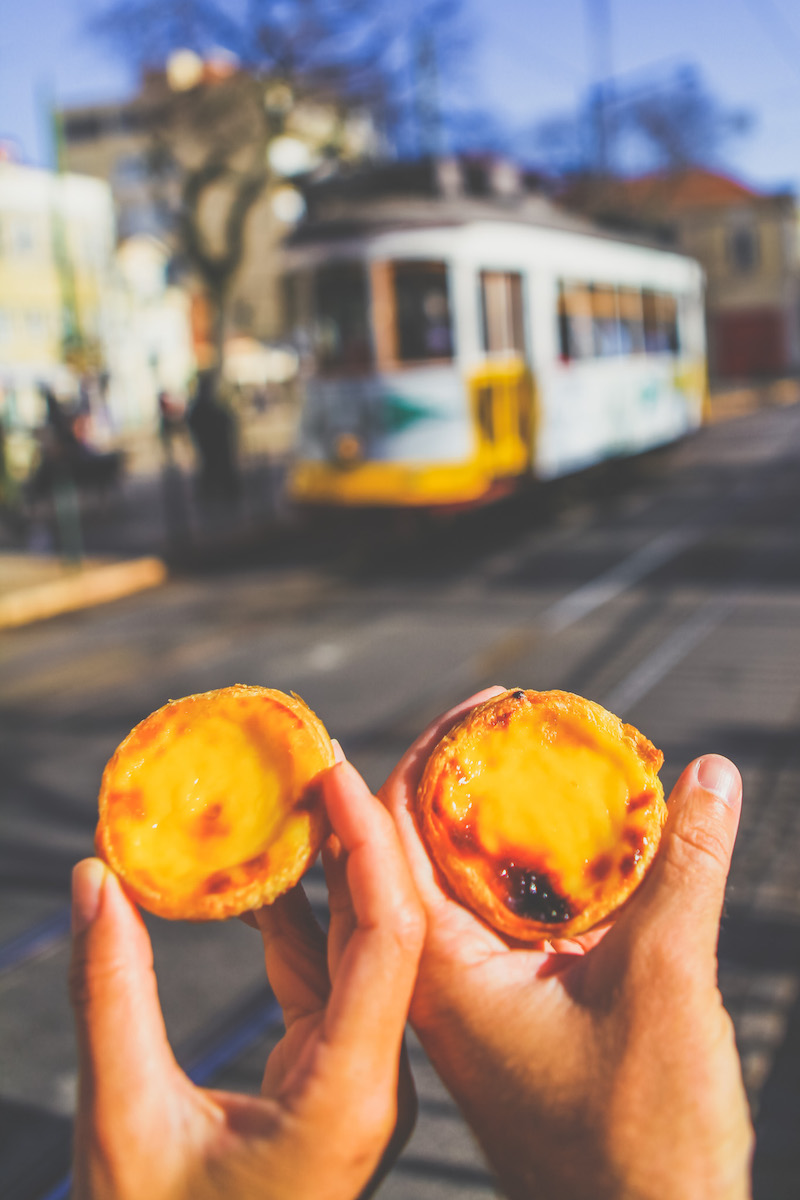 As we visited Lisbon during our sabbatical year, we spent quite some time in the capital enjoying the awesome vibe and meeting many people. We traveled to Lisbon, after our 2 weeks trip in the beautiful island of Madeira.
Lisbon can be done on a weekend trip if you want to see the main attractions. However, you can easily spend a week and still discover new things every day and add some day trips such as Sintra.
During your visit of Lisbon, we highly recommend to purchase the Lisbon Card for 24h, 48h or 72h. With this card you have access to many museums and sights for free, you can take public transportations for free and the card offers many more benefits. You can check all the details here.
In this post we listed for you for the 25 best things to see in Lisbon. Enjoy your trip!
---
1. Stroll through the historic district of Alfama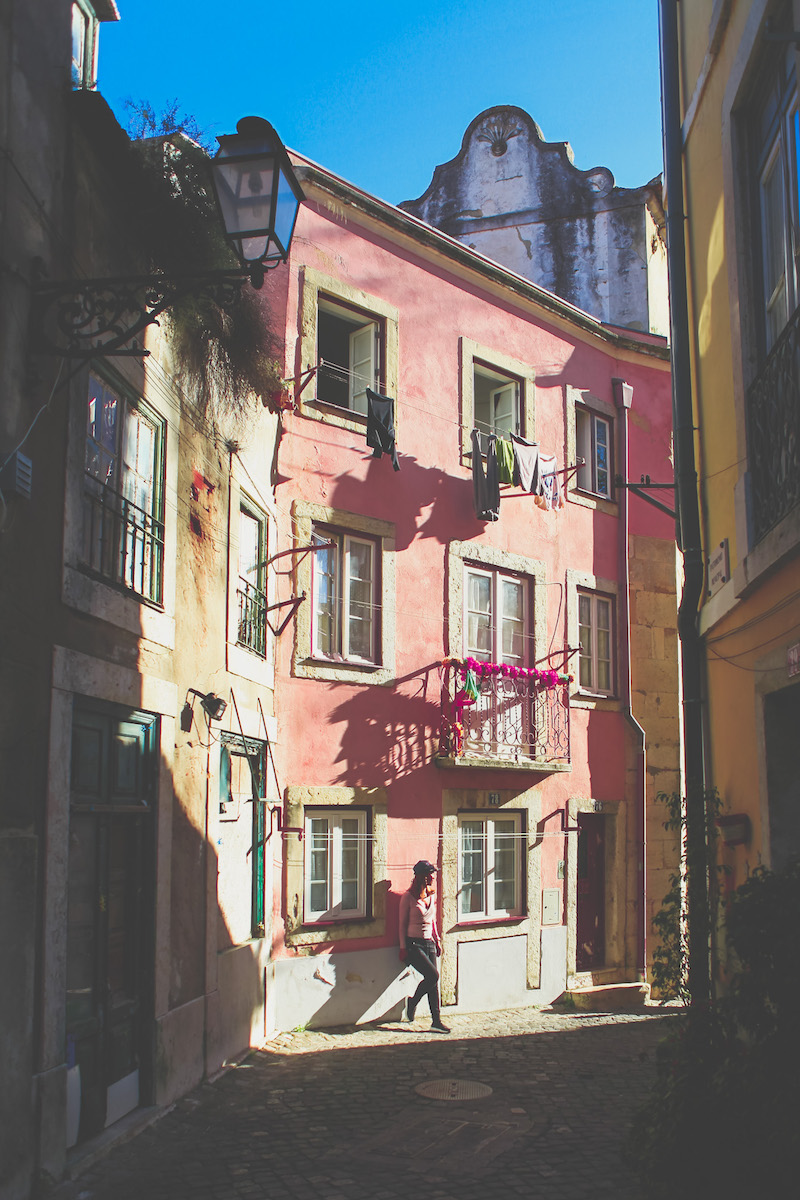 For us Alfama is the heart and soul of Lisbon. To feel what Lisbon is all about, start your exploration of the city in Alfama district, one of the best things to see in Lisbon.
Alfama is the oldest neighborhood in Lisbon. It is also the most beautiful, the most original and the most authentic! Located on the side of one of the 7 hills of the city, it is so charming with its traditional houses painted with bright colors.
The best way to visit Alfama, is simply to get lost in the small cobbled streets. You will find many local shops, great viewpoints, you can meet locals and enjoy some great food in a small restaurants.
Note that Lisbon is not flat, hence walking in Alfama will require some uphill walk. Wear comfortable shoes.
Location of Alfama district: here
READ: 10 BEST THINGS TO SEE IN ALFAMA DISTRICT
---
2. Visit the Castelo de São Jorge
At the top of Alfama district you will see one the main sights and one of the best things to see in Lisbon: the Castelo de São Jorge (Castle of St. George). Here you will discover one of the most beautiful viewpoints in Lisbon.
This castle was built by the Visigoths in the 5th century, then was enlarged by the Moors in the 9th century, to finally be modified under the reign of Alphonse Henriques. Today, it is a masterpiece overlooking the city. Truly magnificent.
If you don't mind walking uphill for a little while, you can easily access the castle on foot.
Information about the Castelo de São Jorge
Entrance: €10 / person (full price); reduced rates: €5/pers for students (13-25 years old) and €8.5/pers for over 65s and disabled people.
Opening hours: Open every day except May 1, December 24/25/31, and January 1. Visiting hours: 9 a.m. to 6 p.m. from November 1 to February 28; and from 9:00 a.m. to 9:00 p.m. between March 1 and October 31.
Website: here
Location: here
Duration of the visit: count at least 1h30 to visit the entire castle and walk around the top of the hill to admire the view of the city! The best time to visit the castle is actually during Sunset!
READ: FULL GUIDE FOR VISITING SÃO JORGE CASTLE IN LISBON
---
3. Soak up the view at Miradouro de Santa Luzia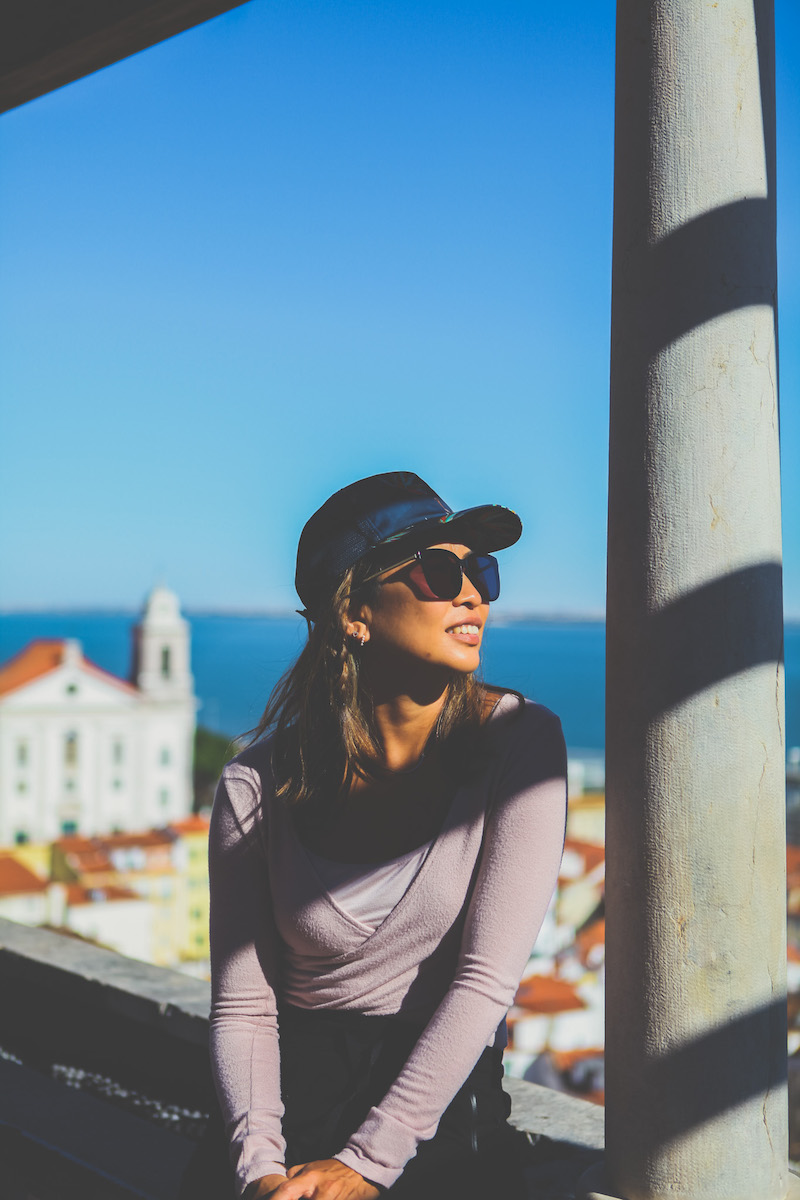 "Miradouro" is a term which you need to know in Portuguese. It simply means viewpoint. Wherever you go in Portugal you will see signs showing the direction of a "Miradouro", which are usually stunning viewpoints.
In Alfama district either on you way to the castle or on your way back to the city, make sure you stop at Santa Luzia Miradouro. This is our favourite viewpoints and one of the best things to see in Lisbon!
This viewpoint is actually a cute little square next to the church of Santa Luzia. Many locals like to hang out there. Often local artist would play music, which adds even more charms to this place.
For the influencers out there, this is one of the most instragrammable spots in Lisbon. Make sure to check it out.
Location: here
---
4. Discover the Cathedral of Lisbon: Santa Maria
Santa Maria Cathedral also called Sé Patriarchal de Lisboa. "Sé" being the acronym for "Sedes episcopalis", Latin words meaning "episcopal see". The Cathedral was built in 1147, which makes it the oldest religious building in the city. It became a cathedral in 1393. It was built following the reconquest of Lisbon from the Moors by the first king of Portugal: Alphonse Henriques, known as the founder.
Information about Santa Maria Cathedral:
Admission: Free (however access to the cloister and the treasure is €2.50/pers)
Opening hours: every day from 9:00 a.m. to 7:00 p.m. . Address: Largo da Se
Location: here
---
5. Head to the main square at Praça de Comércio
Going down from the Alfama district towards the Tagus river, you will arrive at Praça do Comércio, Lisbon's main commercial square.
You can't miss it, it's a beautiful square very much alive located in the Baixa district.
The square is really big and opens onto the Tagus. There are gorgeous traditional buildings in yellow, red and orange colors all around the square. It is stunning!
In the middle of Commerce Square, there is the statue of José I, the King of Portugal who rebuilt the city in 1755 after major earthquakes.
Location: here
---
6. Continue your visit at Augusta Street
From Praça do Comércio, opposite the Tagus, head to Augusta street which starts after the beautiful triumphal arch, one of the best things to see in Lisbon.
The Arch was built following the earthquake of 1755. It symbolizes the rebirth of the city during its reconstruction. It is possible to climb to the top of the arch to have a panoramic view of the city and the Tagus.
Augusta street, is one of the main commercial street of Lisbon. You will find many shops, bakeries and restaurants serving traditional foods from Lisbon.
Location: here
---
7. Eat local traditional food
On Augusta Street, you can try 2 of the main local specialities, which are absolutely delicious:
First, try a PASTEIS DE BACALHAU, which are Cod fritters made with potatoes, cod, onions and parsley. You can eat them cold or hot. They are emblematic of Portuguese gastronomy. Head to Casa Portuguesa do Pastel de Bacalhau on Augusta Street to try one of the best pasteis de Bacalhau which can be paired with a glass of traditional portuguese wine! Casa Portuguesa do Pastel de Bacalha is located here (website).
Then, make sure you try the world famous egg tart, called PASTEL DE NATA! There are many shops on Augusta streets serving this amazing pastry. However, one of our favorite place to enjoy a Pastel de Nata is Manteigaria – Fábrica de Pastéis de Nata on Augusta Street, located here. This is the place which locals would recommend for the best egg tart in town!
ENJOY! Just writing this part of the blog, made us super hungry! "Please bring us back to Lisbon!" 🙂
---
8. Take the lift of Santa Justa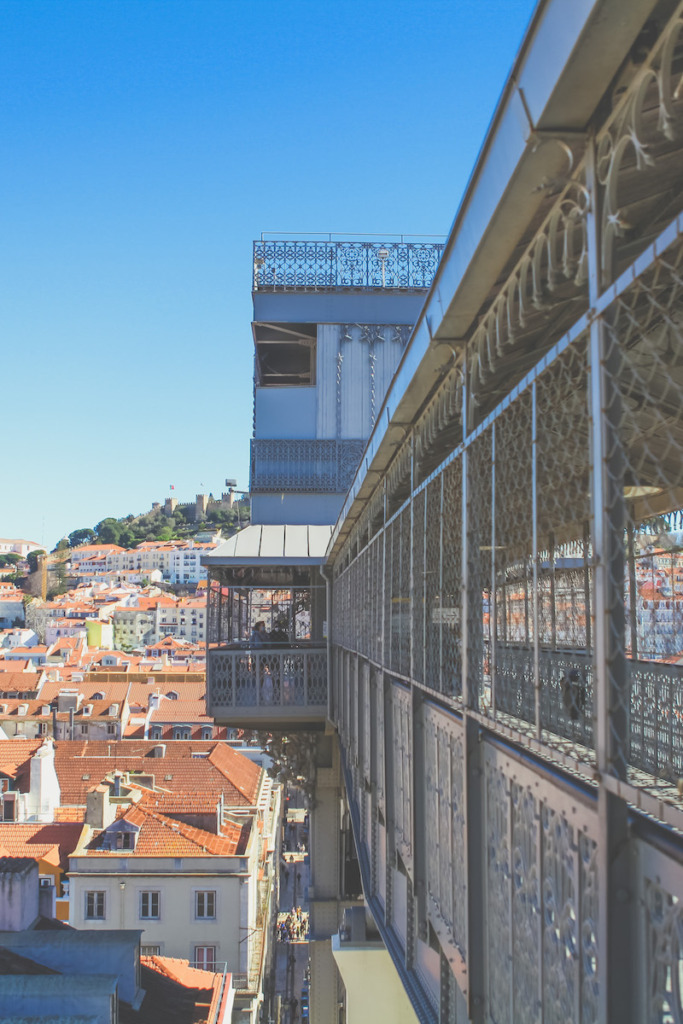 Taking the lift of Santa Justa is a must and one of the best things to see in Lisbon. Located not far from Augusta street, you can take this traditional lift for another amazing viewpoint of Lisbon!
Built in the 19th century, the Elevador of Santa Justa is a vertical lift allowing you to quickly go from the lower district of Baixa to the upper district of Bairro Alto. Nearly 50 meters high, it is one of Lisbon's most popular attractions, offering a breathtaking view of the city.
Entirely made of iron, this metal tower is somewhat a reminiscent of the style of the Eiffel Tower. Some say that its designer was one of the students of Gustave Eiffel, but others say this is just a legend… Still, this is a magnificent architectural masterpiece giving access to a great vantage point (and even a cafe).
Although you can book a round trip, we recommend only 1 way up. As there many other things to see on the upper part of the city. See next.
Location: here
---
9. Continue your visit at Carmo Convent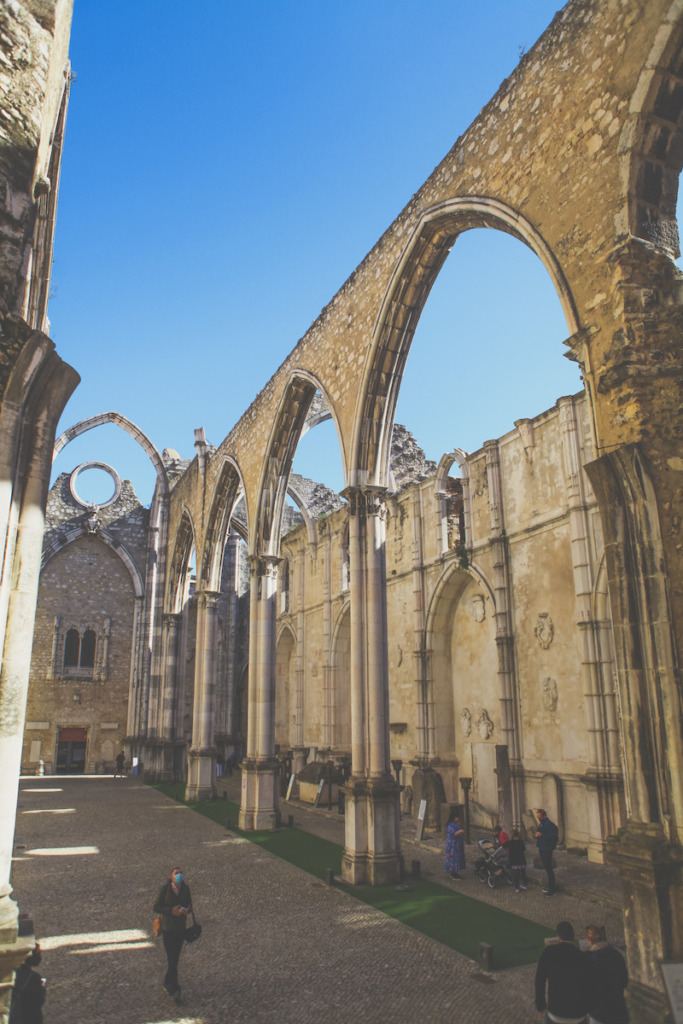 The Carmo Convent, although not as popular as other attractions in the city, is actually one of our favorite sights in Lisbon. You found this place to be so unique and perfect for photography.
You can easily access the convent by walking 5 min after taking the lift of Santa Justa.
Completed in 1423, the site housed the largest Gothic church in Lisbon, adorned with stained glass windows and numerous statues. Unfortunately on November 1, 1755, the earthquake ravaged the convent, destroying a large part of the site.
The city authorities decided to leave this building as is was to preserve a place of testimony to this terrible disaster. Today, the high columns and pointed arches of the church rise up to get lost in the blue of the sky.
Towards the end of the convent, you can visit the Museu Arqueológico do Carmo which features archaeological excavations carried out in the Alentejo region.
The museum also presents 14th century sarcophagus, Roman objects, marble bas-reliefs, pottery, Mexican statues, azulejos, a library housing ancient books as well as the tombs of several members of the royal family of Portugal including the burial of King Ferdinand 1st.
Carmo Convent is one of the best things to see in Lisbon!
Location: here
Opening hours: 10 a.m. to 7 p.m. Monday to Saturday, June to September. 10 a.m. to 6 p.m. for the rest of the year.
Admission: 4 euros.
Website: here
---
10. Hang out at Praça do Rossio
North of Carmo Convent, you will reach Praça do Rossio, also called Praça Dom Pedro IV. This is one of the liveliest area of Lisbon.
On the square you can admire two baroque fountains representing mythical characters and one statue which was built in 1870, representing Dom Pedro IV (aka Dom Pedro I, King of Brazil).
The Theatre, Teatro Nacional Dona Maria II, is also located around the square. This neoclassical building was built on the ruins of one of the most beautiful buildings in the city: the "Palácio dos Estaus" (Palace of the Inquisitors) which was destroyed during a fire in 1836.
Last interesting building to see on the Square, is the train station Rossio. The arch entrance made it very beautiful and unique.
Location: here
---
11. Head to Martim Moniz and board the legenday Tram 28
In Lisbon, make sure to take the typical and picturesque tramway, the Electrico n°28, which will allow you to cross the old districts of Lisbon.
For that head to Martim Moniz Square, not far from Rossio. We recommend taking the tram early morning or late afternoon to avoid the huge crowd of tourists… You can hop on and off at each stop as you wish.
We just took it all the way around the city, looking outside the window admiring what a beautiful city Lisbon is! It was such a memorable moment.
You can also stop at Praça de Comércio, and continue your visit of Lisbon by walking along the Tagus.
Taking Tram 28 is one of the best things to do in Lisbon.
Location of Martim Moniz: here
---
12. Enjoy a promenade along the Tagus
From Praça de Comércio, you can enjoy a nice walk along the Tagus. There are many bars along the way with outdoor seats, people playing music, or locals simply enjoying the good vibes in the city.
On the way, you will pass Doca da Ribeira das Naus. This was an old boatyard transformed in a river beach, with large grassy area where locals likes to picnic and sunbath. Have a walk around this transformed riverside area. It's a great place to enjoy Tagus and from there you have a great view of the magnificent statue of Christ the King and the 25 April Bridge (Ponte 25 de Abril).
Location: here
---
13. Eat at Time Out Market Lisbon
At the end of the promenade, head to Time Out Market. Our favorite place to eat and one of the best things to see in Lisbon.
This is an AMAZING place to eat in an indoor market with local produce and different choices for lunch. You have to go there at least once during your stay.
This very friendly place is ideal for mingling with the Portuguese, tasting local flavors and enjoying a good time.
Location: here
Website: here (there are some events, or live bands playing from time to time, you can check out the schedule on their website)
---
14. Visit Pink Street
Just a few streets away from Time Out Market, check out Lisbon's Pink Street. The floor of the street has been painted entirely in bright pink! It is a hotspot for Lisbon nightlife. This is where you can spend great evenings drinking with locals and dancing in the best clubs in the area. However, it's also a great spot to visit during the day… It's not everyday you can see a street fully painted in pink!
If you go there at night, head to Pensao Amor for a great atmosphere and great music. Sol and Pesca is another great place to check on Pink Street.
Location of Pink Street: here
---
15. Have fun at Bairro Alto for the best nightlife
Time to relax and have a drink in Lisbon. For that, head to Bairro Alto district, THE nightlife district of Lisbon!
If you are looking for a great place for dinner or drinks, here is our recommendations in Bairro Alto:
CASA DOS PECADOS: classic Portuguese food, perfect to discover the specialties of the country, accompanied by a Portuguese wine, and then continue on a night out in Bairro Alto!
FADO AO CARMO: surely the best place to listen to a typical and authentic fado music, while enjoying a meal. Most fado restaurants are extremely expensive and the food quality rather average. However, here the food is outstanding!
TASCA DO FRANCÊS: this is a restaurant run by a French chef who lived in Brazil for 20 years! The chef serves very good French-Portguese dishes with exotic flavours! Yummy.
Location of Bairro Alto: here
---
16. Admire April 25 Bridge
This huge red suspension bridge is 2.2 km long and is reminiscent of the bridges of San Francisco (Golden Gate and Bay Bridge). It is not possible to cross the bridge on foot or by bike, but you can discover it by doing other activities.
Actually we recommend joining a 1 hour cruise on the Tagus to discover the city from another angle and the see this beautiful bridge up close. You can check more information here.
---
17. Visit the stunning Belém Tower
A bit further from the historic center of Lisbon, we recommend to spend at least 1 day in Belém, a picturesque neighborhood located west of Lisbon. It is the old commercial port of Lisbon from where the caravels left in the 15th century to make great discoveries. For example going to the Indies with the great Portuguese navigator Vasco de Gama.
This district now has a number of historical monuments to discover. Belém Tower is one of them and also one of the best things to see in Lisbon!
This magnificent Manueline-style tower is listed as World Heritage by UNESCO. It is something you cannot miss when visiting Lisbon.
The Tower was built in the 16th century by the King of Portugal to protect the entrance to the port of Lisbon. Belém Tower played an important role during the Great Discoveries.
Location: here
READ: 10 AWESOME THINGS TO SEE IN BELÉM
---
18. Check out the impressive Jerónimos Monastery
Like the Tower of Belém, it was King Manuel I who undertook the construction of the Jerónimos monastery at the beginning of the 16th century.
The architecture of this place is truly stunning. The finest example of Manueline architecture. It's pretty amazing how much detail and ornamentation is packed into the monastry.
The Jerónimos monastery also contains the tomb of the famous explorer Vasco da Gama. Located next to the Belém Tower, we advise you to visit both monuments on the same day!
We recommend buying the ticket online in advance, to skip the queue. Check out the official website here.
Location: here
---
19. Go back in time at the National Coach Museum
The Coach Museum of Lisbon is located in the Belém district. It is one of the most visited museums in the capital and it is not surprising because its collection is unique in the world.
Within this Museu Nacional dos Coches, you will find carriages and horse-drawn carriages used as a means of transport between the 16th and 19th centuries, mainly by wealthy and powerful people from Europe.
In particular, you can admire Baroque-style carriages dating from the 18th century that belonged to Pope Clement XI.
The visit to this museum is an opportunity to understand the evolution of this means of transport through the ages while contemplating the meticulousness of the work carried out on the cars as well as the level of detail of the most prestigious vehicles.
Location: here
Website: here
---
20. Take a photo of the THE MONUMENT OF THE DISCOVERIES (PADRÃO DOS DESCOBRIMENTOS)
Built in 1960 on the banks of the Tagus in the Belém district, this monument is truly impressive as it's more than 50 meters high!
It was built to remember Portuguese explorers and it represents the Portuguese caravels. The boat is turned towards the sea as if ready for new adventures.
Among the sculptures that adorn the sides of the monument you can see historical figures linked to the history of the Great Portuguese Maritime Discoveries such Vasco da Gama but also Magellan, Camoes, etc.
Location: here
---
21. Eat a Pasteis de Belém with its original recipe kept secret since 1837

This is one of the most visited places in Lisbon, the old bakery where Pastéis de Belém were invented!
Pastéis made in the Antiga Confeitaria de Belém are the original recipe for Pastéis de Nata sold in Portugal, known as Pastéis de Belém. They have been made since 1837 from a recipe which, until now, remains a secret.
There could be a long queue before you can buy one of those in the shop, but it's totally worth the wait!
Location: here
---
22. Visit LX Factory on your way back to the centre of Lisbon
The Lx Factory district in Lisbon is actually a former large Portuguese factory that has been redeveloped into a trendy area. At Lx Factory you can find many great restaurants, boutiques from local designers and stylists, a large concert halls and event spaces, as well as a library and so much more.
The simple fact of strolling through the Lx Factroy is a already fun in itself as you will discover many creative places. There are lots of street arts, posters and unique decorations all around the area.
Make sure to check Ler Devagar, a magnificent library with more than 40,000 books! The esplanade/rooftop of the Rio Maravilha bar is another awesome place which offers an incredible view at night to the bridge and the Cristo Rei!
Location: here
---
23. Shop at the flea market at Feira da ladra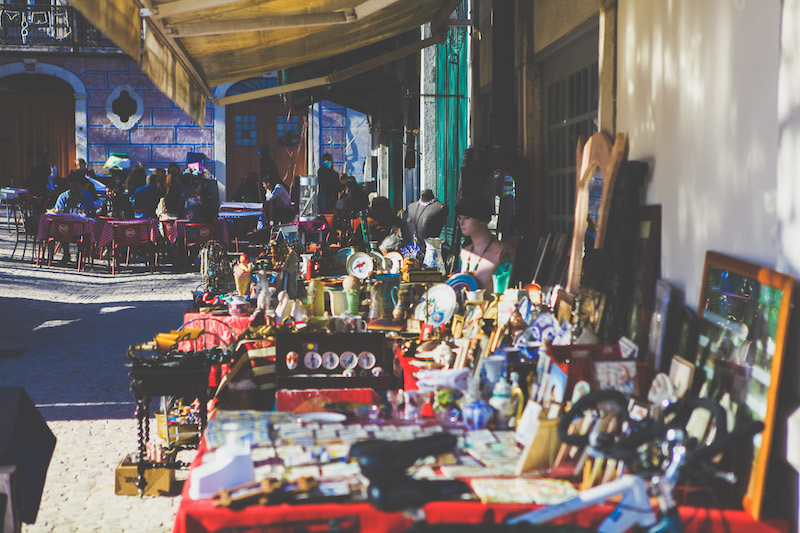 The Feira da ladra – literally the Thief's Market – is an event that takes place every week, on Tuesdays and Saturdays in the Campo de Santa Clara in Lisbon not far from the National Pantheon. This is one of the best things to see in Lisbon!
Feira da ladra is one of the most amazing flea market we've ever seen. There are objects of all kinds: azulejos, clothes, decorative objects, books, toys etc.
The origin of this flea market dates back to the 13th century, and it has changed location several times in Lisbon. It wasn't until 1903 that it found its present place and that's a good thing: the view of the Tagus is superb, and you can admire the Church of São Vicente de Fora in the background.
Location: here
---
24. Learn more about the Fado
Fado is a popular Portuguese kind of music with a melancholy theme. It is filled with emotions, speaking of nostalgia, sadness, lost love, exile… and is accompanied by plucked string guitars. This kind of music is unique to Portugal.
You can listen to live band playing fado in many restaurants around Lisbon. The atmosphere is usually very romantic. We recommend Sr. Fado restaurant in the Alfama district, one of the best places to eat and listen Fado (location: here)
Fado has been classified as an Intangible Cultural Heritage of Humanity by UNESCO. Hence, it would be a shame not to listen to Fado during your stay in Lisbon!
---
25. Go on a day trip to the extravagant Sintra
If you are in Lisbon for more than 2-3 days, then you got to add Sintra in your itinerary! For many, this is the most beautiful town in Portugal!
With its many monuments, including the incredible Pena Palace, this city is just incredible! Not far on the west coast, you will also see pretty sites such as the cliffs of Cabo da Roca or the seaside resort of Cascais. All of these places can be visited easily by renting a car, taking the train or booking a day trip from Lisbon.
We recommend booking the organised guided tour from Lisbon. This would make you save a lot of time, and it's not much more expensive than renting a car or going by train (as once there, you will most likely need to take a taxi to go from one place to the others). Check out the availability of guided tours to Sintra here.
---
Where to stay in Lisbon?
After reading about the 25 best things to see in Lisbon, you must be thrilled to discover this fantastic city. Now it's time to find your accommodation. Here we listed our favorite places to stay in Lisbon, conveniently located and for different budget to make the best of your holidays!
In terms of areas we recommend either Alfama, Baixa or Bairro Alto.
Best hotels in Lisbon in the Alfama district
Lisbon Best Choice Apartments Alfama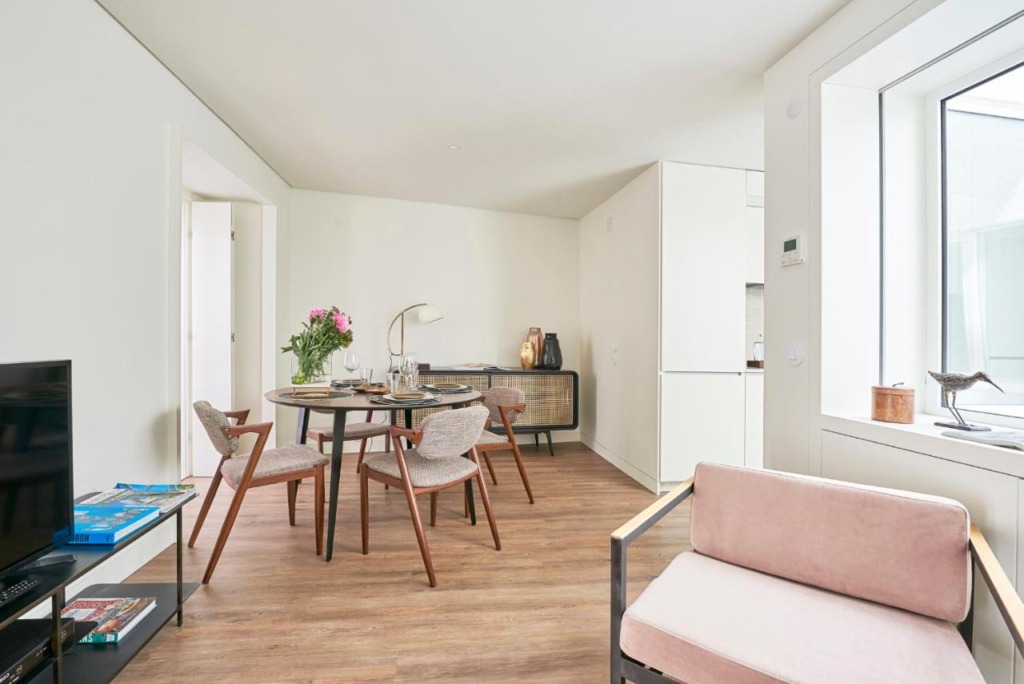 This hotel offers comfortable and well-equipped apartment right in the heart of the city's oldest district. The apartment is fully equipped in is perfectly located. Book here.
Hotel Convento Salvador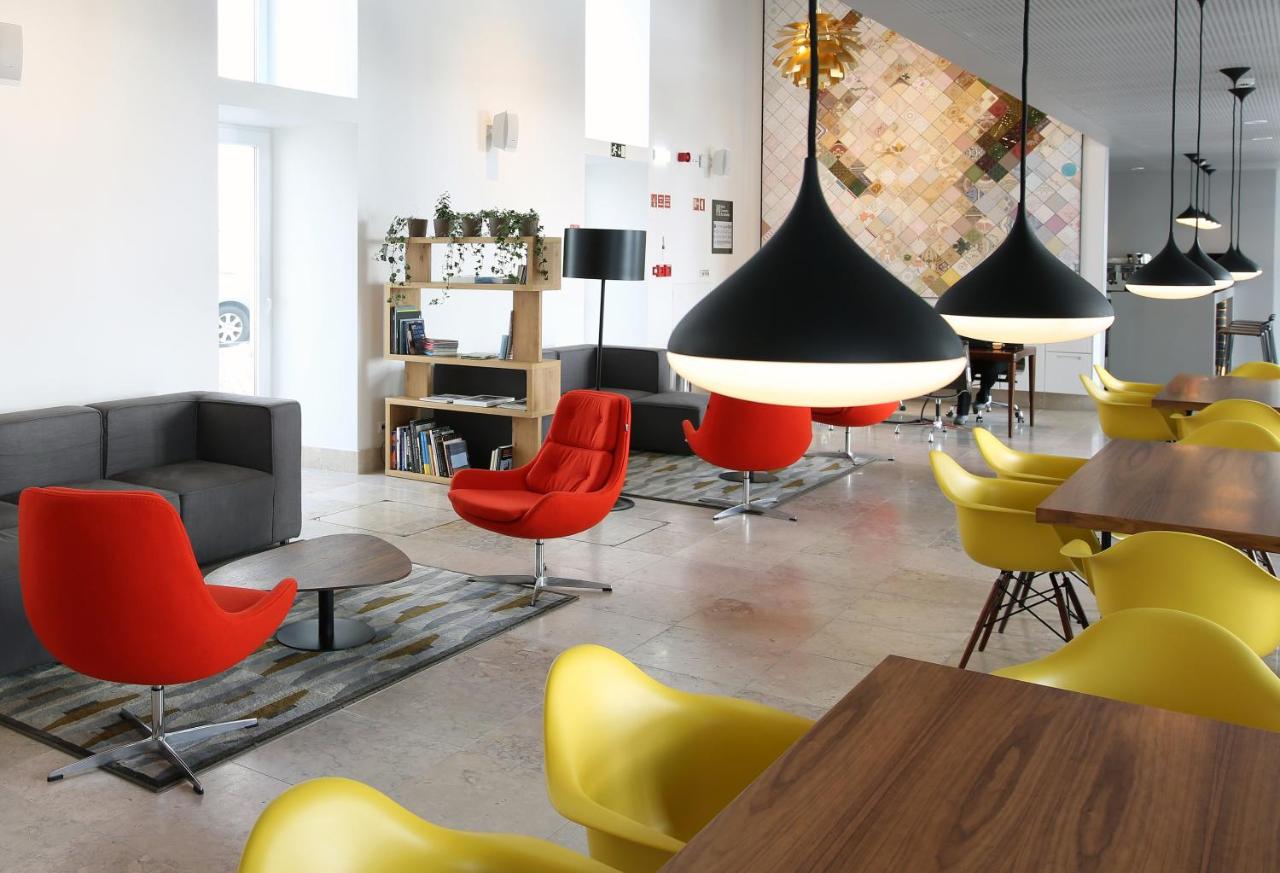 Hotel Convento do Salvador is a 3-star establishment in the heart of the Alfama district, less than a 10-minute walk from Lisbon train station and the city's main tourist attractions. This hotel, which takes place in a converted former convent, offers beautiful rooms for two from around €110 per night. Check the availability here.
---
Best hotels in Lisbon in the Bairro Alto district
Bairro Alto is another historical district of Lisbon. It is a place that is home to a fairly young and trendy population, with a fairly bohemian atmosphere. You can make some great discoveries there.
Bliss Lisbon Apartments – Bairro Alto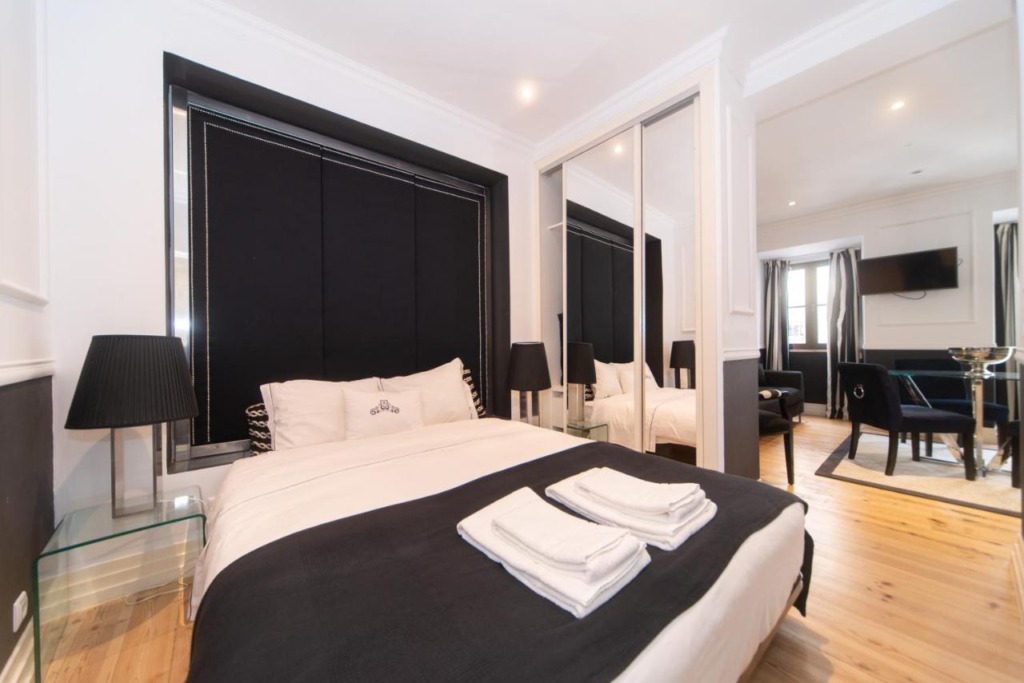 This fashionable place, is perfectly located in Lisbon. If you like to explore the nightlife of Lisbon, then this place is for you. You will find many bars and great restaurants located walking distance to this hotel. Check out the price and availability here.
Almaria – Officina Real Apartments | Chiado

Almaria – Officina Real Apartments | Chiado is a beautiful establishment very well located, modern and with a lot of space. This is one of our favorite places to stay in Lisbon. If this place is still available, we highly recommend to book Almaria – Officina Real Apartments | Chiado . Check it out here.
---
Best places to stay in Baixa
In 1755, Lisbon was hit by an earthquake that claimed thousands of lives and destroyed much of the city. The Baixa area was completely destroyed, and it was during the reconstruction of the city that superb neoclassical buildings were built and the layout of the district was revised to form large perpendicular avenues.
Today, Baixa is the most visited district of Lisbon. Located in the center of the capital, it is a very lively and dynamic district, made up of shopping streets and large squares. If it still attracts visitors so much, it is because it is home to a good number of historical sites and architectural buildings from the 18th century, but also because there are many restaurants and trendy bars.
Blue Liberdade Hotel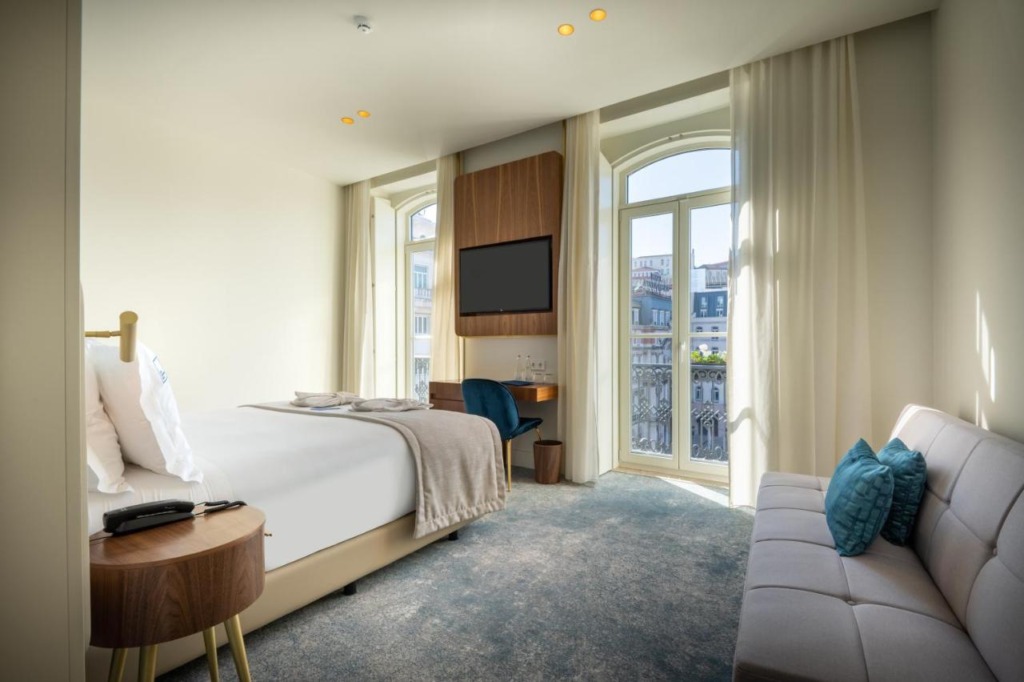 Blue Liberdade Hotel, is an amazing hotel newly renovated. The rooms are modern and the location is perfect near many fantastic restaurants. It is walking distance to most of the main sights in Lisbon. We loved our stay in Blue Liberdade Hotel. Book here.
Casas da Baixa – Unique Chiado
This gorgeous apartment, is the perfect place if you travel with your family. Spacious, clean, modern and very bright, it will make your holiday in Lisbon even more joyful. Check it out here.
---
Best time to visit Lisbon?
Lisbon, the capital of Portugal, is blessed with pleasant climate almost all year round. Thus, there is not really a period to avoid when planning your trip.
However, the best time to go to Lisbon is from May to October. This is where the climate is most favorable with sunny weather. There is almost no rain during that time.
Due to the summer holidays, the period from mid-June to September is the busiest period for tourists and prices tend to be much higher. To save money during the summer months, make sure you book your hotel and flight in advance.
---
In conclusion about the best things to see in Lisbon
We hope that you found this post helpful to prepare for your trip to Lisbon. We certainly fell in love with this city, and would even consider moving there after finishing our sabbatical year.
What we also recommend, is buying the Lisboa Card for your stay. In addition to serving public transport (including the train to Sintra), it offers various discounts for visits and attractions. The funicular and tram routes are also included.
Finally, don't worry too much about covering all the main sights during your trip, the best things to do in Lisbon for us is simply getting lost in the different districts. This is where you will see the real heart and soul of Lisbon.
Enjoy your trip to this wonderful city!
---
Related Posts
10 BEST THINGS TO SEE IN ALFAMA DISTRICT IN LISBON: here
FULL GUIDE FOR VISITING SÃO JORGE CASTLE IN LISBON: here
10 BEST THINGS TO SEE IN BELÉM: here
DISCOVER ERICEIRA NEAR LISBON: here
30 AWESOME THINGS TO DO IN MADEIRA: here
15 BEST PLACES IN THE WORLD FOR DIGITAL NOMADS: here
25 BEST THINGS TO SEE IN LANZAROTE: here
BEST THINGS TO SEE IN FUERTEVENTURA: here