WHICH ARE THE BEST BEACHES IN CANARY ISLANDS? BEST BEACHES FOR SWIMMING? WHITE SAND BEACH?
In this post we listed the 10 best beaches in the Canary Islands. We traveled for 3 months throughout the Canary Islands and visited the most amazing beaches in the archipelago. We are happy to share this list with you. (READ ALSO: FULL TRAVEL GUIDE TO VISITING THE CANARY ISLANDS)
One thing we realized during our travel, is that you don't have to travel to the Maldives or Bora Bora to find dream beaches. In just 4-hour flight from mainland Europe, the Canary Islands offer stunning beaches of black or golden sand. We had no idea that the Canary Islands had so many amazing beaches. Some of them might really surprise you!
---
TABLE OF CONTENTS – BEST BEACHES IN THE CANARY ISLANDS
---
1. Playa de Las Teresita in Tenerife
Playa de Las Teresitas is one of the largest beaches in Tenerife, and certainly one of the best beaches on the island. The white sand, the palm trees, the turquoise water and the huge cliffs in the background, makes it a true "postcard" beach.
Tenerife has a few artificial beaches with sand imported from the Sahara. Among them, the most famous is undoubtedly Playa de las Teresitas near Santa Cruz. It is located in the village of San Andrés.
Las Teresitas is protected by three breakwaters as well as a stone barrier that keep strong currents and big waves away for safe swimming.
Bring your hammock and relax between the many palm trees on the beach!
We absolutely love Playa de Las Teresitas! A must-see if you visit the Canary Islands and Tenerife!
READ: 25 BEST THINGS TO VISIT IN TENERIFE
---
2. Playa del Duque in Tenerife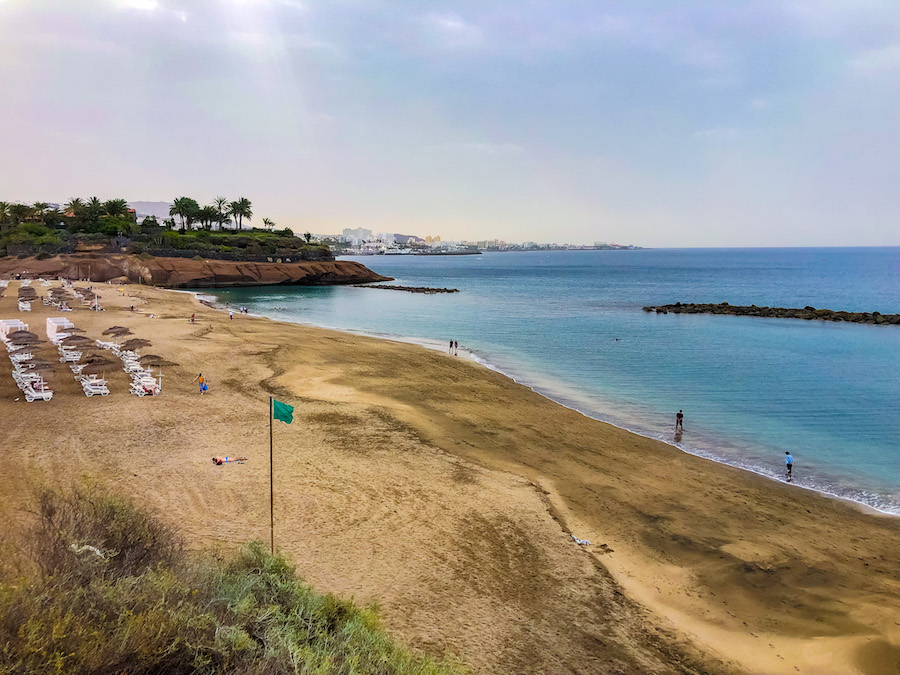 Playa del Duque is located in the southwest of Tenerife in the famous tourist resort of Costa Adeje. The beach offers an experience of total well-being: here you will find everything that makes a comfortable beach in a tasteful atmosphere. The beach is very clean and well maintained. A stylish beach bar is also located directly above the beach.
Playa del Duque is one of the cleanest beaches on the island.
READ: 10 BEST BEACHES IN TENERIFE
---
3. Playa Diego Hernandez in Tenerife
You won't find this beach in most guide book. Indeed a few years ago only locals knew about this place. Playa Diego Hernandez is located near the hidden gem called La Caleta (we talk more about La Caleta in this post). La Caleta is located right next Costa Adeje.
To get to the beach, you will need to hike a bit. Count 20 to 30 min from La Caleta on a rocky path. You will then see this stunning place, surrounded by nature and not a single building in sight! We absolutely love this place. If today if we think about Tenerife, this beach is one of the first thing that comes to mind.
In the recent years Playa Diego Hernandez has been repeatedly voted one of the most beautiful beaches in Tenerife.
READ: BEST THINGS TO DO IN COSTA ADEJE IN TENERIFE
---
4. Playa Cofete in Fuerteventura (our favorite)
The second largest island of the Canary archipelago by size, is also the easternmost island of the Canary Islands. Welcome to the beautiful Fuerteventura!
Fuerteventura has so many stunning beaches, that it is hard to make a selections of a few only.
However if we had to choose only one beach on Fuerteventura, it would be Playa de Cofete. For us it's not only THE BEST beach in Fuerteventura, it also THE best beach in the Canary Islands and one of THE best beaches in the world! No kidding.
But accessing this little paradise is not easy. It requires patience and a good car. We wrote a full guide about how to get to Cofete Beach:
>> READ ALSO: COFETE BEACH IN FUERTEVENTURA – FULL GUIDE
---
5. Corralejo Natural Park in Fuerteventura
The Corralejo Natural Park offers 4 kilometers of breathtaking beaches that will make you feel like you are in the heart of the Caribbean.
It is located in the northern region of Fuerteventura, surrounded by the ocean and the wild natural beauty of the island. From there you can see the magnificent Isla del Lobos in the background, another small island, and bit further Lanzarote.
The sand is white and the sea is crystal clear. This beach is suitable for everyone. However, be aware that some part of the beach are designed for practicing water sports, such as windsurfing and kitesurfing.
You can easily reach this beach from Corralejo, one of the main tourist resort town, by bus or by car.
Corralejo Natural Park is undoubtedly one of the best beach in Fuerteventura!
READ: FULL GUIDE FOR VISITING CORRALEJO NATURAL PARK
---
6. Playa de Jarubio in Fuerteventura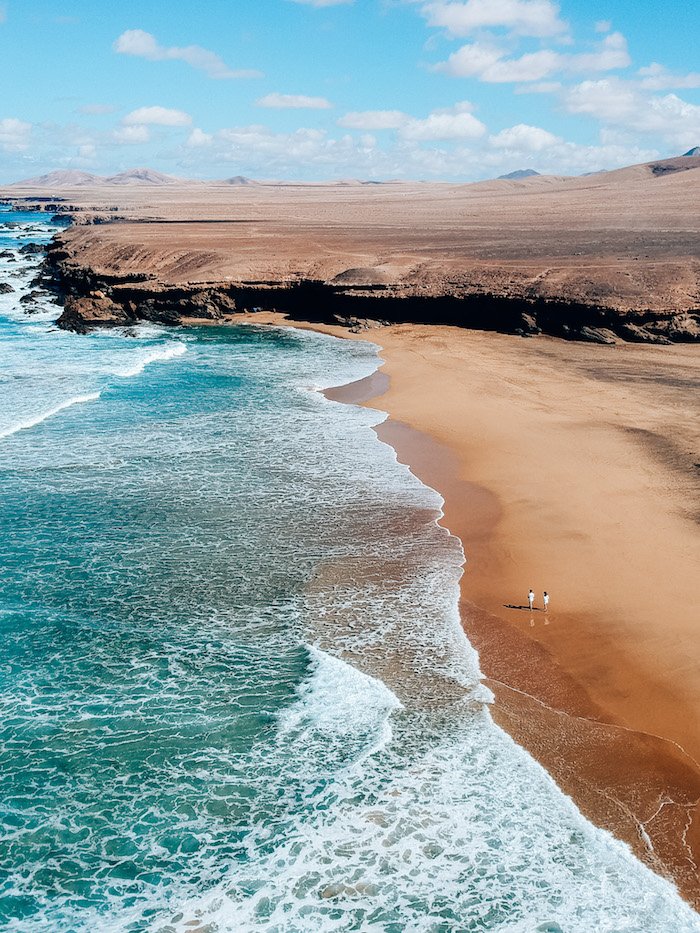 Getting to Playa de Jarubio is not an easy journey. The way to get there wasn't pleasant at all with a very bumpy road! We thought we lost a tyre our rental cars many times. But we didn't want to give up. We knew that often the best places are not the one with an easy access.
And oh boy! We weren't disappointed after arriving there. Totally worth the horrible drive. We had this amazing beach just for ourselves, as you can see in the photo above taken with our drone.
Jarubio is for us one of the most stunning beaches in Fuerteventura. The one that took our breath away…
Bring water and some food, and you can spend one of the best day in Fuerteventura. When you are at the main beach, you can walk to your left and cross a few rocks. There you have a smaller beach which is more protected.
READ: 10 MOST INCREDIBLE BEACHES IN FUERTEVENTURA
---
7. Playa de Sotavento in Fuerteventura – famous for Kitesurfing
Nine kilometers of unspoiled beach, in the heart of Fuerteventura. This is arguably the most beloved and famous coastline on the island, and perhaps the best known in the world. Just for its size, the beach of Sotavento offers refreshment and tranquility every year to thousands of tourists in search of a magical place. And at low tide, the sandy beach is dotted with small natural pools where swimming is a real pleasure.
Sotavento is considered one of the best beaches to try windsurfing and kitesurfing.
Learning how to kitesurf in Sotavento is the perfect place due to it's protected lagoon with shallow water. We highly recommend joining Rene Egli for kitesurf lesson or renting kite gears, this is an institution in Fuerteventura. You can even stay at their hotel right by the beach. Check out their website here.
Bollullo beach is of great beauty. Its clean waters, its fine black volcanic sand, and its relative ease of access, make this beach one of the best beaches in Tenerife.
READ: BEST OUTDOOR ACTIVITIES IN FUERTEVENTURA
---
8. Playa Papagayo in Lanzarote
Lanzarote's dreamlike lunar landscape is something very unique. Although Lanzarote is most well known for it's volcanic landscapes especially at the Timanfaya National Park (full guide here), the island also has one of the best beaches in the Canary Islands and perhaps one of the most famous ones: Playa de Papagayo.
Wedged between two brown lava rocks, the bay is protected from dangerous winds and currents, making it an ideal destination for families who can let young children have fun in the shallow waters. Promoted "The best beach in Spain" by Condé Nast Traveler in 2019, Papagayo has won the privilege of being on all the postcards of the Canary Islands and more recently, on all the Instagram feeds.
Visiting Papagayo beach in the Lanzarote is an absolute must!
READ: FULL GUIDE FOR VISITING PLAYA PAPAGAYO
---
9. Maspalomas in Gran Canaria
Some 200 kilometers from the African coast, the island of Gran Canaria has a very diverse coastline. If in the south and in the east, the island has many beaches of fine sand, the west coast is torn by impressive and gigantic cliffs.
Maspalomas is the most popular seaside resort in Gran Canaria. Behind an immense field of dunes sculpted by the wind, lies the playa de Maspalomas, much wilder and absolutely sublime. Golden sand as far as the eye can see! This place is truly spectacular!
READ: WHAT TO SEE IN MASPALOMAS
---
10. Cala de Tacorón sur El Hierro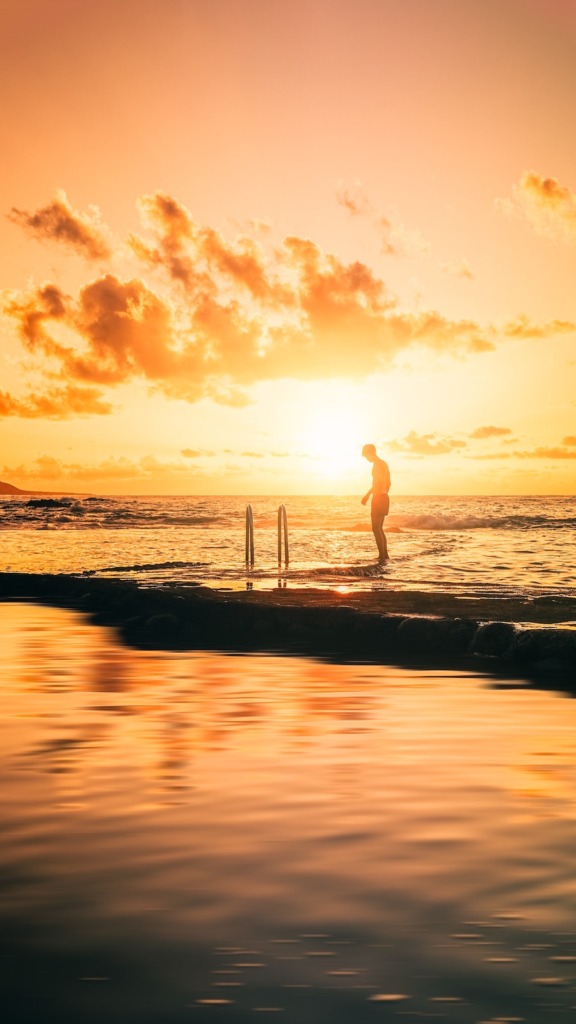 Just 2.5h by boat from Tenerife, the tiny island of El Hierro takes us to another world with its steep cliffs and pine forests.
If in this totally preserved island, with a respectful way of life, the beaches are rare, it would be a shame not to stop on the Cala de Tacorón, near the town of La Restinga. Small in size, this enclave where marine blues mix with black sand, enjoys calm seas all year round. These clear waters also make it a real paradise for divers. Do not miss the nearby natural pools, sculpted under the volcanic cliffs.
---
In conclusion about the best beaches in the Canary Islands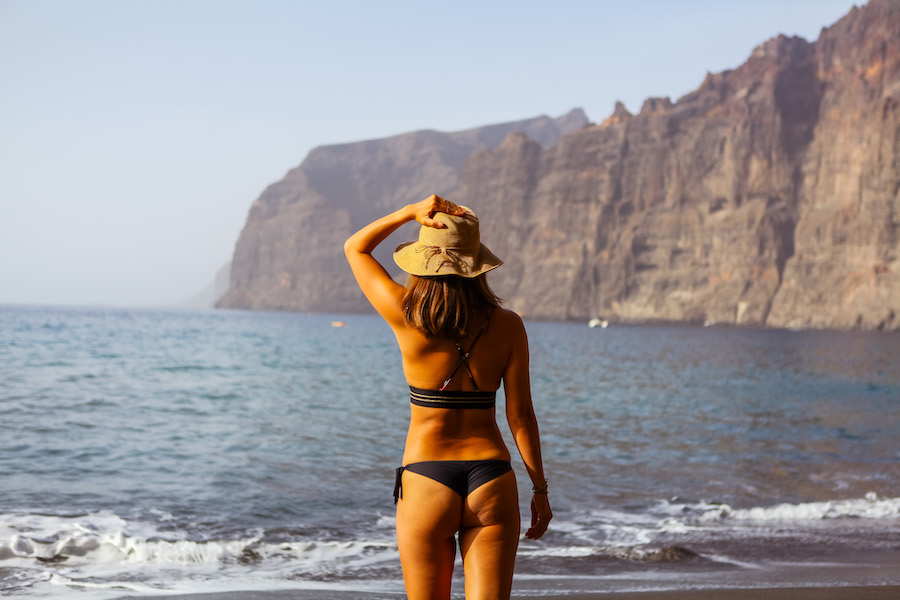 Only listing 10 best beaches was actually really hard. There are so many amazing beaches in the Canary Islands, that we thought long and hard about our selection. We mostly based our list on the most unspoiled and wildest beaches in the Canary Islands.
They are not necessarily the most convenient one to access, but once you get there, you'll understand why we selected those!
There are plenty of equally beautiful beaches around the world. However, the beaches of the Canary Islands have a little something exotic, which makes you want to discover their charm again and again.
And the best part, is that it's warm all year round! So don't wait anymore, pack your swimsuit, book a flight here and let's gooo!
All our posts about the Canary Islands can be found here.
HAPPY TRAVELS!
---
Related Posts
MOST AWESOME BEST BEACHES IN TENERIFE
WHEN IS THE BEST TIME TO VISIT THE CANARY ISLANDS?
10 BEST BEACHES IN GRAN CANARIA
10 BEST BEACHES IN FUERTEVENTURA
FULL TRAVEL GUIDE FOR VISITING THE CANARY ISLANDS
10 BEST REASONS TO VISIT THE CANARY ISLANDS
WHICH ONE IS THE BEST CANARY ISLAND TO VISIT?