WHAT TO SEE IN MADEIRA? WHERE IS THE MOST BEAUTIFUL PART OF MADEIRA? WHEN IS THE BEST TIME TO VISIT MADEIRA?
Fancy a tropical stay while staying in Europe? Go on a trip to Madeira! This Portuguese archipelago off the coast of Africa is a perfect little paradise for a great vacation.
"Madeira has been elected best island destination in the world since 2015!"
What to see in Madeira? Some of the highlights are the botanical gardens in Funchal, the hikes on the volcanic ridges, the many waterfalls, and the magnificent landscapes all around the island.
Whether you are a solo explorer or you come with your family, you will find what you are looking for in Madeira.
As for us, we absolutely fell in love with this island. Read more to find out why!
We spent almost 1 month in Madeira, exploring this gorgeous island. We could have easily stayed longer as we loved it so much! Nature is everywhere in Madeira. The people are extremely nice and the food delicious. Recently it also became one of the hotspots for digital nomads! (Read: 15 best places in the world for Digital Nomads)
Here is a glimpse of what to expect in Madeira:
So you are wondering what to do in Madeira during your stay? Here is a selection of the essential activities when you come to visit Madeira and want to make the most of your trip!
Enjoy!
---
Best things to do in Madeira?
1. Start with Funchal, the beautiful capital of Madeira!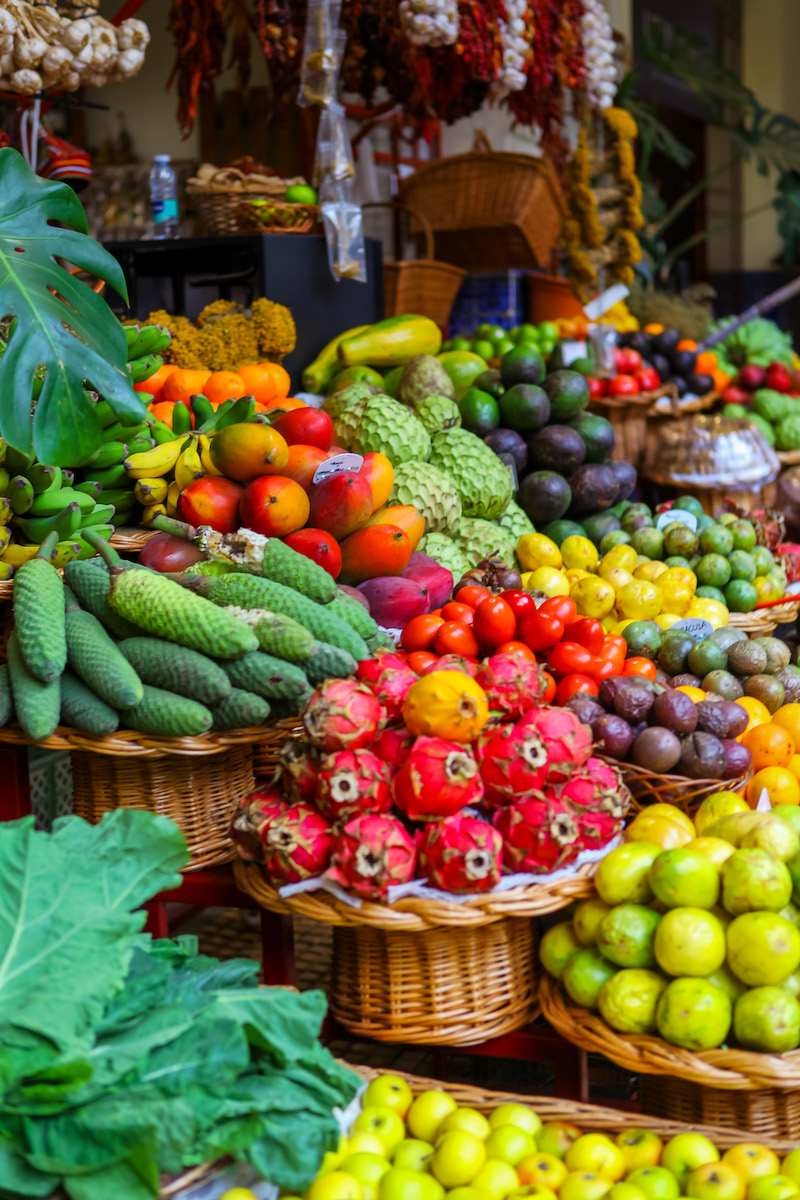 This pretty town is the capital and largest city of Madeira with 110,000 inhabitants. It is the economic, political, and cultural heart of the island, and offers many fascinating points of interest. When looking for what to do in Madeira, Funchal is obviously the place to see first.
The historical center and its harbour are really worth a look. We recommend the district of Santa Maria with its decorated doors and its colorful Farmers' market, called Mercado dos Lavradores.
Spend at least 1 or 2 days visiting Funchal.
READ: 20 AWESOME THINGS TO SEE IN FUNCHAL
---
2. Visit Monte Palace Madeira, the most beautiful garden in Madeira!
Are you still in Funchal? Perfect! On the heights of the city, visit Monte Palace Madeira, one of the most impressive gardens we've ever seen in our life! You can access this marvelous garden by taking the famous cable car in the center of Funchal here (for more info, check the cable car website here).
Visiting Monte Palace Madeira is an absolute must-see in Madeira. For more information on the garden, check out their website here.
After visiting the park, you have 2 options. Continue your exploration to Madeira Botanical Garden by taking a 2nd cable car. More on that in the next part.
The other option is to go down, with a famous little wicker sled that is emblematic of Funchal! These are typical Madeiran tuk-tuks! Propelled by two seasoned pilots, their wooden runners will give you the thrills to reach back to the historic center of Funchal.
Location: here
READ: FULL GUIDE FOR VISITING MONTE PALACE MADEIRA
---
3. Madeira Botanical Garden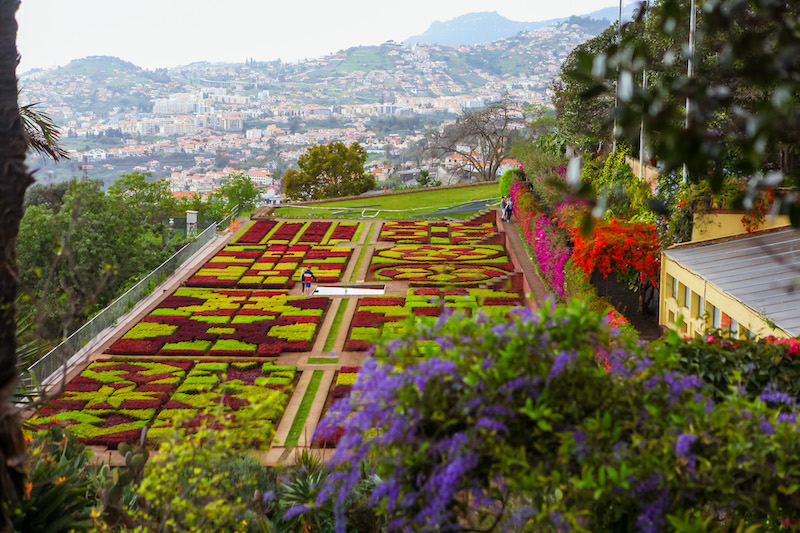 This second garden is easily accessible with a 2nd Cable Car located just next to Monte Palace Garden. There you can admire a collection of more than 2,000 plants from all over the world. There are beautiful collections of cacti, palm trees, all kinds of orchids, and a lot more.
The garden overlooking the city offers amazing views of Funchal and its surroundings.
To visit both gardens count at least 3 to 5 hours. Both gardens are pretty big and riding the cable car will also take some time. To get back to Funchal, the easiest way is to take the Cable Car back down.
You can also walk back to Funchal, but the streets are pretty steep and there isn't much to see on the way down. You can purchase a round-trip cable car ride with both park entrances directly in Funchal.
Location: here
---
4. Go on a boat trip to watch dolphins and whales
After enjoying the splendid view of the island from the Gardens, it is time to explore the beautiful island of Madeira by boat.
Not only you will have the opportunity to explore Madeira from another angle, you will also be able to observe dolphins and even whales if you are lucky. In summer, you can even jump in the water.
We booked our boat trip with the company Magic Dolphins. We spotted many playful dolphins during our trip. This was during our first day in Madeira!
We couldn't hope for a better start of our holiday. You can book your tour here, which we highly recommend for an unforgettable experience in Madeira.
---
5. Visit Winston Churchill's favorite town: Câmara de Lobos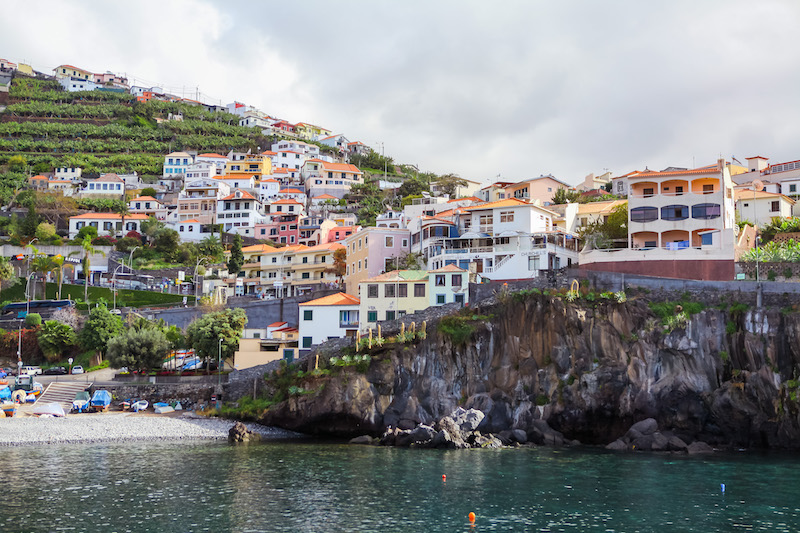 Discover the charming seaside town of Câmara de Lobos in Madeira. Winston Churchill's favourite town. In Câmara de Lobos you will see a beautiful traditional village by the sea with colorful fishing boats, cobbled streets, a seaside promenade, a beach, and a lot more which we invite you to discover in this post.
For us, Câmara de Lobos was one of the highlights during our trip to Madeira. Besides, it it located near Funchal, which makes it very convenient to visit.
Câmara de Lobos is one of the main tourist attractions in Madeira due to its charm. It was built around a long natural harbor created by the black basalt rock which contrasts with the turquoise waters. It's a beautiful and very picturesque place.
The former British Prime Minister, Winston Churchill visited Madeira in 1950. During his trip he stayed in Câmara de Lobos and painted an outstanding portrait of the village. Till today Câmara de Lobos remembers his visit, and you can see many sites named after him, there is even its statue in one of the streets facing the sea.
Location: here
READ: 16 BEST THINGS TO DO IN CÂMARA DE LOBOS
---
6. Cape Girão one of the highest cliffs in the world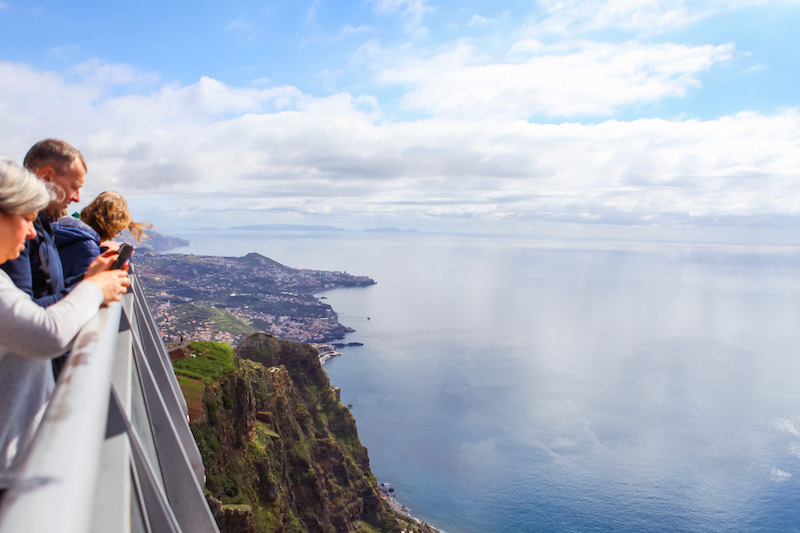 After Câmara de Lobos, continue your visit with Cape Girão, one of the highest cliffs in the world with a height of around 580 meters. The viewpoint from the top of the cliff is spectacular and offers an incredible view of Câmara de Lobos, the sea and the Fajã do Cabo Girão.
In addition to the breathtaking view, know that it is a popular place for paragliding and base-jumping.
In 2012, a suspended glass platform (Skywalk) was built on the cliff, which will allow you to test your limits, especially if you are scared of heights.
Location: here
READ: BEST WAY TO VISIT CABO GIRÃO
---
7. Ponta do Sol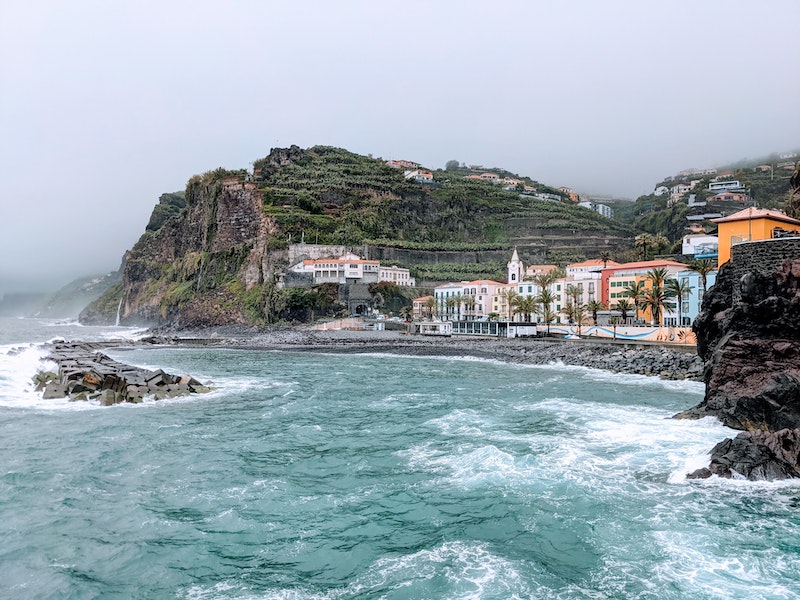 After visiting Cape Girão you can continue your exploration in the south of Madeira at Ponta do Sol. This beautiful town by the sea is another destination not to be missed during your visit to Madeira!
Explore the colorful streets by the sea, admire the interior of the Church of Nossa Senhora da Luz and the beautiful palace Palacete do Lugar de Baixo, also known as Palacete dos Zinos, transformed into a boutique hotel in early 2020.
Location: here
---
8. Drive through Anjos waterfall, the most unique waterfall in Madeira!
Next in our list, is one of the things we enjoyed the most: Anjos Waterfall. Your first waterfall in Madeira! There will be many more to see on the island.
Leaving Ponta do Sol, follow the old road (ER101) which links Ponta do Sol to Madalena do Mar to pass under the dos Anjos waterfall and discover the old tunnels which give the impression of entering caves.
Anjos waterfall is not the most impressive one in Madeira, but certainly the most unique one. The waterfall ends in the middle of a small road. Locals call it the "free car wash", as cars have no choice but to drive through it.
In recent years it became a famous spot thanks to social media! We certainly loved it too. It was fun to see the cars drive through the waterfall.
---
9. Praia da Calheta, one of the best beaches in Madeira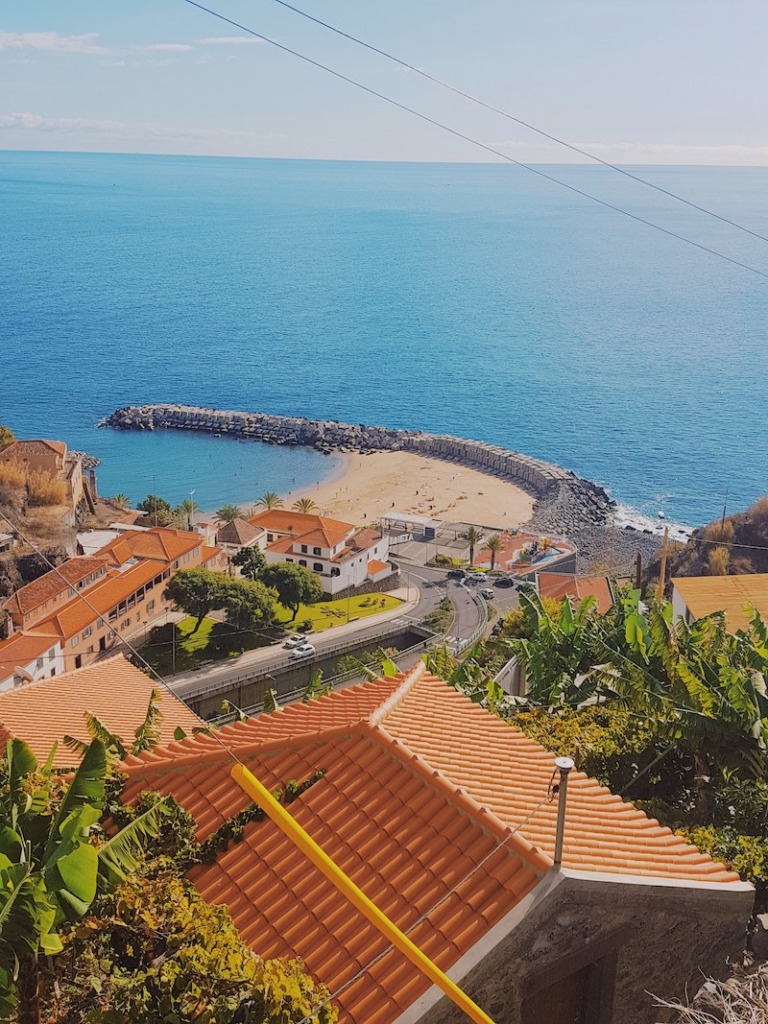 There aren't many sandy beaches in Madeira. But one of the best ones is Praia da Calheta. Simply continue on the coastal road after Anjos waterfall, and in 12min you can reach Praia da Calheta.
Praia da Calheta is one of the most beautiful sandy beaches on the island of Madeira. Although not as spectacular as some of the more scenic beaches on the island, its soft sands and easy access make it a popular choice for tourists and locals.
Location: here
---
10. Curral das Freiras & Miradouro da Eira do Serrado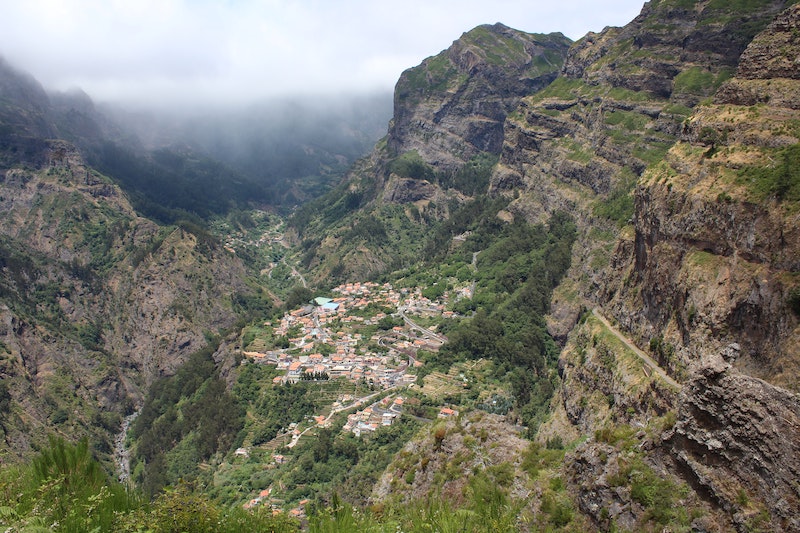 After exploring the south of the island, it is time to go more inland. First start your visit at Curral das Freiras.
Curral das Freiras is a small village at the foot of several mountains with the distinction of having been isolated until 1959, when the first road was built that connected the village to the rest of the island.
The views of the surrounding mountains is absolutely breathtaking!
Once there, make sure to taste the local specialties: chestnut soup and ginja (cherry liqueur).
You can also admire Curral das Freiras from the Eira do Serrado viewpoint (here), which offers you a breathtaking view of this unique place and the 6 surrounding mountains.
Location of Curral das Freiras: here
---
11. Pico do Arieiro
Next on the list of the best things to see in Madeira is Pico do Arieiro, the third highest peak (1818 m) on the island of Madeira. The landscape at the top of the mountains is amazing!
Pico do Arieiro is accessible by a road. So if you are not into hiking, going to Pico do Arieiro is an easy way to admire the beautiful landscape that Madeira has to offer.
For the more adventurous, you can choose to hike to the top of Pico do Arieiro instead of driving. This is one of the most stunning hikes, but also one of the most dangerous too. This 7-kilometer hike connects Pico do Arieiro to Pico Ruivo by a small rocky path.
Bring warm clothes! At the top, temperatures are sometimes close to 0° (especially in winter).
Location: here
---
12. Hike to Pico Ruivo, the highest peak in Madeira
Pico Ruivo with its altitude of 1,862 meters is the highest point in Madeira and the third highest peak in Portugal (after Ponta do Pico (Azores) and Torre (Serra da Estrela).
To get there, you will have to hike. We recommend you choose the one from Achada do Teixeira to Pico Ruivo (2.8 km). In addition to being one of the easiest to access the summit, you will appreciate its beauty, tranquility and the fact of being on top of the clouds!
Although this hike is accessible to everyone, you will have to climb 300 meters between the starting point (Achada do Teixeira) and Pico Ruivo, which will take you an hour and a half on average.
Location: here
---
13. Parque Natural do Ribeiro Frio
It is one of the best places to observe the magnificent Laurissilva forest (listed by UNESCO) which occupies a large part of the interior of the island of Madeira. Here you will find several endemic species of fauna and flora that make this place ideal for nature lovers and perfect for exploring with the family.
There hike to the Balcões viewpoint for an amazing view of Madeira.
If you want to discover this part of Madeira without renting a car, you can book a guided tour here.
Location: here
---
14. Miradouro dos Balcões, a must in Madeira!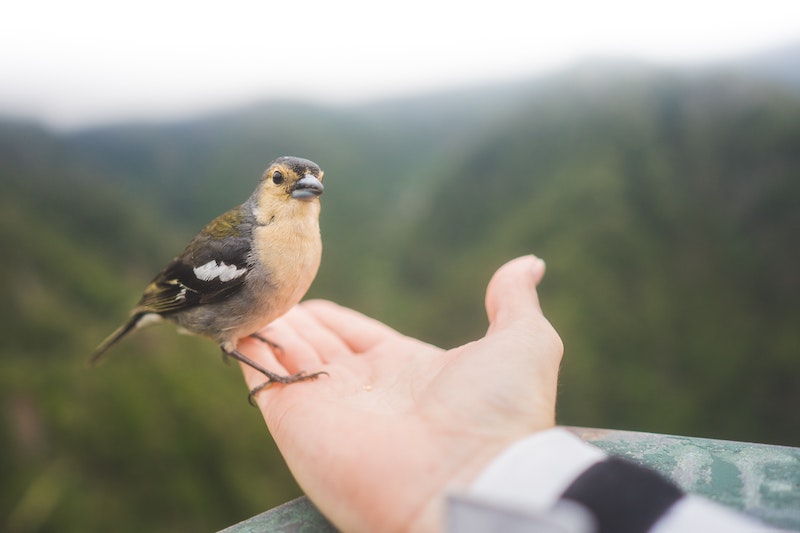 The splendid viewpoint of Balcões is located in the Parque do Ribeiro Frio, 10 km from Pico do Areeiro. To get there, you will need to take the short walking path of Vereda dos Balcões, a path that follows the Levada of Serra do Faial.
On blue sky days, you can see the central mountain range of the island, Pico do Areeiro, Pico Ruivo and Penha d'Águia.
What is also famous about this hike, is the many birds singing along the way. At the viewpoint, if you extend your hand and put a few grains or pieces of your snack, the birds will come and eat it.
Remember to take with you proper hiking shoes in Madeira. The ground can be slippery and muddy.
Location: here
---
15. Machico, a pleasant place in Madeira
To the east of the island, start your exploration with Machico.
Located about 25 km from Funchal, the town of Machico is known to have been the first landing place when the island was discovered at the beginning of the 15th century by the Portuguese Tristão Vaz Teixeira and João Gonçalves Zarco.
This town has grown along a valley and next to the sea are two beautiful beaches.
In addition to the natural beauties, admire the Aqueduct of Machico, the Igreja Matriz de Machico, and the Fort of São João Baptista.
Take advantage of your visit to hike the Levada do Caniçal which will offer you a fantastic view of Machico and the ocean, as well as the rural landscapes.
Location: here
What is a Levada?
In Madeira, you will find levadas all over the island. Some are over a total length of 2,150 kilometers, in perfect harmony with the surrounding nature. A Levada is an irrigation channel used to irrigate various agricultural fields. They were dug in the 16th century and until the 1940s. Levadas are also used to produce electricity in Madeira.
Very often, they are bordered by paths that allow travelers to hike along them and appreciate the magnificent landscapes of the island. Make sure to hike at least one of the Levada while in Madeira. We will tell you our favorite one later in this post…
---
16. Ponta de São Lourenço, our favorite hike in Madeira!
Next on the list, Ponta de São Lourenço, one of the most impressive places to see in Madeira.
São Lourenço looks very different from the rest of Madeira. Here there will be no forest, no levada no waterfall. You will find a long wild peninsula with a rather dry landscape. However, it doesn't make it less beautiful than the rest of the island. In fact, this is one of our favorite places in Madeira!
This place is most famous to visit at sunrise, as is the easternmost point of Madeira. You can hike a stunning 7.4 km trail (round trip). At the tip of the Peninsula, almost like a mirage in a desert, there is small restaurant and cafe. It almost looks like an oasis in the desert. What a place!
If you do not feel like hiking back, you can even reserve a boat trip from the restaurant to head back to Madeira. More info here.
Visiting Ponta de São Lourenço is a must-see in Madeira! We wrote a full hiking guide for Ponta de São Lourenço here.
Location: here
---
17. Santana, unmissable things to see in Madeira!
To the north of Madeira, start your visit with Santana.
The town of Santana has some beautiful points of interest, but it is undoubtedly the typical houses, with thatched roofs, which are the highlights of Santana. The houses are now transformed into local shops. This is one of the main things to see in Madeira, so make sure to add it to your itinerary.
The entire municipality of Santana is classified by UNESCO as a Biosphere Reserve due to its natural wealth, in which the Laurissilva Forest stands out, where several endemic species of fauna and flora of the region predominate. island. It is also here that you will find the highest peaks of Madeira: Pico Ruivo, Pico das Torres, and Pico do Areeiro.
Location: here
---
18. Miradouro da Beira da Quinta
There are a few words that you need to know in Madeira. Levada is one, which we already explained earlier in this post. Another word that you will hear a lot is Miradouro. While driving in Madeira you will see many road signs that say Miradouro. Those are Viewpoints!
A famous one in Madeira is located near Santana: Miradouro da Beira da Quinta.
This beautiful vantage point offers some of the best views of the north of Madeira Island and the Atlantic Ocean. On a clear day, you can even see the neighboring island of Porto Santo. During your trip around the island, do not hesitate to stop for a few minutes to enjoy this beautiful place.
Location: here
---
19. Seixal, our favorite beach in Madeira!
Sun, vineyards, cliffs, and beaches… what more could you ask for? This quiet little village on the north coast of Madeira is another beautiful stop in Madeira. Seixal is probably our favorite beaches on the island.
If the conditions are favorable, it also becomes a very good surfing spots for beginners.
Location: here
READ: BEST THINGS TO SEE IN SEIXAL
---
20. Miradouro do Véu da Noiva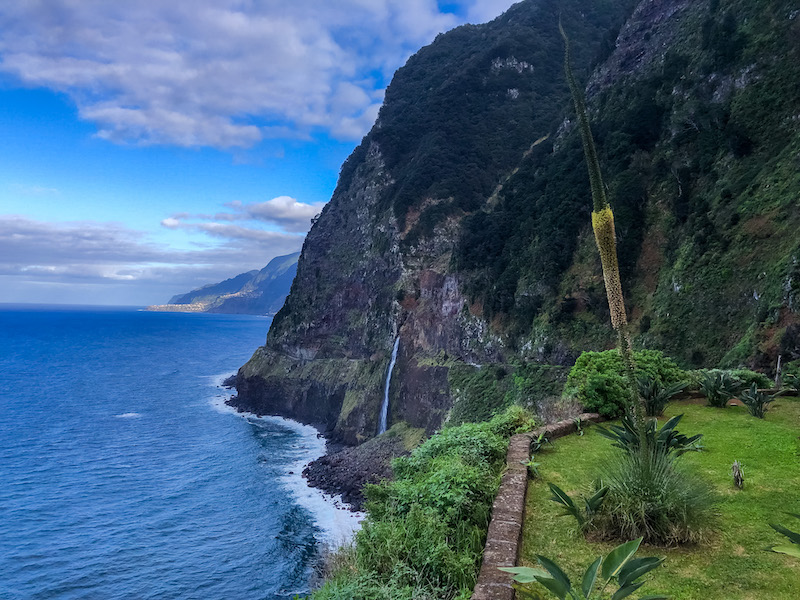 Another famous viewpoint in Madeira: Miradouro do Véu da Noiva
Véu da Noiva viewpoint is one of the most beautiful on the island of Madeira. From there, you can admire the magnificent waterfall of the same name and the north of the island.
Looking at the height of the waterfall and the heavy head of water flowing down the cliff, you will feel like you are seeing a bride's veil (hence the name).
The viewpoint is located on the old ER 101 road that connected Seixal to São Vicente. Until a few years ago it was possible to pass under the waterfall, but in 2008 there was a huge landslide that destroyed part of the road and the tunnel that passed under the waterfall.
Location: here
---
21. Porto Moniz, one of the most visited places in Madeira!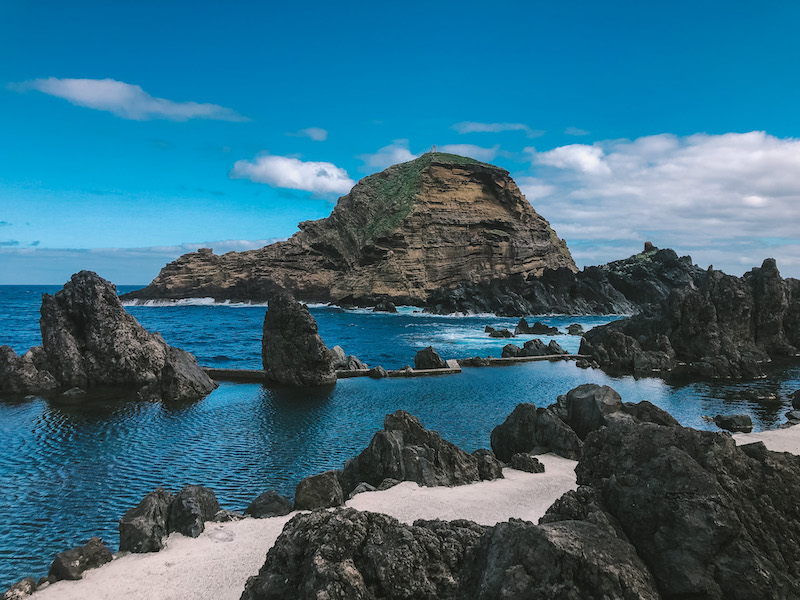 Porto Moniz is a charming little town located on the northwest coast of the island. When you come to visit Madeira and are looking for the most charming places, Porto Moniz stands out as a must. And we quickly understood why: the city has splendid natural pools made of rock and lava. This place is very popular in Madeira.
Porto Moniz is also known for serving fresh seafood. There a many restaurants near the natural pools to choose from.
Location: here
READ: ALL YOU NEED TO KNOW ABOUT PORTO MONIZ
---
22. Fanal and its constant fog!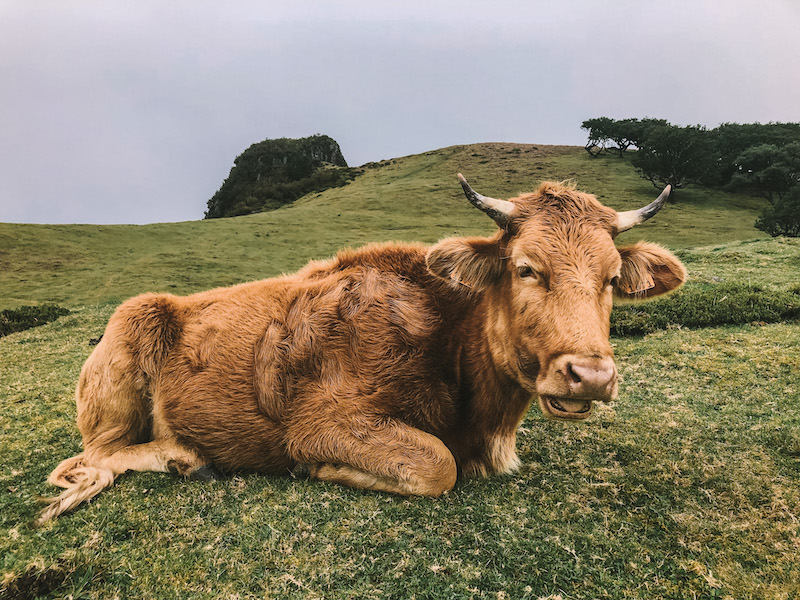 Do you like trees and fairy tales? Go to this magical forest where you will often see a thick mist.
This place feels like a fantasy film set. We also encountered pretty big cows enjoying their time in the forest. Such a stunning place!
Location: here
---
23. Miradouro das Achadas da Cruz

Located in the northwest of Madeira Island, the Achadas da Cruz viewpoint will give you an excellent view of the Atlantic Ocean and Fajã das Achadas da Cruz. Next to the viewpoint, you will find a cable car, opened in 2004, which connects to Fajã das Achadas da Cruz, allowing you to visit farmlands, small cabins, and the beach.
Location: here
---
24. Garganta Funda waterfall
Take a short hike to the magnificent viewpoint to see the waterfall of Garganta Funda.
Once at the viewpoint, you will be dazzled by the beauty of the place. You will see the waterfall from an incredible height surrounded by the cliffs and close to the Atlantic Ocean.
Location: here
---
25. Hike Levada das 25 Fontes, one of the most popular trails in Madeira
When visiting Madeira you must hike at least one Levada! You won't be disappointed. This is part of the soul of Madeira.
One of the famous Levada trail is the Levada das 25 Fontes, a trail which we highly recommend to see beautiful waterfalls and natural vegetation of great beauty.
You can see Risco Waterfall and 25 Fontes Waterfall which end up in a lake at the end of the hike.
Location: here
---
26. Levada do Caldeirão Verde, our ultimate favorite hike in Madeira!
Levada do Caldeirão Verde is in the heart of the Queimadas Forest Natural Park, 980 meters above sea level, just above the small town of Santana.
Built in the 18th century, this levada was used to collect water from the Caldeirão Verde River for irrigation.
Levada do Caldeirão Verde is 6.5km one way. At the end of the hike, you will end up at a stunning waterfall. On the way you will cross tunnels, see many waterfalls, and observe the beautiful nature of Madeira. Some points allow you to have an unobstructed view and a glimpse of the ocean, a real treat for the eyes.
It took us pretty much the entire day to hike this Levada. We took plenty of photos and brought our lunch with us. It was an unforgettable experience despite the heavy rains.
The road was very wet, so we strongly recommend to bring proper hiking shoes!
Location: here
READ: FULL GUIDE FOR HIKING LEVADA DO CALDEIRAO VERDE
---
27. Ponta do Pargo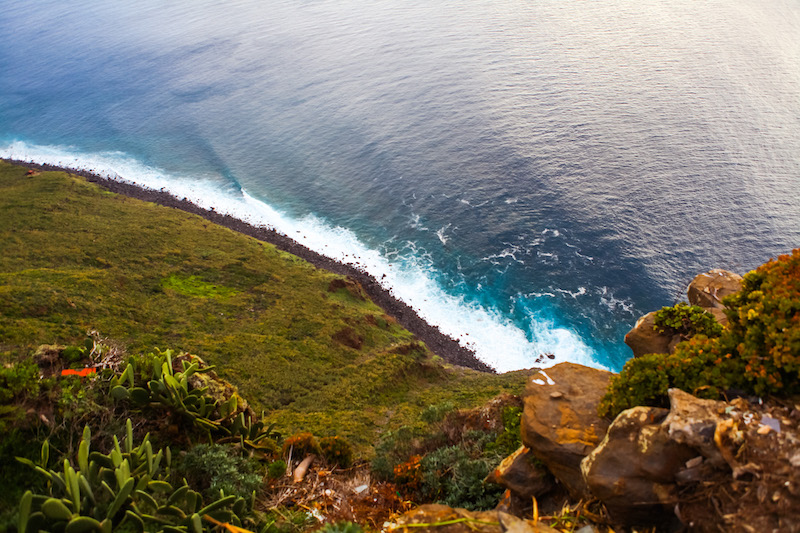 Ever been to Hawaii? If not, head to Ponta do Pargo, it made us feel a lot like the Na Pali Coast in Kauai, Hawaii. Follow the Ponta do Pargo trail to the white and red lighthouse. You will be able to see stunning cliffs, wildflowers, and a breathtaking sunset.
We love this place in Madeira!
Location: here
---
28. Go surfing at Sao Vicente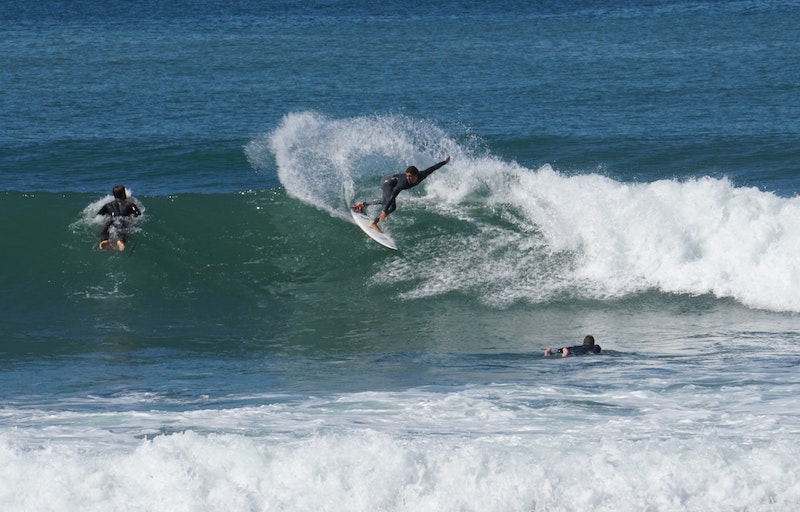 São Vicente is a famous spot for surfers from all over the world. On the coast, the waves and cliffs are impressive, and you can also see some waterfalls by the rocks.
In São Vicente you can also visit some Caves. The São Vicente caves were formed by the explosion of the Paúl da Serra volcano several hundred thousand years ago. In its galleries, you can see lakes of transparent water, formations of dried lava etc… The cavities were formed following lava flows.
Location: here
---
29. Jardim Do Mar, another great surf spot in Madeira
It is to the west of Madeira that you will find this peaceful fishing village where surfing enthusiasts meet. We appreciated its pretty azulejos, its small churches, its friendly inhabitants, and its breathtaking view of the mountains and the ocean.
However the day we went there, there were no waves at all. So make sure to check the weather forecast if you intend to go surfing in Jardim do Mar.
Location: here
---
30. Visit the neighbouring island of Porto Santo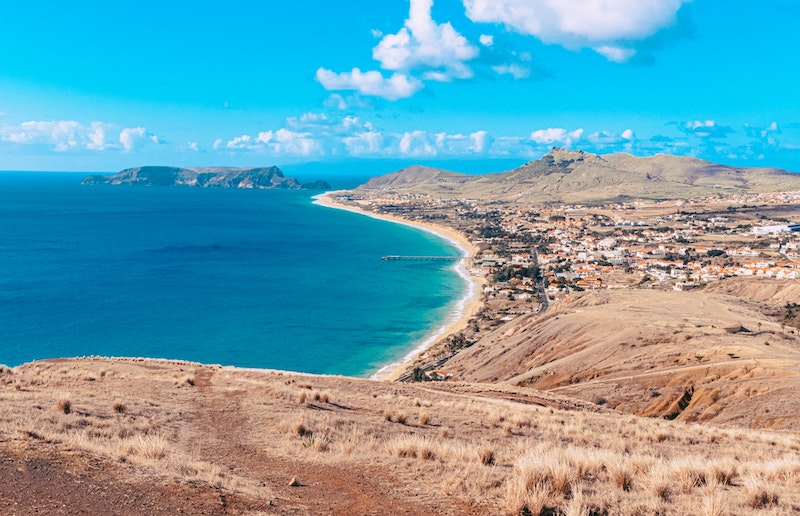 Nicknamed the golden island, because of its long and beautiful beach of 9 km of fine sand, Porto Santo hides other assets that you absolutely must discover. in 2020 it was listed as a biosphere reserve by UNESCO!
11 km long and 6 km wide, the island of Porto Santo was the first island of the Madeira archipelago to be discovered by the Portuguese, who in 1418 were diverted from their route of exploration due to strong winds.
You will need to take a ferry to get to Porto Santo. You can book your ferry directly here.
---
Where to stay in Madeira?
Although Madeira is not so big, we recommend staying in 2 different places during your trip. The first part is towards the East Coast, so probably Funchal, and the 2nd part of your trip is towards the West Coast.
---
Funchal in the east is a great place to start your holiday. From there you can easily visit Monte Palace Madeira, Camara de Lobos, Miradouro do Cabo Girão, Ponta do Sol, Curral das Freiras, Pico Ruivo, Ponta de São Lourenço, Santana etc. Here is a list of our favourite hotels in Funchal.
---
Castanheiro Boutique Hotel
This four-star hotel with an outdoor swimming pool on the roof overlooking the city is absolutely stunning. From the hotel, you can walk to the historical town and enjoy Funchal at the fullest! The rooms are very cozy, breakfast delicious and the service top-notch! This is one of our favorite hotels in Funchal. More info here.
---
Hotel Porto Santa Maria
Located right by the harbor in Funchal, this charming hotel has all you need for a perfect holiday in Madeira! This hotel offers panoramic views over the Atlantic. It has 2 pools, a spa center, restaurants etc. We love the location of Santa Maria as it's in the heart of Funchal but with a stunning view of the sea. Don't wait, book here.
---
Living Funchal X
If you are more on a budget during your trip to Madeira, then opt for Living Funchal X. This newly renovated apartment is perfectly located in the old town of Funchal. There are plenty of restaurants, bars, supermarkets and other shops around! We spent a few nights there and weren't disappointed. Book here.
---
For the 2nd part of your trip, we recommend choosing a hotel on the west coast. Porto Moniz is a great option, but you can also stay at more quiet areas, which we are happy to share with you.
Casas da Levada (one of our favorite hotels ever!)
Casa de Levada is the most charming property we ever stayed in. The room was so beautiful with a stunning view of Madeira and the ocean. Every little details in the room was so thoughtful. The pool is stunning and we loved the hobbit bar. What a fantastic place to stay. Can only highly recommend anyone to stay here. Check out the availability now.
Saccharum – Resort & Spa – Savoy Signature
If you like getting pampered during your holiday in Madeira, especially after all those hikes, then opt for Saccharum – Resort & Spa – Savoy Signature! This is a stunning hotel! Trust us. The hotel is in a wonderful location with beautiful views and a quiet and relaxing atmosphere. This is probably one of the best hotel in Madeira. Check it out here.
---
How to get to Madeira?
Madeira has an airport, the Madeira Cristiano-Ronaldo International Airport. The famous footballer, a native of the island, gave the island such an aura that the airport now bears his name!
It is located in the east of the island and provides many regular flights.
To compare the cheapest flights in Madeira, click here.
Once on the island, there are cheap buses that can get you to the center of Funchal. Taxis are of course also available. You can also rent a car directly at the airport. Getting a car is in our opinion, the best way to move freely on the wonderful island of Madeira!
---
Best time to visit Madeira?
As you may have noticed, there are several reasons to visit the Madeira archipelago: a pleasant climate, breathtaking landscapes, sumptuous hiking trails, historical heritage and much more! No wonder that Madeira is one of the best destinations for thousands of people who wish to spend their holidays in Portugal.
Depending on the weather
Due to its mild, subtropical climate, you can visit Madeira at any time of the year – average temperatures will vary between 18ºC and 25ºC, so it is always very pleasant.
Despite the welcoming temperatures, be aware that the rainiest months are concentrated between October and April. Therefore, the best time to avoid the rain would be from May to September. The water temperature is also very pleasant at this time and can even reach 24 ºC.
If you want to sunbathe and enjoy the beautiful beaches, do not hesitate to go to the island of Porto Santo. On the island of Madeira, you can, for example, enjoy the beautiful temperatures in the natural pools of Porto Moniz or on Formosa beach in Funchal.
According to the festivities
Madeira has great festivities which make the island one of the best holiday destinations in the world.
To witness the beautiful and colorful Flower Festival in Funchal, book your holiday during the spring months. Although the dates are not fixed, they are generally held between April and May.
If you really want a great New Year's Eve, then book your holiday for December in Madeira Island. At that time, you can admire one of the biggest (maybe The biggest) fireworks in the world.
---
Recommended 1 week itinerary in Madeira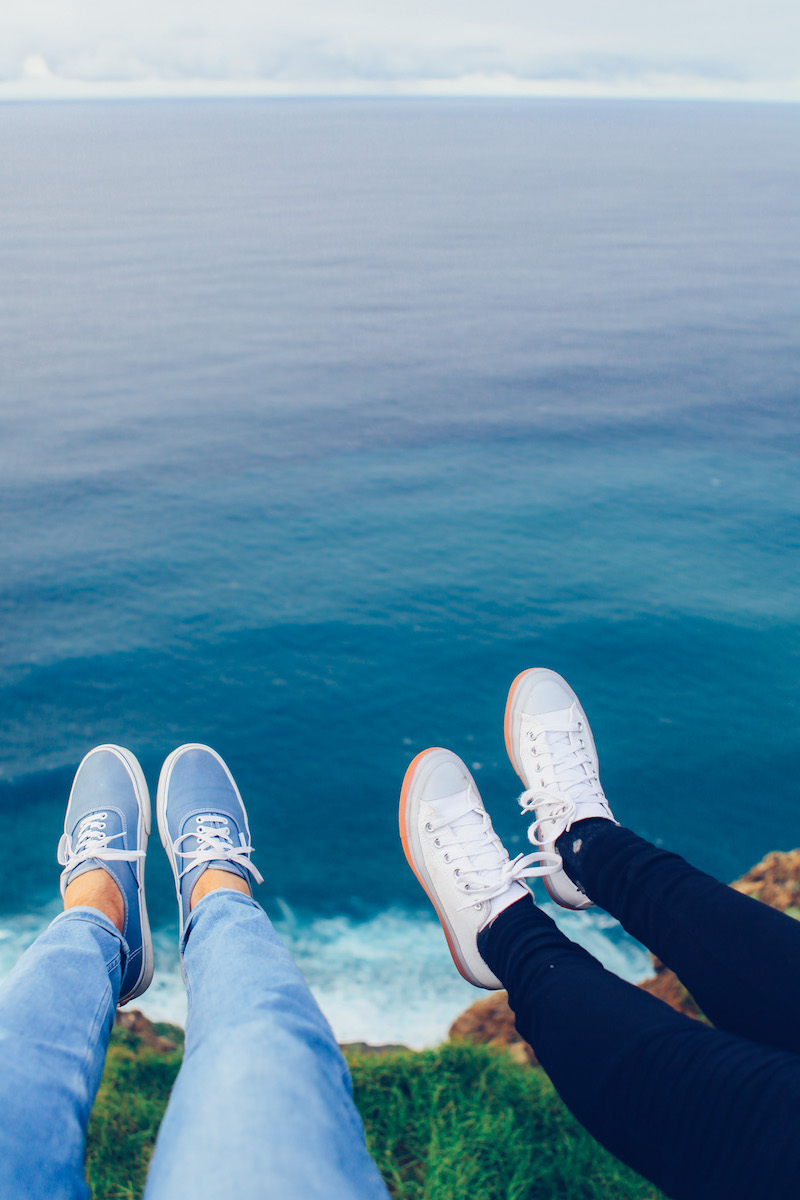 Day 1: Take it easy after your flight and wander through Funchal and its old town. If you are up for it, take a boat trip to watch dolphins (book your boat trip here).
Day 2: Visit Monte Palace Madeira with the cable car and Madeira Botanical Garden in the morning. In the afternoon continue with the visit of Funchal. For the best experience, you can book a guided tour of Funchal here.
Day 3: Time to rent a car and explore this beautiful island! Start with the South of Madeira. Câmara de Lobos, Cape Girão, Ponta do Sol, Anjos Waterfall, Praia da Calheta
Day 4: Visit the mountains of Madeira with Miradouro Eira do Serrado, Curral das Freiras, Levada dos Balcões
Day 5: Visit the North and start early at Levada do Caldeirão Verde, then stop at Santana
Day 6: Stay in North and visit Seixal, Miradouro do Véu da Noiva, Sao Vicente, Porto Moniz, Fanal, Miradouro Ilheus da Ribeira da Janela
Day 7: Wake up early and hike at Ponta de São Lourenço. Head to the airport in the afternoon to catch your flight back.
As you can see, you won't be able to cover it all in a week. This program is already quite packed to visit a maximum of things and do at least 1 or 2 beautiful hikes.
---
Best local dishes in Madeira
Tomato and Onion Soup
This hot soup offers vigorous and comforting flavors. It is made with chopped onions and garlic, fresh tomatoes, oregano and olive oil. In the center rests a poached egg; an invitation to dip a slice of toast.
Fried Corn Tuna Steak
Tuna is a valuable resource of Madeira's fishing industry. In this dish, the tuna is cut, seasoned with salt and marinated in a sauce called "molho de vilão". This sauce is made with vinegar, olive oil, garlic, oregano and pepper. Corn flour is cooked in a pan, cooled on a plate and then cut into small cubes. These are fried and served as a side dish, frequently found in local restaurants.
Black scabbard with banana (our favourite dish)
Scabbard is an elongated fish that is available in exclusive places around the world, such as Madeira, where it is found in the open sea (about 1000 meters deep). Despite its ugly appearance, fish lovers will be delighted with its flavor. The succulent fillets of swordfish are seasoned with garlic, lemon juice, salt and pepper. The peeled bananas and fish fillets are then dipped in egg and flour, fried and sprinkled with fresh parsley. As an accompaniment, cooked potatoes, also called "semilhas", lettuce and tomato salad.
Bolo do caco (our daily treat!)
Bolo do caco is the typical bread of Madeira, made with sweet potatoes, flour, yeast, salt and water. This sweet bread is kneaded into a ball shape, then flattened and baked on a soft stone pan. It is usually served warm with garlic butter. Sides include fries, fried corn and salad. AN ABSOLUTE MUST-TRY IN MADEIRA!
Pork in Wine and Garlic
This dish consists of small cubes of pork, marinated and cooked in white wine, garlic cloves, vinegar, bay leaves and pepper. It is served with slices of fried bread or in "Bolo do caco" sandwiches. It is especially popular during the Christmas season.
Passion fruit pudding
Passion fruit is one of Madeira's most popular fruits. There are different species of passion fruit, such as banana passion fruit. The most common are Passiflora edulis. Its sweet taste, powerful aroma and variable acidity (depending on the degree of ripening) make it the ideal fruit for desserts and local drinks. Passion fruit pudding is made with passion fruit pulp, jelly, condensed milk, and cream. Savor this impressive combination of aromas.
---
In conclusion about the best things to do in Madeira
Madeira is a truly beautiful island. If you are a nature lover like us, you won't be disappointed. If you like the outdoors and hiking, Madeira is a real paradise.
However, if you are looking for amazing beaches as you may expect on an island, you won't find them in Madeira. There are beaches, but mostly with pebbles, and the few sandy beaches are not really spectacular. If you want a beach holiday, then make sure to head to Porto Santo! There you won't be disappointed.
Not only the island is beautiful, we also enjoyed interacting with the super-friendly locals. Most could speak English, which made our stay super easy.
We also understand why Madeira has become a hotspot for digital nomads in recent years. There is an awesome community in Funchal. And the way of life in Madeira is super chill with good vibes only!
Enjoy your trip to this wonderful island…
---
Related Posts
MONTE PALACE TROPICAL GARDEN IN MADEIRA
16 BEST THINGS TO SEE IN CÂMARA DE LOBOS
FULL HIKING GUIDE FOR PONTA DE SÃO LOURENÇO
ALL YOU NEED TO KNOW ABOUT PORTO MONIZ IN MADEIRA
3 BEST AREAS TO STAY IN MADEIRA
BEST TIME OF THE YEAR TO VISIT MADEIRA