WHERE ARE THE BEST BEACHES IN SANTORINI? MOST SWIMEABLE BEACHES IN SANTORINI? DOES SANTORINI HAVE GREAT BEACHES?
Although Santorini's beaches may not be traditional sandy stretches due to their volcanic origin, they boast distinctive features that make them truly special.
SANTORINI HAS A FEW HIDDEN GEMS WHEN IT COMES TO BEACHES
The Red Beach, with its dramatic crimson cliffs and clear waters, is a must-visit. For something more relaxed, opt for black beaches like Kamari and Perissa, where you can enjoy the sun, sea, and traditional Greek cuisine.
---
WHAT ARE THE BEST BEACHES IN SANTORINI?
1. Perissa Beach, one of the best beaches in Santorini
Perissa is considered to be the most beautiful beach in Santorini.
It is approximately three kilometers long and is also known as "black beach" because of the color of its small pebbles and volcanic sand scattered throughout the bay.
The beach is quite vibrant with lounge chair rentals, restaurants, bars, and even nightclubs.
Perissa is particularly appreciated by young tourists who, around 6 p.m., begin to invade the beach bars where DJs play their music until late at night. But it is also very popular with families, in particular thanks to its crystal clear and calm waters.
Location: here
---
2. Perivolos Beach, one of the longest beaches in Santorini
Perivolos Beach, like Perissa, is also a black beach due to the presence of volcanic sand. The difference is that this beach is much darker.
Its crystal clear waters make it perfect for snorkeling and discovering the wonders of the Aegean Sea. Unlike Perissa, Perivolos is much quieter and not very crowded. For this reason, it is popular with families who prefer its calm environment.
Location: here
---
3. Amoudi Bay, the closest to Oia
Amoudi Bay is one of the most popular places on the island of Santorini, located by the famous village of Oia.
In addition to swimming in one of the bays with the clearest sea on the island, you can savor delicious dishes from the many restaurants along the bay serving fresh seafood.
The bay is small and finding a spot can sometimes be difficult. It is advisable to wear shoes to avoid foot injuries or stepping on common sea urchins. The path leading to Amoudi Bay is arduous and you will have to climb 300 steps on the way back to Oia
>> READ: BEST THINGS TO SEE IN OIA, SANTORINI
Location: here
---
4. Vlychada, the Moon Beach
Vlychada is one of the most beautiful and popular beaches in Santorini.
With its unusual natural shape, Vlychada is reminiscent of a lunar landscape due to the wind-whipped rock wall that stands on the beach and makes you believe that you are on another planet.
Although less touristy than most beaches in Santorini, it is actually one of our favorite ones.
Vlychada is unique and has nothing in common with any other beach in Santorini. This is definitely a must when traveling to Santorini.
Location: here
---
5. Kamari Beach, the liveliest beach in Santorini
Kamari Beach is located along the southeast coast of Santorini, near Perissa Beach. It is separated by Mesa Vouno, a huge rock that borders both bays.
Kamari Beach is usually crowded and lively with its many restaurants and nightclubs where tourists have fun after dinner. Like most beaches on the island, you will see the black volcanic sand so characteristic of Santorini.
The huge rock that separates Kamari Beach from Perissa Beach offers one of the best views in Santorini, making Kamari one of the most scenic beaches.
Location: here
---
6. Red Beach, the most unique one!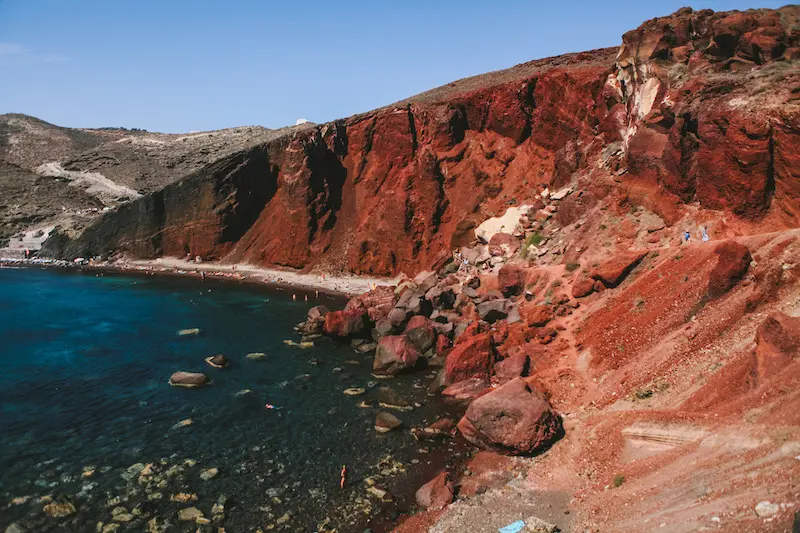 Red Beach is the only red sand beach in Santorini, made of lava erupted from the volcano.
This Beach is located a short distance from the archaeological site of Akrotiri. The bay, wedged between two enormous red cliffs, is dotted with volcanic lava sand mixed with black pebbles.
The crystal clear waters and the rocks that emerge from it make it one of the most beautiful beaches in Santorini.
To get there, you have to walk about ten minutes on a path that overlooks the cliff.
As it is a very famous beach and one of the best things to see in Santorini, it is always very busy. And given its small size, finding a place is not always easy, especially during peak season. However, it is worth visiting this one-of-a-kind red sand beach.
Location: here
---
7. White Beach, the most beautiful and secluded beach
It feels like we're in the Caribbean, but here we are at White Beach, Santorini's magnificent white sand beach.
It can only be reached by sea and is known for its wild landscape.
White Beach inherited its name from the white cliffs that rise behind the small coastline and the crystal clear sea which makes them even whiter. White Beach has plenty of caves and coves to visit and snorkeling can be a unique experience, as it is difficult to access the bay outside of summer.
>> BOOK A BOAT TRIP IN SANTORINI TO EXPLORE VARIOUS BEACHES
Location: here
---
Exo Gialos is a pleasant surprise for those staying in Santorini.
A secluded bay, usually not crowded with tourists and, for this reason, it is often chosen by local families. In addition, the numerous restaurants and beach rental services make it a perfect choice for those who travel with children and prefer to have more comfort.
Like Perissa and Perivolos, Exo Gialos is similarly characterized by black sand contrasting with the blue waters, offering a magnificent landscape to the eyes of those lucky enough to venture onto its shores. Needless to say, it is advisable to go snorkeling and admire the beauty of the seabed hidden beneath the waters of Santorini.
Location: here
---
9. Monolithos, best for kitesurfing
Monolithos is particularly suitable for sports enthusiasts.
The beach has a large sports park for all kinds of activities, including beach volleyball and soccer. Water sports are also a must: kitesurfing & windsurfing are available for hire (check out their website)
Monolithos is very near the airport.
Location: here
---
10. Kambia Beach, the hardest to reach!
A little difficult to access because of the two kilometers of dirt road that lead there, but this very small pebble beach is nevertheless charming.
A wooden footbridge makes it easy to walk to reach the water. Despite the tough journey to get there, this corner of paradise is absolutely worth visiting. Kambia beach is the place where calm and absolute relaxation reign.
The water is crystal clear and you can even take a boat to visit Red Beach and other nearby beaches. We don't recommend the two-kilometer journey without a reliable car or scooter, so make sure you have a suitable vehicle.
Location: here
>>READ: 6 BEST BOAT TOURS IN SANTORINI
---
11. Mesa Pigadia, a nice pebble beach in Santorini
Mesa Pigadia is also known as Black Beach for its black pebbles all along the bay.
With breathtaking views, stunning seas and a picturesque coastline, Mesa Pigadia is perfect for those who want to escape the crowd.
The beach is equipped with characteristic rentals, such as umbrellas and chairs, and a bar for refreshments.
Location: here
---
12. Koloumpo Beach, the wildest beach!
Koloumbos beach is undoubtedly the wildest beach on the island.
This bay is also completely black – no sand, only pebbles – and overlooks a crystal clear sea that contrasts with the dark coast like a real mirror. The seabed is rocky, so swimming can be a little bit dangerous.
Location: here
---
13. Baxedes, the most serene beach on the island
By a small hill, not far from Kolumbos beach and near the village of Oia, you can find Baxedes Beach. This sheltered bay, small in size and almost hidden, is the ideal place for those who want to escape the crowds.
The sea is crystal clear and perfect for snorkeling, with a rocky bottom and pebble shore. Here, relaxation is assured and tranquility is absolute, which makes Baxedes an ideal place for couples looking for peace.
Location: here
---
14. Nea Kameni, Santorini's active volcano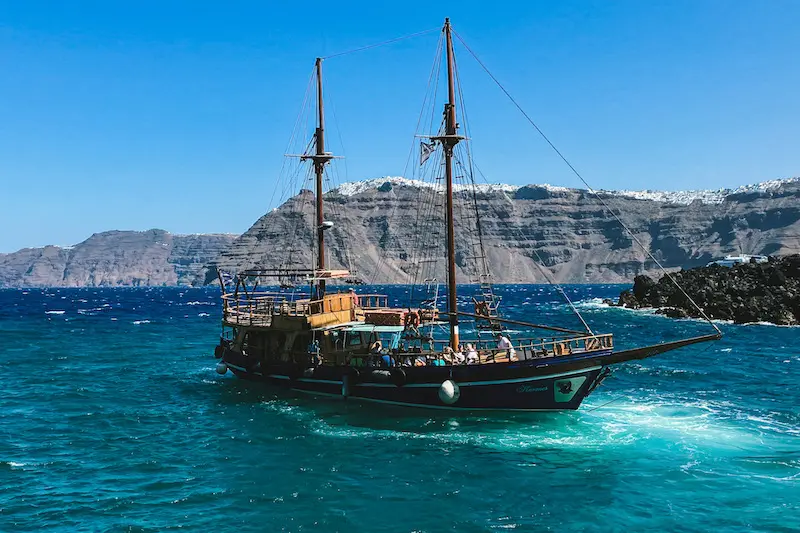 Nea Kameni is a small Greek island located in the Aegean Sea, in the Bay of Santorini.
This uninhabited island, covered with small red plants in summer, attracts curious tourists every year, fascinated by its history and formation.
Nea Kameni, along with sister island Palea Kameni, were born from volcanic eruptions. The island is quite small with a diameter of around two kilometers.
Nea Kameni is constantly monitored by scientists from the Santorini Volcano Monitoring Institute and is considered a protected scientific site. The volcano is still active, as evidenced by the presence of some thermal smoke.
Nea Kameni can only be accessed by boat. There isn't a proper beach on the island, but a few bays can be accessible by boat, ideal for swimming in clear waters.
>> BOOK YOUR BOAT TRIP TO NEA KAMENI HERE
Location: here
---
15. Palea Kameni, the warmest water in Santorini
Palea Kameni is the twin island of Nea Kameni. It was also formed by the eruptions of the Santorini volcano.
Some places allow tourists to bathe in the wonderful hot springs, the thermal waters of Palea Kameni, renowned for their warm temperature. This is one of the best things to do in Santorini.
Location: here
---
BEST HOTELS BY THE BEACH IN SANTORINI?
If you're specifically looking for a hotel that is located right next to the beach in Santorini, you'll want to consider options in the beachfront towns of Kamari and Perissa, as these areas have several hotels situated directly on the beach. Here are a few beachfront hotels in Santorini:
Santorini Kastelli Resort (Kamari)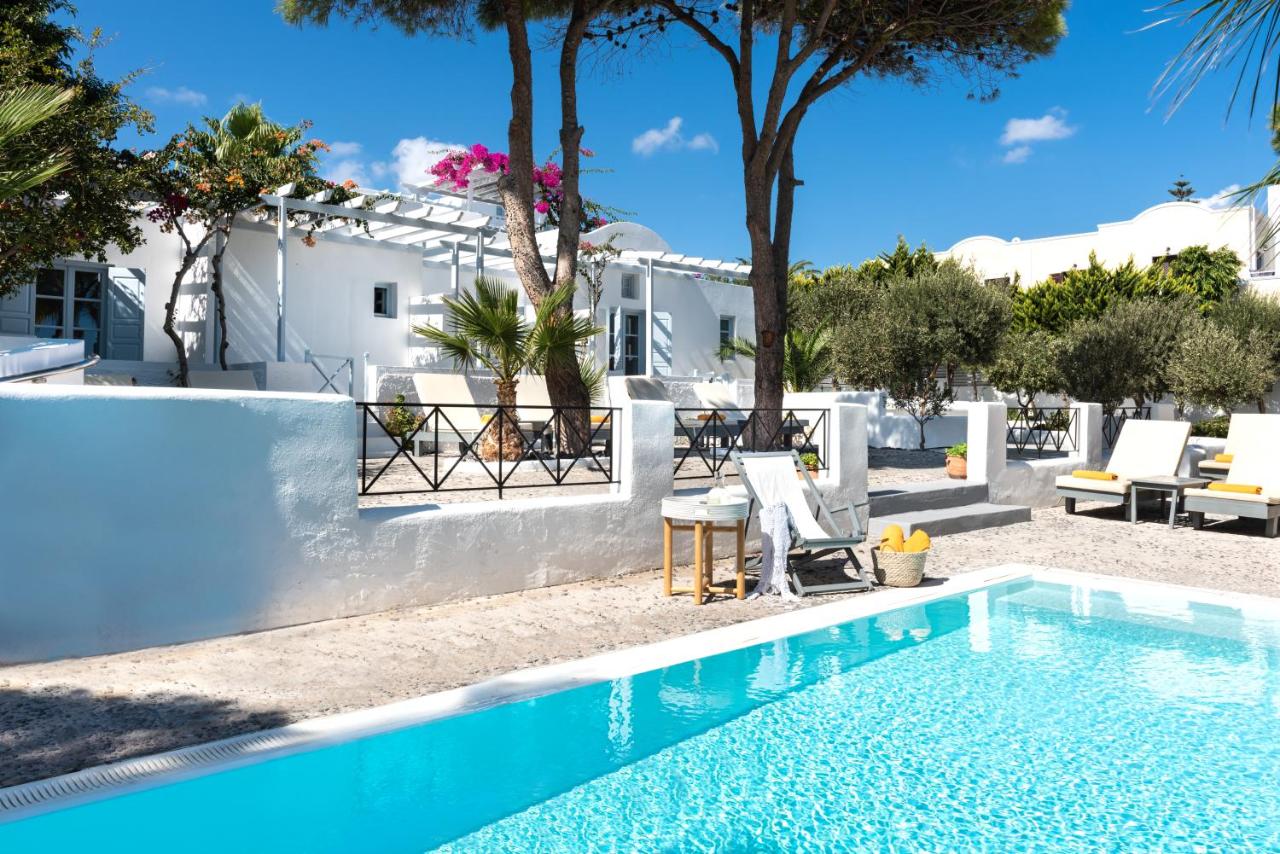 This 5-star hotel is located right on Kamari Beach and offers comfortable rooms, a swimming pool, and beachfront dining.
>> BOOK HERE
---
Thousand Stars Suites&Rooms (Kamari)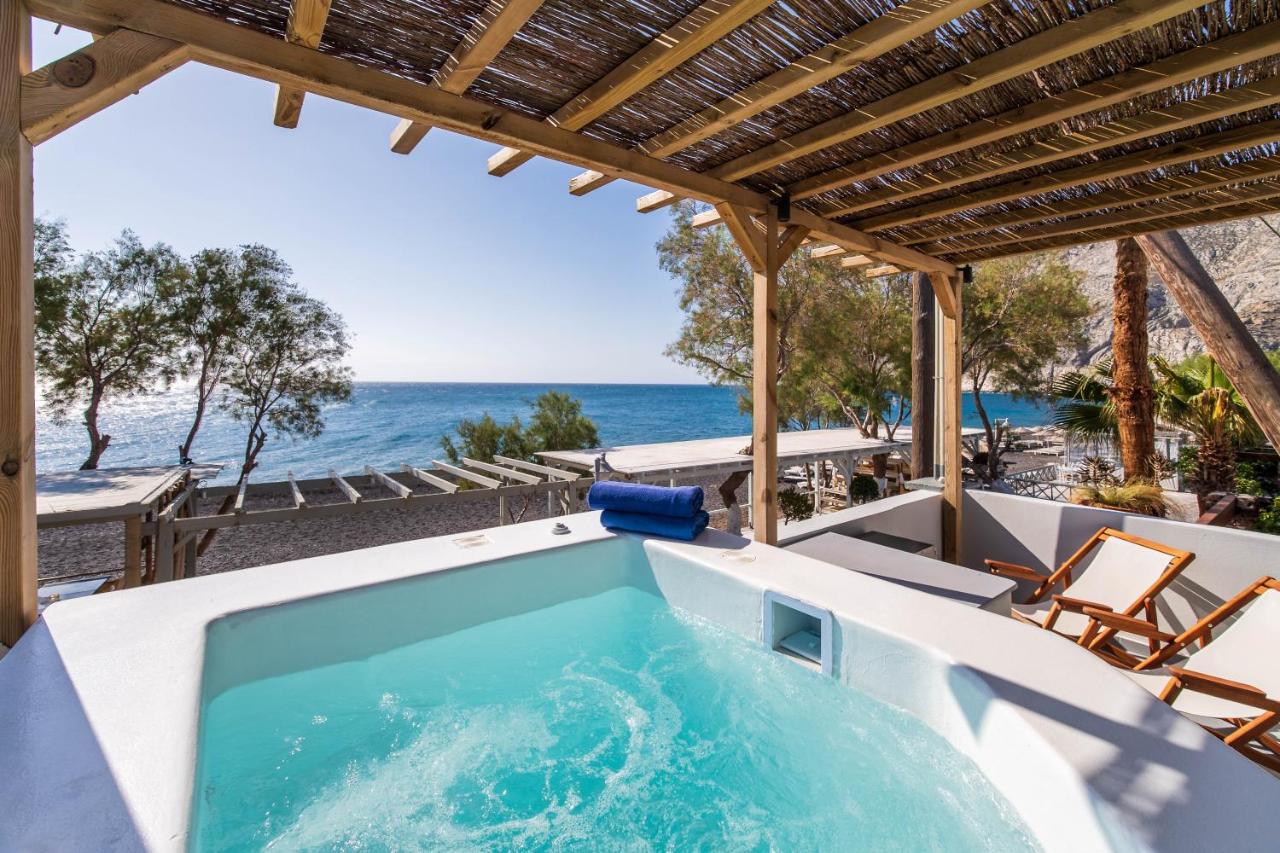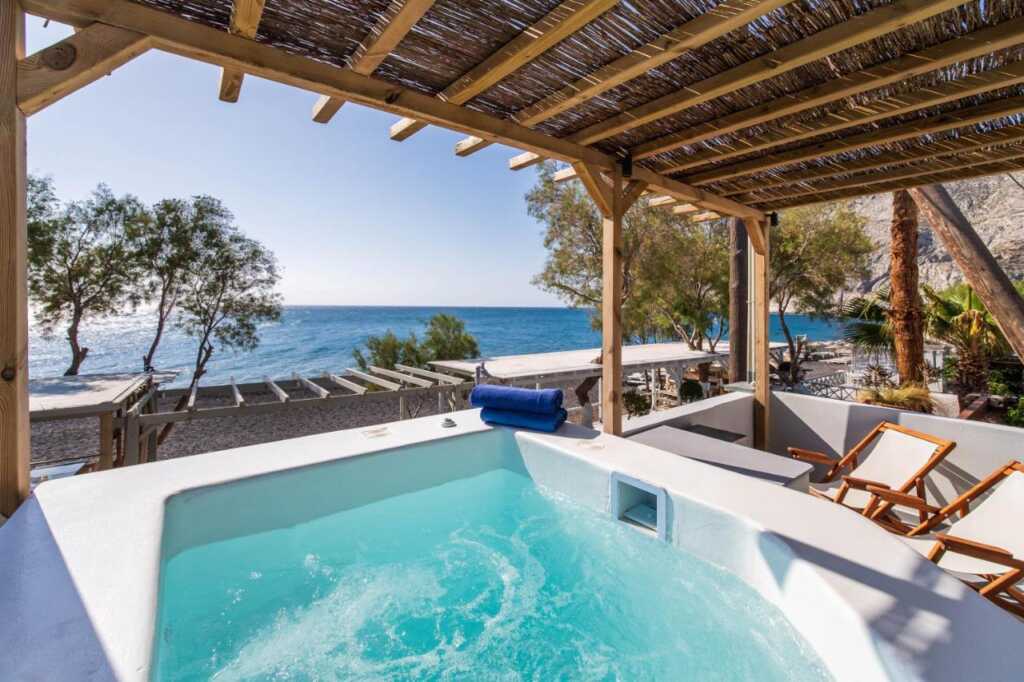 Located on Kamari Beach, Thousand Stars Suites&Rooms offers cozy rooms, a swimming pool, and easy access to the beach.
>> CHECK IT OUT
---
Aqua Blue Beach Hotel (Perissa)
This beachfront hotel offers luxurious accommodations, a spa, and direct access to Perissa Beach.
>> BOOK NOW
>> READ: 6 BEST PLACES TO STAY IN SANTORINI
---
IN CONCLUSION ABOUT THE BEST BEACHES IN SANTORINI
While many travelers flock to Santorini for its iconic white-washed buildings and dramatic cliffs, the island is also home to some beautiful beaches.
Santorini's beaches cater to a diverse range of tastes and preferences. Whether you're seeking relaxation, adventure, or natural beauty, Santorini's beaches have it all.
From the dramatic cliffs of Red Beach to the lively atmosphere of Perissa Beach, these coastal gems are waiting to be explored on your next visit to this enchanting Greek island.
Be sure to pack your sunscreen and swimsuit, and get ready to experience paradise on the shores of Santorini.
---
RELATED POSTS
AWESOME THINGS TO DO IN SANTORINI
FULL GUIDE FOR HIKING BETWEEN FIRA AND OIA
BEST THINGS TO SEE IN OIA, SANTORINI
10 BEST THINGS TO SEE AT IMEROVIGLI
FULL GUIDE TO VISIT PYRGOS IN SANTORINI
THE PERFECT 3-DAY ITINERARY TO VISIT SANTORINI
VISIT THE ANCIENT CITY OF AKROTIRI IN SANTORINI
BEST THINGS TO DO IN FIRA, SANTORINI
HOW TO GET AROUND IN SANTORINI?
TOP 10 REASONS TO VISIT SANTORINI
BEST HONEYMOON DESTINATIONS [2023-2024]
A ROMANTIC GATEWAY ITINERARY TO GREEK IONIAN ISLANDS
DISCOVER THE TRADITIONAL VILLAGE OF MEGALOCHORI IN SANTORINI