WHAT TO SEE IN CAMARA DE LOBOS? HOW TO GET TO CAMARA DE LOBOS FROM FUNCHAL? IS CAMARA DE LOBOS WORTH VISITING?
Discover the charming seaside town of Câmara de Lobos in Madeira. Winston Churchill's favorite town.
In Câmara de Lobos you will see a beautiful traditional village by the sea with colorful fishing boats, cobbled streets, seaside promenade, a beach and a lot more which we invite you to discover in this post.
"Câmara de Lobos, Winston Churchill's favorite town"
For us, this place was one of the highlights during our trip to Madeira. Besides, it it located near Funchal, which makes it very convenient to visit.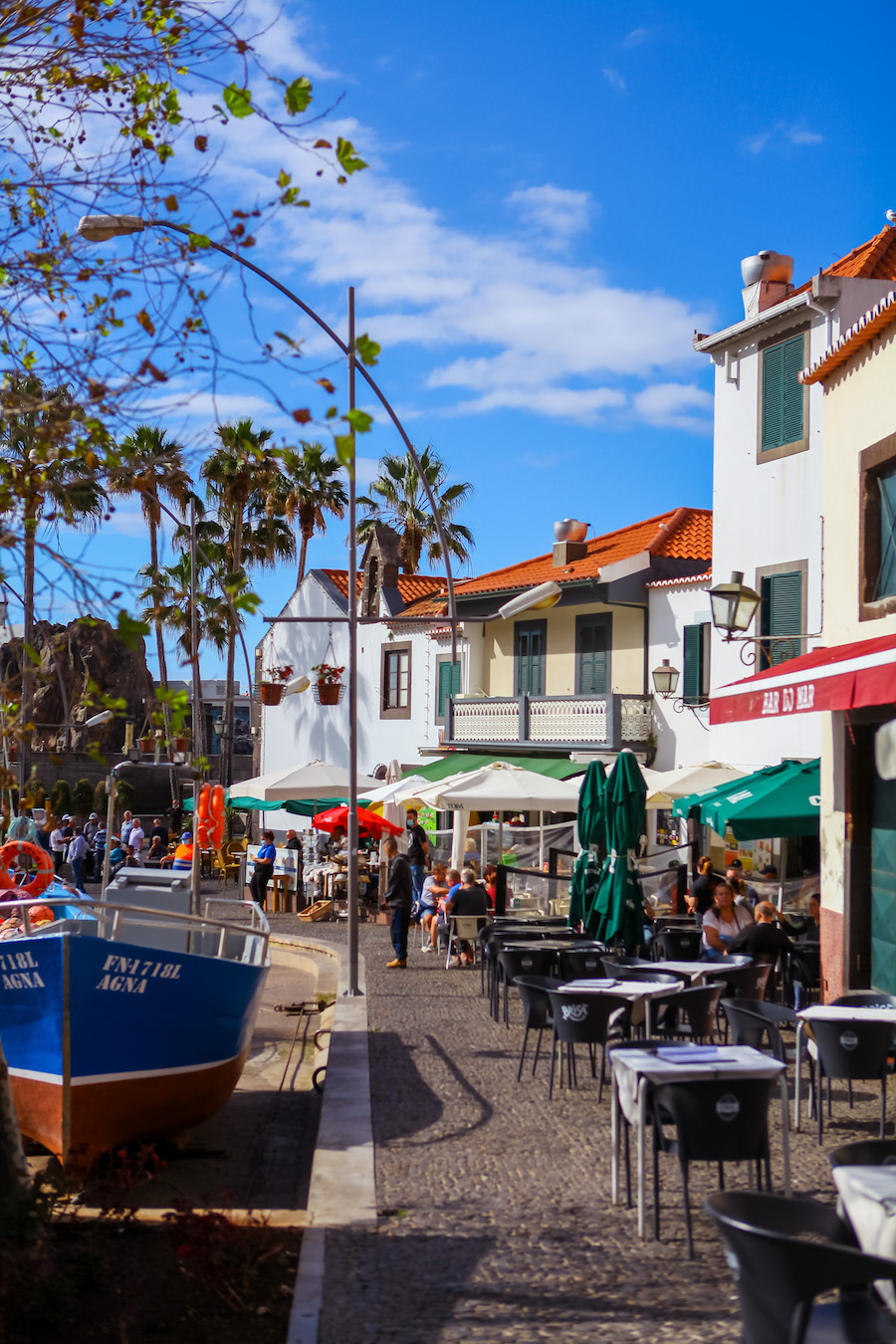 Câmara de Lobos is one of the main destinations in Madeira due to its charm. It was built around a long natural harbor created by the black basalt rock which contrasts with the turquoise waters. It's a beautiful and very picturesque place.
Lobos means seal in Portuguese. Its name comes from the colony of seals that lived there a very long time ago, before being slaughtered to feed the inhabitants. Sadly…
Here is a glimpse of what Câmara de Lobos looks like:
---
Brief history about Câmara de Lobos
It is believed that Câmara de Lobos is the initial landing point of Portuguese explorer João Gonçalves Zarco. It is the area where he landed in 1419.
And this is where the first colony was established. Câmara de Lobos became a parish in 1430, with an economy based on fishing, agriculture and wine production.
The municipality was created in 1835. In 1994, it became a town and no longer a village.
---
Best things to do in Câmara de Lobos in Madeira?
1. Start your visit at the fishing harbour and lighthouse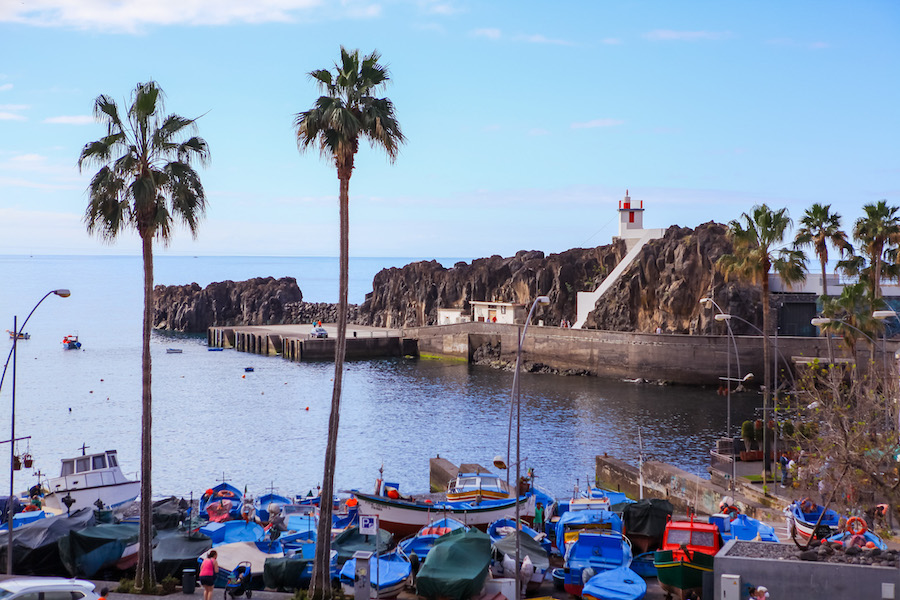 When you arrive, the first thing you will see is the natural cove with crystal clear waters, colorful boats, black basalt rocks, a small white lighthouse, and a giant mural… The viewpoint when arriving from Funchal is stunning!
There is a small pebble beach near the port. However, if you plan to swim or sunbathe, we recommend the other beach at Praia de Vigaro (here).
Enjoy the promenade along the harbour. You will most likely see the elderly locals playing some card games in the morning by the seafront.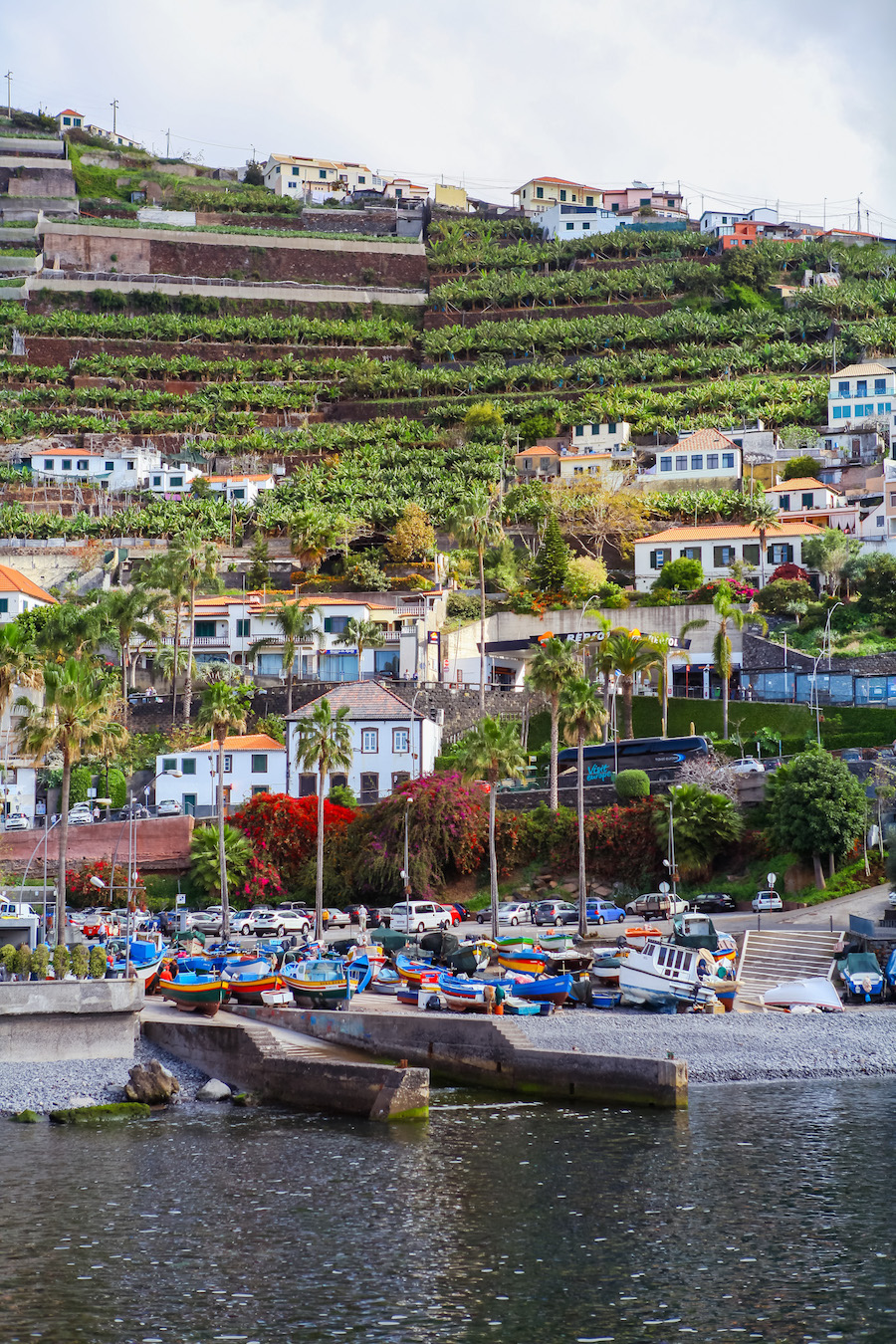 As you head towards the lighthouse, look back towards the town and you will see the terraces covered in banana plantations.
The real Câmara de Lobos fishing boats are distinctive, they are called "Xavelhas". Proud fishermen paint them. A few very old traditional boats are still in the harbour, which adds to the charm of Câmara de Lobos.
---
2. Check out the sea lion mural art
One of the most photographed places in Camara de Lobos is the seal mural. It is massive and made from recycled materials. It was created by the Portuguese artist Bordallo II, as part of a project for World Oceans Day. According to him, he creates images of the victims of pollution, using what destroys them.
---
3. Explore the old town, our favorite part at Câmara de Lobos in Madeira
Wander through Câmara de Lobos old town with its charming atmosphere and many traditional restaurants.
The streets around the port have cobblestones, colorful decorations and plants that add to the beauty of the scenes. Take your time to walk around.
---
4. Visit the Capela de Nossa Senhora da Conceicao
Right next to the port there is a small chapel. Don't confuse it with the church. This is the Fisherman's Chapel, Capela de Nossa Senhora da Conceicao.
The exterior is quite neutral, with white walls and brown stones. But step inside and discover rich ornamentation, including paintings and a painted ceiling. It was founded in the 15th century and rebuilt in the 18th century.
---
5. Take a look at the church Igreja Matriz de São Sebastião
The main church in Camara de Lobos is Igreja Matriz de Sao Sebastiao. From the outside, it is a typical black and white Madeiran church, built between the 17th and 18th centuries.
Inside, the style is baroque with 3 naves, gold chandeliers and wooden sculptures. Worth to take a look.
---
6. Explore Jardim do Ilheu
Between the port side of Camara and the beach side of Camara, you can see what is called "Camara islet". It is actually rocky hill.
It has been transformed to attract more tourists to Câmara de Lobos. Today it is a beautiful garden when you can enjoy beautiful views of the cliffs, the beach, the town, the top of the church with its typical orange roof.
At the end of the garden is the boat "Coroa do Ilheu". It was placed here in 2019 to commemorate 600 years since the discovery of Madeira.
---
7. Relax at the beach Praia de Vigaro
To the west of the town, once you pass the lighthouse and continue along the seafront, you will reach the area of ​​Praia de Vigaro where you will find a pebble beach and a museum.
The main beach in Camara de Lobos is Praia do Vigário. This pebble beach is free to access.
Previously, it was used by fishermen to prepare their equipment for black scabbard fishing and to dry clothes. Now it is mostly a tourist beach.
---
8. Visit the Museum of Imprensa da Madeira
Just above the beach is the MIM, Museu de Imprensa da Madeira, a museum about the history of printing. It's a fairly large museum, given its niche subject. More information here.
---
9. Walk at Caminho do Calhau
To the east of the port towards Funchal, there is a staircase to reach the elevated promenade: Caminho do Calhau
The trail offers beautiful views of the harbour, boats, town, cliffs and hills. We really enjoyed the outlook from this side of town. Once you've climbed the stairs, it's an easy paved path past the waterfront houses.
---
10. Forno da Cal
Not far away you will see a strange old building. This is Forno da Cal.
This lime kiln was built in 1874 to produce lime. It was restored several times during the 20th century but ceased its activity in the 70s.
Residents complained about the smell and the smoke. Processed lime has started to be imported.
Today, it is considered a local heritage.
---
11. Enjoy the best view of Câmara de Lobos at Churchill's viewpoint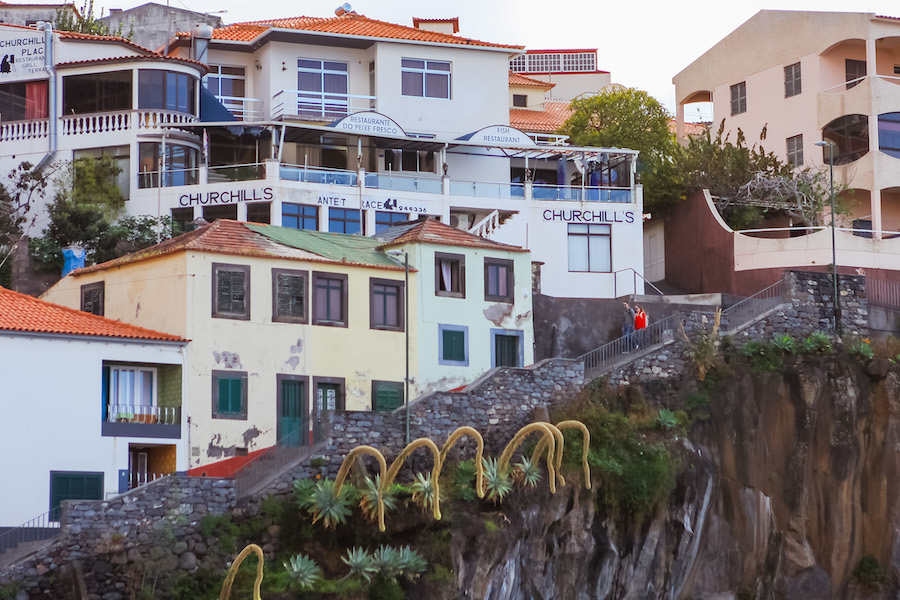 Winston Churchill is associated with Câmara de Lobos.
Reopening after World War II, Madeira's Reid's Palace Hotel invited Mr Churchill for a holiday in 1950. He agreed and came with his wife. They took a car from Funchal to Câmara de Lobos and Churchill fell in love with this charming town.
He then found his favorite spot and started painting, a place that is now known as Churchill's Viewpoint. It sits just above the harbor on the east side.
He was supposed to stay longer in Madeira, but had to leave after just 12 days due to the general election in England. But after that, the locals did everything to include Churchill in the marketing of Câmara de Lobos. There is also a statue of Winston Churchill at near the harbour.
---
Others things to see nearby
Now that you've explored Câmara de Lobos, continue your visit to the surroundings area. There are lots of things to see.
12. The Miradouro da Torre
First, you can drive for a few minutes up to higher ground and reach the Miradouro da Torre. A viewpoint which offers a magnificent view of the city with its orange roofs and its port.
Even from here you can see how colorful the boats are!
---
13. Cabo Girão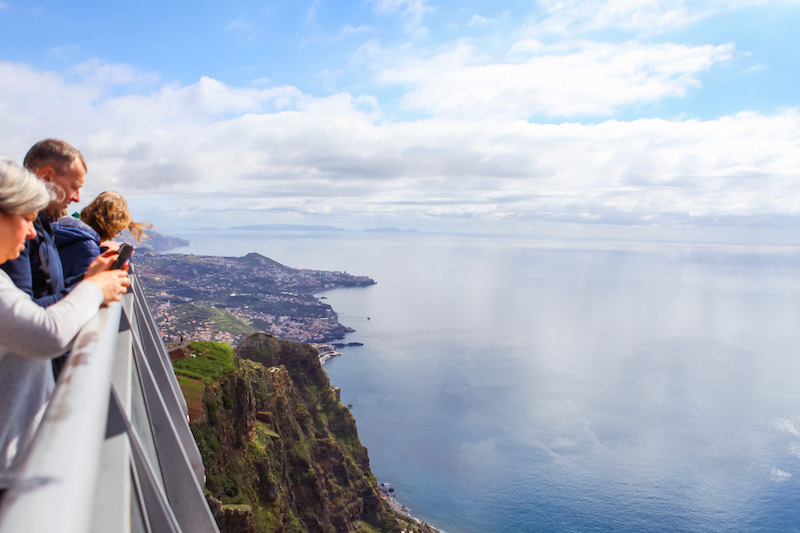 The Cabo Girao Skywalk is Madeira's most famous viewpoint. Here, the cliffs reach 589 meters. The highest in Europe! Incredible, isn't it.
A transparent platform was built recently to appreciate the height.
Cabo Girao, is one of the main highlights in Madeira. Make sure to check it our during your trip on the island.
READ: BEST WAY TO VISIT CABO GIRÃO
---
14. Faja do Padres
Faja do Padres is one of the 7 cable cars in Madeira. As you may have read already, Madeira is famous for its many cable cars around the island. Due to the landscape and very high cliffs, taking a cable car is sometimes the only way to reach certain places.
Faja do Padres is one of the most touristic and for good reason. After taking the cable car down the beach, you can access a beautiful garden and restaurant.
The view from the cable car is also stunning. Perhaps even more than in Cabo Girao…
You can book several circuits including the visit of the gardens and the fruit tasting. See the official website.
---
15. Hike Levada Do Norte
Levada do Norte is a beautiful hike which starts just below Cabo Girão (here we added a pin for the start of the hike, which is not easy to find). After going down the stairs take a left and follow the levada.
Levada do Norte offers incredible views of Madeira but you will also be able to explore the local farmers and the many plantations along the way. We walked about 1h and then turned back. However, Levada do Norte is one of the longest levada hike in Madeira with 65 kilometres in length and several tunnels. It crosses most of the island.
---
16. Doca do Cavacas
Doca do Cavaca is one of the natural pools in Madeira where you can swim in sea water surrounded by lava rocks. This natural pool is located on a small point next to the large beach of Praia Formosa.
The lava rocks have been modified to allow visitors to walk and bathe in them.
---
Best places to stay in Câmara de Lobos
Pestana Churchill Bay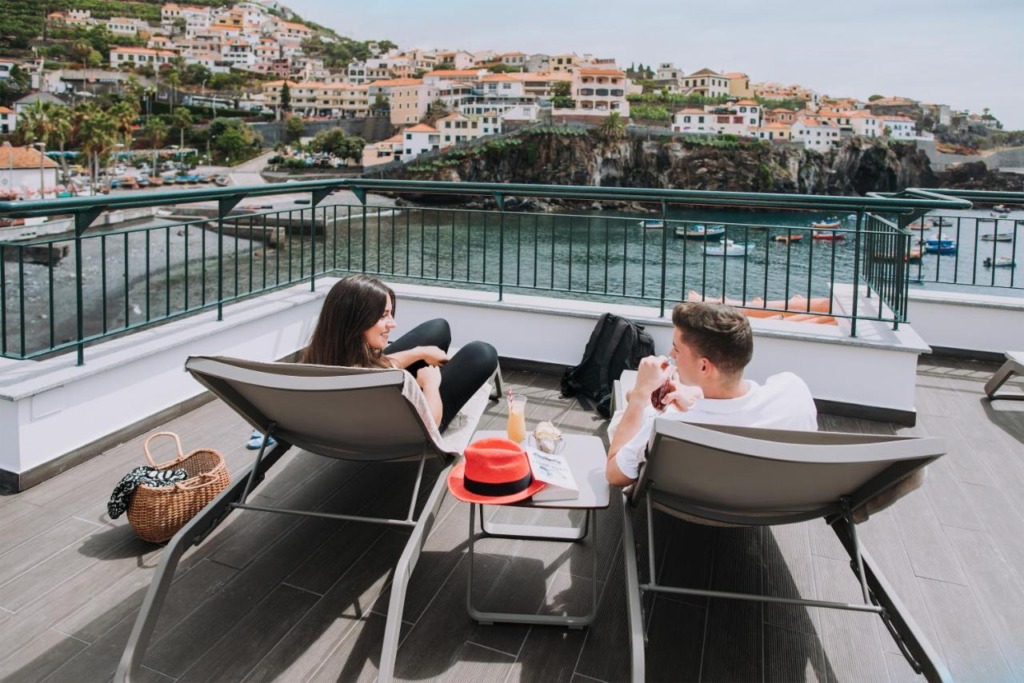 One of our favourite hotels in Madeira is actually located in Câmara de Lobos: Pestana Churchill Bay. This old fish market was transformed into a gorgeous hotels right by the harbour. The location is perfect, the hotel is stunning and they have an amazing rooftop pool overlooking the sea.
Staying at Câmara de Lobos is a great alternative to Funchal. You are near the main city, but at the same time you can stay in such a charming and quieter place.
---
Pestana Fisherman Village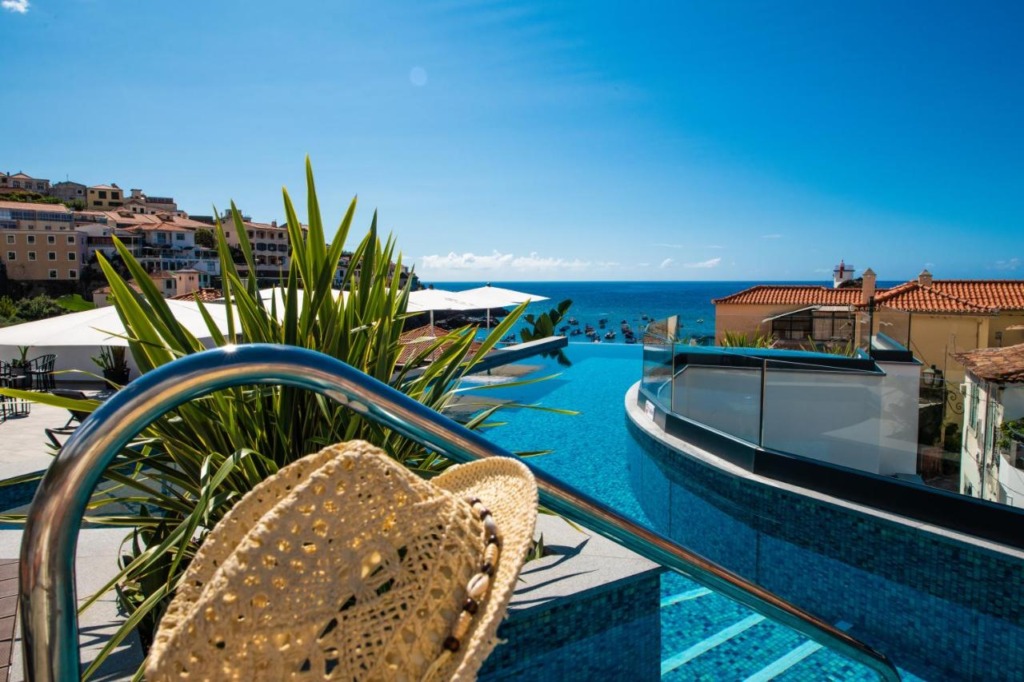 Another fabulous boutique hotel is Pestana Fisherman Village. This hotel is located in he picturesque historic centre.
The hotel offers several living rooms, a library, a cloister, a patio with a water mirror and a terrace with a panoramic swimming pool on the rooftop. Check the availability Pestana Fisherman Village here.
---
How to get to Câmara de Lobos from Funchal?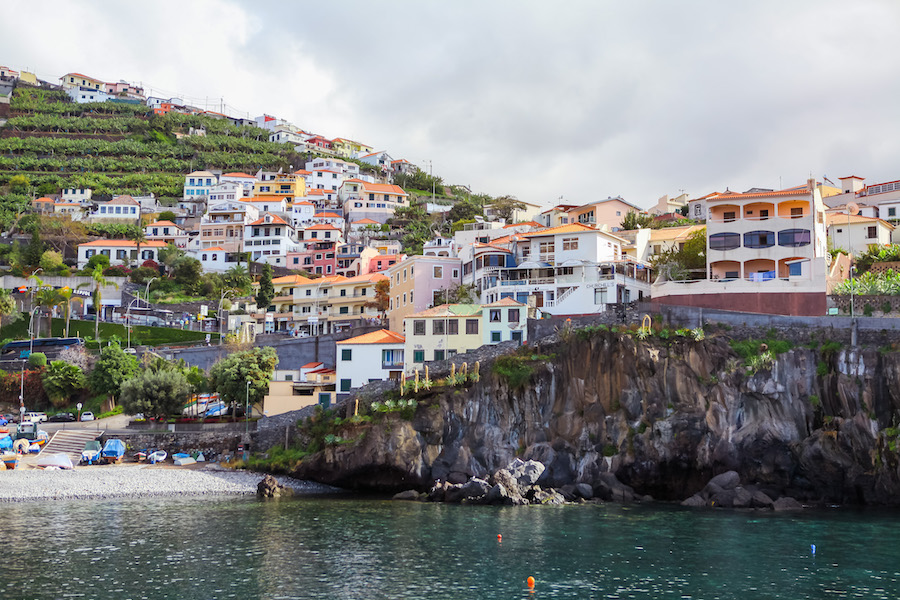 By car
If you are driving in Madeira, which is by far the best way to explore the island, then it would be fairly easy to get to Câmara de Lobos from Funchal. Count about 15min to drive there. Book you can rental here.
If you do not have a car, you can also consider taking a taxi.
By bus
You can take Bus Line 7 from Funchal to Camara de Lobos. However the best and most economical way to visit Funchal and its surroundings such as Camara de Lobos is by joining the Hop-On Hop-Off Bus Tour! You can buy your bus ticket here.
---
Final thoughts – Is Câmara de Lobos worth visiting?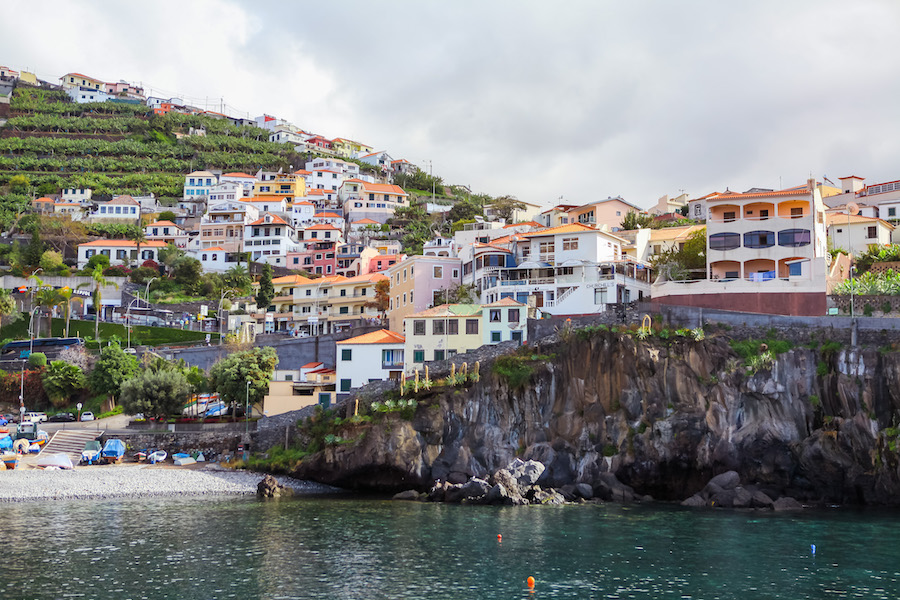 No wonder why Winston Churchill fell in love with Câmara de Lobos. This town full of charm is a must-see in Madeira. It's proximity to Funchal, makes it an easy place to visit as well.
After renting our car, Câmara de Lobos was the first place we visited. What a great start to explore Madeira!
For more information on things to do in Madeira check out THE 30 BEST THINGS TO SEE IN MADEIRA.
---
Related Posts
MONTE PALACE TROPICAL GARDEN IN MADEIRA
FULL HIKING GUIDE FOR PONTA DE SÃO LOURENÇO
ALL YOU NEED TO KNOW ABOUT PORTO MONIZ IN MADEIRA
3 BEST AREAS TO STAY IN MADEIRA
BEST TIME OF THE YEAR TO VISIT MADEIRA