WHAT TO DO IN FUNCHAL? HOW LONG TO VISIT FUNCHAL? WHERE TO STAY IN FUNCHAL?
Are you planning a trip to Madeira and wonder what to do in Funchal? Or perhaps you even wonder if Funchal is worth a visit? Well our clear answer is YES, spend at least 1 day visiting Funchal if not more…
Although Madeira is mostly known for its wonderful nature, Funchal is a pleasant city with many awesome things to see. We listed the best things to explore in Funchal in this post and the best places to stay.
"Funchal is a fantastic place to explore"
During the start of our sabbatical, we spent nearly 1 month in Madeira, exploring this beautiful island. We listed the best things we saw on the island, in this post here.
However, we spent quite some time in Funchal as well, simply enjoying the city and its great people!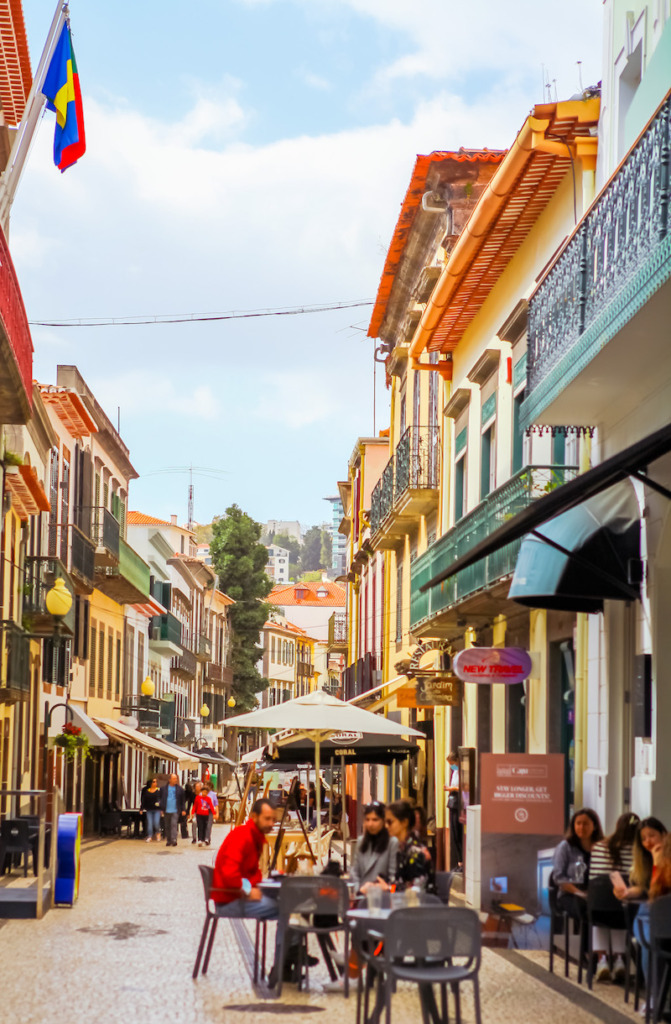 This city has more than 110,000 inhabitants. Meaning 40% of the population of Madeira lives in Funchal.
The city takes its name from "funcho", which means fennel. Madeira was discovered in the 15th century. At that time wild fennel grew there abundantly, giving it its name.
Here some impressions of what to expect in Funchal:
Time to explore Funchal with the 20 best things to see:
Enjoy!
---
What to do in Funchal?
1. Start your visit of Funchal at the Mercado dos Lavradores – the farmer's market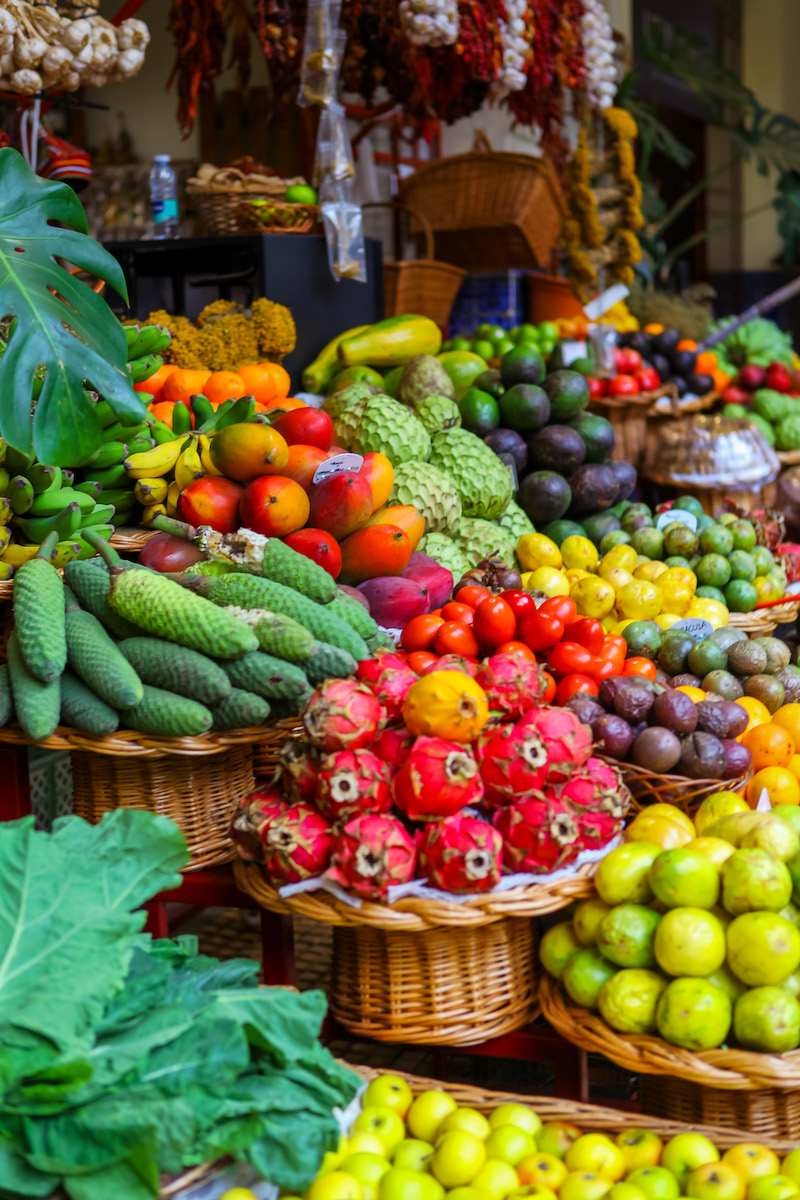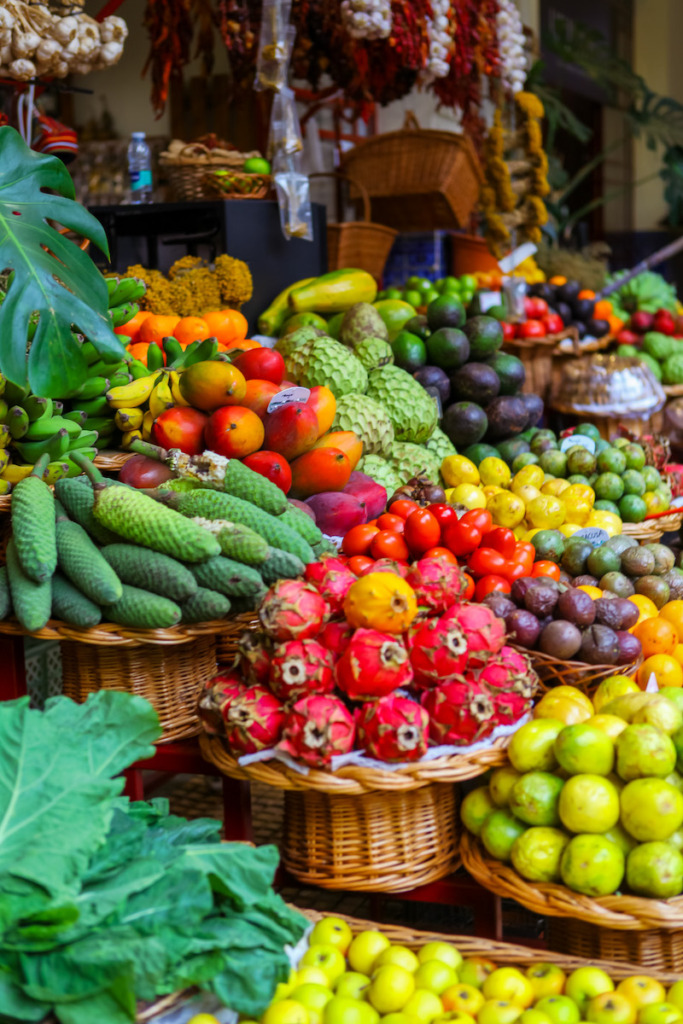 When you enter this market, which has been open since 1940, you feel an atmosphere full of life and color.
There you can buy or simply taste local products. We love the fruits there, some of them are unique to Madeira.
At the entrance of the market, there is also a flower market. At the back of the market you can buy fresh fish like black scabbard (super yummy fish), tuna and a lot more.
We loved our visit of the market as we could feel the local atmosphere on our first day in Funchal.
Location: here
Opening hours: 7AM – 7PM (closed on Sunday)
---
2. Continue your exploration of Funchal at Santa Maria Street
It is impossible to miss Santa Maria Street when visiting Funchal!
This is the most colorful street of Funchal.
What's so special about Santa Maria? Every single door has been painted by local artists. The painted doors project was intended to restore the image of this previously infamous district.
Santa Maria Street is also full of restaurants. At night it is one of the most lively streets of Funchal. Make sure to taste a local poncha, the locals' favorite drink. It is a punch made from Madeira rum and generally exotic fruits or lemon and honey. It's so good!
A great way to discover the old town in Funchal, is by joining a guided walking tour. The guide will share many stories about the city, which makes the visit very interesting. More information here.
Location: here
---
3. Next in your itinerary of Funcha: Praça municipio
The town hall (Camara Municipal) whose building stands out for its portal and the noble floor with eleven windows is located in this square. It is a harmonious example of late 18th century architecture.
Inside, there is a huge courtyard covered with azulejos with a garden, as well as a fountain decorated with a marble statue.
Location: here
---
4. Continue your visit at The Jesuit College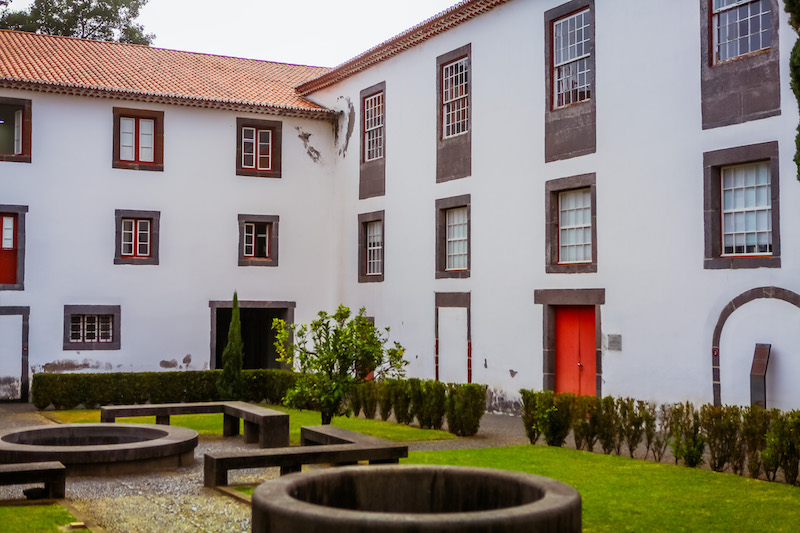 It is one of the most emblematic buildings in Funchal. Throughout its 400 years there have been the Jesuits, the English invaders and the army. Today it houses the University of Madeira.
The interior of the church which is part of the college complex has geometric tiles and valuable works of art.
Location: here
---
5. If you don't mind walking uphill head to Museu Quinta das Cruzes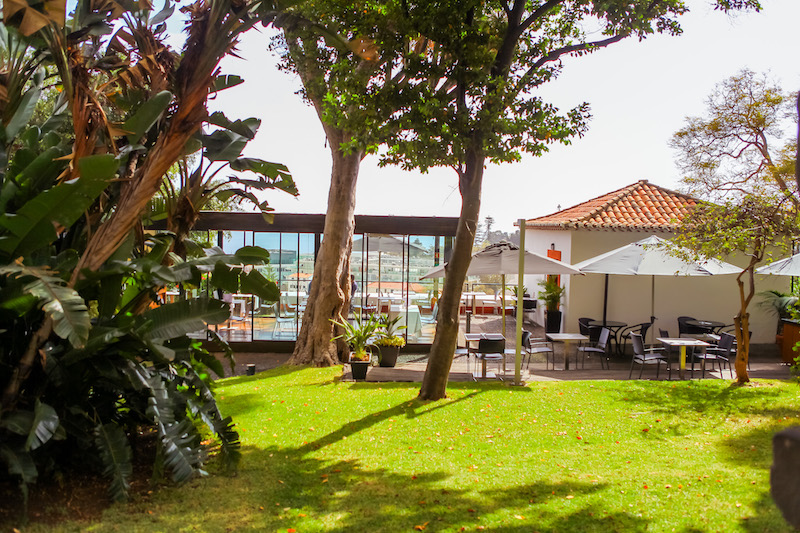 Quinta das Cruzes is a museum that houses a wide collection of decorative pieces linked to the history of Madeira. You can see a lot of furniture, often of foreign origin (English, French, etc.) that came to the island on the ships of the Europeans who came to settle here.
However, what we liked the most at Quinta das Cruzes is the garden surrounding the museum, which can be visited for free. The garden is overlooking the city and offers a breathtaking view of Funchal.
There is even a small cafe there. Don't miss it!
This is one of the best things to see in Funchal!
Location: here
Opening hours: 10AM – 5:30PM (closed on Sunday)
---
6. Head back down to the historical center and check Funchal Cathedral (Se)
Its construction was completed at the end of the fifteenth century. Inside you can see a magnificent ceiling covered with paintings of Hispano-Arabic and Roman-Gothic influence.
Another best things to see in Funchal!
Location: here
---
7. Next in Funchal, check out Palácio de São Lourenço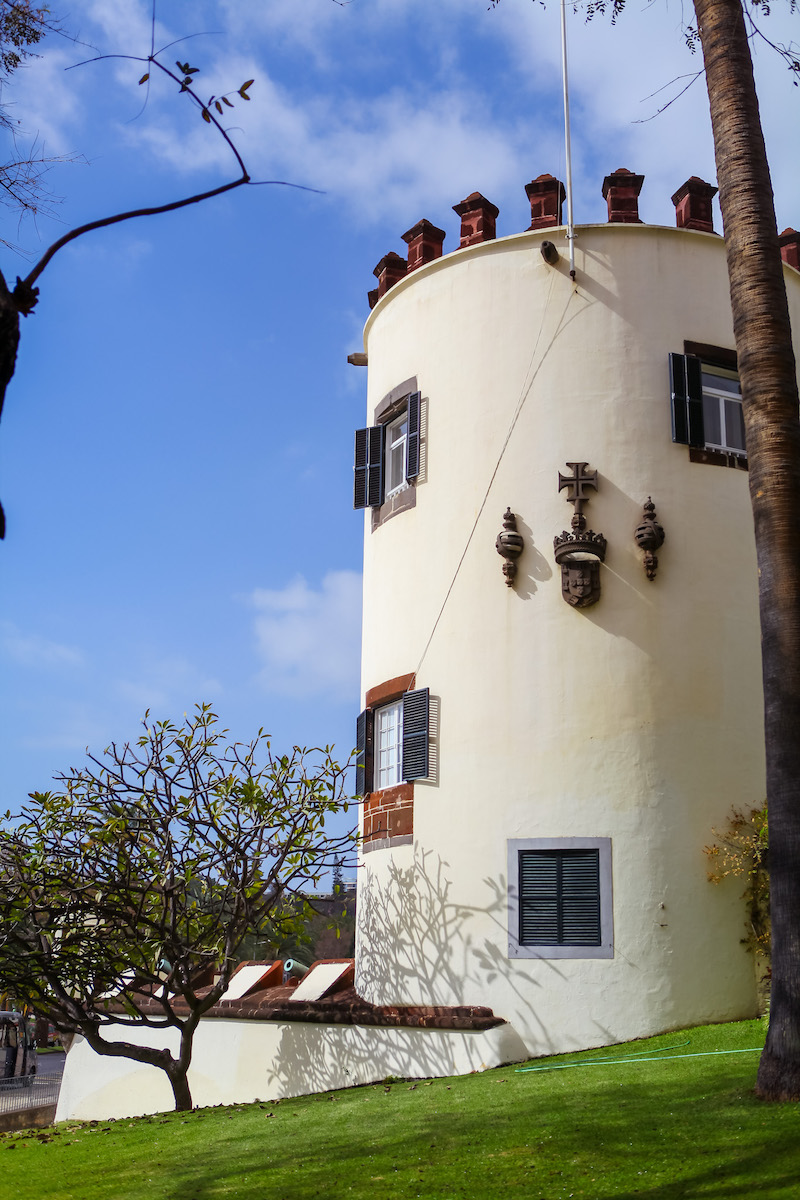 The fort built to defend the city against pirate attacks later became the residence of the civil and military governors of Madeira.
It is considered one of the best-preserved fortresses in Portugal. This place is stunning!
Location: here
---
8. Need a break after all this walking? Head to Blandy's Wine Lodge to taste Madeira Wine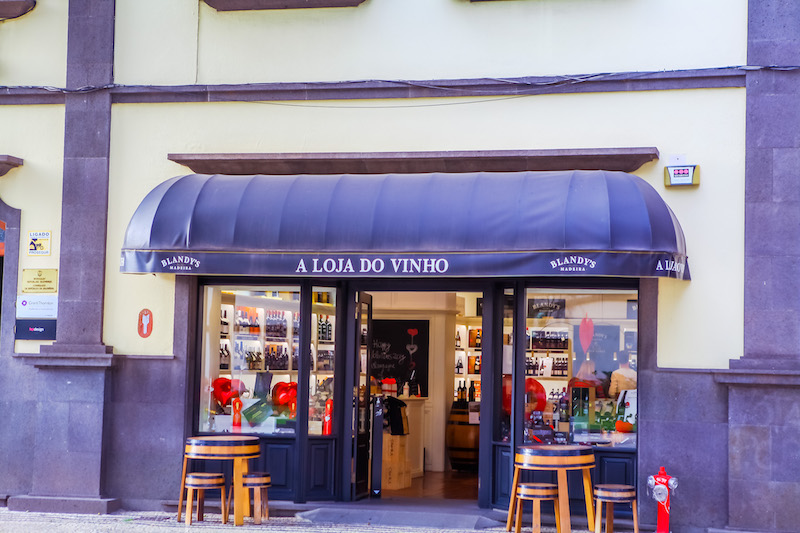 Madeira is also very famous for its wine, called Madeira Wine.
Madeira wine is a type of fortified wine that somewhat resembles porto. Its particularity is that once in the bottle, Madeira wine stops aging! It can be kept indefinitely provided the cork is changed every 20 years.
The other even more surprising particularity of Madeira wine is that it is kept in attics: the warmer it is, the better! It is also thanks to these extreme conditions that it keeps for so long.
We ended the tour in a small museum that traces the history of the Blandy family, English people who have become THE benchmark for Madeira wine. The guided tour ended with a tasting of wines.
Blandy's Wine Lodge also offers food pairing with Madeira wines.
Booking in advance is a must, check out their website here.
Location: here
---
9. Wander at Arriaga Avenida in Funchal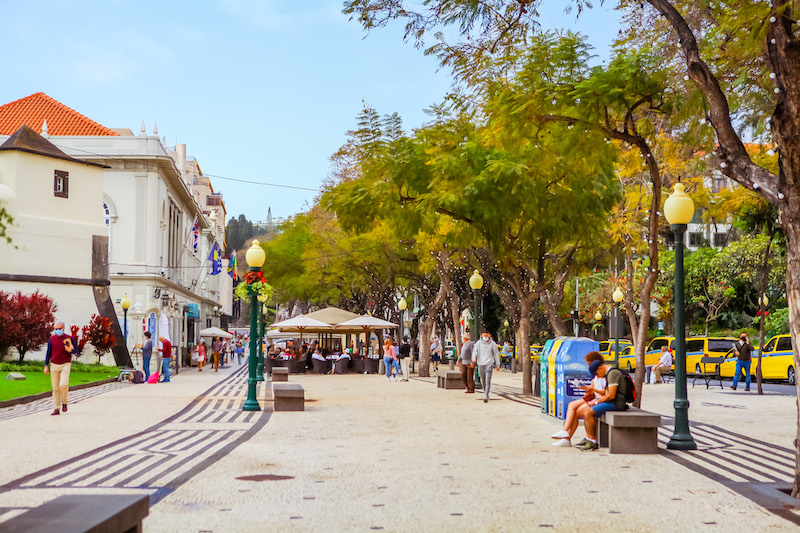 This famous avenue in Funchal is easily recognizable with the many yellow taxis with two blue stripes on the sides.
The Ritz hotel is a must-see on the Avenue, and has one of the oldest and most lively cafes in Funchal which opened in 1905.
The Arriaga Avenida is a beautiful street worth a visit in Funchal!
Location: here
---
10. Take a seat at Jardim Municipal do Funchal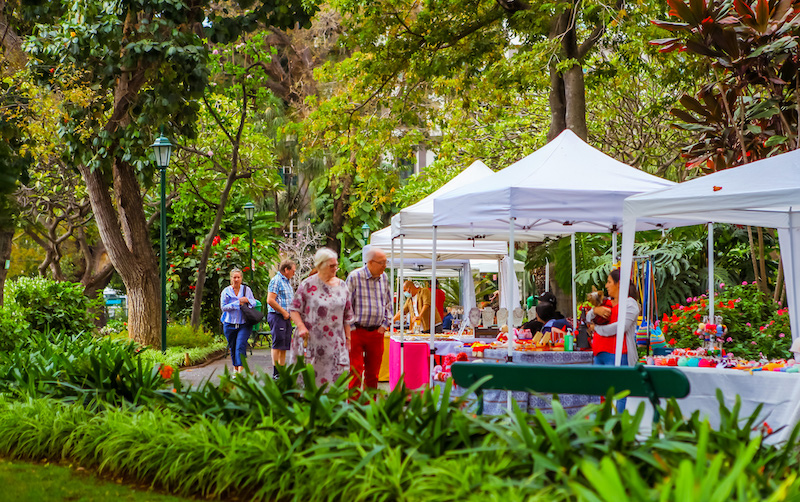 The beautiful garden is located in the heart of Madeira, right off Arriaga Avenida.
It is a fantastic place to sit and watch the world go by. On the weekend there is a small local market held in the park. A must-see in Funchal!
Location: here
---
11. Time to check out the sea at the Marina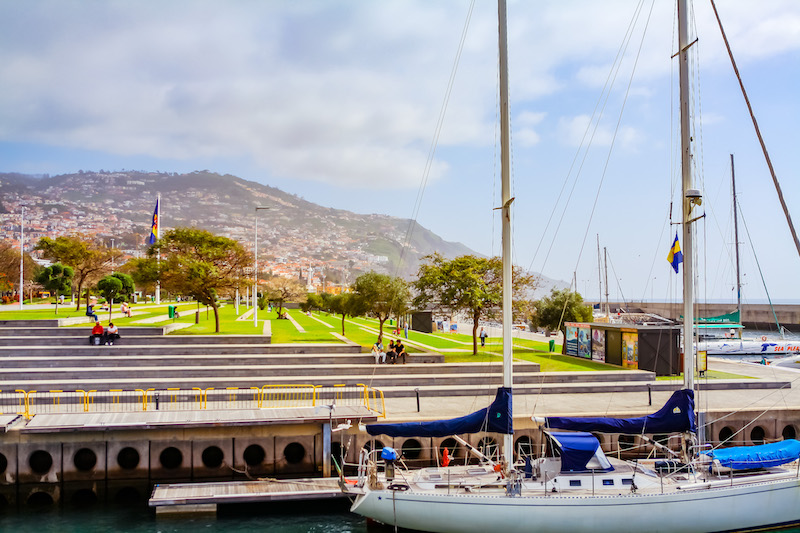 A short walk from Jardim Municipal do Funchal, will get you to the lovely waterfront promenade.
Enjoy a stroll on the Avenida do Mar. You can admire the many yachts and sailing boats at the marina. You can also buy an ice cream and sit down at the marina.
It is also here that boats excursions depart to watch dolphins and sometimes whales.
---
12. Go on a dolphin-watching tour (highly recommended!)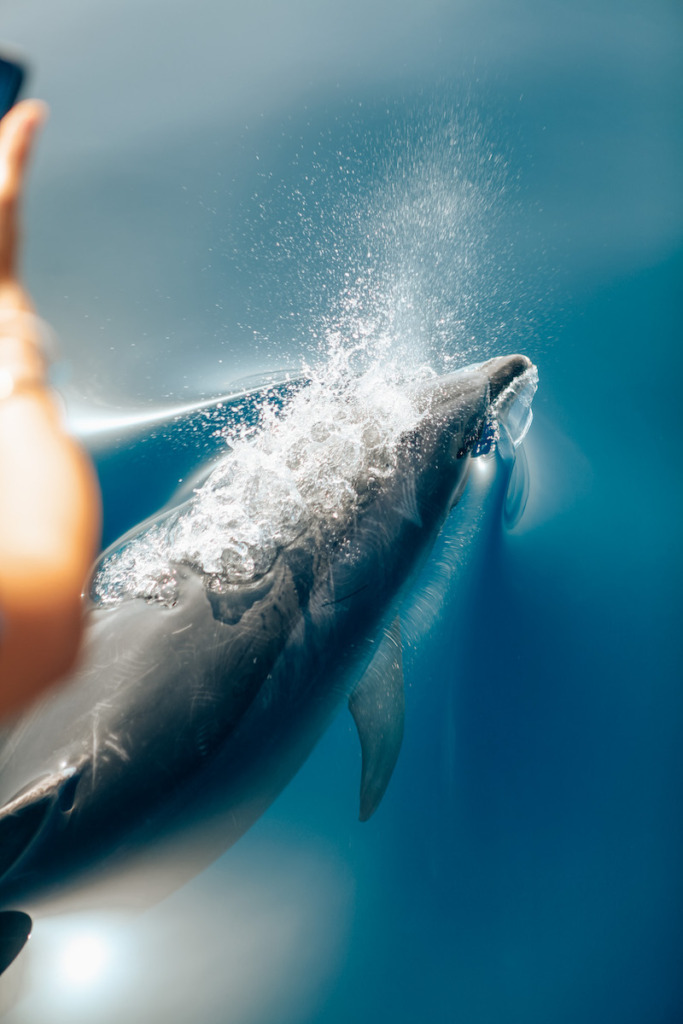 Time to explore the beautiful island of Madeira by boat.
Not only you will have the opportunity to explore Funchal and its surroundings from another angle, you will also be able to observe dolphins and even whales if you are lucky. In summer, you can even jump in the water.
We booked our boat trip with the company Magic Dolphins. ]We spotted many playful dolphins during our trip. This was during our first day in Madeira! We couldn't hope for a better start of our holiday.
You can book your tour here, which we highly recommend for an unforgettable experience in Funchal.
---
13. Visit Christiano Ronaldo Museum in Funchal
This impressive museum has been open since 2013. It illustrates the career of Cristiano Ronaldo considered the best player in the world and the best Portuguese player.
Why in Madeira? Simply because Christiano Ronaldo is born there! He is native from this beautiful island (even the airport has its name!)
All the trophies won throughout his career are there, even those of the UEFA Champions League. Several times top scorer in Europe, his golden shoes are also on display as well as the mail from his fans.
(If you are not a big fan of football, you may skip this one…)
Location: here
Opening hours: 10AM – 5PM (closed on Saturday)
Website: here
---
14. Continue your visit of Funchal in the old town, start with Capela do Corpo Santo
When the first Portuguese settlers landed in Madeira in the 15th century, they took up residence in this district located to the east of the bay. In the 1950s, this area was mainly home to fishermen and embroidery workshops.
The old town stretches between the Praça de Autonomia to the west and the São Tiago fort to the east. In the middle you have Rua de Santa Maria which we already described above.
On the other side of the street you can see the Capela do Corpo Santo – Chapel of the Holy Body.
This adorable chapel was built in the 15th century, thanks to the devotion of fishermen who adored Saint Elle, their patron saint. Despite several modifications over time, the chapel has retained its Gothic portal (16th century).
Location: here
---
15. Sao Tiago Fort is next on your list of things to see in Funchal
After the chapel continue walking east. You will see a flashy orange-yellow fort overlooking the ocean. This fort built in the 16th century by the government of Madeira is located in the historical part of the city. Today it is a museum.
At the foot of the fort walls, there is a small pebble beach where you can swim. There is also a landscaped bathing complex with a saltwater swimming pool with all the necessary infrastructure.
Location: here
---
16. Check out Madeira Story Centre
If you want to understand a bit more about Madeira's history, head to Madeira Story Centre located in the center of Funchal. The museum also has a great rooftop cafe with a nice view of the Marina.
More info here.
Location: here
---
17. Take the cable car to visit Monte Palace Madeira, one of the best things to see in Funchal!
On the heights of the city, visit Monte Palace Madeira, one of the most impressive gardens we've ever seen in our life! You can access this marvelous garden by taking the famous cable car in the center of Funchal here (for more info, check the cable car website here).
Visiting Monte Palace Madeira is an absolute must-see in Madeira. For more information on the garden, check out their website here.
After visiting the park, you have 2 options. Continue your exploration to Madeira Botanical Garden by taking a 2nd cable car. More on that in the next part
The other option is to go down, with a famous little wicker sled that is emblematic of Funchal! These are typical Madeiran tuk-tuks! Propelled by two seasoned pilots, their wooden runners will give you the thrills to reach back to the historic center of Funchal.
READ: FULL GUIDE FOR VISITING MONTE PALACE MADEIRA
Location: here
---
18. Enjoy the view at Madeira Botanical Garden
This second garden is easily accessible with a 2nd Cable Car located just next to Monte Palace Garden.
There you can admire a collection of more than 2,000 plants from all over the world. There are beautiful collections of cacti, palm trees, all kinds of orchids and lot more.
The garden overlooking the city offers amazing views of Funchal and its surroundings.
To visit both gardens count at least 3 to 5 hours. Both gardens are pretty big and riding the cable car will also take some time. To get back to Funchal, the easiest way is to take the Cable Car back down.
You can also walk back to Funchal, but the streets are pretty steep and there isn't much to see on the way down. You can purchase a round trip cable car ride with both park entrance directly in Funchal.
---
19. Relax at Santa Catarina Park
For nature lover and if you want a break from the city head to Santa Catarina park.
This huge park with a beautiful lake is overlooking the bay of Funchal. There are also small food truck serving local food as well.
Location: here
---
20. Enjoy an afternoon tea at Reid's, one of the best things to do in Funchal
A visit of Reid's is a must! Not only the view from the hotel is breathtaking, they serve THE most famous afternoon tea in Funchal.
Just thinking about it, makes us want to go back. Expect yummy sandwiches, scones and many other pastries.
If your budget allows it, staying at Reid's is a fantastic experience.
More information here.
---
Where to stay in Funchal?
Funchal is a great place to stay for your holiday in Madeira. From there you can easily visit Monte Palace Madeira, Câmara de Lobos, Miradouro do Cabo Girão, Ponta do Sol, Curral das Freiras, Pico Ruivo, Ponta de São Lourenço, Santana etc. (More on things to do in Madeira here)
Here is a list of our favourite hotels in Funchal.
---
Castanheiro Boutique Hotel
This four-star hotel with outdoor swimming pool on the roof overlooking the city is absolutely stunning. From the hotel you can walk to the historical town and enjoy Funchal at the fullest! The rooms are very cozy, breakfast delicious and the service top notch! This is one of our favorite hotels in Funchal. More info here.
---
Hotel Porto Santa Maria
Located right by the harbour in Funchal, this charming hotel has all you need for a perfect holiday in Madeira! This hotel offers panoramic views over the Atlantic. It has 2 pools, a spa center, restaurants etc. We love the location of Santa Maria as it's in the heart of Funchal but with a stunning view of the sea. Don't wait, book here.
---
Living Funchal X
If you are more on a budget during your trip to Madeira, then opt for Living Funchal X. This newly renovated apartment is perfectly located in the old town of Funchal.
There are plenty of restaurants, bars, supermarket and other shops around! We spent a few nights there and weren't disappointed. Book here.
---
What to do outside Funchal?
VISIT WINSTON CHURCHILL'S FAVORITE TOWN: CÂMARA DE LOBOS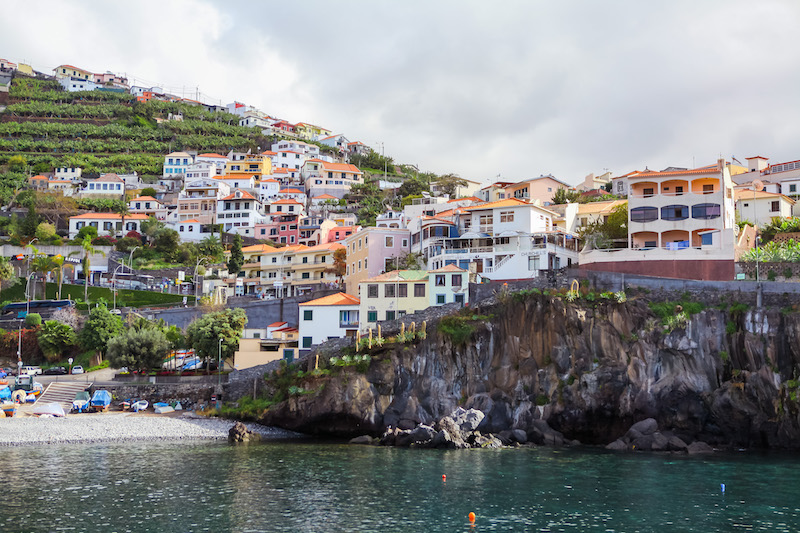 If you rent a car in Madeira (which we highly recommend, we used 7M Rent a Car and had a wonderful experience), then Câmara de Lobos will most likely be your first stop after Funchal. (If you do not want to drive in Madeira, book a day trip in a stylish VW Beetle with a driver here)
Câmara de Lobos is a small fishing village and one of the most beautiful towns on the island. You can go to the Salão Ideal viewpoint to enjoy a nice panorama of Câmara de Lobos and its magnificent colorful fishing boats.
In Câmara de Lobos try a poncha, the local cocktail of Madeira made from sugar cane. It's delicious! Câmara de Lobos is only ten minutes by car from Funchal.
The former British Prime Minister, Winston Churchill visited Madeira in 1950. During his trip he stayed in Camara de Lobos and painted an outstanding portrait of the village. Till today Câmara de Lobos remembers his visit, and you can see many sites named after him, there is even its statue in one of the streets facing the sea.
Location: here
READ: 16 BEST THINGS TO SEE IN CÂMARA DE LOBOS
---
CAPE GIRÃO ONE OF THE HIGHEST CLIFFS IN THE WORLD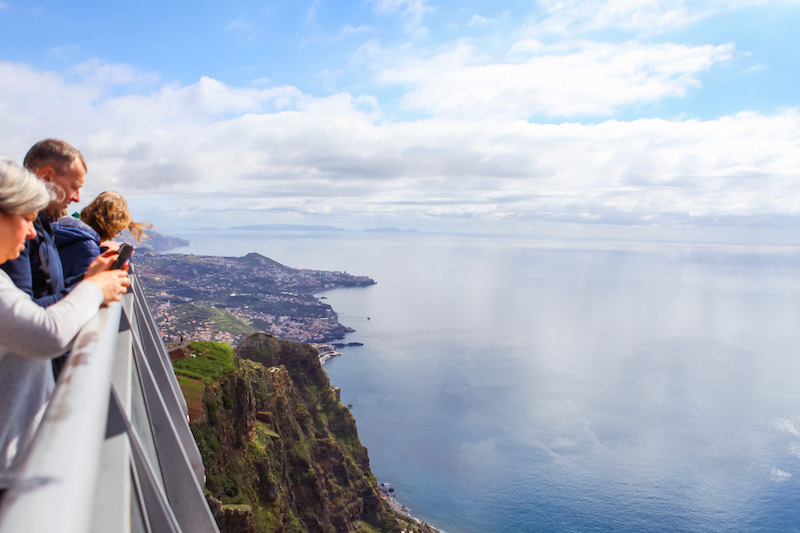 After Câmara de Lobos, continue your visit with Cape Girão, one of the highest cliffs in the world with a height of around 580 meters. The viewpoint from the top of the cliff is spectacular and offers an incredible view of Câmara de Lobos, the sea and the Fajã do Cabo Girão. In addition to the breathtaking view, know that it is a popular place for paragliding and base-jumping.
In 2012, a suspended glass platform (Skywalk) was built on the cliff, which will allow you to test your limits, especially if you are scared of heights.
Location: here
READ: BEST WAY TO VISIT CABO GIRÃO
---
PONTA DO SOL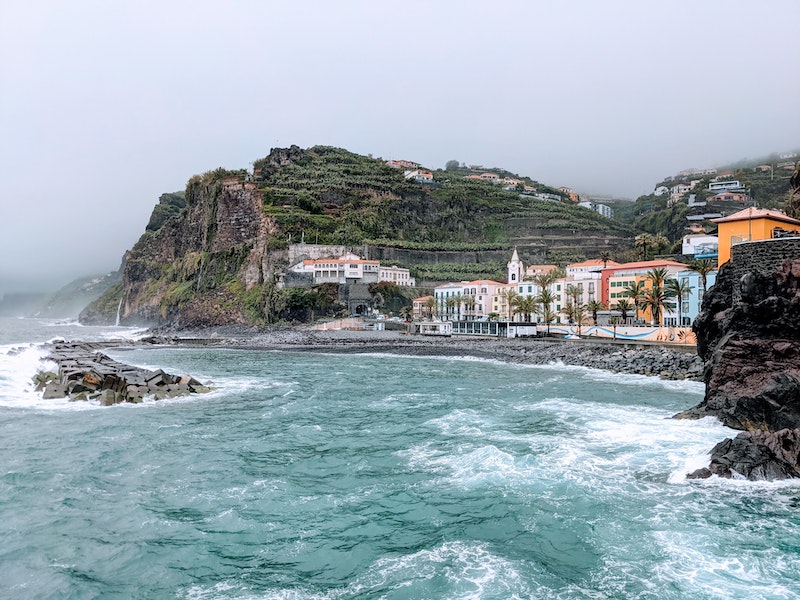 After visiting Cape Girão you can continue your exploration in the south of Madeira at Ponta do Sol. This beautiful town by the sea is another destination not to be missed during your visit to Madeira!
Explore the colorful streets by the sea, admire the interior of the Church of Nossa Senhora da Luz and the beautiful palace Palacete do Lugar de Baixo, also known as Palacete dos Zinos, transformed into a boutique hotel in early 2020.
Location: here
READ: 30 BEST THINGS TO DO IN MADEIRA
---
In conclusion about the best things to do in Funchal
Funchal is such a pleasant city. Not only to visit but also to live. Generally, people seem very happy in Madeira. Locals we met were always super friendly and most could speak perfect english!
We spent quite some time simply wandering through the city and enjoying life. We also ate a lot of great food.
If this is your first time in Madeira, then staying in Funchal is a good idea. From there you can easily access the best sights on the island.
Enjoy your trip!
---
Related Posts
MONTE PALACE TROPICAL GARDEN IN MADEIRA
16 BEST THINGS TO SEE IN CÂMARA DE LOBOS
FULL HIKING GUIDE FOR PONTA DE SÃO LOURENÇO
ALL YOU NEED TO KNOW ABOUT PORTO MONIZ IN MADEIRA
3 BEST AREAS TO STAY IN MADEIRA
BEST TIME OF THE YEAR TO VISIT MADEIRA