If you are in Funchal, one of the best things to see in the Monte Palace Tropical Garden. Honestly, this is one of the most beautiful gardens we've ever seen! We highly recommend to add Monte Palace Tropical Garden in your things to see in Madeira.
In this post, you will find a full guide about Monte Palace Tropical Garden and what to see around the area.
The Monte Palace Tropical Garden is a vast tropical garden with an area of 70,000 m2 which is located, as its name suggests, in the village of Monte, on the heights of Funchal, on the island of Madeira.
Even if Madeira is particularly famous for its hikes (our favourite: Levada do Caldeirão Verde), the island conceals many other treasures, such as its parks and gardens. With its lush vegetation, lake, fountains and museums, this romantic garden has it all.
The Monte Palace tropical garden located on top of a hill offers beautiful views over the bay of Funchal.
A visit not to be missed during a stay in Madeira!
---
A bit of history about Monte Palace Tropical Garden
This estate first belonged to an English consul in the 18th century who had transformed it into a beautiful "quinta" (former rural property). In 1897, this estate changed hands to belong to Alfredo Guilherme Rodrigues who built a mansion, later transforming it into a hotel called Monte Palace Hotel.
After his death, the hotel was closed, then bought by José Berardo who made this garden a work of art and donated it to an institution bearing his name, the Berardo Foundation.
This is how the Monte Palace Tropical Garden was born.
---
A garden with a thousand plant species
Monte Palace Tropical Garden houses a very rich collection of exotic plants from all over the world. You will find, among others, Protea from South Africa, azaleas from Belgium, orchids from the Himalayas, heather from Scotland, redwoods from America, acacias from Australia, olive trees from Portugal, and so much more! There are more than a thousand species in this garden!
It is also home to characteristic plants of the Laurissilva, listed in 2000 as a UNESCO World Natural Heritage Site.
The laurissilva is a laurel forest, a lush indigenous vegetation well characteristic of Madeira and Macaronesia (group of islands made up of the archipelagos of the Azores, the Canaries, Madeira and Cape Verde). This vegetation combines tropical characteristics with those of the Mediterranean.
Visiting Monte Palace Madeira is an absolute must-see in Madeira.
---
Two oriental gardens
The park also consists of two oriental gardens, one to the north and another to the south of the park. They refer to Chinese and Japanese cultures, with a whole host of symbolic elements, including Buddhas, pagodas, dragons, bridges, benches, lanterns… Walking through these places leads to reflection, relaxation , strolling…
It's absolutely stunning!
---
Wildlife
As far as wildlife is concerned, you will find several ponds, containing Koi fish, including one in the south eastern garden. These fishes come in different sizes and colors and can live for hundreds of years.
You will also find majestic white swans, native to Scandinavia, swimming in the waters of the central lake, but also everywhere else in the park, as well as peacocks from Lisbon.
---
Azulejos
Azulejos are small tiles, often blue in color (but not always), hence its name. Azul means blue in Portuguese.
These azulejos represent scenes of important events in the history of Portugal but also religious, social and cultural.
There is a whole collection of azulejo panels arranged along the promenades, some of which are Hispano Moorish from the 15th and 16th centuries, others contemporary.
This collection is one of the richest and most important in Portugal.
---
The Museum of Contemporary African Sculptures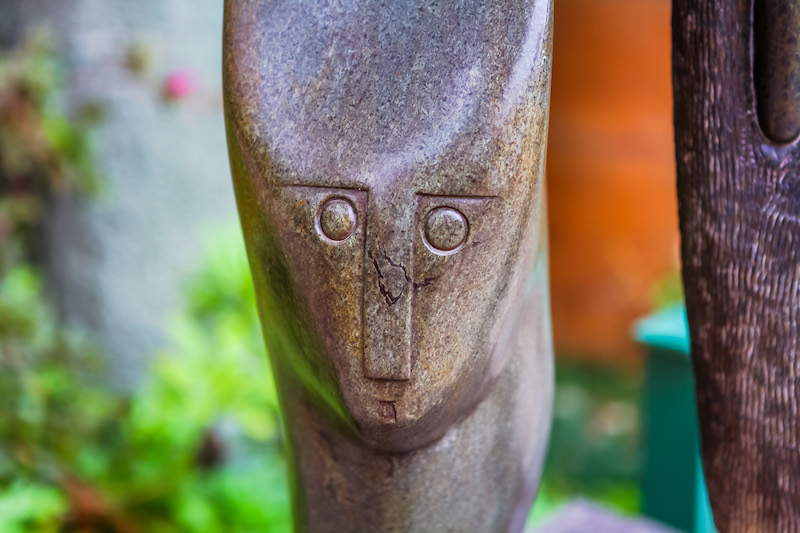 In this museum located inside the garden, you can admire an impressive collection of more than 1,000 African sculptures dating from 1966 to 1969. Such a rich collection!
---
The "Secrets of Mother Nature" mineral museum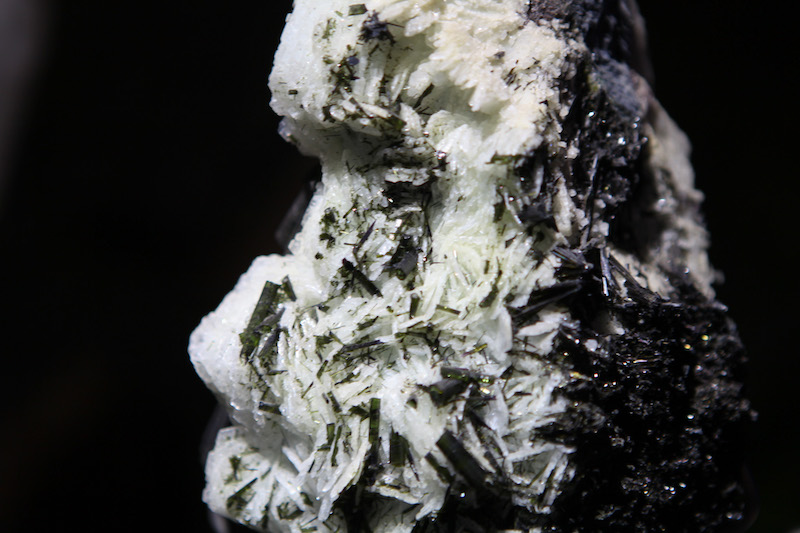 It is one of the most beautiful private exhibitions of minerals mainly from Brazil. Some of them are displayed in cavities designed to mimic the environment in which they form.
You can also see a beautiful collection of more than 300 precious and semi-precious stones.
---
Central Lake (our favorite place)
In the heart of the garden, you will see the majestic Central Lake. For us, this was the highlight of our visit. The view of the lake with its waterfall and the city in the background, was wowing!
Perhaps the best place to take photos!
---
Madeira wine
To the south of the park, you will find a café with a large terrace, where you can taste Madeira sweet wine. This glass of wine is offered to you with your entry to the park. If you haven't tasted it yet, this is the opportunity to do so in the middle of this sumptuous setting!
---
Important information about Monte Palace Tropical Garden
Opening hours: Open daily from 9:30 a.m. to 6 p.m. (except December 25)
Prices: 12.50 euros (Free entry up to 15 years old). The entrance ticket entitles you to a small glass of Madeira in the café at the bottom of the garden.
Duration: Allow at least 2 hours for the visit.
Location: here
Website: here
---
How to get to Monte Palace Tropical Garden?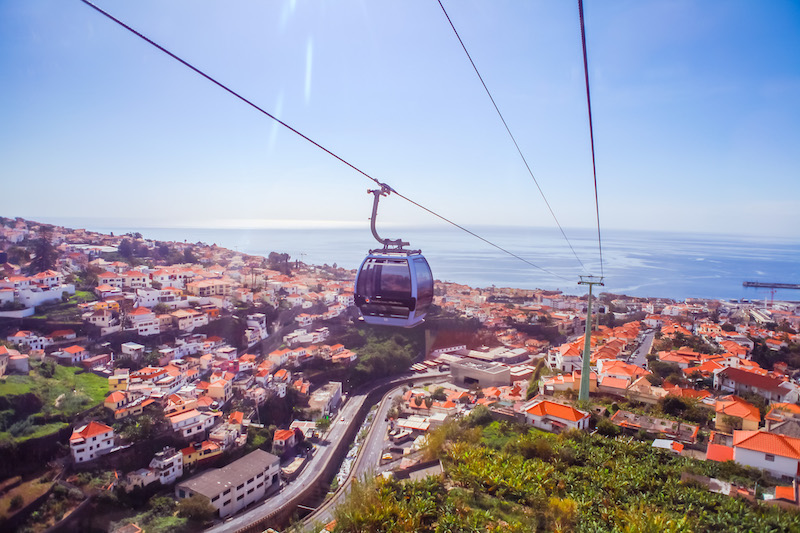 By far, the best way to get to Monte Palace Tropical Garden, is to take the cable car from Funchal.
The departure starts here in Funchal.
You have different options, you can choose the round trip ticket only, or round trip + entrance ticket of the park, or combine the visit with the other Botanical Garden etc. The cashier will explain your different options.
Another fun way to visit Monte, is by Tuk Tuk. The driver and guide will share with you many great stories about Madeira. You can book your visit by tuk tuk here.
---
Other things to see around Monte Palace Tropical Garden
Madeira Botanical Garden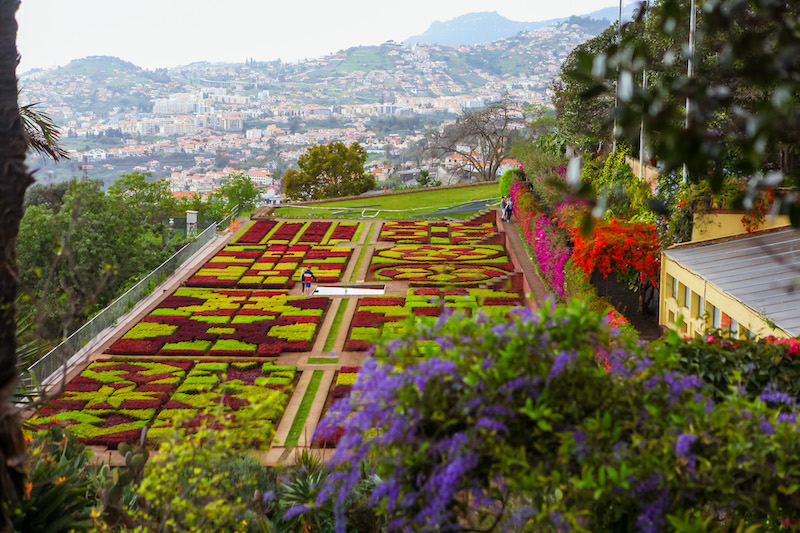 This second garden is easily accessible with a 2nd Cable Car located just next to Monte Palace Garden. There you can admire a collection of more than 2,000 plants from all over the world. There are beautiful collections of cacti, palm trees, all kinds of orchids and lot more.
The garden overlooking the city offers amazing views of Funchal and its surroundings.
To visit both gardens count at least 3 to 5 hours. Both gardens are pretty big and riding the cable car will also take some time. To get back to Funchal, the easiest way is to take the Cable Car back down. You can also walk back to Funchal, but the streets are pretty steep and there isn't much to see on the way down. You can purchase a round trip cable car ride with both park entrance directly in Funchal.
---
The descent in wicker sleighs
To end your visit of Monte Palace Tropical Garden on a high note, you can descend back to town with the wicker sleds typical of Madeira. They will allow you to go down the road, pushed by two Madeirans all dressed in white, and this for 2 kms.
It will cost you 15 euros per person based on 2 or 3 people per sled, 25 euros if you do it solo. Please note that the service does not operate on public holidays or on Sundays.
---
The Church of Monte
The Church of Monte is one of the most visited monument in Madeira. This pretty church near the wicker sleds was built in the 18th century on the site of a chapel. The church is at the top of a staircase of 74 steps.
In the altar we can see the image of Our Lady of Monte. The patron saint of the island is celebrated in a procession every year on August 15.
FOR OTHER THINGS TO SEE IN MADEIRA, READ THIS POST: 30 BEST THINGS TO SEE IN MADEIRA
---
Related Posts
MADEIRA, 30 best things to see: here
DISCOVER FUNCHAL: here
FULL HIKING GUIDE FOR PONTA DE SÃO LOURENÇO: here
ALL YOU NEED TO KNOW ABOUT PORTO MONIZ IN MADEIRA: here
HIKING LEVADA CALDEIRAO VERDE: here
16 BEST THINGS TO SEE IN CÂMARA DE LOBOS: here
BEST THINGS TO SEE IN SEIXAL: here
BEST WAY TO VISIT CABO GIRÃO: here
3 BEST AREAS TO STAY IN MADEIRA: here
BEST TIME OF THE YEAR TO VISIT MADEIRA: here
WHY IS MADEIRA WORTH VISITING? TOP 10 RESONS: here