Madeira is a true hiking paradise and Ponta de São Lourenço (PR8), is just another proof of that. While Levada do Caldeirão Verde is our ultimate favourite hike in Madeira, Ponta de São Lourenço would come very close, or at least would be on the podium of one of the best hikes in Madeira.
Ponta de São Lourenço is actually one of the most popular hikes in Madeira. And for good reason! You will discover some of the most beautiful and impressive cliffs in Madeira! It is also THE best spot to watch the sunrise as it is located at the easternmost point of the island. Many people would start hiking around 5am to see the sunrise!
Ponta de São Lourenço offers a hiking trail which is very different from the other trails in Madeira. Here you won't fine any levadas, waterfalls or lush green forest. The landscape in this part of the island, is semi-arid and and Ponta de São Lourenço is surrounded by the ocean. This is the most unique hike in Madeira, don't miss it during your trip!
Ponta de São Lourenço is often called the Dragon's Tail. When you will see the place, you will understand why. This coastal track takes you along a steep, narrow coast to the easternmost point of Madeira Island shaped like a Dragon's Tail. The trek is a 7.4 kilometre route with many stunning viewpoints, which highlight volcanic erosion over millions of years along the entire coastline.
Are you ready for some adventures? Read the rest of the post to prepare for your hike.
---
Useful information about Ponta de São Lourenço
Starting Point: there is a parking lot just before the start of the hike. Google map location: here. However the parking can get quite full if you reach there late morning or early afternoon, so you will have to park along the road before reaching the hike. The parking is free.
Public Transportation: there is also a bus (113) getting there from Funchal, more information here.
Hike difficulty: Medium. It's not completely flat, there will be a series a stairs, but the path remains relatively easy except the last 100~200 meters, which is quite steep, before reaching the final viewpoint at Pico do Furado.
Distance: 7.4 km (3.7km 1 way).
Duration: 3 to 4 hours.
Best timing: this hike is famous for sunrise. If you can reach the easternmost point right before sunrise, you won't be disappointed!
Shop/Restaurant: there is a food truck at the parking lot if you need to buy drinks or small snacks. Towards the end of the hike, there is also a stunning restaurant (Casa Sardinha, here) serving food, coffee and other drinks. A great stop to relax and enjoy the surroundings!
---
How is the hike?
To reach the end of the Dragon's Tail you will have nearly 4 km to cover on a well-secured path.
The hike begins with a downhill trail, marked by log steps. It then gives way to a stony path, just wide enough to allow 2 people going in the opposite direction to cross.
Then, you will have the option to take a short detour to reach a pebble beach. If you want to take a swim before continuing with the hike, it would be a the perfect place.
Further on, you will see Casa Sardinha (more on that below). Yay! This means you reached the last section of the hike. However, this would be the hardest perhaps. T
o reach the last viewpoint at Pico do Furado, you will need to climb a rather steep path. Some people skip that part as the path becomes very steep. However, we highly recommend to push it through and go all the way to the top for the most breathtaking view! To the south, you can see the Desertas Islands and to the north, the island of Porto Santo. Simply stunning!
Allow 4 hours (with breaks) to do the entire hike. In sunny weather, remember to take sunscreen and plenty of water!
---
Casa Sardinha
When you see Casa Sardinha for the first time, it feels like you are seeing an oasis in the middle of the desert! Indeed, Ponta de São Lourenço is rather dry, there not a single tree and sun can be quite strong. However, suddenly you see a few palm trees and a beautiful house in the middle of a plateau, right before Pico do Furado. What is this place??!!
First, we thought it was a mirage, due to the hot sun, and the fact that we were hiking for almost 2 hours already. But no, it is Casa Sardinha. A beautiful restaurant in the middle of nowhere. Quite intriguing in fact!
So we did some research to find our about this place. It was actually built by someone called Manuel Bettencourt Sardinha. The idea was to use this house as a place for vacation but also a refuge.
Then in 1966, he gave it to his granddaughter , D. Françoise Delput who sold it to the Autonomous Region of Madeira. Her condition, was to use this house to support the nature conservation of Ponta de São Lourenço. Later on in 2010, this place was completely renovated and opened to the public as Casa Sardinha.
Today, it is the perfect place to rest, enjoy some nice food and coffee surrounded by natural beauty!
---
Boat tour and Kayak trip at Ponta de São Lourenço
From Casa Sardinha, you can book a boat tour or kayak trip. There will be a high probability to observe dolphins and whales. There is pier not far from Casa Sardinha where boats and kayaks depart.
For more information you can check out the link here.
---
More information about Ponta de São Lourenço
A peninsula of volcanic origin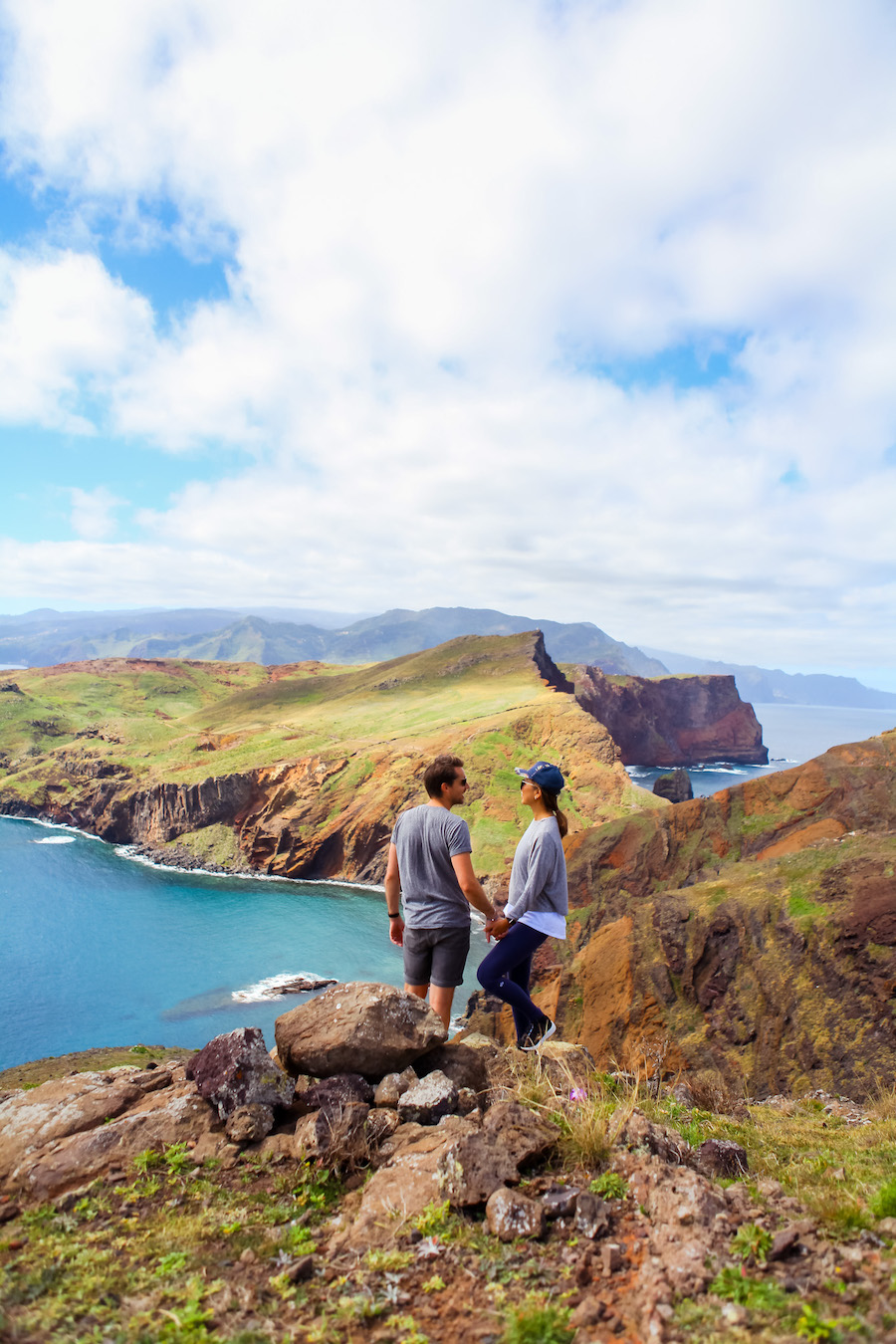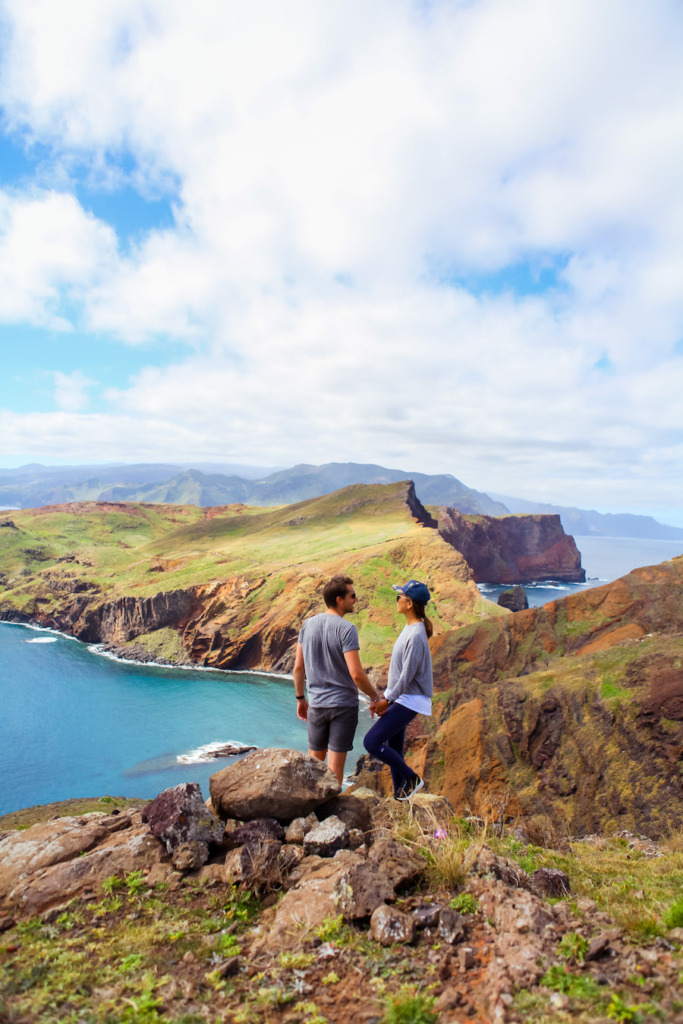 Ponta de São Lourenço is of volcanic origin. When starting your hike, you'll quickly notice it! It is composed of basalt (magma cooled rapidly and of mineralogical composition) as well as limestone sediments.
The climate
At Ponta de São Lourenço, the climate is much drier than on the rest of the island of Madeira. It is semi-arid. Besides the area is exposed to the north wind, which results in rather low vegetation.
Fauna and flora
At Ponta de São Lourenço, there are many flowers and birds, some of which are endemic.
Here are some examples of plant varieties: immortelle, cardoon, halophyte etc.
And some examples of bird species: Madeira Berthelot's Pipit, European Goldfinch, Canary, Common Kestrel, Ashy Shearwater (protected seabird), Castro's Storm-Petrel, Bulwer's Petrel, and Common Tern, and colonies of Yellow-legged Gulls.
As everywhere in Madeira, you can see a large number of lizards. Apparently it is also possible to see a monk seal, a very rare animal.
Lighthouse: farol
At the end of the Ponta de São Lourenço you will see a lighthouse "the farol". This lighthouse was built in 1870. With a height of 103 meters, it is the oldest lighthouse in Madeira.
---
In Conclusion about Ponta de São Lourenço
The hike to Ponta de São Lourenço is truly magnificent. It was one of the highlights of our trop to Madeira. Its unique landscapes and incredible breathtaking views made us feel at the end of the world.
What was most surprising is the striking contrast between the deep blue of the Atlantic, the huge cliffs and the vegetation. We were amazed by the beauty of Ponta de São Lourenço during the entire hike.
FOR OTHER THINGS TO SEE IN MADEIRA, READ THIS POST: 30 BEST THINGS TO SEE IN MADEIRA
---
Related Posts
LEVADA CALDEIRAO VERDE IN MADEIRA – FULL GUIDE: here
MADEIRA, 30 best things to see: here
DISCOVER FUNCHAL: here
16 BEST THINGS TO SEE IN CÂMARA DE LOBOS: here
ALL YOU NEED TO KNOW ABOUT PORTO MONIZ IN MADEIRA: here
BEST WAY TO VISIT CABO GIRÃO: here
MONTE PALACE TROPICAL GARDEN IN MADEIRA: here
BEST THINGS TO SEE IN SEIXAL: here
3 BEST AREAS TO STAY IN MADEIRA: here
BEST TIME OF THE YEAR TO VISIT MADEIRA: here
WHY IS MADEIRA WORTH VISITING? TOP 10 RESONS: here