BEST WAY TO GO AROUND IN SANTORINI? CHEAPEST WAY TO GET AROUND SANTORINI? IS THERE UBER IN SANTORINI?
Are you looking for information on how to get around Santorini in Greece? We've just returned from our trip to Santorini and we'll explain everything to you in this article.
There are many options to get around in Santorini
There are many options to get around Santorini: cars, quads (ATV), scooters, buses, and taxis…. It basically depends on what you want to see, if you prefer exploring at your own pace, and if you are willing to drive your own vehicles.
---
What is the best way to get around Santorini?
1. Getting around in Santorini by scooter or ATV (quad)
In Santorini, you will see many scooters and ATVs on the road.
For us, this is by far the easiest way to get around in Santorini. You will have the complete freedom to get anywhere you want in Santorini. It is also easier to park as parking spaces are quite scarce on the island and can sometimes be relatively full! Parking your scooter will be relatively easy!
Also during peak season, there could be a bit of traffic, hence with a smaller vehicle you can get to your destination faster
It was recommended by our rental agent to rent an ATV rather than a scooter as the road can be quite sandy in Santorini due to strong wind sometimes, which makes it a bit more dangerous with a scooter. So without previous experience, it would be better to rent an ATV, as it's much more stable.
Having said that, we didn't feel the road to be particularly difficult. For us, both vehicles are totally suitable for driving around Santorini.
We advise you to pay close attention to the condition of the vehicle before renting it, don't hesitate to take photos of scratches or dents that are already there in order to avoid any dispute later on.
Keep in mind a few important points:
Safety First: Ensure you have the necessary safety gear, including helmets, and drive cautiously, especially if you're not experienced with ATVs or Scooters.
Rental Shops: There are numerous rental shops across the island where you can easily rent an ATV or Scooter. Booking in advance is not a must.
---
2. Rent a car to get around Santorini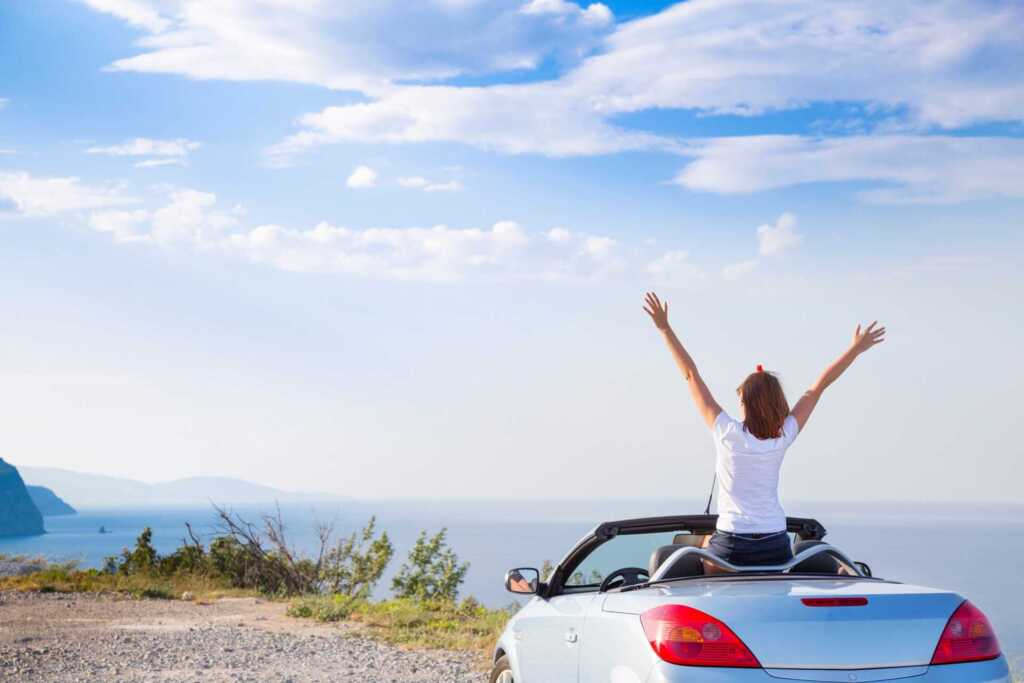 If you want to visit the entire island of Santorini while avoiding certain constraints, and having the possibility to move at your own pace, there is no doubt that renting a car will be one of the most practical options. However, renting a car is not always the best in Santorini, unless you are a family of 3 or more.
Indeed, roads can be quite narrow on the island, parking can be difficult and traffic in peak season can be quite cumbersome.
Renting a car is also more expensive than a scooter or ATV. However, by reserving in advance, you can sometimes get a better deal.
Keep in mind a few important points:
International Driving Permit (IDP): If you plan to rent a vehicle, make sure you have a valid IDP, as it's usually required for non-European Union residents.
Driving Conditions: Santorini's roads can be narrow and winding, so be prepared for some adventurous driving. However, the island is relatively small, so it's not too challenging to get around.
Parking: Finding parking can be challenging, especially in the peak tourist season. Be patient and allow extra time to search for parking spaces, especially in popular areas like Oia.
---
3. Buses in Santorini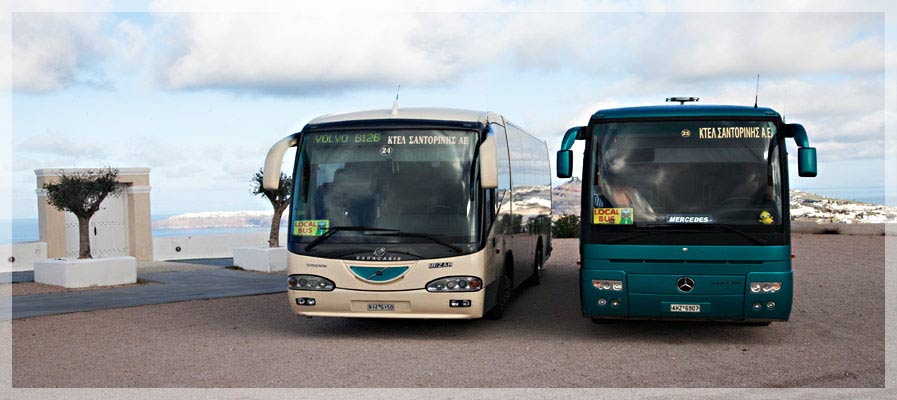 Santorini offers a reliable and affordable public transportation system by bus. The main bus station is located in Fira, the island's capital. From here, you can take buses to various destinations across the island. It's a great option for budget-conscious travelers.
The main disadvantage of buses is that they do not always run very regularly. For buses going to the most touristy places, there will be no problem, since they pass twice an hour, even if buses are not always on time.
For other journeys, you will sometimes have to wait several hours between two passages. So plan your trip in advance if you intent to visit Santorini by bus… Y
The huge advantage of traveling by bus in Santorini comes from the fares. Whatever your destination on the island, you will never pay more than €3 for the journey, and children can even benefit from discounts. Tickets are purchased directly from the driver or the some small shops next to the main stations.
Keep this in mind:
Bus Routes: Santorini's bus network connects major villages and attractions, making it an ideal choice for those looking to explore beyond their immediate surroundings.
Bus Schedule: Be sure to check the bus schedule in advance, as services may vary depending on the season. During the high season, buses are more frequent.
Fare Information: Bus fares are reasonable and typically paid in cash to the driver when you board. Keep small denominations of euros handy for this purpose.
>> CHECK: Official Timetable
---
4. Taxi in Santorini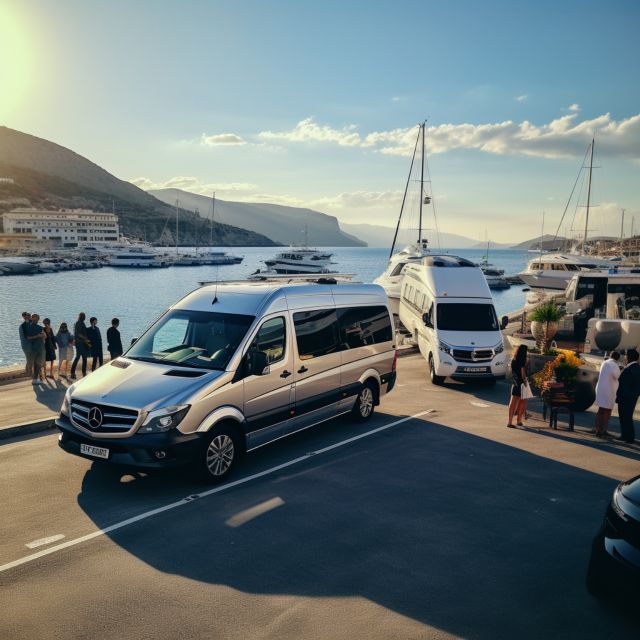 Taxi is another option to get around in Santorini, but they are way more expensive than any other option. Any fare (even for 2-3km, will rarely cost you less than 30 EUR!).
It is also recommended to book your taxi in advance due to the limited number of taxis on the island. You can book your airport transfer at a cheaper price here, or book your taxi by WhatsApp. You can find the number here. You also have the possibility to rent a car + driver for a full-day tour. More info here.
There are a few things to keep in mind when traveling by taxi:
Agree on a Fare: Taxis in Santorini do not have meters. Before getting in, make sure to agree on a fare with the driver to avoid any misunderstandings.
Pre-booked Taxis: Some travelers prefer to pre-book taxis, especially for airport transfers or when returning late at night.
Availability: During peak hours, taxis might be in high demand, so it's a good idea to have a backup plan.
Uber: it is possible to use Uber in Santorini. However, prices are very similar to taxis and waiting time can be quite long.
---
5. Boat trips
You can also visit Santorini by boat, to check out the surrounding islands and hidden beaches.
There are many boat companies offering boat tours. Either private or semi-private on a catamaran or with.a bigger group on bigger boats. You can for instance see the volcano of Nea Kameni, visit the island of Thirissa, and swim in hot volcanic water at Palea Kameni.
>> CHECK OUT THE BOAT TOUR OPTIONS IN SANTORINI
>> READ: 6 BEST BOAT TOURS IN SANTORINI
---
Our own experience
We rented an ATV for 4 days during our stay on the island of Santorini. It was recommended by the rental shop, as it's safer to drive…
However, If we were to go again, we would actually rent a scooter. The road conditions were quite good, and it was much easier to skip traffic and park with a scooter.
The towns and villages of Santorini are almost always pedestrianized, at least in their centers, and even the surrounding areas are very touristy. It is therefore often difficult to find a place to park, especially during the summer.
If you are used to scooters or ATVs, these vehicles will be the most conveninent over car.
If you don't want to rent a vehicle, a large number of buses and shuttles run several times a day to Santorini's most interesting sites. Even if you will not be as independent as with your own vehicle.
As for taxis, we only recommend to use them to travel between the airport and your drop-off point, especially if you are carrying bulky luggage.
---
Related Posts
25 BEST THINGS TO DO IN SANTORINI
FULL GUIDE FOR HIKING BETWEEN FIRA AND OIA
BEST THINGS TO SEE IN OIA, SANTORINI
10 BEST THINGS TO SEE AT IMEROVIGLI
FULL GUIDE TO VISIT PYRGOS IN SANTORINI
BEST THINGS TO DO IN FIRA, SANTORINI
THE PERFECT 3-DAY ITINERARY TO VISIT SANTORINI
TOP 10 REASONS TO VISIT SANTORINI
6 BEST PLACES TO STAY IN SANTORINI
BEST HONEYMOON DESTINATIONS [2023-2024]
DISCOVER THE TRADITIONAL VILLAGE OF MEGALOCHORI IN SANTORINI