WHAT IS PAROS BEST KNOWN FOR? IS PAROS WORTH VISITING? WHERE TO STAY IN PAROS?
Paros is part of the Cyclades. We visited Paros for a little less than 2 weeks and to be honest, it turned out to be one of our favorite islands in the Cyclades! In this post, we share all you need to know to make the most of your visit to Paros in Greece!
HAPPY TRAVELS!
---
FULL TRAVEL GUIDE TO PAROS IN GREECE
WHY VISIT PAROS IN GREECE?
Paros is one of the most beautiful islands in the Cyclades.
The island has some of the best beaches in Greece…
The village of Naoussa is simply too cute!
Accommodations are much cheaper than Santorini or Mykonos
There are many activities in Paros, such as boat trips, a visit to Antiparos, visiting traditional villages and so much more!
---
HERE IS A GLIMPSE OF WHAT TO EXPECT DURING A TRIP TO PAROS
---
WHAT IS COVERED IN THIS ARTICLE?
---
WHAT ARE THE BEST THINGS TO DO IN PAROS?
1. Start by visiting Parikia, the main town in Paros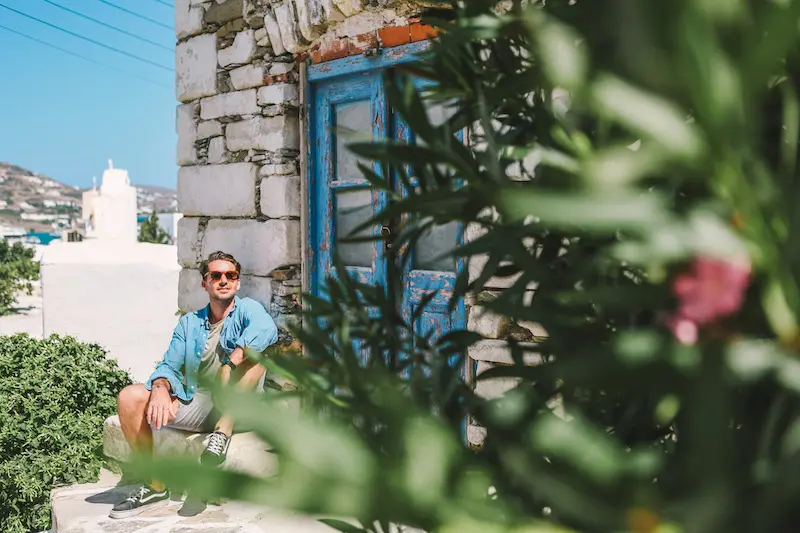 Parikia is the main town of the island. It is located on the northwest coast, and this is most certainly where you will arrive in Paros. All ferries from from Mykonos, Naxos, Siros, and Santorini arrive in Parikia.
It is a typical Cycladic town, with a relaxed atmosphere, and charming squares and alleys lined with small shops, cafes, restaurants and beautiful white churches with blue roofs.
The city's emblematic building is the Basilica of Panaghia Ékatontapyliani, a beautiful church from the 6th century, which stands out greatly from the style of other churches in the region. It is the largest early Christian sanctuary in the Cyclades archipelago. It is surprisingly well preserved and can be visited free of charge.
>> LOCATION: HERE
>> BOOK A GUIDED TOUR IN PAROS
---
Other things to see in Parikia: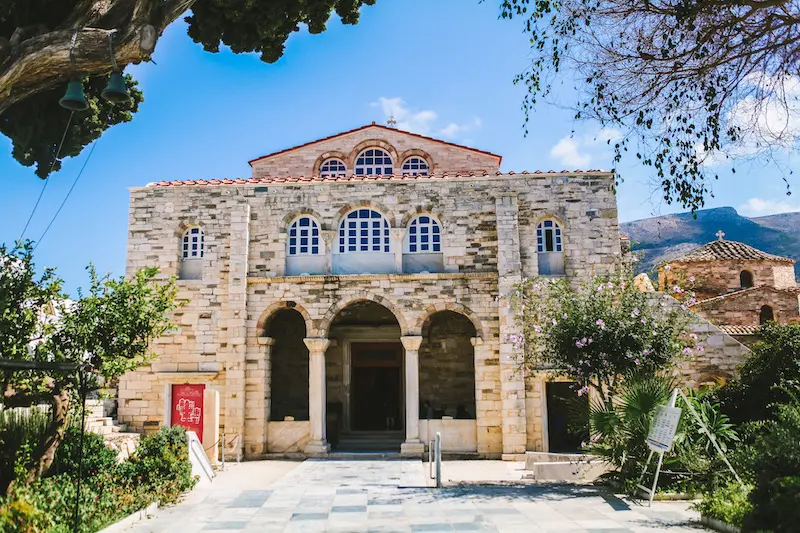 The Archaeological Museum of Paros is one of the most important museums in all of Greece. It brings together a very large number of objects (some of which date back to the Neolithic period) that were found during excavations carried out in Paros and Antiparos.
The old town of Paros: wander through the charming streets of Parikia and spot the Frankish Castle Parikia, Archaic Temple Of Athena and enjoy the sea view from there.
The Byzantine Museum of Paros. Here you will be able to see a large collection of icons and religious objects there.
>> READ: MOST AWESOME THINGS TO DO IN PARIKIA, PAROS IN GREECE
---
2. Naoussa, our favorite place in Paros!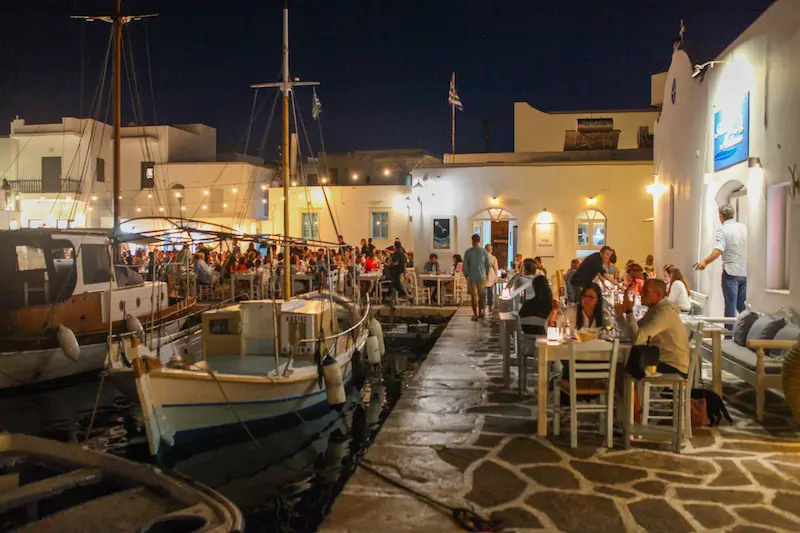 Naoussa is an upscale seaside resort. Here you can find luxury boutiques, trendy places, and a good number of restaurants.
But what we love about Naoussa, is that it still manages to retain a certain authenticity, especially on the port side, where you can still see small fishing boats and traditional taverns. T
The atmosphere is very pleasant. It becomes even more lively at night!
Naoussa is also one of the best places to stay in Paros!
>> LOCATION: HERE
>> READ: OUR BEST THINGS TO DO IN NAOUSSA
---
Other things to see in Naoussa: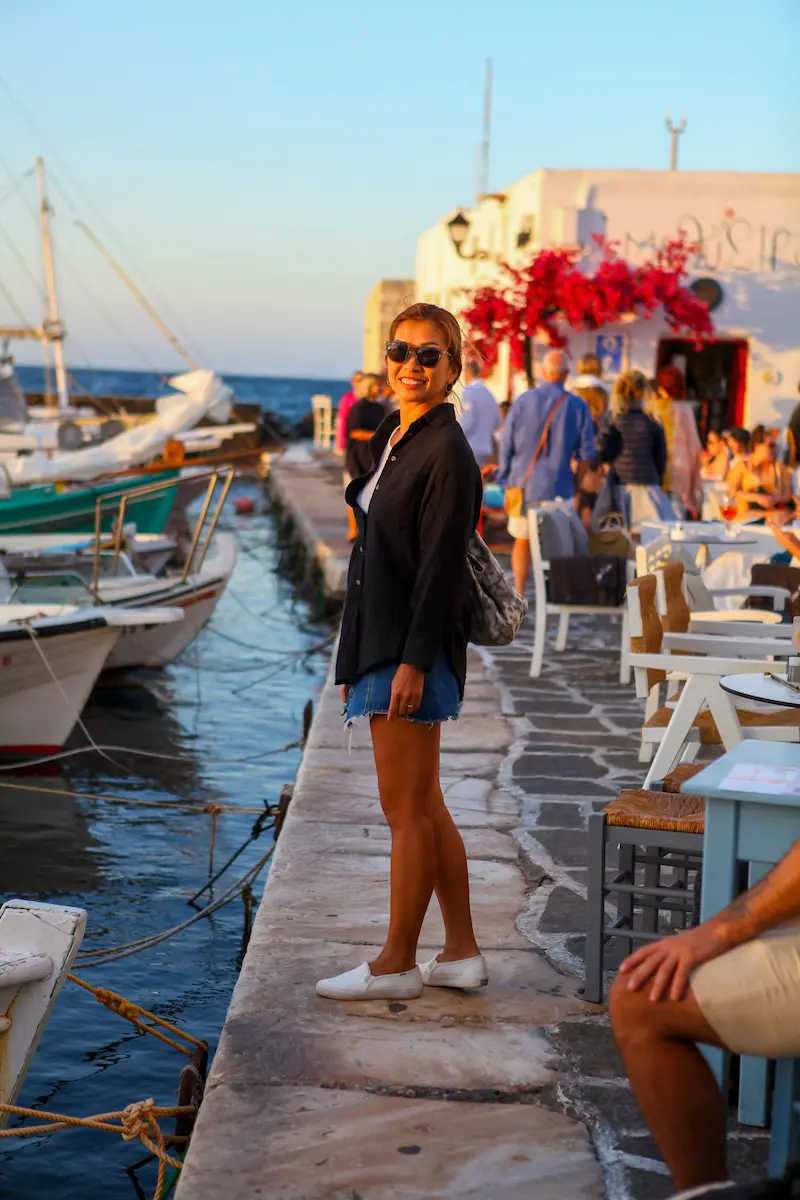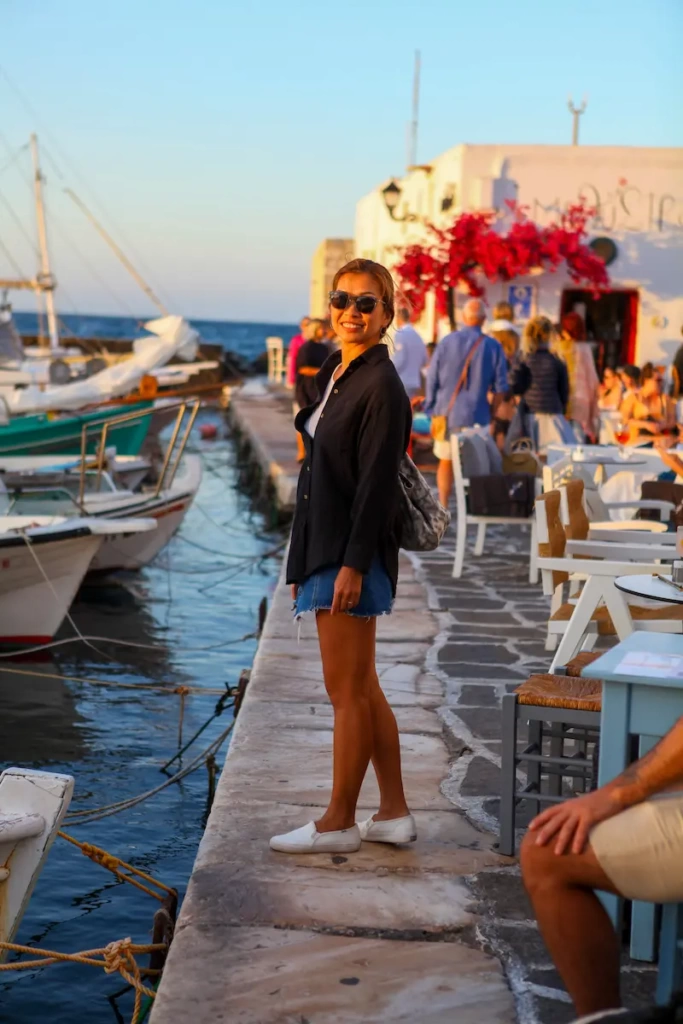 Eat at the legendary Barbarossa Restaurant
Take a photo of the Venetian Castle
Visit the beautiful Faneromeni (Panagía) Church
Relax at Piperi Beach
---
3. Explore the charming village of Lefkes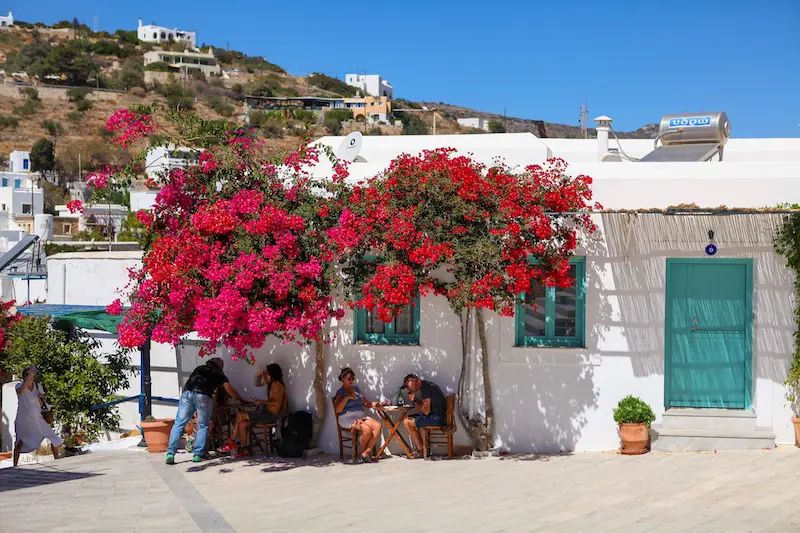 Lefkes is a village located inland, which used to be the capital of Paros. It is the highest and greenest village on the island, it is located between several hills and a pine forest, at the foot of the highest peak of Paros, Mount Aghion Pandon.
Even if it is not directly by the sea, it is a fairly typical place of the Cyclades, where the houses are lined up in the shape of an amphitheater, and where you can take a very nice walk and have lunch in excellent restaurants.
This village is also a great place for hiking in Paros. All around Lefkes, you can admire magnificent panoramas of the island, but also discover windmills and beautiful historical buildings such as the famous sanctuary of the Holy Trinity, a basilica with three naves dominating the village.
>> LOCATION: HERE
---
4. Piso Livadi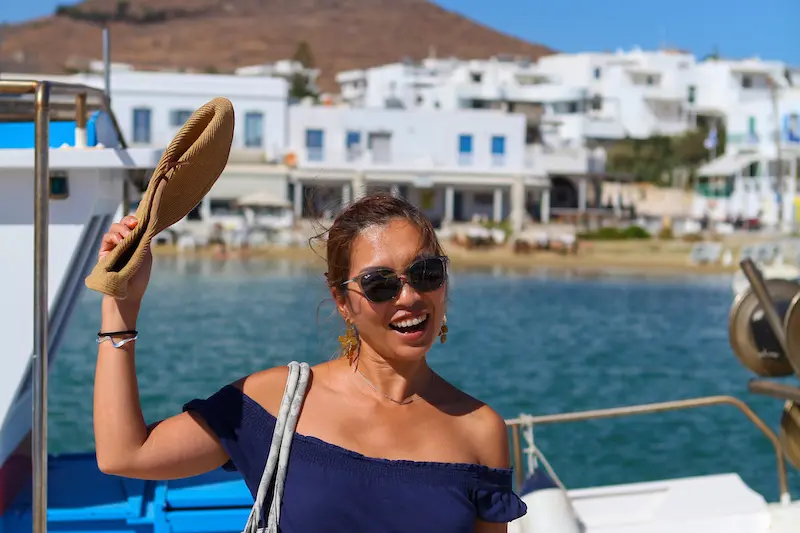 Piso Livadi is another beautiful village in the east of the island, which we loved visiting!
First of all you have this long beautiful beach that runs directly alongside a village. This long strip of golden sand that runs along a port and connects two typical chapels is one of the most charming places in Paros.
Piso Livadi is also one of the best places to go to find traditional restaurants and taste local specialties.
>> LOCATION: HERE
---
5. Eat lunch or dinner at Aliki and chill at its beach
Aliki is a town very similar to Piso Livadi. It is located in the southwest of the island and 15 km from Parikia. It also has a fishing port facing the small island of Antiparos. You will find many restaurants there.
We ate a fabulous lunch there by the sea and chilled at the beach right in the village until sunset! It's one of our best memories during our trip to Paros!
This charming beach is not so crowded which is perfect!
>> LOCATION: HERE
---
TIME TO LOOK AT BEAUTIFUL BEACHES!
Did you choose Paros largely for its beaches? You will not be disappointed! There are so many beaches and coves in Paros! Some of them are undoubtedly among the most beautiful beaches in Greece. Here is an overview of the most pleasant beaches in Paros:
>> READ ALSO: DISCOVER THE 10 BEST BEACHES IN PAROS
---
6. Chill at Kolimpithres beaches
We absolutely love Kolymbithres! This is a must-see in Paros!
This emblematic beach is easily accessible from Naoussa (by bus, car or boat). It is a pleasant beach with golden sand, with several small coves.
We traveled to Paros in September, so it wasn't the peak period, but we can easily imagine that in the middle of summer, you will have to arrive early to have the chance to find a place to put your towel.
>> LOCATION: HERE
---
7. Santa Maria Beach, another popular beach in Paros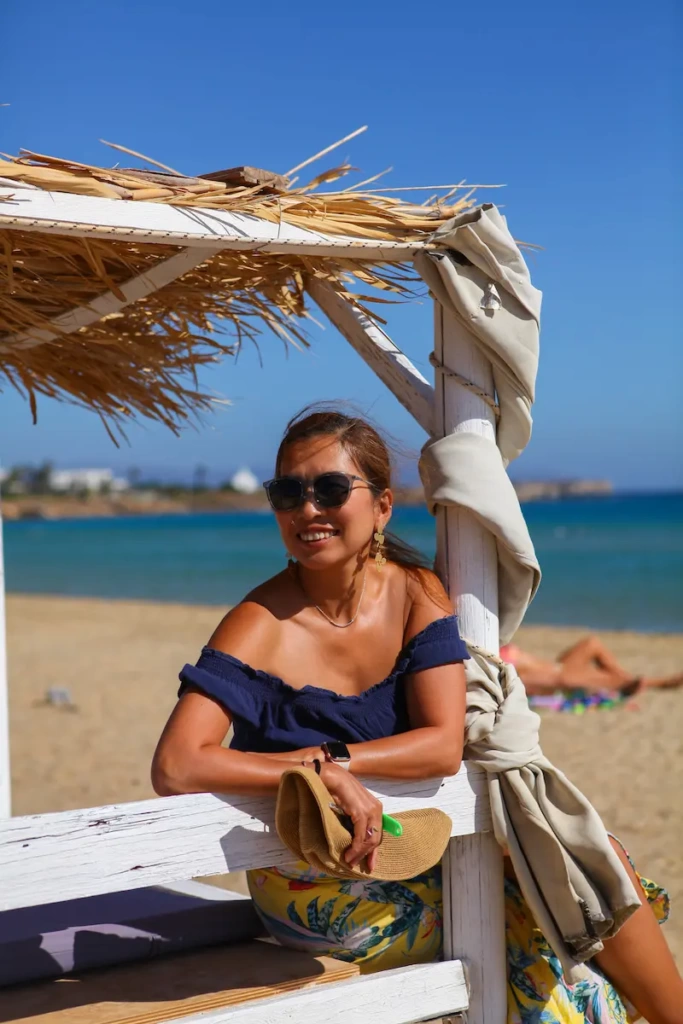 Santa Maria Beach is another one of our favorite beaches on the island! It is lined with numerous establishments (bars, restaurants, etc.), and it is possible to practice many activities there (beach volleyball, kitesurfing, diving, etc.).
It's also the perfect to hang your hammock and chill all day!
>> LOCATION: HERE
---
8. Golden Beach, one of the best beaches on the island
Golden Beach is one of the most exclusive beaches on the island. It is a large expanse of golden sand that extends for several kilometers, particularly appreciated by fans of windsurfing and other water activities.
>> LOCATION: HERE
---
9. Explore Paros Park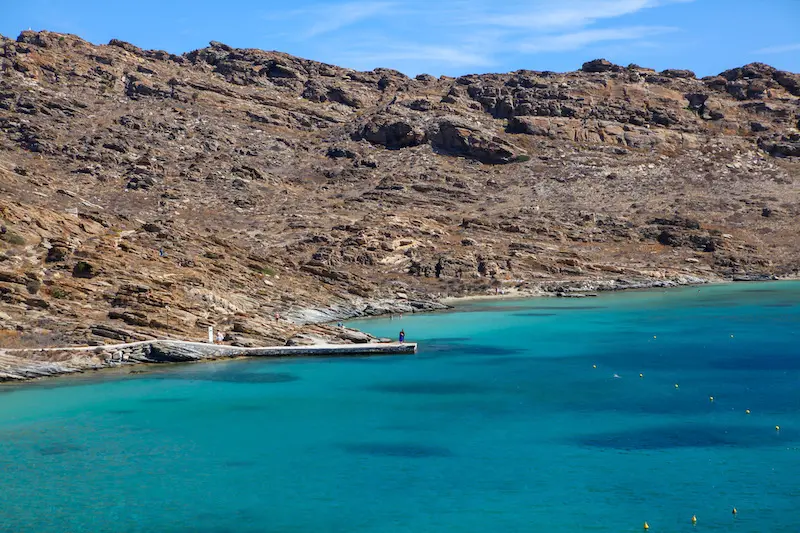 A visit to Paros Park is one of the best things to do!
This park was founded with the aim of highlighting the Saint-John Detis peninsula, a place which notably houses an archaeological site, but also the Saint-John Detis monastery.
The Monastiri beach inside the park is also one of the most stunning beaches in Paros!
If you like hiking, you can take superb walks y following the different trails which stretch for around 7 km. We spent half day exploring the park! We absolutely love this place.
>> LOCATION: HERE
---
10. Go on a day trip to Antiparos
Antiparos is a small island just opposite Paros. Visiting Antiparos is practically an unmissable stop during a trip to Paros. For us, our visit to Antipros was the highlight of our trip to Paros!
Antiparos became famous, as this is where Tom Hanks spends his summer! Indeed, he apparently bought a property in Antiparos and it's not uncommon to spot him and his family on the island… Well, unlucky us, there was no sight of Tom during our visit!
---
Things to see in Antiparros: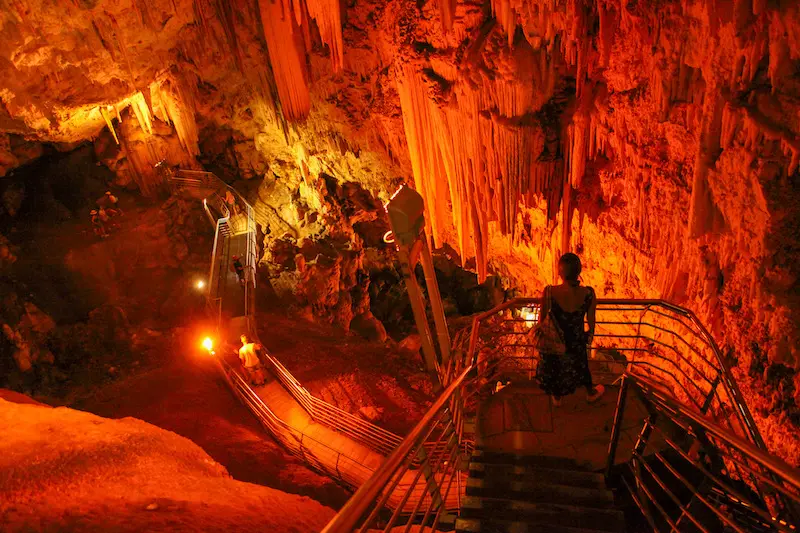 Wander at the charming Antiparos village
Discover the remaining of a 16th-century Venetian fort
Visit the stunning Cave of Antiparos
Chill at Ag Georgios Beach (also a great place for lunch)
Watch the sunset at Sifneiko Cafe
Go on a boat trip to Despotaki
---
How to get to Antiparos
The only way to get to Antiparos is by taking the ferry from Pounda (all year round) or Parikia (summer only). We recommend Pounda as it's much faster (15min)
Buy your ticket once you are on the ferry
It's possible to bring your car/scooter on the ferry! We highly recommend it for visiting Antiparos. >> COMPARE BEST PRICES HERE
>> READ: ANTIPAROS GUIDE: 8 BEST THINGS TO DO
---
11. Visit Butterflies Valley
To the west of the island, about 7 km from the capital, there is an astonishing natural site: Butterflies Nature Reserve.
This place is filled with dense vegetation, lots of cypresses and olive trees, that the "callimorph" butterflies have chosen to reproduce. During the summer, butterflies are all over the trees.
>> LOCATION: HERE
>> WEBSITE: HERE
---
12. Have fun Kitesurfing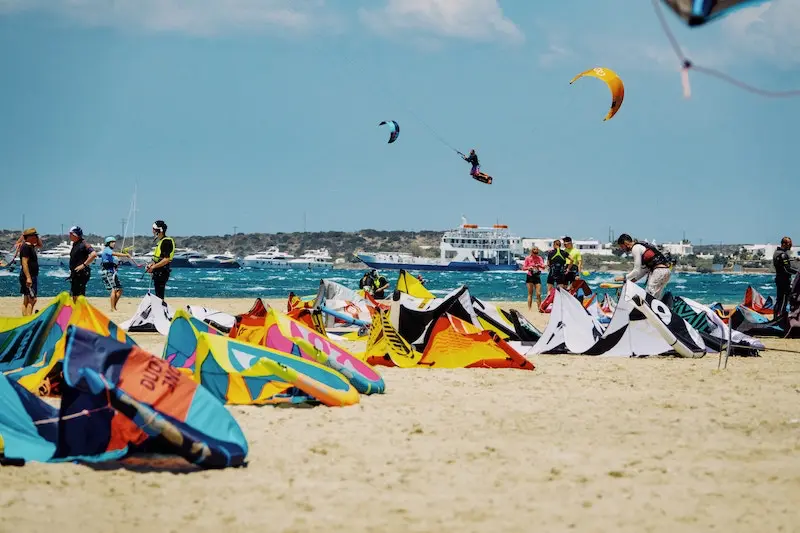 If you are looking for an exciting and refreshing sporting activity in Paros, look no further than kitesurfing in Pounta. This sandy beach, located west of Parikia, is famous for its perfect wind conditions for kitesurfing, which attracts water sports enthusiasts from all over the world.
Pounta is ideal for beginners and experts, as the shallow waters provide a safe and comfortable experience for all skill levels. Local kitesurfing professionals offer lessons for beginners, as well as equipment rentals for the more experienced.
>> LOCATION: HERE
---
13. Go on a boat trip!
If you've been reading this blog for a while, you will know that we love boat trips! In fact, we would love to live on a boat someday!
And in the Cyclades, one of the best things to do is to go on a boat trip.
In Paros, there is no shortage of options and itineraries, which are all super awesome!
Here are our recommended boat trips in Paros:
---
14. Go on a day trip to nearby islands
From Paros, you can actually visit other islands in the Cyclades!
It is for example possible to visit Delos one of the best things to see in Greece! You can also visit Mykonos in a day, Amorgos or Koufonisia Islands.
>> BOOK YOUR DAY TRIP TO MYKONOS HERE
---
15. Enjoy local foods in Paros
The delicious and varied local cuisine of Paros reflects the rich culinary culture of the Cyclades. The island's traditional villages, such as Lefkes offer a unique gastronomic experience. They offer authentic local dishes in quaint tavernas.
You can enjoy dishes based on meat, fish, and fresh vegetables, accompanied by local wine. You will discover authentic and tasty local cuisine.
Of course, fresh fish and seafood is a must in the Cylcades!
The most famous dishes of the local cuisine of Paros include "gouna", dried and grilled fish, and "fava", a puree of split peas. There is also "ladenia", a type of traditional pizza made with tomatoes, onions, and herbs.
---
WHERE TO STAY?
Parikia and Naoussa are the two main towns to stay in Paros. However, we highly recommend staying in Naoussa! Although Parikia is great to visit, if you visit Paros is probably because you want to avoid the crowds of Santorini and Mykonos. Naoussa feels much more relaxed and quaint.
Here are our favorite hotels in Naoussa:
Piperaki Project – best value for money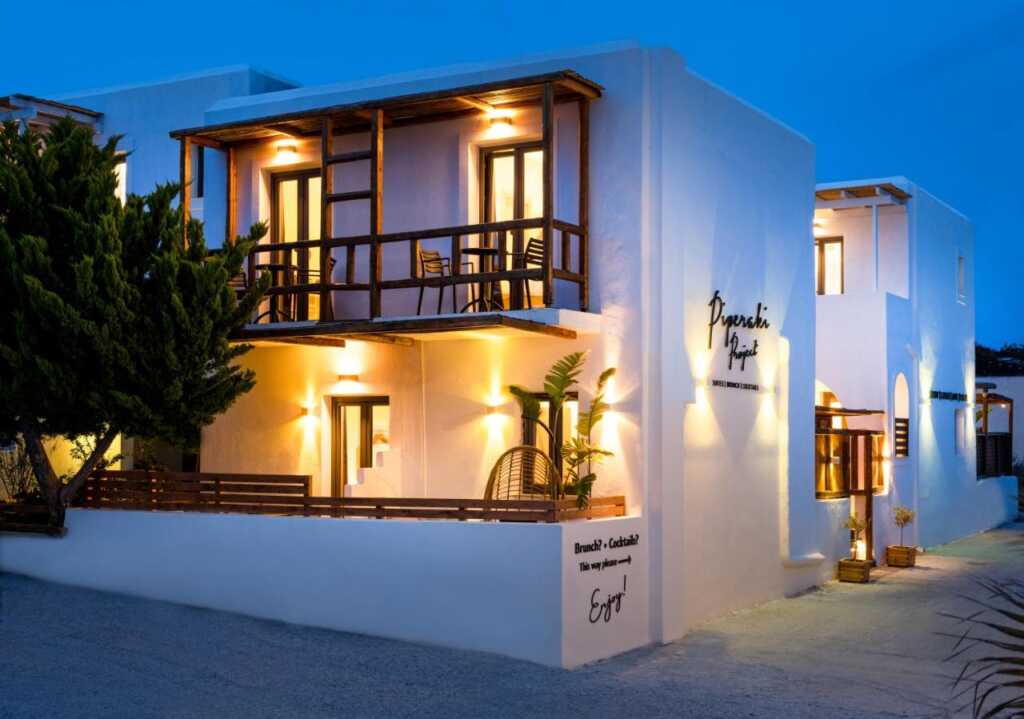 Piperaki Project is one of the best hotels in Naoussa! It is located just outside the town, but still within walking distance. The hosts were extremely nice and made us feel at home!
>> BOOK HERE
---
Saint Andrea Seaside Resort – most luxurious ones
This is a luxurious hotel with a stunning seafront location. It offers elegant rooms, a beautiful pool area, and fantastic views of the Aegean Sea.
>> BOOK HERE
---
Hotel Senia – the most stylish one!
Known for its excellent service and modern, comfortable rooms, Senia Hotel is situated close to the center of Naoussa. It offers a relaxing atmosphere and a lovely pool area.
>> BOOK HERE
---
HOW TO GET TO PAROS?
By plane
Paros has a national airport served from Athens. There are between 2 to 4 trips per day depending on the season and the flight lasts only 35 minutes. The airport is located in the south of the island, about ten kilometers from Parikia.
---
By ferry
To go to Paros, you can also take the ferry from Rafina port or Piraeus port in Athens. You can reach Paros from Mykonos, Santorini, Amorgos, Andros Naxos etc. There are several daily connections.
In general, taking the ferry is the best way to visit the Cyclades!
>> CHECK OUT ALL FERRY ROUTES TO PAROS AND BOOK YOUR TICKETS HERE
---
HOW TO GET AROUND IN PAROS?
Rent a car to visit Paros
To visit Paros, we highly recommend to rent a car, or at least a scooter. This is the most convenient and quickest way to get around, especially if you want to tour the island.
>> READ: FULL GUIDE FOR CAR RENTAL IN PAROS GREECE
---
Join a tour group
If you don't feel comfortable driving, you can join a guided tour. See below a selection of great tours in Paros:
---
HOW LONG TO VISIT PAROS?
If you are not in a rush take your time to truly appreciate Paros. Would you need at least 2-3 days to visit Paros' main spots? However, you can easily spend longer by chilling at some of the beaches and joining boat tours.
Paros in 1 day
The first day, devote yourself to the northern part of the island.
Start with the capital Parikia then go north and the Paros park.
Then continue towards Naoussa where you will find plenty of restaurants for lunch.
Spend the afternoon on Kolymbithres.
---
Visit Paros in 2 day
For the second day in Paros, visit the southern part of the island.
Visit the villages of Lefkes,
Have lunch a the port of Piso Livadi and chill at the beautiful beaches such as Golden Beach, Logaras or Faragas.
---
Paros in 3 days:
If you stay 3 days in Paros, we recommend taking a boat trip around the island and Antiparos.
You will have the opportunity to visit Antiparos but also Despotaki
---
FINAL THOUGHTS – IS PAROS WORTH IT?
We visited Mykonos, Santorini, and Paros during our trip to the Cyclades. We had high expectations for Santorini and Mykonos, but funny enough it is Paros that we liked the most out of the 3.
It is less crowded, Naoussa was certainly as beautiful as Oia in Santorini the boat trips were awesome, the beaches stunning and accommodations much cheaper!
So if you still hesitate about Paros, don't! Start planning your trip right away, you're gonna love it. And if you have any question, feel free to leave a comment below…
---
RELATED POSTS
25 AWESOME THINGS TO SEE IN SANTORINI
OUR BEST THINGS TO DO IN NAOUSSA
MOST AWESOME THINGS TO DO IN PARIKIA, PAROS IN GREECE
DISCOVER THE 10 BEST BEACHES IN PAROS
ANTIPAROS GUIDE: 8 BEST THINGS TO DO
TOP 10 REASONS TO VISIT SANTORINI
THE PERFECT 3-DAY ITINERARY TO VISIT SANTORINI