Where to stay in Lanzarote? From which area is it easier to visit Lanzarote? Where is the best spot for sunny days and chilling by the beach? In this post we will answer all your questions.
You are probably leaving soon and wonder where to stay in Lanzarote. Don't panic, We'll explain everything about accommodation and best places to stay in Lanzarote.
We spent quite some time in Lanzarote exploring most parts of the island. We actually compiled the 25 best things to see in Lanzarote here. And if you are still not sure about traveling to Lanzarote, check out these 10 reasons why you should take a trip to this island,
If Lanzarote is such a popular destination, it is of course for its many heavenly beaches, but also for its impressive volcanic landscapes. Although the island is not very big, choosing where you stay in Lanzarote can make a big difference. So here is our top 5 selections of best areas to stay in Lanzarote.
---
1. PLAYA BLANCA
Playa Blanca is a seaside resort which is located on the south coast of Lanzarote. This small town can be a very pleasant destination for a family or couple for a romantic holidays by the sea.
You can enjoy several beaches in this area and its surroundings. Playa Blanca has magnificent beaches, some of the best on the island (here is the top 10 beaches in Lanzarote). Playa Dorada to the east, and Playa Flamingo to the west, are especially beautiful with white sand and crystal clear water.
A few kilometers to the south-east, you can reach the beaches of Papagayo, in the heart of a nature reserve. There you will discover some of the most beautiful landscapes on the island.
Playa Blanca has developed a lot in recent years, and many facilities are now present around the promenade. There are restaurants, hotels, bars and even a shopping center.
From Playa Blanca, you can also take the ferry to the island of Fuerteventura, book via Direct Ferry here. (READ: BEST THINGS TO DO IN FUERTEVENTURA)
For more information on things to do in Playa Blanca, check out this post.
---
BEST HOTELS IN PLAYA BLANCA
Hotel The Volcan Lanzarote
If your budget allows, then we highly recommend Hotel The Volcan in Playa Blanca. This hotel is located right by Marina Rubicon with many restaurants and bars around. The beach is just a few minutes walk. This hotel has a very large swimming pool and offer excellent breakfast. You can check it out here.
Iberostar
This hotel has a breathtaking view, directly facing the ocean. Iberostar has 3 large swimming pool, including 1 dedicated for kids only. The beach is located just a few minutes walk from the hotel. In front of the hotel, you have the famous Playa Blanca promenade with restaurants and bars along the way. We absolutely love this place. You can book here.
Ona Las Casita
If you are a little bit more on a budget, then we recommend Ona Las Casita. This lovely bungalow is perfectly located near the beach and the main promenade at Playa Blanca. The bungalow has a kitchen, so you can cook at home to save a bit of money. The place was super clean when we stayed there and we ate pretty much every day on the outdoor terrace. We love this place which has the perfect value for money. Book it here.
---
2. COSTA TEGUISE
Located southeast of Lanzarote, Teguise is the former capital of the island, so it is one of the places with the most important historical heritage in Lanzarote (more information about Teguise here). In the small cobbled streets of the center of Teguise, you can discover the traditional architecture typical of the region.
A few minutes drive from Teguise, you will find Costa Teguise, also relatively close to Arrecife, the current capital of Lanzarote, and the airport.
Several beaches can be found at Costa Teguise, such as Playa Bastian, a very pleasant and family-friendly place. You can also find the Aquapark not far from there. Las Cucharas beach will be the place to go if you want to practice water activities.
If you want to spend your stay in a pleasant seaside resort, without giving up a certain authenticity, Costa Teguise could well be the place you are looking for. This small family resort has a nice variety of offers when it comes to accommodation. Here is our top selection.
---
BEST HOTELS IN COSTA TEGUISE
Barceló Lanzarote Royal Level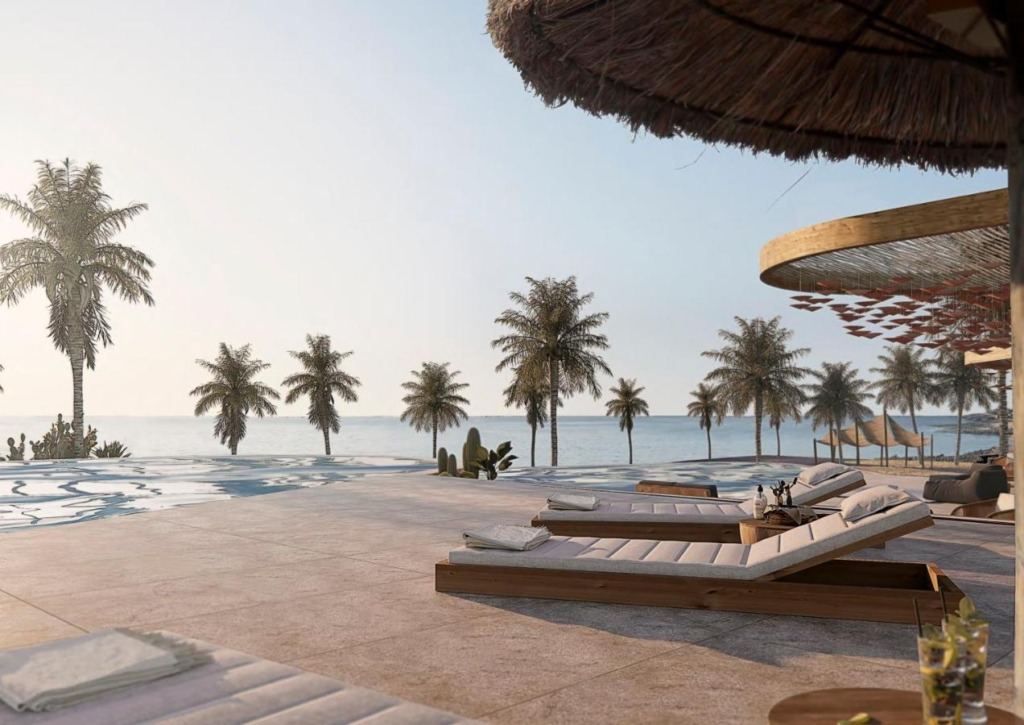 Located just 2 min from the beach, this hotel is perfect if you want to spend a few days relaxing by the sea, combined with a few visits of the main sights in Lanzarote. This is a 4 stars hotel, with swimming pool, fitness center and serving an excellent breakfast. The rooms are modern and decorated with good taste. To check it out, click here.
Oasis Lanz Beach Mate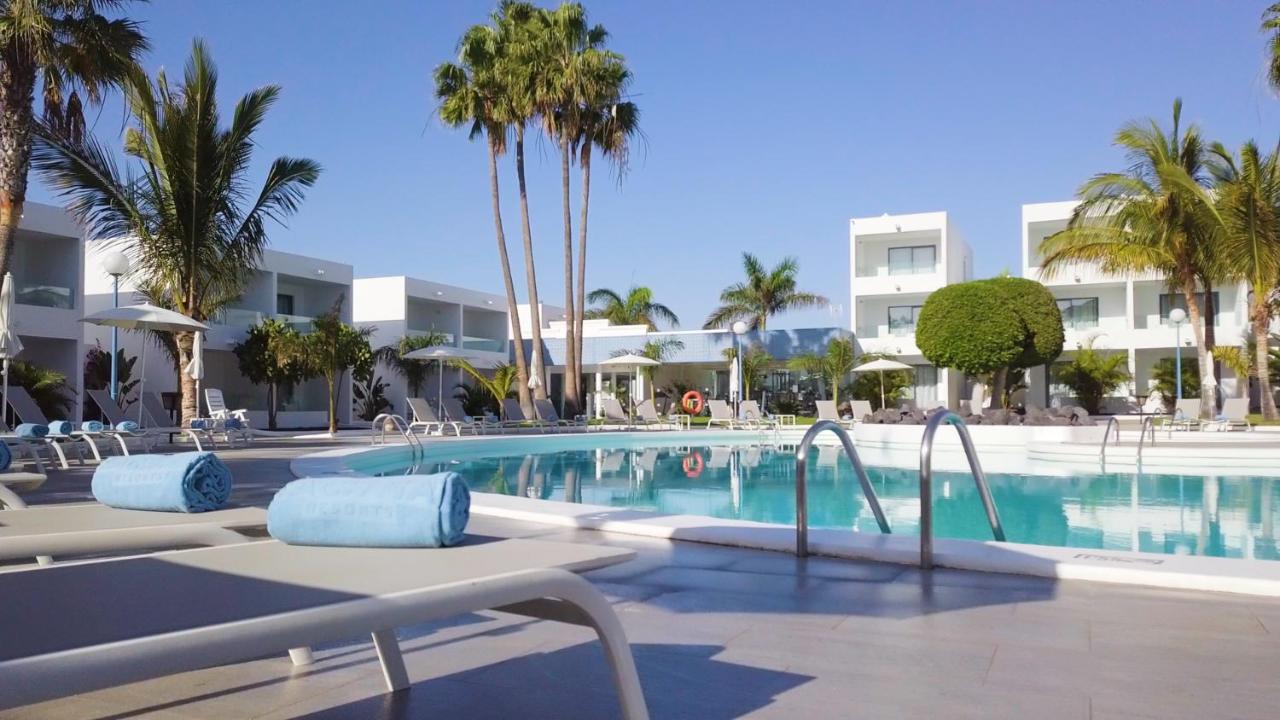 This hotel is located just a few minutes walk from Playa del Jabillo and a few minutes drive to Aqualand. This modern hotel has a swimming pool, fitness center, restaurant serving buffet breakfast, and all facilities you need for a perfect stay in Lanzarote. We found the location of Oasis Land Beach Mate to be one of the best in Costa Teguise. Wait no longer, click here to book if it is still available.
H10 Suites Lanzarote Gardens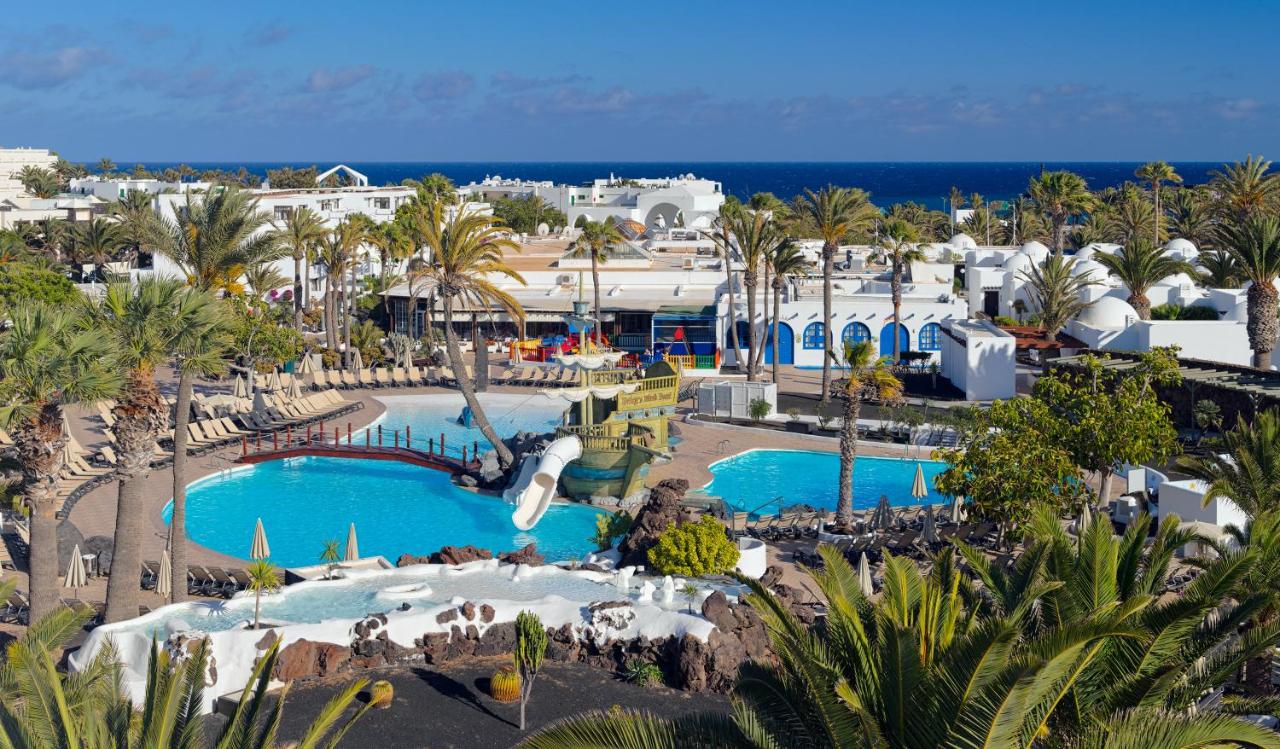 If you are coming in Lanzarote with your family with kids, then search no longer, H10 Suites Lanzarote Gardens is the perfect hotel for you. It has various swimming pools, including a children's pool, a club for kids with supervision, tennis court, restaurants etc. Basically this hotel has all you need. If your aim by coming to Lanzarote is mainly to relax at the hotel or by the beach, then H10 Suites Lanzarote Gardens is a good bet. You can book it here.
---
3. LA CALETA DE FAMARA, BEST FOR SURFERS
Welcome to Famara Beach, a stunning stretch of coastline surrounded by winding mountains and located in the North West area of ​​Lanzarote. Originally, Famara was just a small, peaceful fishing village. Over time and thanks to the growth of tourism, the region has attracted more and more visitors intrigued by the beauty of the landscapes and the charm of its golden sand beaches.
If you like to practice water activities, such as surfing or kiteboarding, then this is probably one of the best beaches in Lanzarote.
However the strong sea currents that are present there make it a place where bathing and swimming are not recommended.
On the other hand, it has become a favorite spot for surfers, and a bungalow area has been built right next to the beach. Here you can find apartments and houses to rent for one or more nights. La Caleta is a much less touristy area, where the atmosphere is particularly relaxed. It is also a well-located place to quickly discover the impressive natural sites of the northern part of Lanzarote.
For more information about Famara, you can check out our full post here.
---
WHERE TO STAY IN FAMARA?
Casa Jable
Located right in the middle of the village, this apartment offers all you need for a perfect stay in Famara. This beautiful beach house can host up to 6 guests. Check it out here.
El Rincòn de Famara
This beautiful apartment is located right in the middle of the village and features incredible views of its surroundings. This place can host up to 5 people. Check it out here.
Surf and Beach apartment in Lanzarote
If you are staying in Famara for surfing, search no longer. We found the perfect place for you here. This newly decorated apartment is right by the beach. It's basically a "surf-in / surf-out" apartment in Famara. Click here to book.
---
4. PUERTO DEL CARMEN FOR A MORE UPSCALE HOLIDAY
Here is another former fishing village that has become a popular tourist resort. Puerto del Carmen is a gem located in the southeast of the island. Puerto del Carmen is slightly more upscale compared to other areas to stay in Lanzarote.
In the town you will find many luxury boutiques and very nice restaurants. Some areas of Puerto Del Carmen are also popular with partygoers. Hence, you can also find more affordable accommodation in Puerto Del Carmen.
Puerto del Carmen also has some of the best beaches in Lanzarote such as Playa Chica, a very charming little beach, located in the heart of the city. Playa Grande is the biggest and probably the prettiest beach on this part of the island, it is perfect for swimming and very well laid out.
Even if the area is quite touristy, it's often the place we recommend besides Playa Blanca. Why ? Quite simply because it is a very central point of the island and you find good restaurants + a magnificent beach.
---
WHERE TO STAY IN PUERTO DEL CARMEN?
Hotel Fariones (luxury)
For your ultimate luxury holiday in Lanzarote, Hotel Fariones will delight you. This hotel set within a tropical garden is surrounded by palm trees. It has 4 restaurants, an infinity pool and a rooftop with an amazing views.
The rooms are simply stunning. Beautifully decorated. Perhaps the only downside, is that the hotel is so nice, that you wouldn't want to leave to visit Lanzarote… 🙂
To find out about the price, click here.
Bungalows Velázquez
You dream of a beach holiday at affordable price. Well, we found a hidden gem for you: Bungalows Velázquez. This property is facing the sea. From this place, take a few stairs down, and you can already jump in the crystal clear water. The place is clean and has a kitchenette, which is great if you want to save some money from eating outside all the time. We highly recommend this place if you want to stay in a luxury area but pay affordable price. Click here to book.
Hotel Lava Beach
If you want to pamper yourself while on holiday (well, who wouldn't want to?), then choose Hotel Lava Beach in Puerto Del Carmen. Why? Well good question. They have a perfect spa, yoga classes, serve healthy food and offer world call service. Choose a room facing the sea and you will feel extremely relaxed during your stay in Lanzarote. You can book Hotel Lava Beach here.
---
5. ARRIETA, FOR A QUIET RETREAT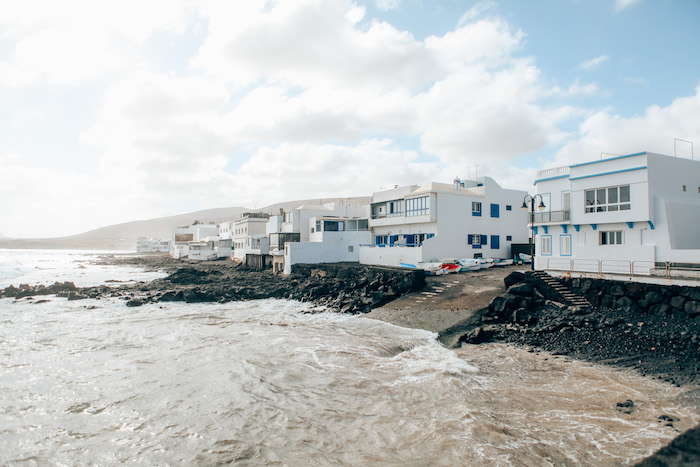 Many tourists wouldn't put Arrieta in their list of things to do in Lanzarote. It's a pity, because this place has a lot to offer and is more preserved than other areas in Lanzarote. Do not expect to have a wide selection of hotels, here you will mainly find cute apartments.
Arrieta is a charming fishing village located on the north side of Lanzarote. It's a hidden gem. This traditional Canarian village, also has a fantastic beach with golden sand. If the sea is strong, expect to see some surfers as well.
If you want to escape the very touristy part of Lanzarote, then we highly recommend Arrieta. We really fell in love with this place. It wasn't either on our itinerary, but we had no more fuel in our car and had to stop in the little gas station there. As it was also lunch time, we stopped in the village and discover the secret beauty of Arrieta.
Arrieta is located near Cueva de los Verdes and Jameos del Agua, 2 must-sees in Lanzarote.
However, note that if you decide to stay in Arrieta, you will need to rent a car for the entire stay. There aren't many public transport nor taxi in this area of the Lanzarote.
---
WHERE TO STAY IN ARRIETA?
Calma Suites La Garita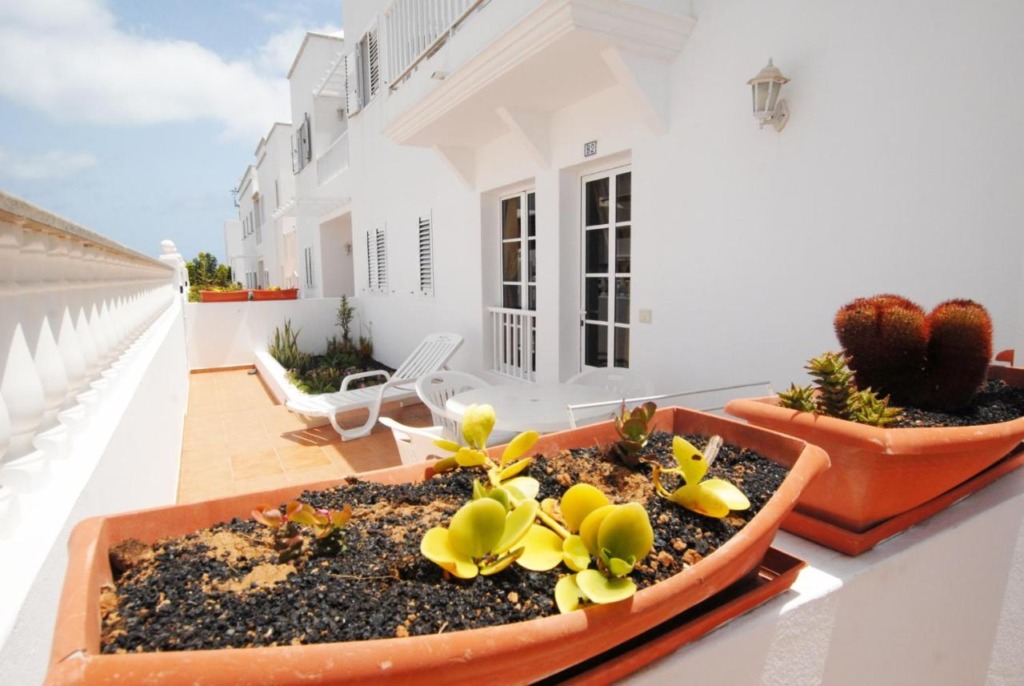 For a simple but cute apartment stay in Arrieta, opt for Calma Suites La Garita. Located just a few minutes from the beach, this is one of the best place to stay in Arrieta. You can check it out here.
Apartamentos El Charcon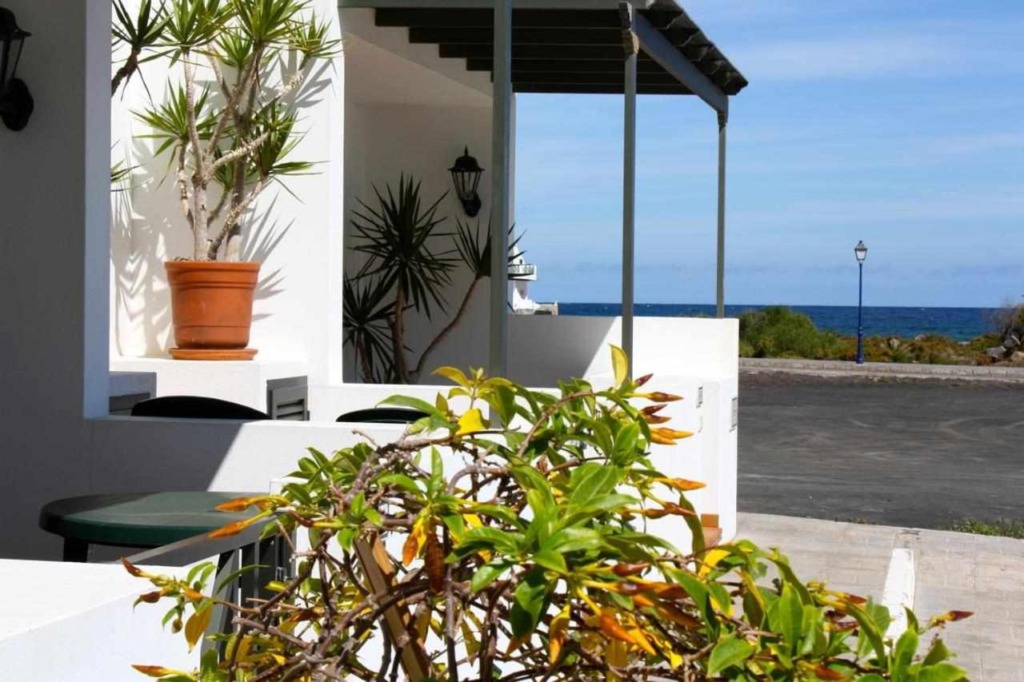 Apartamentos El Charcon is a spacious apartment located right by the sea. For a relaxing stay in Lanzarote, we highly recommend this place in Arrieta. It has 2 bedrooms and a well equipped kitchen. There are a few local restaurants nearby serving fresh fishes at affordable price. We love this place! Check it out here.
Callao Beach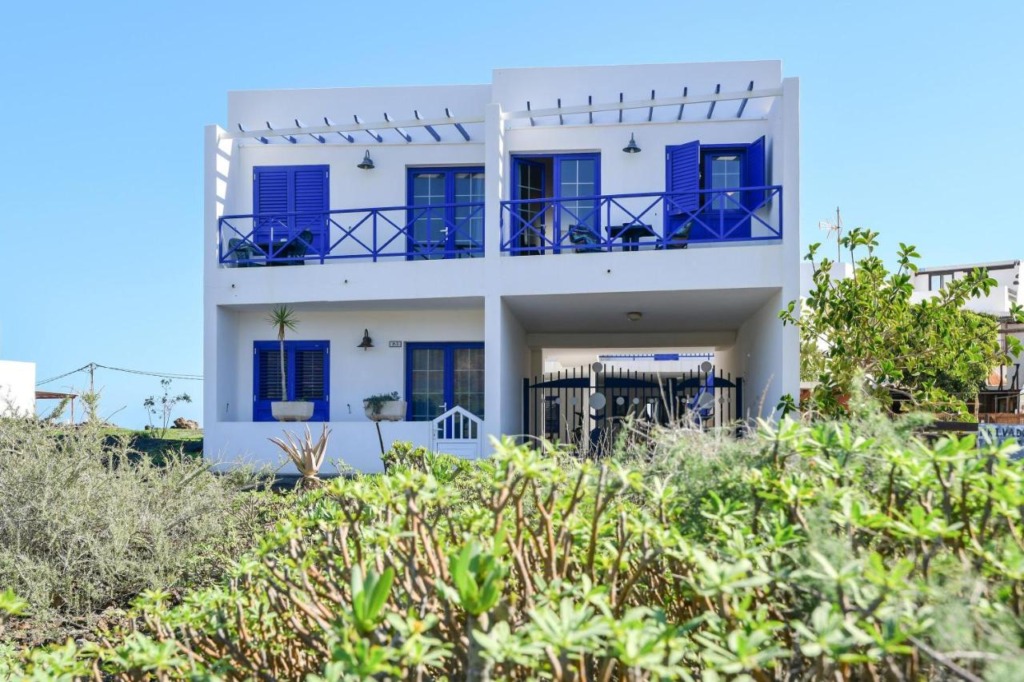 This full sea view apartment in Arrieta has all you need at very affordable price. Enjoy breakfast at the balcony facing the sea, take a short stroll to the beach, or practice some yoga during sunrise. This place is a nice stay in Arrieta. More information here.
---
WHERE TO STAY IN LANZAROTE? – CONCLUSION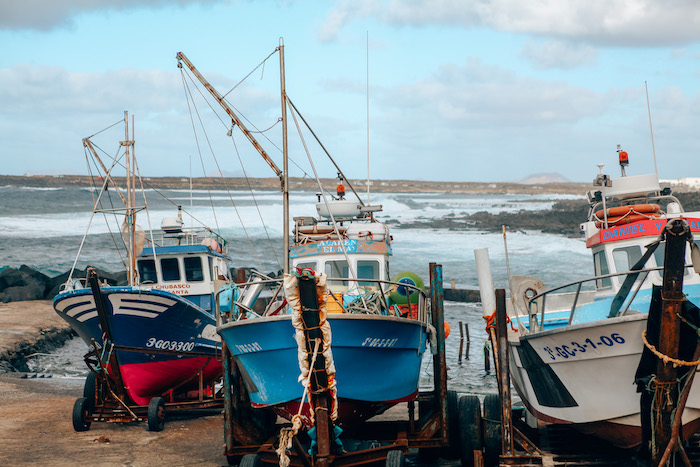 In the west of the island there are constant winds which make surfers happy all year round. In the north of Lanzarote you have magnificent views, the vegetation is more beautiful but the atmosphere is much quieter. To the South (Playa Blanca to be precise), which we recommend the most, you have beautiful beaches, better weather and good options for accommodations. In the South-East this is where most of the tourist resorts are located, which combine beaches, bars and restaurants.
Select your area in Lanzarote wisely to make the most of your stay in this beautiful island.
To find out more about Lanzarote, we listed the 25 best things to see here. If you want to explore the best beaches in Lanzarote, here is our full guide.
All our posts about the Canary Islands can be found here.
If you have any questions about Lanzarote, feel free to drop a comment below. We respond relatively quickly.
---
Related Posts
10 BEST BEACHES in Lanzarote: here
TIMANFAYA NATIONAL PARK, the unmissable things to see in Lanzarote: here
LANZAROTE, 25 best things to see: here
PLAYA BLANCA, the best place to stay in Lanzarote: here
PAPAGAYO BEACH, the most beautiful beach in Lanzarote: here
CÉSAR MANRIQUE: his heritage in the Canary Islands: here
FAMARA, a charming village and surf paradise: here
TEGUISE, the ancient capital of Lanzarote: here
10 REASONS why you should visit Lanzarote: here
JAMEOS DEL AGUA, our favorite sight in Lanzarote: here
CACTUS GARDEN in Lanzarote: here
BEST THINGS TO SEE in Gran Canaria: here