WHAT ARE THE MOST UNIQUE THINGS TO DO IN SANTORINI? IS 2 DAYS IN SANTORINI ENOUGH? WHY IS SANTORINI SO FAMOUS?
Santorini is the most famous island of the Cyclades in Greece! And for good reasons. Its magnificent panoramas, crystal clear waters, breathtaking sunset, and cute white houses everywhere, make Santorini a dream destination. So, what are you waiting for to visit Santorini?
---
Santorini Ultimate Guide
---
KEY HIGHLIGHTS DURING A TRIP TO SANTORINI:
Santorini is a small volcanic archipelago nestled in the southeast of the Aegean Sea.
For us, Santorini is one of the top destinations to visit in Europe!
Between the permanent sunshine and the idyllic setting, you will be seduced by this place.
3 days is the ideal time to see most of the island!
Some of the most unique things to do include a visit to Oia, a Boat Tour in the Caldera, a swim at the Red Beach and a lot more!
---
WHAT THIS VIDEO ABOUT SANTORINI:
WHAT IS COVERED IN THIS ARTICLE?
---
WHAT ARE THE BEST THINGS TO DO?
1. Visit Fira, the Capital of Santorini
Fira, the capital, is one of the must-visit places in Santorini.
The town is the perfect representation of the idea we have of Santorini: the white and blue houses, the small streets, the chic boutiques and the luxury hotels with swimming pools and views of the caldera. And yes, everything comes together to make Fira the perfect postcard setting.
Here, you just need to wander through any alleys to discover beautiful viewpoints and fall under the charm of the island.
In Fira, you can also go down to the small port of Fira Skala. Either by taking the 587 steps or the Santorini cable car.
Finally, if you want to enjoy the nightlife in Santorini, Fira is also where it happens. The city offers the largest choice of restaurants, bars and nightclubs on the entire island.
Location: here
>> READ: 10 BEST THINGS TO DO IN FIRA
---
2. Hike between Fira and Oia
This is one of the most unique things to do in Santorini, and it's free!
The hike between Fira and Oia offers incredible panoramas of the island.
Oia is located at the edge of Santorini. Impossible to visit Santorini without discovering Oia! Located on the side of a cliff, perched at the top of the caldera, the village of Oia is THE romantic spot for contemplating magnificent sunsets.
So we decided to leave Fira in the late afternoon, in order to time our arrival to Oia just before sunset. The hike is 10km long and takes about 3 hours (or more) to complete.
This hike was one of the highlights of our trip to Santorini! The view all along the hike is simply breathtaking. And then you have the grand finale with an arrival to Oia… such a wonderful place.
On the way, make sure to stop at Agios Theodori Church at Firostefani village (location), one of the most photographed places in Santorini!
>> READ: FULL GUIDE FOR HIKING BETWEEN FIRA AND OIA
---
3. On your way to Oia, stop at Imerovigli
After passing Firostefani, from Fira, you will arrive at the charming village of Imerovigli… Actually, for us, it's one of our favorite places in Santorini… The island is very crowded during peak seasons, but for some reason, there are often fewer people in Imerovigli. Although the view and the village are as cute as Fira and Oia.
From Imerovigli, you can do a short detour from your hike to Oia, by going towards Skaros Rock. From this rock, the view of the caldera is so beautiful! Once you arrive at the ruins on the rock, continue the descent to a pretty hidden church.
Imerovigli is the perfect place to take plenty of great photos and have lunch/dinner. There are many restaurants directly facing the sea. This is also one of the best places to stay during a stay in Santorini. More on that later in this post!
Location: here
>> READ: 10 BEST THINGS TO SEE AT IMEROVIGLI
---
4. Admire the sunset at Oia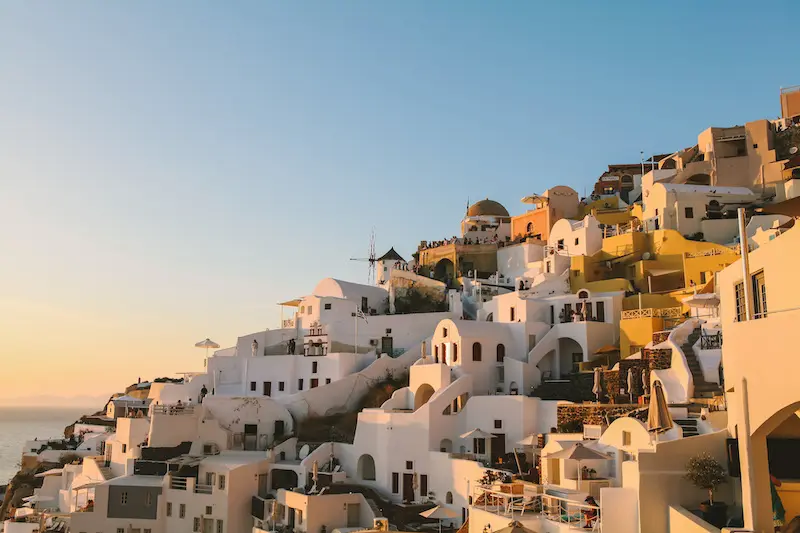 Impossible to visit Santorini without discovering Oia! Located on the side of a cliff, perched at the top of the caldera, the village of Oia is THE romantic spot for contemplating magnificent sunsets.
In addition to its sumptuous panoramas, it is also known for its typical Greek architecture! Indeed, with its maze of alleys, its blue-domed Orthodox churches, and its numerous steps, Oia offers everything you would expect from a small Cycladic town.
So make sure Oia is on your list of things to see in Santorini! There are many hotels in Oia, usually more expensive than on the rest of the island, but with a memorable view of the caldera!
Along with Fira and Imerovigli, Oia is the other must-see in Santorini.
>> READ: BEST THINGS TO SEE IN OIA
TIP:
You won't be alone during the sunset in Oia! You will indeed be surrounded by many-many-many tourists. So once you find a spot for sunset, hold on to it! The best spot is at the castle at the edge of the village (location)
If you want a calmer and more romantic atmosphere, the best is to reserve a table in one of the bars or restaurants to admire the sunset in Santorini with a good cocktail.
---
5. Enjoy great seafood at Ammoudi Bay
From the village of Oia, you can access Ammoudi Bay, one of the most unique hings to see in Santorini! In this small fishing port, you can enjoy a relaxing moment in one of its restaurants serving amazing fish dishes.
All this with a beautiful view of the red cliffs and the town of Oia.
To reach Ammoudi Bay, you can drive down the cliff. For the more courageous, a staircase of 300 steps can be descended to make the most of the scenery.
Near the port, you can also cool off with a little dip in the water.
Location: here
---
6. Visit the traditional village of Pyrgos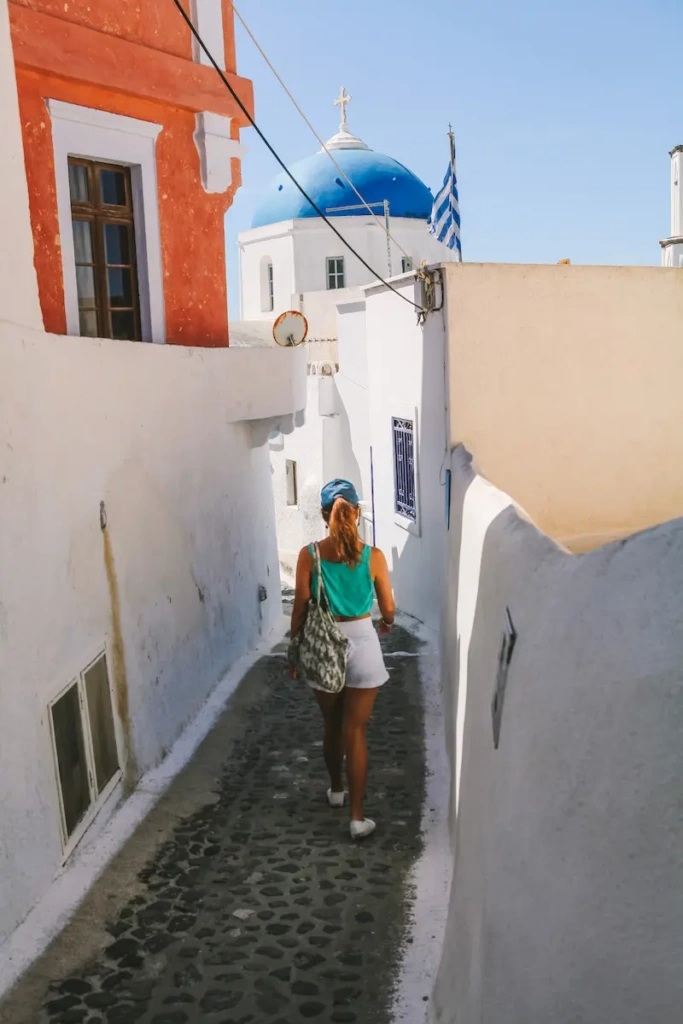 After visiting the coastline of Santorini, we suggest going more inland, with a visit to Pyrgos, a traditional village perched on a hill.
Far from the chic and modern side of Fira or Oia, Pyros is much more on the traditional side. That's why we love this place!
Here you can enjoy a quiet stroll thanks to the numerous cobbled streets which allow you to admire the architecture specific to Santorini. Let yourself go to the rhythm of the local markets and terraces to enjoy a good coffee.
Make your way all the way up to the Castle of an unforgettable view of Santorini!
Pyrgos is one of the best things to see in Santorini, make sure to check it out.
Location: here
>> READ: FULL GUIDE TO VISIT PYRGOS IN SANTORINI
---
7. Taste some delicious Santorini wines at one of the vineyards around the island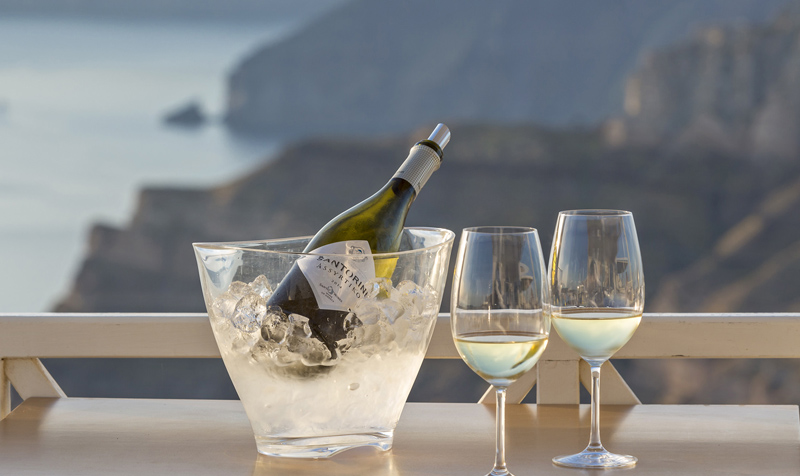 Not far from Pyrgos, continue your visit to Santorini at Santo Wines.
Greece is full of excellent wines. And Santorini produces its own wines too. There are many vineyards around the island. One of the most famous and most beautiful places to taste Santorini Wines is at Santo Wines.
Enjoy scenic winery walking tours, tastings & nibbles, plus a fantastic terrace with caldera views.
---
8. Wander at Megalochori, another cute village in Santorini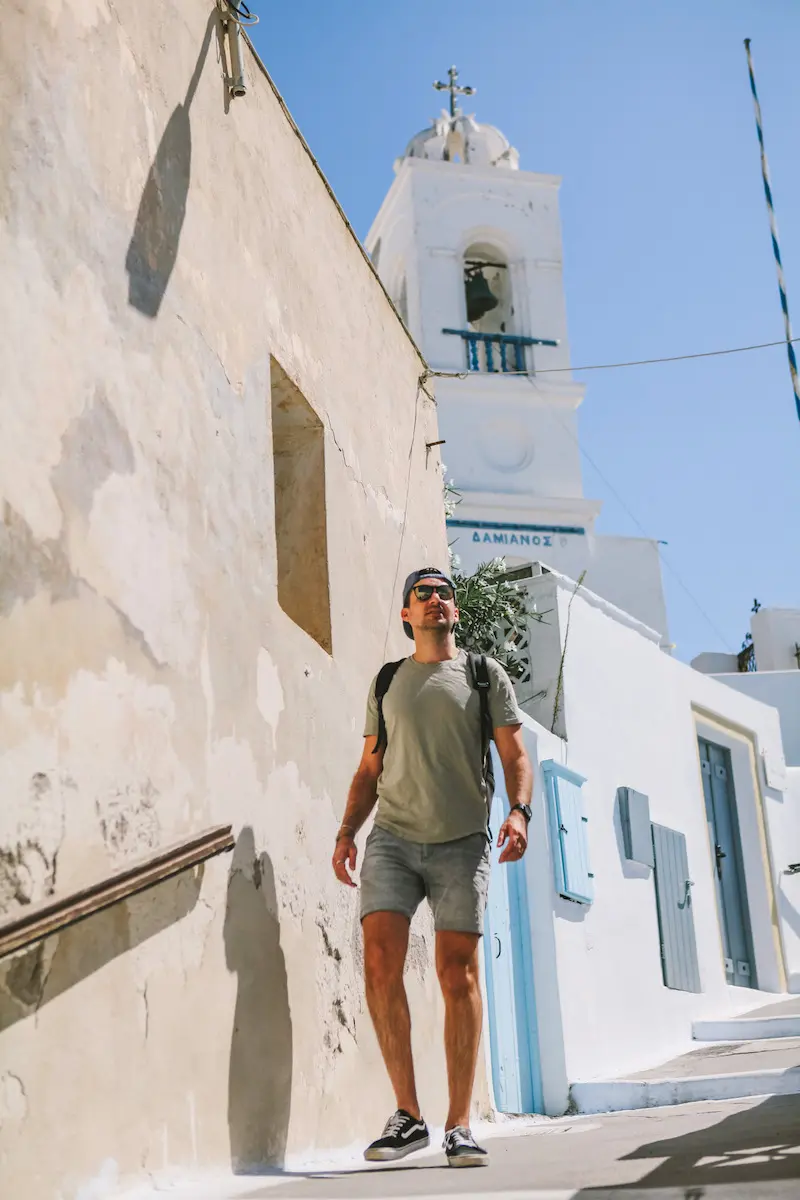 Megalochori is another small and cute village with several churches, close to Pyrgos and Santo Wine. We had a pleasant walk through the village.
This town, not very touristy, offers a nice mix of white Cycladic houses, several churches, and narrow streets testifying to the strong Aegean tradition.
We checked out a few shops with local artists, took some nice photos with traditional churches, and had our lunch there at Raki, a delicious restaurant serving traditional Greek food (location).
Overall, it was a great experience to see a more traditional part of Santorini.
>> READ: DISCOVER THE TRADITIONAL VILLAGE OF MEGALOCHORI IN SANTORINI
---
9. Explore the archeological site of Akrotiri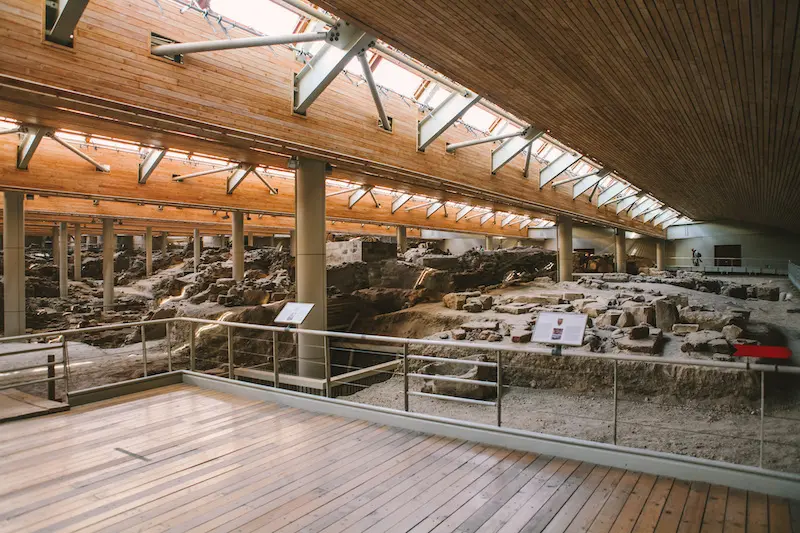 Discovered in 1967 by archaeologist Spyridon Marinatos, Akrotiri is a village covered by the ashes of a so-called "Minoan" volcanic eruption 3,500 years ago. Like a Greek Pompeii!
Akrotiri is one of the best things to see in Santorini.
Currently, the ruins are sheltered by a roof that opens and closes, allowing air circulation. The place is therefore ideal for escaping the heat of summer days.
A wooden boardwalk winds through the site. You can follow the visit by booking an audio guide.
Location: here
Website: here
Admission: €12 per adult and €6 per child
>> READ: DISCOVER AKROTIRI IN SANTORINI
---
10. Chill at the Red Beach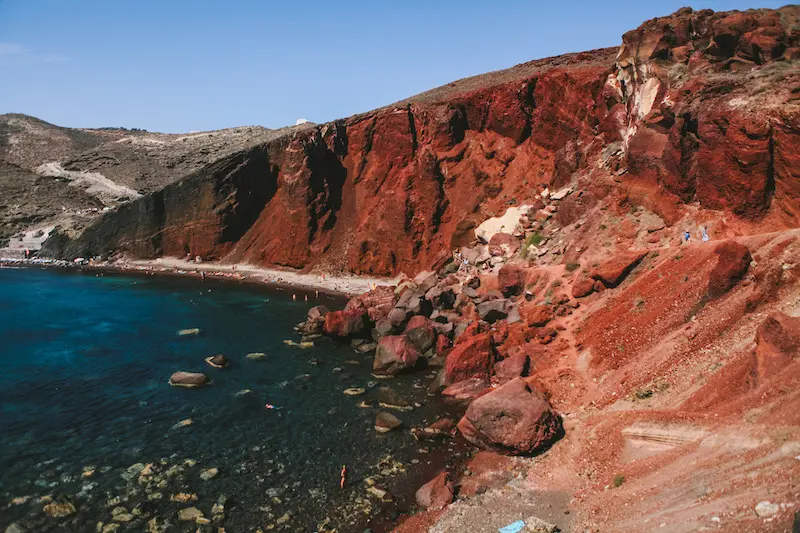 I you think of Santorini and Cyclade, you also think about the great beaches, beautiful crystal clear water and swimming.
Not far from Akrotiri, there is one of the most famous beaches in Santorini: The Red Beach.
As its name suggests, it is appreciated for its black and red sand. You won't often have the opportunity to relax on this type of beach!
If you only want to take a photo of the beach and continue your exploration of Santorini, you can head to the viewpoint here.
>> READ: 15 BEST BEACHES IN SANTORINI
---
11. Swim at the White Beach
Another amazing beach in Santorini is the White Beach, located near the Red Beach. However, this one is only accessible by boat.
However, there is a viewpoint to see a glimpse of the beach. Head towards Kambia Beach, however, note that if you are driving the road is quite rough here. So park your car, scooter or ATV somewhere up the road and continue your walk until you can see the white beach on your right.
Location: here
---
12. Go on a boat tour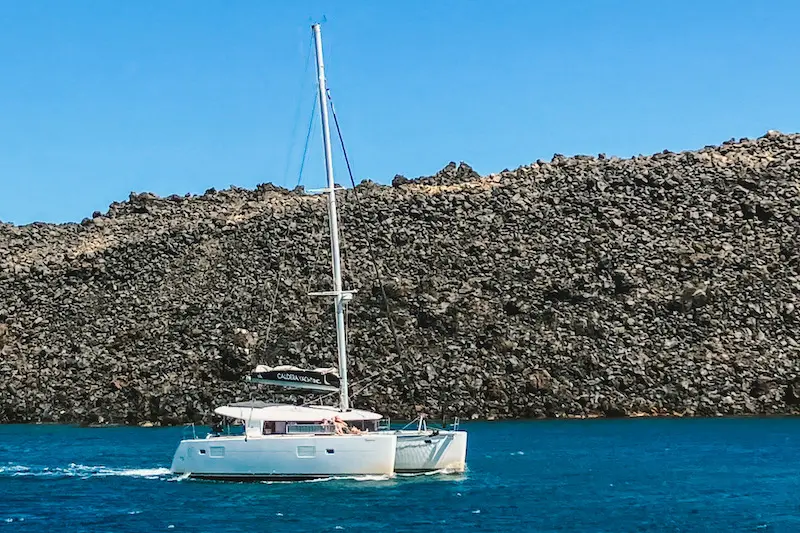 Going on a boat tour is one of the best things to do in Santorini.
As explained above, some beaches such as White Beach are only accessible by boat anyway!
There are many catamaran tours offered in Santorini. Some include lunch on the boat with snorkeling, some include drinks for a sunset cruise.
>> CHECK OUT THE BOAT TOUR OPTIONS IN SANTORINI
---
13. Hike Nea Kameni volcano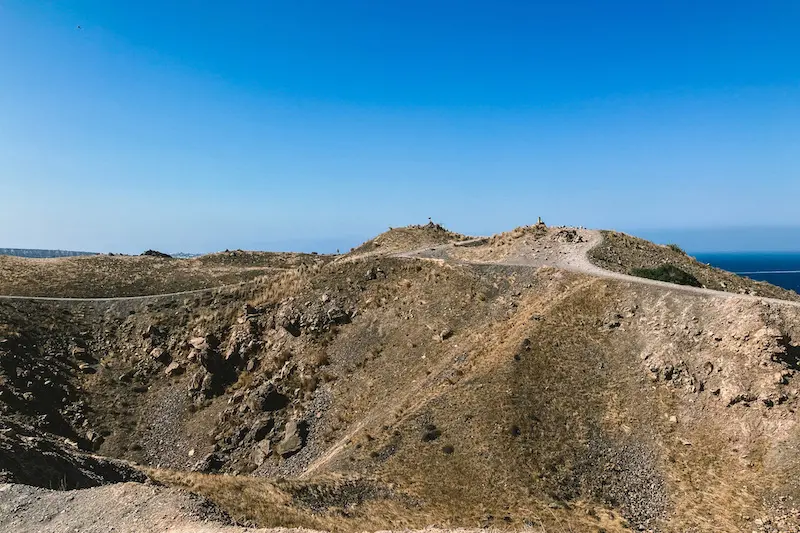 You can't visit Santorini without admiring its caldera! It is an enormous volcanic crater submerged by water and surrounded by cliffs that delimit the bay of the Santorini archipelago.
Moreover, at the heart of it is the island of Nea Kameni. This is the place where the volcano is most active! The atmosphere is hot, the rocks are black or red, the plants are sparse…
You can visit Nea Kameni (WHICH WE HIGHLY RECOMMEND) by boat with a guided tour here.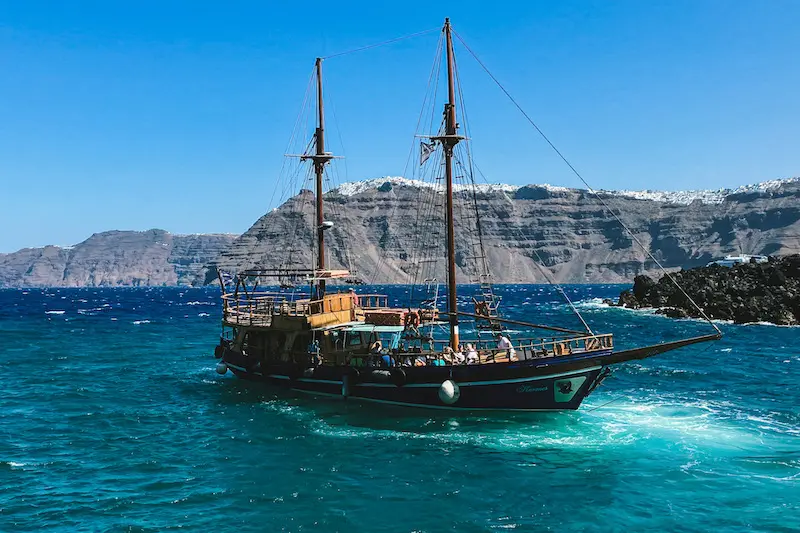 The tour will also take you to the gorgeous and scenic island of Thirassia. Here you can enjoy a delicious meal by the sea.
Lastly, you will be swimming in hot waters at almost 30°C coming from the volcano at Palea Kameni! Such a unique experience.
This tour was the highlight of our trip to Santorini. >> BOOK HERE
>> READ ALSO: 6 BEST BOAT TOURS IN SANTORINI
---
14. Enjoy a visit to Thirassia
From Ammoudi Bay port, you can take the ferry to reach the island of Thirassia or join a full-day boat tour from Santorini Port.
Formerly part of Santorini, Thirassia was separated from the main island following a volcanic eruption. From Oia, you can see Thirassia.
And from Thirassia, you have a magnificent view of Santorini. Today, the island of Thirassia favors agricultural activity. There are very few tourists, which allows for a peaceful visit.
On Thirassia you can either enjoy a meal and a day at the beach where the boat will drop you, or decide to vis the town of Manolas, by taking a long set of stairs!
Our visit to Thirassia was one of the best things we did in Santorini!
Location: here
---
15. Swim in 30°C water near the volcano
Nea Kameni is not the only volcanic island in the archipelago.
If you come to visit Santorini, you can also enjoy the warm sulfuric waters on the island of Palea Kameni.
Considered the big sister of Nea Kameni, this island has thermal hot springs.
Treat yourself to a day dedicated to well-being! Indeed, these sources also have red mud which turns out to be very good for the skin. These waters are only accessible by boat.
---
16. Discover Ancient Thera
Archeology and history lovers will enjoy discovering the ancient city of Thera. Visiting Santorini sometimes feels like a trip back in time.
The Ancient Thera is another place of archaeological interest to visit in Santorini.
"Thera" is the ancient name of the island of Santorini. It was in fact renamed in the Middle Ages by the Venetians as "Saint Irene" which subsequently became Santorini.
Perched on the hill of Messa Vouno, Thera was founded in the 9th century BC. You will be able to observe a mixture of remains from the Hellenic, Roman and Byzantine times and wander through the ruins of the temples, the agora and the theater.
Location: here
Admission: €6
---
17. Enjoy the view at Profitis Ilias, Santorini's highest point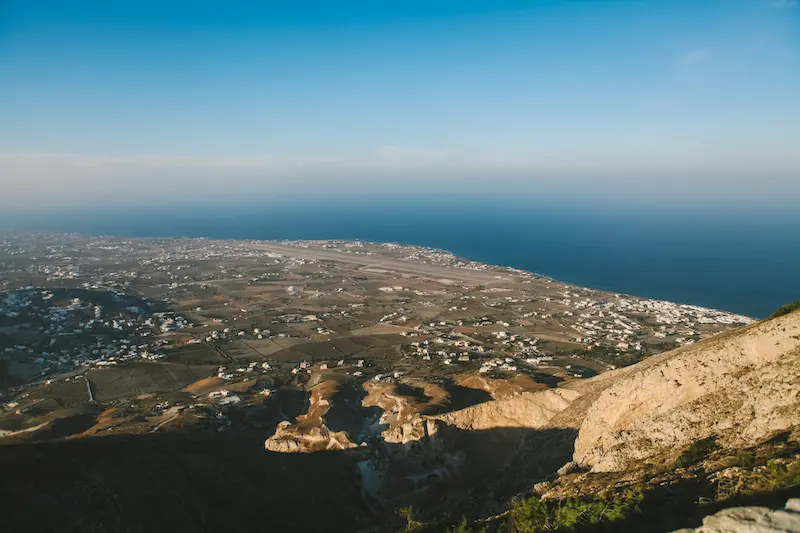 The highest peak in Santorini is called Mount Profitis Ilias at 565m above sea level. From here you can admire a breathtaking view of Santorini and the Aegean Sea.
At the top, there is a Monastery built at the beginning of the 18th century in cut stone resembling a fortress. The monastery functioned as a secret school of Greek culture during the dark days of the Turkish occupation of the country, but its power began to decline in 1860 and it was badly damaged by the earthquake of 1956.
You can access Profitis Ilias by car/scooter/ATV etc. or on foot by hiking directly from the village of Pyrgos.
Location: here
---
18. Check out the Moon Beach: Vlychada
If you are looking at a quieter place to chill on the beach, then head to Vlychada. Here you will find peace. It's the perfect place to relax in Santorini.
For some reason, this place is often overlooked. But if you like photography and want to see unique rock formations that make this place look like a lunar landscape, we recommend a visit to Vlychada.
Next to the beach, there is a tiny fishing port with a few restaurants. A great place to take a stroll and observe local life.
Location: here
---
19. Perívolos, another great beach in Santorini
Perivolos is another huge stretch of black sand in Santorini located in the south of the island.
Perivolos is popular with water sports activities such as jet ski, flyboard etc.
There you will also find restaurants, beach bars, and lounge chairs to chill all day! One of the best beaches in Santorini.
Location: here
---
20. Enjoy the sun at Kamari Beach
Kamari Beach is another great beach in Santorini. Probably the most popular one! This place is very active with lots of beach clubs and a great atmosphere overall!
There are lots of water activities too.
Location: here
---
21. Learn more about the Lost World of Atlantis
If you have enough time on the island and to know more about Greek Mythology and in particular the Lost World Of Atlantis (which could well be in Santorini…), then visit the Lost Atlantis Experience – Interactive Museum!
Here you will have lots of fun, with interactive exhibitions, 3D Theater, and learn more about the massive eruption in Santorini (for some experts the biggest eruption in the world!).
Overall a great experience in Santorini.
Location: here
Website: here
Admission: 14 EUR for adults and 7 EUR for children
---
22. Enjoy water sports activities in Santorini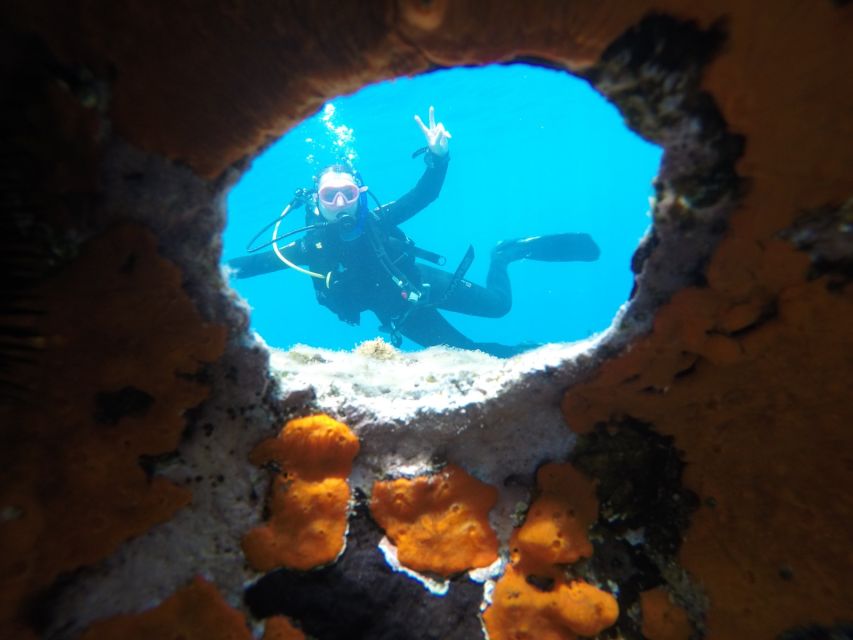 Your stay in Santorini is surely the perfect opportunity to try out different water activities. Among these activities, you can choose between:
Scuba dive, sea-kayaking, jet-ski, sailing or even renting a boat (license free). Have fun!
---
23. Sample Authentic Greek Cuisine
Greek cuisine is a highlight of any visit to Santorini. Savor fresh seafood, and traditional dishes like moussaka and souvlaki, and indulge in baklava and loukoumades for dessert. Many tavernas offer dining with a view.
Santorini also offers the opportunity to learn some recipes! Cooking classes are an original activity for your vacation on the island. You will surely come home with one of the most beautiful memories! Moussaka and tzatziki are of course there. But you can also learn how to cook grilled octopus or spanakopita, a puff pastry filled with spinach and feta.
>> MORE INFO ON THE COOKING CLASS HERE
---
24. Enjoy Santorini's nightlife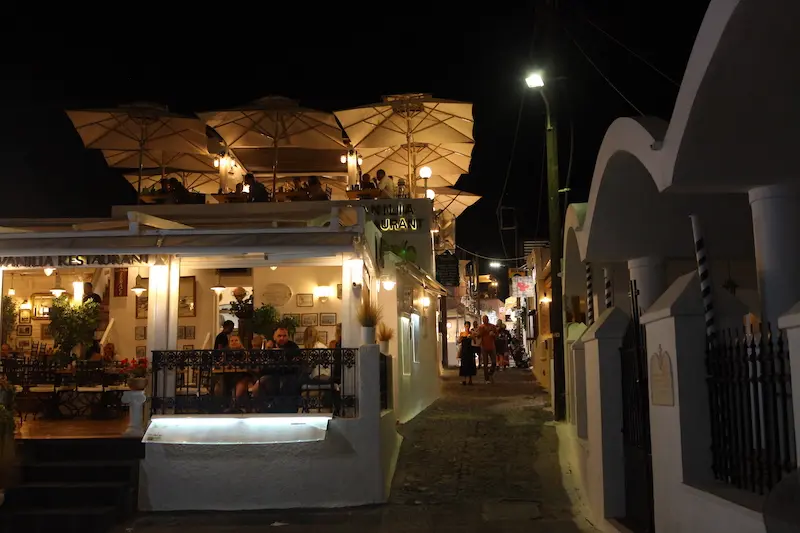 Although not as active as in Mykonos, Santorini still offers great nightlife!
Whether you are looking for a romantic and peaceful atmosphere or a festive evening, the island offers a wide choice of places to have fun.
The main nightclubs are found in Fira with music and cocktails to enjoy all night long.
The beaches are also great places to spend the evening, especially in Perissa and Kamari where you will find many beach bars that will make you experience an electric evening with stunning sea views.
Some of the best clubs in Santorini are Koo Club (Firai), Enigma Club (Fira), Two Brothers Bar (Fira), Tropical Bar (Fira), JoJo Beach Bar (Perissa), Murphy's Bar (Oia).
---
25. Watch a movie at an open-air cinema
After a day full of discoveries and excursions, you deserve a moment of relaxation to rest. In Santorini, you can book an outdoor cinema session to complete your evening.
The Kamari cinema (Cinekamari) is located in the middle of a grove of trees and in the open air. The place is really romantic and super pleasant.
From May until October, films in the original version (in English) and subtitled in Greek are shown there every evening from 9:30 p.m. The session costs €8 per person.
There is also a bar on site.
---
WHERE TO STAY IN SANTORINI?
If you are staying in Santorini for the first time then we highly recommend Oia, Imerovigli or Fira. Here you can experience the true Santorini experience, in a hotel by the cliff facing the beautiful caldera!
Out of the 3 we actually prefer Imerovigli. It's almost as beautiful as Oia, but without the herd of people every day at sunset. Here you will find beautiful hotels with a magical experience in Santorini.
Our top recommendations are:
Cocoon Suites – the most Instagrammable one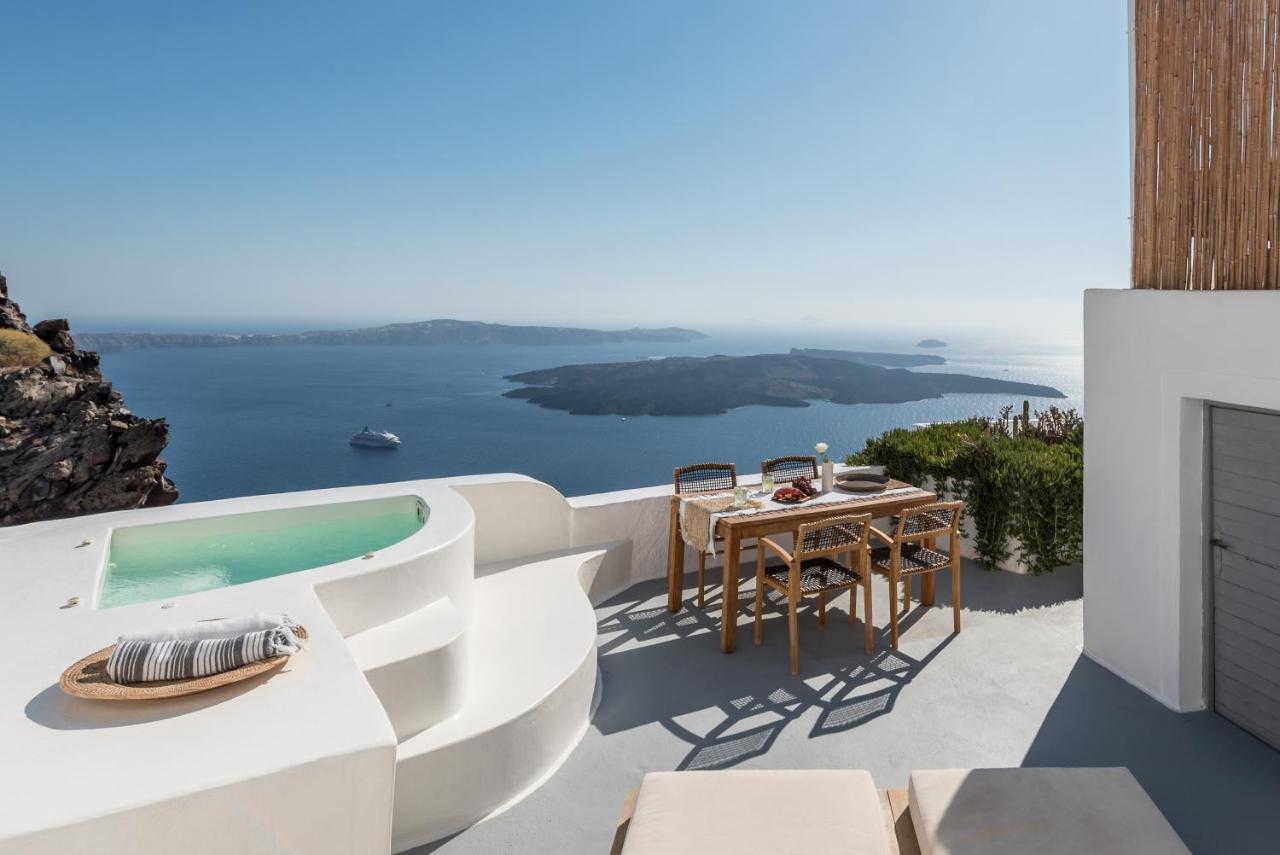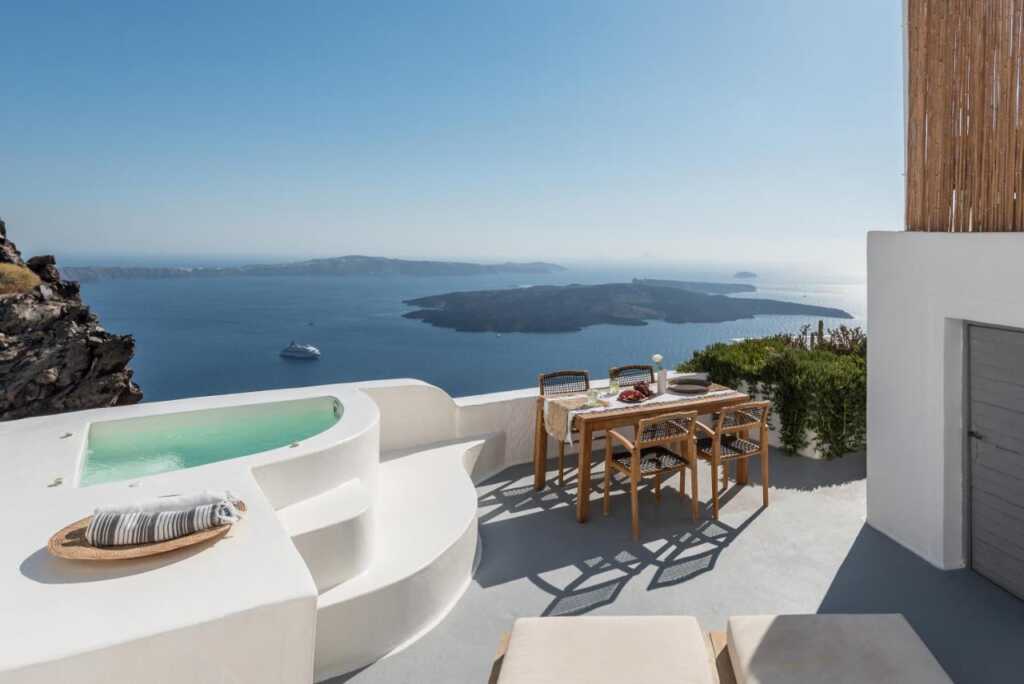 Perched on the cliffs, this hotel offers a range of suites with traditional Cycladic design. It has a lovely pool area and an open-air restaurant where you can savor Greek and Mediterranean dishes.
>> BOOK HERE
---
Galaxy Suites and Villas – the most luxurious one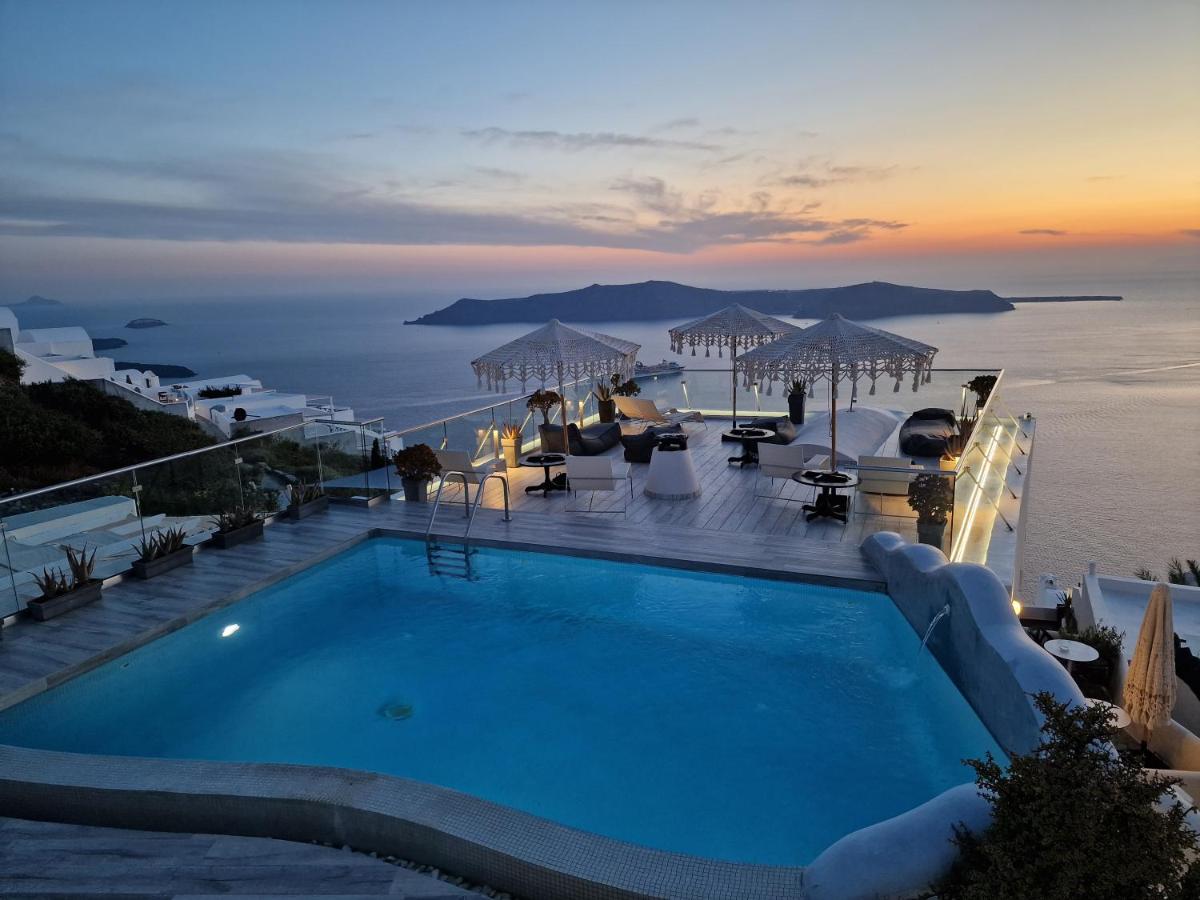 This boutique luxury hotel offers stunning views of the caldera and the Aegean Sea. It features stylish accommodations, a beautiful infinity pool, and a fine-dining restaurant.
>> CHECK IT OUT
---
Absolute Bliss Imerovigli Suites – best value for money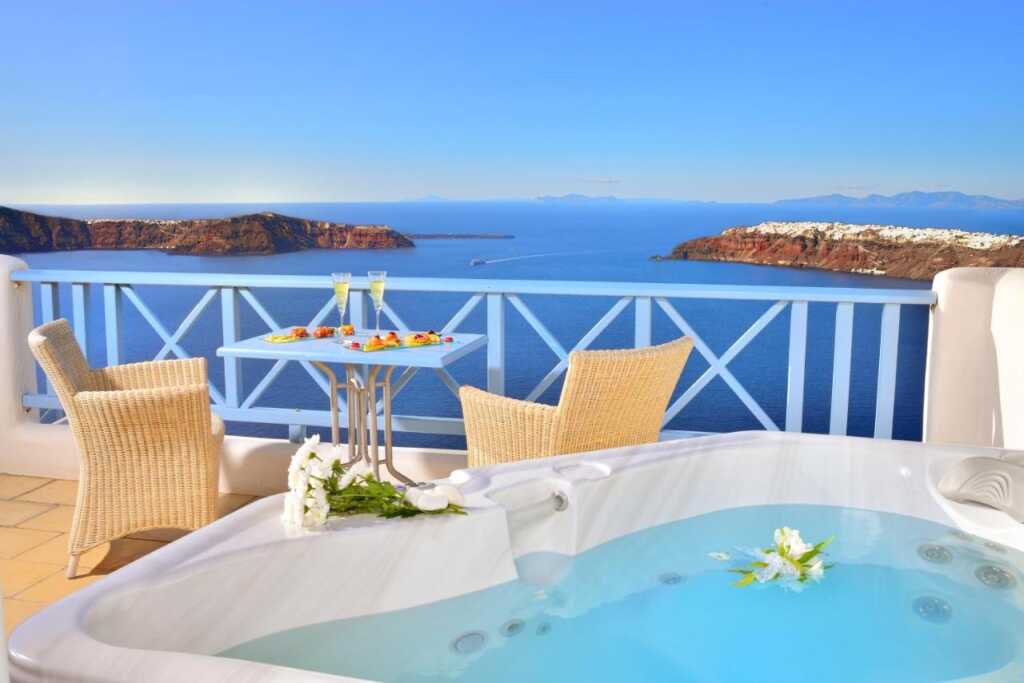 This hotel lives up to its name, offering suites with stunning views and private balconies or terraces. Guests can enjoy a complimentary breakfast and relax by the pool.
>> BOOK HERE
>> READ: 6 BEST PLACES TO STAY IN SANTORINI
---
HOW TO GET TO SANTORINI?
To get to Santorini, you will have to choose between air or sea routes.
By plane
There are many direct or stopover flights from Europe to Thira airport (the only airport in Santorini). During peak seasons there are many flights to choose from at interesting rates here.
By ferry
Santorini is well connected by ferry.
You can book a trip from mainland Greece (Piraeus, Rafina) in Athens or from any other Cyclades island. We explored all Cyclade by ferry and it was such an awesome experience.
We booked everything via Direct Ferries, which was perfect!
---
HOW TO GET AROUND THE ISLAND?
If like us, you like to explore places at your own pace, then we highly recommend to rent a car, a quad (ATV), or a scooter. All 3 of them are super easy to drive on the island, although we recommend the ATV or Scooter as it's much easier to park anywhere.
If you prefer the convenience of joining a tour group to visit the island, you can book some options here, or you can even hire a private driver for the day which can be interesting if you are a group of 3-5 people.
Public Transportations
Santorini is also quite well served by bus. The network is quite good and it is clearly the cheapest way to get around. The problem is often the frequency of buses, even more so in off off-season. Check out the official site here for more information.
We just took the bus once, after we hiked to Oia to get back to Imerovigli. As it was right after sunset there was a huge line to take the bus, but other than that it was relatively smooth.
Payment is made on board or at the little counter at some of the main bus stops.
---
ATV / Scooter / Car Rental
In the end, we found that the most practical way to get around Santorini is by ATV, Scooter, and also by car. ATV is the most popular option on the island. It's easy to use, relatively safe, easy to park, and it doesn't require any motorcycle license.
We would have normally rented a scooter (which is a bit cheaper) but the person at the rental agency told us that many roads can be quite sandy in Santorini and therefore slippery with a scooter. It was partially true, some roads especially near the beaches are very sandy. But overall we felt that it would have been manageable still.
There are many rental shops around the island, just go to the one nearest to your hotel. If you decide to rent a car, you can also do so directly from the airport. Just make sure that your hotel provides parking, or that there is public parking nearby as it's not very easy to park the car otherwise, especially if you stay in Oia, Fira, or Imerovigli…
>> READ: HOW TO GET AROUND IN SANTORINI?
---
BEST TIME TO VISIT SANTORINI
Usually, June and September are the best 2 months to travel to Santorini. However other seasons can be nice too:
Spring (April to June): This is one of the best times to visit Santorini. The weather is warm but not scorching hot, and the island is covered in beautiful spring blooms. It's less crowded than the summer months, and hotel prices are generally more reasonable.
Summer (July to August): Summer is the peak tourist season in Santorini. The weather is hot and sunny, with temperatures often exceeding 30°C. This is the time when the island can get quite crowded, and prices for accommodations and activities tend to be higher. If you prefer a vibrant atmosphere and don't mind the crowds, this is when you should visit. Be sure to book your accommodations well in advance.
Fall (September to October): Many travelers consider this the best time to visit Santorini. The weather is still warm, the sea is pleasant for swimming, and the crowds start to thin out as the month progresses. September, in particular, is a great time as the weather is still summer-like, but the crowds are smaller compared to July and August. Hotel rates are also more reasonable.
Winter (November to March): Santorini is much quieter during the winter months, with many places closed and colder weather with occasional rain. Not the best time to visit Santorini…
>> READ: FULL GUIDE ON THE BEST TIME TO VISIT SANTORINI
---
HOW LONG TO VISIT SANTORINI?
The ideal duration to visit Santorini is about 3 days. In 3 full days, you can cover most sights and enjoy at least 1 boat trip. However, you can easily spend a full week too if you enjoy chilling at the beach for a few days.
When visiting Santorini we recommend combining your trip with other islands in the Cyclades such as Paros, Naxos, or Mykonos.
Santorini can also be visited during a day trip if you focus on Fira and Oia only.
>> READ: THE PERFECT 3-DAY ITINERARY TO VISIT SANTORINI
---
IN CONCLUSION ABOUT THE MOST UNIQUE THINGS TO DO IN SANTORINI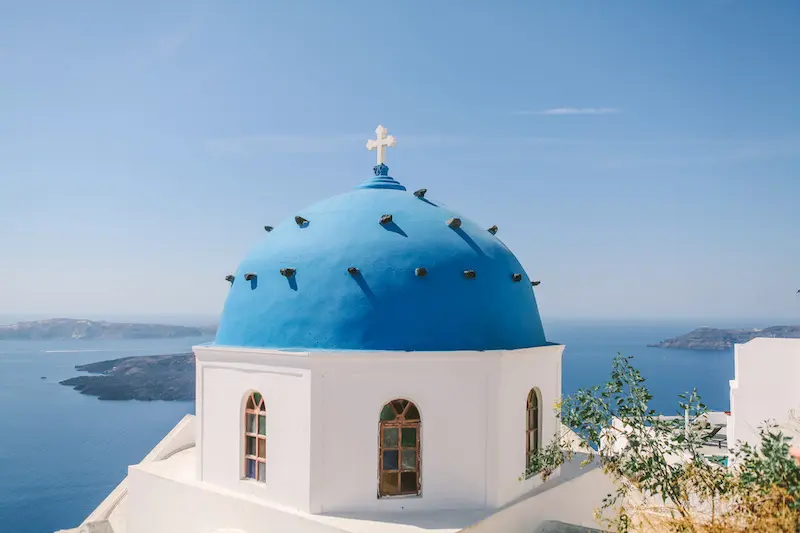 Santorini is a beautiful destination absolutely worth visiting in Greece!
Whether you're seeking romance, adventure, culture, or relaxation, Santorini has it all.
From its mesmerizing sunsets to its archaeological wonders and mouthwatering cuisine, this Greek paradise offers an unforgettable experience that will keep you coming back for more. So pack your bags and embark on a journey to Santorini, where dreams truly come alive.
---
Related Articles
FULL GUIDE FOR HIKING BETWEEN FIRA AND OIA
BEST THINGS TO SEE IN OIA, SANTORINI
10 BEST THINGS TO SEE AT IMEROVIGLI
FULL GUIDE TO VISIT PYRGOS IN SANTORINI
HOW TO GET AROUND IN SANTORINI?
THE PERFECT 3-DAY ITINERARY TO VISIT SANTORINI
BEST THINGS TO DO IN FIRA, SANTORINI
TOP 10 REASONS TO VISIT SANTORINI
BEST HONEYMOON DESTINATIONS [2023-2024]