WHAT IS THE BEST 3-DAY SANTORINI ITINERARY? WHAT TO SEE IN 3 DAYS IN SANTORINI? IS 3 DAYS ENOUGH TO VISIT SANTORINI?
Santorini with its white walls, blue roofs, and unique landscapes is such a beautiful destination. One of the most memorable for us!
In this blog article, we share the perfect 3 day itinerary to visit Santorini, which is for us the ideal time to visit the main sights on the island.
Highlights of a 3-day itinerary to Santorini:
Oia: the most popular town, and best place to watch the sunset
Fira: the capital and another must-see in Santorini
The view of the Caldera: simply impressive!
The beaches of Santorini: Red Beach, Perissa and Kamari
Typical villages: Pyrgos, Megalohori, Emporio.
Archaeological sites: Akrotiri (a city destroyed by a volcanic eruption in -1646) and Thera, an ancient city founded in the 9th century BC.
The volcanic islands of Néa Kamini and Paléa Kamini and its hot springs.
---
Teaser about Santorini:
---
3-day Santorini Itinerary
Day 1: Hike from Fira and Oia
Your first day will be about discovering the main highlights of a trip to Santorini. You will visit the main town of Fira, Imerovigli, hike along the coast (10km) with a superb view of the Caldera, and finish your day in Oia to watch the sunset! It may be a bit tiring, but 100% worth it!
START YOUR DAY AT FIRA
Fira is the capital of Santorini. It is particularly famous for its fabulous panoramic views, but also for the lively atmosphere of its small cobbled streets, lined with white houses with blue doors.
After spending some time in Fira, make your way on foot to Imerovigli (actually, our favorite town in Santorini). However, make sure to stop at the small villages of Firostefani to admire the Agios Theodori Church, one of the most Instagrammable places in Santorini (location),
>> READ: BEST THINGS TO SEE IN FIRA
---
VISIT IMEROVIGLI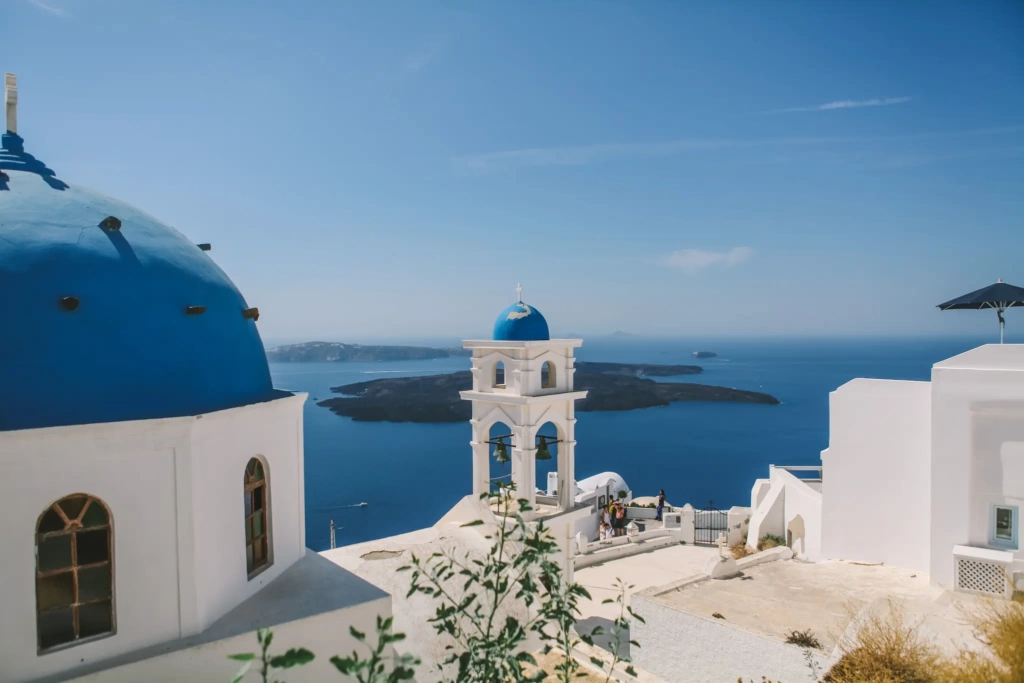 Imerovigli is a small village perched on top of a cliff on the island of Santorini, Greece. With its cobbled streets, typical churches and small shops, Imerovigli is a peaceful village that seems straight out of a postcard.
Imerovigli was built centuries ago, on top of a cliff more than 300 meters high.
>> READ: ALL YOU NEED TO KNOW ABOUT IMEROVIGLI
---
STOP AT SKAROS ROCK
The Skaros Rock is one of the emblematic natural sites of Santorini. During a short hike of around twenty minutes, from a path that begins at the center of Imerovigli, you can reach this cliff of black volcanic rock.
From Skaros, you will enjoy the most beautiful view of the Aegean Sea and the caldera of the entire island.
---
HIKE ALL THE WAY TO OIA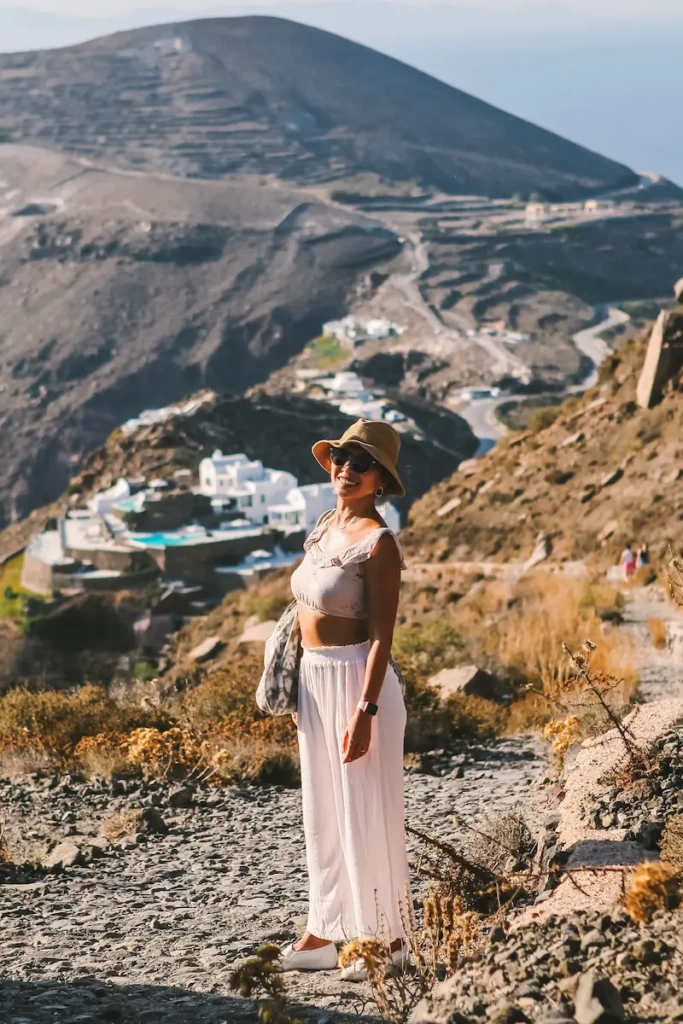 If you are in good physical condition, we highly recommend the famous hike between Imerovigli to Oia. It takes about 3 hours and passes several viewpoints.
>> READ: FULL GUIDE TO HIKE FROM FIRA TO OIA
---
EXPLORE AND WATCH SUNSET AT OIA
Located in the north of Santorini, Oia is one of the most popular places in Greece! The white houses with their blue domed roofs are truly emblematic of this island, and indeed of the whole country.
Practically all the photographs you see from Santorini are from Oia! This village, built by the sea on the side of a cliff, with its blue domes overlooking its white houses, is one of the sites that best represent all the beauty of the Mediterranean sea!
>> READ: CHECK OUT THE MAIN HIGHLIGHTS IN OIA
---
Day 2: Road trip around the island
Santorini is not a big island (18 km long, 12 km wide max). So on the second day, we recommend renting a scooter, quad or car and go on a road trip!
START DAY 2 BY VISITING THE VILLAGE OF PYRGOS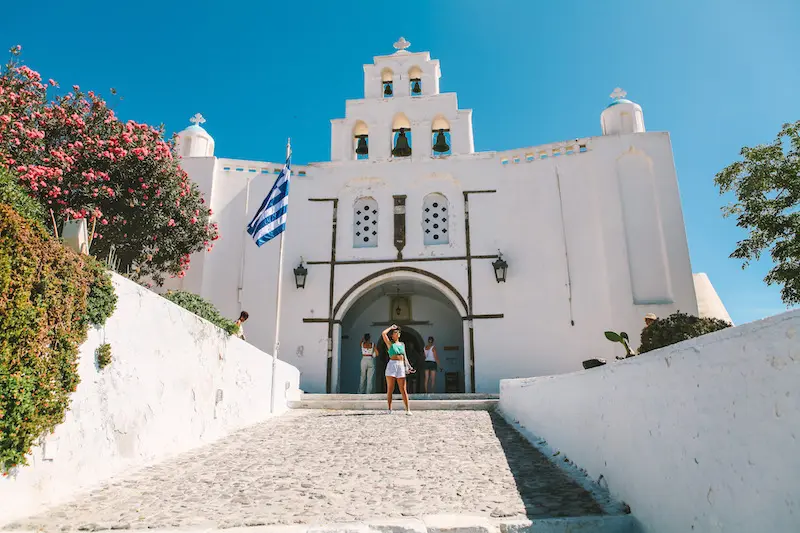 Pyrgos is a small town located in the center of the island of Santorini. The village is absolutely stunning between the traditional alleys, the charming churches, and the ruins of the fortress located on the mountain overlooking the village!
During a 3 trip to Santorini, a visit to Pyrgos is a must! The village is located about 5 km south of Fira, Santorini's capital.
>> READ: ULTIMATE GUIDE TO VISIT PYRGOS IN SANTORINI
---
EXPLORE THE ARCHEOLOGICAL SITE OF AKROTIRI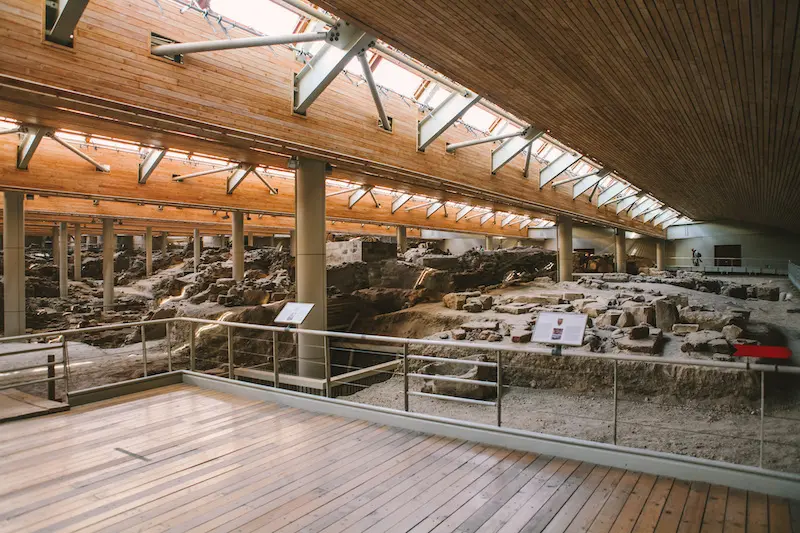 Discovered in 1967 by archaeologist Spyridon Marinatos, Akrotiri is a village covered by the ashes of a so-called "Minoan" volcanic eruption 3,500 years ago. Like a Greek Pompeii!
Akrotiri is one of the best things to see in Santorini.
>> READ ALSO: VISIT THE ANCIENT CITY OF AKROTIRI IN SANTORINI
---
VISIT THE RED BEACH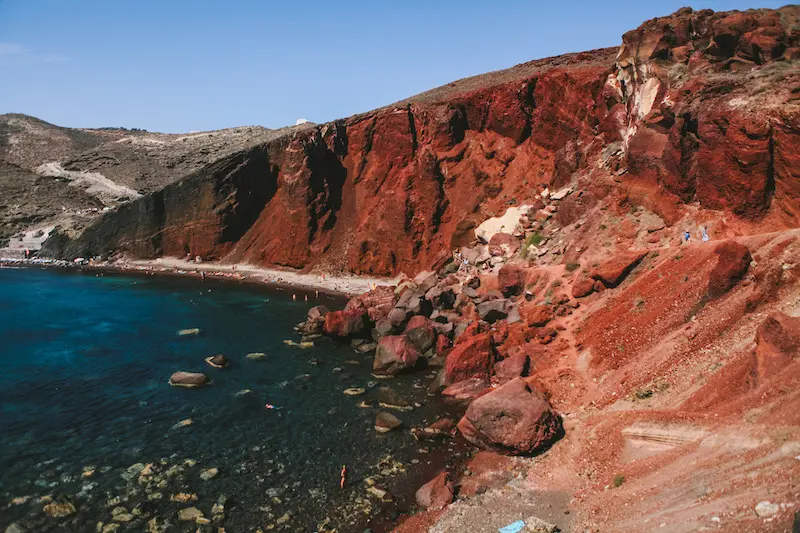 If you think of Santorini and Cyclade, you also think about the great beaches, beautiful crystal clear water, and swimming.
Not far from Akrotiri, there is one of the most famous beaches in Santorini: The Red Beach.As its name suggests, it is appreciated for its black and red sand. You won't often have the opportunity to relax on this type of beach!
---
DRIVE TO THE HIGHEST POINT ON THE ISLAND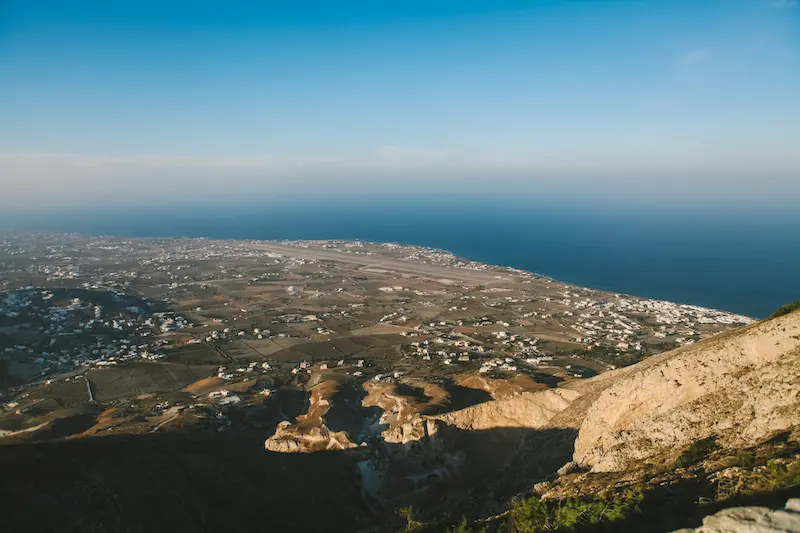 The highest peak in Santorini is called Mount Profitis Ilias at 565m above sea level. From here you can admire a breathtaking view of Santorini and the Aegean Sea.
At the top, there is a Monastery built at the beginning of the 18th century in cut stone resembling a fortress.
If you still have time we recommend exploring other great beaches such as Perissa or Kamari
---
DAY 3: Visit Santorini from the Sea, by joining a Boat Tour!
Going on a boat tour is one of the best things to do in Santorini.
There are 2 options.
OPTION 1: CHILL ON A CATAMARAN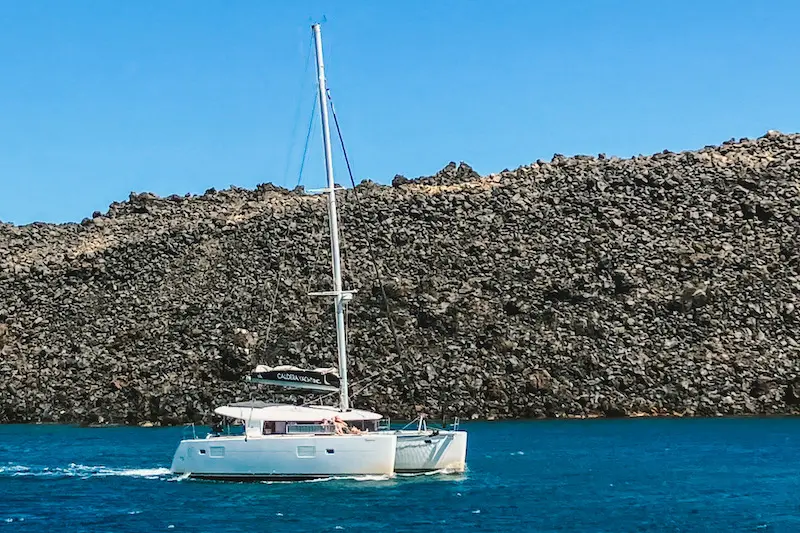 Going on a boat tour is one of the best things to do in Santorini. Besides, some beaches such as White Beach are only accessible by boat anyway!
There are many catamaran tours offered in Santorini. Some include lunch on the boat with snorkeling, some include drinks for a sunset cruise.
>> CHECK OUT THE BOAT TOUR OPTIONS IN SANTORINI
---
OPTION 2: EXPLORE THE VOLCANIC ISLANDS IN THE CALDERA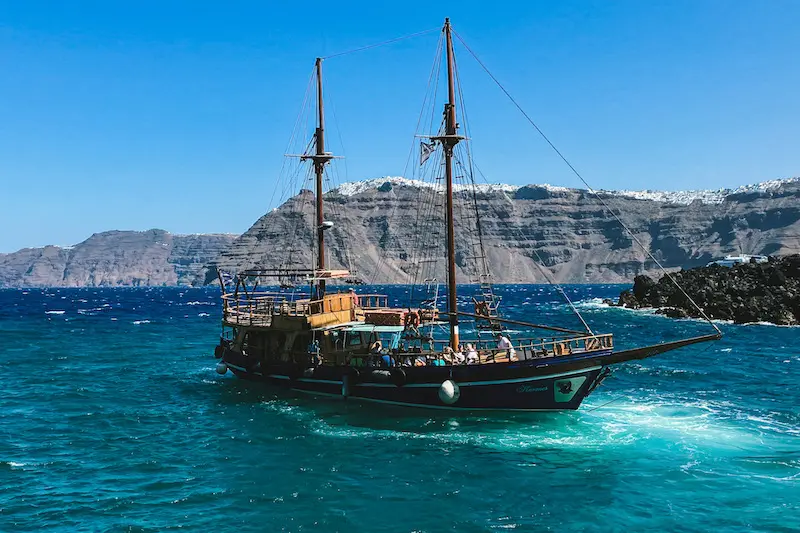 You can't visit Santorini without admiring its caldera! It is an enormous volcanic crater submerged by water and surrounded by cliffs that delimit the bay of the Santorini archipelago.
It is actually possible to visit the island of Nea Kameni at the heart of it. This is the place where the volcano is most active! The atmosphere is hot, the rocks are black or red, the plants are sparse…
You can visit Nea Kameni (WHICH WE HIGHLY RECOMMEND) by boat with a guided tour here. This is a full day tour.
>> READ: 6 BEST BOAT TOURS IN SANTORINI
---
When to visit Santorini?
If your thing is relaxing on the beach with a cocktail in hand while waiting for the sunset, the period from mid-June to mid-September is the best (and most expensive).
To enjoy the breathtaking landscapes without being annoyed by a horde of tourists, spring and autumn are preferred (April, May and October especially).
---
How to get to Santorini?
By landing directly at Thiria airport or arriving by sea if you combine your three-day Santorini visit with a longer stay in Greece.
The ferry arrives at Athinios port from Athens (Piraeus) in 4 to 5 hours and from Mykonos or Crete in 2 hours.
---
Where to stay in Santorini?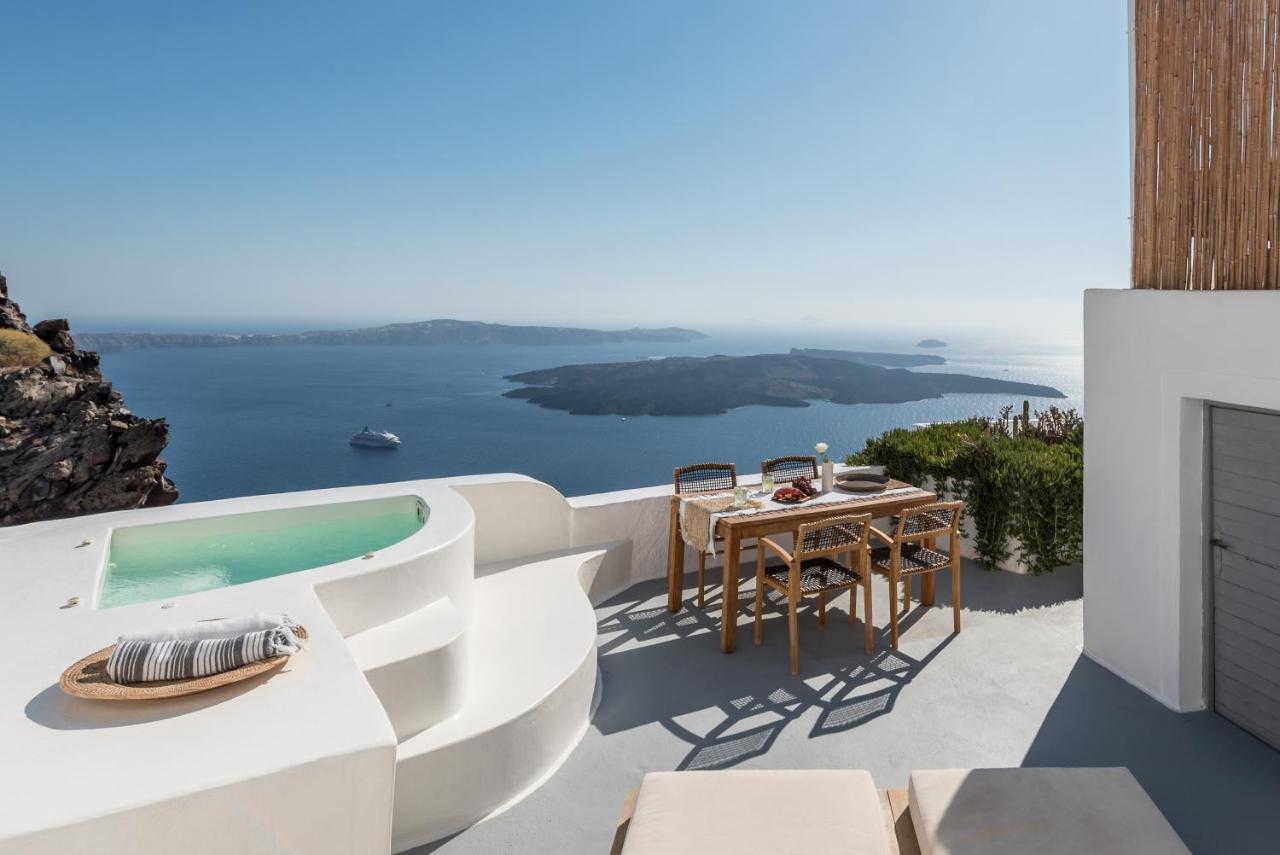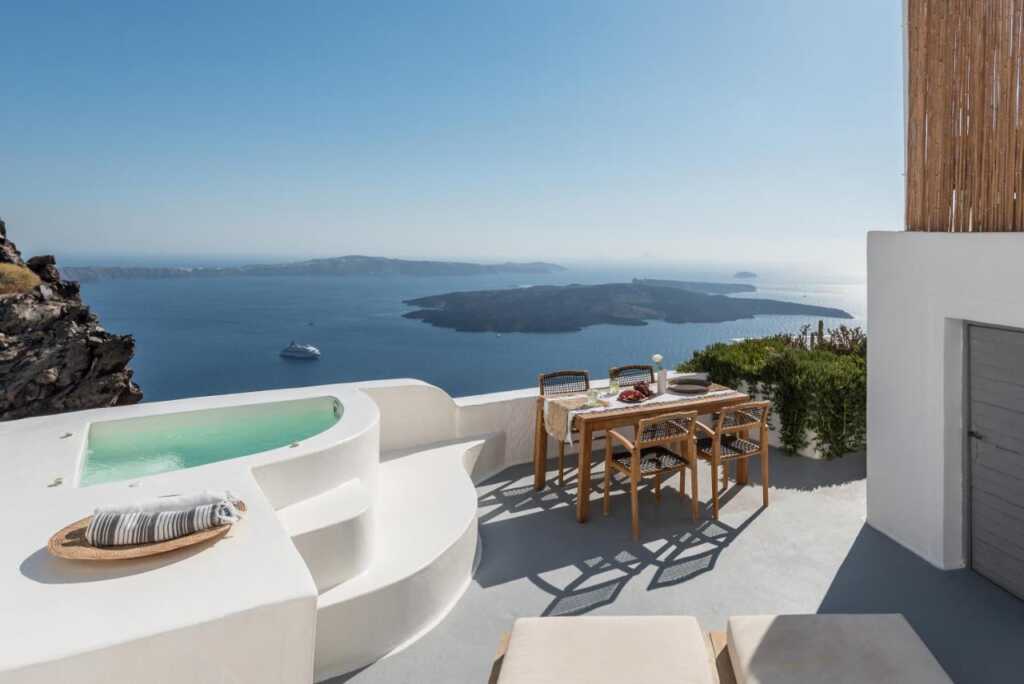 Oia and Fira are the most popular places, mainly because of their views overlooking the sea and their typical white houses.
It's also where accommodation (hotels and apartments) is the most expensive! The further you go from these cities, the cheaper it is to find accommodation.
As such, our preferred area is actually Imerovigli. It's as beautiful (if not more) to Oia and Fira, cheaper, with many great restaurants, and well connected by public transportation.
>> CHECK OUT COCOON SUITES HOTEL IN IMEROVIGLI
>> READ: 6 BEST PLACES TO STAY IN SANTORINI
---
Where are the best photo spots in Santorini?
Santorini is one of the most Instagrammable places in Europe.
If you want to have fun on your way home, go at least in the center of Oia (the famous blue domes of the church overlooking the sea), at the western end of Oia (view of Ammoudi Bay, the small alleys, the mill, and the sunsets), from the boat (crater), from Red Beach (red cliffs and beach) and Kamari (sunrise).
---
In Conclusion – are 3 days enough to visit Santorini?
3 days is the ideal duration to visit Santorini. In 3 full days, you can cover most sights and enjoy at least 1 boat trip. However, you can easily spend a full week too if you enjoy chilling at the beach for a few days.
When visiting Santorini we recommend combining your trip with other islands in the Cyclades such as Paros, Naxos, or Mykonos.
Santorini can also be visited during a day trip if you focus on Fira and Oia only.
---
Read Also
BEST THINGS TO DO IN SANTORINI
FULL GUIDE FOR HIKING BETWEEN FIRA AND OIA
BEST THINGS TO SEE IN OIA, SANTORINI
10 BEST THINGS TO SEE AT IMEROVIGLI
FULL GUIDE TO VISIT PYRGOS IN SANTORINI
TOP 10 REASONS TO VISIT SANTORINI
HOW TO GET AROUND IN SANTORINI?
BEST THINGS TO DO IN FIRA, SANTORINI
BEST HONEYMOON DESTINATIONS [2023-2024]
A ROMANTIC GATEWAY ITINERARY TO GREEK IONIAN ISLANDS
DISCOVER THE TRADITIONAL VILLAGE OF MEGALOCHORI IN SANTORINI
WHEN IS THE BEST TIME TO VISIT SANTORINI?