In this post we will show you where are the best spots to surf in California. If you are going to California for the first time, surfing should be part of your bucket list.
Surfing in California is much more than a hobby. On August 20, 2018, surfing became the official sport of California, and each year on September 20, California celebrates California Surfing Day. With its 1,300 km of coastline, you will surely find your favorite spot along the way and challenge yourself in some of the biggest waves on the planet such as the well known spot of Mavericks.
So here it is, the list of best spots to surf in California from North to South.
If you are planning a trip to California, check out the best things to do, and the best spots on the Highway 1. We love Southern California!
As always, let's start with a bit of history…
It was in Polynesia that surfing was born in the 15th century. In this archipelago of the South Pacific, sliding on the waves was more than a sport and integral part of the people's culture and tradition. It is even sometimes a test inflicted to get access to the throne.
In 1778, explorer James Cook dropped anchor in Kealakekua Bay, Sandwich Islands (Hawaii). He then saw the natives riding the waves on long wooden planks. Called Papa-he-nalu, these boards are cut from a tree trunk according to a ritual.
In the 19th century, the colonization of the Hawaiian Islands began. American missionaries, shocked by the quasi-nudity of the natives on their boards, forbade the practice of this sport. However, some rebellious people continued to slide on the waves, perpetuating the technique.
But it was not until the beginning of the 20th century that a Hawaiian, by the name of Duke Kahanamoku, brought surfing back to life. Adventure writer Jack London discovers and echoes the beauty of the sport. Tourists flock to the white sandy beaches. Surfing then spread to Australia and the United States, specifically to California. The surfing spirit was born. Aloha!
---
1. Mavericks at Half Moon Bay (near San Francisco)
Let's start with the biggest wave in California, which also at the northern part of the state: Mavericks. A surf spot known for hosting one of the biggest and most dangerous waves in the world. I'll tell you right away, this is not a spot for beginners… If you just want to sit on the board and let yourself be carried by the waves, you will quickly understand that Mavericks is not made for you, especially in winter when the waves are massive! Big Wave"? Yes, because in January, the rolls can reach 15 or even 20 meters high.
Mavericks is located at Half Moon Bay near San Francisco.
Discovered at the beginning in 1960, the site was not exploited until 1975 by Jeff Clark, who surfed alone on this spot for 15 years. For the record, the place takes its name from the dog Maverick who would have jumped in the waves to join his master who surfed.
The site is therefore reserved for experienced surfers because the coast is steep and rocky, surrounded by cliffs, with strong current and cold water. For most experienced surfer, Mavericks is often considered the best spot fo surf in California.
Loca Tips:
LOCATION: here
HOTELS: the closest hotel to Mavericks spot is Inn at Mavericks. A decent hotel, with the necessary amenities and right by the sea. You won't find a closer hotel. To book, check the hotel website directly here.
---
2. Santa Cruz
Located north of Monterey Bay, the water is very cold there, but that does not prevent experienced surfers from throwing themselves into big waves, especially on the beach of Steamer's Lane.
In addition, the atmosphere in the area is particularly pleasant and relaxed. For beginners, the Pleasure Point, Hook and Cowell Lane are the best spots for you!
Steamer's Lane is one of the most well known spot to surf in California. So check it out!
Local tips:
ACTIVITIES: If you can't get enough about surfing, we recommend to check out the museum dedicated to it in Santa Cruz, located in the Mark Abbott Memoria Lighthouse here. It is located right next to Steamer's Lane.
LOCATION: here
HOTEL: One of the closest hotel to Steamer's lane, and right at the beach near the famous Board Walk, Dream Inn Santa Cruz. A great spot, with a great surfers' vibe, which we can only highly recommend.
---
3. Rincon near Santa Barbara
Santa Barbara is one of our favorite city in California. Check out our full post here. The city inevitably reminds the TV series of the 80s, but Santa Barbara is also a little surf paradise.
If you like Beach Boys, you've probably heard of Rincon, who appears in the song "Surfin' Safari "(At Rincon they're walking the nose / We're going on safari to the islands this year).
Just south of Santa Barbara, around a pretty little seaside area, you will benefit from ideal conditions for surfing, but also from a magnificent view! Rincon is now one of the flagship places for surf culture in California, so don't be surprised to find many people there!
If we had to choose 1 spot in California for surfing, that would probably be Rincon Beach. It's a long and steady wave for pure joy. This is where surf legend Bobbi Martinez got famous and trained most of the time.
Local tips:
LOCATION: here
HOTEL: The closest hotel to the Beach is located at Carpinteria. Check out the Best Western Plus Carpinteria Inn. The simple but nice and clean hotel is just a few minutes drive to Rincon.
For a more comfortable stay, we recommend sleeping in Santa Barbara, at the Simpson House Inn, our favorite place in the city.
---
4. Pismo Beach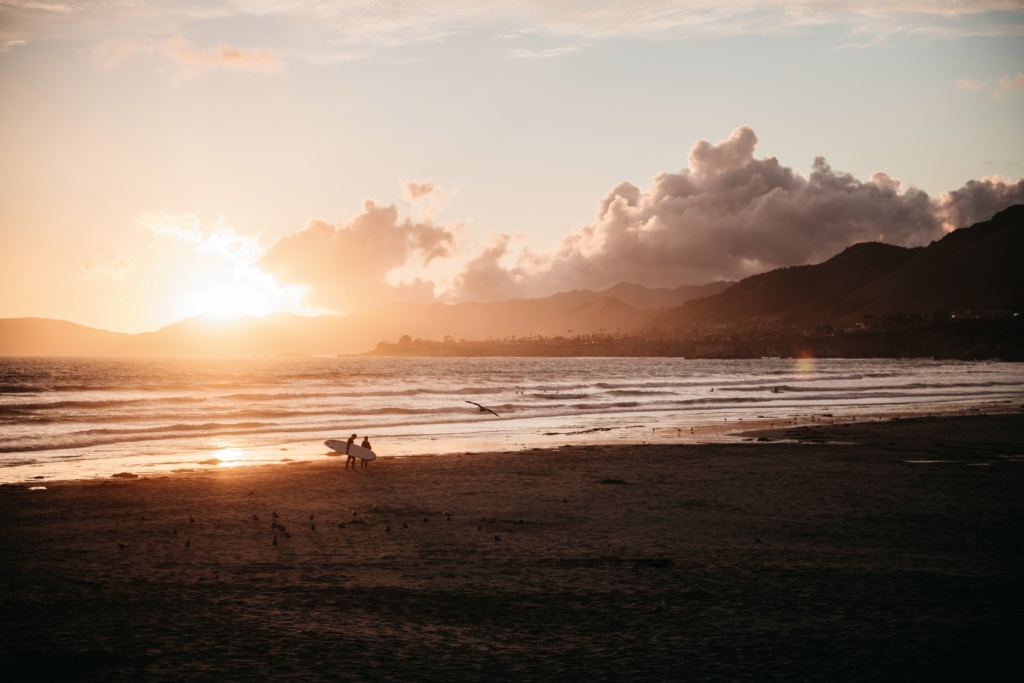 The first time we went to Pismo Beach was during our road trip on the Highway 101. Pismo Beach wasn't in our itinerary, but the day before leaving LA, a friend of ours recommended us to stop there for surfing. And so we did.
We absolutely loved Pismo Beach. The setting is really gorgeous with miles of white sand beaches, big dunes, and amazing sunset. It was simply perfect.
Pismo Beach is suitable for beginners and advanced surfer. Head next to the Pier for some of the best waves. If you want to join a surf camp, look no further and register at Surfing Goats, here.
Pismo Beach is beautiful surf spot in California. Perhaps the prettiest on the West Coast.
Local Tip:
LOCATION: here
ACTIVITIES:
Stop at Oceano Dunes Natural Preserve to discover a huge area of dunes in the town of Oceano about 3 miles south of Pismo Beach. It is recognized by scientists, environmentalists and visitors as the most beautiful and the largest coastal dunes remaining in California.
If you love photography, make sure to stop at Chris Burkard Gallery: the shop is for all lovers of landscape photography. Chris Burkard is a true legend of outdoor photography. It is a great opportunity to discover the beautiful shots of the photographer, but also to exchange and chat photo with his team (and also meet him, if he is there!). More info here. Also if you are not following him yet, check out his instagram here.
HOTEL: We recommend Inn at the Pier located right by Pismo Beach Pier and near all shops and activities of Pismo Beach. There a surf rental shops nearby the hotel. You can book here.
---
5. Malibu
If you are looking for a mythical place that has largely contributed to the reputation of California, and if you love beautiful places, stars, and good waves, then you will love Malibu!
Depending on the location, you will have small waves perfect for longboards, or much larger waves for the more experienced. There is a good chance that you will surf alongside surf pros, while you will surely come across top models or actors in the surrounding cafes.
Make sure to head to Malibu Surfirder Beach, to find the best surf spot in Malibu as the beach is very long and not suitable to surf everywhere.
Surfing in Malibu, is for many on the bucket list of things to do in California. There is no better place to feel the surf culture around California.
Local tips
LOCATION: here
ACTIVITIES: check out our full post about Los Angeles, for activities around Malibu – here.
HOTEL: The Surfrider Malibu is the best hotel located right next to the Pier in Malibu. The hotel is clean, with cool design and the perfect view. Check it out here.
---
6. Huntington Beach
If surfing is one of your passion, you've surely heard of the famous Huntington Beach! It's simply called "Surf City"! Local surfers like to think they have the "perfect wave", and if you are looking for the 100% surf experience, then it is "the place to be": pretty girls in bikini, body-built surfers, shops with the sign " No Shoes, No Shirt, No Problems… ", in short: Welcome to California, baby!
Local tips
LOCATION: here
ACTIVITIES: The bustling city center is also full of surf shops and stores. The more traditional shops are on Main Street or in Bella Terra, an open-air shopping mall in the colors of Tuscany, located a little further inland. The brand new Pacific City center houses retail stores and offers a new approach to artisanal dining with its local farmers market all facing the ocean.
When dining out, Huntington Beach has so many choice: in addition to the taco bars and cafes dear to the hearts of the locals, new restaurateurs offer fresh local products expressing all their creativity.
HOTEL: Kimpton Shorebreack Huntington Beach Resort, is for us one of the best hotel and most conveniently located in Huntington Beach. The hotel has a direct view on Huntington Pier and is just a few steps away from the best surf spots. Book here.
---
7. Newport Beach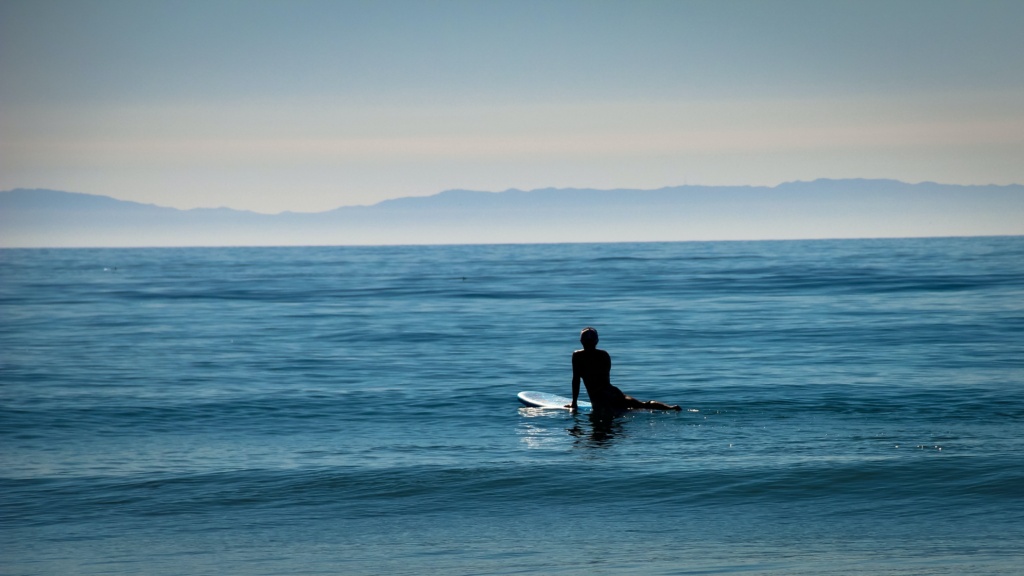 If you're looking for an easy and relax place to simply have a good time, whether you're a pro or a beginner, then Newport Beach near Los Angeles is the place for you!
There, you will find very good waves, which can sometimes reach up to 9 meters high, but also great surf shops, restaurants and cafes … Overall, very good vibes, and one of the best surf spot in California.
Local tips:
LOCATION: here
ACTIVITIES: Newport Beach is a well known part of California and made famous by numerous TV series. The coastal town has beautiful beaches with views of the cliffs, one of the best surf spots in the world, and a relaxing atmosphere overall.
You can also visit the Orange County Art Museum (OCMA). In addition to the rotating exhibits, the museum's collection contains over 3,000 items, with an emphasis on California art.
Balboa Island is also one of the main attraction in Newport Beach. You can take the ferry to the island, and enjoy the great beach, fish, exercise or visit the many shops, boutiques and restaurants. There's also a fun zone with an arcade and rides, including a ferris wheel.
HOTEL: Balboa Bay Resort is one of our favorite hotel in Newport Beach. Overlooking the Balboa Island, right by the Marina, this resorts offer beautiful room, a swimming pool, spa and great dining option. It is not the cheapest option in Newport, but well worth it for your bucks. You can book here.
---
8. Trestles
Near the town of San Clemente, you'll find one of the best spot to surf in California: Trestles. This is another surf spot that you should not miss. It is very well known and famous because it is one of the stop for the world championship.
Trestles has actually five different spots:
Church: better for longboard (beginner to intermediate)
Middles: longboard to mid-lenght board (beginner to intermediate)
Lowers: long steep right wave, ideal for shortboard to mid-length board (intermediate to expert)
Uppers: long sloping, steep right wave, ideal for shortboard (intermediate to expert)
Cottons: long sloping left, ideal for shortboard to mid-length board (all level)
The spot is a bit far from the parking lot, most surfers go there by bike or skate.
Local tips:
LOCATION: here
ACTIVITIES: The main activities in San Clemente are San Clemente Pier, San Clemente Beach Trail, and Casa Romantica an iconic estate of the city located on top of a hill.
HOTEL: We recommend San Clemente Inn as one of the closest accommodation near Trestles, with a trendy and surfer vibes. All rooms includes a small kitchen, so it's very convenient if you want to save up some money from eating outside.
---
9. Black Sand Beach in San Diego
If you don't know it yet, San Diego is one of our favorite city in the US. Living there for a while would be a dream. If you haven't been yet, check out our post here, and make sure to add this amazing city in your bucket list.
There are may spots to surf in San Diego. Black Sand Beach is probably the most consistent one with good waves all year round.
An underwater canyon amplifies the swell and makes it always a little bigger than elsewhere in San Diego. Before arriving at the spot, it takes a good 15-20 minute walk on a slippery cliff.
---
10. Pacific Beach in San Diego
The first time we visited California, we started by visiting San Diego. We started our surfing trip at Pacific Beach. We had a blast!
Although the spot can be crowded, it has an excellent vibe and the waves were pumping on that day.
In many ways, Pacific Beach is the typical Southern California beach town. Popular for it's long stretch of sandy beach, a beautiful pier, taco stands and surf shops… The Californian dream! Pacific Beach is now one of the most vibrant part of town. It's location is also ideal, you can walk all the way to Mission Beach and on the other side you can reach La Jolla, the jewel of San Diego.
To find out more about San Diego, check out our post here.
---
If you've already been reading this blog for a while, you probably understood that we are BIG FAN of California. We love the vibes, the surfing culture, people, food etc. It simply suits our lifestyle.
As for surfing in California, what we like is the varieties of spots and waves. During our surf trip we had amazing conditions. What we liked less, is that the spots can be very crowded sometimes.
To found out more about the best things to do in California, check out this post, and to read more posts about other places in California, click here.
---
Links to related articles
CALIFORNIA: best things to see: here
POINT LOBOS: richest underwater reserve in the US: here
LOS ANGELES: Full guide for visiting LA: here
SAN DIEGO: What to do this beautiful city: here
SANTA BARBARA: Discover our favorite town in the US: here
CARMEL-BY-THE-SEA: a charming town: here
SAN FRANCISCO: One of the best city in the US: here
ROMANTIC DATES IN CALIFORNIA: 10 best date ideas: here