WHERE ARE THE BEST YOGA STUDIOS IN CANGGU AND PERERENAN?
Canggu and Pererenan, nestled on Bali's mesmerizing coastline, have evolved into vibrant yoga hubs, attracting enthusiasts from all over the world.
With the tropical paradise as a backdrop, these serene places offer an ideal setting to deepen your yoga practice and nurture your mind, body, and soul.
In this blog post, we'll explore the best yoga studios in Canggu and neighboring Pererenan, where ancient traditions merge seamlessly with modernity, providing an experience like no other.
NAMASTE!
---
BEST YOGA STUDIOS IN CANGGU
1. Samadi Bali
If you ask around what's the best yoga place in Canggu, we bet that most will mention Samadi as their top 3! And for good reasons. Samadi is also like an institution for yoga in Canggu!
Nestled in the heart of Canggu, Samadi Bali is a yoga oasis that captivates with its tranquil setting and diverse offerings.
This holistic wellness center embraces the essence of yoga beyond the mat, providing a space for self-discovery, healing, and personal growth.
With a focus on sustainability and community engagement, Samadi Bali offers daily yoga classes ranging from dynamic Vinyasa Flow to deeply meditative Yin Yoga. Additionally, you can partake in informative workshops, immersive retreats, and holistic treatments that rejuvenate both body and soul.
Location: here
Website: here
Instagram: here
READ: BEST THINGS TO DO IN CANGGU
---
2. The Practice Bali
The Practice Bali presents a transformative yoga experience that transcends boundaries.
Founded by world-renowned yoga teachers, this studio is a sanctuary for those seeking to expand their practice and understanding of yoga philosophy.
Through a harmonious blend of Hatha, Ashtanga, and Meditation classes, The Practice Bali fosters a deeper connection with one's inner self and the world around them, fostering a true sense of oneness.
Their yoga shala is also absolutely stunning!
Location: here
Website: here
Instagram: here
READ: IS CANGGU REALLY WORTH IT?
---
3. Radiantly Alive
Completing our list of the best yoga studios in Canggu, we cannot overlook the radiant energy of Radiantly Alive.
Located in the vibrant heart of Canggu, this studio brings together a diverse community of yoga practitioners from all walks of life.
Radiantly Alive offers an array of classes, from powerful Vinyasa to gentle Yin, alongside specialized practices like Aerial Yoga and ecstatic dance sessions. With its soulful ambiance and dedicated instructors, Radiantly Alive provides a transformative space for growth and self-expression.
Radiantly Alive also has a yoga studio in Ubud. It is also part of the co-working space BWork.
Location: here
Website: here
Instagram: here
READ: BEST CO-WORKING SPACES IN CANGGU
---
4. Serenity Yoga Canggu
Serenity Yoga Canggu, as the name suggests, is all about embracing the essence of inner peace.
This studio is renowned for its personalized approach, allowing yogis to deepen their practice at their own pace.
With intimate class sizes, Serenity Yoga provides a nurturing environment for everyone to explore their potential. From dynamic Ashtanga sessions to gentle Restorative Yoga, each class is designed to foster self-discovery and enhance physical and mental well-being.
Location: here
Website: here
Instagram: here
READ: WHERE TO STAY IN CANGGU?
---
Pranava Yoga Studio is a standout destination for those seeking to find harmony and balance in their lives.
With an emphasis on fostering a strong sense of community, Pranava welcomes practitioners of all levels with open arms. Their expert instructors guide you through an enriching experience of Yoga Nidra, Hatha, and Iyengar Yoga, leaving you feeling rejuvenated and centered.
Surrounded by rice fields with a majestic entrance, Pravana Yoga is one of our absolute favorite yoga studios in Canggu!
---
6. Guan Yin Yoga Shala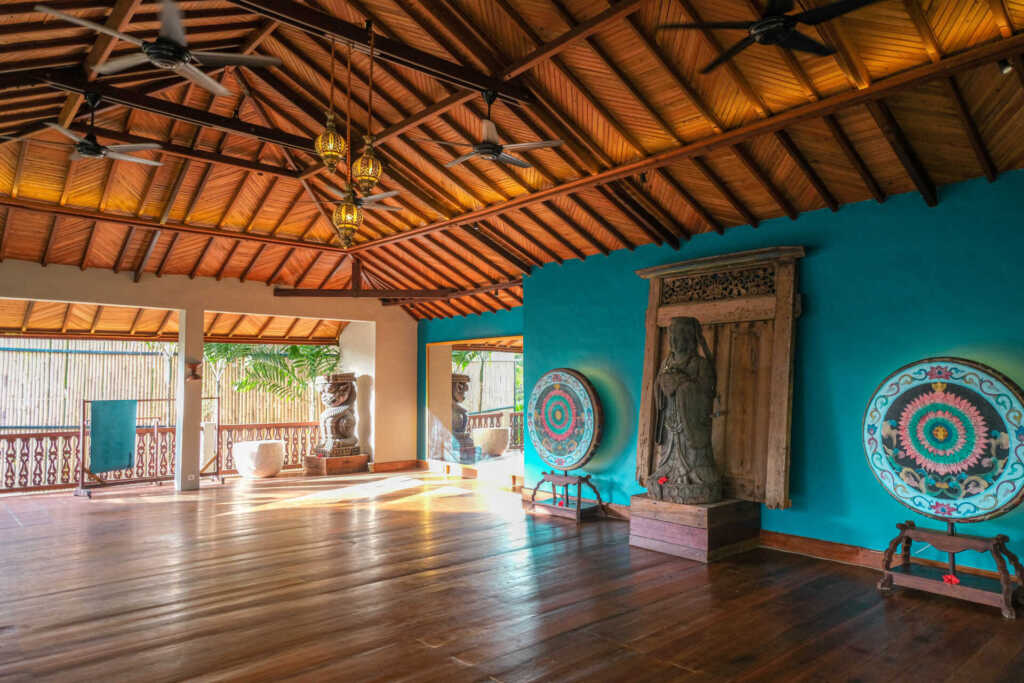 Guan Yin Yoga Shala is located in the atmospheric and spiritual Hotel Tugu Bali.
With its invigorating cleansing breeze from the ocean and the calming aura of the hundred years old statues, Guan Yin Yoga Shalla provides the ultimate experience of finding bliss and well-being for the body and soul through yoga, meditation, mindfulness, and breathing exercises.
Surrounded by lush greeneries, the breezy, high-ceilinged thatched roof'd shala induces a strong sense of Balinese peace and tranquility.
---
BEST YOGA STUDIOS IN PERERENAN
7. The Path Yoga Studio
Tucked away in Pererenan, The Path Yoga Studio is a hidden gem that resonates with both beginners and seasoned yogis.
The studio's tranquil ambiance, adorned with lush greenery, is the perfect setting for your yoga journey. They also have an A/C yoga room which is a rare thing in Bali!
Their experienced instructors offer a diverse range of classes, from Hatha to Vinyasa Flow, ensuring there's something for everyone. Whether you're looking to unwind, build strength, or achieve inner peace, The Path's well-curated classes are designed to cater to your specific needs.
Location: here
Website: here
Instagram: here
---
8. Chandra Yoga Bali
Chandra Yoga Bali is a gorgeous and traditional yoga studio surrounded by rice fields! It's absolutely stunning.
This yoga studio is renowned for its experienced teachers who guide practitioners on a journey of self-discovery and inner harmony. With a diverse range of classes, from Alignment-based Hatha to Flow Yoga, Chandra Yoga caters to practitioners of all levels, making it an ideal destination for beginners and seasoned yogis alike.
Location: here
Website: here
Instagram: here
---
9. Udara Bali – Yoga, Detox, Spa (in Seseh)
Udara Bali is located in Seseh right next to Pererenan (READ: DISCOVER SESEH AND CEMAGI IN BALI) is one of our favorite yoga studios in the Canggu area.
Each class is thoughtfully curated to align with the studio's philosophy of promoting self-awareness, mindfulness, and personal growth.
The experienced instructors at Udara Bali not only guide you through physical postures but also encourage you to explore the deeper aspects of yoga, leaving you with a profound sense of connection and inner peace.
One of the unique features of Udara Bali is its stunning beachfront location, allowing practitioners to immerse themselves in the soothing sounds of the ocean while practicing yoga. The studio's open-air shala and breathtaking views create a serene and meditative atmosphere, fostering a deeper sense of harmony with nature.
Beyond yoga, Udara Bali offers a variety of wellness programs, workshops, and retreats that cater to different aspects of well-being. From holistic healing therapies to sound healing sessions, Udara Bali's offerings are designed to rejuvenate both the body and soul.
Do check it out, it's really worth the experience!
Location: here
Website: here
Instagram: here
---
Conclusion about the best yoga studio in Canggu and Pererenan
Canggu and Pererenan have undoubtedly emerged as yoga havens, offering a diverse range of studios to cater to every yogi's desires.
Whether you seek a tranquil escape to unwind or a transformative experience to deepen your practice, these yoga studios have it all.
As you embark on your journey of self-discovery and growth, let the serenity of these studios envelop you, allowing your practice to flourish against the breathtaking backdrop of Bali's natural beauty.
---
RELATED POSTS
TOP TRADITIONAL DISHES IN BALI
TOP CO-WORKING SPACES IN CANGGU
BEST HOME DECOR SHOPS AROUND CANGGU
10 BEST THINGS TO DO IN SEMINYAK
AWESOME BEACH CLUBS AROUND CANGGU & SEMINYAK
DISCOVER SESEH AND CEMAGI IN BALI
HOW MUCH DOES IT COST TO LIVE IN BALI?