WHERE IS SESEH AND CEMAGI? WHY ARE SESEH AND CEMAGI BECOMING TRENDY? WHAT TO DO IN SESEH AND CEMAGI?
Seseh and Cemagi are 2 hidden gems of Bali.
Bali, the famed Indonesian island known for its stunning beaches, lush landscapes, and vibrant culture, has long been a top destination for travelers seeking an exotic paradise.
While the bustling areas of Canggu or Seminyak often steal the spotlight, there are lesser-known areas waiting to be discovered.
"SESEH and CEMAGI ARE 2 HIDDEN GEMS OF BALI!"
Two such hidden gems are the neighboring villages of Seseh and Cemagi, located on Bali's southwestern coast.
With their tranquil charm, pristine beaches, and rich cultural heritage, Seseh and Cemagi offer a refreshing alternative for those looking to escape the crowds and experience an authentic side of Bali.
Indeed, Seseh and Cemagi are now some of our favorite areas in Bali! Also because it's so close to Canggu yet it remains pretty much untouched still.
Curious about what Seseh and Cemagi look like, check out this video:
---
WHERE IS SESEH AND CEMAGI?
Seseh Village is situated approximately 15 kilometers north of Seminyak, one of Bali's most popular beach resort areas.
It rests between the coastal villages of Canggu and Tanah Lot.
Seseh Village is nestled amidst the picturesque surroundings of lush rice fields, coconut groves, and a serene black sand beach.
Not far from Seseh, you'll find the neighboring village of Cemagi. Located just a few kilometers to the northwest of Seseh, Cemagi shares the same breathtaking coastline and unspoiled natural beauty.
Both Seseh and Cemagi are part of the Mengwi subdistrict in the Badung regency of Bali. Their proximity to each other makes it convenient to explore both villages and soak up the unique charm they offer.
Although slightly off the beaten path, Seseh and Cemagi are within easy reach of Bali's main tourist areas, making them an ideal choice for those looking to experience a more authentic and tranquil side of the island.
---
SERENE SESEH VILLAGE
Nestled amidst emerald-green rice fields and swaying coconut palms, Seseh Village provides a serene retreat away from the hustle and bustle of Bali's popular tourist destinations.
The village exudes a traditional Balinese atmosphere, with its quaint houses and friendly locals.
One of the highlights of Seseh is its ancient sea temple, Pura Seseh, which stands as a silent witness to the village's spiritual traditions.
Take a peaceful stroll along the black sand beach and witness breathtaking sunsets as the waves gently caress the shore.
Note that from Canggu you can take a long stroll on the beach to reach Seseh and Cemagi.
---
CAPTIVATING CEMAGI
Just a stone's throw away from Seseh lies Cemagi, another hidden treasure waiting to be explored.
Cemagi is a small coastal village that enchants visitors with its rugged beauty and unspoiled nature. The village is surrounded by lush green rice fields and overlooked by the majestic Mount Batukaru, creating a picture-perfect setting for nature enthusiasts and photographers.
The black sand beach of Cemagi is a great spot for leisurely walks or simply unwinding while enjoying the stunning views of the Ocean.
---
EXPERIENCE BALINESE CULTURE
Both Seseh and Cemagi offer a glimpse into the vibrant cultural heritage of Bali. Engage with the warm-hearted locals, who are proud of their traditions and happy to share their customs with visitors.
Participate in a traditional Balinese ceremony or witness a mesmerizing dance performance, such as the famous Barong dance. Immerse yourself in the rhythm of gamelan music and marvel at intricate Balinese artwork displayed in the village temples.
---
EXPLORE THE SURROUNDING NATURE
The beauty of Seseh and Cemagi extends beyond their idyllic villages.
Venture out to discover the natural wonders that surround these hidden gems. Take a hike through the verdant rice terraces and marvel at the breathtaking vistas.
Alternatively, you can embark on a cycling tour to explore the scenic countryside, passing through quaint villages and lush landscapes.
---
GO ON A YOGA & DETOX & WELLNESS RETREAT IN SESEH
Seseh and Cemagi provide the perfect backdrop for rejuvenation and self-care.
Pamper yourself with a soothing spa treatment or indulge in a yoga and meditation session overlooking the ocean. For that head to Udara Bali, one of the most beautiful yoga & hotel places in Bali!
Udara offers great retreat package, check it out here.
The tranquil ambiance and natural beauty of these villages create an ideal environment for wellness retreats and spiritual exploration.
READ: BEST YOGA STUDIOS IN CANGGU AND PERERENAN
---
EXPLORE THE UPCOMING COFFEE SCENE IN SESEH AND CEMAGI
In Seseh and Cemagi you won't find as many coffee shops as in Canggu or Pererenan but the coffee scene is growing with already a few nice places.
Mustach Cafe Bali in Seseh (here), The Lodge (here), FLOWERBOY (here) and CLOVE (here) are some of our favorite cafes in Seseh and Cemagi
---
ENJOY SUNSET AT WARUNG PANTAI
Nestled along the picturesque coastline of Seseh, Warung Pantai stands as a true gem to watch sunset or simply enjoy a simple meal by the beach! In fact, this is one of our favorite places to hang out in Seseh!
This beachfront warung offers a delightful dining experience with its laid-back atmosphere and stunning views of the Ocean.
At Warung Pantai you can feast on an array of local dishes at very affordable prices or simply get a drink and relax by the beach!
Location: here
---
WHERE TO STAY IN SESEH AND CEMAGI?
Although Seseh and Cemagi are off the beaten path, they still offer amazing accommodations that blend seamlessly with the natural surroundings.
From private villas nestled amidst rice fields to beachfront resorts, you can find a range of options to suit your preferences. These establishments often prioritize sustainability and eco-friendly practices, ensuring a harmonious coexistence with the environment.
Here a few recommendations for you:
Udara Wellness Retreat:
Located in Seseh, Udara Wellness Retreat is a true sanctuary for those seeking relaxation and rejuvenation.
Nestled amidst lush greenery, this beachfront retreat offers a range of accommodations, including stylish rooms, suites, and villas.
With a strong focus on wellness, Udara provides a holistic experience that combines yoga and meditation classes, spa treatments, and a nourishing plant-based menu.
Udara is our favorite hotel in Seseh!
>> CHECK IT OUT
---
Sejuk Beach Villas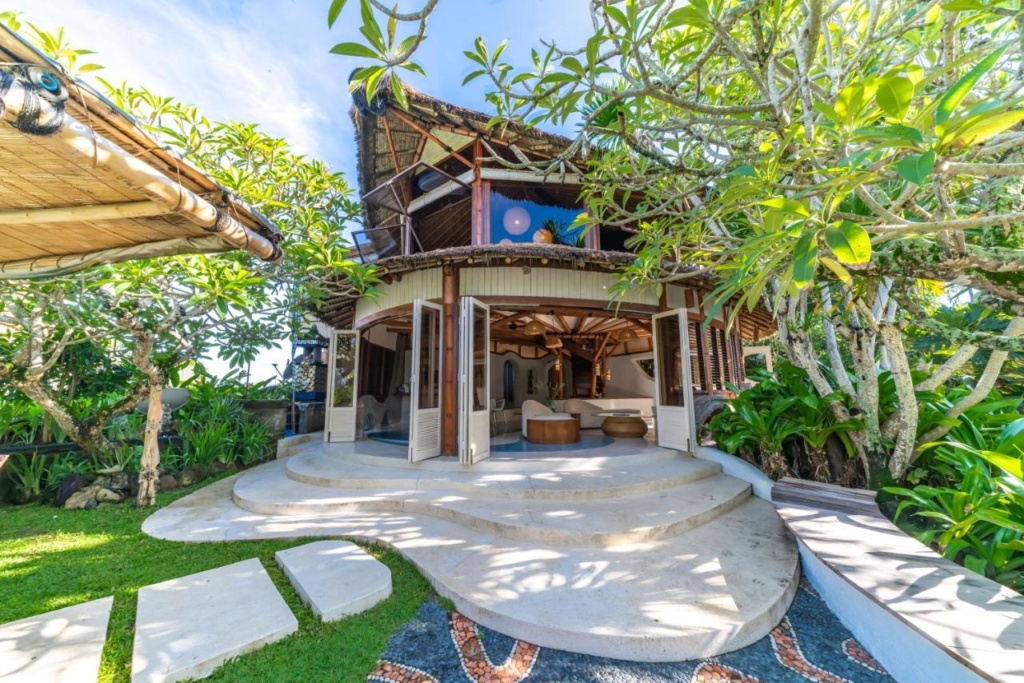 For those seeking a luxurious beachfront getaway, Sejuk Beach Villas is an exquisite option. These stunning private villas offer a combination of contemporary design and traditional Balinese elements, providing a truly indulgent experience.
With spacious bedrooms, private swimming pools, and lush tropical gardens facing the sea, Sejuk Beach Villas is absolutely stunning! One of our ultimate favorite places to stay in Bali!
>> BOOK HERE
---
Villa Florimar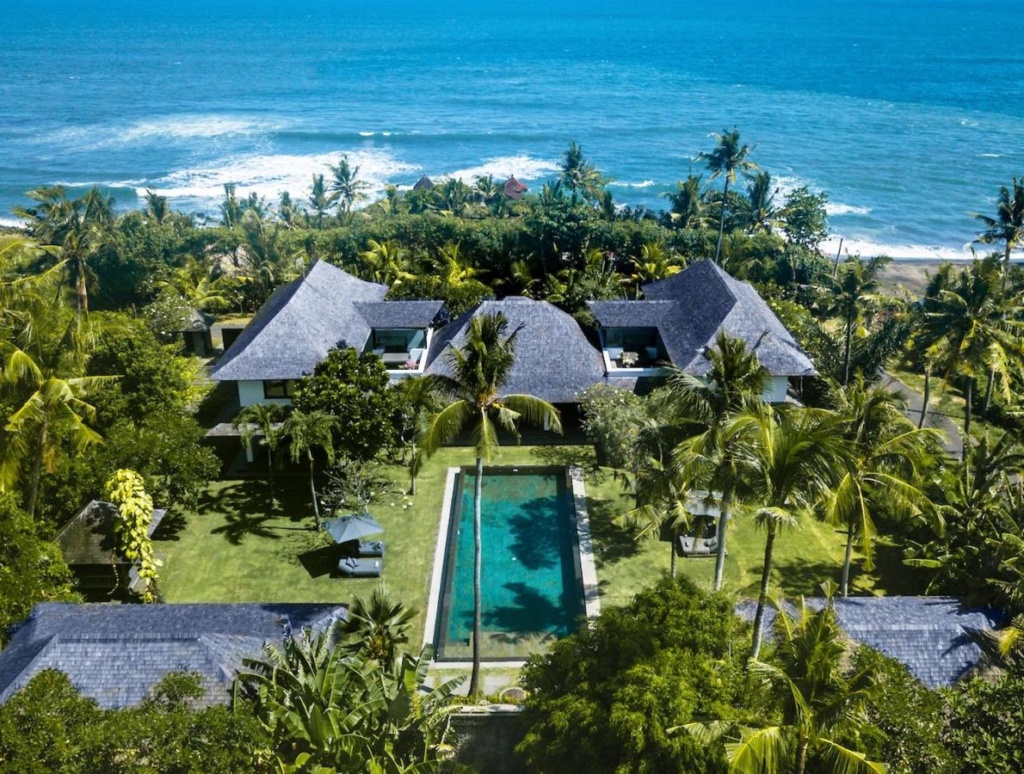 Situated right on the beach in Seseh, Florimar is a luxury private villas that epitomize tropical elegance.
The spacious villas boasts modern amenities, private pools, and lush gardens, providing a sense of tranquility and exclusivity. Enjoy direct access to the black sand beach, unwind in the open-air living spaces, and savor personalized service from a dedicated team.
>> BOOK NOW
READ: MOST INCREDIBLE HOTELS IN BALI
---
IS SESEH AND CEMAGI GOOD PLACES TO LIVE FOR DIGITAL NOMADS?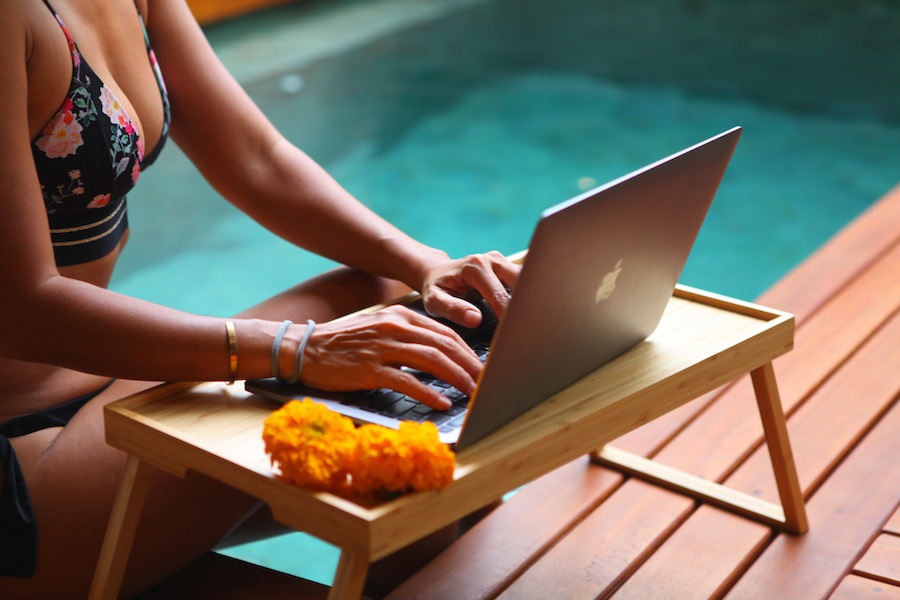 Seseh and Cemagi can indeed be great places to live for digital nomads seeking a serene and inspiring environment. Here are some factors to consider when evaluating these villages as potential destinations for digital nomad living:
Tranquil Environment:
Seseh and Cemagi offer a peaceful and laid-back setting, away from the hustle and bustle of more touristy areas. The serene atmosphere, with its lush rice fields and coastal beauty, can provide an ideal backdrop for focused work and a balanced lifestyle. Yet at the same time you can quickly reach Canggu with a 10min scooter ride or even walk there along the beach.
READ: HOW MUCH DOES IT COST TO LIVE IN BALI?
Natural Beauty and Inspiration
The stunning natural surroundings of Seseh and Cemagi can provide ample inspiration for digital nomads.
Whether it's working with a view of the ocean or taking breaks to explore the nearby rice terraces or go for a walk on the beach, these locations offer a scenic and refreshing environment that can enhance productivity and creativity.
Low-key Community:
While Seseh and Cemagi may not have the same level of digital nomad infrastructure as more established hubs such as Ubud and Canggu, they offer a close-knit and friendly community. The smaller size of the villages can foster connections with locals and other expats, providing opportunities for networking, collaborations, and cultural immersion.
Internet Connectivity:
As a digital nomad, reliable internet connectivity is crucial. While Seseh and Cemagi may not have the same level of high-speed internet access as more developed areas, many accommodations and cafes in these villages offer adequate internet connections for remote work. It's always advisable to inquire about internet reliability before committing to a specific place.
Amenities and Services
Seseh and Cemagi have limited commercial establishments compared to other areas of Bali. However, you can find essential amenities such as grocery stores, restaurants, and cafes to meet your daily needs. If you require access to a wider range of services, you can easily reach nearby towns like Canggu or Seminyak, which offer a more extensive selection of facilities.
It's important to note that while Seseh and Cemagi offer a serene lifestyle, they may lack some conveniences and amenities that digital nomads typically seek. It's recommended to visit or spend some time in these villages before committing to long-term living to ensure they align with your specific needs and preferences.
READ: BEST PLACES IN THE WORLD FOR DIGITAL NOMADS & BEST CO-WORKING SPACES IN CANGGU
---
IN CONCLUSION ABOUT SESEH AND CEMAGI IN BALI
Seseh and Cemagi, with their untouched beauty and cultural richness, are hidden gems that offer a unique experience for those seeking an authentic Bali adventure.
Whether you're seeking a serene beach retreat, a cultural exploration, or an opportunity to immerse yourself in the natural beauty of Bali, Seseh and Cemagi offer the perfect getaway. Surrounded by rice fields, coconut groves, and enchanting black sand beaches, these hidden gems provide a peaceful respite away from the crowds.
So, venture off the well-trodden path and discover the allure of Seseh and Cemagi, where tranquility and beauty await at every turn.
---
RELATED POSTS
10 MOST INCREDIBLE HOTELS IN BALI
BEST HOME DECOR SHOPS AROUND CANGGU
FULL GUIDE FOR PERERENAN IN BALI
AWESOME THINGS TO DO IN SEMINYAK
BEST PLACES FOR DIGITAL NOMADS