WHAT TO DO IN CANGGU? BEST CAFES IN CANGGU? BEST YOGA PLACES IN CANGGU? WHERE TO SURF IN CANGGU? WHY IS CANGGU SO POPULAR?
Ahhh Canggu, many say that it's too busy, too touristy, there is too much traffic, others can't get enough of it… We are more of the latter to be honest. We actually LOVE Canggu and that's the reason why we decided to write this post for you!
Canggu is a trendy coastal village in Bali. Over the last few years, it has emerged as a popular destination for travelers seeking a unique blend of natural beauty, laid-back vibes, and thrilling adventures.
"CANGGU IS ONE OF THE MOST HIPSTER PLACES IN BALI"
Nestled amidst lush green rice paddies and bordered by great beaches, Canggu offers lots of activities and attractions to keep you entertained.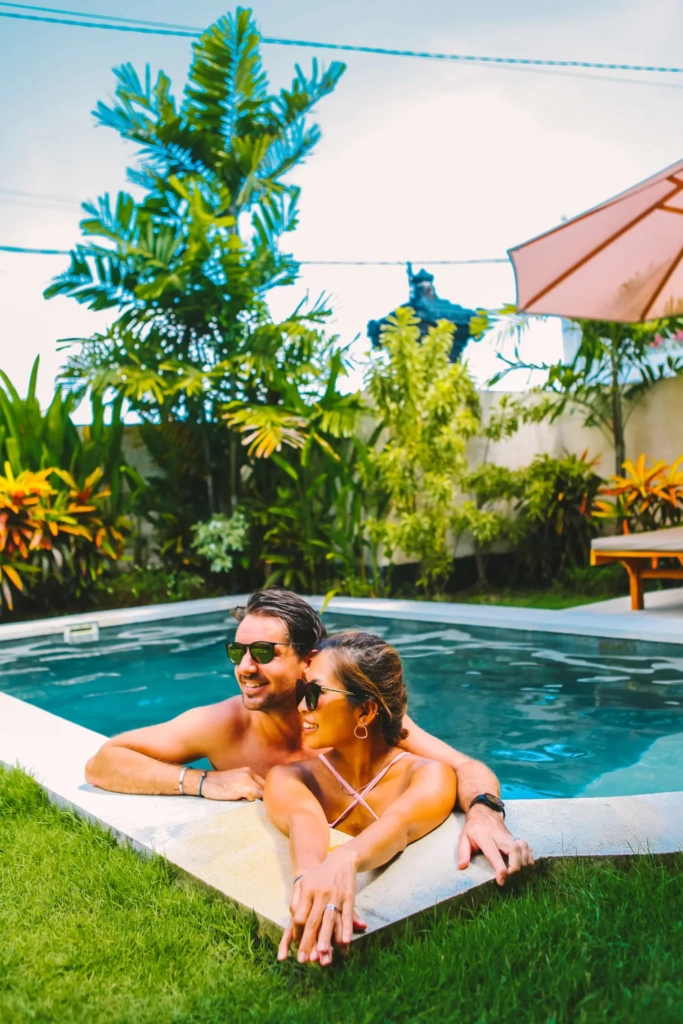 Whether you're a surfer searching for the perfect wave, a foodie craving some of the best food in Bali, a culture enthusiast yearning to immerse yourself in local traditions, or simply a digital nomad looking for a good place to work and connect with like-minded people, Canggu has something for everyone.
This video compiles some of the best moments in Canggu:
In this article, we listed the 10 best things to do in Canggu.
---
WHY IS CANGGU IN BALI SO POPULAR?
Canggu is a bit like a utopia that has become a reality for expatriates or digital nomads. Great beaches for surfing, green surroundings, attractive prices, amazing cafes and restaurants everywhere, and super friendly people.
Indeed, Canggu is today one of the places in the world for Digital Nomads.
Once a rural village, Canggu has become an attractive cosmopolitan place.
---
SO WHY ARE SO MANY PEOPLE ALSO COMPLAINING ABOUT CANGGU?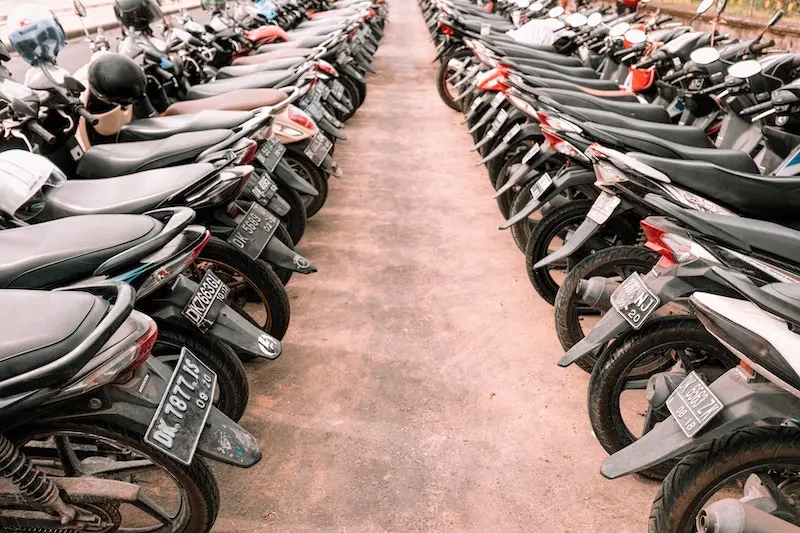 Canggu, to be 100% honest, is a better place to live than to visit. It's not in Canggu that you will find the most traditional places or spiritual places in Bali. It's a lot more Westernized than most places in Bali. However, for us, it's a great blend of the Balinese world mixed with Western Culture.
This is also what Bali has become today. It's not just about rice fields, temples, volcanoes, and beaches, but places like Canggu and nowadays Uluwatu are becoming hotspots for Digital Nomads, people who live there long term. There is a sense of community and it's not just a touristy place anymore.
Influencers are creating this image of the "perfect" Canggu, whereby the reality is not perfect. Don't set your expectation too high by watching your IG feed.
Canggu has its downside too: traffic can be really bad! Construction sites everywhere as Canggu is developing fast, or crowded beach!
Despite all that, Canggu is one of our favorite places in the world! So do check it out to make up your own mind about it.
---
WHAT TO DO IN CANGGU?
1. ENJOY SURFING IN CANGGU!
Canggu is actually one of the best places to surf in Bali! This is in the first place, what made Canggu so popular.
For beginners head to Batu Bolong at Old's Man (location). This is the best place to learn surfing. There are many surf schools towards the beach, you can also book your private surf lesson here.
Intermediate to Advance Surfers head to Echo Beach (location), one of Canggu's most popular destinations for riding the waves. With consistent swells and a relaxed atmosphere, Echo Beach caters to both beginners and seasoned surfers.
Berawa (location) is another good surf spot, quieter than Batu Bolong and Echo Beach, and which cater to all levels. However, the swell is less consistent.
After catching some waves, relax on the beach and soak up the sun or indulge in some delicious seafood at one of the beachfront cafes.
GOOD TO KNOW: the best time to surf in this part of Bali is during the dry season from April to October
---
2. EXPLORE THE RICE FIELDS OF CANGGU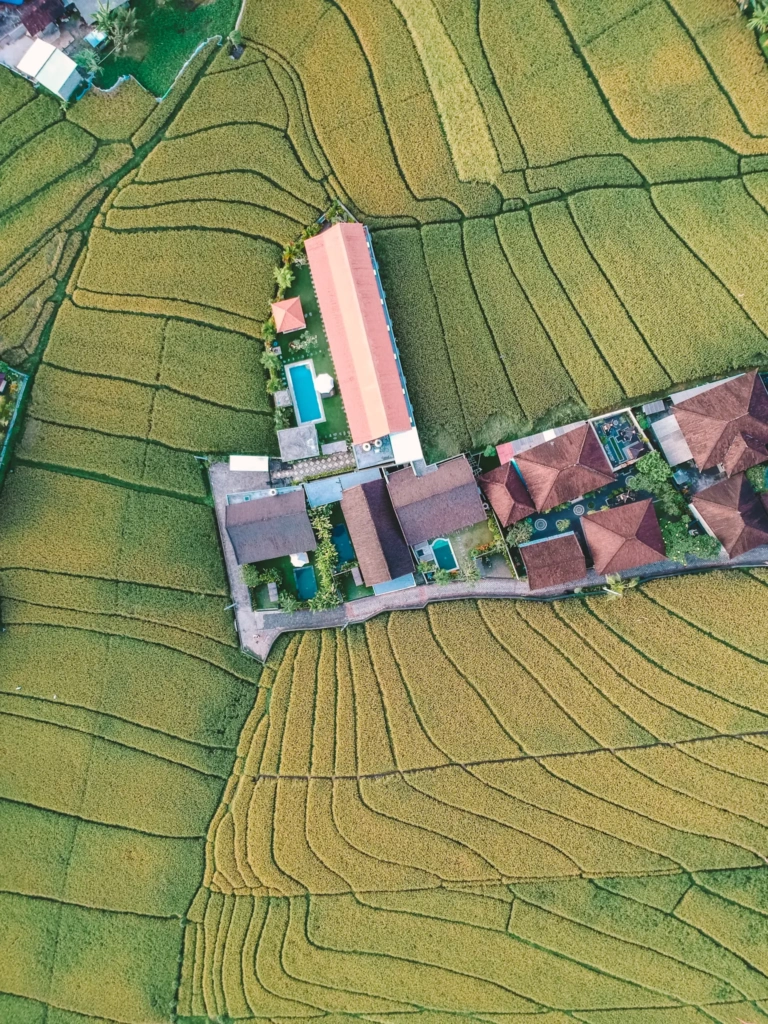 Immerse yourself in the serene beauty of Canggu's lush green rice fields.
Take a leisurely stroll or rent a bicycle to explore the countryside at your own pace. There are many beautiful rice fields that still remain in Canggu. Marvel at the intricate irrigation systems and learn about the age-old farming techniques that sustain Bali's agricultural heritage.
Our favorite rice fields in Canggu are located here, here & here.
We made a short Reel about the best Rice Fields in Canggu
---
3. DISCOVER THE BEAUTIFUL TANAH LOT TEMPLE NEAR CANGGU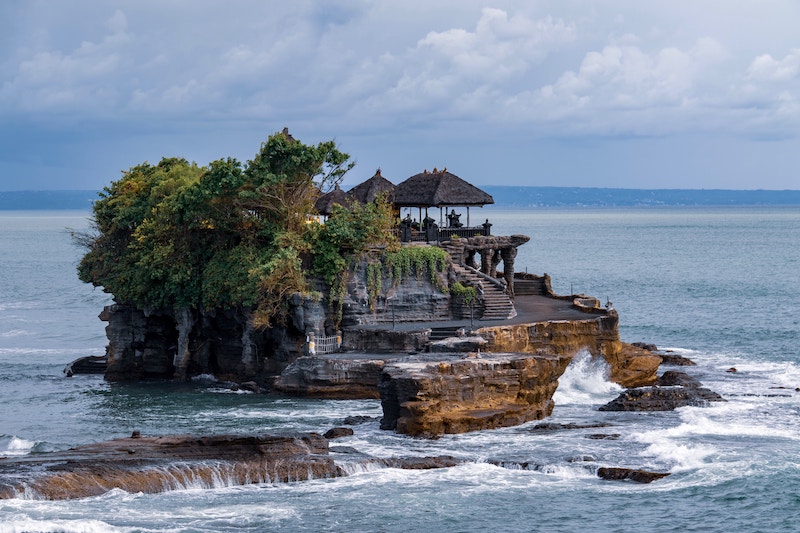 Perched on a rocky outcrop overlooking the Indian Ocean, Tanah Lot Temple is a sight to behold.
This iconic Balinese sea temple is a symbol of spiritual devotion and offers a serene setting for contemplation.
Admire the temple's unique architecture and the breathtaking sunsets that grace the horizon.
During low tide, you can walk across to the temple and receive a blessing from the resident priests. Don't forget to explore the local market surrounding the temple, where you can find traditional handicrafts and souvenirs.
Driving in the areas around Tanah Lot is also really nice to discover the local life. Head to Gangga or Mengening for picturesque places far from any tourists.
You'll need to drive for 20 minutes by scooter from Canggu. There are many parking available on site (2000 IDR/motorbike).
A visit to Tanah Lot is one of the best things while staying in Canggu.
---
4. INDULGE YOURSELF IN THE AMAZING FOOD SCENE IN CANGGU!
Canggu has earned a reputation as a food paradise, with a multitude of vibrant cafes and restaurants.
Sample delicious smoothie bowls, hearty salads, and nourishing vegan cuisine that highlights Bali's fresh and organic produce. The healthy food scene in Canggu is complemented by trendy cafes that boast unique interiors and cozy atmospheres, making them the perfect spots to relax, recharge, and capture great Instagram photos.
We could make a list of 50+ amazing cafes in Canggu, however, if we would need to nail down our 5 favorites cafes in Canggu it would be:
SENSORIUM
Sensorium is not just another cafe in Canggu, it's a true culinary experience! The food is just on another level! No wonder why the waiting time to get a seat is sometimes up to 3 hours! No kidding…
Location: here
Website: here
IG: here
---
CRATE CAFE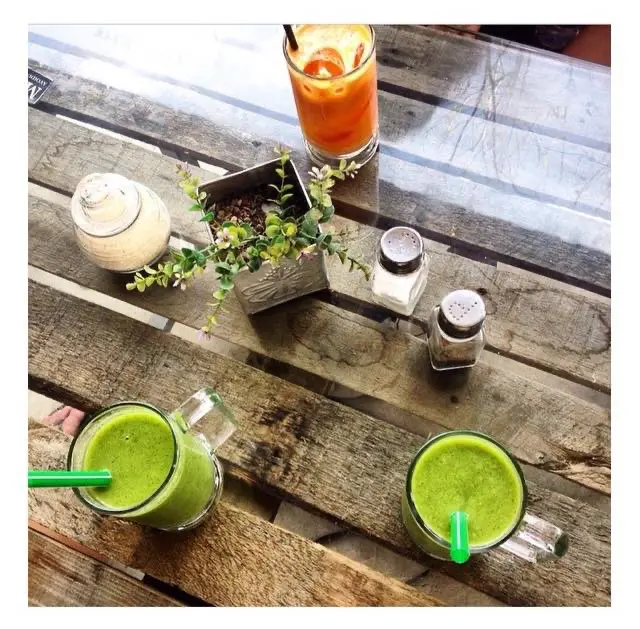 Crate Cafe is an iconic establishment known for its mouthwatering all-day breakfast menu. Situated in Batu Bolong, this rustic cafe is celebrated for its generous portions, sumptuous pancakes, and freshly brewed coffee.
The laid-back ambiance, adorned with graffiti-style art and communal tables, encourages visitors to connect over great food and vibrant conversations. A must while in Canggu! (location)
---
MIMPY GROCERY
Tucked away in the vibrant streets of Canggu, Bali, lies Mimpy Grocery, a hidden gem that caters to health-conscious foodies and those seeking high-quality, organic products. Mimpy Grocery has earned a well-deserved reputation for its exceptional selection of locally-sourced and sustainable produce, along with a range of specialty items that cater to various dietary needs and preferences.
Location: here
Menu: here
IG: here
---
WOODS CAFE
Woods Cafe (techinically in Pererenan) offers a unique experience where nature and gastronomy intertwine. With its enchanting setting, wholesome menu, and commitment to sustainability, Woods Cafe has become a beloved destination for locals and visitors alike.
With its open-air seating and natural elements incorporated into the design, Woods Cafe seamlessly blends indoor and outdoor spaces, allowing visitors to dine amidst the beauty of nature.
---
ZIN CAFE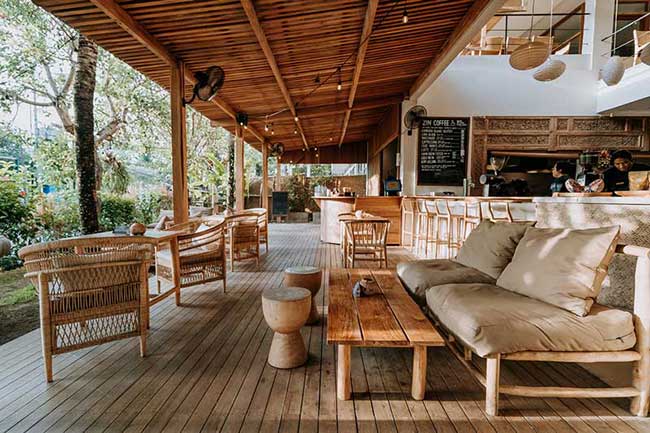 Zin is actually a popular co-working space in Canggu. But it's also a great cafe located in the heart of Canggu. Zin Cafe is a culinary gem. With its unique blend of exquisite cuisine, elegant ambiance, and artistic flair, Zin Cafe offers a dining experience that transcends expectations.
READ: BEST CO-WORKING SPACES IN CANGGU & TOP TRADITIONAL DISHES IN BALI
---
5. ENJOY A YOGA CLASS IN CANGGU
Canggu is not only known for its breathtaking beaches and vibrant food scene but also for its thriving yoga community.
With a plethora of yoga studios to choose from, you can try out many different yoga classes in Canggu which catered to all levels.
Here are our favorite yoga studios in Canggu:
Radiantly Alive Yoga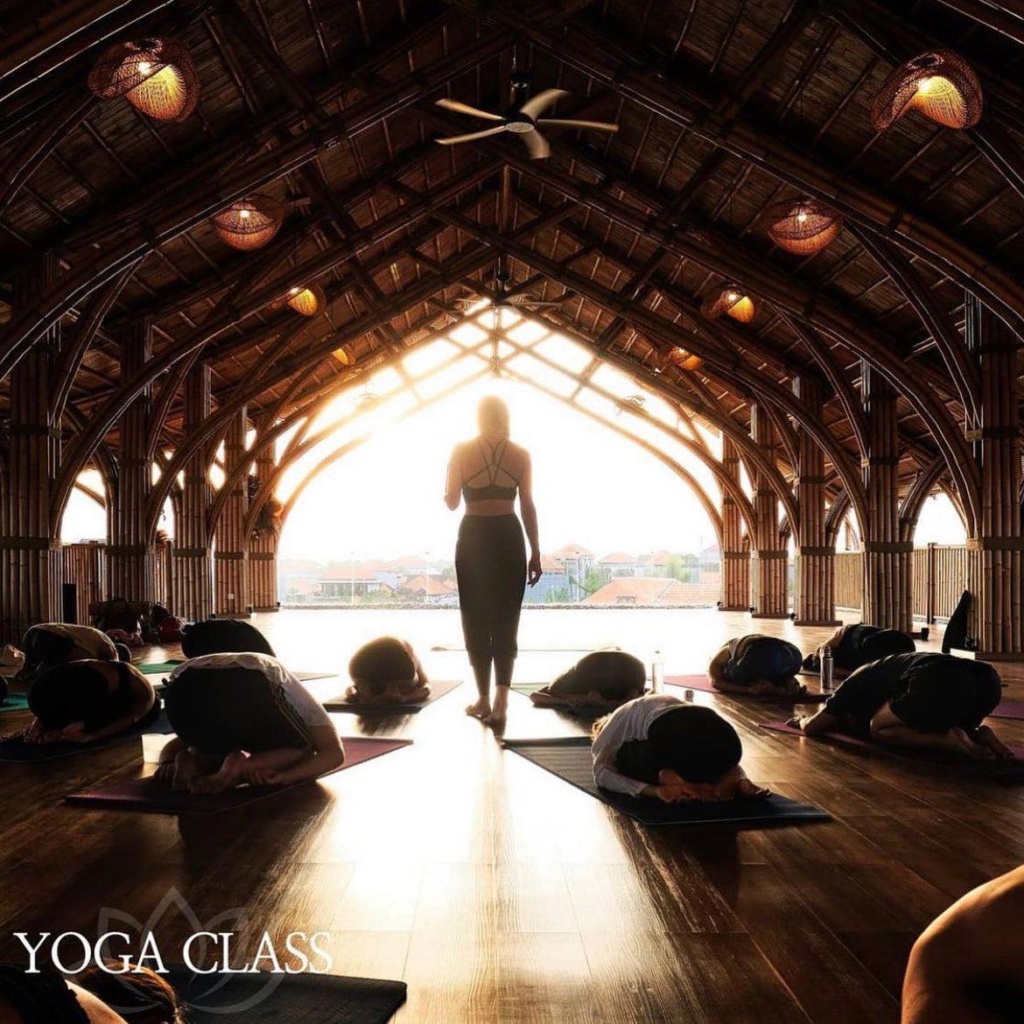 Radiantly Alive Yoga stands out as the premier yoga studio in Canggu, offering a sanctuary for both beginners and seasoned practitioners.
With its tranquil and modern space, Radiant Yoga provides an inviting environment where individuals can immerse themselves in their practice and find inner peace.
The studio offers a wide range of classes, including Vinyasa Flow, Yin Yoga, and Restorative Yoga, catering to various levels and preferences. The knowledgeable and experienced instructors guide students with grace, ensuring a safe and transformative experience on the mat.
---
The Path
The Path is one of the newest yoga studios which opened in Canggu!
There are 2 studios at The Path one is indoor and fully air-conditioned and one is outdoor surrounded by a beautiful garden.
The Path is a true hidden gem that combines yoga with spirituality, fostering a deeper connection to the self and the surrounding environment.
This intimate and serene studio offers a diverse range of classes, including Hatha, Vinyasa, and Meditation, providing an opportunity for students to explore different yoga styles and deepen their practice.
---
The Practice
The Practice is a renowned yoga studio in Canggu that embraces a holistic approach to wellness.
With its state-of-the-art facilities, inspiring architecture, and a team of world-class instructors, The Practice creates a space where students can explore various yoga styles, including Ashtanga, Jivamukti, and Iyengar.
The studio also hosts workshops and retreats led by internationally acclaimed teachers, allowing practitioners to delve deeper into their practice and expand their yoga journey.
---
Samadi Bali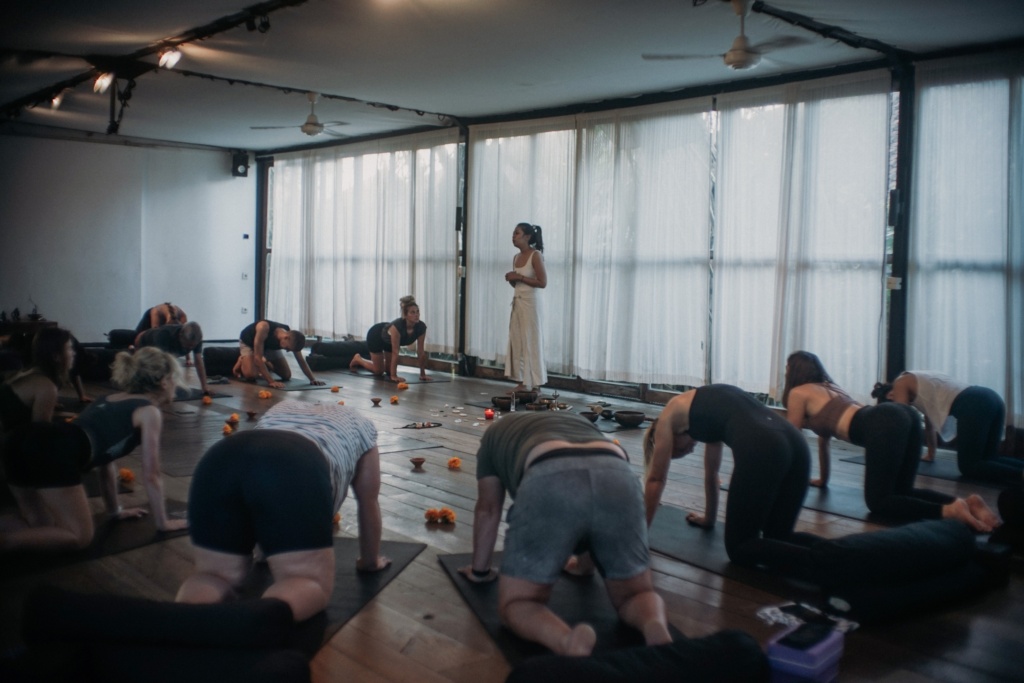 Samadi Bali is more than just a yoga studio; it is a wellness hub that offers a diverse range of holistic practices. With its tranquil garden setting and community-oriented approach, Samadi Bali creates a nurturing space for individuals to explore yoga, meditation, and other wellness modalities.
Samadi is clearly our go-to place! We simply love the environment there. And don't miss out on the Sunday Market held at Samadi. They sell fresh local products, breads, clothes, and many other local crafts!
At Samadi, there is also a restaurant and a fantastic vegan shop!
READ: FULL LIST OF BEST YOGA STUDIOS IN CANGGU AND PERERENAN
---
6. HAVE FUN AT ONE OF THE MANY BEACH CLUBS
Along the coastline, you'll find an array of beach clubs in Canggu that offer a unique blend of relaxation, entertainment, and stunning ocean views.
We listed the best beach clubs in Canggu here:
Finns Beach Club
With its iconic infinity pool, luxurious daybeds, and beachfront location, Finns Beach Club stands as a pinnacle of beachside relaxation and entertainment.
This expansive venue offers a range of facilities, including multiple pools, bars, restaurants, and a beachfront lawn, ensuring there's something for everyone. Whether you're lounging by the pool, enjoying live music, or sipping on tropical cocktails, Finns Beach Club promises an unforgettable experience.
This place is very popular, so make sure to book in advance here.
---
The Lawn Canggu
Nestled along Batu Bolong Beach, The Lawn Canggu exudes a laid-back vibe and captures the essence of Canggu's beach culture. This beach club boasts comfortable bean bags and sun loungers spread across a manicured lawn, offering panoramic ocean views.
The casual yet chic atmosphere sets the stage for lazy beach days, where you can sip on refreshing drinks, savor delectable bites, and soak in the beachfront ambiance.
The Lawn is one of our favorite beach clubs in Bali!
---
La Brisa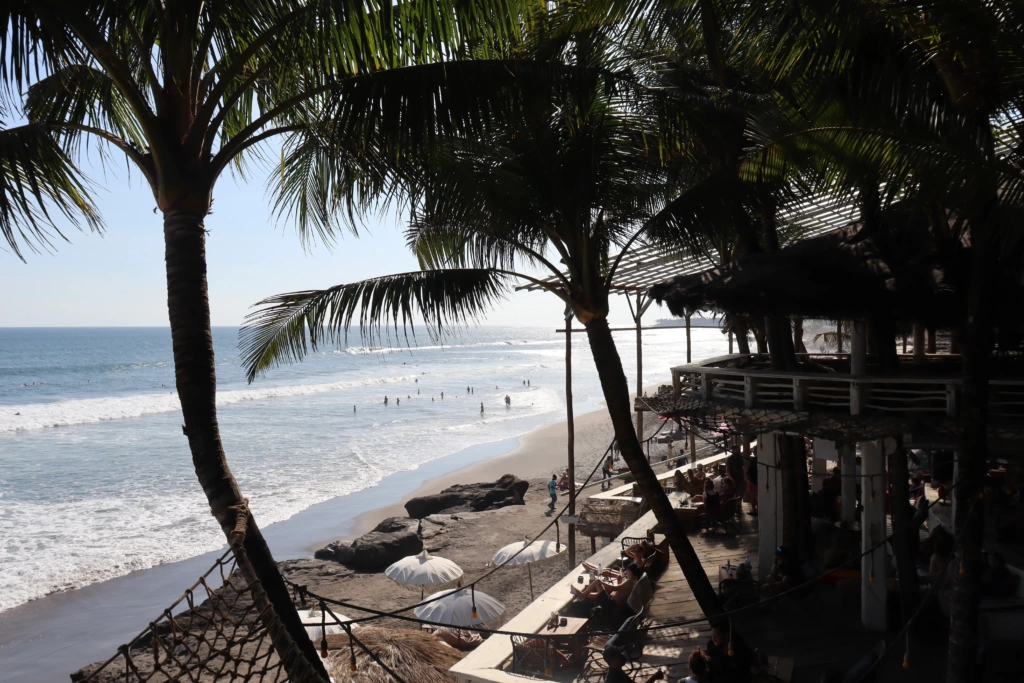 Visiting Canggu but not spending a day at La Brisa, would be a pity!
Here you will be transported into a rustic and bohemian-inspired beach paradise. From its salvaged wood and bamboo structure to its beachfront location, this beach club embodies a sense of tropical feeling.
Lounge on colorful daybeds, sip on handcrafted cocktails and indulge in a menu that showcases fresh seafood and international flavors. The eclectic ambiance, complemented by regular live music events, makes La Brisa a must-visit destination for beach club enthusiasts.
---
Sol Rooftop Bali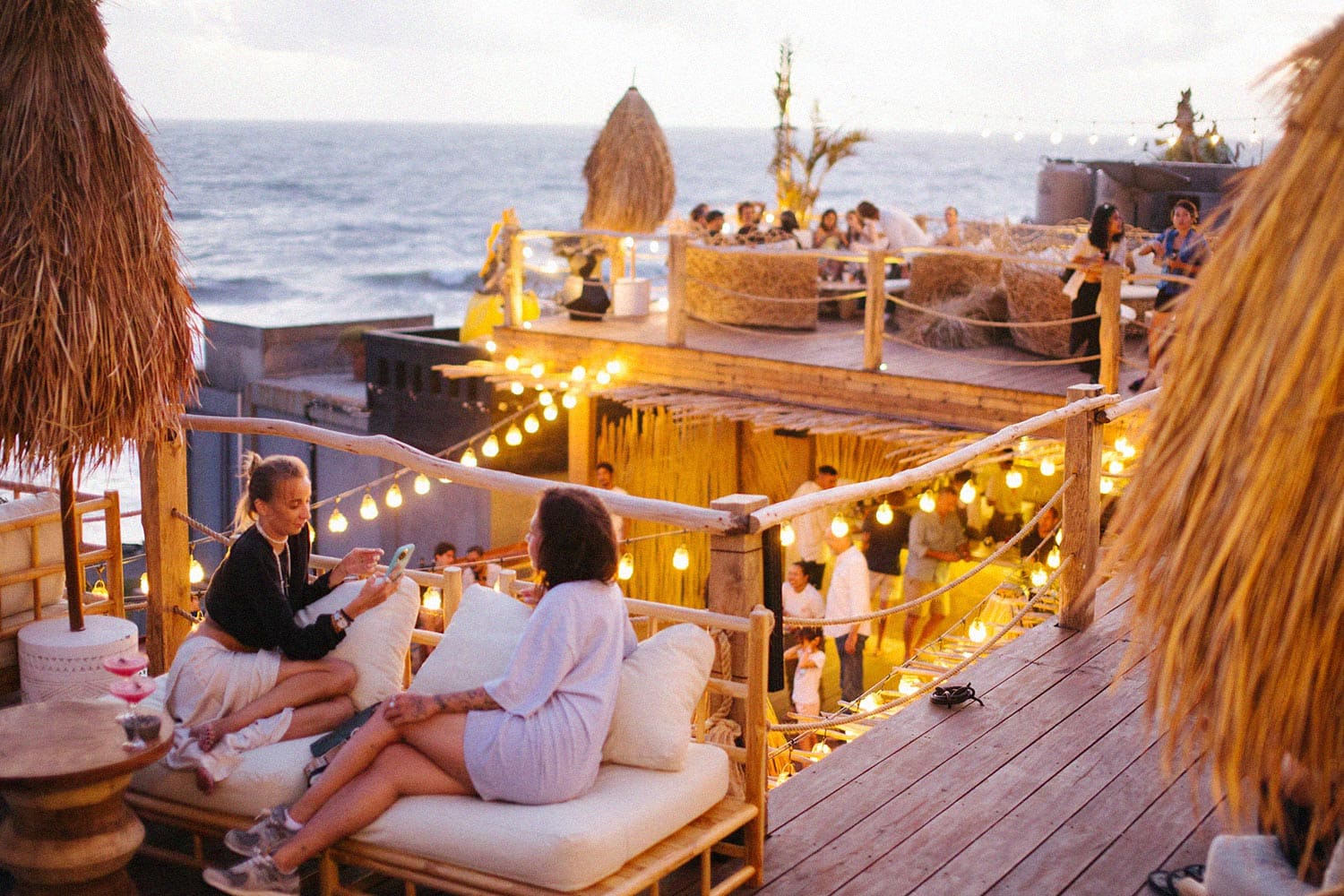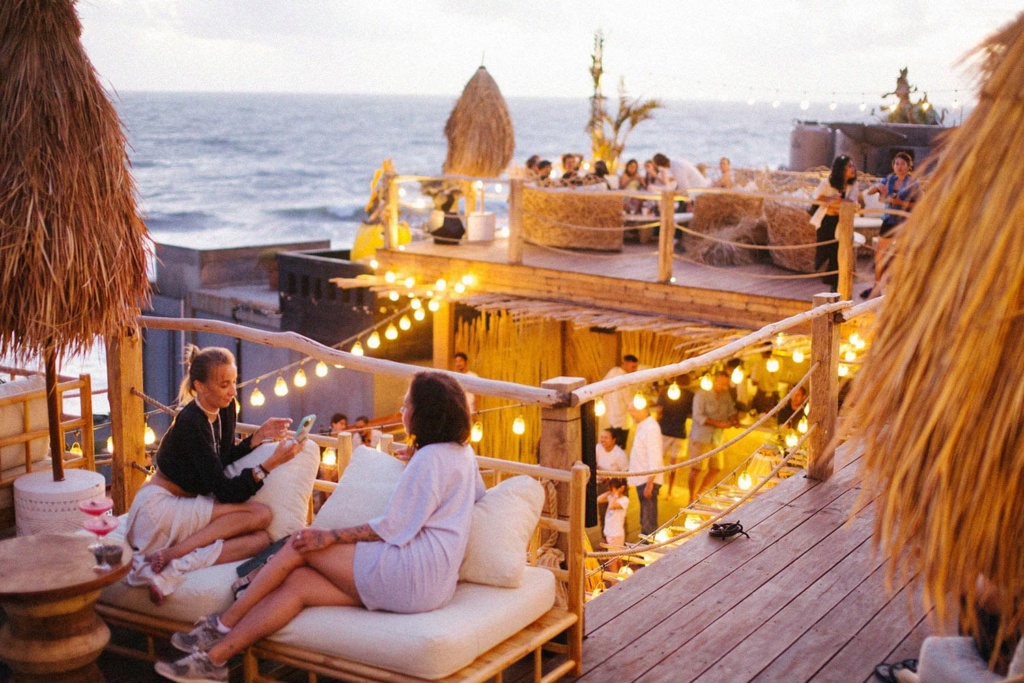 Adding to the vibrant beach club scene in Canggu is The Sol, a hidden gem that captivates visitors with its contemporary design and breathtaking views.
The Sol offers a chic and stylish space to unwind. Lounge on sunbeds or plush cabanas, take a refreshing dip in the pool, and enjoy uninterrupted ocean vistas.
The beachfront restaurant serves a fusion of international cuisines, while the bar mixes up creative cocktails that perfectly complement the seaside setting. WE LOVE THIS PLACE!
READ: AWESOME BEACH CLUBS AROUND CANGGU & SEMINYAK
---
7. SHOP UNTIL YOU DROP
Canggu, Bali, is not just a haven for surfers and beach enthusiasts but also a shopper's paradise.
From vibrant markets to trendy boutiques, this vibrant coastal village offers lots of shopping opportunities. Whether you're searching for unique souvenirs, stylish beachwear, or locally crafted treasures, Canggu has it all.
Here are some of our favorite places to go shopping:
Love Anchor Market
Love Anchor Market is a bustling and vibrant hub that captures the bohemian spirit of Canggu.
This lively marketplace features a mix of local artisans, designers, and entrepreneurs showcasing their crafts, fashion, and accessories.
From handmade jewelry and clothing to unique homeware and artwork, Love Anchor Market offers a treasure trove of one-of-a-kind finds. Take your time to explore the stalls, strike up conversations with the passionate creators, and bring home a piece of Canggu's creative energy.
---
Deus Ex Machina
Deus Ex Machina is not just a clothing brand; it's a lifestyle concept that encompasses surf culture, motorcycles, and artistic expression.
The Deus Ex Machina flagship store in Canggu is a fascinating space that combines a retail store, motorcycle workshop, art gallery, and cafe.
Browse through their collection of apparel, accessories, and custom motorcycles while immersing yourself in the unique ambiance that celebrates the intersection of design, craftsmanship, and creativity.
---
Boutiques in Batu Bolong
Batu Bolong is a vibrant street lined with an eclectic mix of boutiques and shops catering to various tastes and styles.
From trendy swimwear and bohemian fashion to surf gear and accessories, this bustling stretch has something for everyone.
Explore popular boutiques like Suka, Moon Rocks and immerse yourself in the vibrant atmosphere, discover unique pieces, and find your own style inspiration.
---
Tamora Gallery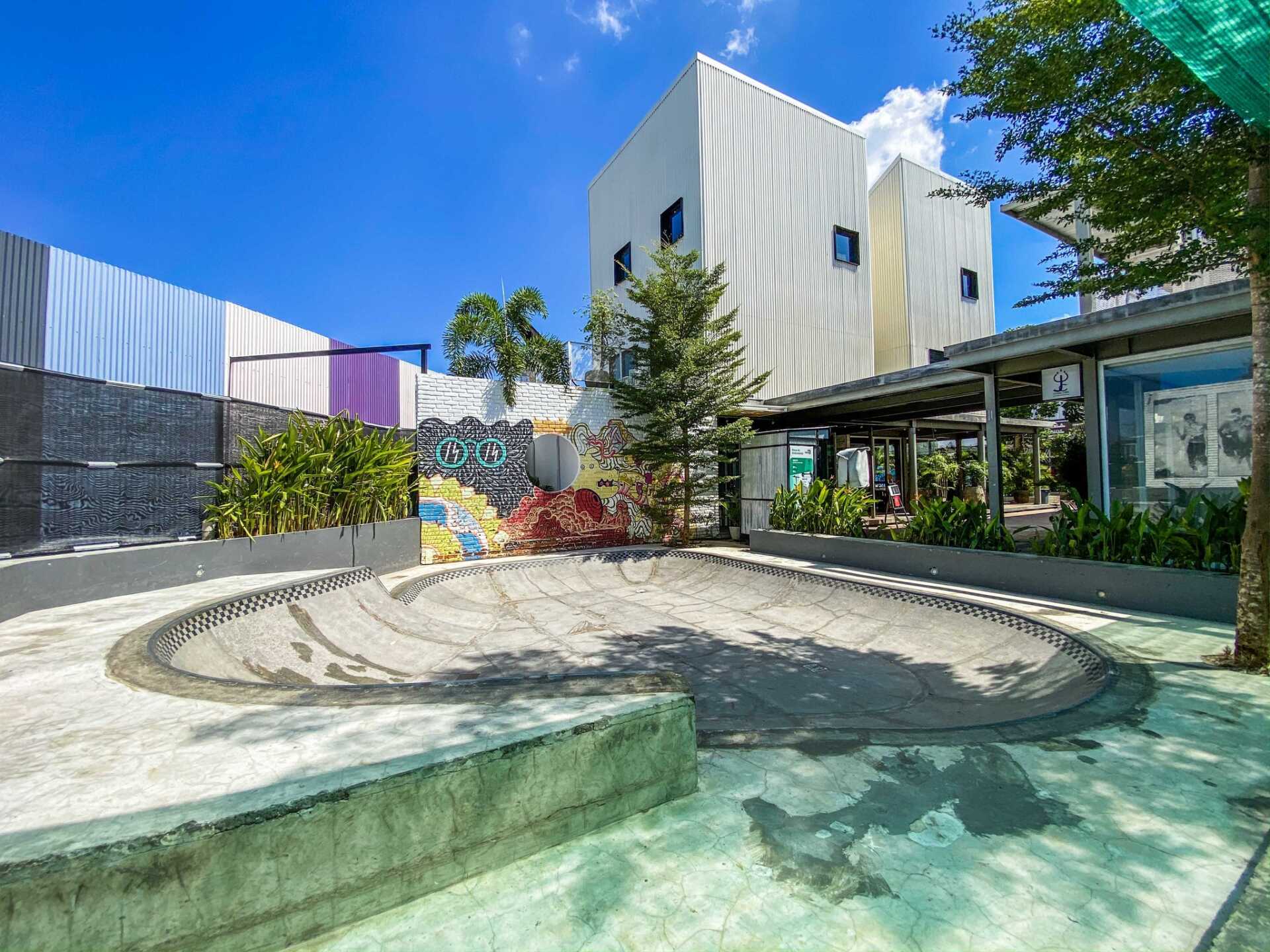 Tamora Gallery presents a refreshing concept that blends shopping, dining, and entertainment in a modern and stylish setting. This lifestyle hub features a collection of boutiques, concept stores, and art spaces.
Browse through the fashion-forward selections at Magali Pascal and browse unique homeware at Bungalow Living.
After shopping, relax in one of the cozy cafes or treat yourself to a pampering session at the onsite spa. Tamora Gallery offers a holistic shopping experience that satisfies all your senses.
---
Samadi & La Brisa Sunday Market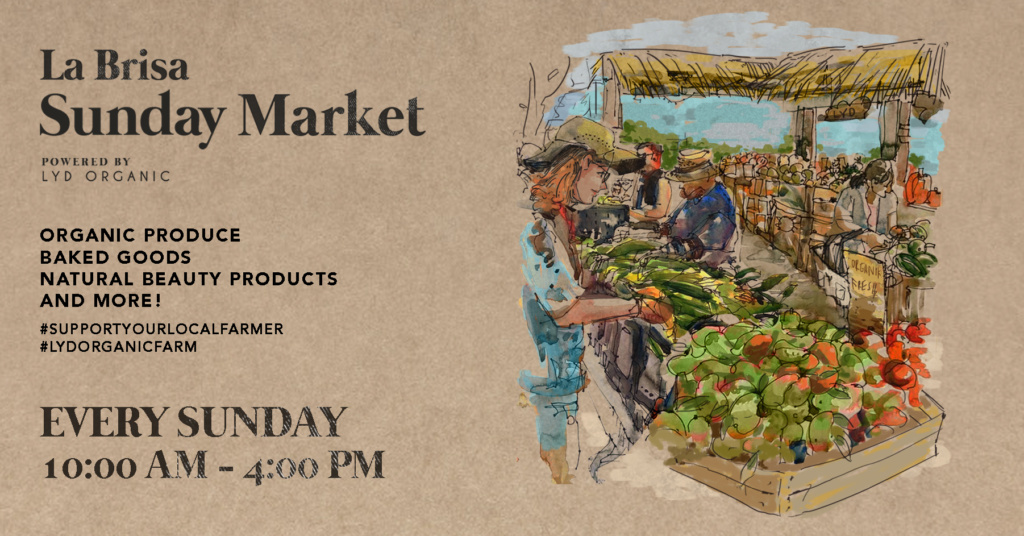 For those seeking a taste of local flavors and organic produce, Samadi Sunday Market and La Brisa Sunday Market are must-visit destinations.
Held every Sunday, these vibrant markets showcase organic fruits and vegetables, homemade snacks, natural beauty products, and sustainable goods.
Stroll through the stalls, interact with local farmers and artisans, and sample delicious organic treats. The markets also host workshops, live music, and wellness activities, making it an immersive experience that celebrates community and conscious living.
---
8. EXPERIENCE CANGGU'S NIGHTLIFE
As the sun sets, Canggu transforms into a vibrant hub of nightlife.
Trendy beach clubs and bars come alive, offering a mix of live music, delicious cocktails, and a lively atmosphere.
Dance the night away to international DJs, enjoy fire shows on the beach, or simply relax with a drink while enjoying the ocean breeze.
Here are some of the most popular places for a night out:
Old Man's
Old Man's is an iconic beachfront bar that has become a go-to spot for locals and tourists.
This laid-back venue offers a casual and welcoming atmosphere, making it an ideal place to start your night. Enjoy drinks overlooking Batu Bolong Beach. With regular live music events and DJ sets, Old Man's ensures there's always something happening to keep the energy high.
---
Luigi's Hot Pizza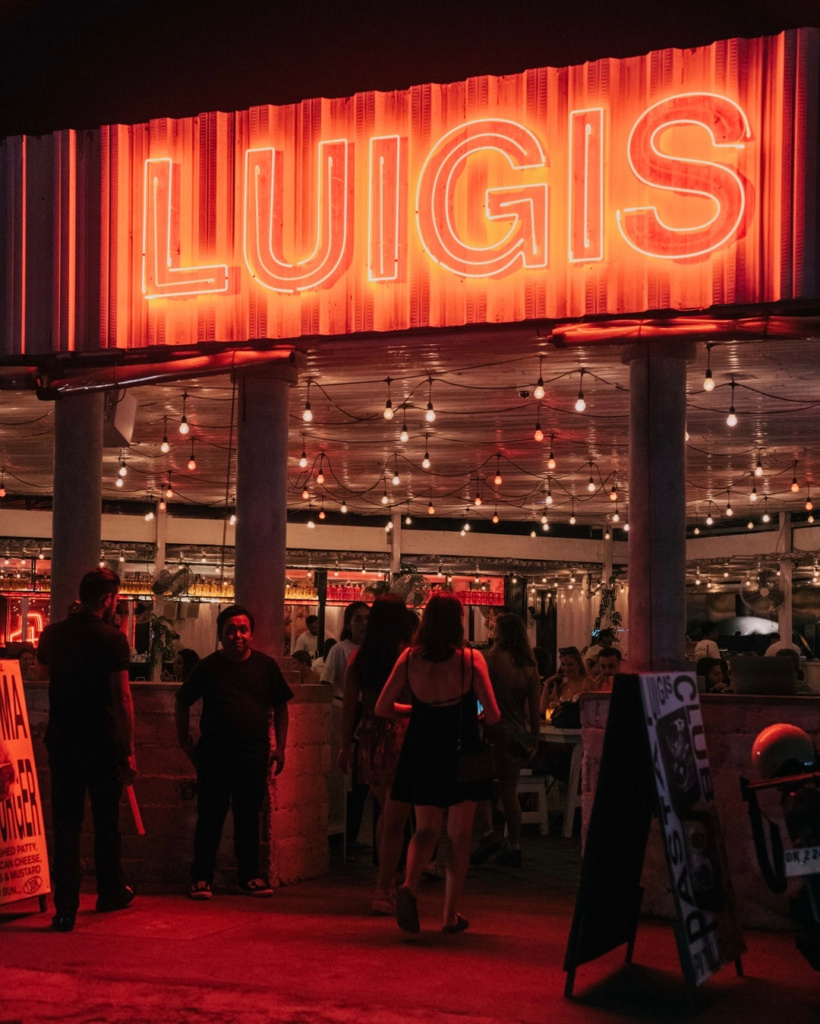 If you're craving a late-night hangout with great food and a lively atmosphere, look no further than Luigi's Hot Pizza.
This vibrant pizzeria serves up delicious slices of pizza, craft beers, and cocktails that keep the party going. With its colorful interiors, buzzing crowd, and upbeat music, Luigi's Hot Pizza offers a lively and social environment where you can mingle with fellow revelers and satisfy your cravings simultaneously.
---
Black Sand Brewery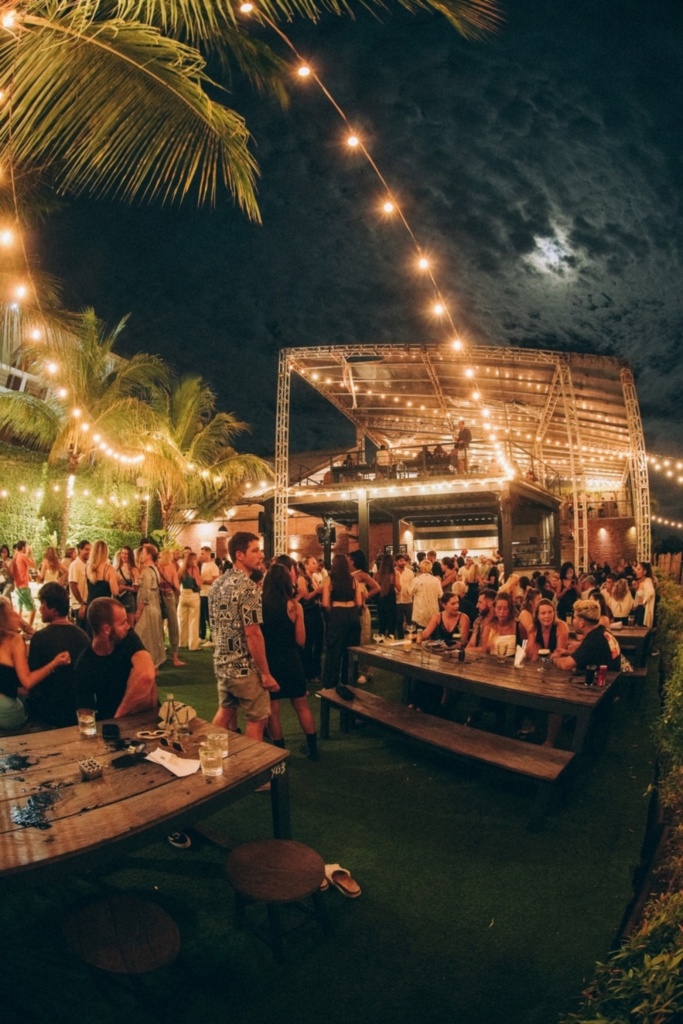 This place stands as a shining example of the craft beer scene in Canggu, offering a combination of quality brews, a welcoming atmosphere, and a strong sense of community.
Whether you're seeking a refreshing pint, a place to connect with like-minded individuals, or an opportunity to expand your knowledge of craft brewing, Black Sand Brewery delivers on all fronts. So, raise a glass, immerse yourself in the laid-back vibes, and savor the unique flavors that Black Sand Brewery has to offer.
---
Pretty Poison
For a unique and edgy nightlife experience, head to Pretty Poison.
This skate bowl-turned-bar is a haven for skateboarding enthusiasts and art lovers.
Grab a drink from the bar, watch the skaters showcase their skills, and immerse yourself in the vibrant street art that adorns the walls. With regular DJ performances, live music, and movie screenings, Pretty Poison offers an eclectic and unforgettable night out.
---
The Lawn
The Lawn is not only a beach club by day but also a lively nightlife destination after the sun sets.
Known for its relaxed ambiance and stunning ocean views, The Lawn transforms into a vibrant party spot as the night progresses. Dance to the beats of international DJs, enjoy themed parties, and sip on delicious cocktails under the starry sky.
The combination of a beachfront location, energetic atmosphere, and top-notch entertainment makes The Lawn a must-visit spot for a memorable night in Canggu.
---
9. FIND YOUR TREASURE AT HOME DECOR SHOPS
Canggu is also a treasure trove for those seeking unique and stylish home decor items.
Whether you're a resident looking to spruce up your living space or a visitor in search of souvenirs that reflect the island's charm, Canggu has a multitude of home decor shops to fulfill your design aspirations.
Here are some of our favorite home decor shops in Canggu:
Bungalow Living
Bungalow Living is a haven for those seeking beach-inspired home decor and lifestyle products.
This charming shop offers a delightful collection of locally made homeware, including handwoven textiles, natural fiber rugs, and unique ceramics.
With a focus on sustainability and craftsmanship, Bungalow Living provides eco-friendly and ethically sourced items that bring a touch of Bali's coastal charm into your home. Whether you're looking for bohemian accents or timeless pieces, this shop is a must-visit.
---
Kim Soo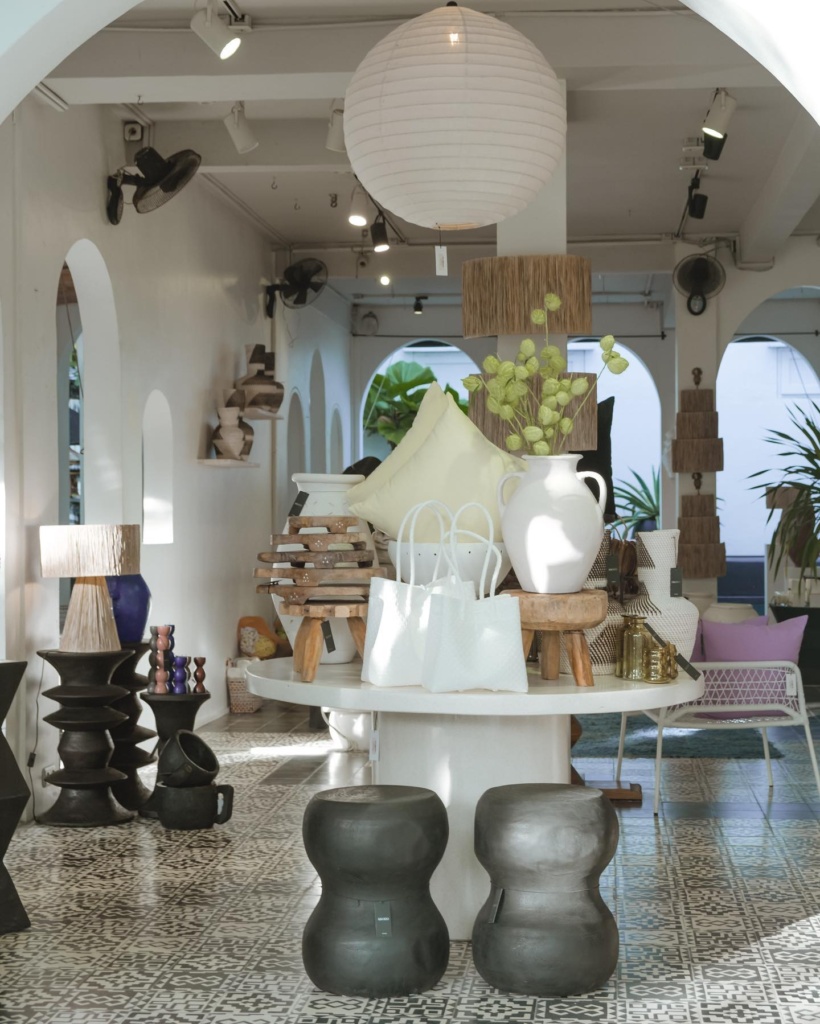 Nestled in the heart of Canggu, Kim Soo is a design haven that showcases a fusion of Balinese aesthetics with a modern twist.
This beautifully curated shop offers a range of home decor items, from exquisite furniture to decorative accessories. Each piece at Kim Soo tells a story, reflecting the rich cultural heritage of Bali while embracing contemporary design elements.
From stunning textiles and handmade ceramics to intricately carved wooden furniture, Kim Soo is a treasure trove for those seeking refined and artistic home decor.
---
Ikat Gallery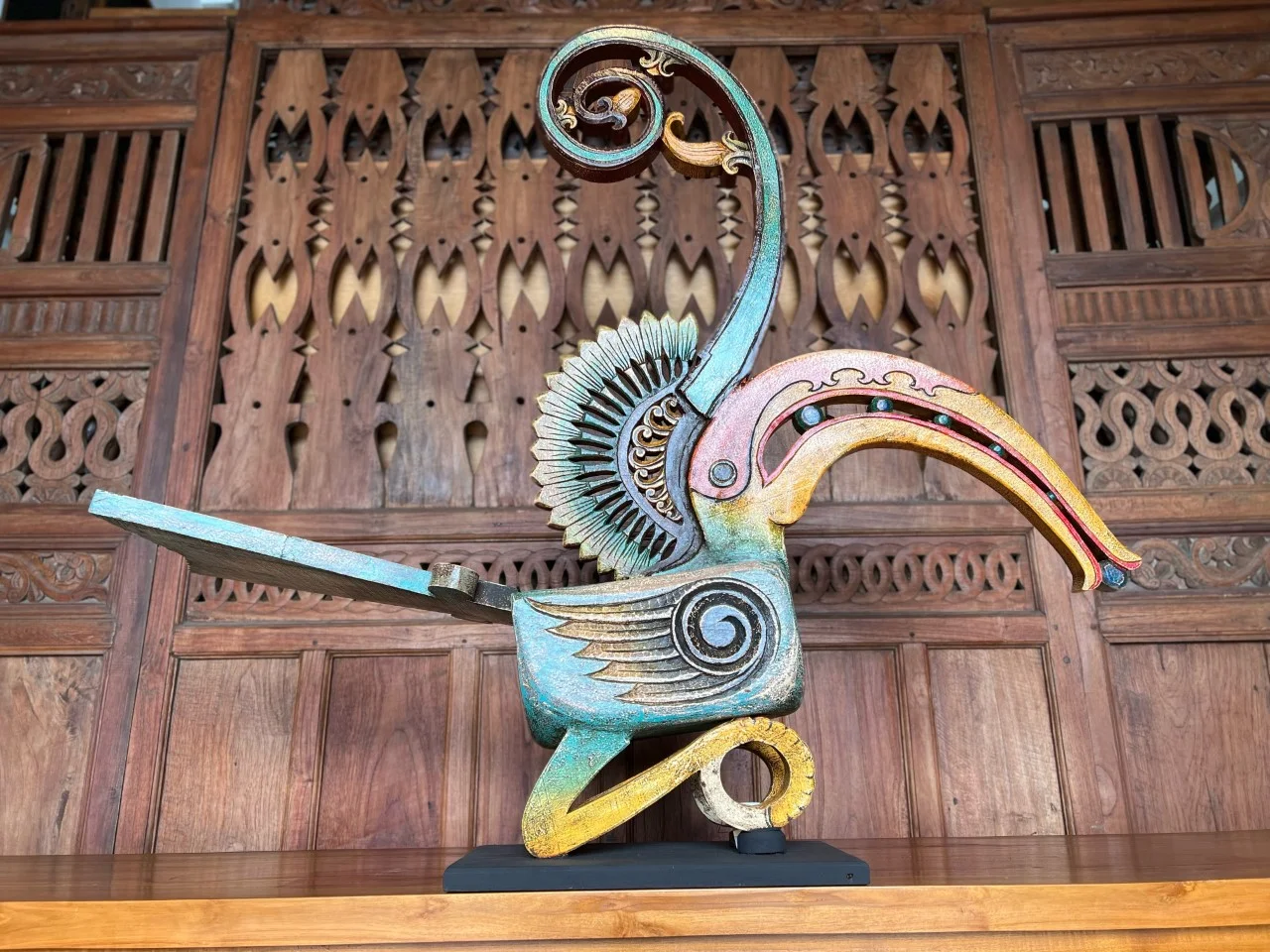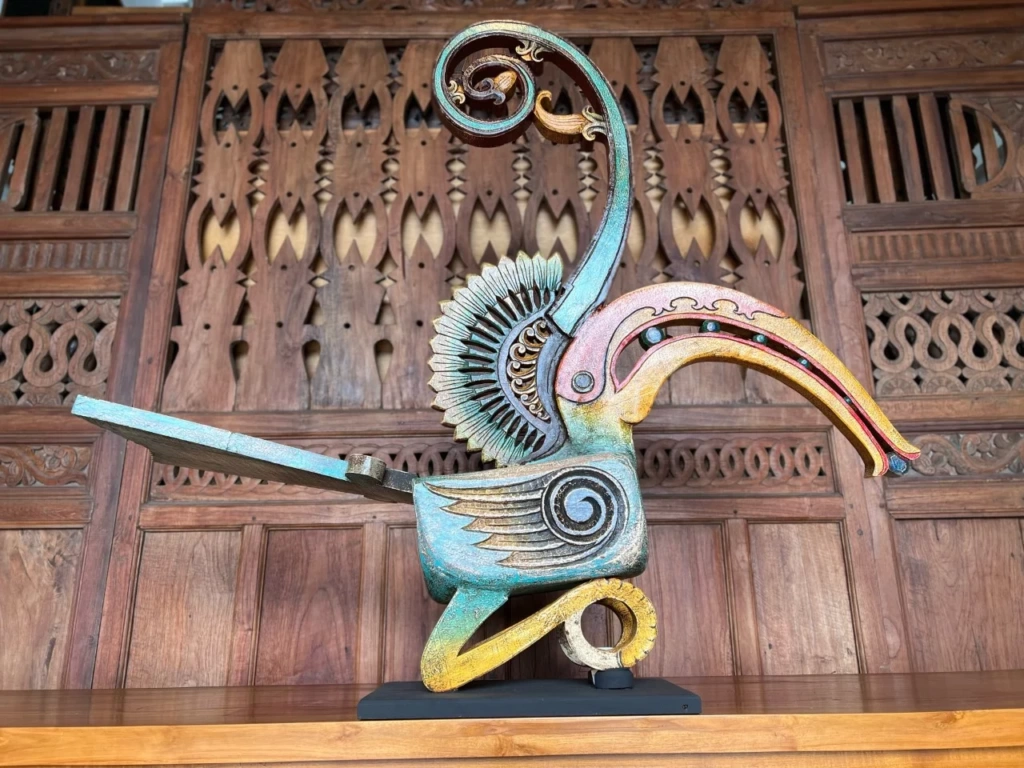 For lovers of traditional Indonesian textiles, Ikat Gallery is a paradise. This boutique shop showcases a curated collection of handmade ikat fabrics and accessories. Ikat, a traditional weaving technique, produces intricate and vibrant patterns that are a hallmark of Indonesian craftsmanship.
At Ikat Gallery, you can explore a range of ikat textiles, including pillows, wall hangings, and fashion accessories. Each piece is a work of art, meticulously handcrafted and imbued with cultural significance, making it a perfect addition to your home decor collection.
---
Canggu & Co Homestore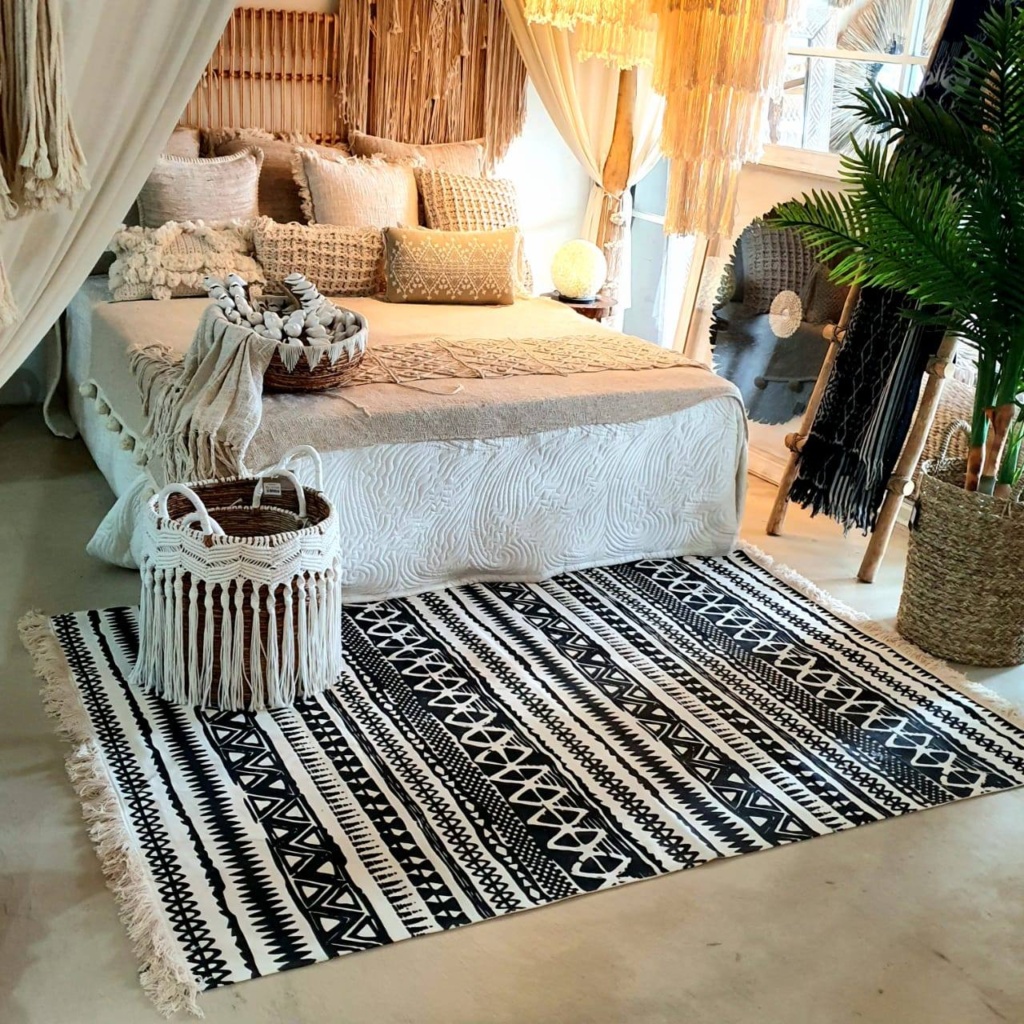 Situated in the heart of Canggu, Canggu & Co Homestore is a design destination that caters to those with a penchant for elegant and contemporary home interiors.
This stylish and thoughtfully curated shop offers a wide range of home decor items, furniture, and accessories that exude sophistication and impeccable taste. With a focus on quality craftsmanship and timeless design, Canggu & Co Homestore has established itself as one of the best places in town to elevate your living space.
We love this place! A must-visit in Canggu.
---
Home by Art On The Table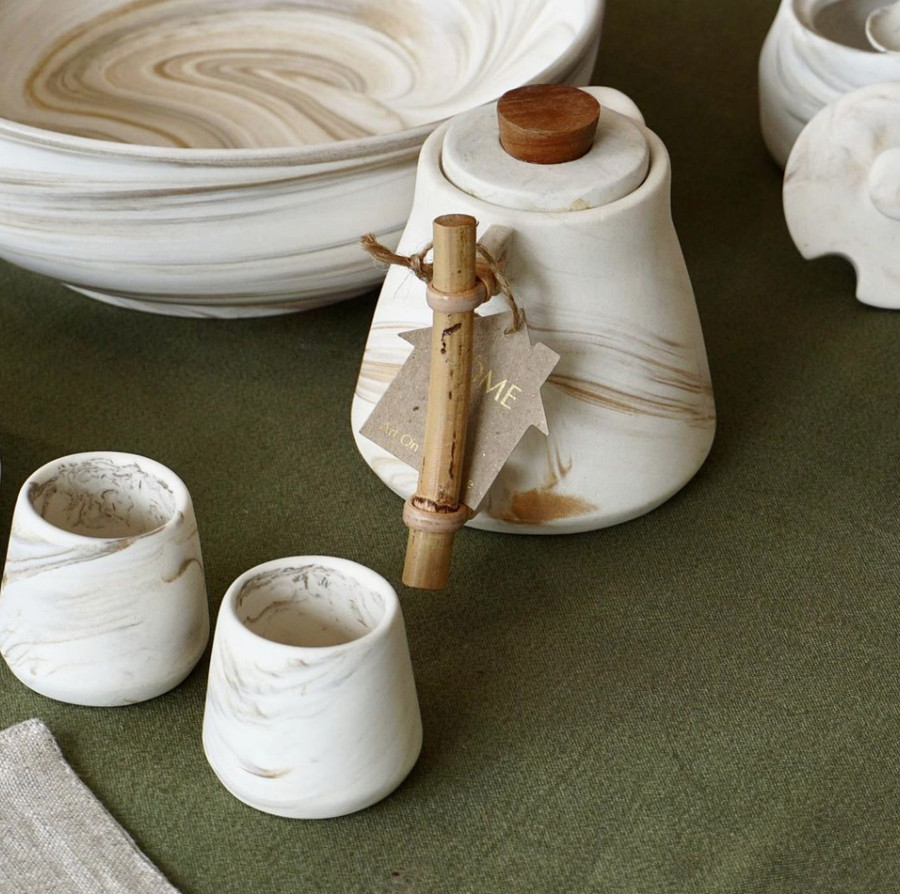 Home by Art On The Table is a unique and inspiring home decor store that merges the worlds of art and design.
With a focus on supporting local artists and artisans, this shop offers a captivating collection of home decor items that seamlessly blend functionality, aesthetics, and artistic expression.
If you're seeking distinctive pieces that transform your living space into a work of art, Home by Art On The Table is a must-visit destination.
READ: BEST HOME DECOR SHOPS AROUND CANGGU
---
10. EAT DELICIOUS LOCAL FOOD AT ONE OF THE WARUNGS
Canggu is a haven for food enthusiasts seeking authentic Indonesian cuisine.
Amidst the bustling food scene, warungs (local eateries) stand out as hidden gems, offering delicious dishes that capture the essence of Balinese flavors. At Warungs you can indulge in mouthwatering traditional dishes, savor aromatic spices, and experience the warmth of Balinese hospitality.
Besides it's really really cheap!
Here are our favorite Warungs in Canggu:
Casa Tua Canggu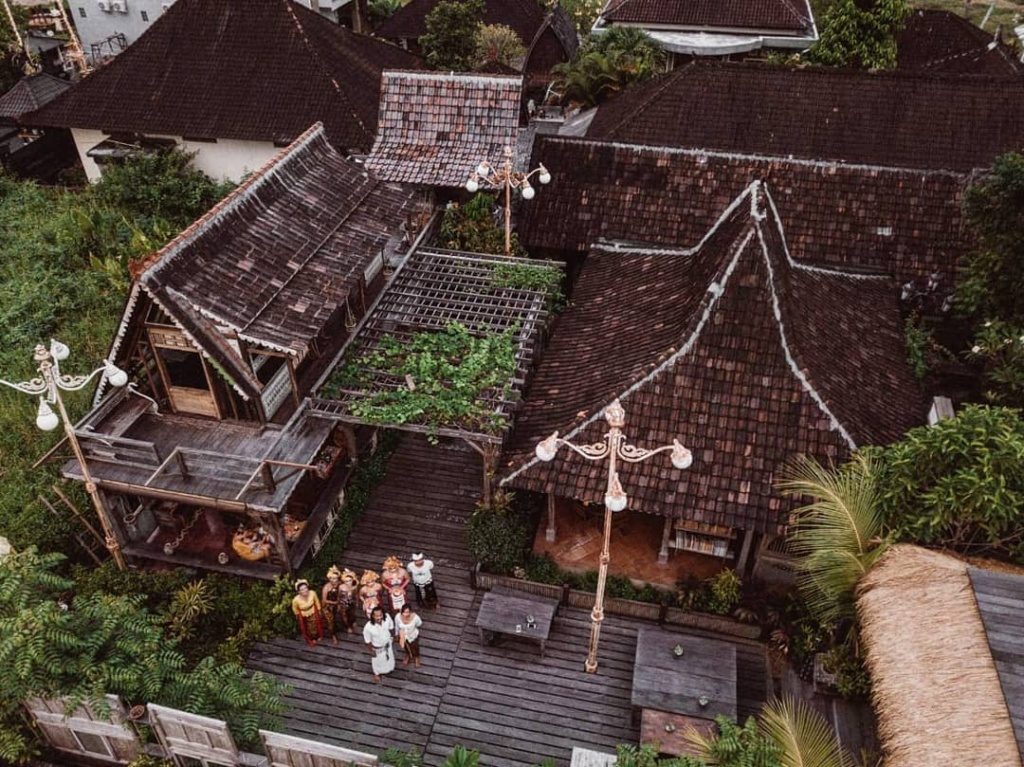 Casa Tua is a beloved warung in Canggu that serves up an exquisite selection of traditional Indonesian dishes.
This charming eatery showcases a diverse menu, featuring classics like nasi campur (mixed rice), mie goreng (fried noodles), and sate (grilled skewers). The flavors at Casa Tua are rich, authentic, and beautifully balanced.
With its cozy atmosphere and friendly service, this warung creates a welcoming space where you can immerse yourself in the local culinary traditions. One of our top places to eat in Canggu!
Location: here
---
Warung Varuna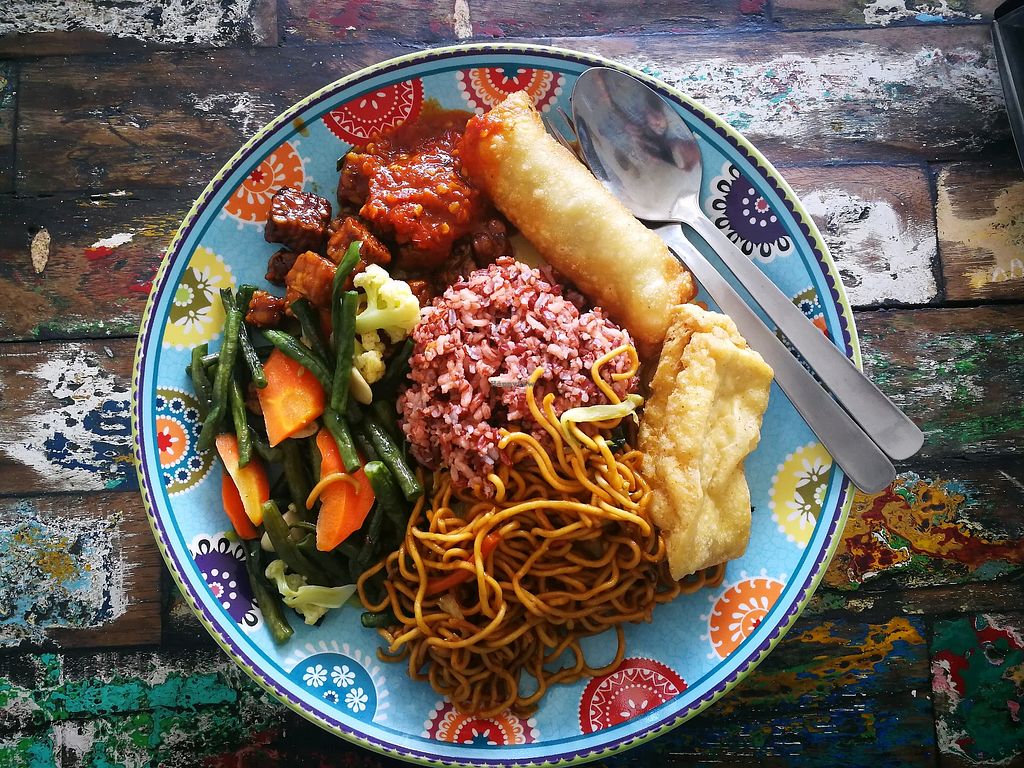 Located not far from Batu Bolong Beach, Warung Varuna is a favorite among locals and tourists, especially after a great surf session at the beach.
This family-run warung embodies the spirit of Indonesian cuisine, offering a menu that highlights the best of Balinese flavors. From babi guling (suckling pig) to ayam betutu (spiced chicken), each dish at Warung Varuna is prepared with meticulous attention to detail.
Location: here
---
Warung Bu Mi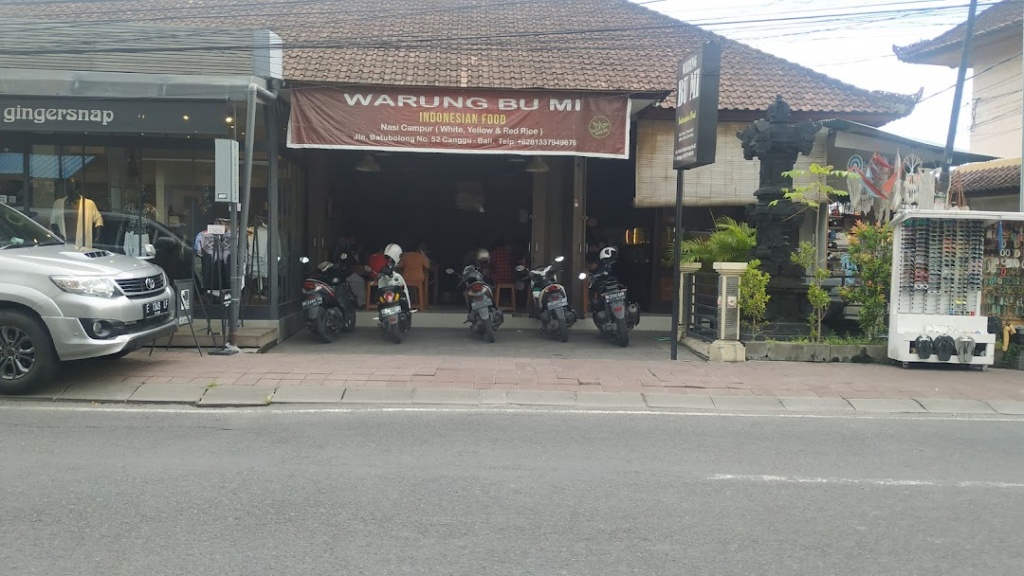 Warung Bu Mi has gained a reputation as a go-to spot for flavorful Indonesian cuisine in Canggu. With its unassuming exterior, this humble warung surprises diners with its exceptional dishes.
The menu features a variety of dishes, including nasi goreng (fried rice), gado-gado (mixed vegetables with peanut sauce), and ayam bakar (grilled chicken). Warung Bu Mi's commitment to using fresh, locally sourced ingredients shines through in the vibrant flavors of their dishes, making it a must-visit for food lovers.
Location: here
---
Warung Local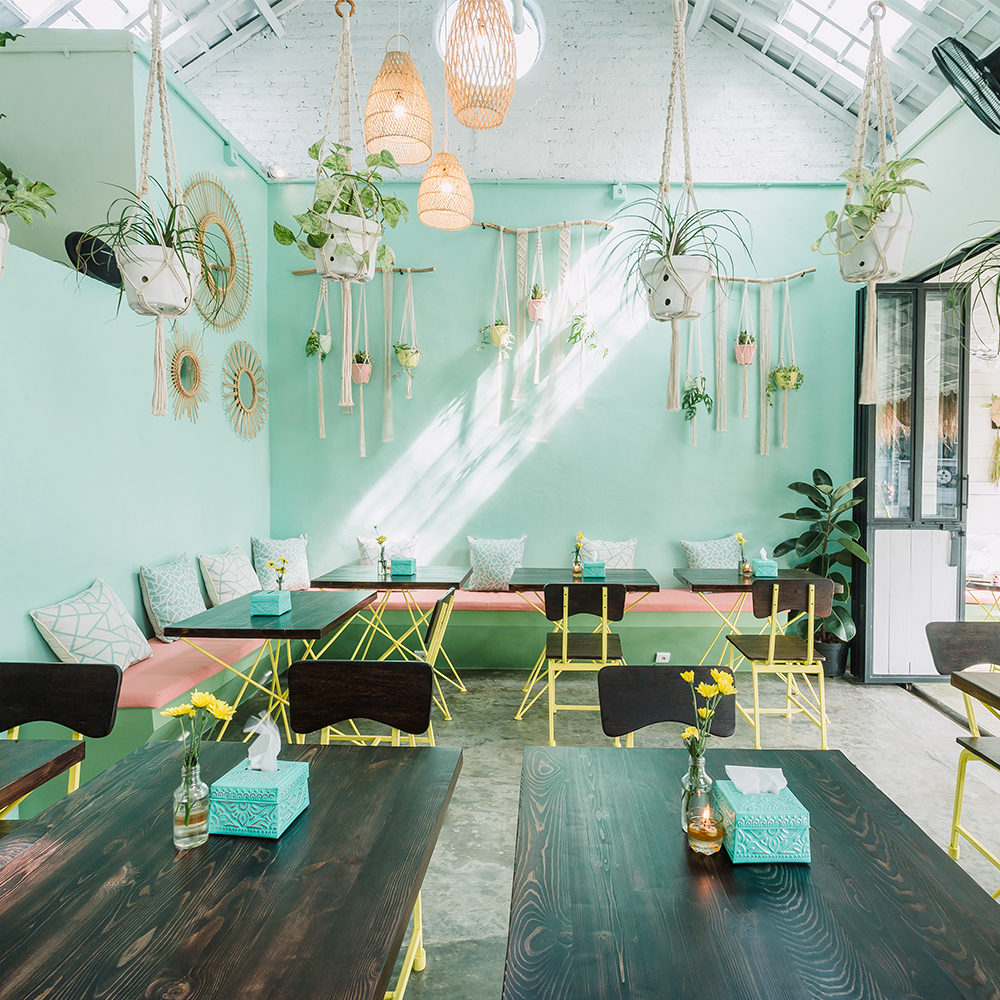 Located in the heart of Canggu, Warung Local is a hidden gem that offers a truly authentic Indonesian dining experience.
This humble warung captures the essence of local flavors and showcases the warmth of Balinese hospitality. With its mouthwatering dishes, welcoming ambiance, and affordable prices, Warung Local has become a favorite among both locals and travelers seeking a genuine taste of Indonesian cuisine.
---
BEST PLACES TO STAY IN CANGGU?
Canggu, Bali, is a captivating coastal village that offers a perfect blend of laid-back vibes, stunning beaches, and a thriving surf culture.
Whether you're a digital nomad, a beach lover, or a wellness enthusiast, finding the right place to stay in Canggu is key to fully immersing yourself in the local experience. Ranging from luxurious beachfront resorts to cozy villas and afordable guesthouse, ensuring you find your perfect sanctuary in this tropical paradise is important.
Villa Ki (best for couples)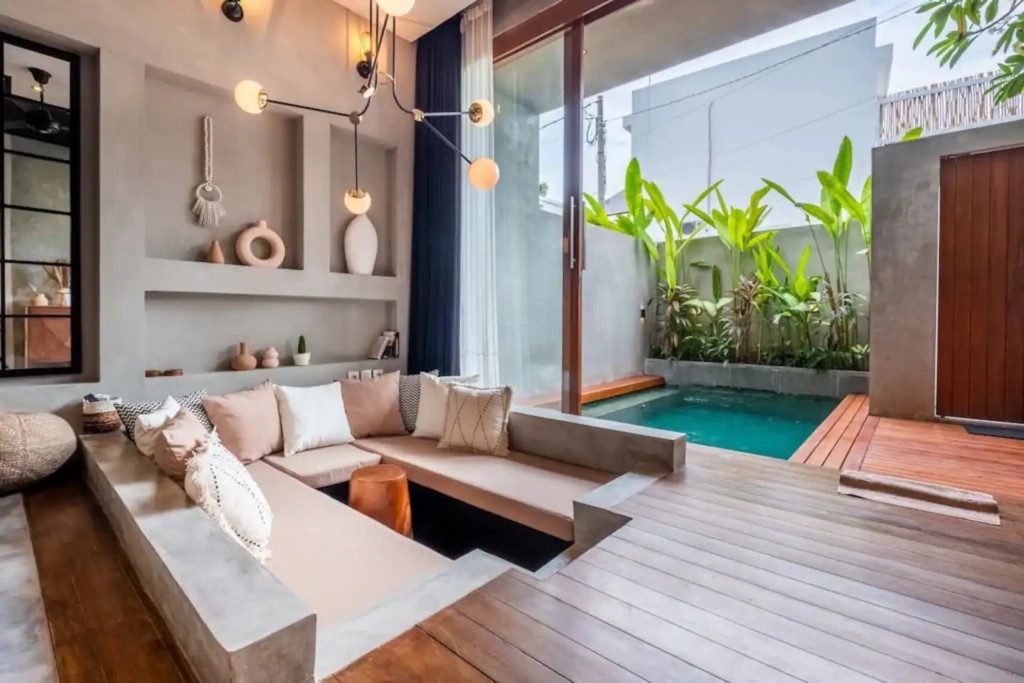 This stunning private villa combines contemporary design with traditional Balinese elements, providing guests with a haven of comfort and relaxation.
With its spacious accommodations, lush tropical gardens, and personalized service, Villa Ki Canggu stands out as a top choice for a memorable stay in Canggu.
>> BOOK HERE
---
Exotica Bali Villa Bed and Breakfast
Exotica Bali Villa Bed and Breakfast is a stylish boutique hotel that embodies the spirit of Canggu.
This unique accommodation seamlessly blends contemporary design with a relaxed ambiance, offering guests a sophisticated yet laid-back experience.
The rooms are tastefully decorated with modern furnishings, while the communal spaces exude an artistic flair.
>> BOOK HERE
---
COMO Uma Canggu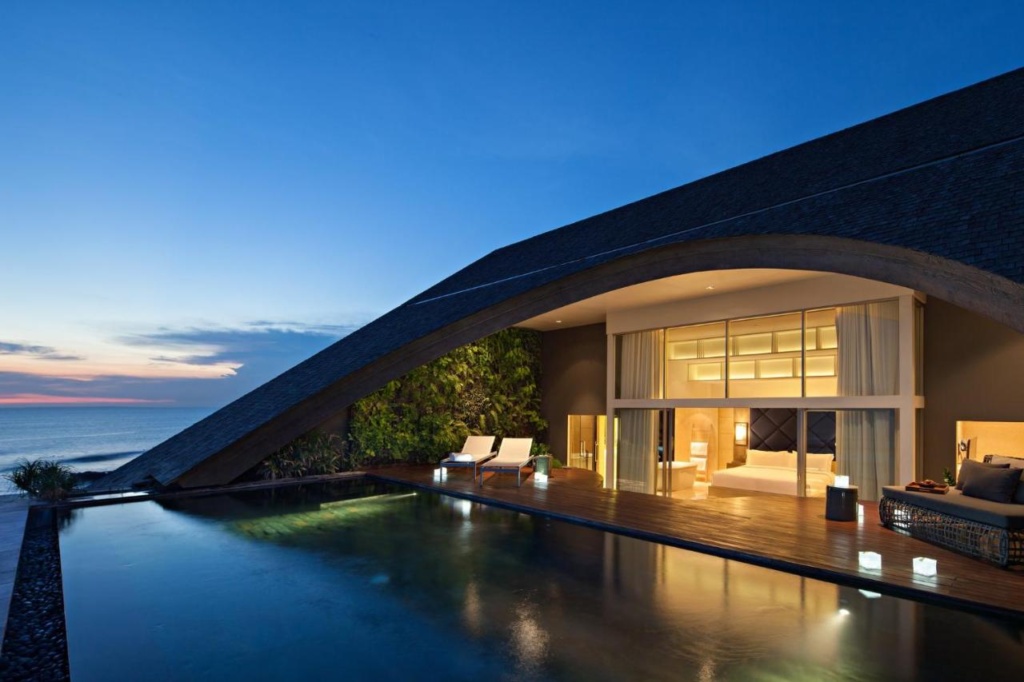 Nestled along the pristine shores of Canggu Beach, COMO Uma Canggu offers a luxurious and serene escape.
This beachfront resort boasts elegantly designed rooms and suites, each offering breathtaking views of the Indian Ocean or the lush surrounding landscapes.
With its wellness-focused facilities, including a holistic spa and a state-of-the-art fitness center, COMO Uma Canggu is perfect for those seeking relaxation, rejuvenation, and unparalleled comfort.
>> BOOK HERE
READ: MOST INCREDIBLE HOTELS IN BALI & BEST PLACES TO STAY IN CANGGU
---
HOW TO GET AROUND IN CANGGU?
Getting around in Canggu is relatively easy, thanks to the variety of transportation options available.
Renting a Scooter
One of the most popular ways to get around in Canggu is by renting a scooter. Scooters are readily available for rent from various rental shops in the area. They offer flexibility and convenience, allowing you to explore the village at your own pace.
However, it's essential to have a valid driver's license and exercise caution while riding, as traffic conditions can be busy, and roads may be uneven or crowded at times.
Nevertheless, driving a scooter in Canggu is the best way to get around.
---
Hiring a Private Driver
For those who prefer not to drive themselves, hiring a private driver is a convenient option. Private drivers can be arranged through tour agencies, hotels, or ride-hailing apps.
They provide personalized transportation services, offering flexibility and local knowledge. Hiring a private driver allows you to sit back, relax, and enjoy the scenic views without the hassle of navigating unfamiliar roads.
---
Using Ride-Hailing Apps
Ride-hailing apps, such as Gojek and Grab, have gained popularity in Bali, including Canggu. These apps allow you to request rides from local drivers with ease. Simply download the app, register, and book a ride to your desired destination.
Ride-hailing apps offer the convenience of door-to-door transportation, and you can track your driver's arrival time and estimated fare through the app.
---
Bicycles
For shorter distances within Canggu, bicycles are a popular and eco-friendly option.
Many accommodations offer bicycles for rent, allowing you to explore the village at a leisurely pace. Cycling around Canggu enables you to immerse yourself in the local atmosphere, enjoy the scenic landscapes, and easily access nearby cafes, shops, and beaches.
Walking
Canggu is a relatively compact area, making it conducive to exploring on foot. Walking allows you to soak in the laid-back vibes, discover hidden gems, and take in the picturesque surroundings at your own leisurely pace.
It's an excellent option for shorter distances and provides opportunities to interact with locals, explore side streets, and stumble upon charming cafes and shops.
---
BEST TIME TO VISIT CANGGU?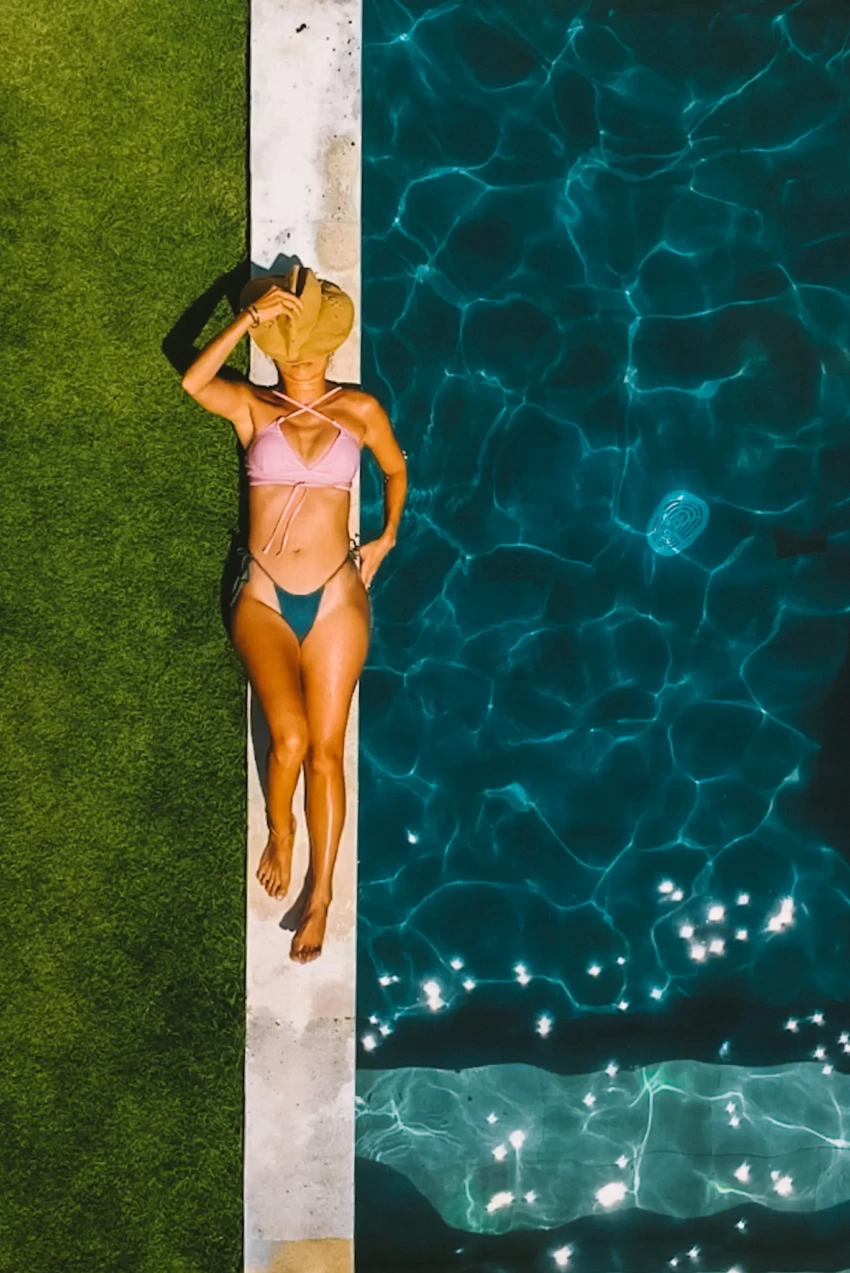 Canggu is a year-round destination. However, understanding the weather patterns, crowd levels, and seasonal events can help you determine the best time to visit Canggu.
Dry Season: April to October
The dry season, from April to October, is generally considered the best time to visit Canggu. During these months, the weather is typically warm, sunny, and relatively dry. It's an ideal time for outdoor activities, such as surfing, exploring the beaches, and indulging in outdoor dining.
The sea conditions are also favorable for water sports, making it a great time to hit the waves and experience the renowned surf breaks of Canggu.
---
Peak Season: July and August
July and August mark the peak season in Canggu, as travelers flock to the island during the summer holidays. The beaches and popular attractions may be more crowded during this time.
It's advisable to book accommodations and activities in advance to secure your preferred options. Despite the higher number of visitors, the vibrant energy and lively atmosphere make it an exciting time to experience the local culture and enjoy the vibrant nightlife.
---
Shoulder Season: November to March
The shoulder season, from November to March, offers a mix of pleasant weather, fewer crowds, and potential discounts on accommodations.
While there may be occasional rain showers during this period, they are usually short-lived, and the temperatures remain warm. It's a great time to explore Canggu's cultural sites, indulge in spa treatments, and immerse yourself in the local ambiance without the peak season hustle and bustle.
---
Festivals and Events
Canggu hosts several vibrant festivals and events throughout the year, adding an extra touch of excitement to your visit. For example, the Bali Spirit Festival in March brings together yoga enthusiasts and wellness seekers from around the world.
In October, the Kite Festival in nearby Sanur showcases colorful kites soaring through the sky. Checking the event calendar can help you align your visit with these unique cultural celebrations.
---
HOW LONG TO STAY IN CANGGU?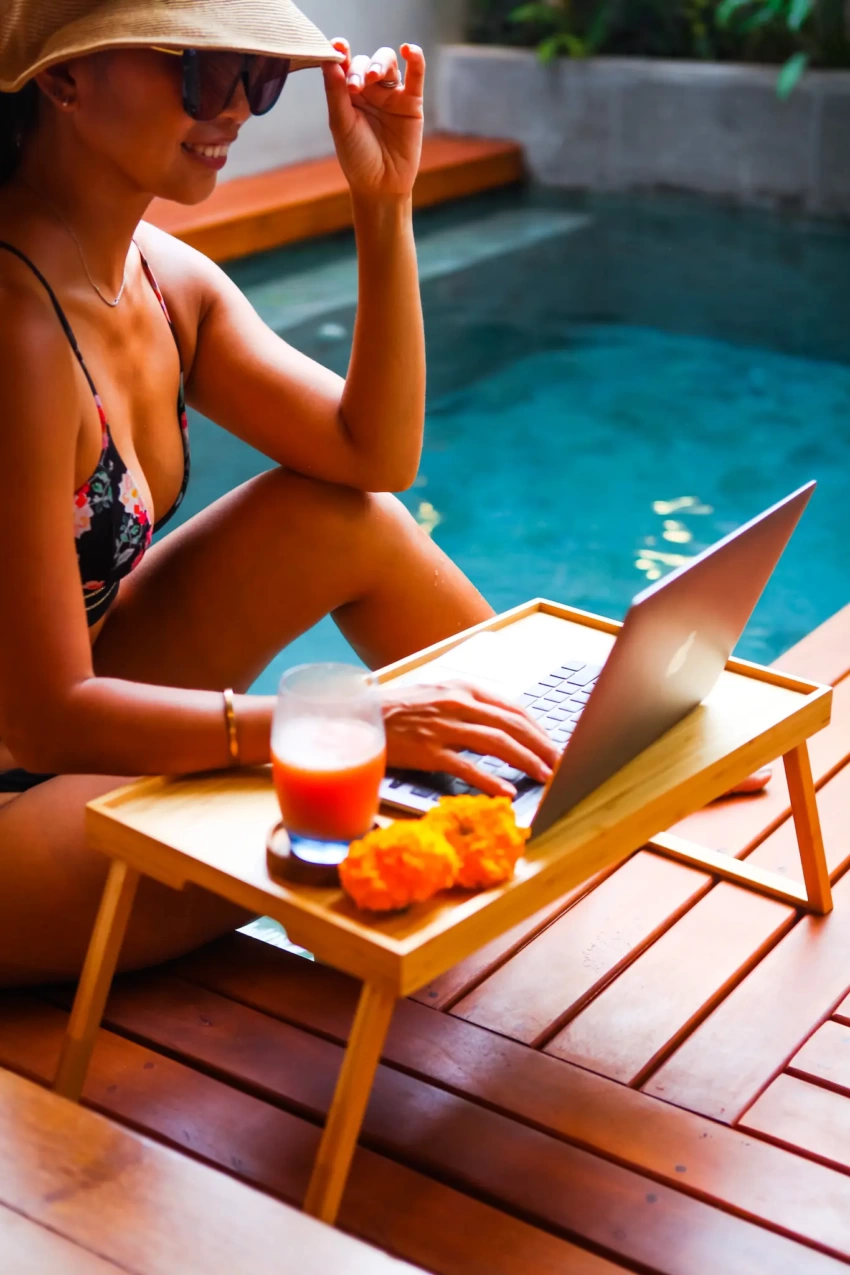 Canggu, Bali, with its laid-back vibe, stunning beaches, and vibrant food scene, has plenty to offer visitors seeking a tropical escape.
Deciding how long to stay in Canggu depends on various factors, including your interests, available time, and desired level of exploration. In this post, we'll guide you through considerations to help you determine the ideal duration for your stay in this captivating coastal village.
Short Getaway: 3-5 Days
If you're limited on time or planning a quick getaway, a stay of 3 to 5 days can give you a taste of what Canggu has to offer. During this timeframe, you can explore the beaches, indulge in the local food scene, and immerse yourself in the laid-back atmosphere.
You'll have enough time to experience the surf culture, visit nearby attractions, and enjoy some relaxation by the pool or at a spa.
Weeklong Retreat: 7-10 Days
For a more immersive experience, a weeklong retreat allows you to fully embrace the Canggu lifestyle. During this timeframe, you can delve deeper into the surf scene, take yoga classes, explore the surrounding villages, and discover the local art and culture.
Additionally, you'll have ample time to visit nearby attractions like Tanah Lot Temple and the vibrant Seminyak neighborhood.
Extended Stay: 2 Weeks or More
If you have the luxury of time, an extended stay of two weeks or more allows you to truly settle into the rhythm of Canggu. This duration enables you to immerse yourself in the surf culture, develop relationships with locals, and fully explore the beaches and neighboring areas. You can also take day trips to Ubud, the Gili Islands, or the stunning waterfalls of northern Bali.
Flexible Itinerary
Canggu's charm lies in its versatility, allowing you to adapt your stay based on your preferences and interests. Whether you opt for a shorter getaway or an extended retreat, Canggu offers a range of activities and experiences that can be tailored to your desired duration. You can choose to relax by the beach, explore the food scene, participate in wellness activities, or simply soak in the laid-back ambiance.
---
HOW MUCH TO TRAVEL TO CANGGU?
Understanding the cost of traveling in Canggu can help you plan your trip and make the most of your budget while enjoying the beauty and attractions this coastal village has to offer.
Accommodation
Accommodation options in Canggu vary widely, catering to different budgets and preferences.
From luxury resorts and boutique hotels to budget-friendly guesthouses and hostels, you can find options that suit your budget. On average, a mid-range hotel or villa in Canggu can cost around $50 to $150 per night, while budget accommodations and hostels can range from $20 to $50 per night.
---
Food and Dining
Canggu boasts a vibrant food scene, offering a variety of dining options to suit different budgets. Local warungs and small cafes provide affordable meals starting from $3 to $10 per dish, allowing you to savor traditional Indonesian cuisine.
Mid-range restaurants and international eateries typically offer meals for around $10 to $25 per person. It's also worth exploring the local markets for fresh produce and snacks at affordable prices.
---
Transportation
Getting around in Canggu can be affordable, depending on your chosen mode of transportation.
Renting a scooter is a popular option, with daily rates ranging from $5 to $10. Ride-hailing apps like Gojek and Grab offer affordable transportation options, with short rides costing around $2 to $5.
Activities and Entertainment
Canggu offers a range of activities and entertainment options to suit different budgets.
Surf lessons can cost around $20 to $40 per session, depending on the duration and instructor.
Yoga classes are also popular in Canggu, with drop-in sessions priced between $10 to $15. Exploring nearby attractions such as temples or waterfalls may require an entrance fee, typically ranging from $1 to $5.
Additional Expenses and Tips
It's important to consider additional expenses such as travel insurance, visa fees (if applicable), and any desired splurges on shopping or upscale dining.
To save money, consider eating at local warungs, haggling at markets, and opting for free or low-cost activities like beach visits and temple explorations. Additionally, booking accommodations and activities in advance can help secure better deals and avoid last-minute price hikes.
---
CONCLUSION ABOUT THE BEST THINGS TO DO IN CANGGU
Canggu, with its captivating blend of natural beauty, cultural richness, and exciting activities, guarantees an unforgettable experience for every traveler.
From riding the waves at Echo Beach to exploring the tranquil rice fields and indulging in healthy cuisine, there's something for everyone in this Balinese gem.
So, pack your bags, embark on an adventure, and create cherished memories that will last a lifetime in the vibrant paradise of Canggu.
---
Related Posts
10 MOST INCREDIBLE HOTELS IN BALI
BEST YOGA STUDIOS IN CANGGU AND PERERENAN
AWESOME BEACH CLUBS AROUND CANGGU & SEMINYAK
FULL GUIDE FOR PERERENAN IN BALI
10 BEST THINGS TO DO IN SEMINYAK
DISCOVER SESEH AND CEMAGI IN BALI