WHAT ARE THE BEST AREAS TO STAY IN CANGGU? HOTEL VS VILLA IN CANGGU? BUDGET FRIENDLY ACCOMMODATION IN CANGGU
Welcome to Canggu, a charming coastal village located on the beautiful island of Bali, Indonesia.
With its breathtaking beaches, vibrant surf scene, and laid-back atmosphere, Canggu has become a sought-after destination for travelers from around the globe.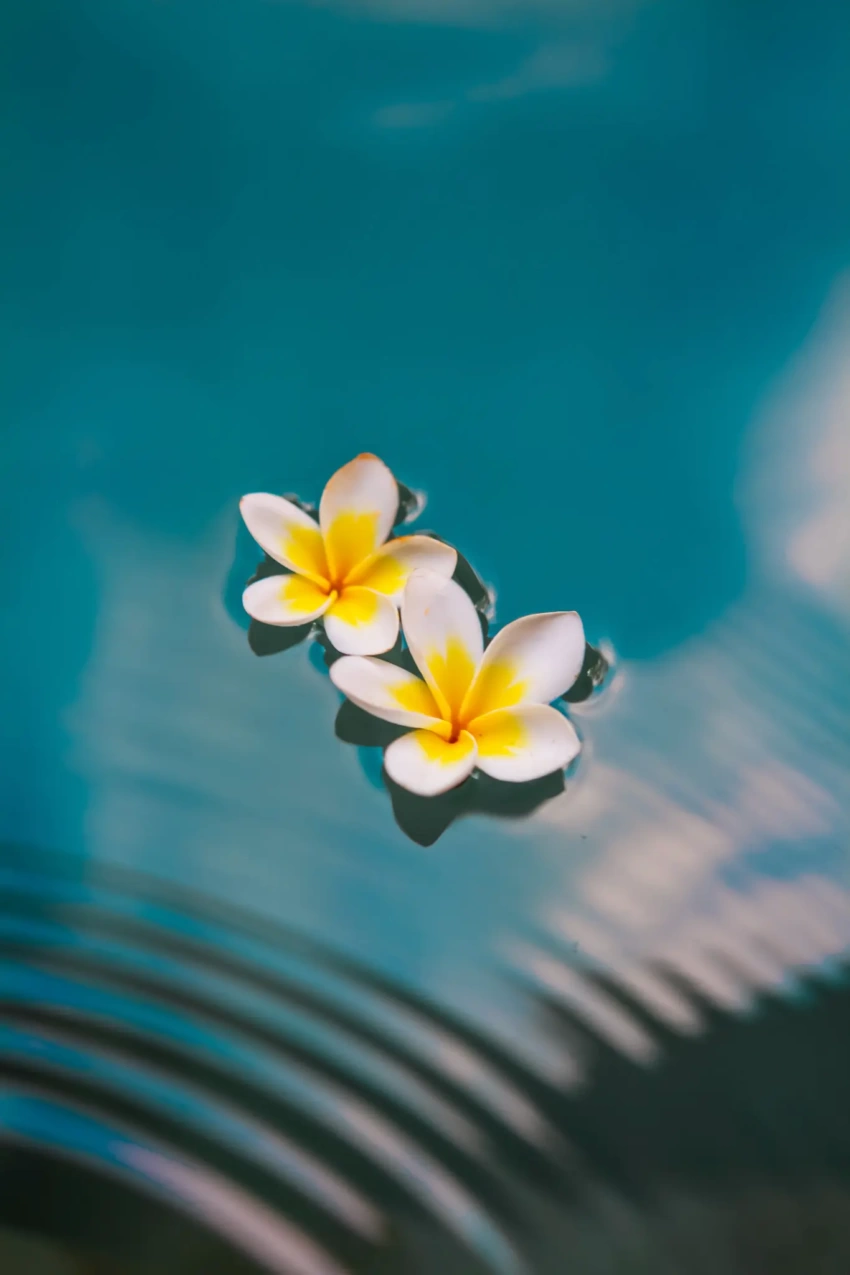 Whether you're a budget backpacker, a mid-range traveler, or a luxury seeker, Canggu has a wide range of accommodations to suit every taste and wallet.
In this blog post, we will explore some of the best places to stay in Canggu.
---
BEST AREAS TO STAY IN CANGGU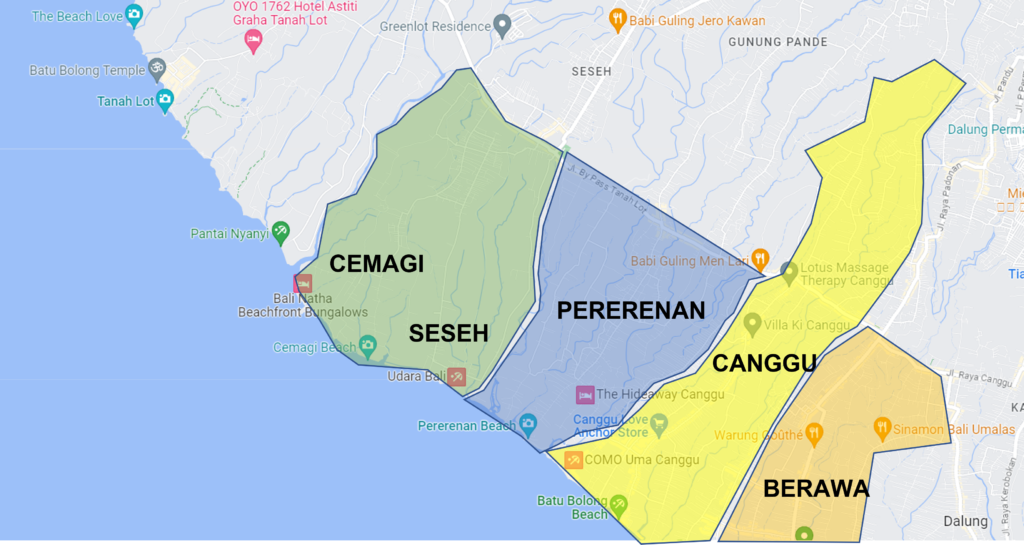 When people mention Canggu, it can mean a lot of different areas. The main part of Canggu is actually Batu Bolong. However, people consider Berawa or even Pererenan as part of the Canggu area too.
So here are the best places to stay in Canggu:
Echo Beach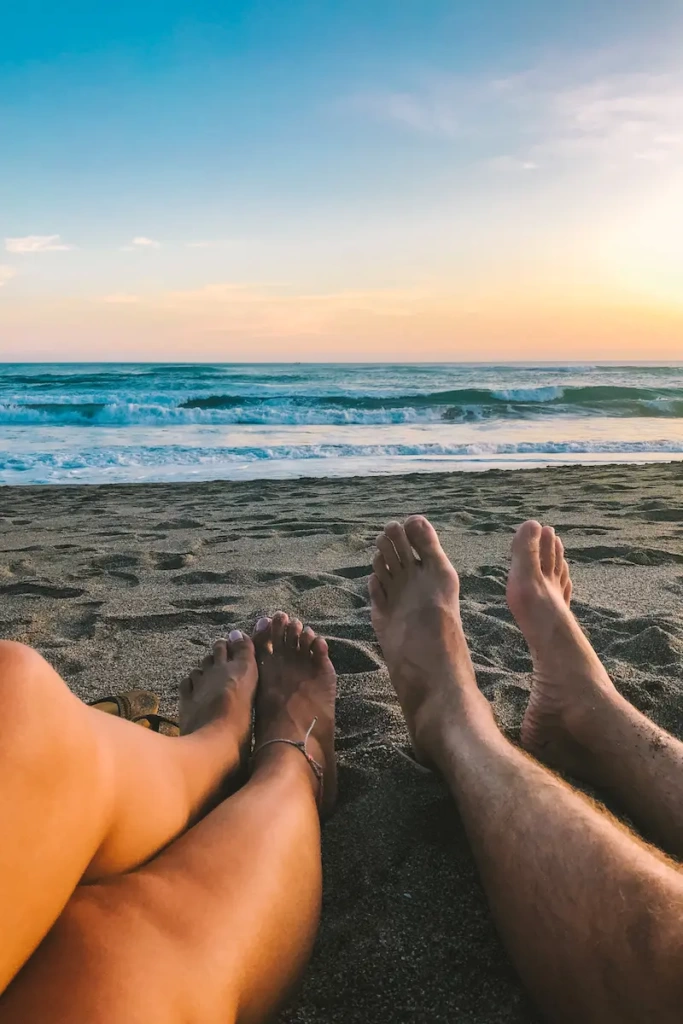 Echo Beach, situated on the western side of Canggu, is renowned for its captivating black sand shores, world-class surf breaks, and stunning sunsets.
This area attracts a diverse mix of travelers, from surf enthusiasts to food lovers, thanks to its plethora of beachfront cafes, bars, and restaurants.
Accommodation options near Echo Beach include luxury resorts, boutique hotels, and private villas, all within walking distance of the ocean and the lively beach scene.
READ: 10 AWESOME THINGS TO DO IN CANGGU
---
Batu Bolong
Batu Bolong is the beating heart of Canggu, offering a perfect blend of convenience, dining, and entertainment. This vibrant area is packed with trendy cafes, stylish boutiques, yoga studios, and art galleries, catering to the hip and adventurous crowd.
The famous Batu Bolong Beach, with its iconic temple and excellent surf breaks, is a short stroll away.
Accommodation in Batu Bolong ranges from budget-friendly guesthouses and hostels to mid-range hotels and stylish villas, making it an ideal spot for travelers seeking a central location with a lively atmosphere.
Staying near Batu Bolong would be the best option in Canggu!
READ: BEST YOGA STUDIOS IN CANGGU AND PERERENAN
---
Berawa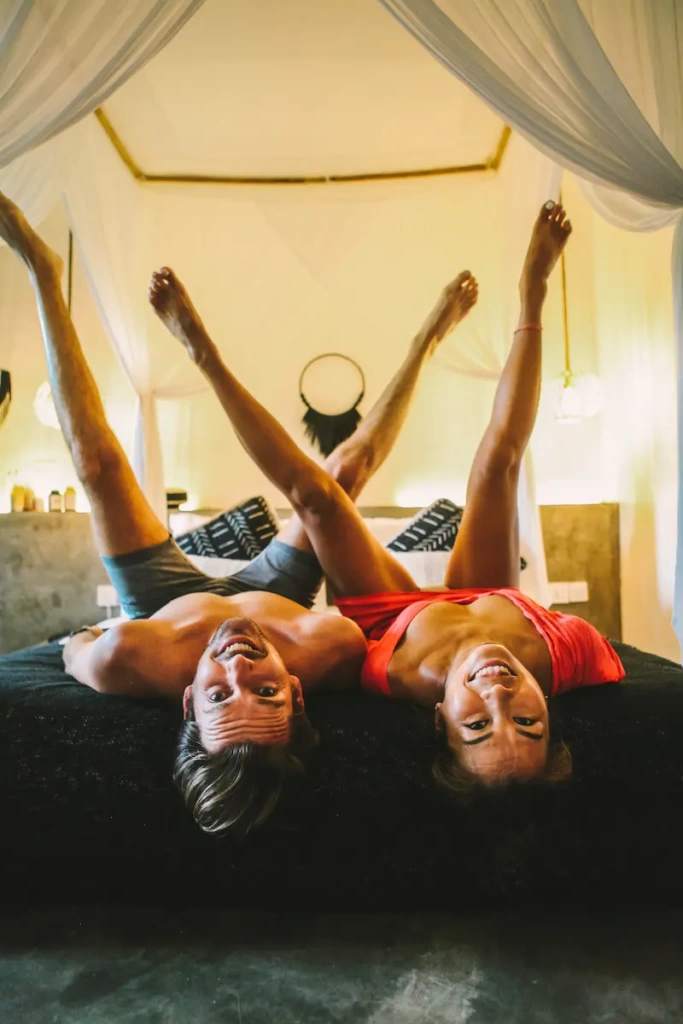 Located next to Batu Bolong, Berawa is an up-and-coming neighborhood that strikes a balance between tranquility and modern amenities.
Berawa boasts excellent dining options, including local warungs and international restaurants, as well as trendy cafes and beach clubs.
This area is ideal for those who wish to enjoy the surf and beach vibes while having easy access to world-renowned Beach Clubs.
Accommodation options in Berawa range from budget guesthouses to stylish villas and family-friendly resorts.
However, we found the area of Berawa to be very buys with lots of traffic…
READ: AWESOME BEACH CLUBS AROUND CANGGU & SEMINYAK
---
Pererenan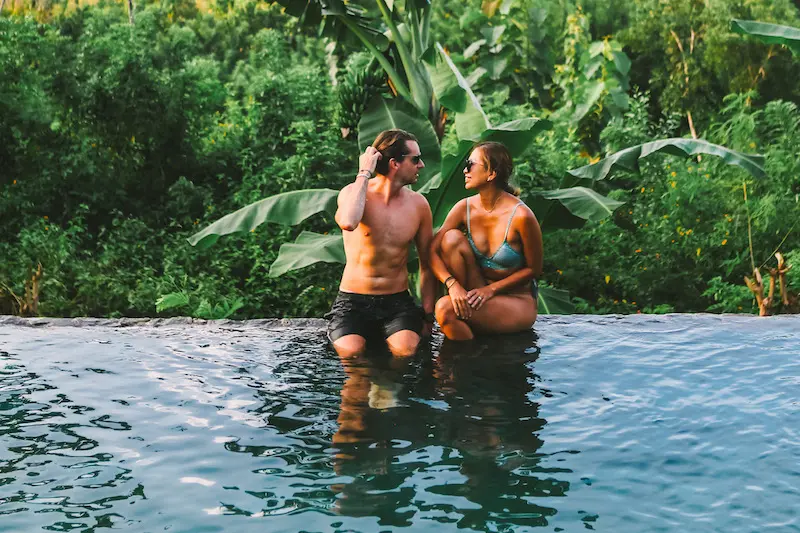 Pererenan, situated further to the north of Canggu, exudes a charming and rural ambiance with its picturesque rice fields and traditional Balinese villages.
This area offers a more serene and secluded experience, perfect for those seeking tranquility and a deeper connection with nature.
Pererenan is also home to some excellent surf spots, making it a popular choice for experienced surfers. Accommodations in Pererenan include peaceful resorts, private villas with stunning views, and eco-friendly retreats.
In Perenan, there aren't as many options as Batu Bolong in terms of accommodation, but we love it there!
READ: BEST THINGS TO DO IN PERERENAN
SESEH AND CEMAGI
Near the bustling areas of Canggu, there are lesser-known areas waiting to be discovered.
Two such hidden gems are the neighboring villages of Seseh and Cemagi, located on Bali's southwestern coast.
Although slightly off the beaten path, Seseh and Cemagi are within easy reach of Bali's main tourist areas, making them an ideal choice for those looking to experience a more authentic and tranquil side of the island.
READ: DISCOVER SESEH AND CEMAGI, 2 HIDDEN GEMS IN BALI OFF THE BEATEN PATH
---
BUDGET-FRIENDLY ACCOMMODATION IN CANGGU
For travelers on a shoestring budget, Canggu offers an array of affordable accommodations that don't compromise on comfort and style.
Check out these places:
The Farm Hostel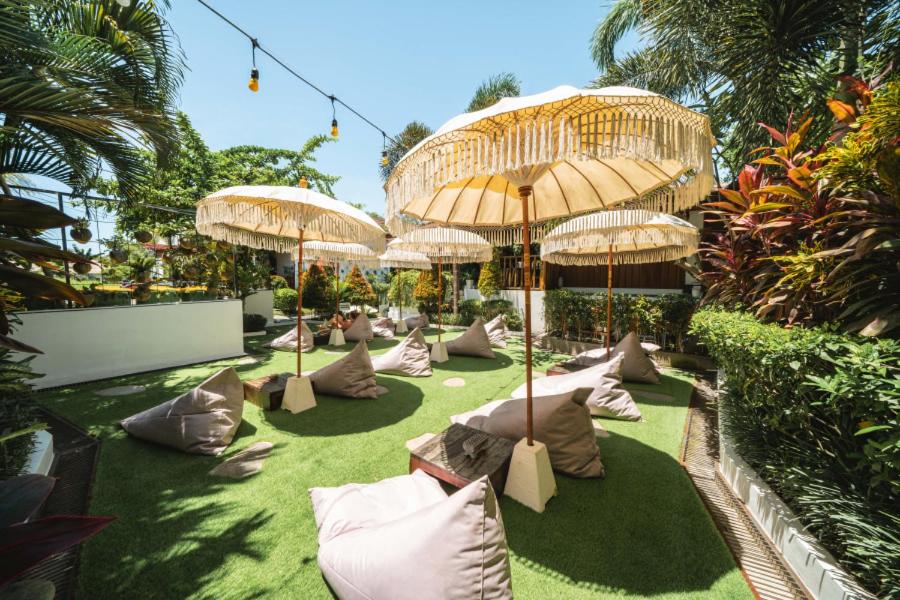 If you're seeking a sociable and lively atmosphere, The Farm Hostel is an excellent choice.
Located in Batu Bolong, this budget-friendly hostel offers comfortable dormitory beds and a variety of communal spaces for socializing and making new friends.
The hostel features a swimming pool, a shared kitchen, and a cozy common area where travelers can relax and unwind. With its friendly staff and vibrant ambiance, The Farm Hostel is perfect for backpackers and solo travelers looking for an affordable and lively base.
---
Serenity Eco Guesthouse
Situated near the famous Batu Bolong Beach, Serenity Eco Guesthouse provides budget-friendly accommodation options that emphasize sustainability and a serene environment.
This eco-friendly guesthouse offers a range of private rooms and dormitories, all designed with comfort and simplicity in mind. Serenity Eco Guesthouse features a tranquil garden, a yoga shala, a vegetarian restaurant, and a swimming pool.
It's an ideal choice for budget-conscious travelers seeking a peaceful and eco-conscious stay.
---
Tribal in Pererenan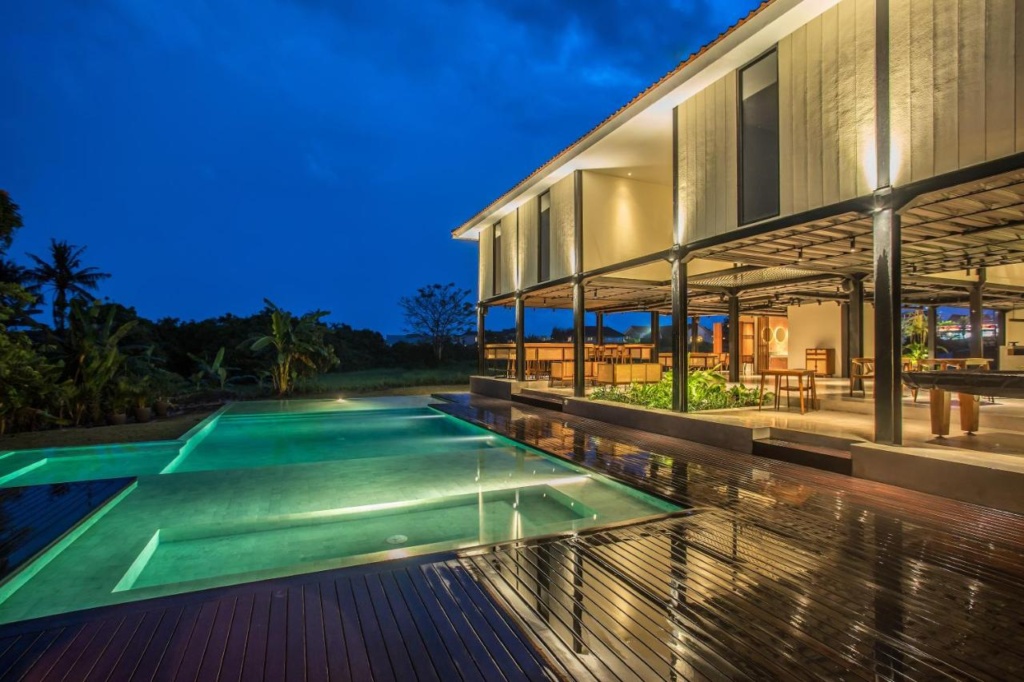 For a unique and budget-friendly experience, consider staying at Tribal in Pererenan.
Tribal is not only an amazing cafe, but it's also a co-working space and a modern guesthouse. We absolutely love Tribal and if you are on a budget, opt for this place! You gonna love it.
READ: BEST CO-WORKING SPACES IN CANGGU
---
BEST ACCOMMODATIONS IN CANGGU FOR COUPLES
Villa Ki Canggu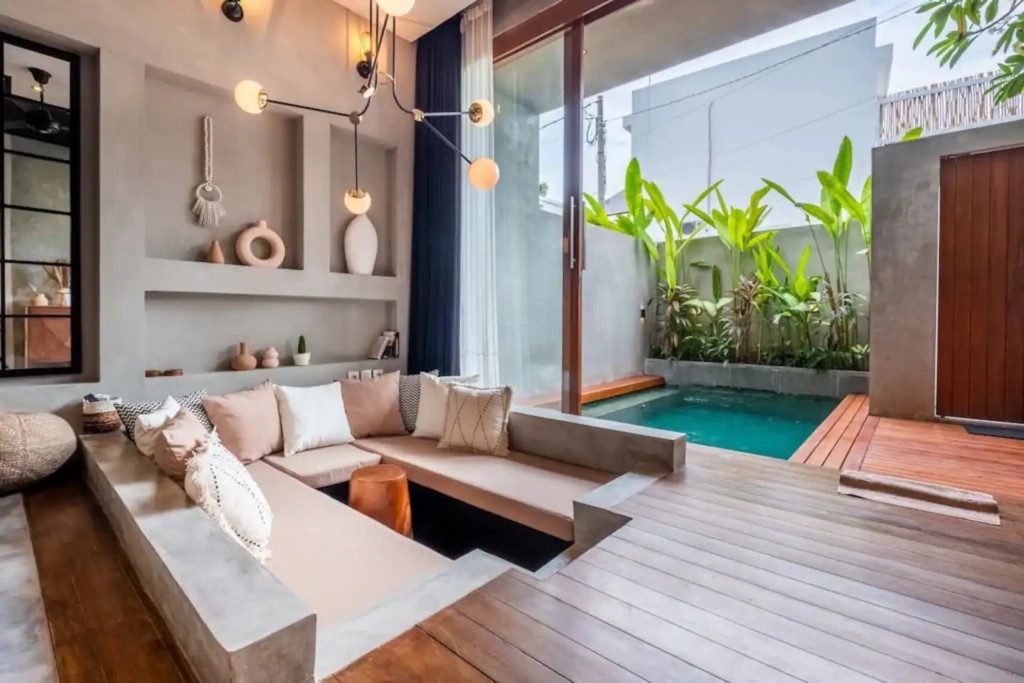 This stunning private villa combines contemporary design with traditional Balinese elements, providing guests with a haven of comfort and relaxation.
With its spacious accommodation, lush tropical gardens, and personalized service, Villa Ki Canggu stands out as a top choice for a memorable stay in Canggu.
>> BOOK HERE
---
Exotica Bali Villa Bed and Breakfast
Exotica Bali Villa Bed and Breakfast is a stylish boutique hotel that embodies the spirit of Canggu. This unique accommodation seamlessly blends contemporary design with a relaxed ambiance, offering guests a sophisticated yet laid-back experience.
The rooms are tastefully decorated with modern furnishings, while the communal spaces exude an artistic flair.
>> BOOK HERE
---
La Reserve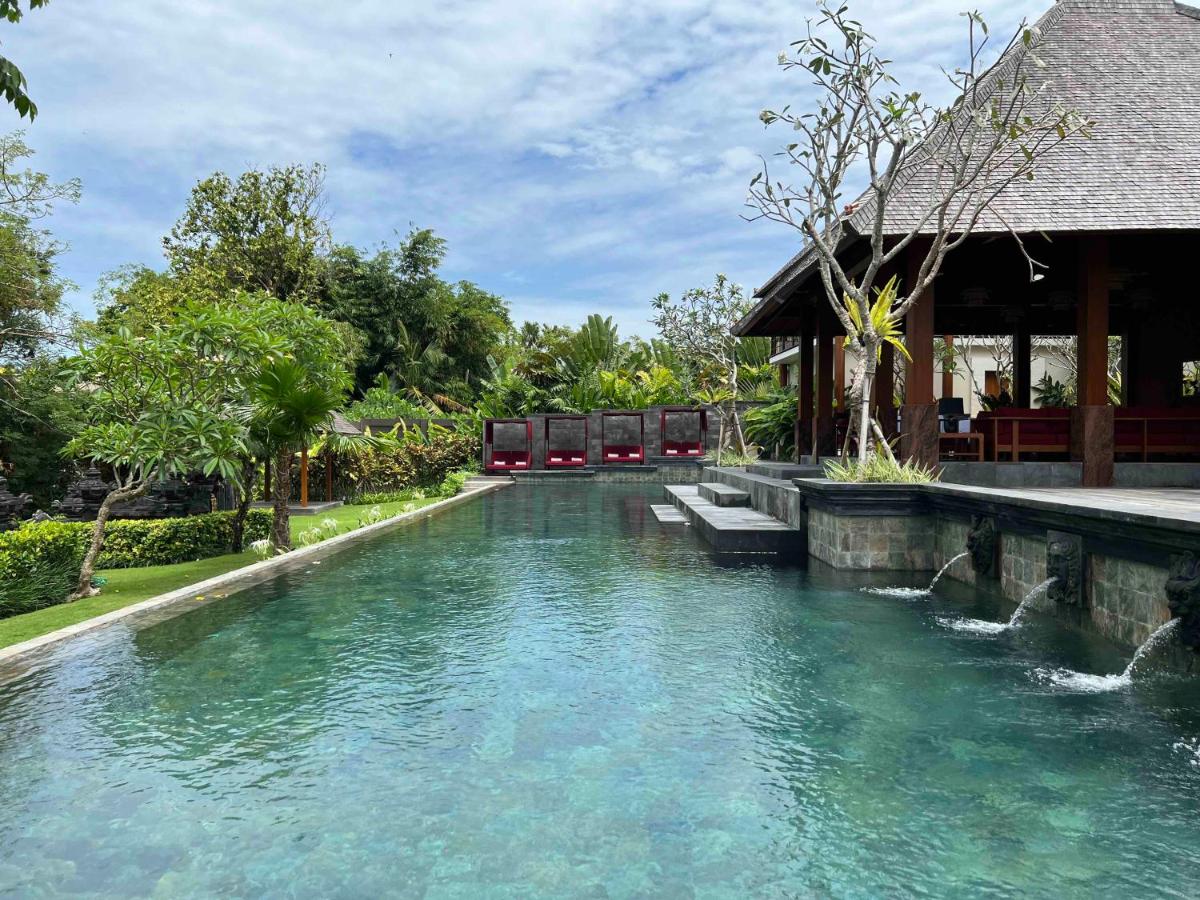 La Reserve is a boutique hotel in Pererenan that offers a blend of luxury and tranquility.
With its elegant rooms, lush gardens, and a stunning swimming pool, La Reserve provides a peaceful and refined atmosphere for a relaxing stay. Indulge in their personalized service, enjoy the serene surroundings, and unwind in this hidden gem of Pererenan.
>> CHECK THE AVAILIBILITY AND BOOK NOW
---
BEST ACCOMMODATIONS IN CANGGU FOR FAMILIES
If you are planning to visit Canggu with your family, we've curated for you the best familiy-friednly accommodations in Canggu. These accommodations offer comfort, convenience, and a range of amenities suitable for all ages. Let's dive in!
COMO Uma Canggu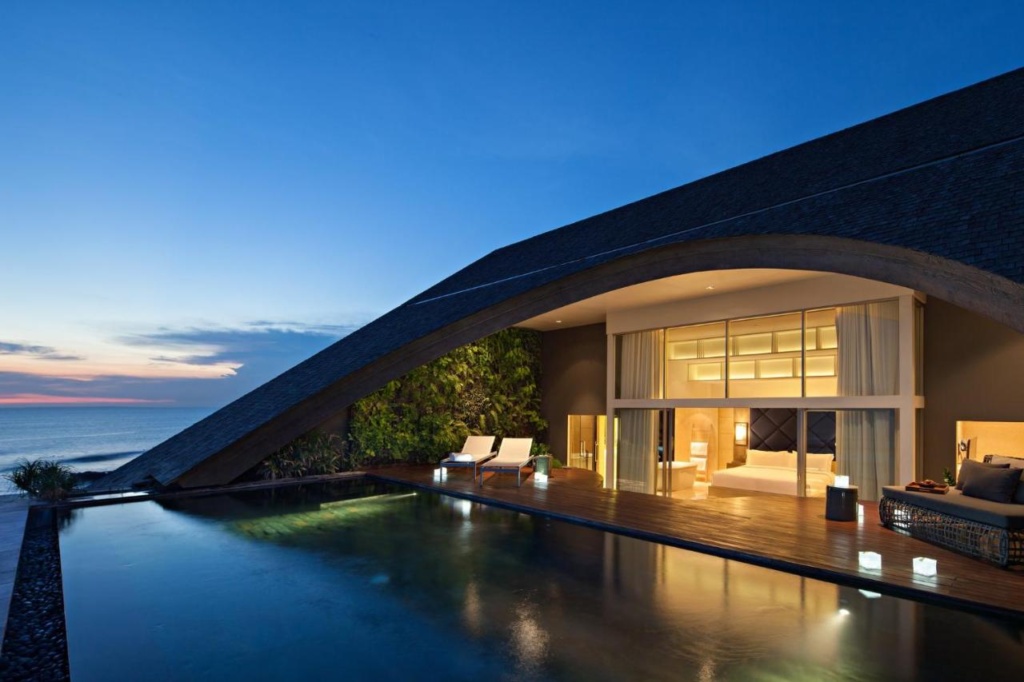 For families seeking a blend of luxury and tranquility, COMO Uma Canggu provides the perfect setting.
Situated along the Beach, this resort offers spacious suites and villas with modern amenities and breathtaking ocean views.
The resort's COMO Beach Club features a family-friendly pool, a dedicated children's area, and a range of water sports activities. Additionally, the resort provides a complimentary kids' club with supervised programs and engaging educational activities.
>> BOOK NOW
---
Aston Canggu
This family-friendly hotel offers spacious suites with separate living areas, perfect for accommodating families of all sizes. Aston Canggu boasts a range of amenities such as a large swimming pool, kids' club, and a restaurant with a children's menu.
The hotel's location provides easy access to Batu Bolong Beach.
---
LUXURY ACCOMMODATIONS IN CANGGU
These exceptional properties offer lavish amenities, impeccable service, and an unrivaled level of comfort. Indulge yourself in the lap of luxury at these enchanting havens.
Soori Bali
Situated along the breathtaking black-sand shores of Tabanan (so technically not in Canggu), Soori Bali epitomizes sheer luxury and tranquility.
This five-star beachfront resort boasts spacious villas with private pools, lush gardens, and panoramic views of the Indian Ocean.
Immerse yourself in a world of relaxation at the resort's award-winning spa, indulge in delectable cuisine at their signature restaurant, or simply unwind on the pristine beach. Soori Bali offers an unparalleled experience for those seeking the pinnacle of luxury.
---
Hotel Tugu Bali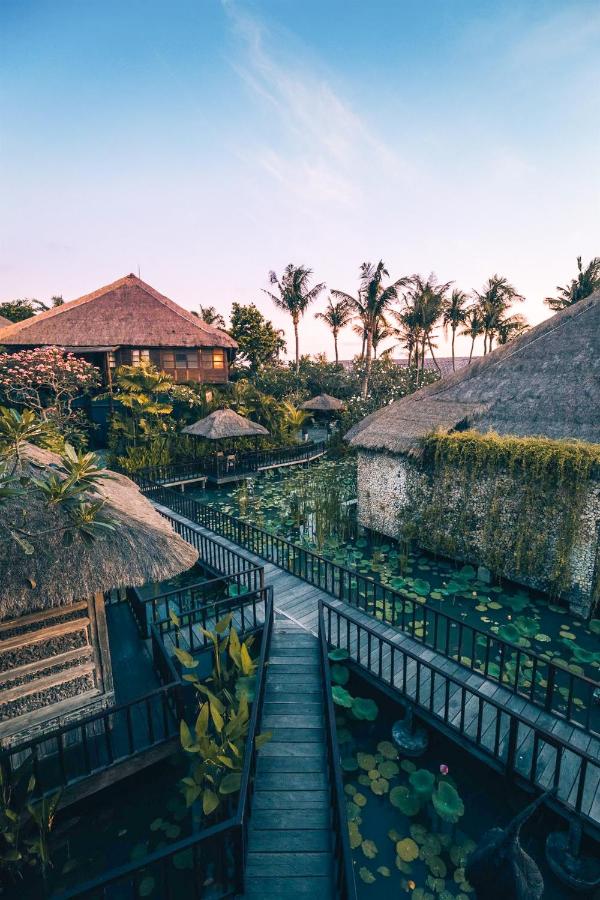 Steeped in rich Indonesian heritage, Hotel Tugu Bali is a mesmerizing blend of art, culture, and luxury.
This boutique resort showcases antique furnishings, intricate artwork, and meticulously designed suites and villas.
Each accommodation is a masterpiece, exuding a sense of opulence and romance. Experience personalized service, dine on exquisite cuisine, and immerse yourself in the cultural charm of this unique establishment.
This is one of our favorite places to stay in Canggu!
---
Theanna Eco Villa and Spa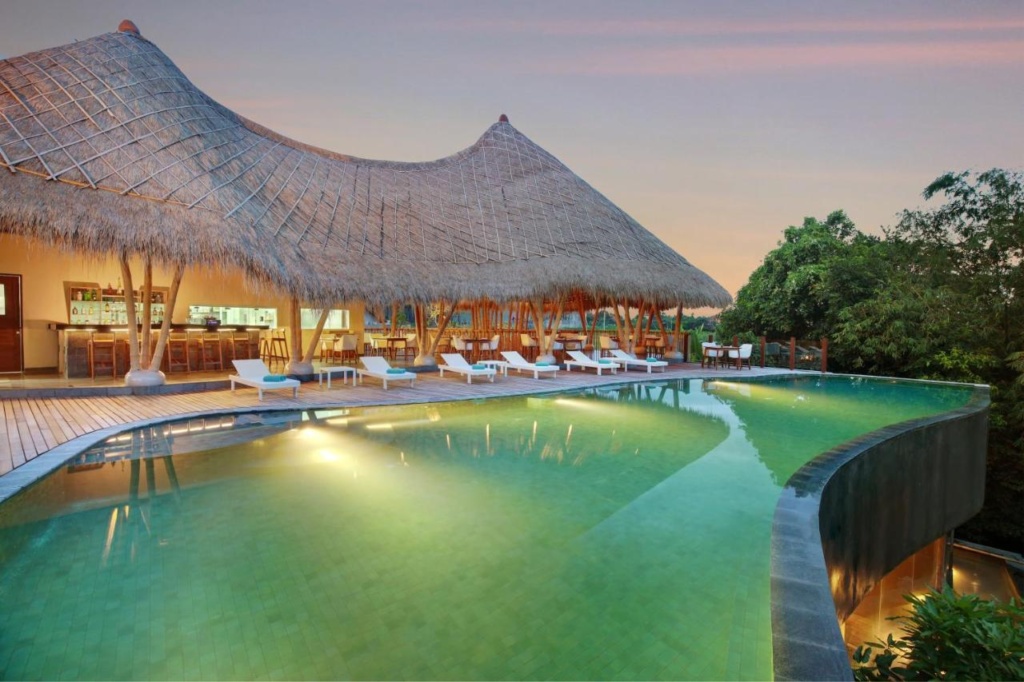 Offering an eco-friendly retreat in the heart of Canggu, Theanna Eco Villa and Spa provides a serene haven for luxury seekers.
The property features luxurious villas with private pools, stylish interiors, and lush tropical gardens. Guests can unwind at the tranquil spa, savor gourmet delights at the restaurant, and enjoy the resort's eco-friendly practices.
Theanna Eco Villa and Spa combines elegance with sustainability, creating a truly remarkable experience.
>> BOOK HERE
---
HOW LONG TO STAY IN CANGGU?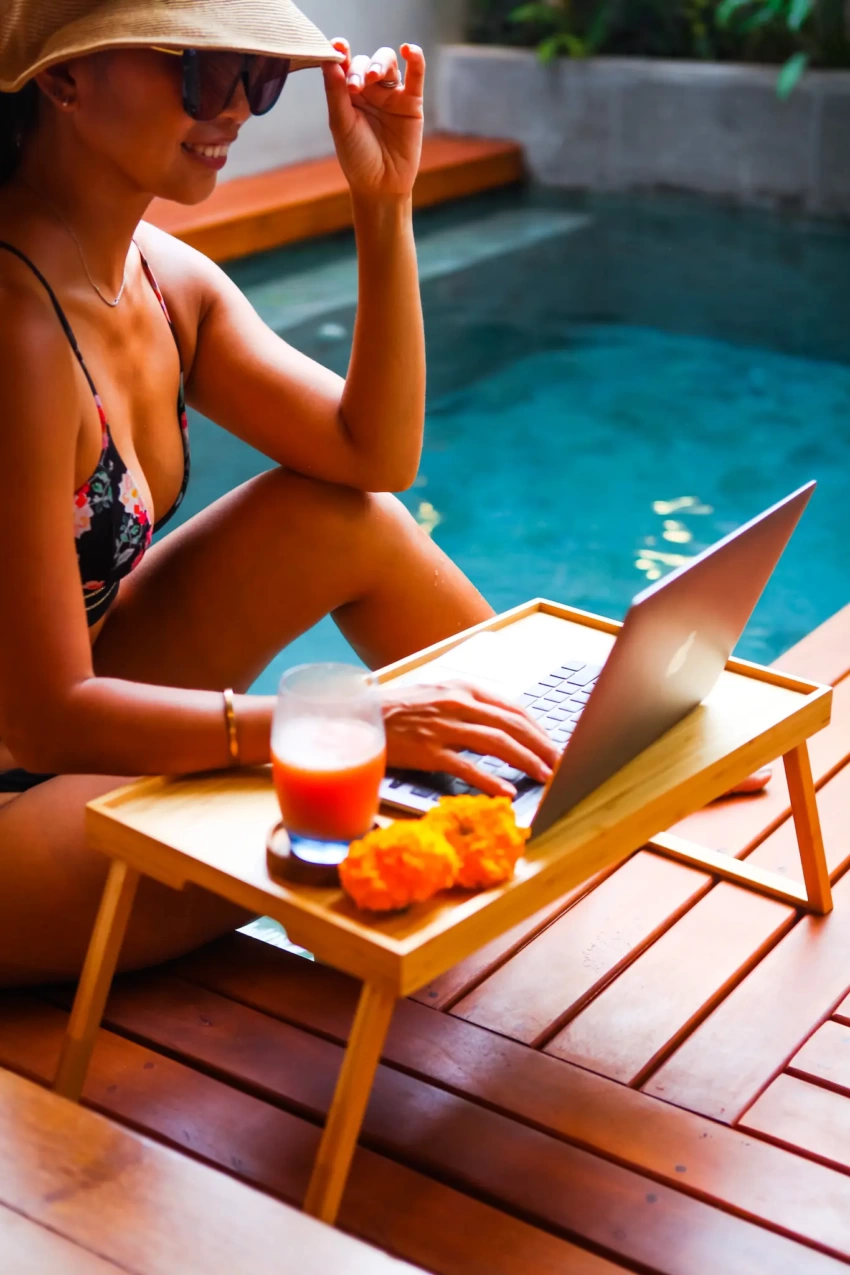 Canggu, Bali, with its laid-back vibe, stunning beaches, and vibrant food scene, has plenty to offer visitors seeking a tropical escape.
Deciding how long to stay in Canggu depends on various factors, including your interests, available time, and desired level of exploration. In this post, we'll guide you through considerations to help you determine the ideal duration for your stay in this captivating coastal village.
Short Getaway: 3-5 Days
If you're limited on time or planning a quick getaway, a stay of 3 to 5 days can give you a taste of what Canggu has to offer. During this timeframe, you can explore the beaches, indulge in the local food scene, and immerse yourself in the laid-back atmosphere.
You'll have enough time to experience the surf culture, visit nearby attractions, and enjoy some relaxation by the pool or at a spa.
Weeklong Retreat: 7-10 Days
For a more immersive experience, a weeklong retreat allows you to fully embrace the Canggu lifestyle. During this timeframe, you can delve deeper into the surf scene, take yoga classes, explore the surrounding villages, and discover the local art and culture.
Additionally, you'll have ample time to visit nearby attractions like Tanah Lot Temple and the vibrant Seminyak neighborhood.
Extended Stay: 2 Weeks or More
If you have the luxury of time, an extended stay of two weeks or more allows you to truly settle into the rhythm of Canggu. This duration enables you to immerse yourself in the surf culture, develop relationships with locals, and fully explore the beaches and neighboring areas. You can also take day trips to Ubud, the Gili Islands, or the stunning waterfalls of northern Bali.
---
CONCLUSION ABOUT THE BEST PLACES TO STAY IN CANGGU
Canggu is a traveler's paradise, catering to all budgets and preferences. Whether you're a budget-conscious backpacker, a mid-range traveler, or a luxury seeker, Canggu has a wide array of accommodations to suit your needs.
From budget-friendly guesthouses to mid-range boutique hotels and luxurious villas, you'll find the perfect place to call home during your visit.
So pack your bags, explore the beautiful beaches, catch some waves, and immerse yourself in the captivating charm of Canggu, Bali.

---
RELATED POSTS
10 MOST INCREDIBLE HOTELS IN BALI
BEST YOGA STUDIOS IN CANGGU AND PERERENAN
TOP TRADITIONAL DISHES IN BALI
FULL GUIDE FOR PERERENAN IN BALI
AWESOME THINGS TO DO IN SEMINYAK
BEST HOME DECOR SHOPS AROUND CANGGU
BEST PLACES FOR DIGITAL NOMADS