WHAT ARE THE BEST HOTELS IN NUSA PENIDA? WHERE TO STAY IN NUSA PENIDA?
Nusa Penida, a hidden gem off the coast of Bali, Indonesia, is a pristine island known for its rugged beauty, turquoise waters, and secluded beaches.
If you're planning a trip to this tropical paradise, selecting the perfect accommodation is key to ensuring an unforgettable experience. In this blog post, we'll explore the 10 best hotels in Nusa Penida that offer exceptional comfort, stunning views, and warm hospitality.
And if you've never been to Nusa Penida, here is a short video to give just a glimpse on how beautiful this place is:
---
BEST HOTELS IN NUSA PENIDA
1. Tanah Damai Hotel
For a unique stay mixing tradition and luxury, stay at the gorgeous Tanah Damai Hotel! An absolute delight in Nusa Penida. Nestled amidst the lush tropical foliage, with a stunning sea view, this hotel provides a serene escape on the island.
Tanah Damai Hotel is one of our favorite hotels in Nusa Penida!
---
2. Penida Bambu Green Paradise
Surrounded by lush greenery, Penida Bambu Green offers traditional bamboo individual Suites with breathtaking view on the Ocean. This is by far the most stunning hotels in Nusa Penida. The property's serene atmosphere and friendly staff ensure a memorable experience.
>> CHECK AVAILABILITY AND BOOK RIGHT AWAY
---
3. Sea La Vie Resort Nusa Penida
Sea La Vie is another stunning hotel on Nusa Penida.
This hotel offers a blissful escape for those seeking tranquility, natural beauty, and warm hospitality. This charming resort showcases the best of Nusa Penida, with its serene ambiance, comfortable accommodations, and stunning ocean views. Search no longer, this place is absolutely stunning!
>> BOOK HERE
---
4. Diamond Beach Villas
Diamond Beach Villas presents a collection of exquisite villas, each designed to provide the utmost comfort and privacy. The villas are elegantly furnished, featuring spacious living areas, private pools, and outdoor terraces where you can bask in the island's natural beauty.
Whether you choose a one-bedroom villa for a romantic getaway or a larger villa for a family or group, you'll find a sanctuary that exceeds your expectations.
---
5. The Angkal Resort Nusa Penida
The Angkal Resort is a charming hotel that provides a tranquil retreat with a breathtaking Ocean View. With its cozy bungalows, beautiful garden, and proximity to the beach, it's an ideal choice for those seeking a peaceful seaside getaway.
---
6. Atalaya Villas Nusa Penida
If you are looking at something more provide, then opt for the amazing Atalaya Villas! This place is a gem.
Each villas are very well decorated and the view from the pool is insane! This place also include complimentary breakfast which is a big plus! We highly recommend this place!
---
7. Blue Harbor Beachfront Villas & Resto
Blue Harbor Beachfront Villas & Resto is a boutique hotel right by the beach. You can wake up from your room and directly jump in the sea if you would like to. The hotel offers comfortable rooms with traditional Balinese decor.
Its peaceful garden setting, swimming pool, and proximity to many attractions in Nusa Penida makes this place a great place to stay on the island.
---
8. The Mesare Resort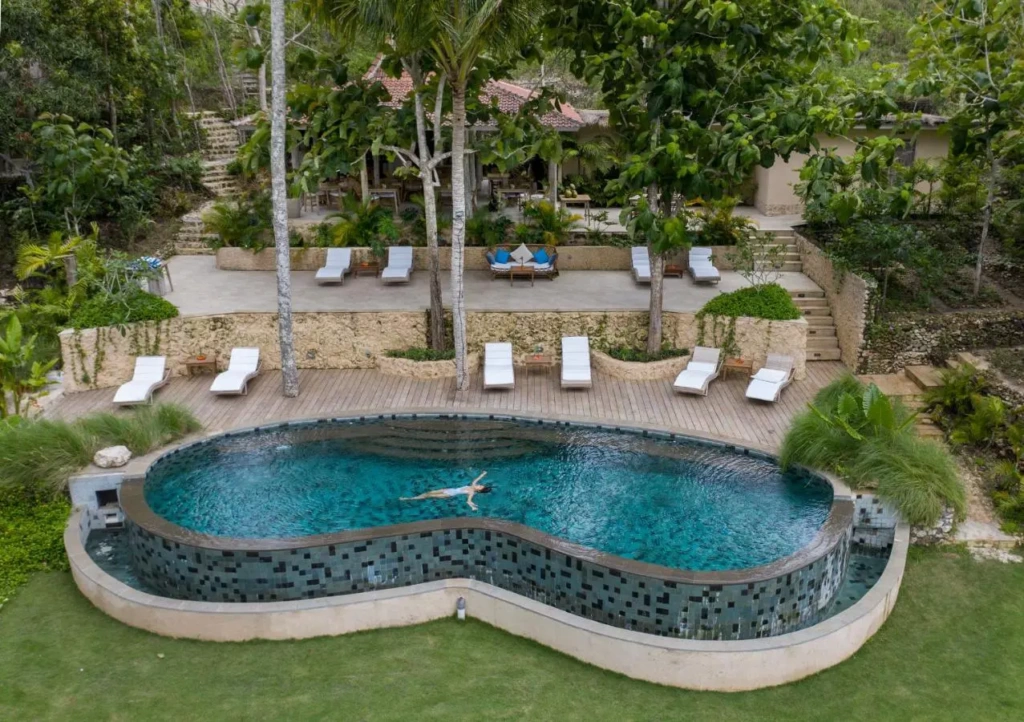 Embracing the concept of eco-luxury, The Mesare Resort offers luxurious villas with private pools and stunning ocean views. Its commitment to sustainability and natural beauty blends seamlessly with the island's serene ambiance.
We absolutely love this place in Nusa Penida.
>> BOOK HERE
---
9. BB Resort Villa Nusa Penida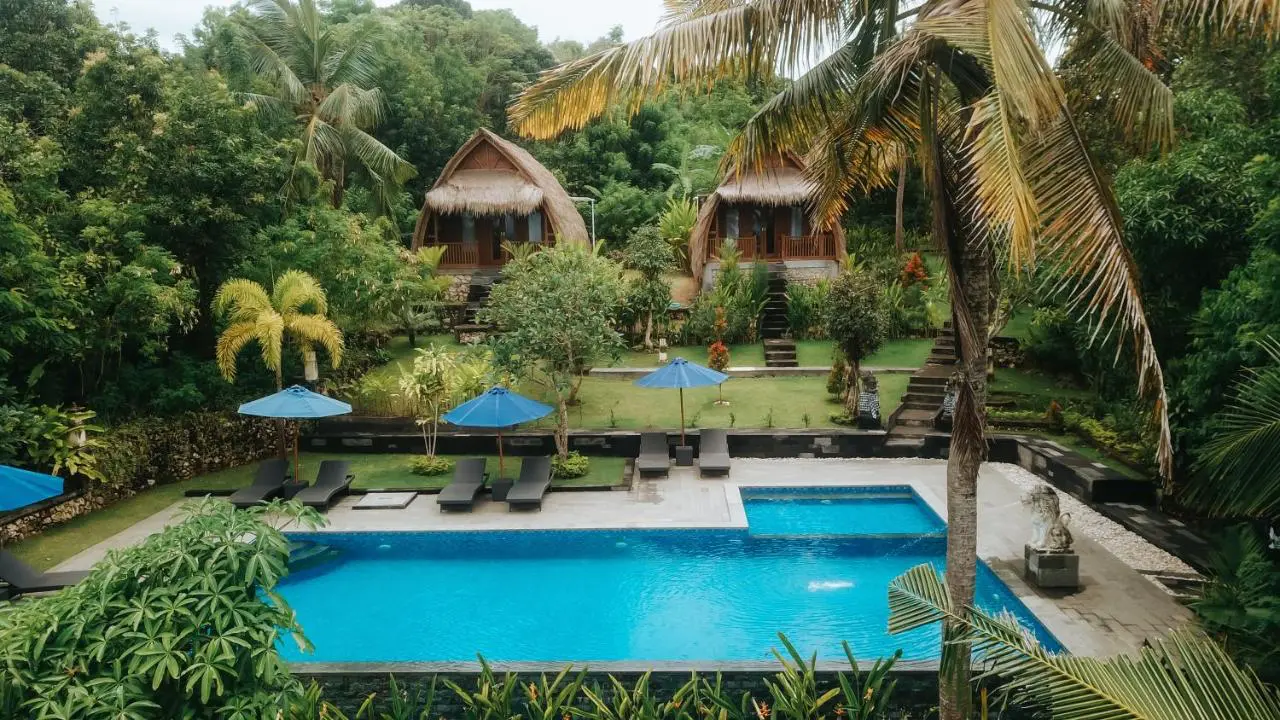 Nestled in the picturesque hills of Nusa Penida, BB Resort Villa offers spacious villas with private pools, capturing the essence of luxury and tranquility.
The stunning valley views and attentive service create a truly enchanting retreat. A must-experience in Nusa Penida.
---
10. Semabu Hills Hotel Nusa Penida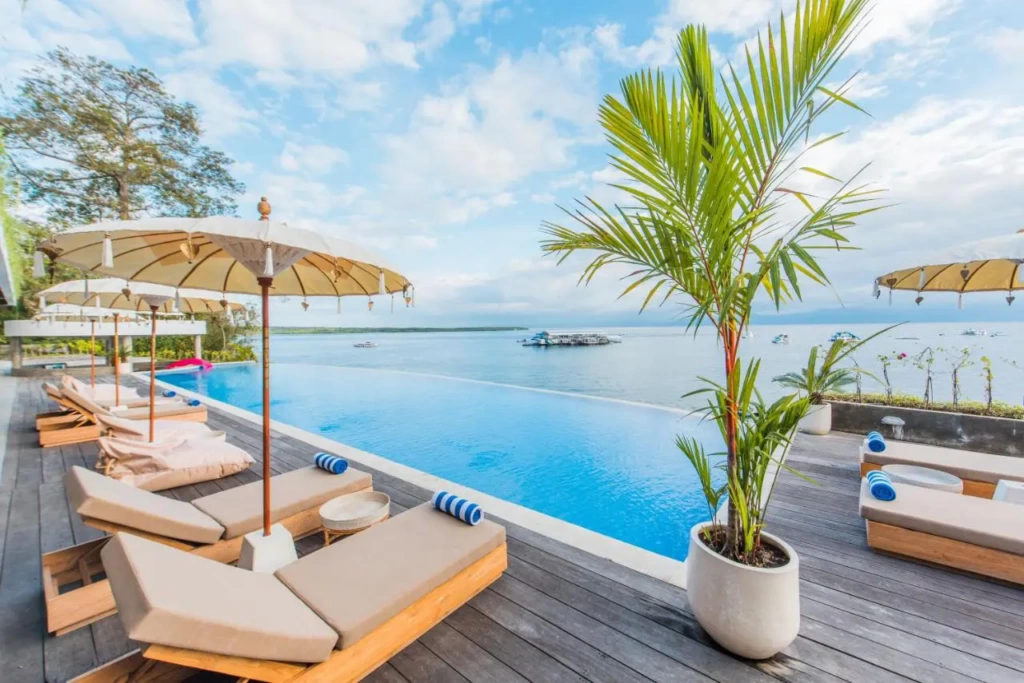 Perched atop a hill, Semabu Hills Hotel boasts breathtaking panoramic views of the island and the shimmering ocean. Its luxurious rooms, infinity pool, and spa facilities create an idyllic haven for relaxation and rejuvenation.
Semabu Hills Hotel is one of the best hotels in Nusa Penida.
---
Best time to travel to Nusa Penida?
The dry season is generally considered the best time to visit Nusa Penida, which typically runs from April to October. During this period, you can expect pleasant weather with less rainfall and lower humidity.
The skies are usually clear, making it an excellent time for outdoor activities such as snorkeling, diving, hiking, and exploring the island's stunning natural attractions.
In contrast, the wet season falls between November and March. While Nusa Penida is still accessible during this time, you can expect more frequent rainfall and higher humidity. Some water-based activities may be affected, and the sea conditions might be rougher, making boat travel to the island less predictable.
---
How long to visit Nusa Penida?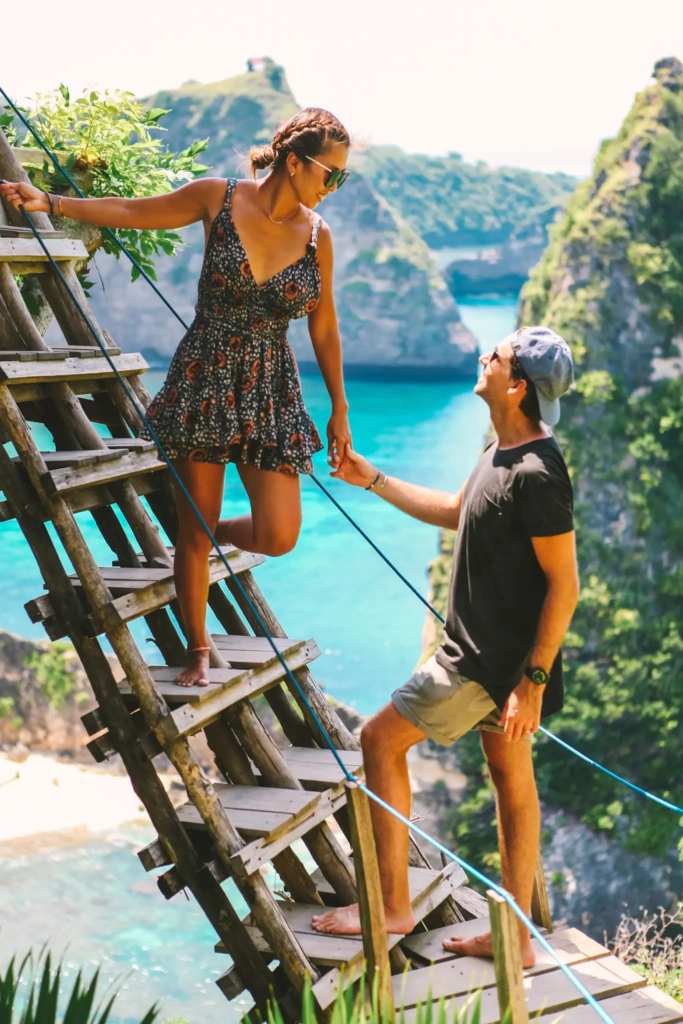 Day Trip: If you have limited time while in Bali and just want to get a glimpse of Nusa Penida, you can take a day trip from Bali. However, keep in mind that Nusa Penida is a relatively large island with many attractions, so trying to see everything in one day can be rushed and tiring.
2-3 Days: This is the most common duration for visiting Nusa Penida. With 2 to 3 days, you'll have enough time to explore the island's main attractions, such as Kelingking Beach, Broken Beach, Angel's Billabong, Crystal Bay, and Atuh Beach. This allows you to have a more relaxed pace and enjoy the beauty of the island without rushing.
4-5 Days: If you're a nature lover, enjoy outdoor activities, or want to explore Nusa Penida's less touristy spots, consider spending 4 to 5 days on the island. This will give you extra time for hiking, snorkeling, diving, and discovering some of the lesser-known gems.
---
Conclusion about the best hotels in Nusa Penida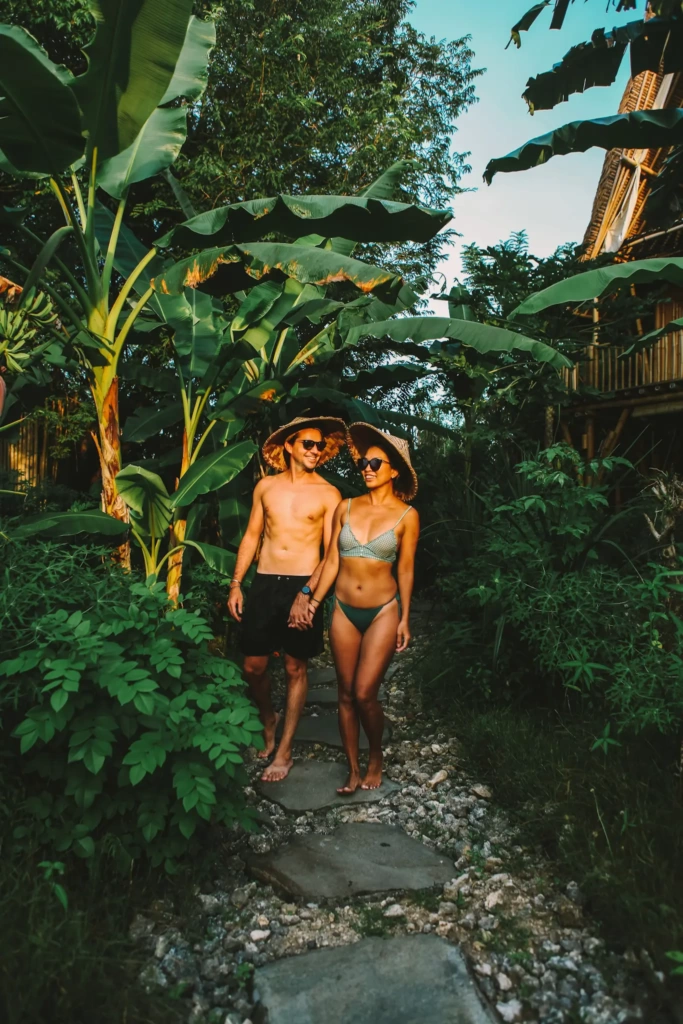 Nusa Penida's natural beauty and serene ambiance set the stage for an unforgettable vacation.
The island's best hotels offer a range of accommodations, from luxurious resorts to unique treehouses and cozy bungalows.
Whichever option you choose from our list of the 10 best hotels in Nusa Penida, you can expect comfort, warm hospitality, and awe-inspiring views that will make your stay truly exceptional. Prepare to immerse yourself in paradise and create memories that will last a lifetime.
---
Related Posts

MOST INCREDIBLE HOTELS IN BALI
10 BEST THINGS TO DO IN SEMINYAK
DISCOVER SESEH AND CEMAGI IN BALI