In this post we listed the 10 best beaches in Fuerteventura. Sit tight, it may blow your mind…
If you have never been to Fuerteventura, you probably wonder if this island is worth visiting, or should you rather go to another more well known Canary Islands such as Lanzarote or Tenerife? Well, this article may reassure you, that Fuerteventura is a fabulous island with many things to see. It is also the island with the most beautiful beaches in the Canaries! Yes, it's true…
Check out this list of the best beaches below, to find out…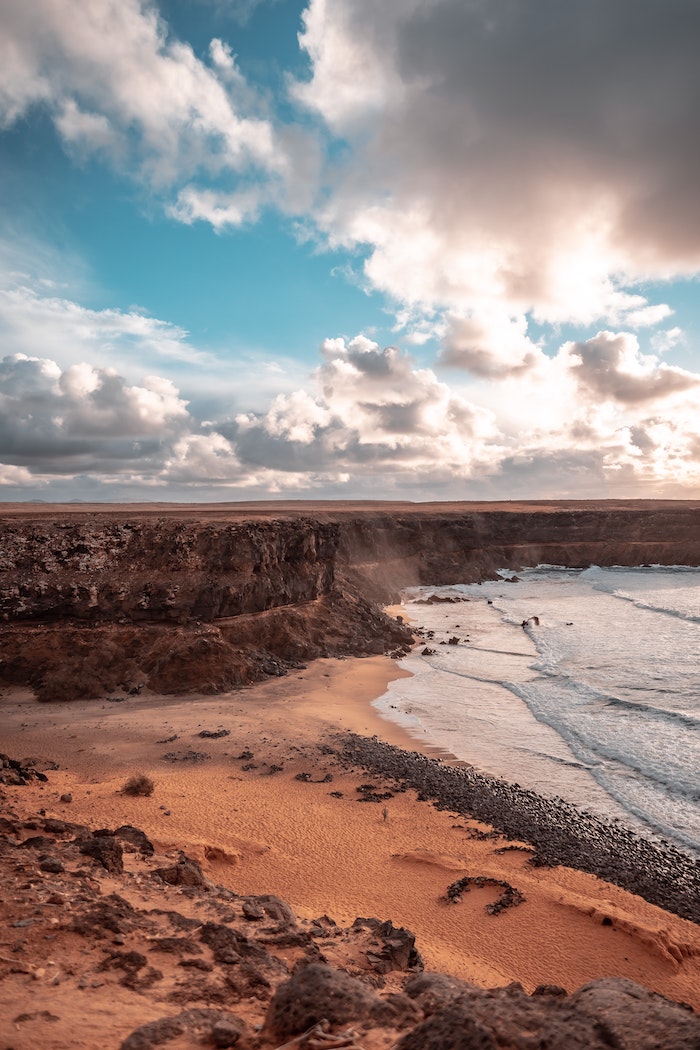 It is no coincidence that Fuerteventura is considered the island of great adventures. Located in the Canary Islands, this stunning seaside resort is bordered by the mighty waters of the Atlantic Ocean and is one of the most beautiful islands in Spain.
The spectacular coasts of Fuerteventura attract thousands of tourists every year. If you want to experience a beach holiday unlike any other in the world, Fuerteventura is the place to be!
The island also attracts a lots of water sports enthusiasts such as windsurfer, surfer, kiteboarder, sailer and much more.
If you are visiting Fuerteventura and wonder which beaches to visit, this guide is also for you. Here is our list of top 10 beaches in Fuerteventura.
We also listed the best 25 things to do and see in Fuerteventura here.
---
1. Corralejo Natural Park and Sand Dunes, one of the best beaches in Fuerteventura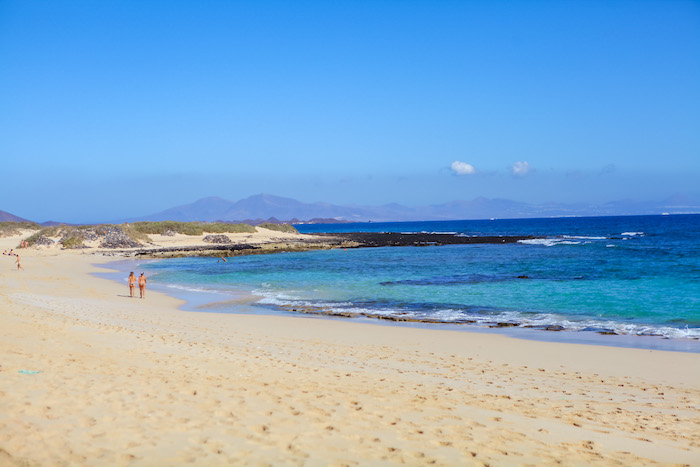 The Corralejo Natural Park offers 4 kilometers of breathtaking beaches that will make you feel like you are in the heart of the Caribbean. However, it is located in the northern region of Fuerteventura, surrounded by the ocean and the natural beauty of a very Spanish island. Corralejo offers tourists absolutely stunning beaches, bathed in sunshine and beautiful blue waters. You can also see the magnificent Isla del Lobos, another small island, in the background and bit further Lanzarote.
The sand is white and the sea is crystal clear. This beach is suitable for everyone. However, be aware that some part of the beach are designed for practicing water sports, such as windsurfing and kitesurfing.
You can easily reach this beach from Corralejo, one of the main tourist resort town, by bus or by car.
Corralejo Natural Park is undoubtedly one of the best beach in Fuerteventura!
Location: here
READ: 8 best things to do in Corralejo and Full guide for visiting the Natural Park.
---
2. El Cotillo with its many amazing wild beaches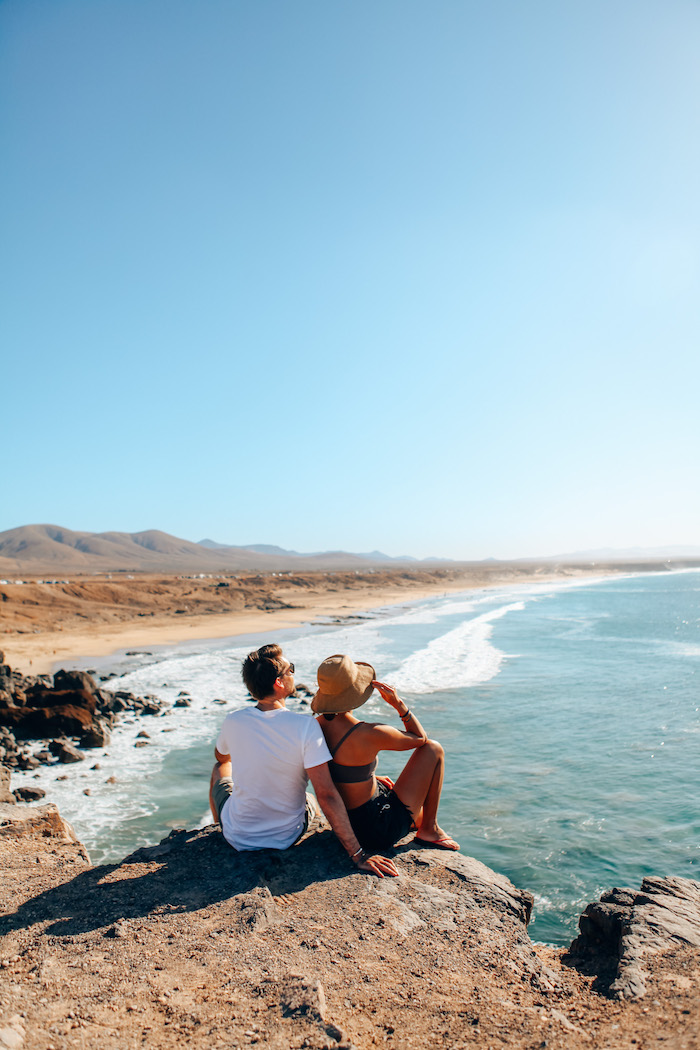 Impossible to say that you have seen the beauty of Fuerteventura without having visited El Cotillo and its many beaches. Although the beaches in the area are all considered the "beaches of El Cotillo", this coastal stretch is divided into several areas, all different and interesting for their unique characteristics. If you are looking for a place to spend unforgettable hours in Fuerteventura, you have come to the right place.
Among the beaches not to be missed, we certainly mention those of La Concha (location), Playa de Marfolin (location) and our favorite Playa del Castillo (location).
Water sports enthusiasts should go to Piedra Playa (here), one of the best beaches for surfers. Just south of the village you'll find this stone beach, a spectacular stretch of reddish sand that slopes gently into the ocean with stunning crystal clear waters. Although the name might suggest otherwise, the stretch of sand is wide and the beach is a 10-minute walk from the port.
The nature around this bay is spectacular even in winter: if you arrive in Fuerveventura on a rainy or stormy day, come and let yourself be enchanted by the wild beauty of mother nature.
Make sure to visit the beaches around El Cotillo, they are some of the best beaches in Fuerteventura.
READ: full guide for visiting El Cotillo in Fuerteventura
---
3. Playa de Jarubio, one of our favorite beach in Fuerteventura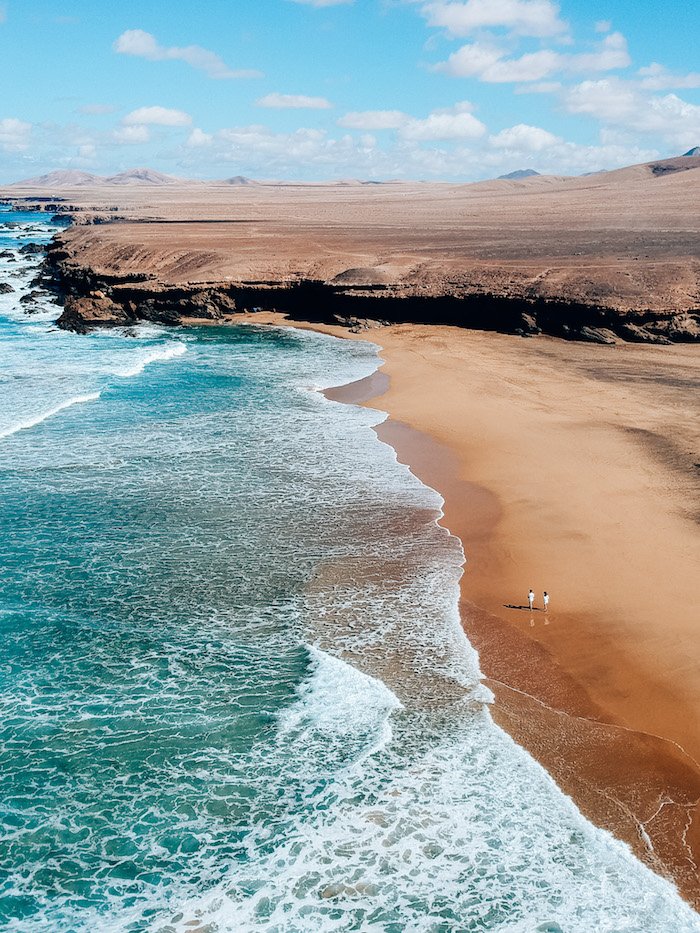 Getting to Playa de Jarubio is not an easy journey. With our Fiat 500 we took a good 40min driving through a pretty awful road from Corralejo. The way to get there wasn't pleasant at all, let us tell you! We thought we lost a tyre many times. But we didn't want to give up. We knew that often the best places are not the one with an easy access. And oh boy! We weren't disappointed after arriving there. Totally worth the horrible drive. We had this amazing beach just for ourselves, as you can see in the photo above!
Jarubio is for us one of the most stunning beaches in Fuerteventura. The one that took our breath away…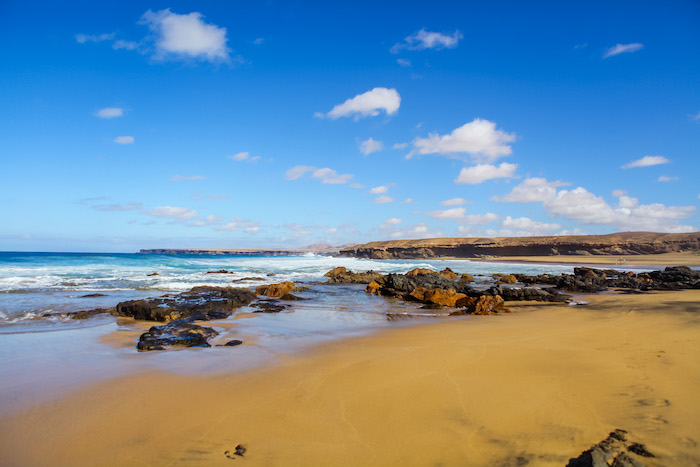 Bring water and some food, and you can spend one of the best day in Fuerteventura. When you are at the main beach, you can walk to your left and cross a few rocks. There you have a smaller beach which is more protected. Much better to swim when there are big waves in Fuerteventura.
From there you can also admire the entire west coast of the island, which is the most beautiful part of Fuerteventura. We made a reel on instagram here about Playa Jarubio.
There is a small parking once you reach Playa Jarubio.
Location of Playa Jarubio: here
---
4. Cofete, one of the best beaches in the world for us (Yes THE WORLD!)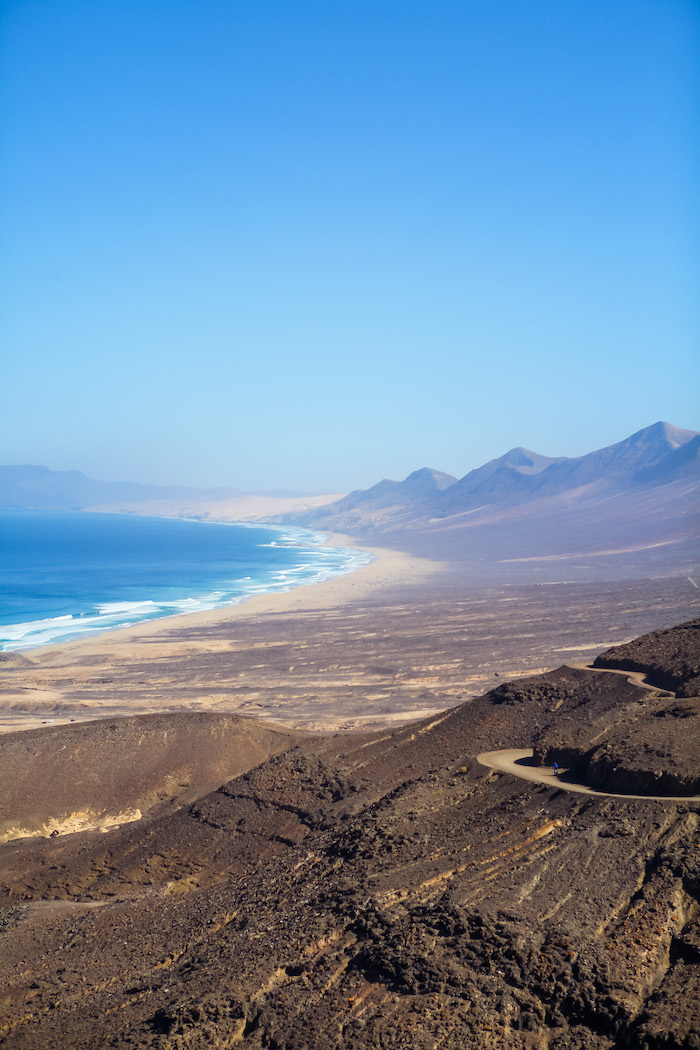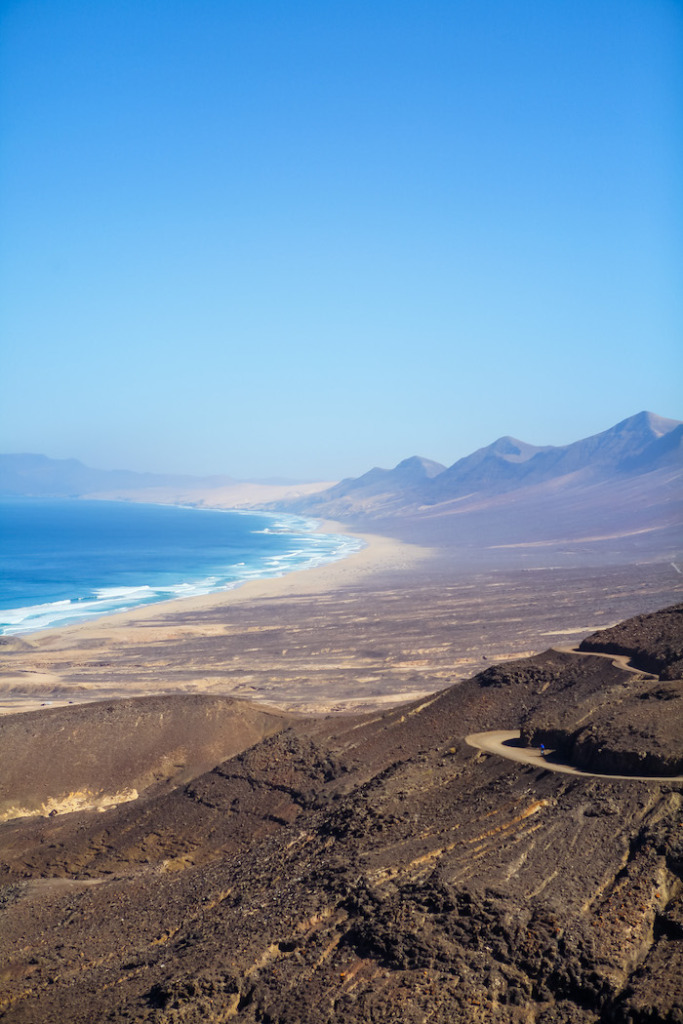 Imagine a village lost at the end of the world, facing the ocean, nestled at the foot of an immense mountain range. Welcome to Cofete, one of the most magical places in Fuerteventura and the Canary Islands.
After about 1 hour driving through a very bad road, you will discover a sumptuous panorama on the beach and the Pico de la Zarza, the highest mountain of the island which rises to 807 meters above sea level. This panorama is absolutely unforgettable. There are no words to describe the beauty of this place.
The fact that not more people are aware about this place exist in the Canary Islands is very astonishing. Well, we had no clue about this place before going to Fuerteventura. Even some people who came to Fuerteventura did not even visit Cofete, what a shame really. It's an absolute must-see in Fuerteventura. We can't stress that enough!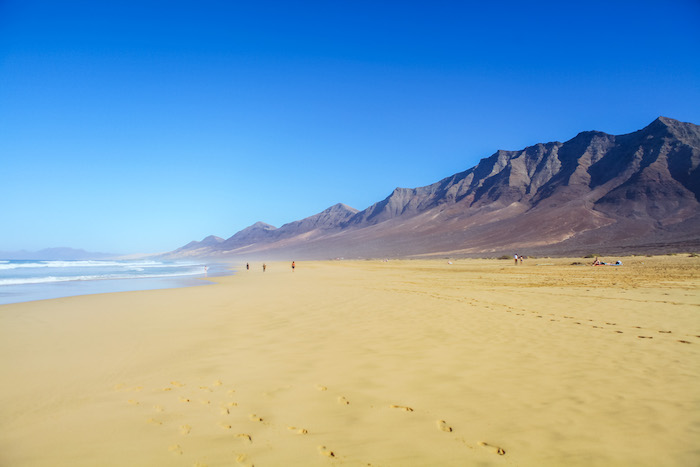 Once you reach this very special beach, you can take a long walk to discover this 12 kilometer long beach. Be careful though, swimming or surfing are strongly discouraged, the ocean is raging and the currents very dangerous.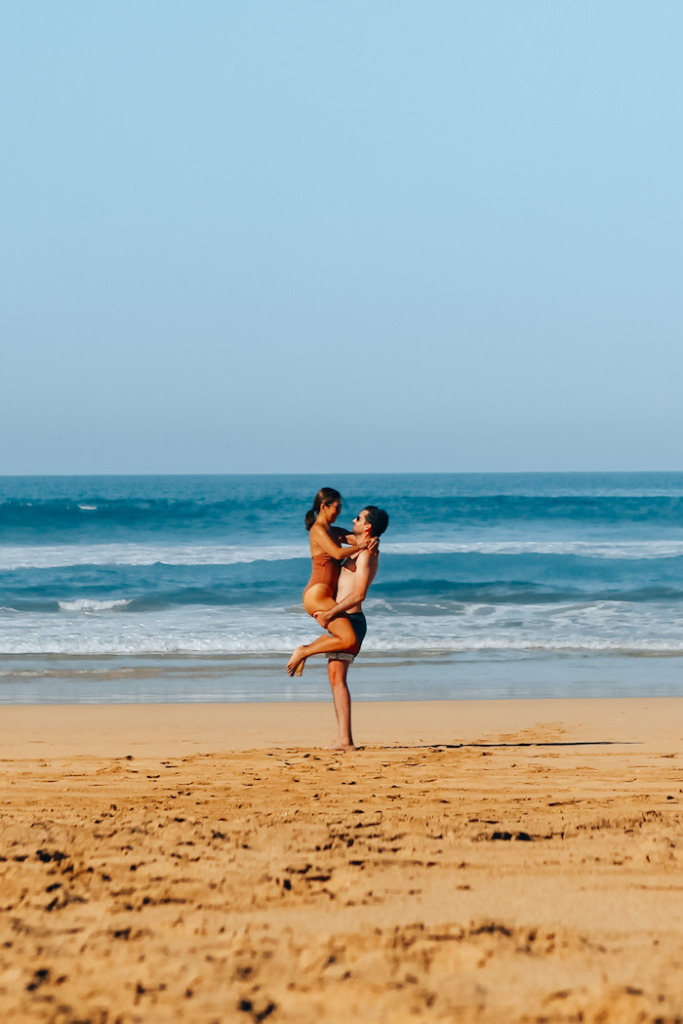 There is a small restaurant at the village just before reaching the beach in case you didn't bring your own lunch. During your trip to Fuerteventura, dedicate 1 full day to visit Cofete, it's really worth it.
Location: here
We wrote a full post about Cofete here. We recommend that you read it before heading to this beach, as it requires some planning ahead of time.
---
5. Playa de Sotavento, the most famous spot for Kitesurfers in Fuerteventura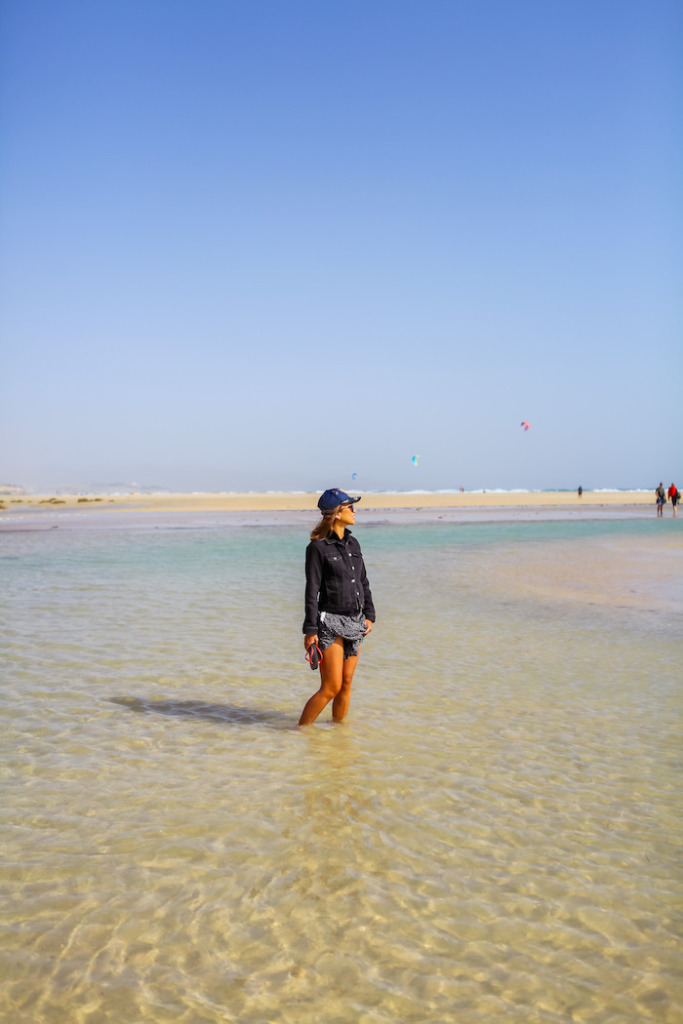 Nine kilometers of unspoiled beach, in the heart of Fuerteventura. This is arguably the most beloved and famous coastline on the island, and perhaps the best known in the world. Just for its size, the beach of Sotavento offers refreshment and tranquility every year to thousands of tourists in search of a magical place. And at low tide, the sandy beach is dotted with small natural pools where swimming is a real pleasure.
Sotavento is considered one of the best beaches in Jandìa to try windsurfing and kitesurfing. It is so extensive that it is divided into five areas: La Barca, Risco del Paso, Mirador, Los Canarios and Malnombre. Some areas are more suitable for beginners than others due to the presence of breakwaters which help to handle the strong ocean currents.
Don't miss to check out Sotavento if you are exploring the south of Fuerteventura. It is one of the most impressive beach on the island.
Location: here
Learning how to kitesurf in Sotavento is the perfect place due to it's protected lagoon with shallow water. We highly recommend joining Rene Egli for kitesurf lesson or renting kite gears, this is an institution in Fuerteventura. You can even stay at their hotel right by the beach. Check out their website here.
---
6. Playa Del Matorral, a beautiful beach in the south of Fuerteventura
Three kilometers of magnificent immaculate sandy beach, where it is good to enjoy life by the sea: Welcome to Playa del Matorral. This beach is located on the shores of Morro Jable, one of the main tourist resort area in the south and offers everything you could imagine. This place is ideal for everyone and the water is usually calmer than in the west coast of Fuerteventura.
Visiting Morro Jable is also very pleasant with lots of restaurant and shopping opportunity.
Location: here
---
7. The beaches of Point Lobos
Welcome to the tropical gem of Lobos, a spectacular land and underwater oasis that will win you over with its timeless charm. To visit the island of Lobos you will need a permit, and only 200 people per day – divided into two groups – can enjoy the shores of this magnificent paradise. You can therefore easily imagine the infinite beauty of this sanctuary of protected species, almost entirely at your disposal!
Lobos Island is a preotected natural area, surrounded by untouched sand and sparkling crystal clear waters where bathing is pure pleasure and diving is a continuous discovery. The island is separated from Fuerteventura by the so-called Strait of Bocaina, the depth of which does not exceed 30 meters in the deepest areas. The island is perfectly visible from the beaches of Corralejo, which adorns the panorama.
Don't expect to find the same amenities on the main island. This place is suitable for all those who are looking for an extra grain of adventure during their holidays and a peaceful place to walk along rocky beaches adorned with low vegetation and dotted with natural pools that appear on the way, when least expect it.
Location: here
---
8. La Pared, our favorite beach to go surfing but also one of the best beaches in Fuerteventura!
Whether you are a surfer or not, La Pared should not be missed on your list of things to do in Fuerteventura. his place has become a surf mecca for having some of the best waves on the island, as well as one of the most beautiful beach.
La Pared is a small place on the west coast of Fuerteventura, away from mass tourism, noisy clubs and bars – but with lots of nature. The small village has 600 inhabitants. This place is easily reachable from Costa Calma.
Head down to the beach to see the amazing rock formation shaped by the wind and the waves. A great place to visit in Fuerteventura and certainly one of the best beaches on the island.
Location: here
A little bit more south of Ajuy you will reach one of the most unique viewpoints on the island. This is the best astronomical vantage point on the island, set up here thanks to the area's low light pollution, making it the perfect place to gaze at the stars. There are even information panels that will help you identify the constellations and stands so fans can set up their own telescopes and photographic equipment.
If you don't go there at night, go there during the day, the views are fantastic too! This is what we did…
Location: here
---
9. POP CORN BEACH, THE MOST INSTAGRAMMABLE BEACH IN FUERTEVENTURA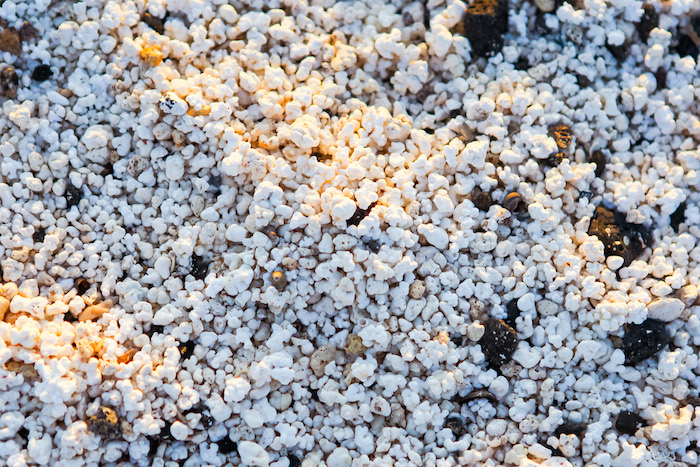 This beach was still unknown a few years ago, but thanks to social influencers, it became one of the must-see spot in Fuerteventura. Why Pop Corn Beach?
Well, don't expect a sandy beach here, like most of the beaches in Fuerteventura. In this beach you will see hard algae which looks like popcorn. This beach is called El Hierro. It is just a few minutes drive from Corralejo. It is also one of the best surf spot in Fuerteventura.
The photos of this beach from many social influencers, made this place very popular. For most tourists a trip to Fuerteventura without visiting popcorn beach wouldn't be complete.
We went there just before sunset, and actually really loved this place. At that time of the day this place is magical.
Location: here (20min drive from Corralejo)
---
10. The beaches of Costa Calma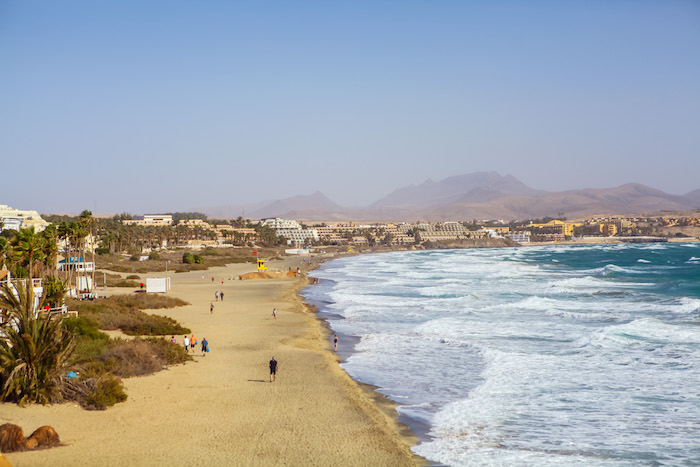 During our trip to Fuerteventura we first stayed in the north at Corralejo which was perfect to explore most part of the island. We then spent another 10 days in the south at Costa Calma. A perfect place to relax with its 2km long beautiful beach.
The town of Costa Calma is very convenient with a few restaurants, supermarkets, shops, car rental agency. It's a great location to combine beach days and exploration of Fuerteventura. You can also join the exceptional surf and yoga camp of Rapa Nui (website: here)
There are a few beautiful beaches in Costa Calma within walking distance. First the main beach in front of the main resorts called Costa Calma Beach, then a bit more south you can spend a day in Playa Esmeralda Norte and then Playa Esmeralda. All very beautiful.
Location of Costa Calma: here
READ: near Costa Calma you can visit the gorgeous Oasis Park. Full guide here.
---
Where to stay in Fuerteventura?
There are many places to choose from when it comes to finding a place to stay in Fuerteventura. It may depends on the type to activities you want to do during your stay, or the time of the year you are visiting the island. It may also be based on your budget.
READ: the best outdoor activities in Fuerteventura.
Vacation rentals, all-inclusive hotels, seaside villas with swimming pools… there is something for everyone in Fuerteventura!
However we recommend to choose amongst the following 3 locations:
Corralejo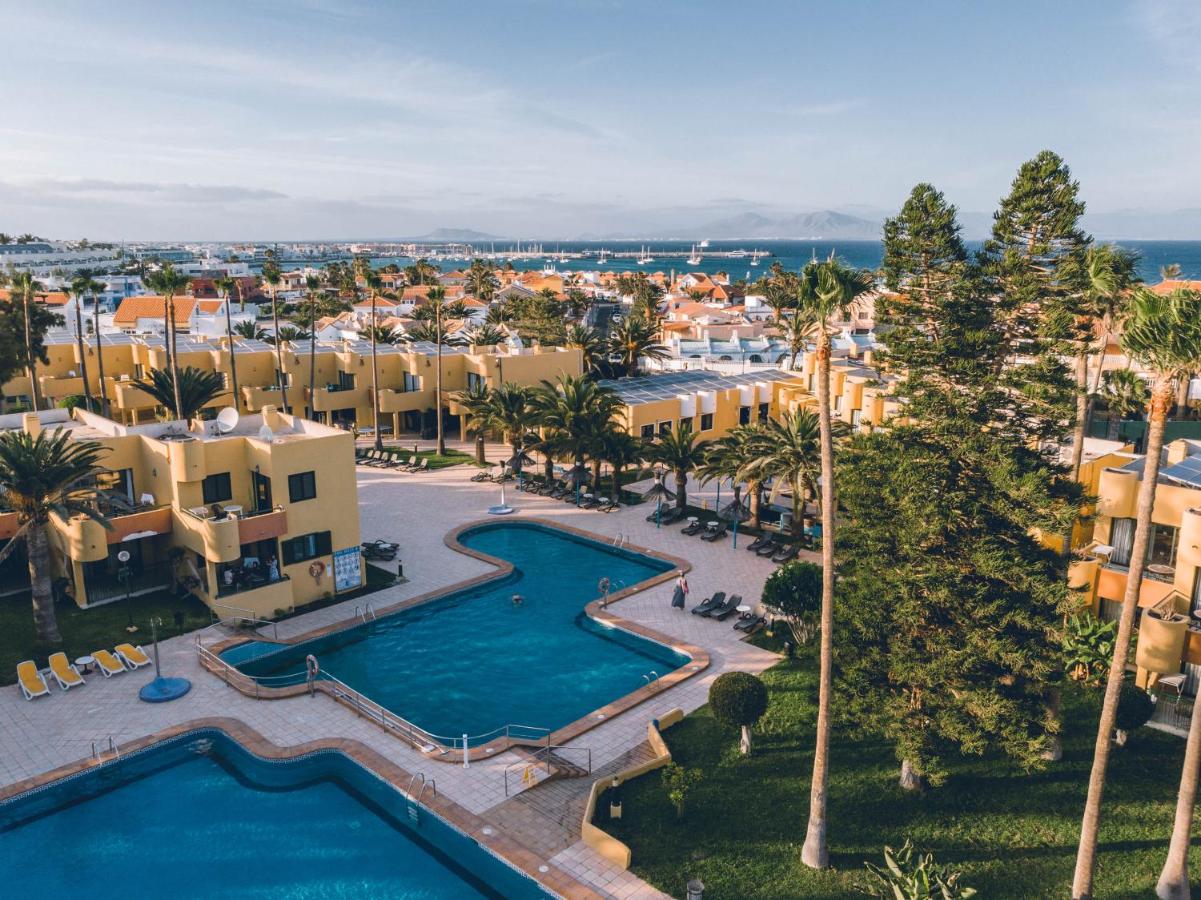 Best if you like more actions during your holidays. Plenty of bars, restaurants, a very young crowd, surf school, boat trip to Los Lobos, perfect beaches etc. There are so many things to do. However, it may not be the most romantic gateway. We stayed at Atlantic Garden Beach Mate hotel. The location was perfect near the main beach and right next to a supermarket. The place was clean and modern. Check it out here.
Costa Calma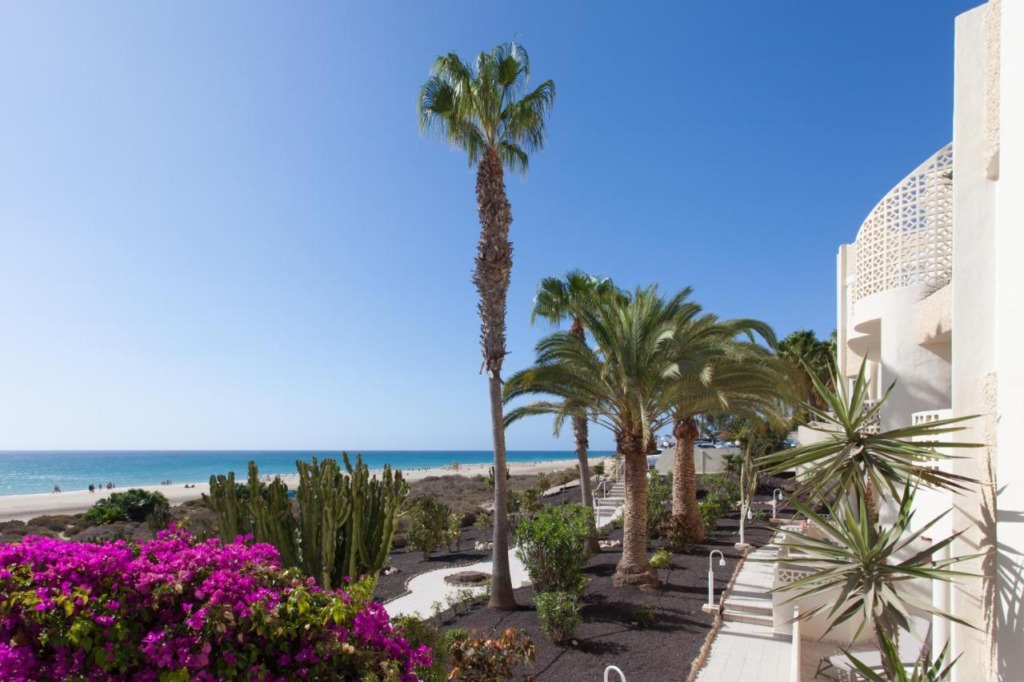 If you are couple, this is probably the best place to stay. Costa Calma is much quieter than Corralejo but there are also a few restaurants, cafes and bars. From there you can easily explore Morro Jable, Cofete and many other attractions in Fuerteventura. We probably stayed in the best hotel in Costa Calma. It's called R2 Maryvent Beach Apartments Costa Calma. We had a fantastic sea view apartment. You can check it here
Morro Jable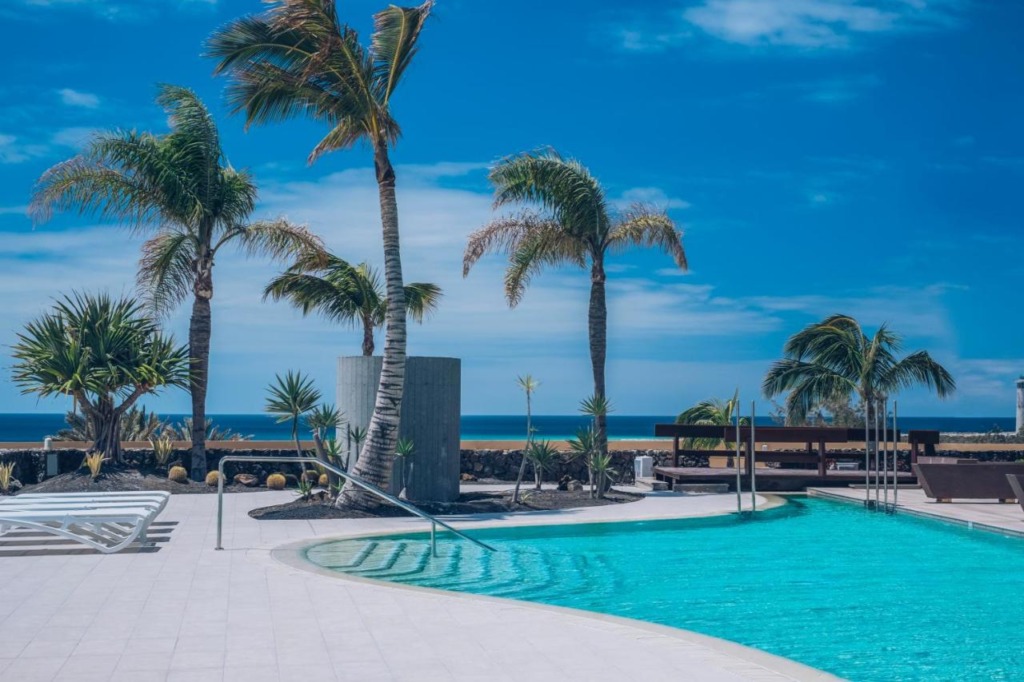 This is probably the most convenient place for families or retirees. You will find all you need in Morro Jable and it's mostly flat, which makes it very easy to walk around. In Spain we love the Iberostar chain hotel. We only had fantastic experience in their hotels. At Morro Jable they have a stunning palace facing the sea. It's beautiful. You can book it here.
READ: BEST PLACES TO STAY IN FUERTEVENTURA, FULL GUIDE
---
How to get to Fuerteventura?
The easiest way is by plane! Plane tickets between the island and the major cities in Europe are generally very affordable. Easyjet has many great offers, however book early as during peak seasons the prices are going much higher.
If you are visiting multiple Canary Islands, then you can easily take the ferry between each of them. We started our journey in Lanzarote and then we took the ferry to Fuerteventura, which is just a 30min ride. We always use Direct Ferry to book our ferry. Check it out here.
Once you are there, use one of the car rental companies and go on an adventure! Once you reach the Canary Islands, it is highly recommended to rent a car. To get the cheaper rate we used Rentalcars.com. Check it out here for the best deals. However, we suggest that you rent a better car in order to tame some dirt tracks all around Fuerteventura 🙂
---
Best time to visit Fuerteventura?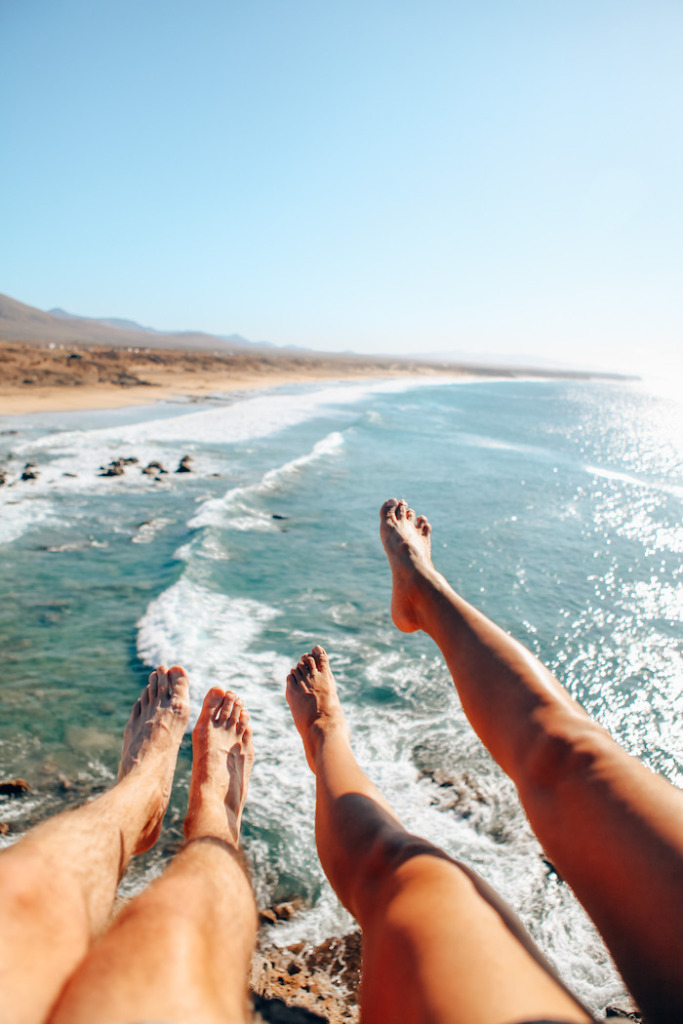 The Canary archipelago is famous for its perfect weather all year round.
However, despite what you might think, the summer months are not necessarily the best to go to Fuerteventura. The sun is very strong and it is very windy. Therefore we recommend going there in spring and autumn, or in winter if you like surfing.
We wrote a full practical guide about the best time to visit Fuerteventura. Check it out here.
---
In conclusion about the best beaches in Fuerteventura
What else can we say except that the beaches of Fuerteventura are all more beautiful than the other. Who would believe that we can find these amazing places in Europe just a few hours flight from most capitals in Europe. Fuerteventura is truly a magical island. It is indeed the only one in the Canaries with such impressive sandy beaches. If you like splashing around in warm waters during the winter, this is a great destination for a getaway to the sun.
It's hard to tell you which is our favorite beach in Fuerteventura, they all have something magical about them. But there is perhaps one that really stands out: Cofete beach. At the end of an epic journey along a 12 kilometer track, you will discover a totally impressive and unforgettable panorama. Do not forget your camera.
In the north of the island, we also fell in love with Isla de los Lobos, or the countless beaches that line the coast in the El Cotillo region. Finally, if you are a diving enthusiast, do not miss the opportunity to explore the seabed between Fuerteventura and Lanzarote. It's of all beauty.
More about Fuerteventura here.
HAPPY TRAVELS!
---
Related Posts
BEST THINGS to see in Fuerteventura: here
COFETE, the best beach in Fuerteventura: here
HIKING CALDERON HONDO in Fuerteventura: here
BEST HIKES in Fuerteventura: here
BEST PLACES to stay in Fuerteventura: here
OASIS PARK in Fuerteventura: here
EL COTILLO, a charming village near Corralejo in Fuerteventura: here
CORRALEJO DUNES NATURAL PARK, full guide: here
BEST THINGS TO DO IN CORRALEJO, Fuerteventura: here
8 BEST OUTDOOR ACTIVITIES in Fuerteventura: here
BEST TIME to visit Fuerteventura: here
25 BEST THINGS to see in Lanzarote: here
10 REASONS, why you should visit Fuerteventura: here
10 BEST BEACHES in the Canary Islands: here