WHAT ARE THE MUST-SEES IN SOUTH KOREA? MOST POPULAR THINGS TO SEE IN SOUTH KOREA? HIDDEN GEMS IN SOUTH KOREA?
Are you planning a trip to South Korea, and wonder what to do? In this post, we compiled the best things to see in South Korea.
We lived in Seoul for 3 years and were so lucky to experience life in South Korea. There is so much to see and so much to do, that you won't get bored any second.
There are so many amazing things to see in South Korea!
In the past few years, the Korean Wave (Hallyu), such as K-Pop, K-Drama, Korean Food etc., has made South Korea super popular. However, the country is still often overlooked in favor of other Asian Countries.
In a nutshell – what you shouldn't miss during a trip to South Korea:
Seoul, the capital of South Korea
Jeju Island, the jewel of South Korea
Busan, the best coastal city in Korea, perfect for relaxation
Gyeongju, the ancient capital of Korea, and one of our favorite places to visit
DMZ (Demilitarized Zone) between South and North Korea
Jeonju Hanok Village for well-preserved traditional Korean houses.
Andong with the Hahoe Folk Village, a UNESCO-listed traditional Korean village.
Try Korean Cuisine, such as bibimbap, bulgogi, kimchi, and more.
Visit Korean Temples throughout the country
Check out Korean Palaces like Changdeokgung and Deoksugung in Seoul.
And so much more which you can discover in this article
---
Here is glimpse of what a trip to South Korea looks like:
---
The Best Things to Do in Seoul
The third largest megalopolis in the world after Tokyo and Mexico with nearly half of the Korean population living in it… it would, of course, be unthinkable not to speak of the vibrant South Korean capital: Seoul.
Located in the northwest, this huge 605 km² city is the heart of the country. It is a young and particularly festive city where many Koreans come to study or find professional opportunities. Here are the main things to do in Seoul:
1. Start with the main palace: Gyeongbokgung
Gyeongbokgung Palace is truly stunning.
This is probably what most tourists visit at first in Seoul. It is located in the center of the city, at the end of the main avenue (Gwanghwamun Square) where you will come across the statue of Admiral Yi Sun-Shin and that of King Sejong, two famous figures in the history of South Korea.
>> READ: FULL GUIDE FOR A VISIT AT GYEONGBOKUNG PALACE
---
2. Visit the secret garden at Changdeokgung Palace
This palace was the favorite palace of many kings of the Joseon Dynasty, indeed it exhibits several characteristics specific to the Three Kingdoms of Korea that no longer appear in the architecture of Gyeongbokgung.
The main sight of Changdeokgung, is the Huwon Garden, also called Secret Garden. It is possible to freely visit the Injeongjeon and Nakseonjae pavilions within Changdeokgung Palace while the Huwon Garden can be visited by booking in advance with a guide. Reservations can be made online or directly onsite.
>> READ: COMPLETE GUIDE TO VISIT CHANGDEOKGUNG IN SEOUL
---
3. Check out the Namsan Tower
Korea does not have many distinctive monuments such as the Eiffel Tower in Paris, The Marina Bay Sands in Singapore or the Pisa Tower in Rome.
However, standing at 480m above sea level, the Namsan Tower has an observation deck at the very top for a stunning 360 views of the city. This is probably the most recognizable monument in Seoul. 
>> READ: BEST WAY TO VISIT THE NAMSAN TOWER IN KOREA
---
4. Visit the neighborhood of Insadong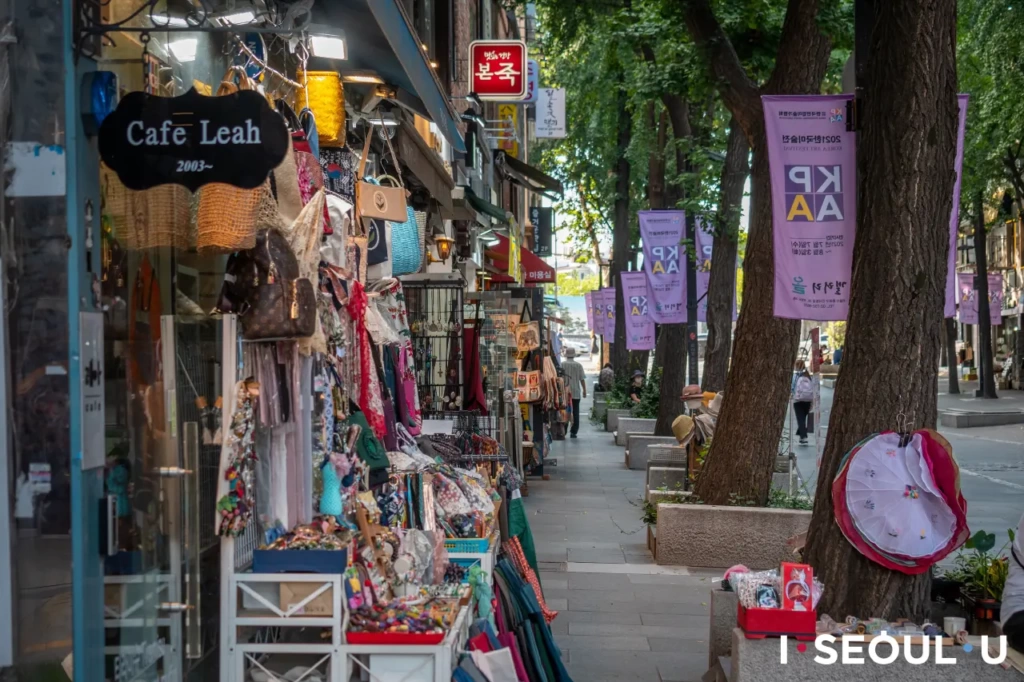 Insa-dong (인사동), located in the middle of the city of Seoul, is an important place where old traditional and precious objects are exposed.
The district is composed of a main street, Insadong-gil, which connects many alleys with Hanok (traditional Korean houses), where many galleries, restaurants, cafes, and traditional tea rooms are located.
READ: WHAT TO SEE IN INSADONG, SEOUL?
---
5. Visit the cutest area in Seoul: Ikseon-dong
Ikseon-Dong (not to be confused with Insadong) is a district slightly east of Insadong.
It's a neighborhood with the cutest little alleys with many Hanoks, trendy boutiques, amazing cafes, and great restaurants. Some call Ikseon-Dong the hipster place of Seoul. It is certainly one of the trendiest and most up-and-coming neighborhoods in Seoul. We simply love it!
>> READ: ALL YOU NEED TO KNOW ABOUT IKSEON-DONG
---
6. Party in Itaewon
It is well known, Koreans like to drink and like to drink a lot! Korea is the country where people drink the most in Asia.
In Seoul and especially Itaewon, you can enjoy the ultimate nightlife experience and dance until sunrise as most bars stay open till late.
---
7. Hike the Bukhansan, the highest mountain in Seoul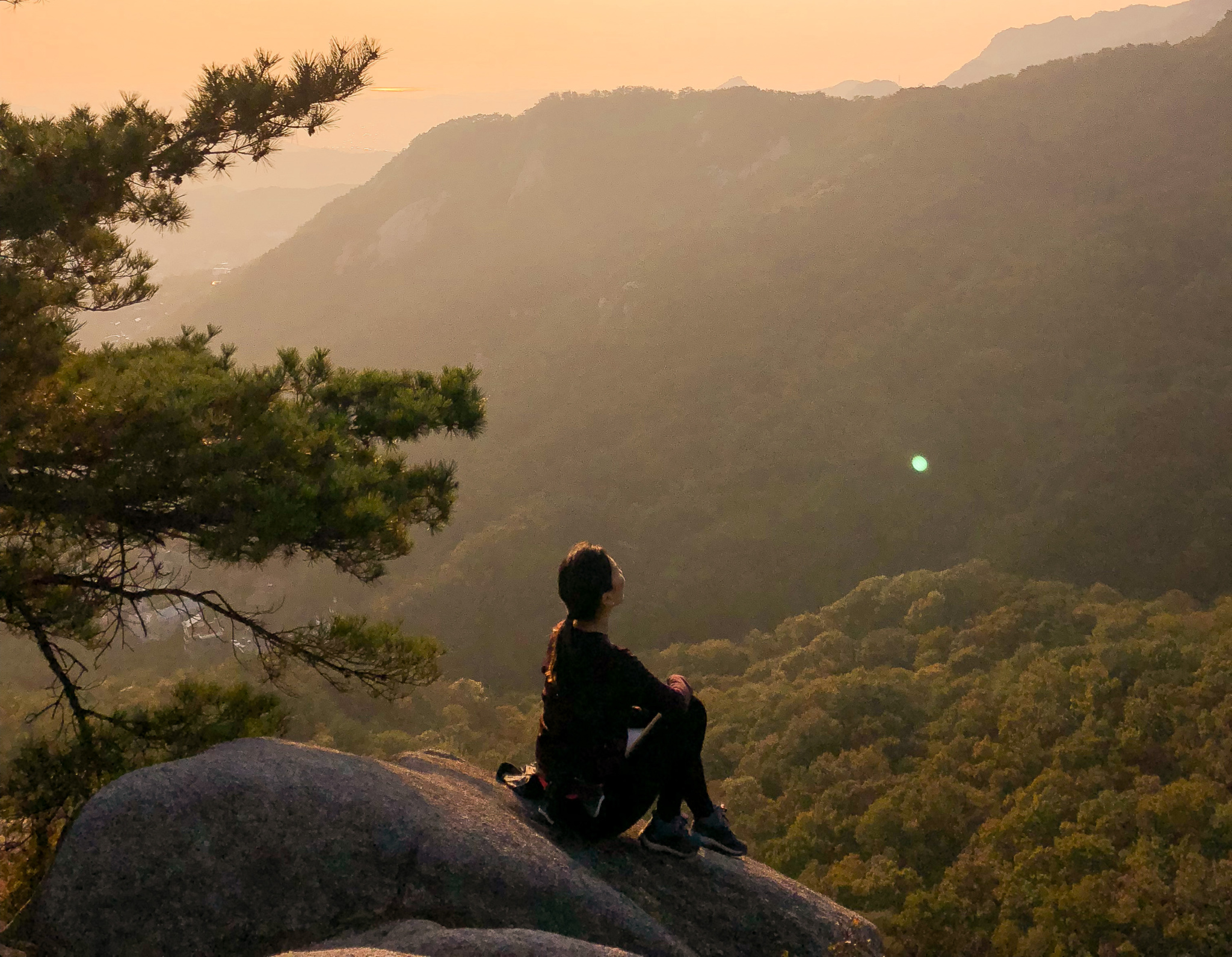 After partying in the city, take some fresh air at the Bukhansan National Park. It is located in the northern part of Seoul. It is a real hiker paradise with many trails. The changing seasons make the surrounding nature even more beautiful and constantly changing.
With a large majority of the South Korean landscape being mountainous, it is not surprising that hiking is an extremely popular sport for Koreans.
>>READ: ULTIMATE HIKING GUIDE FOR THE BUKHANSAN
---
8. Shop crazy in Myeongdong
The first time we went to Myeongdong, it was at night and we were truly amazed by literally everything: Millions of lights everywhere, loud music, hundreds of shops, tall buildings, great street-food.
We were not disappointed with our first experience in Myeongdong. It's a shopping paradise for fashion and beauty, where you will find most of the brands you are looking for. 
>> READ: MOST AWESOME THINGS TO SEE IN SEOUL
---
9. Visit Bukchon Hanok Village, one of the best things to see in South Korea
Bukchon Hanok Village is a traditional district in Seoul where many old Korean-style houses (Hanoks) have been renovated. You can even sleep in one of the traditional houses, for an amazing Korean experience such as Bonum 1957 Hanok and Boutique.
---
10. Cool down at Cheonggyecheon water stream
Cheonggyecheon is a long water stream that runs through the city. The stream offers a peaceful oasis in the city. It is nice to walk along the stream during the day or at night.
Usually, there are many events with light shows and markets during the year. This offer a great and relaxing break from the busy city. 
---
11. Taste local food at Gwangjang market
Built at the very beginning of the 20th century, the traditional Gwangjang market has around 5,000 independent shops and boutiques selling everything, including high-quality hanboks (traditional Korean costumes). You can get lost in the maze of shops and alleys.
At the market, you can taste some local specialties such as bindaeddeok, a kind of really good savory pancake. Enjoy this with makgeolli, a rice alcohol drink. Everything is very authentic!
---
12. Check out Namsangol Hanok Village
Namsangol Hanok village is located in the north side of Namsan in Seoul. It is the perfect place to discover more about the history of the Joseon period. Namsangol is famous for its preservation of Hanoks. These are traditional Korean houses. 
>> READ: CHECK OUT NAMSANGOL HANOK VILLAGE IN SEOUL
---
13. Visit Gangmam, most famous spots in South Korea
Gangnam is located south of the Han River. Gangnam is considered one of the richest and most hype districts of Seoul. There are many things to do in Gangnam but one of the principal activities is to go shopping. If you don't feel like going to a mall, head to Garosu-gil aka the K-Pop Road.
>> READ: THE MOST AWESOME THINGS TO DO IN GANGNAM
---
14. Hang out in Hongdae, the student's district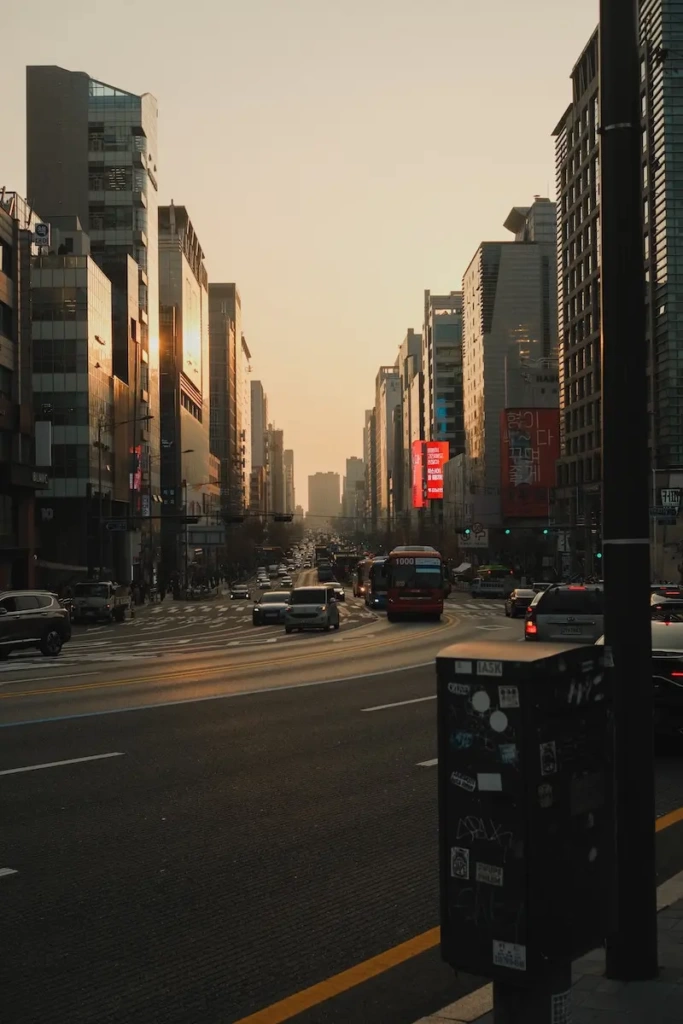 Hongdae is known for being the student district and one of the party areas in Seoul. It has a unique atmosphere. Between arts and street food, bars, discos, music, and original museums, a visit to Hongdae reveals a dynamic and alternative culture.
It is therefore a must-see in South Korea.
>> READ: ALL YOU NEED TO KNOW ABOUT HONGDAE
---
15. Ihwa Mural Village
Ihwwa Mural Village is a unique place in Seoul, completely devoted to Street Art. Located next to Naksan Park and not far from one of the largest art schools in Seoul, the walls of Ihwa village have been completely taken over by artists over the years.
Street Art in Seoul is filled with joy and color. Everything is fresh, delicate and so cute, a real pleasure for the eyes.
>> READ: LEARN MORE ABOUT IHWA MURAL VILLAGE IN SEOUL
---
16. Visit Namdaemun market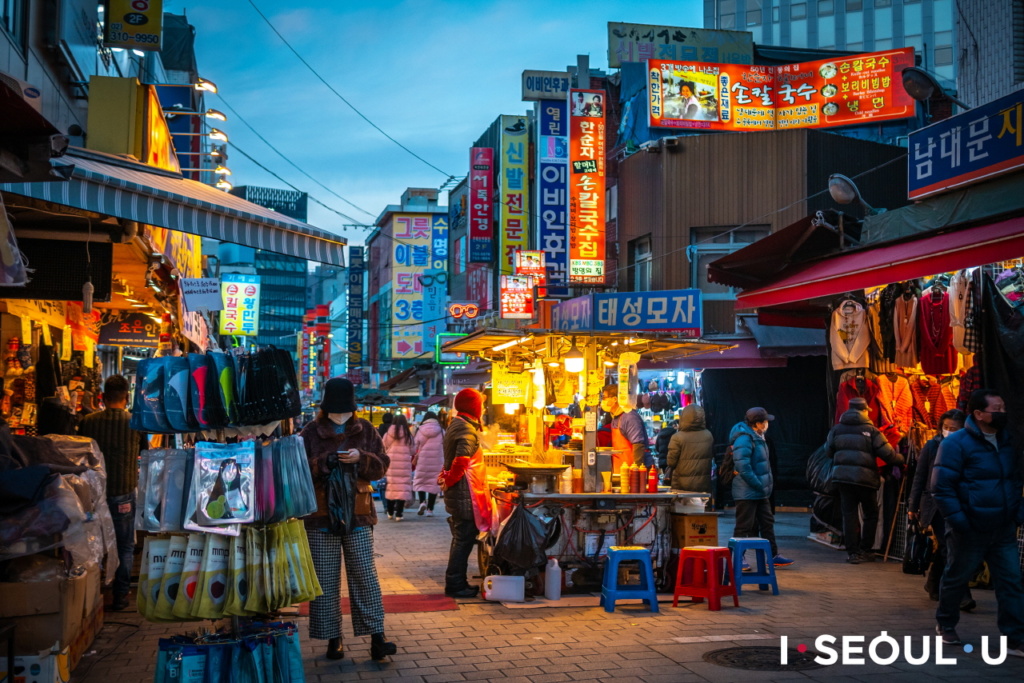 Namdaemun is Korea's largest and oldest market. It is a fantastic place to discover in Seoul.
A visit to Namdaemun is a must-see in Korea. It is considered as a National Treasure. Covering more than 66 hectares and with more than 10,000 stores and stalls, Namdaemun Market plays an important role in determining Seoul's consumer price.
>> READ: PLAN YOUR VISIT TO NAMDAEMUN MARKET
---
17. Changgyeonggung Palace our favorite one in Seoul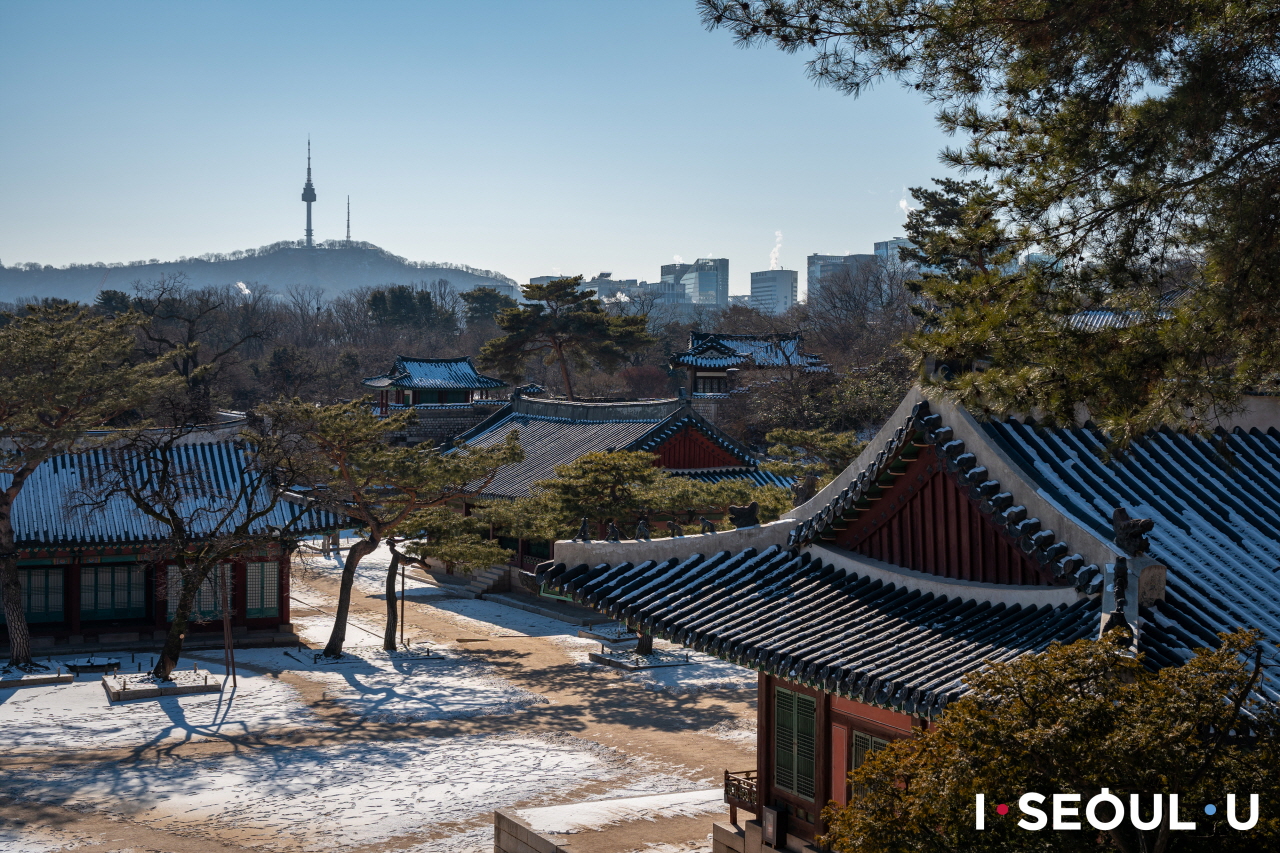 Changgyeonggung is our favorite palace in Seoul. It is located in Jongno-gu district, in the heart of Seoul. Changgyeonggung is known to hold the oldest throne room in Korea. 
Changgyeonggung is not as important as the main Palace: Gyeongbokgung Palace. However, we always enjoyed visiting Changgyeonggung every season. It is also the very first palace we visited when moving to South Korea.
>>READ: DISCOVER CHANNGGYEONGGUNG PALACE IN SEOUL
---
18. Deoksugung Palace, the most modern one
Deoksugung is one of five royal palaces located in Seoul.
The palace also served as a temporary residence for King Seonjo, back from exile after the end of the Imjin war (1592-1598).
One of the specifics of Deoksugung Palace is that it is the only royal Palace housing both buildings in the traditional Korean style but also buildings in Western architecture.
>>READ: ULTIMATE GUIDE FOR DEOKSUGUNG PALACE
---
19. Visit Seoul – DDP Center (Dongdaemun Design Plaza)
DDP are the initials of Dongdaemun Design Plaza which is a truly amazing building.
It was designed by Iraqi architect Zaha Hadid who is a very big name in architecture. She sadly died in 2016 and made a real work of art in Seoul.
The DDP was built in 2014 and quickly became one of the symbols of the city of Seoul. It is now more and more visited by tourists who discover the urban and futuristic side of the city of Seoul.
---
20. Go to top of the tallest Tower in Seoul: Lotte Tower
This skyscraper is quite simply the tallest in the city but also in the country. The Lotte Tower is one of the 10 tallest buildings in the world with a height of 555 meters. The building is also called Lotte World Tower. Book online to get there faster (here).
---
21. Wear a Hanbok
Hanbok refers to the traditional dress that is worn by Koreans on special occasions or when there is a big event in life. We consider this to be a formal traditional attraction.
Hanbok is known for its bright colors, the curve that almost looks like an umbrella, and the straight lines that make it so stylish and attractive
Renting a Hanbok is very common when visiting palaces or places like Bukchon Hanok Village. For the palaces you then have a free entrance. And it's also a lot of fun.
---
22. Spend the night at a Buddhist Temple
The templestay program allows you to stay in a Buddhist temple in South Korea, for one night or more. This experience is clearly one of our favorites in the country. More information here.
---
23. Visit Leeum museum
One of our favorite museums in South Korea is Leeum Samsung Museum.
The Leeum Museum houses traditional and contemporary works of Korean and international artists. The museum itself is just as fascinating as the works it houses since its three buildings were designed by three renowned architects, Mario Botta, Jean Nouvel, and Rem Koolhaas.
---
24. The museum of modern and contemporary art
One of our favorite museums! We go there regularly! If you want to get acquainted with contemporary Korean and international artists, this is definitely the place to go! We advise you to check the exhibitions that are taking place when you are there because you will really find all kinds of styles.
---
25. The National Museum of Korea
The National Museum of Korea has many historical treasures that date back to prehistoric times. It is the largest museum in Korea and its numerous galleries allow visitors to chronologically approach the specifics of Korean art according to the cultural, economic, warlike, and religious influences of the different countries with which Korea has interacted.
---
26. Visit some of the best parks in Seoul
Seoul is an urban jungle. Concrete, homes, shops and skyscrapers are stretched out over an area of approximately 605 km2. Yet in the midst of this ocean of buildings and vehicles hide some unexpected pieces of gorgeous nature: parks scattered across the city.
We particularly like Yeouido Park, Ttukseom Park along the Han River, or Seoul Forest.
>> READ: 10 BEST PARKS IN SEOUL
---
The best things to see just outside Seoul
27. DMZ
If you want to see North Korea up close, join a day tour at the DMZ.
The 235-kilometer demilitarized zone (DMZ) that separates the two countries has become a tourist attraction, especially since this No Man's Land has been colonized by flora and fauna of great interest.
It is however only possible to access it by an organized excursion, which will take you to visit the key points along the area.
---
28. Suwon
Suwon is the capital of Gyeonggi province. The city is very close to Seoul, about thirty kilometers to the south.
Suwon is best known for the Hwaseong Fortress, a UNESCO World Heritage Site. But there are several other places to see in the city including the royal tombs of Yungneung and Geolleung. You can also take wonderful walks on the city walls.
---
29. Nami Island
Name Island is a small and charming island near Seoul.
Nami became famous thanks to a drama, released in the early 2000s, part of it was filmed on the island. Following the success of the show, the island became a popular destination for drama fans who still travel to this day from all over the world.
>>READ: COMPLETE GUIDE FOR NAMI ISLAND
---
30. La Petite France
La Petite France is a park that was built in July 2008 in the province of Gyeonggi.
It is made up of 16 buildings where visitors can stay and discover French culture and French cuisine. Not very Korean, we know! However, the village is really cute and nestled in the mountains facing the river. It's a beautiful sight in South Korea.
---
31. Jeonju Hanok Village
Expect a romantic village, amazing food, peaceful temples, a surprisingly beautiful cathedral, and great parks.
We were pleasantly surprised during our visit by how gorgeous is Jeonju. You can visit the main sites on a day trip from Seoul, but spending 1 night in Jeonju is really worth it, especially if you choose to stay in a Hanok. 
>>READ: COMPLETE GUIDE TO VISIT JEONJU HANOK VILLAGE
---
32. Wolmido near Seoul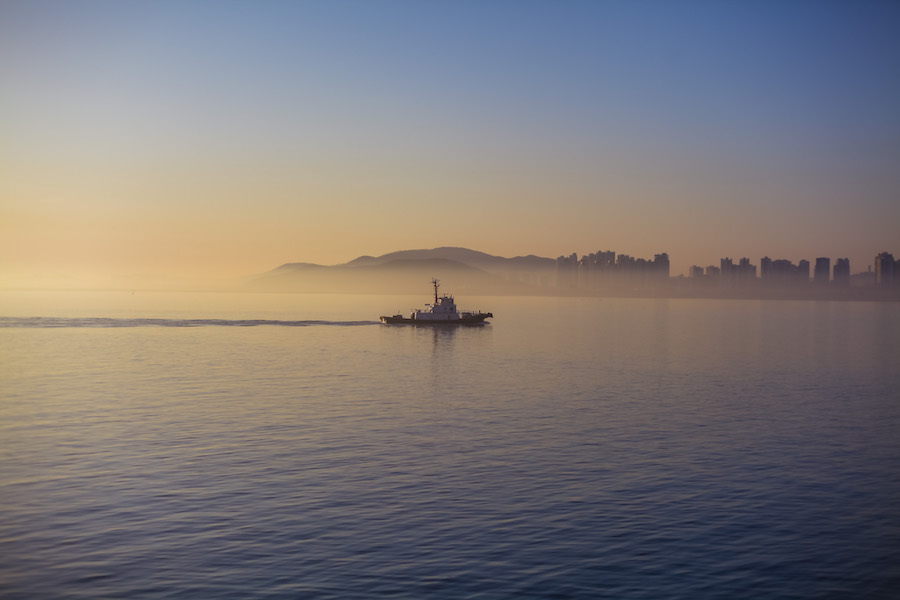 Wolmido Island (월미도) is located in Incheon and it's a perfect place to escape the busy Seoul. Many people go there during the weekend because of its proximity to Seoul and its easy access.
Many cafes and seafood restaurants can be found along the coast. There are approximately 50 seafood restaurants in the same street.
READ: EXPLORE WOLMIDO NEAR SEOUL
---
33. Pocheon Art Valley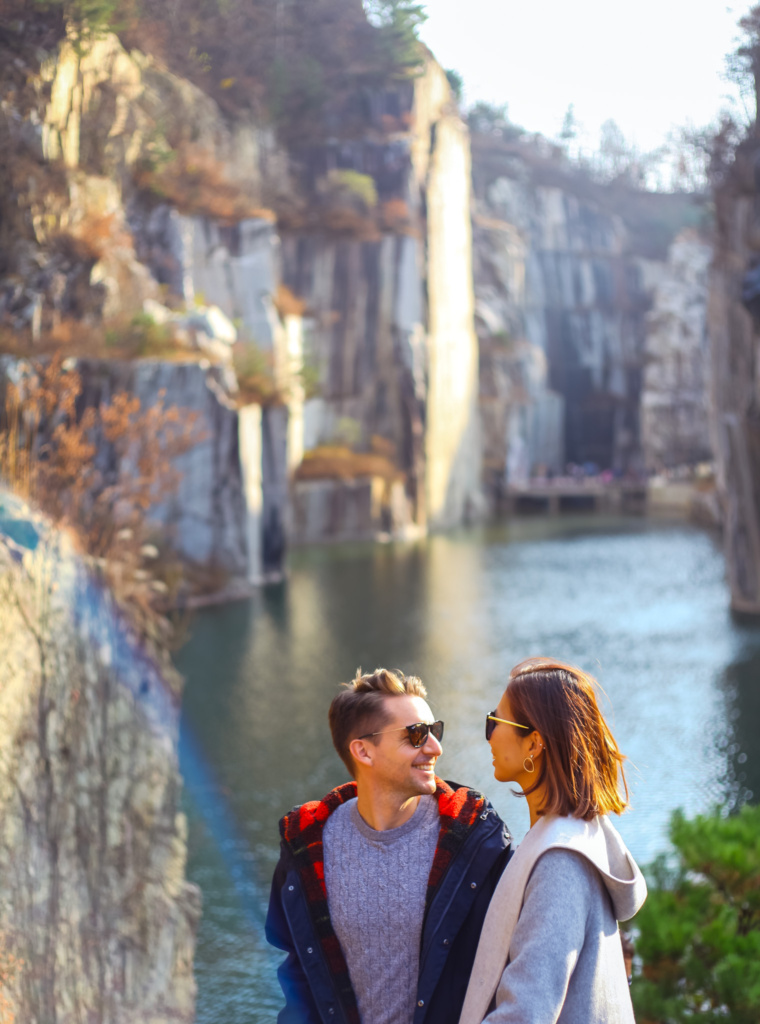 Pocheon Art Valley (포천아트밸리) is a former granite quarry, which today became a space devoted to art and culture. The valley is home to an observation deck, an art gallery and a performance hall. Also, there is a cafe, walking trails, a monorail and much more.
A trip to Pocheon is the perfect gateway from Seoul. We loved it!
>>READ: PREPARE YOUR VISIT TO POCHEON ART VALLEY
---
34. Eunpyeong Hanok Village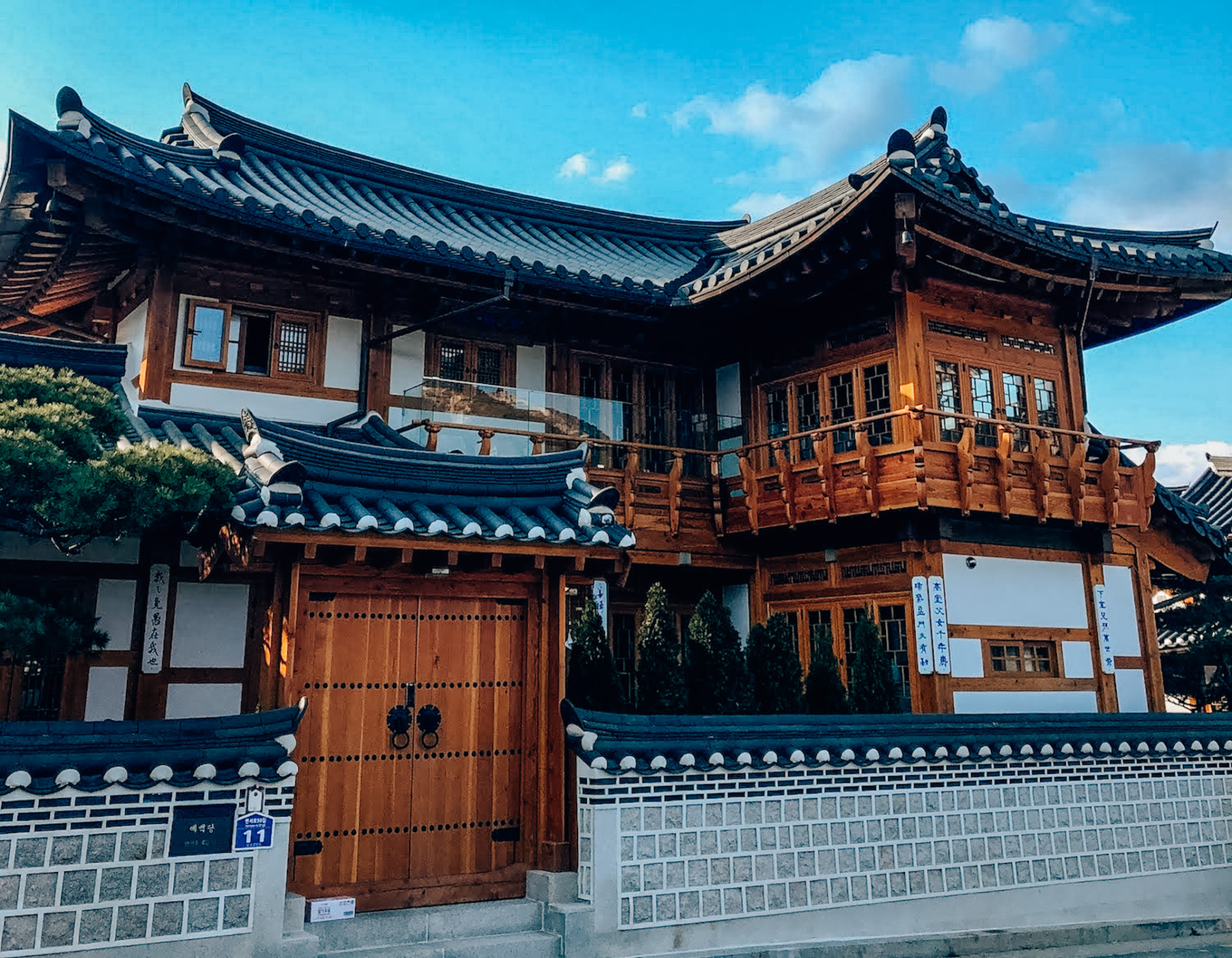 Eunpyeong Hanok Village (은평한옥마을) is a beautiful village right by the side of the Bukhansan National Park. We never heard and did not know about this place, until we drove past it by chance, going somewhere else.
What a surprise when we found out that this place was actually a Hanok village, located in the middle of nowhere.
>>READ: EUNPYEONG HANOK VILLAGE, A HIDDEN GEM NEAR SEOUL
---
35. Jingwangsa Temple
Located near the Hanok Village of Eunpyeong, Jingwansa temple (진관사 (서울)) is one of Seoul's four most famous temples.
In the heart of Bukhansan Park and at the crossroads of two valleys, this temple enjoys a beautiful surrounding environment.
Jingwansa also offers a Temple Stay program, allowing you to stay overnight and participate in the temple's daily activity. To find out more about the Temple Stay program, check out the official website here.  
>>READ: JINGWANSA TEMPLE, ONE OF THE MOST IMPORTANT TEMPLES IN SOUTH KOREA
---
36. Garden of the Morning Calm
The Garden of the Morning Calm is a 30,000㎡ flower garden, open year round. It is a paradise for nature lovers. The scent of thousands of plants and pines creates an unforgettable aroma that will make you forget all your worries.
The garden is located in Gapyeong, near Seoul. 
>> READ: FULL GUIDE TO THE GARDEN OF THE MORNING CALM IN KOREA
---
Best things to see in Busan
Located in the southeast of the country, with its 3.7 million inhabitants, Busan is the second largest city in South Korea.
Known to be more "relaxed" than the capital. On the program in this port city: shopping, festive evenings by the sea, hikes, sunbathing on the hot sand, and surfing! Here are the best things to do in Busan:
37. Haeundae Beach
Haeundae Beach is the most famous place in the city of Busan. This sandy beach, sometimes overcrowded in summer, is one of South Korea's most popular swimming spots.
At the foot of very tall buildings, in a lively district full of cafes and restaurants, Haeundae is a pleasant place to relax while enjoying the sea. Haeundae is one of the best beaches in South Korea (full list of best beaches here).
>> READ: BEST THINGS TO DO AT HAEUNDAE BEACH
---
38. Hop on the beach train or Blue Line Sky Capsule
The best way to admire Busan's beautiful coastline is to hop on the Sky Capsule. This attraction is accessible from Haeundae, just a few minutes walk from the beach.
Formerly, the Donghae Nambu Line ran along the coast from Busan to Pohang. While most of this railway has been assimilated into the Donghae Line, there is a small section that has been renovated into the Haeundae Blueline Park. The attraction opened in October 2020.
It is a very fun way to explore the coastline of Busan.
---
39. Cheongsapo Daritdol Observatory
After stopping with the Sky Capsule, continue your journey along the coast and you will be able to reach Cheongsapo Daritdol Observatory. This skywalk opened in August 2017 and is located at the end of the beautiful Cheongsapo fishing village in Haeundae.
Cheongsapo Daridol is a skywalk, which means a transparent glass platform above a cliff. The entrance is free. The only thing you need to do, is to wear some sort of slippers to avoid damaging the glass. The view from Cheongsapo Daridol Skywalk is stunning. Simply close your eyes and feel the sea breeze and the sound of the waves underneath your fee.
---
40. Songjeong Beach
Songjeong is a lovely beach located near Haeundae. You can access it by taking the Beach Train or Sky Capsule (+20min walk along the coast) or by a short taxi or bus ride.
Songjeong is the surfer paradise in Busan. There are many surf shops along the beach, and is one of the most popular place for surfing in Korea.
>> READ: BEST SPOTS FOR SURFING IN SOUTH KOREA
---
41. Gwangalli Beach
Almost as famous as its neighbor Haeundae, Gwangalli Beach is best visited at nightfall, when the Gwangandaegyo Bridge (Diamond Bridge) that crosses the bay lights up with a thousand lights.
With the luxurious skyscrapers in the background, like those at the Marine City luxury residential complex, Gwangalli is magical. It is a must-see place for a pleasant romantic evening.
---
42. Jagalchi Fish Market
Jagalchi market is one of the major landmarks in Busan and the largest fish market in South Korea.
Easily accessible by metro, you really have to go and see this market located on the edge of the port. It is huge, so be ready to see lots of fish.
It is best to go early in the morning, as this is the time when the market is most active. Koreans like to have breakfast in the market, with fish of course. You can also go there for lunch, there is a large hall with several food stalls on the upper floor of the indoor building with a great view of the sea and port.
READ: EXPLORE JAGALCHI MARKET, ONE OF THE MUST-SEES IN SOUTH KOREA
---
43. Haedong Yonggungsa Temple, the most beautiful temple in South Korea
Haedong Yonggungsa Temple offers an exceptional setting. For many, it is the most beautiful temple in South Korea.
The charm of this temple is its location by the sea. This Buddhist temple was built in 1376. It is a rather unique site in Korea. You will have the opportunity to contemplate the statue of the great golden Buddha. To access the temple, you will have to walk along an alley of statues symbolizing Buddhist astrological signs.
This temple is dedicated to the goddess of mercy.
>> READ: VISIT HAEDONG YONGGUNGSA, ONE OF THE MOST BEAUTIFUL TEMPLES. IN SOUTH KOREA
---
44. Gamcheon Cultural Village
Gamcheon Cultural Village was one of our highlights during our trip to Busan.
It is a pretty colorful village on the outskirts of Busan, with small houses leaning against a mountain. Gamcheon has long been a refuge for the poor. It was not until the 1990s that it benefited from a huge renovation project: artists painted the walls, others installed works of art.
Today, the village attracts many tourists, who appreciate its picturesque side and the lovely views of the coastline.
>> READ: DISCOVER GAMCHEON CULTURE VILLAGE, ONE OF THE BEST THINGS TO SEE DURING A TRIP TO SOUTH KOREA
---
45. Oryukdo Skywalk and Igidae Park
A former military zone, the Igidae Park is now the playground for hikers who wish to walk between land and sea in coastal and forest trails.
At the end of the trail, enjoy your reward at the Oryukdo Skywalk, a platform whose transparent "u" shaped floor extends above a cliff 30 meters high.
This is a thrilling experience. If you enjoy nature and watching the sea, then we highly recommend a trip to Igidae. If you do not have time for a hike, then simply head to Oryukdo Skywalk directly, and enjoy the platform only. It is worth the trip and it's free.
---
46. BIFF Square
BIFF Square: time to immerse yourself in the crowds of the Nampo-dong shopping district. The main square of the district has helped to make Busan an international cultural city. I
Indeed, this square hosts the Busan International Film Festival (BIFF) – considered the most important in Asia – and has developed as the cultural center of the city, with its many cinemas, theaters, and, like Hollywood, handprints of renowned artists on the floor.
---
47. Songdo Cable Car and Skywalk
For 15,000 to 20,000 won, you can enjoy one of Busan's newest attractions: the Songdo cable car that takes you in ten minutes from Songdo Beach to Annam Park. As you travel in the cabin, you will have an incredible view of Busan Harbor and the Songdo Coastal Path. If you have chosen a cabin with a glass bottom, you will be able to see the ocean beneath your feet ;-).
Songdo Skywalk is the third skywalk in Busan. This one is the longest as it extends from Songdo Beach and overhangs on top of Turtle Island. It is a very exciting sight in Busan and one of the best ways to enjoy the beauty of the sea and its natural surroundings.
---
48. Sea Life Aquarium
A perfect place especially if you have children. The aquarium is designed specifically for kids. Fun and educational, it offers interactive activities and even a mermaid show. You can touch some marine animals there, and marvel at the large pool where sharks, rays, and turtles roam.
The aquarium is located on Haeundae beach, which is very convenient if you are staying there.
---
49. Samgwangsa temple
This temple, enclosed in a narrow valley, is one of the most visited Buddhist places of worship in the run-up to the Buddha's birthday festivities.
Indeed, it is then adorned with thousands of colored lanterns, all illuminated in the evening. Even if you have lost your childhood soul, you will not be able to resist the beauty of this event. It's just magic.
---
Best things to see in the southern part of South Korea
50. Visit Geoje, one of our favorite things to do in South Korea
Geoje is a gorgeous island in the southern part of South Korea. The island consists of many large and small islands with a blue coastline and charming landscapes.
Geoje is actually the 2nd biggest island in Korea after Jeju. The island is ideal for discovering Korean nature as there are many trails through the mountains.
>> READ: EXPLORE GEOJE IN THE SOUTHERN PART OF KOREA
---
51. Oedo Island
Oedo Island, officially called Oedo Botania, (in Korean: 외도 보타니아) is a botanical maritime garden located on a small rocky island, 4km from the coast of Geoje Island.
It takes about 20min by boat from Gujora after passing the island of Naedo. Oedo is also accessible by boat from other areas of Geoje.
A must-see if you are visiting South Korea!
>>READ: FULL GUIDE TO VISIT OEDO ISLAND
---
Namhae is Korea's fifth largest island and is famous for its slower pace of life, beautiful sea and stunning nature.The island is completely underrated and not yet very touristic. Which makes it the perfect destination for your next adventure in Korea.
Add Namhae to your bucket list of things to do in South Korea.
>> READ: ALL YOU NEED TO KNOW ABOUT NAMHAE
---
53. Yeosu
In general, tourists who visit Korea go to Seoul, Busan, or Jeju Island. However, there are beautiful hidden gems not yet touristy in Korea. Yeosu is one of them.
This city is located on the south coast of Korea. Yeosu is very popular for its beautiful nature and coastline.
---
54. Mokpo
Mokpo, is located in the extreme southwest of Korea. The city is surrounded by the sea. It is also a city of sailors with its many harbors. For Koreans, Mokpo is mostly known as the departure city to take the ferry to Jeju.
Although not very touristy, Mokpo has plenty of great things to see. Count 2 days to visit all the main sights.
READ: DISCOVER MOKPO IN SOUTH KOREA
---
55. Boseong Green Tea Fields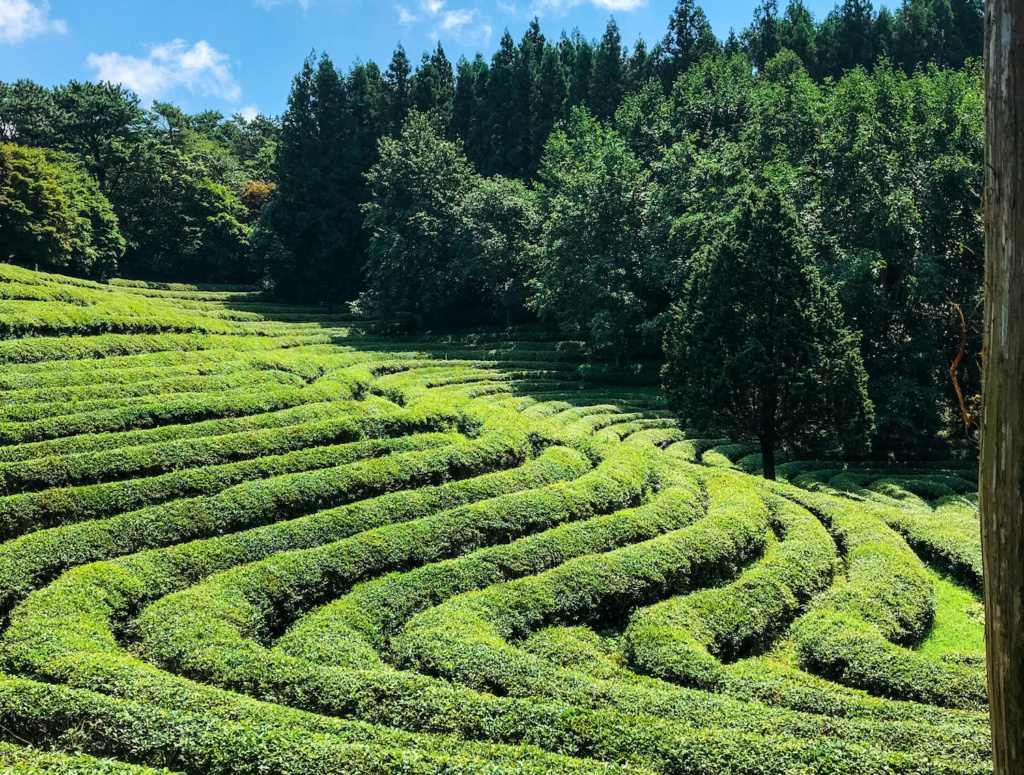 Among the best things to see in South Korea, Boseong Green Tea Plantation is one of the sites that impressed us the most. This county in the southern region of Korea is indeed known to be home to award-winning green tea plantations.
During our stay in South Korea, Boseong was clearly 1 of our most memorable trips.
>> READ: BOSEONG, A MUST-SEE IN SOUTH KOREA
---
56. Juknokwon Damyang Bamboo Forest
Juknokwon is a large natural park that is well-maintained and protected. In the past, Juknokwon was the Confucian school of Seonginsan Mountain behind Damyang Hyanggyo, later it was turned into a garden, in an effort to preserve the place.
There is a waterfall, an art exhibition pavilion dedicated to ecology, small tea rooms, shops of craftsmen who work with bamboo, various walking paths, a calm and peaceful garden, and pavilions.
---
Best things to do in Jeju Island
Jeju is a destination not to be missed during your stay as the beauty of its landscapes is breathtaking. This small natural volcanic island was created following the eruption of Mount Hallasan, the highest peak in Korea.
To get there, hop on a 1-hour flight from Seoul or Busan and head to Jeju. To book your flights at the cheapest rate, check it out here.
57. Enjoy a gorgeous sunrise from Seongsan Ilchulbong
Whether you are a sunrise lover or a passionate hiker, this activity will delight you. A 45-minute walk will take you to the edges of the crater of this extinct volcano that offers breathtaking views of the Pacific Ocean.
Do not hesitate to get up early to admire the sunrise from this unique place, you will not regret it! We are not inventing anything since "Ilchulbong" means "peak of the rising sun". 
---
58. Hike the Hallasan, the highest peak in Korea
Are you a hiking enthusiast? You've chosen the right destination: Jeju Island is full of paths to explore! The must-hike? Take on Mount Halla (or Hallasan), the highest point on the island (and even the highest peak in South Korea with its 1,950 meters above sea level). This national park offers different trails, with varying distances and levels of difficulty.
>> READ: HIKING GUIDE TO HALLASAN IN JEJU
---
59. Hike around the island on the Olle-Gil Trail
Jeju is made up of many different landscapes, and the Olle Gil trail will allow you to hike all around Jeju Island. There are 26 different routes. It's up to you to decide whether to do it in full over a a few weeks or just pick 1 or 2 routes during your stay in Jeju.
Jeju Olle Gil trails total 425 km. The 26 routes have different levels of difficulty.
---
60. Learn more about the Haenyeo
The haenyeo are among the symbols of Jeju Island. The haenyeo are women divers. They dive in order to collect different shells. Haenyeo literally means woman of the sea. The culture of haenyeo is classified as a UNESCO intangible world heritage. This culture is endangered. Indeed, with South Korea's economic boom and the development of tourism on Jeju Island, many other professions are attracting young people.
---
61. Relax at Hamdeok Beach
Hamdeok Beach is located near Jeju city. From the airport after renting our vehicle, this is always our first destination. We love this place. The beach is simply stunning, the color of the sea magnificent, and there are always many activities.
There is always something to do in Hamdeok: concerts, sporting events, nightlife, the beach is very popular with locals and foreigners.
>>READ: BEST THINGS TO DO IN HAMDEOK BEACH
---
62. Hyeopjae and Geumneung, 2 beautiful beaches in Jeju
Hyeopjae is definitely the most beautiful beach on Jeju Island. This stretch of white sand, its turquoise blue water and its pine forest offers an absolutely exceptional landscape.
Hyeopjae stretches for about 200 meters and is 60 meters wide. Due to its shallow depth, it is an ideal beach for children. You can also go to Geumneung Beach connected by a long strip of sand backed by grassy dunes from Hyeojae Beach. It offers another equally magnificent panorama!
>> READ: BEST BESCHES ON JEJU ISLAND
---
63. Jungmun Beach
One of our favorite beaches on the Island of Jeju is Jungmun Beach. This beach is also famous for being one of the best surf spots on the island if the swell is pumping. We actually had one of our best surf sessions on this beach!
Jungmun feels more preserved as there aren't many hotels visible from the beach. Jungmun Beach is surrounded by a cliff. To access it, you need to hike down the cliff from the main parking lot.
---
64. Admire Jeongbang Waterfall in Korea
Jeju is also known for its waterfalls. There are several on the island, especially in the southern part. Without a doubt, the most famous waterfall on Jeju Island is Jeongbang. Indeed, Jeongbang Waterfall is famous for being the only waterfall in Asia to jump directly into the sea.
You need to pay a small entrance fee to get there. Be aware of the opening hours, it usually closes around 5:30 pm.
---
65. Visit Cheonjeyeon Waterfalls
This waterfall is called "the pond of the emperor of the sky" or also "the pond of god". According to the legend, 7 nymphs came to bathe there.
Before leaving, you will find the fountain of the 5 blessings. A fountain depicting a dragon for honor, a boar for wealth, a turtle for longevity, a carp for fertility, and a duck for love. According to the stories, if you place a bag of coins in front of one of these statues, the blessing will come true. In addition, the money deposited will be used to help the poorest people.
---
66. Explore a Lava Cave
Manjanggul Cave is located in the northeast of Jeju Island. This is one of the most impressive lava tunnels on Jeju Island. Manjanggul Cave was formed over 250,000 years ago! Its total length exceeds 13 kilometers. It is possible to visit a portion of about one kilometer. The tunnel is huge: 18 meters in width on average over 20 meters in height.
>>READ: ALL YOU NEED TO KNOW ABOUT MANJANNGGUL CAVE IN JEJU
---
67. Go on a half-day trip to Udo Island
Udo Island is very close to Jeju. It takes less than 15 minutes by ferry to get there. It is located east of Jeju and the ferry departs from Seongsan. There is a ferry every 30 minutes. The best way to visit the island is to rent a cute electric motorcycle or buggy. You can then easily stop all around the island.
Our day on Udo Island, was perhaps our best memory of our trip to Jeju. We had so much fun that day. The weather was perfect and the island was stunning.
>> READ: EXPLORE UDO ISLAND, JEJU'S SISTER ISLAND
---
68. Visit Daepo Jusangjeolli Cliff
Another stunning sight near Seogwipo is the Jusangjeolli Cliff, a surreal cliff formed by eerie volcanic pillars. These characteristic features have been formed by the dried lava of Hallasan over the past centuries. As well as admiring the scenery from here, head to the cliff face during low tide to see the pillars up close and take a leisurely stroll through the surrounding pine forest.
---
69. Visit the gorgeous Camellia Hill
Camellia Hill located on Jeju Island, is a gorgeous park spread over ​​199,000m². Camellia Hill is home to 6,000 camellias of 500 different species, including those that produce the most advanced and largest flowering in the world.
The park is also rich in palm trees, wildflowers and other plants which makes it such a unique place in Jeju. (book your discounted ticket here).
>>READ: GUIDE TO CAMELLIA HILL IN JEJU
---
70. Visit the stunning beach of Woljeongri, our favorite place in Jeju
Just imagine emerald water, white sandy beach, gorgeous cafes facing the sea, super cute restaurants, a traditional village, surfers everywhere and very friendly locals, this how we would summarize Woljeongri, one of our favorite spot on Jeju Island.
We love this place so much, that the last time we went to Jeju, we decided to stay for 2 weeks in Wojeongri.
>> READ: WHY WE LOVE WOLJEONGRI SO MUCH!
---
71. Hallim Park, a gorgeous tropical garden
For a fun day, escape to Hallim Park. This is a huge park of nearly 30 hectares located near the west coast of the island, behind Hyeopjae Beach.
Hallim Park is one of Jeju's most popular things to see. The park is home to a diverse flora, including subtropical plants, palms, cactus, and much more. Hallim Park is also part of the Geomunoreum lava tunnel system with the entrance to the Hyeopjaegul and Ssangyonggul Caves.
>>READ: MORE ABOUT HALLIM PARK IN JEJU
---
72. Have fun at Jeju Maze Park in Gimnyeong
At Jeju Maze Park in Gimnyeong, guaranteed fun awaits you. For us, it was the first time we went in a Maze and absolutely loved it. It was recommended to us by friends who visited Jeju Maze park before.
Jeju Maze Park is located very near the Majanggul Cave. We recommend combining the visit of the cave and then the Maze. Both are really great experiences in Jeju.
>> READ: MORE INFO ABOUT JEJU MAZE
---
73. Enjoy the beautiful trail of Seopjikoji
Seopjikoji is a gorgeous trail along the coast of Jeju. It is one of the best spots to admire the rugged coastline of Jeju and see some natural wonders that the island has plenty to offer.
Seopjikoji is located on the east side of Jeju Island. Seopji means "a narrow piece of land" in the local dialect, and koji means "a promontory".
>> READ: DISCOVER SEOPJIKOJI
---
74. Hike in Songaksan the southernmost point of Jeju
Songaksan Mountain is located in the southernmost point of Jeju. Hiking in Songaksan is one of our favorite things to do in Jeju. The trail is going around the volcanic mountain alongside the coast, making it a beautiful spot to admire the gorgeous nature that Jeju has to offer.
From Songaksan you can see Gapado and Marado islands, you can admire the Hallasan Mountain in the middle of Jeju and the impressive Sonbangsan Mountain.
>> READ: DISCOVER SONGAKSAN IN JEJU
---
Best things to do at the East Coast of South Korea
75. Gangneung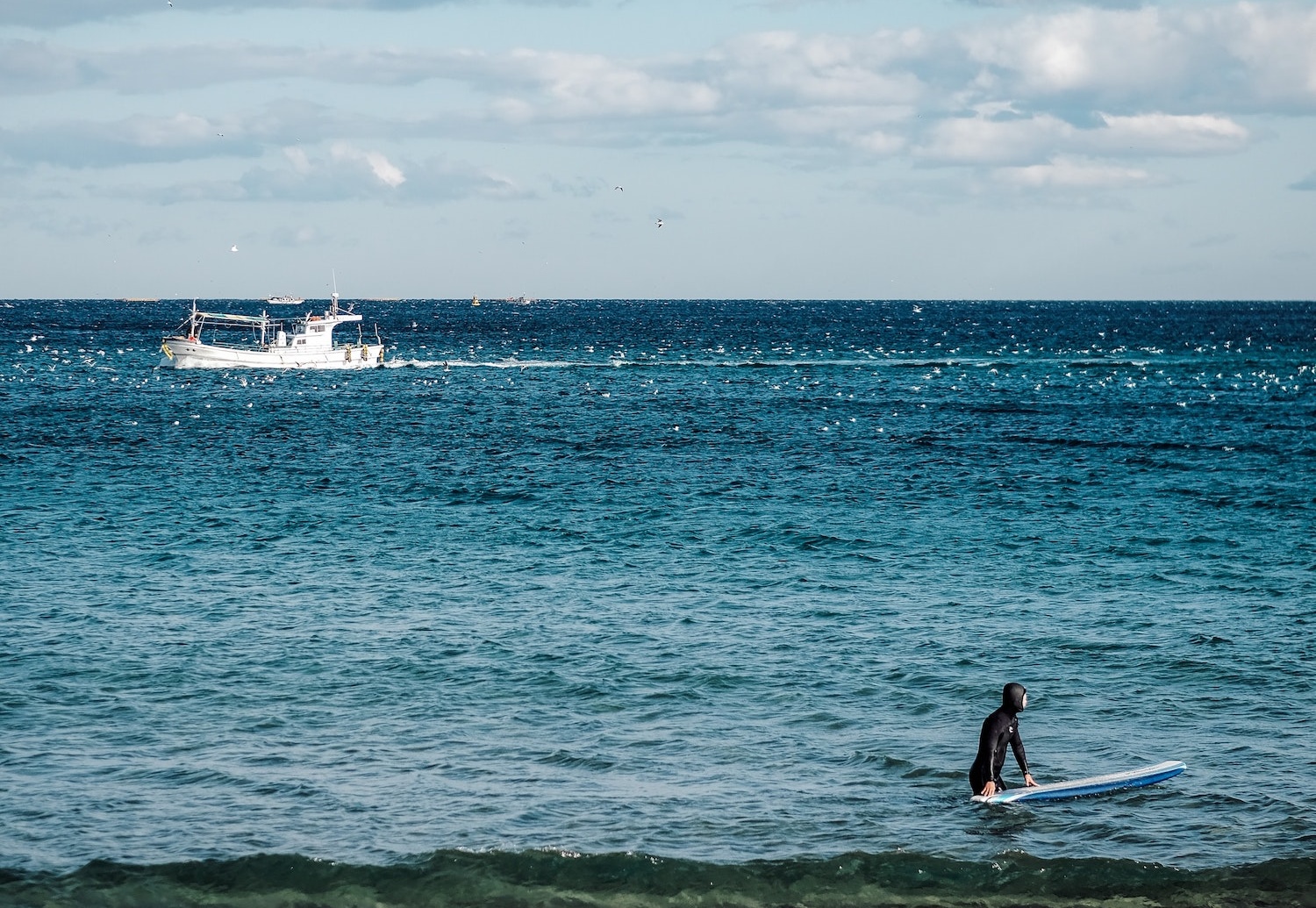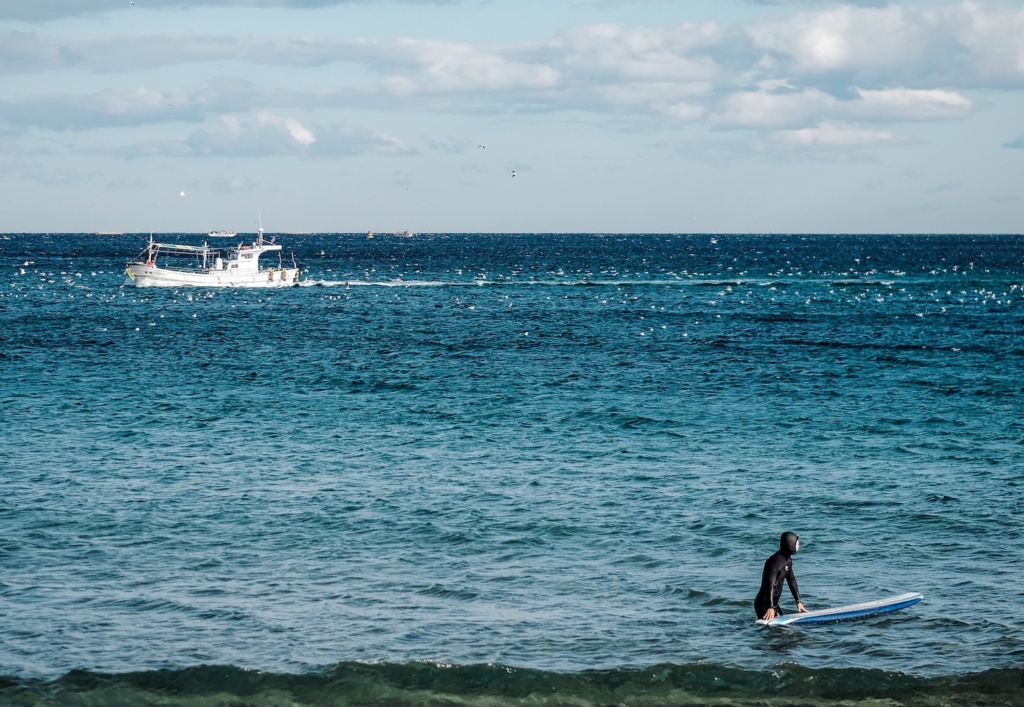 You like surfing, or always wanted to learn how to surf? Then Gangneung is there for you. You can find some of the best waves on the East Coast of South Korea. We wrote a full post here.
Along the coast of Gangwon region, the small town of Gangneung is definitely worth a look. With more than 210,000 inhabitants, and covering an area of ​​1,040 km², Gangneung is renowned for its history, its culture, and its beaches with turquoise waters.
You can check out our full post about Gangneung for more information, here.
---
76. Seongyojang residence
Having belonged to a wealthy family who came to settle in Gangneung over 300 years ago, the Seongyojang residence is perfectly located: a water point at the front – Gyeongpo Lake – and mountains at the 'back. The site is very well preserved, and is part of the national cultural heritage of South Korea. It has hosted many poets and artists during the Joseon Dynasty, and it continues to host artistic and literary events.
---
77. Ojukheon House
Another aristocratic residence, Ojukheon, is just a 15-minute walk from Seongyojang. We choose to walk and cross the Gyeongpo Ecological Park and its magnificent fields. We are at the beginning of October, the colors are superb.
The term "Ojukheon" means "the house of black bamboo". Indeed, this house was built in the heart of a black bamboo forest, at the beginning of the Joseon dynasty. It has kept its original architecture intact, which led to it being designated National Treasure No. 165 in 1963.
---
78. Hassla World Museum
Korea has a lot of museums. Whether it's for design, contemporary art, natural history etc. Haslla Art World is a museum like no other. Between Gangneung and Jeongdongjin, overlooking the East Sea, the scenery itself is stunning.
---
79. Visit Hwanseon Limestone Cave
The Hwanseon Limestone Cave is the largest of its kind in South Korea, and the second largest in Asia. On its 6.2 kilometers long, only 1600 meters are open to the public. Once inside you can see many small inland lakes, its waterfalls and its stalactites. Some stalactites resemble the Great Wall of China and others have very particular shapes.
---
80. Naksansa Temple
The Naksansa Temple is one of the most beautiful places on the East Coast in the Gangwon-do region. It was built by the monk Euisang during the time of the Unified Kingdom of Silla.
The temple is dotted with national treasures as well as local cultural heritages such as the giant Haesugwaneumsang statue, the Hongnyunam rock where you can admire a representation of a Buddhist goddess rising from the waters, etc. With the magnificent landscapes around, many Korean artists use this place as a backdrop to design their works.
>> READ: COMPLETE GUIDE TO NAKSANSAN TEMPLE
---
81. Anmok Beach and its Cafes
Before getting to the beach you will be surrounded of a beautiful pine forest. Pine Forest is the translation of "Gangneung". Near Anmok beach, you will be able to drink some of the best coffees in Korea. 
The baristas offer high-quality of coffee and the setting can be ultra-modern and unique. The best-known are Bossanova (with a super rooftop terrace), Kikrus, America, and Santorini. There is also a coffee museum in Gangneung. Without forgetting that the city organizes teach year in October, since 2009, the coffee festival!
---
82. Go skiing in Pyeongchang or simply enjoy the mountains
Located in the northeast of the country, the mountainous Gangwon region oscillates between sea and mountain, and enjoys one of the most spectacular panoramas in the country.
Cradle of the 2018 Olympic Games in South Korea, Pyeongchang District is a prime location for winter sports enthusiasts. The stations of Yongpyong, Pheonix and Alpensia are the most popular there.
>> READ: BEST SKI RESORTS IN KOREA
---
83. Hike Seroaksan Mountain, one of the best things to do in South Korea
Seoraksan National Park is for us the most beautiful park in South Korea. And we must not be the only ones to think so… Located in the northeast of the country, near the city of Sokcho, this is clearly a must-see on your to-do list in Korea. Seoraksan is the highest massif in the Taebaek Mountains.
The Taebaek Mountains range crosses the Korean peninsula from north to south along its east coast. Besides hiking, there are many things to see in Seoraksan National Park.
>> READ: FULL GUIDE TO VISIT SEORAKSAN NATIONAL PARK
---
84. Visit Woljeongsa Temple
One of the main things to do in Pyeongchang is definitely to visit its temples. Woljeongsa is one of the 24 main temples in South Korea. It is located in the village of Jinbu, on the slopes of Mount Odae, in the heart of a forest. A truly magical sight!
---
85. Daegwanryeong Samyang Farm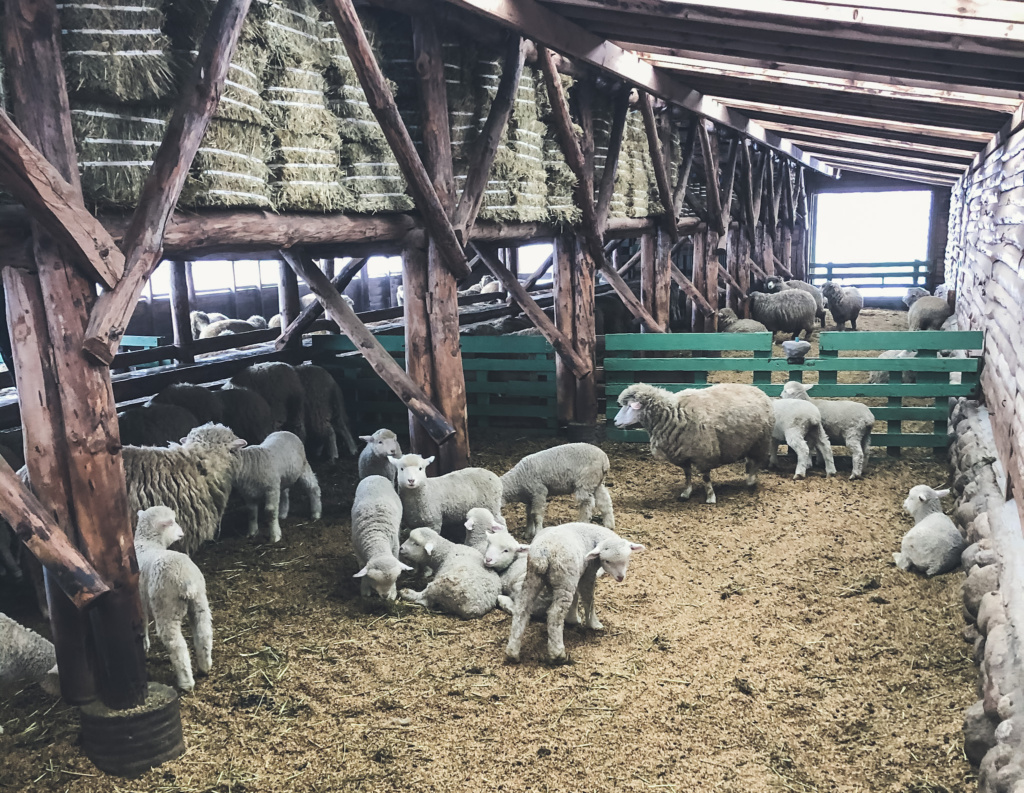 To get away from it all and get a breath of fresh air, nothing beats Daegwanryeong Samyang Farm. Located in Gangwon Province in Pyeongchang, Daegwanryeong Samyang Farm welcomes sheep and cows of the Holstein breed.
Open to everyone, the farm allows you to pet the animals, leave with a few fresh products and fully relax while enjoying the view of the surrounding mountains. A unique experience, we loved it.
>> READ: OUR EXPERIENCE AT DAEGWANRYEONG FARM
---
86. Visit the charming city of Gyeongju
When you come to visit South Korea, it is important to know the main lines of its history. The charming city of Gyeongju, not far from the coast, to the southeast, is perfect for soaking up Korean culture.
Gyeongju was the capital of the Silla kingdom for 1,000 years, between 57 BC and 935 AD, and preserved many monuments of its glorious period. While it has only 270,000 inhabitants today it had 1 million at that time, that is to say the importance of this city! A lot of things from that time have survived and Geyongju has 4 World Heritage sites… not bad for a single city…
>> READ: CHECK OUT THIS GUIDE ABOUT GYEONGJU BEFORE YOU GO
---
87. Visit the very old village of Hahoe
Another charming place to visit in South Korea is the city of Andong located in the center-east. First go to the top of Buyongdae cliff, for a panoramic view of the village, then continue to Hahoe, a historic village dating from the 14th century and remained as it was at the time.
Nestled in between different rivers, surrounded by fields and mountains, it is spectacular! In the spring and fall, it lights up with the colors of the flowers and leaves. Stroll through the narrow streets, enter the traditional houses still inhabited and enjoy very colorful folk parades.
---
88. Sokcho
Sokcho is a coastal city north of Gangneung and only 60km to the North Korean border. It is more a fishing town than a tourist attraction, however, we enjoyed our time strolling through this coastal city.
The main draw here is the seafood. Koreans like to eat raw seafood. We loved it too. With a bit of soju, it blends perfectly.
---
89. Ulleungdo
Sometimes called the Mysterious Island, Ulleungdo is situated 120 kilometers off the eastern coast of South Korea, Ulleungdo Island is known for its amazing blue sea, wild nature, volcanoes, stunning sunsets, and delicious seafood. It is the perfect opportunity to experience Korean island life.
---
Best Things to See to the West of South Korea
90. Taean
Taean-Haean National Marine Park, also called Taean is located on the West Coast of South Korea, about 2.5 ~ 3 hour drive from Seoul. It is well known by locals for its kilometers-long and sandy beaches.
It is also popular for camping (especially at Mongsanpo Beach), and picking up all sorts of sea creatures on the beach during low tide.. Taean is one of our favorite places in South Korea.
>> READ: GUIDE ABOUT TAEAN IN SOUTH KOREA
---
91. Sinduri Dunes
Sinduri Beach was clearly one of our favorite places to visit while in Taean. The beautiful beach stretches for kilometers with no one in sight. It is located about 10min drive from Mallipo Beach.
Right behind Sinduri Beach, you can visit the Sinduri Coastal Sand Dune. It is believed to have been formed about 15,000 years ago after the ice age. At that time strong winds carried sand from the sea which then formed the current Sinduri Coastal Sand Dune.
---
92. Mallipo Beach
Mallipo is sometimes nicknamed the California of South Korea. We wouldn't say it looks exactly like California, but yes it definitely has a special and relaxing vibe overall.
Though Mallipo is seeing more and more development every year, it's still a fine stretch of sand. Mallipo is a great place to learn how to surf. We wrote a full post about Surfing in Korea here, check it out if you want to know more.
---
93. Anmyeon-do recreational forest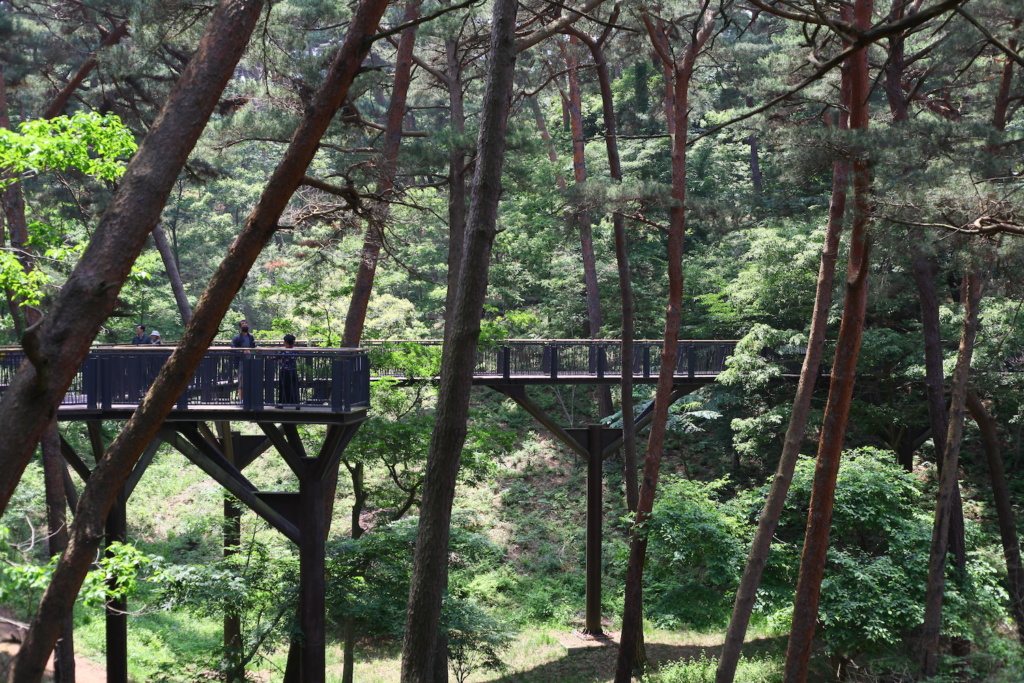 Anmyeon-do recreational forest in Taean is home to a 100 year old pine tree forest that is very special in Korea. Indeed, the pine trees of Anmyeon-do were used as wood to build royal palaces during the Joseong Dynasty. It was also used to build ships.
The trees of Anmyeon-do are known to be of high quality. Today, the forest of Anmyeon-do is well protected and open to visitors. The sight of the huge pine trees will certainly take your breath away. 
---
94. Mongsanpo Beach
Mongsanpo Beach is well known by locals for Camping. There are many camping places all along the beach. However, be aware that during Spring and Summer you will need to book your spot well in advance as it gets quite often fully booked.
Mongsanpo's white sand beach is around 3-km long. Mongsanpo is also well known for shellfish hunt in the early morning and evening when the tide is low.
---
95. Muuido Island
If you are looking for a beachside escape near Seoul, search no longer, Muuido is the perfect island gateway. Muuido is located on the west coast near Incheon Airport.
The island is well known for day trip from Seoul or weekend gateway to enjoy the various beaches, seafood, and many other activities on the island.
---
96. Sindo, Sido and Modo
Sindo (신도), Sido (시도) and Modo (모도) islands are the perfect gateway from the busy city life of Seoul. Located off the coast of Incheon, these 3 islands are easily accessible by ferry. All 3 islands are connected by a bridge which makes it easy to visit them all within a day.
Expect sandy beaches, relaxing coastal road, mountains and delicious seafood on these 3 islands.
All you need to know about Sindo, Sido and Modo here.
---
Other things to do in South Korea
97. Korean BBQ
If you go to Korea and love meat, you won't resist the "Korean barbecue"! Koreans love it! You will find many BBQ restaurants scattered all over the place.
In the middle of the table, there is a grill on which you just have to place the marinated raw pieces of meat to grill them. Sometimes a restaurant employee takes care of it, especially if you are foreigner.
---
98. Noraebang, Korean Karaoke
Singing is without a doubt one of Koreans' favorite things to do! And a lot of Koreans even have a real talent for it. At any time of the day or night, you can hear echoes emanating from karaoke scattered all over the city (it's less fun if your accommodation is right next door).
"Noraebang" literally means "room for singing". It is an enclosed and private place where Koreans usually meet with friends or colleagues.
---
99. Eat some kimchi
Symbol of Korean gastronomy and Korean culture, Kimchi is a national dish. It is prepared with fermented vegetables, traditionally cabbage. According to "Health Magazine" Kimchi is one of the 5 healthiest dishes in the world.
There are over 300 different recipes. Although you may not like it at first, Kimchi quickly became addictive for us!
To understand more about Korean culture, you can check out this post.
---
Conclusion about the best things to do in South Korea
As you would have understood after reading this post, South Korea has so much to offer. You could have extended the list with another 99 other things to do, but had to select the main highlight of our 3 years living in South Korea.
From beautiful beaches, amazing mountains, tea plantations, plenty of great islands, and exciting cities, South Korea will not disappoint you.
If you have any questions, feel free to post a comment below, we respond very fast. Enjoy your travel to South Korea!
---
Read Also