At Jeju Maze Park in Gimnyeong, guaranteed fun awaits you. For us it was the first time we went in a Maze and absolutely loved it. It was recommended to us by friends who visited Jeju Maze park before.
There are so many fun things to do in Jeju, and going at Jeju Maze Park in Gimnyeong is definitely one of them!
Jeju Maze Park is shaped like Jeju island. Withing the maze, there are shapes which symbolizes Jeju . These shapes can be seen when looking from above.
The perimeter hedge symbolizes the coastline of Jeju
There is a snake, which was an object of worship on the island until the mid-1970s
The native horses of Jeju Island, which were brought there by the Mongols as early as 1276
The ship, called the Hawk, which was wrecked on the island in 1653 which carried Hendrick Hamel and his company of Dutch sailors to the Kingdom of Joseon
Dolmens which are relics of the Bronze Age
The Yingyang symbol common in East Asia
The axes of the maze, aligned in the East-West location similar to Jeju Island.
Jeju Maze Park also has three skywalks called "dari gureum" and an observatory, which are very popular photo sites. We loved our shots from the observatory.
On average it takes 20 to 30 min to find your way out of the Maze. We needed roughly 25min to find the exit.
---
How to get to Jeju Maze Park?
Jeju Maze Park is located very near the Majanggul Cave, which by the way is a must-see if you travel to Jeju. Going into the cave was such a great experience.
We actually visited the cave first and on our way back decided to make a stop at Jeju Maze Park. It is also very near Woljeongri Beach, our favorite part on Jeju Island. Right next to Woljeongri Beach you can also visit Gimnyeong which is a cute village but also a great beach, very popular for kitesurfers on windy days.
Address: 122, Manjanggul-gil, Gujwa-eup, Jeju-si, Jeju-do (here)
Getting to Jeju Maze Park by car: The best way to easily get around the island is by renting a car. If you struggle to rent a car in Jeju as not all websites are in English, we recommend to check out Trazy here, as they usually have the best prices for foreigners.
Getting to Jeju Maze Park by bus: from the airport take bus 101 and change at Gimnyeong to bus 711-1. It should take less than 1.5 hours to reach the Maze.
---
Essential information about Jeju Maze Park
Opening time:
March to June: 9 AM to 6 PM
July to August: 9 AM to 7 PM (Evening: until 10 PM)
Sept. to Nov.: 9 AM to 6 PM
Dec. to Feb.: 9 AM to 5:30 PM
Price:
Adults: W 6,500 / Teenager (14-19 years old): W 5,500 / Children: W 4,400
Duration:
On average it takes less than 30min to get out of the Maze. However, there are other games to play around the Maze such as mini-golf, basketball, small zipline and many other fun activities for adults and kids. All these others activities are free. So although we managed to get our of the maze in 25min, we stayed in the park for more than 1hour just having fun.
Website (in English): here
---
Our experience at Jeju Maze Park
We went to Jeju Maze Park without any expectations. We actually didn't think we would have so much fun, but because it was on our way back to Manjanggul cave and it was recommended by our friends, we decided to give it a try.
While some people use a map to try to find their way out, we thought it would be much more fun just to try out our luck. After thinking we did some right turns and were close to the exit, we realized that we ended up where we started. Oh dear, we actually got lost in this Maze! This is when the fun really started, as we had to try different routes, did many U-turns and ended up on our original path a few times.
In order to get out of the Maze, you need to reach a platform which goes above the maze and ring a bell. So we were trying to follow the sound of the bell and look for the white platform to find the exit. We were actually getting so excited to find the exit and really got our adrenaline rush.
And yeahhhh! After 25minutes we managed to find the exit and ring the bell ourselves. At this point we were super excited and fell in love with it. As a reward from the platform going above the maze, you get a fantastic view of the Maze. It is really beautifully done.
We later learned that only 65% of visitors can reach the exit. 30% get out from the same way they entered and 5% actually need to get the rescue team to show them the way out. So in which category will you fall? There is only 1 way to find out, give it a try!
---
Our opinion on Jeju Maze Park
It is not everyday that we can experience going on a real Maze and find our childhood spirit back. Hence we 100% recommend experiencing Jeju Maze Park in Gimnyeong.
The park is also very well maintained keeping it as close to nature as possible by only using cypresses.
It is ideal for everyone, couples, family, children, everyone can have fun in the Maze.
The Gimnyeong Maze is also one of Jeju's most popular locations for TV commercials as well as the dramas that have caused the 'Korean Wave' to continue its surge across Asia.
Lastly, Jeju Maze Park in Gimnyeong, is also home to over 50 wild cats living living freely, happily and lovingly. The park provides healthy food and snacks every morning and afternoon. If you want to give one of the cat a snack, you can ask the ticket office at the entrance. It is free.
---
More information about Jeju Maze Park
Jeju Maze Park was founded by Dr. Frederic H Dustin (born in Bellingham, WA. in 1930, passed away on May 5, 2018). He first came to Korea in 1952. Dr. Husting and his wife moved to Jeju from Seoul in 1971. He taught in the Tourism Department of Jeju National University until his retirement in December 1994.
The maze project was conceived as a way to spend his golden years in his adopted home as well as serve as a legacy for the future. Preparation of the land started in 1983 and the first seeds of cypresses were planted in November 1987. Dr. Dustin's best tip is to not look at the map, divide yourself into teams and bet who can ring the bell first.
The hedges are created from 2,232 'Leyland Cypress' trees, commonly called 'Leylandii', scientifically known as Cupressocypris leylandii, a hybrid resulting from a natural cross between Chamaecyparis nootkatensis and Cupresus macrocarpa. The seedling first appeared in the garden of Dr. C. J. Leyland, at Leighton Hall, Welshpool, England, in 1888.
---
Where to stay near Jeju Maze Park?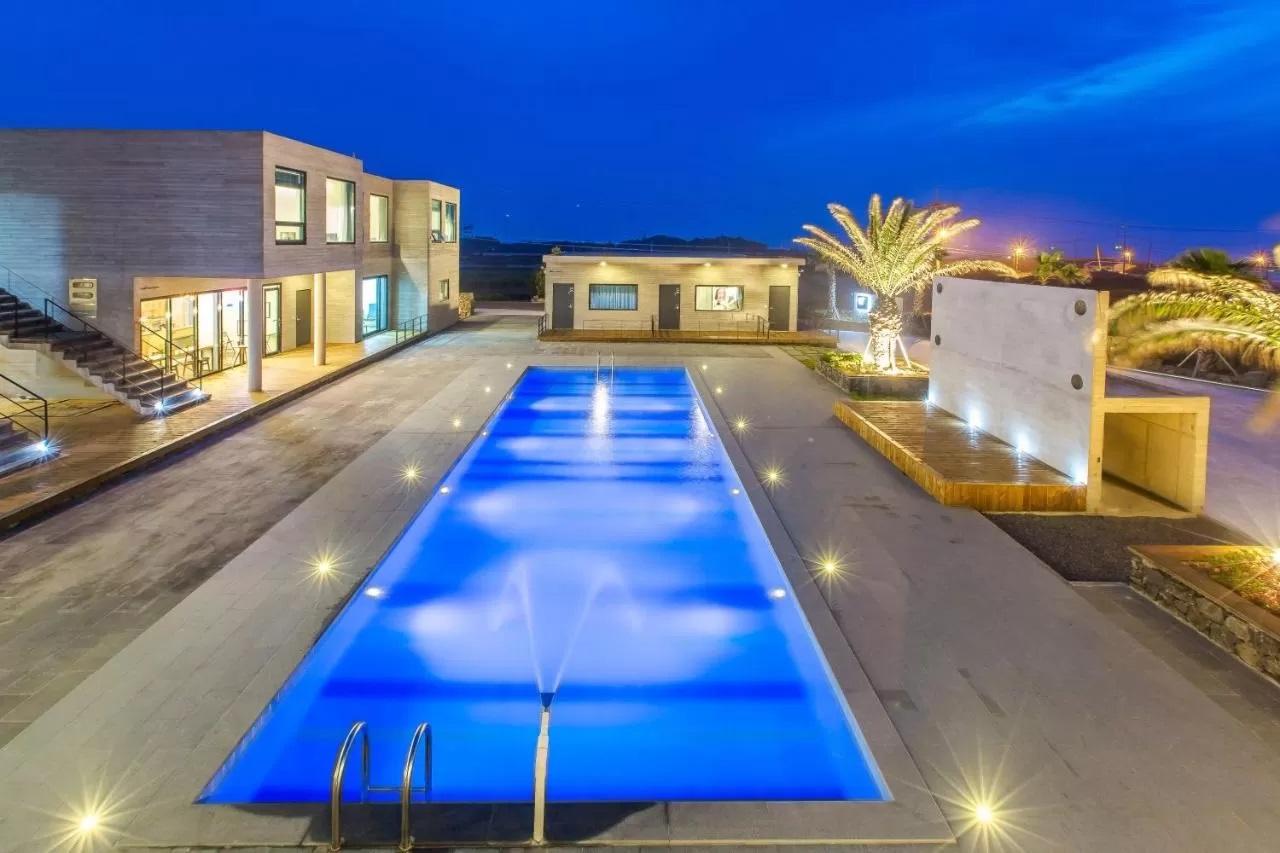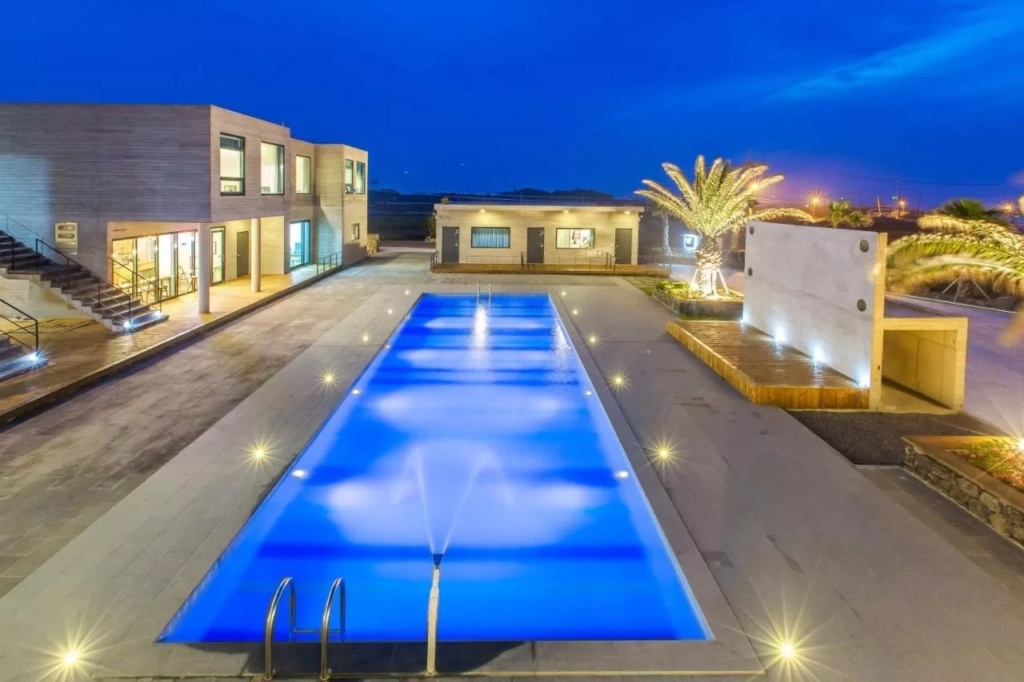 We highly recommend to stay in Woljeongri Beach, our favorite part of Jeju. From Woljeongri Beach, it's only 10min drive to reach Jeju Maze Park and Manjanggul Cave.
When staying at Woljeongri beach, we opted for Lunamar Pool resort. It was located just a few minutes from the beach, and that's all we wanted. The room and the resort overall is super modern. We really enjoyed it. The big plus, is the swimming pool which was absolutely stunning. Check it out here.
---
Other things to do near Jeju Maze Park?
Manjanggul cave
Manjanggul cave is one of the major natural sites to explore in Jeju. This gigantic cave was formed by lava. Manjanggul cave stretches for a distance of about 13 km. It is one of the longest lava tunnels in the world. It is also designated as a natural monument. Having been discovered in 1947, then partially visited in 1976, part of the site has now been classified as a UNESCO World Heritage Site since October 9, 2015.
Manjanggul cave is only a few minutes drive from Jeju Maze Park. Hence it's the perfect combo for a half day visit on Jeju Island.
Full post about Manjanggul Cave here.
Woljeongri beach
If you visit Manjanggul cave and Jeju Maze Park in the morning, then we highly recommend that you stop for lunch in Woljeongri beach. Woljeongri is simply our favorite place in Jeju. The beach, the cafes, the cute restaurants, the surfers, typical Jeju style stone houses etc. This place is fantastic.
If you go there by car, there are plenty of parking spaces along the beach. If you want to take a surf lesson in the afternoon or simply rent a board, there are plenty of surf shops. Or if you simply want a relaxing walk along the coast of Jeju, then Woljeongri Beach is the best place to do just that!
Find out more about Woljeongri here.
Hamdeok Beach
We visited many beaches in Korea, but Hamdeok in Jeju stood out for us. The colors of the waters, this particular emerald shade, made us fall in love with Hamdeok instantly. Ever since we went there for the first time, Hamdeok became our #1 visited places in Jeju right after landing at the airport.
There is always something to do in Hamdeok: concerts, sporting events, nightlife, the beach is very popular with locals and foreigners. Hotels, restaurants and cafes are numerous in this part of the island, it is easy to practice some water activities such as kayaking and sometimes surfing. You can check the best spots to surf in South Korea here. And of course, the place is ideal for camping with family or friends.
Hamdeok is perhaps 20min drive from Jeju Maze Park. Check out our full post about Hamdeok Beach here.
---
In conclusion about Jeju Maze Park in Gimneyong
We keep such a fond memory of our trip to Jeju Maze Park in Gimnyeong. If you are only going to Jeju for a few days, we would however prioritize other major sights. However, if you travel there with kids and want to have fun altogether as a family then Jeju Maze Park in Gimnyeong is a fantastic place for your holiday in Jeju island.
Besides, if you are anyway visiting the Manjanggul cave, then you can only add another 30-45 min for exploring Jeju Maze Park.
If you want to find out what else to see in Jeju, check out our full post with the most awesome things to see here.
HAPPY TRAVELING !
---
Links to related articles
JEJU the best island in Korea: here
HAMDEOK BEACH, our favorite spot in Jeju: here
HALLIM PARK a beautiful subtropical garden: here
HIKING HALLASAN your full guide: here
WOLJEONGRI a beautiful beach in Jeju: here
CAMELLIA HILL a beautiful park in Jeju: here
10 BEST BEACHES in Jeju: here
OLLE GIL TRAIL your ultimate guide: here
SONGAKSAN the southernmost point of Jeju: here
MANJANGGUL CAVE, one of the largest Lava tunnel in the world: here
TAKING THE FERRY TO JEJU: here
SEOPJIKOJI to admire the rugged coastline of Jeju: here
MOKPO a fabulous port city in Korea: here
SOUTH KOREA, best things to do: here
GEOJE our favorite destination in Korea: here
NAMHAE the hidden gem of Korea: here
BOSEONG GREEN TEA PLANTATION: here