Today we bring you to Hamdeok Beach on Jeju Island in South Korea. This is probably one of our favorite beach in Korea, besides Taean in the west and Gangneung in the east of the main Korean peninsula. Here we listed the best 25 beaches in South Korea.
Seoul is a fantastic city with so many great things to do and see. However, sometimes we as human being, need a proper beach break. Isn't it? And the best beach gateway from Seoul, is certainly in Jeju island. Writing this post and selecting the photos that will go with it, did us a lot of good and reminded us of the beauty and diversity of South Korea.
We visited many beaches in Korea, but Hamdeok in Jeju stood out for us. The colors of the waters, this particular emerald shade, made us fall in love with Hamdeok instantly. Ever since we went there for the first time, Hamdeok became our #1 visited places in Jeju right after landing at the airport.
There is always something to do in Hamdeok: concerts, sporting events, nightlife, the beach is very popular with locals and foreigners. Hotels, restaurants and cafes are numerous in this part of the island, it is easy to practice some water activities such as kayaking and sometimes surfing. You can check the best spots to surf in South Korea here. And of course, the place is ideal for camping with family or friends.
---
How to get to Hamdeok?
In Korean Hamdeok beach is written: 함덕 서우봉 해변 (Hamdeok Seoubong Haebyeon), or 함덕 해수욕장 (Hamdeok Haesuyongjang)
Address: 1008 Hamdeok-ri Jocheon-eup, Jeju (제주 특별 자치도 제주시 조천읍 함덕리 1008)
By Bus:
Since August 2017, Jeju Island has implemented a new system of urban and intercity buses, which increases their frequency. From downtown jeju, Hamdeok is well served by the 101 (intercity) bus in about 40 minutes, and by lines 310-1, 340-1 or 201, in less than an hour. It is also easy to catch a bus from the airport. Count about 1h.
By car:
The best way to travel to Jeju is by car. You can rent a car easily directly from the airport. We recommend using Lotte Rent-a-Car as they have more services for foreigners.
From the airport it takes about 40 minutes. There is plenty for parking for free right in front of the beach.
Just make sure to have your international driving license when driving in Korea.
---
What to do in Hamdeok Beach?
3 beaches in 1
Hamdeok Beach is not only 1 beach, but 3 beaches! You have the large main beach, about 500 meters wide, the one you can reach from the bus stop or from the parking lot, depending on your means of transport. On the left, a smaller beach, in the shape of a cove, more oriented towards the city. On the right, the Seoubong peak is a volcanic cone which seems to protect the places from the wind and form a natural barrier.
Let yourself be tempted by the path that can be seen in the distance. It will take you to the third beach, although small but much more intimate! Indeed, like all beaches in Jeju, Hamdeok is likely to be crowded if you travel in the summer. You might want some calm after all.
This trail is part of the "Jeju Olle" hiking trail n ° 19. We wrote a full guide for hiking the Jeju Olle Gil trail here.
Café Delmoondo
Café Delmoondo is a must in Hamdeok beach. It is actually one of the most famous cafe in Jeju. Its location on a small dune. It sits between the first two beaches. The cafe is very often full. The spot is indeed magical to admire the blue sea. Sipping a drink a few meters above the calm and clear blue waters is a memorable experience while in Jeju.
The cafe is air conditioned and there is plenty of indoor seating as well. But people mainly come for the outdoor terrace, which is very pleasant. They even have lounge chairs there. It's busy, even noisy, maybe a bit pricey, but you can get your breakfast there early, as they open at 7am.
Hike the hill on the right side for a perfect panorama of Jeju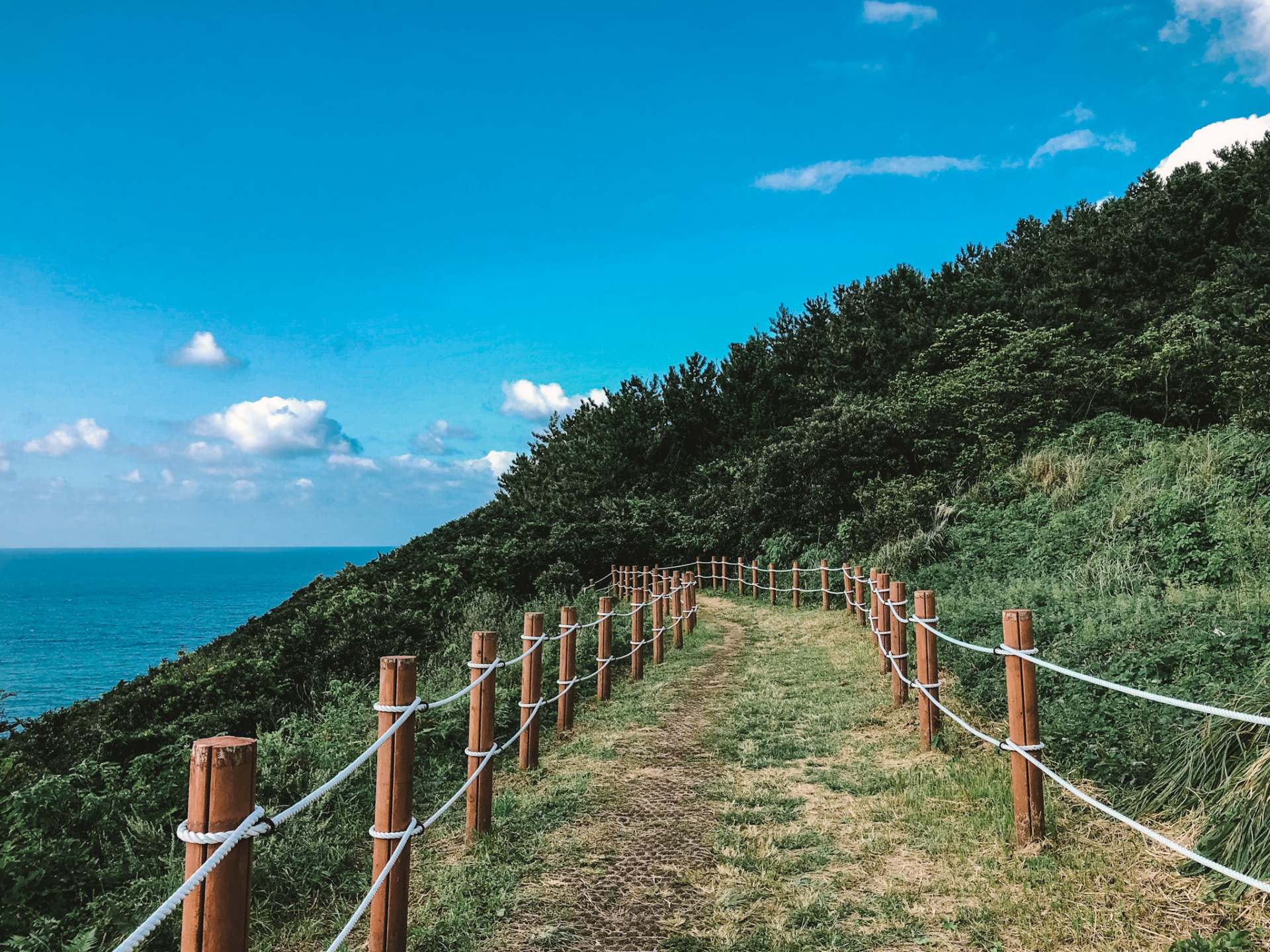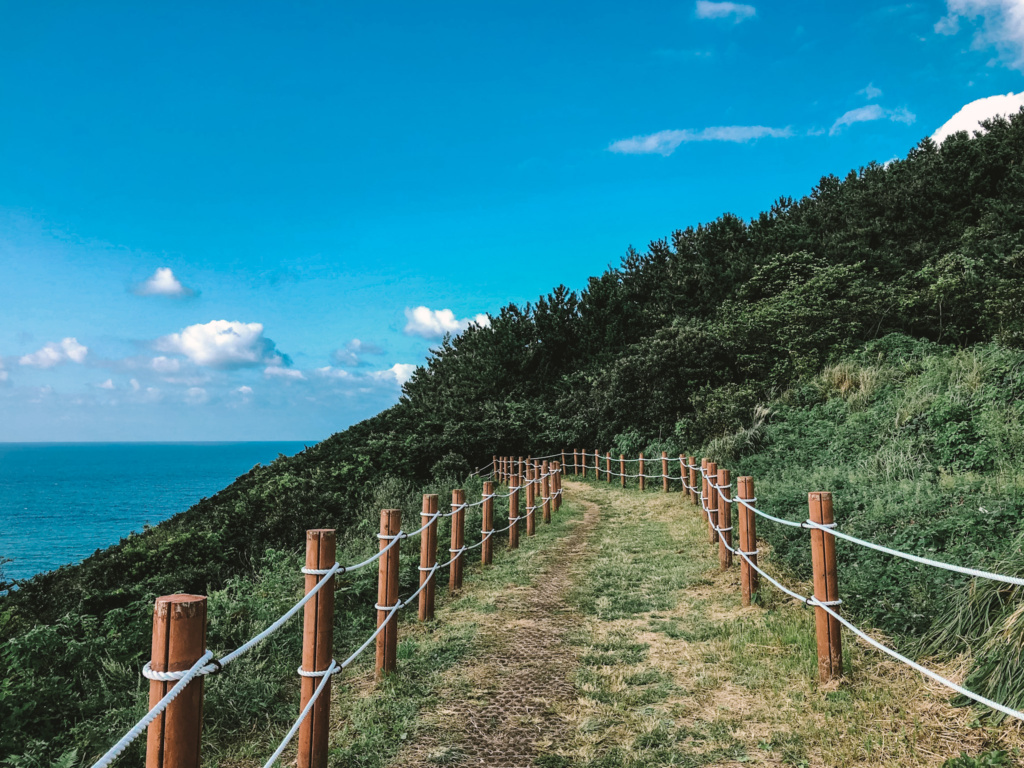 Continue on the Jeju Olle trail and hike more east from Hamdeok Beach. There is a pleasant trail to admire the beautiful sea and volcanic rocks. The contrast is simply stunning. Continue more east and you will see a big hill. You can hike all the way to the top. On the way there you will see goats and horses. The view from the top of the hill is stunning. It is a pleasant walk, although on a summer day it can get pretty hot while hiking up. But of course, you can always jump in the refreshing water at the end of your hike.
Black volcanic rocks
Beautiful small rocky islets are connected to the land by a small bridge and you can admire the black rocks formed by lava, so characteristic of Jeju Island (you can also walk on them). In the evening, people flock to admire the sunset from this pretty point of view which embraces the entire bay. It is also on this part of the beach that you can rent canoes, kayaks and other water sports equipment.
Water Sports
Next to this small rocky islets there is a water sport center. We rented our SUP and explored the beautiful sea. By the coast you can see many fishes. Some people were snorkeling. You can also hire a Jetsurf or kayaks. The owner even let us go on his jetski for some more fun.
---
Where to stay in Hamdeok Beach in Jeju?
Utop Ubless Hotel Jeju
In Hamdeok we recommend to stay at Utop Ubless Hotel Jeju. The hotel is facing the sea and have a beautiful rooftop with jacuzzi. The hotel is fairly new and modern, with very nice staff. We couldn't hope for a better stay in Hamdeok. You can book here.
---
Best Restaurants in Hamdeok
There are many restaurants along the beach with the perfect sea view. We will recommend 2 places, 1 western and 1 Korean.
Roost Place Hamdeok
Roost place is an affordable italian restaurant located on the top floor of a building facing the sea. The view from the restaurant is stunning. The food was good and the drinks very cheap. They also serve free ice cream and free coffee.
Haeeorang
This Korean restaurant is practically located on the beach. It is one of the restaurant with the best sea view in Korea. They serve plenty of fresh sea food. We loved it !
---
In conclusion
For a short weekend gateway in Jeju, we highly recommend staying at Hamdeok. The beach is easily accessible by bus, there are plenty of restaurants and nice cafes. Hotels are also affordable and have some of the most amazing sea view in Jeju.
Hamdeok beach also offers many activities, such as watersports, hikes and in the evening some locals will play music on the beach. All in all, Hamdeok is the perfect break from the hustle and bustle of the city.
Make sure to check out our other recommendations in Jeju, here.
---
Links to related articles
JEJU: most awesome things to do: here
25 BEST BEACHES in South Korea: here
HALLIM PARK a gorgeous subtropical park in Jeju: here
OLLE GIL TRAIL your ultimate guide: here
UDO ISLAND All you need to know before you go to Jeju: here
MANJANGGUL CAVE, one of the largest Lava tunnel in the world: here
CAMELLIA HILL a beautiful park in Jeju: here
WOLJEONGRI a beautiful beach in Jeju: here
FERRY TO JEJU: all you need to know to take the ferry from Mokpo to Jeju: here
JEJU MAZE PARK in Gimnyeong, guaranteed fun: here
SONGAKSAN the southernmost point of Jeju: here
MOKPO a fabulous coastal city in Korea: here
SOUTH KOREA: best things to do in Korea: here
GEOJE the best spot for sea lover: here
NAHMAE the hidden gem of South Korea: here
TAEAN the best spot for sea lover: here