Most travelers to South Korea would mainly stay in Seoul. However, if you like sports, and some adventures, there are many things to do just outside Seoul, which is worth experiencing. Since, we lived in Seoul for 2 years, and both of us love going on an adventure or do any kind of water sports, we discovered exciting places, which we would like to share with you.
All our recommendations are within 1h from Seoul, which also makes it convenient if you do not want to travel too far.
So here is our top 10 adventures, just outside Seoul:
---
1. Dive in Asia's deepest pool, K-26
Yup, just outside Seoul within 1h drive, you can reach K-26, Asia's deepest diving pool. With it's 26 meters/ 85 feet depth, It's deep enough to log a dive, and good to practice for your real dive in open sea. If you have never dive before, it is also the perfect spot to get your certificate in a safe environment.
K-26 opened in 2018, so the facilities are brand new. Located in Gapyeong, and along the river, it is a beautiful spot to escape the city, and feel a bit like on holiday. The building itself is super modern and very well designed. It is really worth going there, even if you don't intend to go diving. You can actually watch the divers from a viewing panel, which makes the whole experience really cool. Of course, the best part is to go to the bottom and experience the whole thing. You can experience an air pocket area, as well as a wreck-like area to play with.
The best part, is that the entire dive is relatively affordable and all the equipment is free.
When you are done diving, you can go hang out right in front of K-26. There is beautiful deck right on the river. Sit down, relax and feel like you are on holiday!
More info:
DISTANCE FROM SEOUL: 1h
WEBSITE: here
INSTAGRAM: here
PRICE: here
ADDRESS: 59-1, Goseong-ri, Cheongpyeong-myeon, Gapyeong-gun, Gyeonggi-do, Republic of Korea
---
2. Go Wakeboard, wakesurf, water ski or boat tubing
While it is possible to do many water sports on the Han River, right in the middle of Seoul, we recommend to go a little bit outside to enjoy beautiful sceneries on the Bukhan River in Gapyeong. It's the perfect way to spend a beautiful and refreshing afternoon during the hot Korean summer (for more activities during summer in Korea, check out this post). There are many water sports centers in Gapyeong, just follow your instinct and stop at any of them. The prices are pretty much similar everywhere.
We enjoyed going to a place called M&M, located just 45min from Seoul. While we lived in Seoul, we spent most of our weekends there during summer. Price for wakerboard are around KRW 25,000 for 1 round. Wakesurf is more expensive, expect 50,000 for a round. You can also enjoy other activities such as tubing, waterski etc.
More info
DISTANCE FROM SEOUL: 45min
WEBSITE: here
ADDRESS: 68, Bukhangang-ro 1570beon-gil, Hwado-eup, Namyangju-si, Geyonggi-do, 12193, Korea
---
3. Indoor surfing in wave pool
Right next to M&M water sports center, you will find a pretty cool wave house, open whole year round, with a nice vibe. You can practice your favorite board sport by rediscovering the sensations of surfing, bodyboarding, skimboarding, wakeboarding, snowboarding and skateboarding.
After your session, enjoy a coffee or a drink in the bar / snack area. It's a great place where riders will have lots of fun!
More info
DISTANCE FROM SEOUL: 45min
WEBSITE: here
ADDRESS: 68, Bukhangang-ro 1570beon-gil, Hwado-eup, Namyangju-si, Geyonggi-do, 12193, Korea
---
4. Go Islands hoping
Muuido Island and Hanagae Beach
For a great adventure outside Seoul head to Muuido Island. Hanagae Beach, the largest shore on Muuido Island, boasts a kilometer-long sandy beach. When the tide recedes, the beach is transformed into a vast shore. A large number of clams, sea snails and crabs can be caught there with bare hands.
The beach offers a sublime view of glowing sunsets, a detail that did not escape the director of the drama 'Stairway to Heaven', having chosen the destination for certain filming scenes.
Check out the full post here about Muuido.
Seonjaedo and Mokseom Island
Seonjaedo is a beautiful island located southwest of Seoul. If you head there at low tide around 10am, the water will reveal a path which will lead you to Mokseom Island. Mokseom island is a tiny island, only accessible at low tide. Besides the beach and the path to Mokseom Island, you can also enjoy beautiful view from the hills and forest. You can also sport nice rice fields.
Yeongjongdo Island and Eurwangni Beach
Not far from Seoul and Incheon International Airport, Eurwangni Beach is one of the most representative beaches on the West Coast. In addition to its magnificent view and white sand, the shallow waters of the beach allow children to swim safely. In the surrounding area there are many luxurious holiday resorts and restaurants serving fresh seafood. The beach also organizes various events during the summer.
---
5. Go snowboard in Konjiam
In Winter, head to one of the nearest ski resort from Seoul, Konjiam for another great adventure. Located in Gwangju-si in the province of Gyeonggi-do, Konjiam station is the largest station outside of Seoul, at merely 45min drive. It offers 9 tracks of different levels, as well as 5 high-speed chairlifts. The resort also has a limited number of skiers (7,000 people maximum with less than 15 minutes waiting to access the slopes).
About 70% of the slopes are designed for beginners and intermediate skiers, as well as for the older ones, making it the ideal resort for the whole family. It is the ideal place to enjoy a day of family skiing. In addition, there is always an opportunity to rest in the arboretum, the ecological river or the spa. Check out our post about the 10 best ski resorts in Korea here.
More info
DISTANCE FROM SEOUL: 1h
WEBSITE: here
ADDRESS: Gyeonggi-do, Gwangju-si, Docheok-myeon, Docheokuit-ro 278, Konjiam Resort
PHONE: + 82-2-1661-8787 (Korean and English)
---
6. Go Camping (or rather Glamping)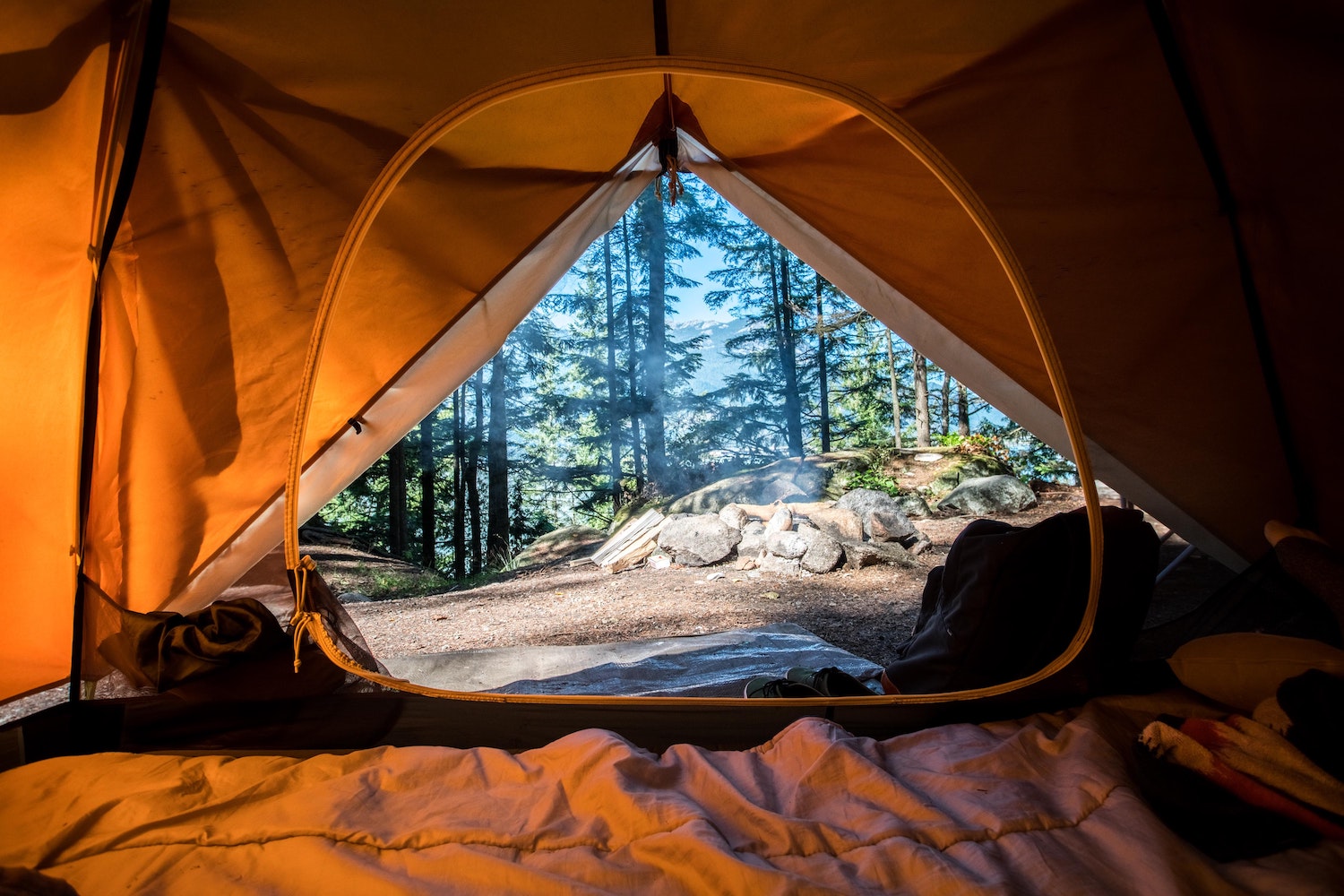 Although Korea might be one of the most fast paced country and very modern, it also developed a great camping culture. There are many sights to camp even within Seoul and next to the Han River. One of the most popular being Nanji Camp. However for a more natural experience we recommend to drive a bit outside of Seoul in Gyeonggi area. Here are 2 great spots which we would like to recommend:
The Dreamping
Right besides the river and ideal for watersports, it a great spot to stay over the summer. Check out their website here. It is only at 45min outside Seoul in Gapyeong.
Florence Glamping
Ideal for families and located in Gapyeong just 45min from Seoul. The site is spacious with conformable tents and fully equipped. A great idea to spend a weekend outside the bustle of the city and connect with mother earth. Check it out here.
---
7. Rock Climbing at the Bukhansan National Park
Seould and South Korea in general is the perfect sport for climbing. The city has many climbing wall all around. However, if you want the real thing, the head to Bukhansan to get some proper rock climbing experience. You can book your day tour here.
---
8. Stand-up paddle on the Han River
Right in the middle of Seoul, you can rent some standup paddle boards and enjoy a great and refreshing half day on the Han River with beautiful sights. Simply head to Tukseom park, you will see many bungalows where you can simply rent SUP, Kayak, Windsurf. It's a great spot to hangout in Seoul. We usually go to Surf Ocean to rent our gear, they are super nice, with great equipment at affordable price. Check out their website here.
---
9. Rent a bycicle and ride along the Han River
When summer is here, one activity that many Koreans do is hire a bicycle to ride along the Han River. There are a lot of places where you can rent a bike for several hours for really cheap (Seoul Forest, Nanji Park, Yeouido). Yeouido (여의도) which is a small island in the middle of Seoul, is probably the most popular spot to start your journey. The course is said to be the most beautiful and pleasant in Seoul.
Take the metro to YeouiNaru (여의나루 역) on line 5 and take exit 2. Continue straight out of the metro until you pass under a bridge. Then a little further you will see a fountain, so turn left: And you will come across the bike rental shop. You can't miss it.
For more summer activities in Seoul, check out this post.
---
10. We kept the best for last: Go Paragliding
If you are up for the real deal and the real adventure, then go paragliding in Yangyeong, located in less than 1 hour from Seoul. The setting is gorgeous right in the middle of the mountain and near the river.
The discovery flight takes place in tandem with a certified and professional paragliding instructor. You fly above superb landscapes and let yourself be carried by the wind. Your instructor guides the flight using the directional levers while you watch the world go by under your feet… Happiness.
Tandem paragliding allows you to have a first glimpse of the pleasures of free flight without having to undergo training and in complete safety. You can focus on your sensations only and enjoy the moment by fully surrendering yourself to the paragliding instructor or by starting to take control if you feel comfortable. You will discover incredible landscapes from a completely new and unique point of view.
Book here.
---
Although Seoul is an extremely dense and populated city, you will be able to quickly find yourself surrounded by nature. In less than a hour from Seoul, you can enjoy beautiful hike, do some water sports in gorgeous rivers, go skiing or snowboarding in great mountains etc. If are like the outdoors and adventures in general, Seoul will not disappoint.
---
Related posts
SUMMER IN KOREA, most awesome activities: here
SEOUL: Full guide for the best things to do in the city:l here
SURFING: best surfing spots in Korea: here
SKI RESORTS: Best resorts in South Korea: here
JEJU: All you need to know before you go to Jeju: here
EAST COAST: best things to do near Gangneung: here
BOSEONG: visit Korea's most beautiful tea planation: here