Manjanggul Cave (만장굴 (제주도 국가지질공원) in Jeju, South Korea, is one of the most beautiful lava tunnels in the world. It has been designated as a Natural Monument.
Manjanggul Cave has a variety of interesting structures including one of the biggest lava stalagmites in the world. The cave is 13km long, making Manjanggul cave one of the longest lava tunnel in the world. However, only 1 km is open for visitors.
It is one of the largest lava tubes in the world having a passage with a width of up to 18m and a height of up to 23m. Numerous lava tubes are found worldwide, but Manjanggul lava tube is an outstanding example because it has well preserved passage and features despite its very old age.
We absolutely loved our visit of Manjanggul Cave. This sight was one of our highlights on Jeju island.
The Manjanggul Cave is around 200 to 300,000 years old. It was formed by the flow of lava, cooled during the eruption of the Geomunoreum volcano.
It has been discovered in 1947, then partially visited in 1976. Part of the site has now been classified as a UNESCO World Heritage Site since October 9, 2015.
The interior of the tunnel maintains a temperature of 11 ~ 21C degrees, which can be very pleasant during the heat of the summer.
---
How to get to Manjanggul cave?
Manjanggul Cave is located just a few minutes away from Jeju Maze Park in Gimnyeong (more info here about the Maze) which by the way is a must-see if you travel to Jeju.
The cave is also located near Woljeongri-Beach our absolute favorite place in Jeju.
Address: 3341-3, Gimnyeong-ri, Gujwa-eup, Jeju-si, Jeju-do (제주특별자치도 제주시 구좌읍 만장굴길 182 (구좌읍))
Getting to Jeju Manjanggul Cave by car: The best way to easily get around the island is by renting a car. If you struggle to rent a car in Jeju as not all websites are in English, we recommend to check out Trazy here, as they usually have the best prices for foreigners.
Getting to Manjanggul Cave by bus: from the airport take bus 101 and change at Gimnyeong to bus 711-1. It should take less than 1.5 hours to reach the cave.
---
Essential information about Manjanggul Cave
Opening time:
09:00-18:00 (Last admission 17:10). Closed every first Wednesday of every month
Price:
Adults 4,000 won / Teenagers & Children 2,000 won
Duration:
It takes about 40 to 60min to visit the cave (round trip)
Website: here
Tips: since it can get a bit cold in the cave, we strongly recommend to bring a small jacket/hoodie during your visit. We visited the cave during Spring on a hot day, and felt quite cold inside the cave. We were happy that we brought our hoodies. Also we recommend to wear good shoes (no flip flops) as it's very rocky and wet along the way.
---
Our experience at Manjanggul Cave
Manjanggul cave is lcoated in a nice park which you can also visit on the way to the entrance of the cave. You will then be mesmerized at the sight of a figure carved out of volcanic rock, the dolharubang, standing in front of the entrance to the Manjanggul.
As you enter the cave, you can realize how big it is and how impressive it is. You will suddenly feel a drop of temperature as low as 10 ° C the deeper you go.
There is only 1 way inside the cave and you need to get back using the same path. During your visit you will see many interesting rock formations. One of the highlight is the Stone turtle an astonishing lava formation outlining Jeju Island. It is actually called a Lava raft. It is a remnant of rock rubble that was carried down flow by a lava flow. Eventually it solidified.
World's largest Lava Column…
The tunnel itself shaped by the lava flow is simply gigantic. You can only image what it would have been like during the eruption and the power of the volcano. At the end of your visit inside the tunnel you can see an incredible lava column measuring 7 m in height. It is the largest lava column in the world! Its formation came from a huge amount of lava, poured between the two levels of the covered passage.
In Manjanggul Lava Tube, large and small passages occur repetitively, it is not all regular in terms of height and width. Continuous supply of hot lava into the tube caused thermal erosion of the tube's floor resulting in the irregular size. Sometimes the height of the cave reach 23meters high. It's really impressive.
Another particularity of the cave is the lave flowlines. When lava flows in a tube the level of the flow is often recorded on the walls. These features are called Lava flowlines. Many flowlines can be found inside Manjanggul.
The cave also has some animals living inside. Manjanggul cave shelters an impressive colony of bats. According to statistics, more than 30,000 specimens have made their home there. In addition, at least 38 other species have been discovered near the caves. But don't worry, we didn't see any and didn't feel scared at all during our visit.
---
Conclusion
We keep such a fond memory of our trip to Manjanggul Cave in Jeju. It is such a unique sight which we highly recommend. Seeing this huge tunnel formed by lava reminded us about how strong Mother Nature can be! Impressive!
If you want to find out ore about Jeju, check out our full post here with the most awesome things to see on the island.
HAPPY TRAVELING !
---
Where to stay near Manjanggul cave?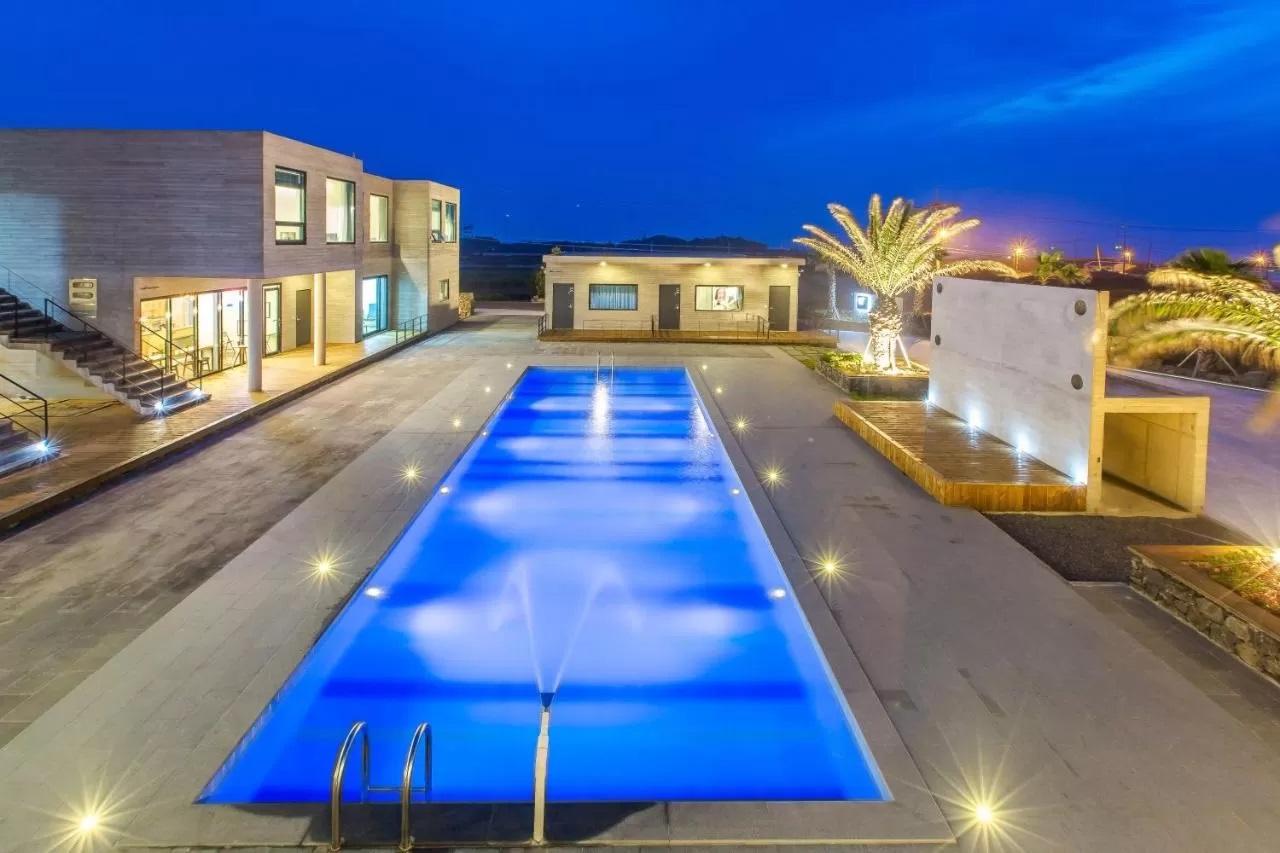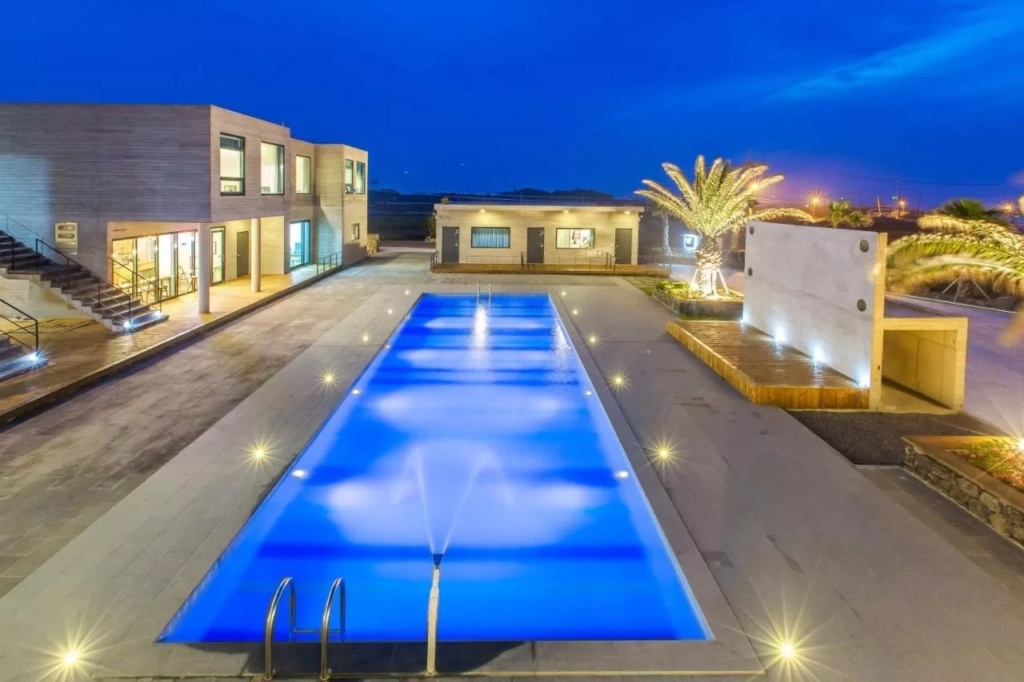 We highly recommend to stay in Woljeongri Beach, our favorite part of Jeju. From Woljeongri Beach, it's only 10min drive to reach Jeju Maze Park and Manjanggul Cave.
When staying at Woljeongri beach, we opted for Lunamar Pool resort. It was located just a few minutes from the beach, and that's all we wanted. The room and the resort overall is super modern. We really enjoyed it. The big plus, is the swimming pool which was absolutely stunning. Check it out here.
---
Other things to do near Manjanggul cave?
Jeju Maze Park
It is not everyday that we can experience going on a real Maze and find our childhood spirit back. Hence we 100% recommend experiencing Jeju Maze Park in Gimnyeong.
The park is also very well maintained keeping it as close to nature as possible by only using cypresses. It is ideal for everyone, couples, family, children, everyone can have fun in the Maze.
Manjanggul cave is only a few minutes drive from Jeju Maze Park. Hence it's the perfect combo for a half day visit on Jeju Island.
Full post about Jeju Maze here.
Woljeongri beach
If you visit Manjanggul cave and Jeju Maze Park in the morning, then we highly recommend that you stop for lunch in Woljeongri beach. Woljeongri is simply our favorite place in Jeju. The beach, the cafes, the cute restaurants, the surfers, typical Jeju style stone houses etc. This place is fantastic.
If you go there by car, there are plenty of parking spaces along the beach. If you want to take a surf lesson in the afternoon or simply rent a board, there are plenty of surf shops. Or if you simply want a relaxing walk along the coast of Jeju, then Woljeongri Beach is the best place to do just that!
Full post here to find out more about Woljeongri.
Hamdeok Beach
We visited many beaches in Korea, but Hamdeok in Jeju stood out for us. The colors of the waters, this particular emerald shade, made us fall in love with Hamdeok instantly. Ever since we went there for the first time, Hamdeok became our #1 visited places in Jeju right after landing at the airport.
There is always something to do in Hamdeok: concerts, sporting events, nightlife, the beach is very popular with locals and foreigners. Hotels, restaurants and cafes are numerous in this part of the island, it is easy to practice some water activities such as kayaking and sometimes surfing. You can check the best spots to surf in South Korea here. And of course, the place is ideal for camping with family or friends.
Hamdeok is perhaps 20min drive from Jeju Maze Park. Check out our full post about Hamdeok Beach here.
---
Links to related articles
JEJU the best island in Korea: here
HAMDEOK BEACH, our favorite spot in Jeju: here
HALLIM PARK a beautiful subtropical garden: here
HIKING HALLASAN your full guide: here
WOLJEONGRI a beautiful beach in Jeju: here
10 BEST BEACHES in Jeju: here
CAMELLIA HILL a beautiful park in Jeju: here
JEJU MAZE, guaranteed fun: here
TAKING THE FERRY TO JEJU: here
OLLE GIL TRAIL your ultimate guide: here
SEOPJIKOJI to admire the rugged coastline of Jeju: here
SONGAKSAN the southernmost point of Jeju: here
MOKPO a fabulous port city in Korea: here
SOUTH KOREA, best things to do: here
GEOJE our favorite destination in Korea: here
NAMHAE the hidden gem of Korea: here
BOSEONG GREEN TEA PLANTATION: here