IS WOLJEONGRI A NICE BEACH IN JEJU? IS IT POSSIBLE TO SURF IN WOLJEONGRI? BEST CAFES IN WOLJEONGRI?
Woljeongri is simply our favorite place in Jeju, our #1 beach to go to besides Hamdeok Beach. We went to Jeju many times and visited many things on the island (more info here), but to this day, Woljeongri is still our top spot in Jeju.
Woljeongri is one of our favorite beaches in Jeju!
Why? Well, just imagine emerald water, a white sandy beach, gorgeous cafes facing the sea, super cute restaurants, a traditional village, surfers everywhere, and very friendly locals. Exactly what we like.
Not to mention that Woljeongri Beach is one of the best spots for surfing (more info about best surfing spots in Korea here) and one of the best beaches in South Korea (list 25 best beaches in Korea).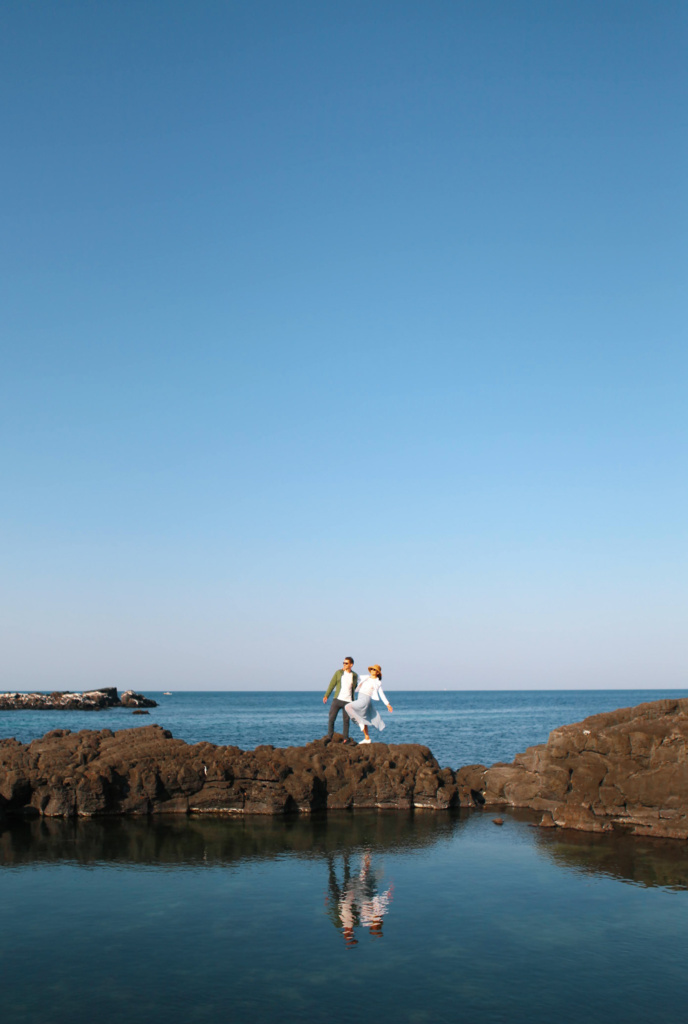 The last time we went to Jeju, we decided to stay 2 weeks straight and chose Woljeongri as our base. Since we visited many places in Jeju already, we wanted something more chill. We opted for a place just a 2-minute walk to the beach. And let us tell you, we had one of our best times in Jeju!
Woljeongri is actually a village located on the east side of Jeju Island. In Korean it means "the moon stays." The shallow water is perfect for families with children to play in the water.
Woljeongri has become more and more popular among tourists due to its outstanding scenery and great vibes. Now there are many restaurants, cafes, and hotels. However, the village still kept its authenticity. Which we really love about this place.
The beach is also a part of the Gimnyeong-Hado Olle and Gimnyeong-Woljeong Geotrail Course on Jeju Olle Trail Route 20 (full guide for Jeju Olle Gil Trail here).
Here is a teaser about Woljeongri Beach:
In this guide, we will explain to you what to do in Woljeongri, the best restaurants and cafes as well as the best activities.
We hope that you will enjoy our recommendations!
---
How to get to Woljeongri?
In Korean Woljeongri is written: 월정리해변
Address: 540-2 Woljeong-ri, Gujwa-eup, Jeju-si, Jeju-do, South Korea
By Bus:
Since August 2017, Jeju Island has implemented a new system of urban and intercity buses, which increases their frequency. From downtown jeju, Woljeongri is well served by the 101 (intercity) bus in about 1 hour from Jeju airpot.
By car:
The best way to travel to Jeju is by car. You can rent a car easily directly from the airport. We recommend using Trazy to rent a cheaper car (exclusively for foreigner). Check it out here.
Just make sure to have your international driving license when driving in Korea.
---
What to do in Woljeongri?
1. Explore the beach
Woljeongri has one of the most beautiful beaches in Jeju. (Another one of our favorite beaches is Hamdeok Beach, you can check it out here)
What we like about Woljeongri Beach is of course the color of the sea and the white fine sand. It feels like the Maldives as it is so pristine! The other great thing about Woljeongri Beach is that they built a nice walk along the sea with many benches and chairs. Sitting there and enjoying the view is so relaxing.
---
2. Have fun surfing
On good days, Woljeongri Beach is one of the best places to surf in Jeju. It's very easy to rent a board or take a surf lesson at Woljeongri beach. W
e recommend checking out Woljeong Quick Surf on the northern part of the beach. The surf shop is pretty big and they do offer many lessons, private or with a group. You can check it out here.
---
3. Explore the area with an e-bike
If you want to explore more areas along Woljeongri, we recommend renting a cute e-bike. You can head towards the west side and see more of the other beautiful beaches of Gimnyeong or go northeast to see the gorgeous rugged coast. We love this part of Jeju, as the color of the sea is just unreal.
Seeing the waves crashing against the volcanic rocks with the contrasts of colors is such an amazing sight. No wonder why we love Jeju so much!
We couldn't find any website for the e-bike rental shop, however here is the address (Jeju Jeju-si Gujwa-eup Woljeong-ri 306-1 – here)

---
4. Go Sailing and have a chance to spot dolphins!
Not too far from Wolljeongri, you can hop on a beautiful catamaran to see dolphins, go fishing, have a drink, and enjoy a nice afternoon.
As we love sailing, we were so excited for this activity. We went there for Guillaume's birthday and loved it. The tour was so well organized and the crew was super friendly. The marina is located in Gimnyeong, you can book directly here.
---
5. Enjoy a coffee facing the sea
There are many awesome coffees in Woljeongri. Most of them are directly facing the sea.
Woodstock is actually one of the most famous coffees in Jeju and also one of our favorites, you can check out it here.
Another coffee which we enjoyed going a lot is LOWA coffee. It is decorated beautifully with a nice rooftop. Check it out here.
For the cutest bakery and coffee place in Woljeongri, head to Le Baguette. This one is not directly facing the sea, it is located in the village, but this place is really cute and the owner is super friendly. They also have the best bread, croissants and desserts in Woljeongri. More info here.
---
6. Check out some of the cutest restaurants in Jeju
There are quite a few very good and cute restaurants in Woljeongri. This is one of the reasons why we like this place so much.
Manwoldang
Let's start with Manwoldang (more info here). This restaurant located in a traditional Jeju stone house offers amazing food. We especially loved their risotto which was delicious.
Phad Tha Maan
Another great restaurant, this time serving Thai food, called Phad Thai Maan. The chef traveled to Thailand many times and their pad Thai was to die for. Really really good Thai food there! Phad Thai Maan is located right next to Manwoldang. Check it out here.
Taco Massim
If you really want to feel like you are on holiday, then head to Taco Massim. This should probably be the best and freshest tacos on the island. We absolutely loved them. We ordered from Taco Massim a few times to take away and ate on the beach. Couldn't feel better. Look it up here.
Gujwa Woljeongri Haenyeo Restaurant
For more local food, head to Gujwa Woljeongri Haenyeo Restaurant. They serve amazing fresh seafood, including grilled fish or the famous Jeju cutlassfish which is a very long fish. Here is their website.
---
7. Explore the village and the little shops
One of the best things to do in Woljeongri is to wander through the old village to feel those awesome Jeju vibes.
All the walls are made out of volcanic stones which makes it very unique. Woljeongri is full of cute shops, simply walk around the village to discover some of them.
---
Where to stay in Woljeongri?
Lunamar Pension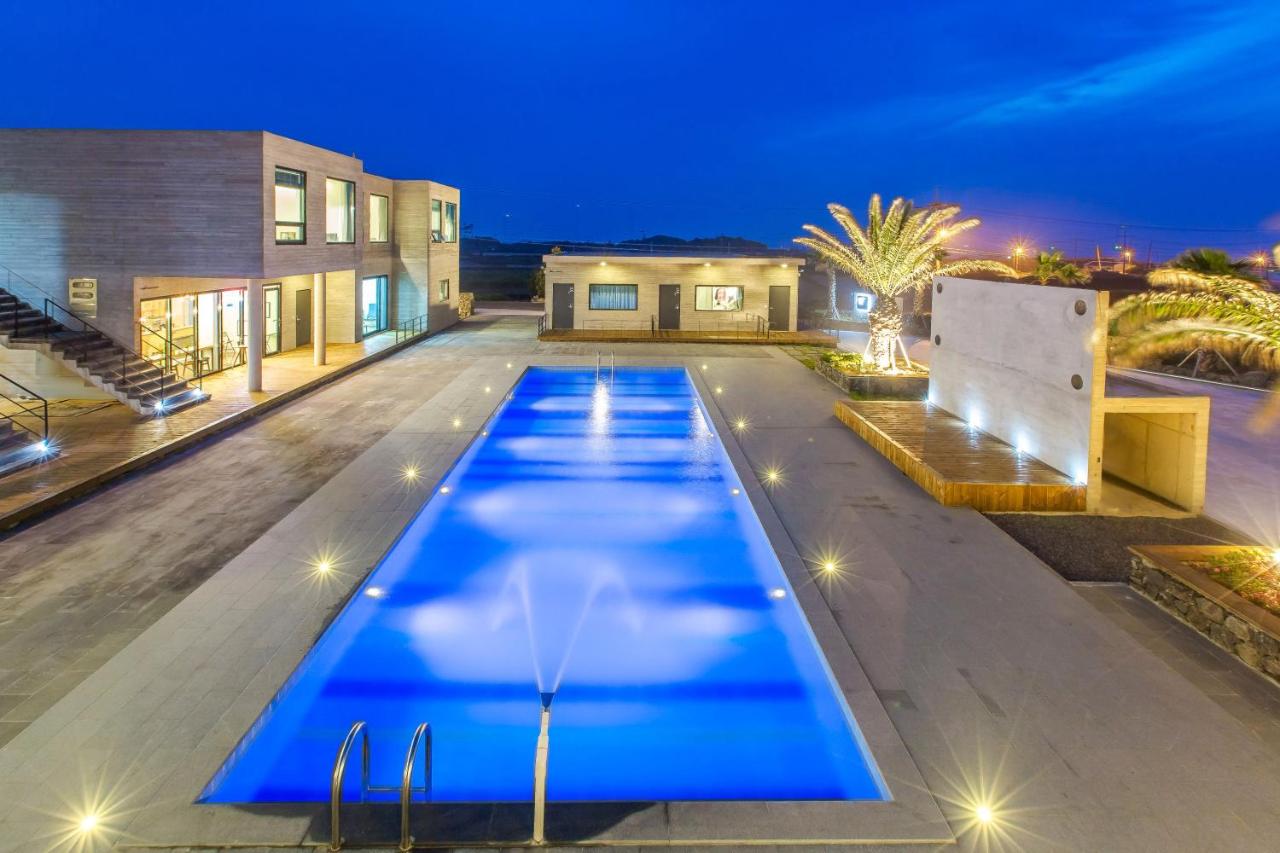 For a more modern vibe, opt for Lunamar Pension. This brand new hotel, with great rooms and a rare swimming pool, is one of a kind. We also had a great time at Lunamar Pension in Woljeongri. Check it out here.
---
Sogeun Sogeun
For the more traditional experience, we highly recommend staying in a Jeju house. At Sogeun Sogeun you won't be disappointed. This very cute house is in a very nice location but will make you feel the local experience 100%. You can book here.
---
Other things to do near Wolljeong
1. Manjanggul Cave
Manjanggul Cave is one of the major natural sites to explore in Jeju. This gigantic cave was formed by lava. Manjanggul cave stretches for a distance of about 13 km. It is one of the longest lava tunnels in the world. It is also designated as a natural monument. Having been discovered in 1947, then partially visited in 1976, part of the site has now been classified as a UNESCO World Heritage Site since October 9, 2015. 
Manjanggul cave is only a few minutes' drive from Jeju Maze Park. Hence it's the perfect combo for a half-day visit on Jeju Island. 
READ ALSO: Full post about Manjanggul Cave here.
---
2. Jeju Maze Park
It is not every day that we can experience going on a real Maze and finding our childhood spirit. Hence we 100% recommend experiencing Jeju Maze Park in Gimnyeong.
The park is also very well maintained keeping it as close to nature as possible by only using cypresses. It is ideal for everyone, couples, families, and children, everyone can have fun in the Maze.
READ ALSO: Full post about Jeju Maze here.
---
3. Hamdeok Beach
We visited many beaches in Korea, but Hamdeok in Jeju stood out for us. The colors of the waters, this particular emerald shade, made us fall in love with Hamdeok instantly. Ever since we went there for the first time, Hamdeok became our #1 visited places in Jeju right after landing at the airport.
There is always something to do in Hamdeok: concerts, sporting events, nightlife, the beach is very popular with locals and foreigners. Hotels, restaurants and cafes are numerous in this part of the island, it is easy to practice some water activities such as kayaking and sometimes surfing. You can check the best spots to surf in South Korea here. And of course, the place is ideal for camping with family or friends.
Hamdeok is perhaps a 20-minute drive from Jeju Maze Park. Check out our full post about Hamdeok Beach here.
---
In conclusion – Is Woljeongri in Jeju worth it?
Woljeongri is our favorite part of Jeju Island. It is also conveniently located as it is near many of the great attractions in Jeju, such as Hamdeok Beach, Manjanggul Cave and Jeju Maze.
Woljeongri also offers many watersport activities and has many great restaurants and cafes. It is one of the best beaches in South Korea (full list here).
Make sure to check out our other recommendations in Jeju, here.
---
EXPLORE UDO, JEJU'S SISTER ISLAND
HIKE THE TOP OF HALLASAN MOUNTAIN IN JEJU
VISIT THE BEAUTIFUL HALLIM PARK
CHILL AT HAMDEOK BEACH THE MOST BEAUTIFUL BEACH ON THE ISLAND
ULTIMATE GUIDE FOR OLLE GIL TRAIL AROUND JEJU
VISIT MANJJANGUL CAVE, THE LARGEST LAVA TUNNEL IN THE WORLD!