Niseko is known as the as the Meccah of Japan Powder Snow, called "JAPOW".
If you enjoy riding and love snow, you will cherish this place forever. The first time we went there, we could not believe that it was possible to have so much snow in one place. Our first ride on the slopes was an unforgettable moment. It is now by far our favorite place to ride our snowboards.
Niseko is located in Hokkaido the northernmost island of Japan.
READ: 20 AWESOME THINGS TO SEE IN HOKKAIDO
This place is a contender for one of the snowiest places on Earth. In our opinion, every riders should make the pilgrim to NISEKO at least once in their life. NISEKO is known as the meccah of Japan powder snow.
With wide open courses, tree runs, backcountry, off-piste and night-skiing, Niseko caters for all levels from beginner to expert. Here are the top 10 things to do in NISEKO.
READ: You can also check out our post about Furano, another great ski resorts in Hokkaido: here
Here are some beautiful impressions of Niseko, to get you excited for your trip 🙂
---
1. Shred the slopes and enjoy the legendary JAPOW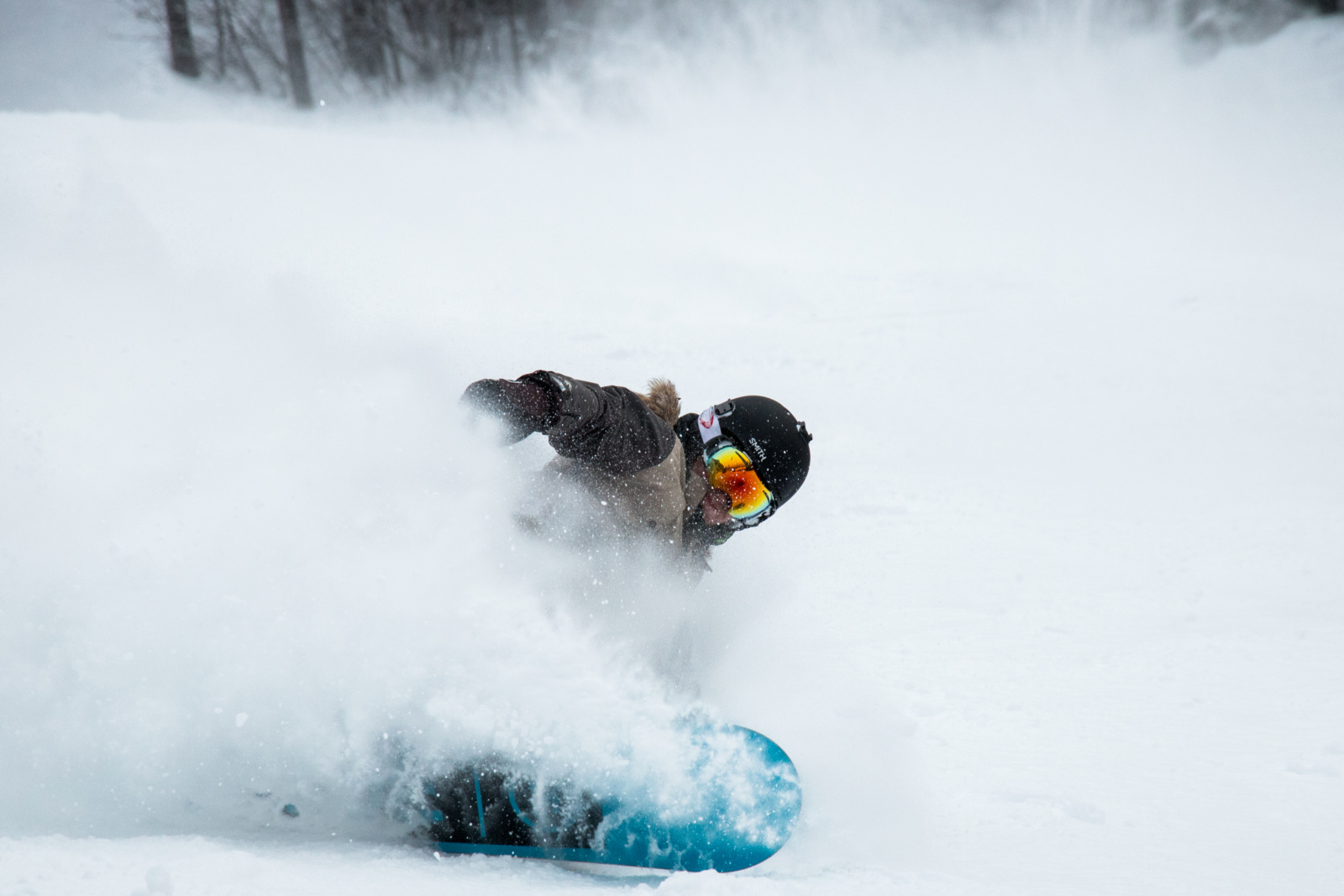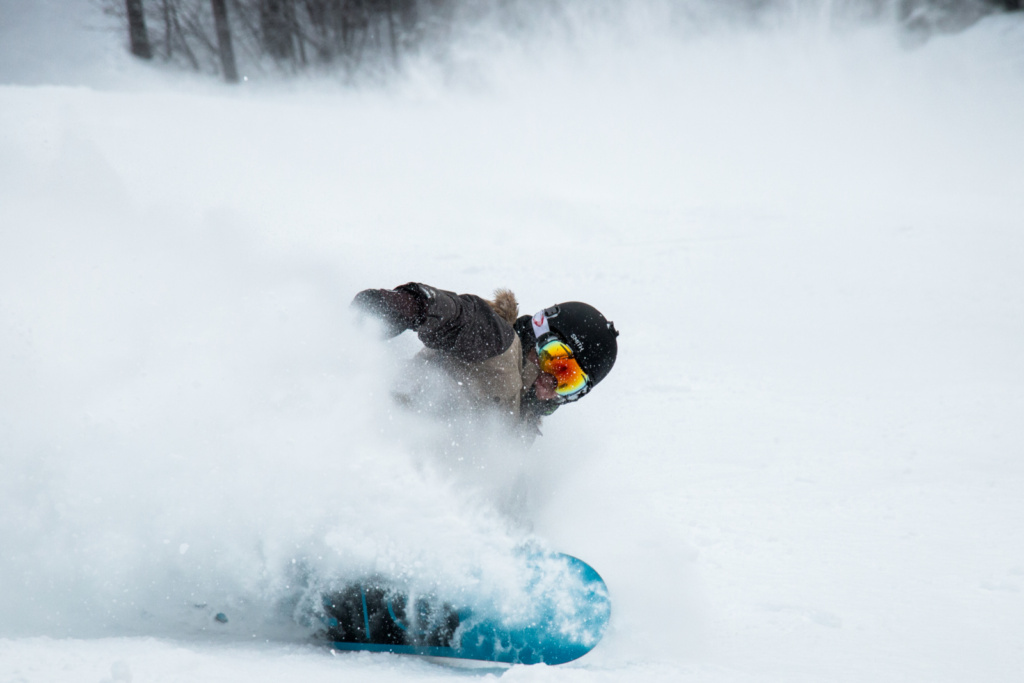 Niseko has probably one of the best snow in the world. It snows almost every day in winter and every day you have a nice fresh coat of powder. It's just a dream. No snow cannons, only real snow that covers the whole mountain with a thick carpet of powder.
An extensive lift system covers the 64 courses and includes gondolas and covered chairlifts. With the lifts meeting at the summit, skiers have access to Grand Hirafu, Niseko Village, Hanazono and Annupuri resorts which combine make Niseko United, one of the largest ski areas in Hokkaido.
READ: 6 BEST SKI RESORTS IN HOKKAIDO
Niseko is most certainly the most popular ski resort in Japan. Indeed, with five main ski resorts, more than 48 km of slopes (5.6 km for the longest) and snowfall of 15 to 16 m per season, the reputation of the Japanese ski resort is well known around the world.
In addition to these tracks, it is especially the quality of the snow which makes the reputation of the site. With the Siberian wind coming to Niseko, the areas are covered with light snow whose humidity does not exceed 8%. Thus, it is not uncommon to have powder up to your knees! Or waist…
In Grand Hirafu, the main resort, there is a wide choice of accommodation and traditional or modern restaurants. Night skiing is also the most popular here. The other stations, Niseko Village or Annupuri are accessible by shuttle during the winter period.
Ski Pass
The price and list of packages are available on the Niseko United website. Most of the time we took the "8 hour" package for All Mountains (Hirafu, Hanazono, Annupuri and Niseko Village), which allow us to go pretty much everywhere on the mountains and always find the best spots.
To the question should you buy the ski pass in advance, the answer is no, it's not necessary. In the event of strong winds and strong snow storm, the ski lifts / cable cars may close.
Equipment Rental
We always go to Rhythm Snow Sports for equipment rental, waxing or shopping. It is by far the best shop in Niseko. They are open from 8 a.m. to 10 p.m. The service is really good, fast and professional.
You can also change equipment as you wish with premium packs. Meaning you will be able to try many different premium boards and skis and change pretty much every day according to your needs and the terrain you intend to tackle.
READ: 6 BEST SKI RESORTS IN HOKKAIDO
---
2. Start your Japan off-piste experience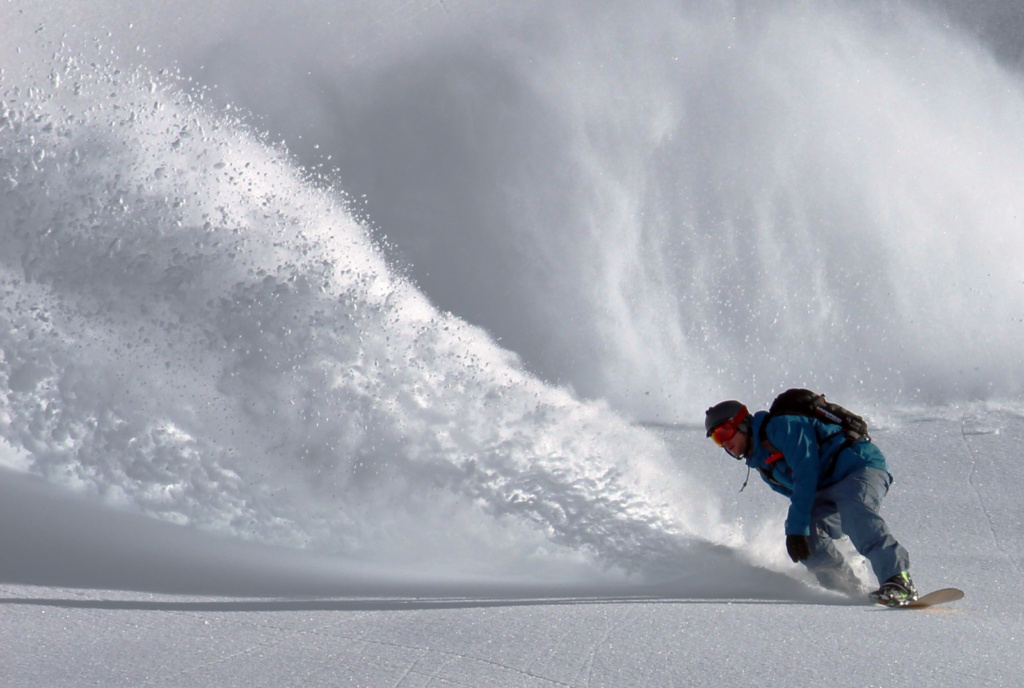 Free-riding is the main draw here. Fourteen+ metres of snow annually and Japans most progressive off-piste policy guarantee that powder hounds will go home happy. Within the resort boundary there is plenty of shredding to be done between the nicely spaced birch trees, and natural pillow lines are in abundance.
Very few areas are roped off, but instead marked by a 'Gate' system and it's essential to abide by the rules if you want to keep your lift pass. If you cut the ropes, consequences can be pretty severe.
---
3. Explore the best kept secret Backcountry with a local tour guide
The backcountry in Niseko is some of the best on the planet. If you want to make the most out of your Hokkaido/Japan powder vacation, join a guided backcountry tour where guides will take you to the deepest snow and most remote locations on the island.
No matter how much time you have or how many people you want to tour with, there are many options available. We highly recommend that you experience the backcountry in Niseko. It's an experience that you won't forget.
For some good thrills and unique experience, we recommend booking a backcountry tour with Par Powder Paradise (PPP), with their snowmobiles. You can book here. Good fun and good powder guaranteed.
---
4. Please your palate with Hokkaido most amazing food
You won't be disappointing any foodies with a ski trip to Niseko. It has wide range of food options to satisfy every type of tastebud after a long day on the slopes. Our personal favorites are: Abucha and Bang-Bang for dinner / Shokusai HIRAFU located inside Alpen hotel for lunch (a must try!).
---
5. Relax at one of Japan's famous onsen
Immersing yourself in an onsen (Japanese hot spring) is an experience not to be missed while travelling in Japan. Naturally occurring volcanic hot springs are a source of welcome relief from tired muscles and joints after a long day on the mountain.
In this post you can find out about the best onsens in Niseko.
Our personal favorite is Goshiki Onsen. This onsen was once ranked one of the best onsen in Japan! We love the traditional outdoor area!
---
6. Explore other nearby powdery resorts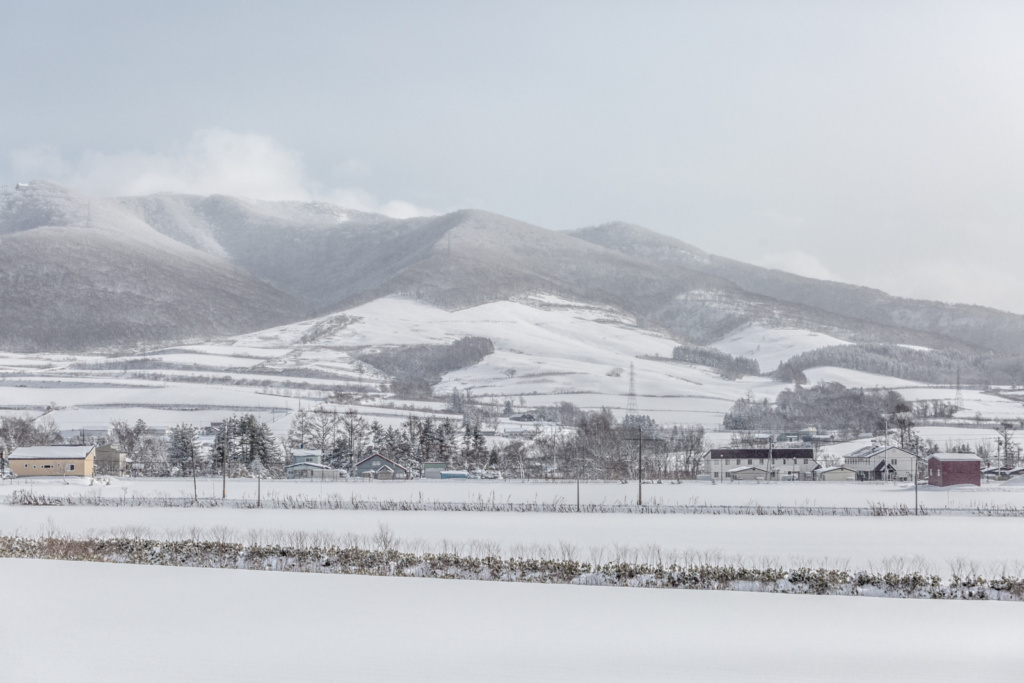 A great alternative not too far from Niseko is Rusutsu. Usually less crowded even though it's only a 45-minute drive from Niseko, the weather patterns can be completely different – it can be snowing heavy in Niseko but clear skies and no fresh snow in Rusutsu (or vice-versa).
A little bit further but worth the trip (trust us!), is KIRORO. Great powder, great off-piste, you won't be disappointed! You can book a day trip to Kiroro here.
---
7. Enjoy the great nightlife
Although in Japan, the "après ski" is nothing compared to Europe, Niseko has a swinging nightlife scene with a few bars and nightclubs. Unlike other parts of Hokkaido.
Throughout the week you will find a huge number of events held here at the various bars and pubs that line the main strip and many of these play live music in the evenings. Our ultimate top place is Bar Gyu aka The Fridge door bar (you'll know why it has this nickname once you see it) – it's located in HIRAFU
It's also a good time to try out the fabulous Japanese Whiskey, some of the best in the world.
---
8. Go snowshoeing
Snowshoeing in Niseko is a very peaceful activity, thanks to the great escape. You will revel at the Niseko surroundings. Having a day off at the mountain and using a fancy a snowshoe, just walk amongst the serene place. Try snowshoeing and cross-country athletics within the Niseko-Hirafu space and explore stunning landscape with good chance to see unique wildlife.
---
9. Climb the legendary Mount Yotei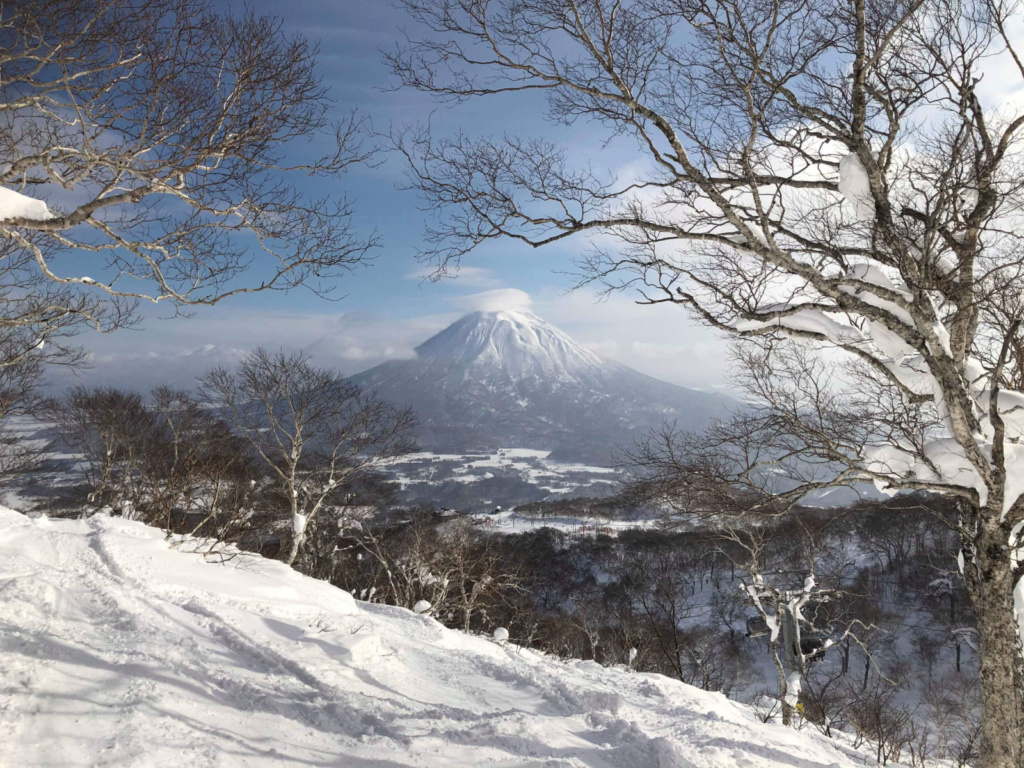 You can't miss it. Mount Yotei is a striking, 1,898-meter-tall volcano that dominates the landscape here in Niseko. Mount Yotei is beautiful from every angle, serene by nature but still commanding of respect. Its summit is reachable, but only by those who possess enough stamina and courage – along with the right backcountry gear and a knowledgeable guide of course! We've personally not done it yet but it's definitely on our bucket list!
---
10. Have some fun snow rafting in Niseko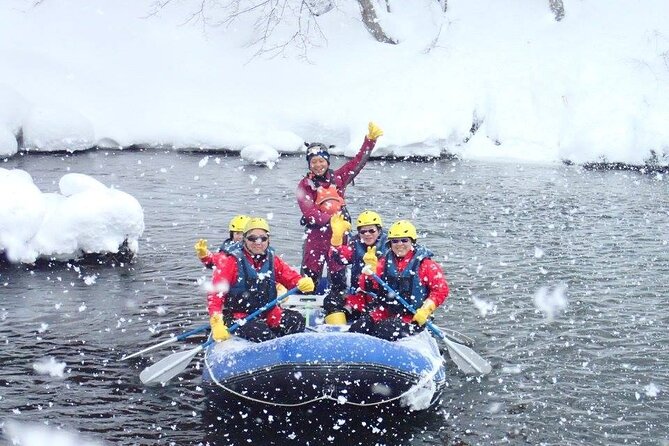 Fancy rafting in a river surrounded by tons of snow? Sounds extreme, indeed, but how fun would that be?
For this activity you will enjoy 2km on the river with a group of fun people! It's a great way to discover another side of the beautiful Niseko resort and its wilderness.
We highly recommend this fun activity. BOOK HERE NOW!
---
Things to do outside Niseko:
Otaru
Otaru was once the gateway to Hokkaido, where American, British and Russian sailors came to negotiate – hence its nickname "Northern Wall Street". Today, there are only streets on the side of the Otaru Canal and old stone storage stores converted into restaurants, shops and hotels along Sakaimachi Street. These streets decorated with Victorian lamps are the main attraction of the city.
With its streets, canals, hills topped with old wooden houses, Otaru relies heavily on its atmosphere at the start of the 20th century. A fragrance of elegance and sweet nostalgia for this pretty town.
Today, Otaru is best known throughout Japan for its high quality sushi (especially sea urchin), and its spider crab. The city is also known for Otaru Beer, its very popular brewery. In winter, the city also has ski slopes overlooking the bay. Note that it is not common to ski while contemplating the sea…
To get to Otaru, you will have to take the oldest train line in Hokkaido. A coast line that follows the shore of Ishikari Bay, where Otaru is located. A good start, in a superb landscape on the Sea of ​​Japan, just opposite Russia.
BOOK: if you intend to visit more places in Japan, traveling by train is the easiest way. You can purchase your JR PASS at cheaper price here. The JR Pass allows you to take all trains in Japan as a multi-use ticket. Buying a JR Pass offers the best value for money!
READ: 20 BEST THINGS TO SEE IN OTARU
---
Sapporo
Located in Hokkaido Prefecture in Japan, Sapporo is one of the largest and most interesting cities in the country! Known in particular for having been the location of the first industrial brewery in Japan, it hides many other advantages. Temples, parks, mountains and various monuments to visit. Sapporo has many surprises to offer. Here are some of the highlight in Sapporro:
The historic village of Hokkaido is probably the first sight to mention if you're wondering what to do in Sapporo. It is an open-air museum that will take you back in time.
Visit the Fushimi Inari temple! It is easily recognizable by its many red doors, called Torii, which will offer you an amazing sight.
Pass by Odori Park to enjoy a stroll through this magnificent place. It is 1.5 km long and is divided into 5 parts: Exchange, Border, Oasis, Meetings and Flowers. Each part of the park has its own environment.
READ: 30 BEST THINGS TO SEE IN SAPPORO
---
Where to stay in Niseko?
Niseko has many options, from budget travelers to extremely high end luxury places. And these days it tends to have more option on the high end side. We recommend to stay somewhere in Hirafu for more convenience. You will be closer to the slopes. shops, restaurants etc. And it's the prettiest part of the resort.
Ki Niseko
During our many trips to Niseko, we stayed at many different hotels and apartment. If you have a bigger budget, we highly recommend Ki Niseko hotel. This ski-in/ski-out hotel is located right next to the Gondola in Hirafu. Ki Niseko has it's private onsen area, ski valet, cafe and restaurant. The rooms are spacious and beautifully designed. Check it out here.
Flow Niseko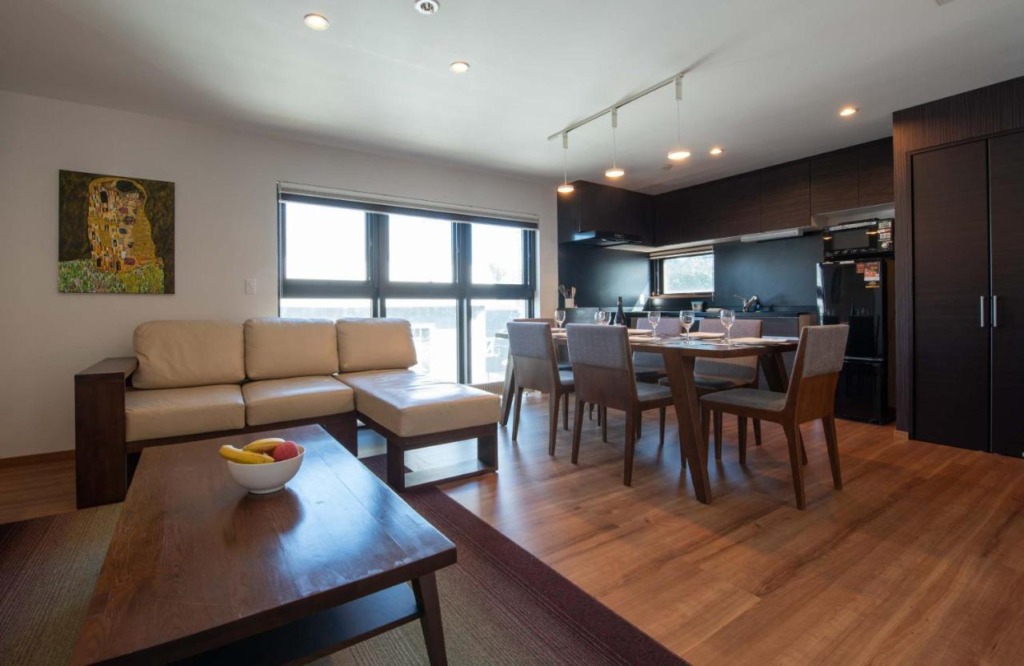 If you are a bit more on a budget, we recommend Flow Niseko, very nice apartments located in lower Hirafu. The location is also great, near restaurants and onsen, just a few minutes walk to the chairlift, or the bus stop. Our stay at Flow Niseko was great. Check it out here.
---
What is the best way to get to Niseko?
By Bus from Sapporo
The best way to go to Niseko, is to fly to Sapporo and then take a bus. The journey by bus from Sapporo takes about 2.5 hours. It is highly recommended to book the bus way in advance as during the peak season it is quite often fully booked. We usually book with White Liner, as they are really reliable.
Private Transfer
If you are coming to Niseko as a group, then a private transfer might not be more expensive and will certainly be much more flexible. For more info on private transfer from Sapporo to Niseko, click here.
---
In conclusion about Niseko
A trip to Niseko in Japan, is always memorable. Expect breathtaking landscapes, pure air, tones of snow, bamboo forests covered with frost and rare wild animals. You will also fall in love with Mount Yotei, considered the small Mount Fuji. Skiing in Niseko is a unique way to discover the country of Japan. Enjoy the powders on the slopes. Niseko is known as the white diamond, you'll understand why.
We ranked Niseko as one of our favorite place on earth. Oh yeah !
For more fun in Hokkaido, make sure to visit Furano for a few days. We highly recommend it.
---
Links to related articles
DISCOVER FURANO, ANOTHER GREAT SKI RESORTS IN JAPAN: here
6 BEST SKI RESORTS IN HOKKAIDO: here
20 BEST THINGS TO SEE IN HOKKAIDO: here
20 BEST THINGS TO SEE IN OTARU, HOKKAIDO, JAPAN: here
18 AWESOME THINGS TO DO IN NOBORIBETSU: here
12 AWESOME THINGS TO DO IN LAKE TOYA: here
30 BEST THINGS TO SEE IN SAPPORO: here
20 GREAT THINGS TO SEE IN OTARU: here
20 INCREDIBLE THINGS TO SEE IN HAKODATE: here
16 BEST THINGS TO SEE IN JOZANKEI ONSEN: here
TOP 6 REASONS WHY SHOULD VISIT HOKKAIDO: here
OBUSE, A BEAUTIFUL TOWN IN JAPAN WORTH A VISIT: here
FULL GUIDE FOR VISITING HAKUBA IN JAPAN: here
ALL OUR POSTS ABOUT JAPAN: here