WHAT TO DO IN GEOJE? HOW TO GET TO GEOJE? IS GEOJE WORTH VISITING? WHAT IS GEOJE KNOWN FOR?
Geoje is a gorgeous island in the southern part of South Korea. Geoje consists of many large and small islands with a blue coastline and charming landscapes. The island is connected to Busan by an 8.2 km long bridge and a tunnel under the sea which makes it very convenient to travel there.
Geoje is actually the 2nd biggest island in Korea after Jeju. The island is ideal for discovering Korean nature as there are many trails through the mountains. In spring, some places turn pink when the azaleas are in bloom, offering a superb scenery. Geoje also has very pleasant beaches for swimming, some with fine sand, others with pebbles.
Overall, we completely fell in love with Geoje. We enjoyed the slow pace of life, nature all around, the beautiful sea, great seafood, and perfect sunset. We highly recommend a visit to Geoje while visiting South Korea. Here we listed the best things to see in Geoje and full guide on how to get there and where to stay.
Here is a glimpse of what to expect during a trip to Geoje:
---
1. Geoje Windy Hill
This is one of the most visited places in Geoje and should not be missed if you plan to visit the island. Windy Hill is located in the small fishing village of Dojangpo. You can access the vilage by boat as part of an excursion (we will talk about boat tours later) or by driving there. Local buses also stop in the village.
To access the hill, take the stairs which starts at the edge of the village near the breakwater. You can't miss it, as most people will walk in the same direction. On the way up the hill, visitors can admire the deep blue sea and multiples small islands around Goeje. This place is called 'Windy Hill' because of the nice sea breeze during very hot summer. During spring you can admire the camellia blossoms on the surrounding mountains.
The Windy Hill is the perfect place to take great pictures. In recent years, Windy Hill has become more popular with overseas visitors as it appeared in popular Korean dramas like Eves Garden (2003, SBS) and Merry-Go-Round (2004, MBC). This place in Geoje was also the location of the 1 Night 2 Days (KBS) reality show. Windy Hill is a must-see in Geoje and it's free.
---
2. Sinseondae Observatory
Sinseondae Observatory (신선대 전망대) is very close to Windy Hill,. A quick stop at the observatory is well worth it to enjoy a picturesque view of the beautiful rock formations shaped against the deep blue ocean. There is a small parking right at the entrance of the trail. A stairway from the road leads directly to the lookout point.Take a short walk onto the rocks of Sinseondae and enjoy the sceneries. It's absolutely stunning and one of the best things to see in Geoje.
Many commercials and TV shows have been filmed here taking advantage of this amazing setting. April and May are the perfect times to see the bright-yellow canola flowers across the island.
---
3. Hakdong Mongdol Beach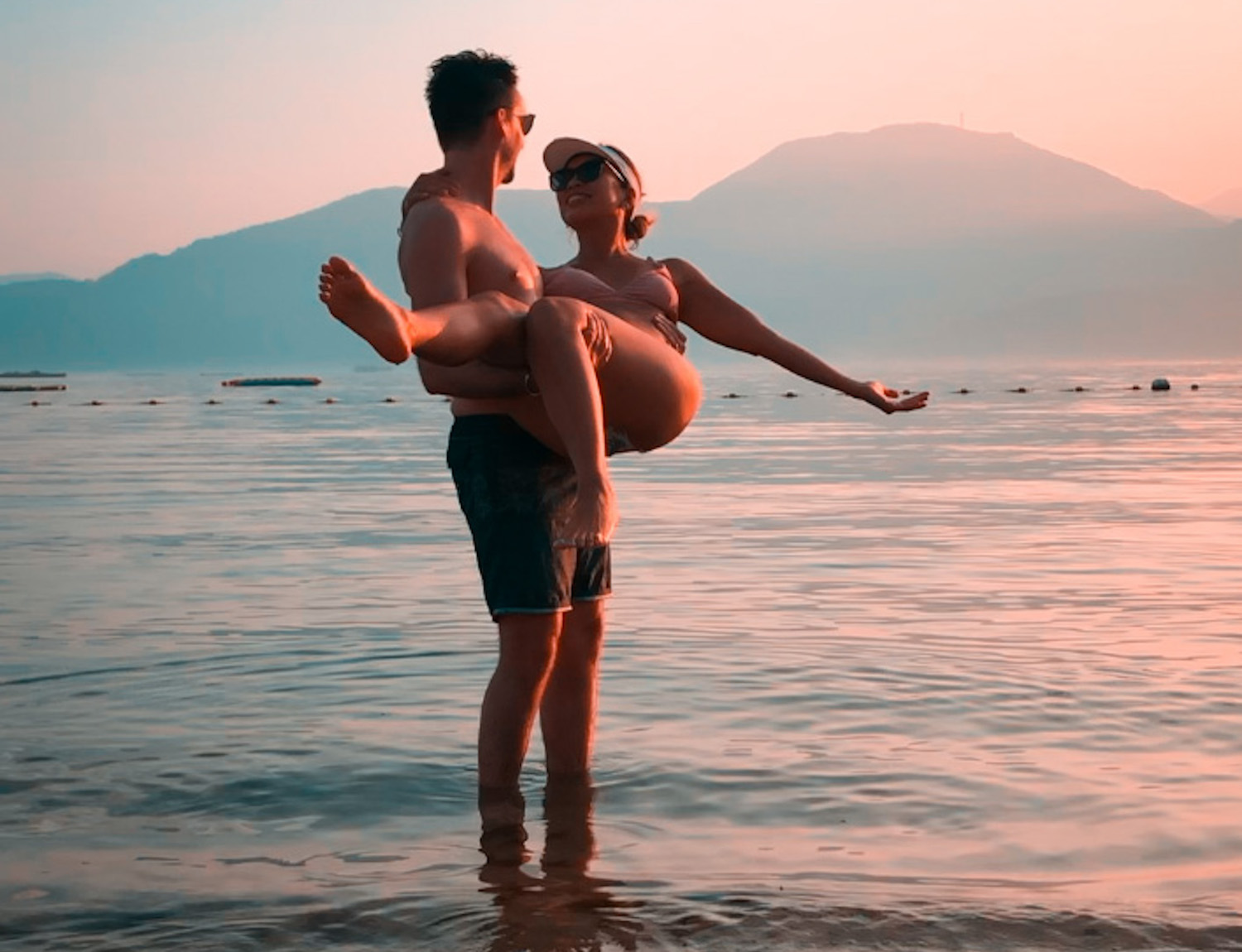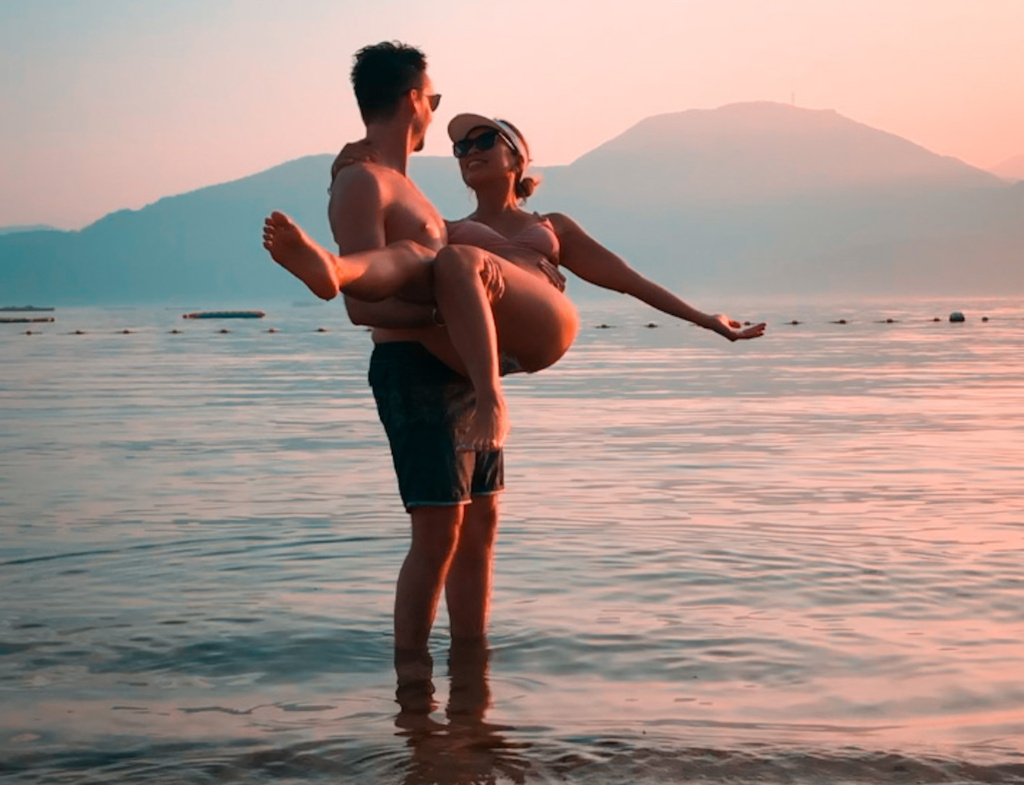 Don't expect white sand at Hakdong Mongdol Beach, but rather black pebble. This is what makes this beach in Geoje so unique. Hakdong Mongdol Beach stretches over 1.2 km. Koreans call this place a black pearl because they love all black pebbles which sometimes look like precious pearls.
Hakdong Mongdol is also the largest gravel beach in Korea. Domestic tourists often visit this place in the summer, especially on weekends to relax and rest with the family. In Spring, Hakdong Mongdol becomes more beautiful and romantic due to the wild flowers along the coast. From June to September, people may encounter Pitta birds, these unique and colorful species.
You will also have the opportunity to enjoy delicious seafood, especially fresh sliced sashimi at restaurants located around Hakdong Mongdol.
---
4. Gujora Beach
Our favorite beach in Geoje was Gujora Beach.
Gujora Beach is a stretch of sand (30m wide and 1.1km long) located along the emerald blue ocean. The beach is famous in Geoje thanks to its natural beauty. The warm, relatively shallow waters along with nearby tourist attractions have made this beach one of the region's best places to spend the weekend.
The water at Gujora Beach is calm and serene. Besides being a great place for swimming, there are also plenty of places selling fresh sashimi as well as local products such as anchovies and seaweed.
We also loved walking around the small village in the evening, checking out the fishermen and their catch of the day at the port, or simply strolling along the sea at sunset. Our pension (here) was located in Gujora. We highly recommend to everyone going to Geoje to stay around this area.
To access Gujora by public transportation, take take bus 22 or 23 to the harbour car park in Gujora.
---
5. Relax at Geoje's most beautiful cafe called Oedo Nursery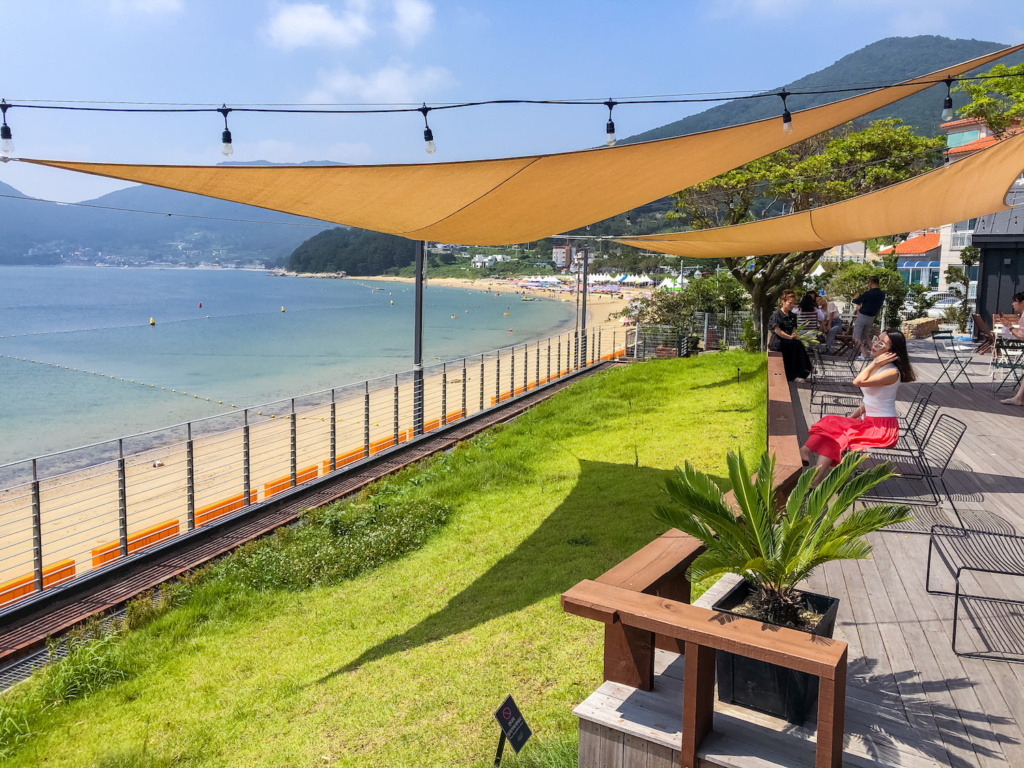 Oedo Nursery cafe in Geoje (외도 널서리) deserve a whole section on its own in this post. The cafe is simply stunning. Odeo Nursery cafe is beautifuly decorated, right by the beach, in a building which almost look like a greenhouse.
There are many plants and flowers but the highlight is definitely the amazing deck to seat outside with an unobstructed view looking at the blue sea. We also went there at night to enjoy some dessert, and the place is even more magical.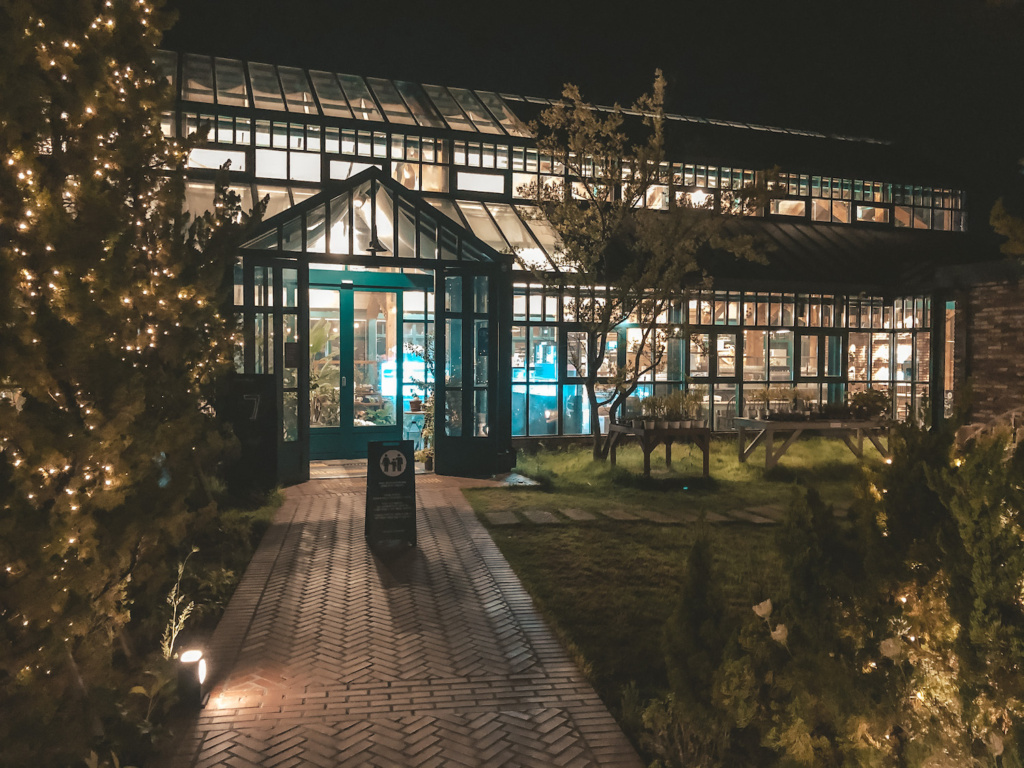 So be sure, if you are in Geoje, to check out Oedo Nusery cafe. You won't regret coming here at all. You can check out their instagram here.
---
6. Oedo Botania Island
If there is only 1 thing to recommend in Geoje, it will certainly be the beautiful Oedo Island. Oedo Botania is a mesmerizing place. This western-style botanical garden, which covers most of a small, rocky island in the South Sea, is located in the beautiful Hallyeo National Marine Park.
Everywhere you look, you can admire a gorgeous garden with unique plants surrounded by blue waters. In the distance, you can see the mountainous relief of the coast which forms a beautiful setting for this small paradise.
Oedo Island in Geoje, is certainly one of our best travel memory in South Korea, despite being there on a very very very hot day.
The garden was founded by a Korean couple. After unsuccessfully trying to grow tangerines on this rocky islet, Lee Chang-Ho and Choi Ho-Suk, decided in the early 1970s to transform the place by growing rare plants. After years of shaping a garden, tirelessly, Odeo opened in 1995. The mild temperatures and the abundance of water gradually helped transform this once rocky island to a beautiful utopia. Oedo very quickly won the hearts of Koreans. Today, nearly one in five citizens has visited it!
Oedo Botania is divided into two parts: on the Mediterranean-style garden on the west side of the island. And o the east side a completely unspoiled space with natural vegetation growing freely and where camellias thrive.
Everything is just so pretty!
To get to Oedo you need to take a boat. Excursions starts from various places in Geoje. You can check out all information (here). There are many departures every day. We advise to book in advance during peak season, either online or by visiting the departure office ahead of time.
If you stay in Busan, and would like to go on a day trip to Geoje and visit Oedo island, you can simply book your trip online here.
Check our our dedicated blog post on Oedo Island here.
---
7. Geoje Haegeumgang rock
On the way to Oedo Botania, your boat will normally stop at Haegeumgang (거제도 해금강). At least make sure to book a trip which includes Haegeumgang as it is one of the most impressive natural beauty of Geoje. Haegeumgang consists of majestic cliffs of strange shapes and natural cave. The only way to visit this island is by boat. This is considered the second most famous landmark in Geoje and has been protected since 1971.
The boat will take you very close to the cliffs to admire the rocks. Haegeumgang is also referred to by the Korea as "diamond of the sea". It faces the Windy Hill and Oedo Island on the other side. For those who went to Thailand before to visit the "James Bond" island, it does look a bit similar.
---
8. Go on a sailing and snorkeling trip
Quite randomly we decided to have a walk on Jisepohang port not too far from our pension located at Gujora beach. We then stumbled across Geoje Yacht Academy which also offers Sailing trips combined with fishing or snorkeling.
It didn't take us long to book our trip, on the same day for a sailing + snorkeling adventure. We were super excited as this was totally unexcepted. If you have been following us for a while, you may know how much we love sailing.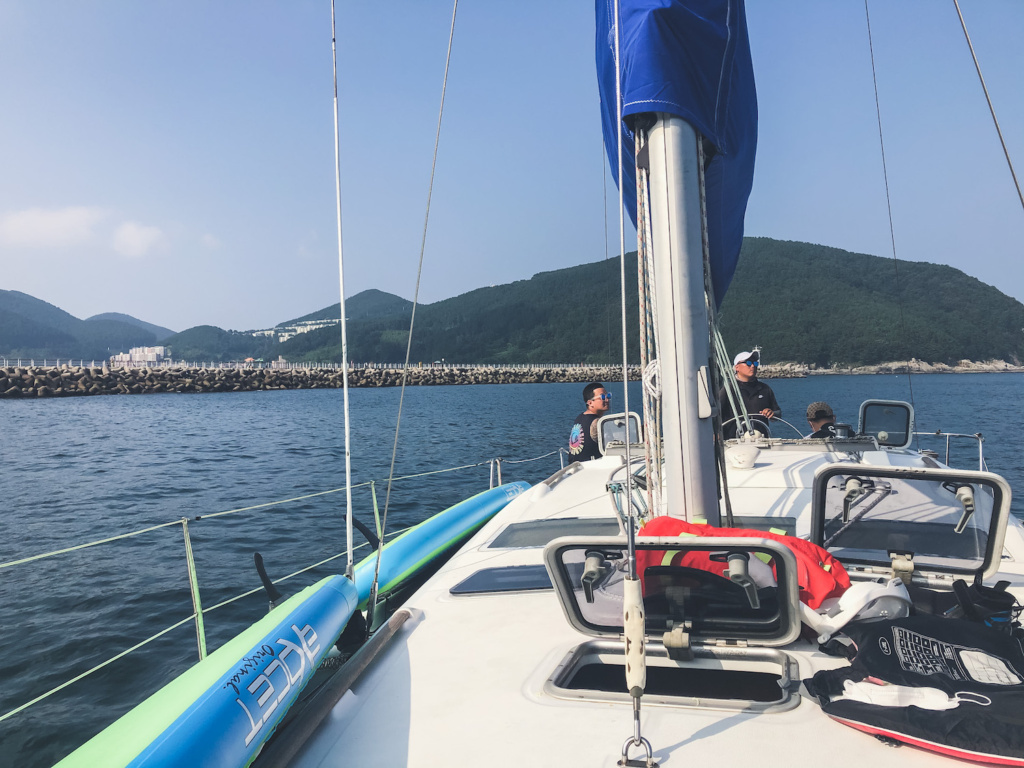 Check out their website here for more information on the timing and type of trip you can choose. Our journey lasted 2 hours and we stopped at a nearby cove for snorkeling. We had no expectations whatsoever, but were pleasantly surprised by how clear the water was and the number of fishes we spotted. Don't expect anything like Thailand or the Philippines though, but still worth it.
---
9. Go surfing
If you want a bit of action during your trip, make sure to stop by Heungnam Beach for surfing. There is a surf shop called Soul Surf (website: here) from where you can rent surfboards and other equipment. The beach is not very big but from time to time with the right condition, you can find some pretty decent waves.
---
10. Go islands hopping around Geoje
Jisimdo Island
From the port of Jangseungpo, 20 minutes are enough to get to Jisimdo by boat. Jismido is the island of wild camellias. They bloom in winter and the island is covered with this red flowers. Nature is wild on Jisimdo and the camellias reach impressive heights. The best time to go is in March.
Naedo
The island of Naedo, whose shape is somewhat reminiscent of a turtle (geobukseom), is covered with medicinal plants, green forests, camellias and silver magnolias. The rocky landscape is magnificent. The island is also a popular fishing destination. Departures are from Gujora, 4 times a day or from Jangseungpo
---
How to get to Geoje?
The best way to visit Geoje is by car. It will take you around 5h to get there from Seoul and 1.5 h from Busan.
With public transportation from Seoul: You can take an inter-city bus to Geoje from Seoul Nambu Bus Terminal, get off at Jangseungpo Intercity Bus Terminal.
From Busan: You can take an intercity bus from the Busan Seobu Intercity Bus Terminal, get off at Jangseungpo intercity bus terminal.
---
Where to stay in Geoje?
There are many options in Geoje. We recommend to choose a hotel or pension with sea view as the color of the water is just amazing.
Geojedo Blue Beach Pension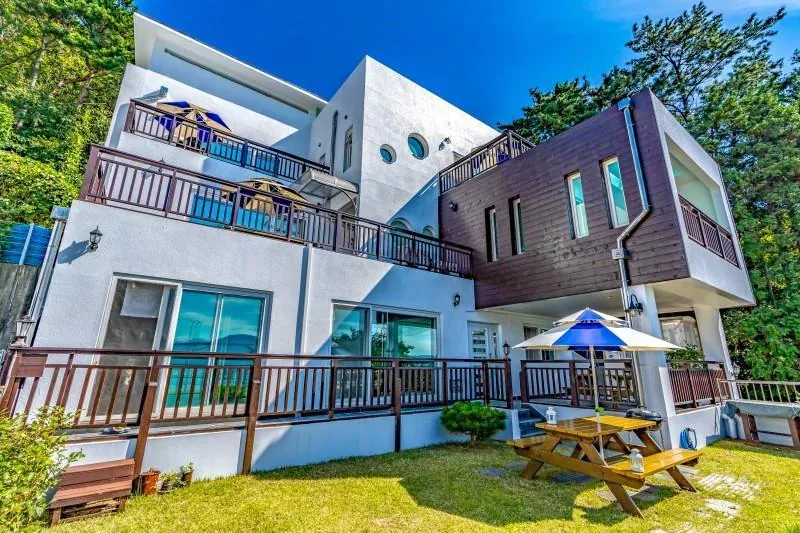 Geojedo Blue Beach Pension is a stunning pension near Gujora Beach. This place is perfectly located for a trip to Geoje! Check it out here.
---
Geojedo Yujahyanggi Pension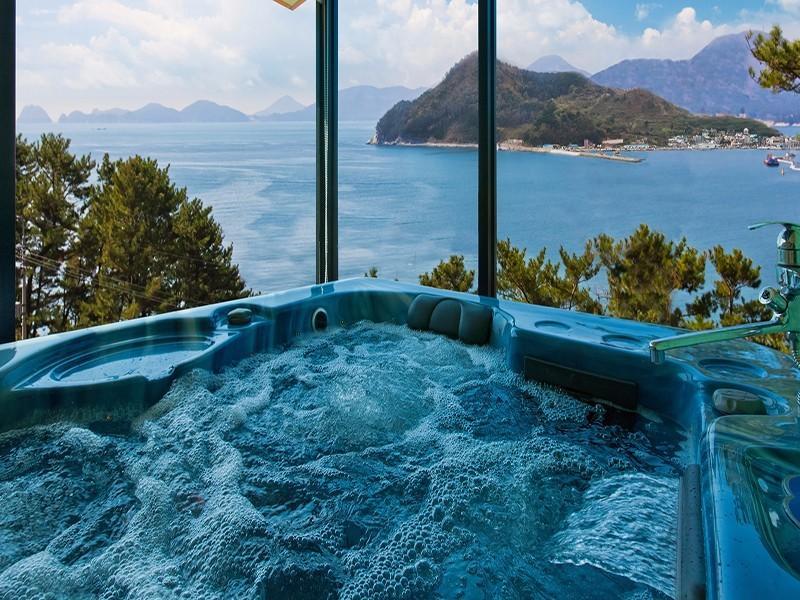 Fancy a room with a full sea view, then search no longer, Geojedo Yujahyanggi Pension is one of the best hotels in the area! Just look a the view! And on top of that, some rooms have their own private jacuzzi! What a dream! BOOK HERE NOW!
---
Hotel Riviera Geoje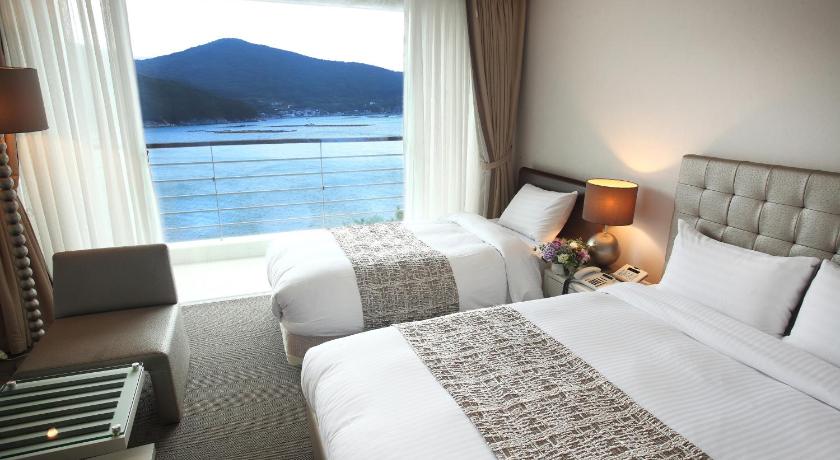 If you are looking for a hotel with full amenities, we are talking about hot spring bath, a gym, restaurants etc, then Hotel Riviera Geoje is one of the best places to stay in Geoje. Besides, you can also choose a room with full sea view! This place is very popular so booking in advance is recommended. CHECK IT OUT HERE
---
Our final thoughts about Geoje
Geoje is a real gem in South Korea. We quickly fell in love with the island. People were all very nice and many of them actually spoke good English. Indeed, there are many expats living in Geoje as the island is home to one of the biggest shipyard in the world.
If you decide to visit the southern part of South Korea, make sure to stop by Geoje. We recommend to stay at least 3 nights.
You can combine your trip to the Southern part of Korea with Boseong Green Tea Plantation, check out our post here and the best kept secret island of Korea, Namhae, check it out here.
We love to hear from you. Leave a comment if you found the information useful or if you have any question.
---
Links to related articles
99 BEST THINGS TO SEE IN SOUTH KOREA
21 AWESOME THINGS TO SEE IN SEOUL
30 INCREDIBLE THINGS TO SEE IN JEJU
VISIT YANGYANG ON THE EAST OF KOREA