HERE IS THE LIST OF THE MOST UNIQUE AND MOST INSTAGRAMMABLE HOTELS IN BALI
When you think of the most beautiful place in the world, do you think of Bali?
We know you do! After all, it's one of the top holiday destinations in the world, especially for newlyweds looking to celebrate their honeymoon.
It is literally the "it" place. So much so, it's even been labelled as the Island of the Gods, emphasising its beauty as it's genuinely crafted to perfection as if for God Himself.
We spent a few months in Bali, exploring every parts of the island, and found unique and incredible hotels which we are more than happy to share with you!
We traveled around the whole world, but it's safe to say that some of the most beautiful hotels are located in Bali!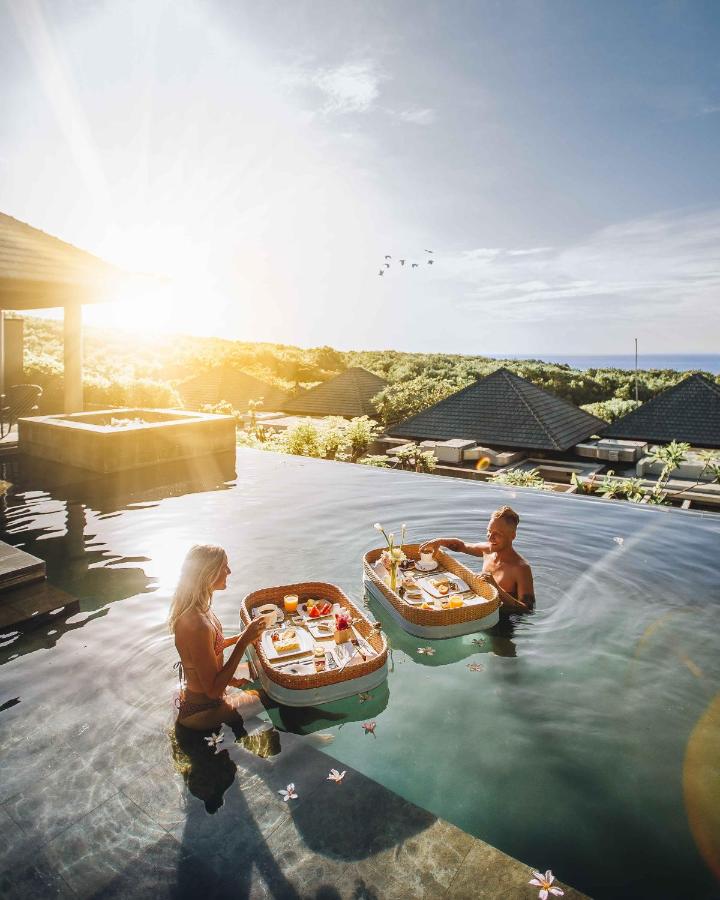 If you're planning a trip to Bali, you'll need to check more than just the flights. You'll also need a list of the best hotels in Bali so you can truly enjoy your time on the island.
Luckily, there are many incredible hotels in Bali which means it shouldn't be too hard to find a hotel that suits your needs. But then again, if you're anything like us, you might feel a little overwhelmed by the abundance of options. You may also want to experience what Bali is all about!
Should you go for a beach view or a hilltop hotel? Or maybe even both?
Look no further, we searched the best hotels for your in Bali. In this post we present a carefully curated list of the most Instagrammable hotels in Bali! HAVE FUN!
---
1. HIDEOUT BALI
If you've ever wanted to hideaway somewhere in the middle of nowhere, away from the challenges of life, then this is definitely the place for you!
The Hideout, as aptly named, is a beautiful resort featuring bamboo houses where you can focus on relaxing and connecting with your inner aura. It started as a single room in 2015 and has now successfully expanded to become one of the most incredible hotels in Bali.
What's more, you won't have to worry about being bored either, because the resort owners have loads lined up for you, including:
Massages
Cooking lessons
Visits to the local shaman
Guided trekking in the local area
Hence, this hotel definitely makes it to our list of the best hotels in Bali, so don't forget to check it out when planning your visit. This is one of the most famous hotel in Bali, so it gets booked very quickly!
---
2. Hoshinoya Bali
Hoshinoya Bali is a resort village that is based on the Balinese Hinduistic concept of balance between the human and natural worlds, mixed with Japanese design and perfection. This place is absolutely stunning!
It is located inside a Balinese jungle on top of a hill and has a sacred river flowing beneath it. The Tirta Empul river is sacred because it's believed to have been created by the god Indra's sword.
In the resort, you can feel the water all around you and you feel relaxed in its presence. Plus, this river also provides water to the entire village and thus, serves to bring the community together. Other amazing features of the resort include fine dining, a state-of-the-art spa, Balinese handicrafts, and a spacious reception area. Overall, this is one of the best hotels in Bali, so if you're visiting, do check it out, like us, you will fall in love with this place!
---
3. The Edge Bali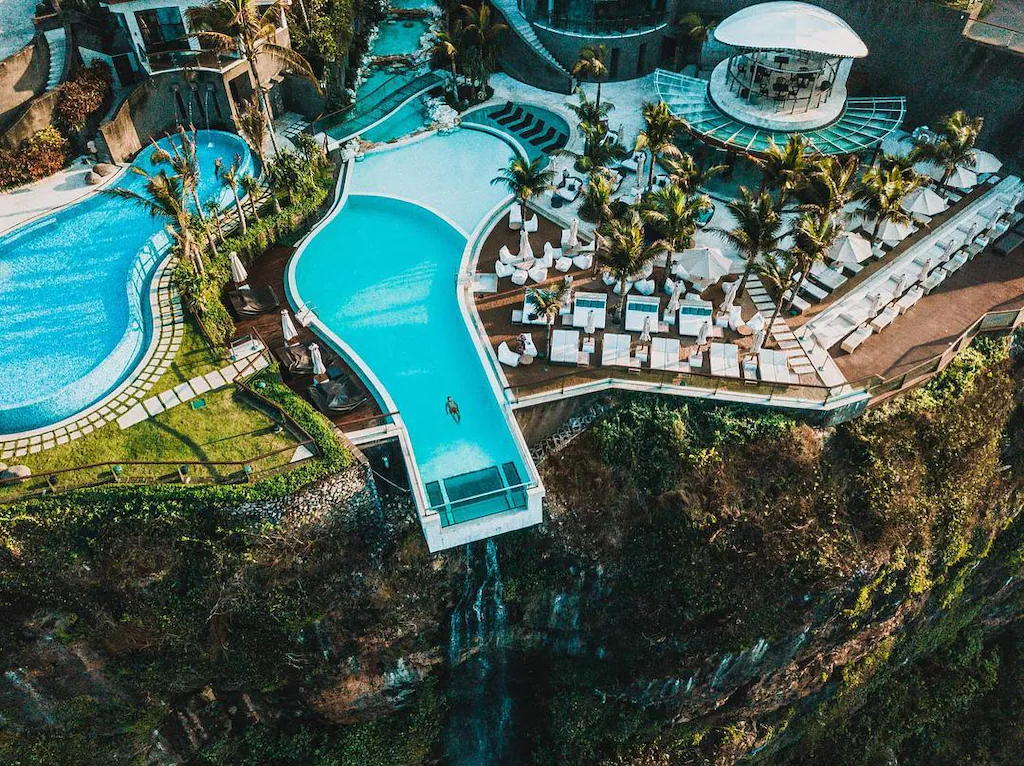 Speaking of the best hotels in Bali, The Edge has a really luxurious feel which makes it one of the most instagrammable hotels in Bali. It is located atop a cliff in the Uluwatu region and offers some very breathtaking views of the ocean.
There, you can swim on top of a cliff, in a transparent pool! Simply Incredible! (Hopefully you are not scare of heights…)
What's more, you'll have a private kitchen and a team of butlers available at your beck and call 24/7 – and what more could you want, really? So, whether you're planning a family holiday or a romantic getaway, The Edge is one of the most incredible hotels in Bali.
---
4. Hanging Gardens of Bali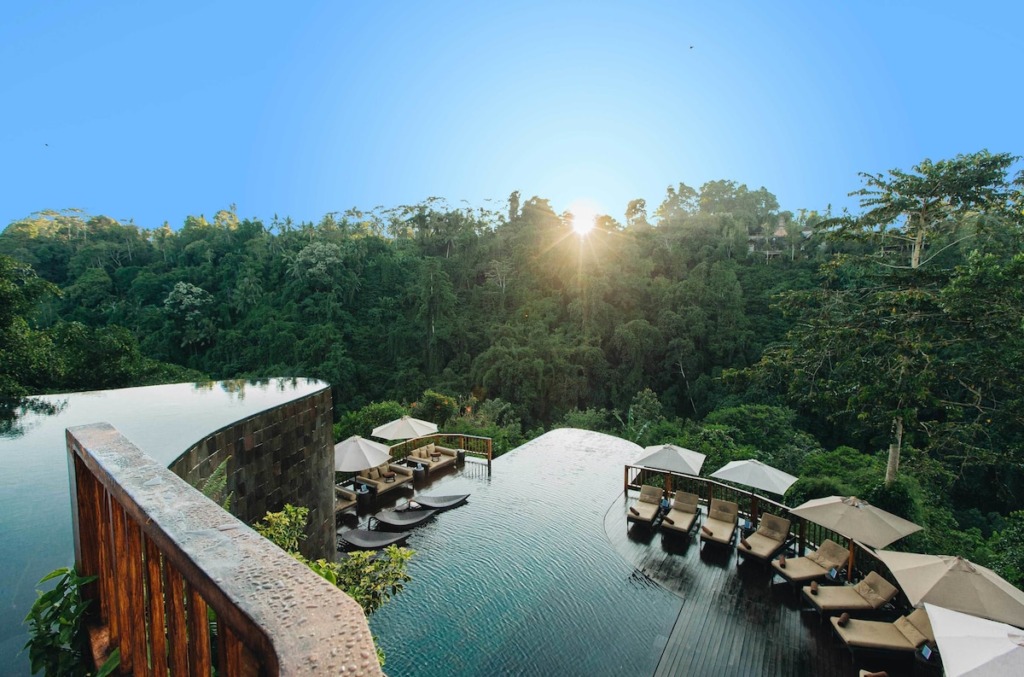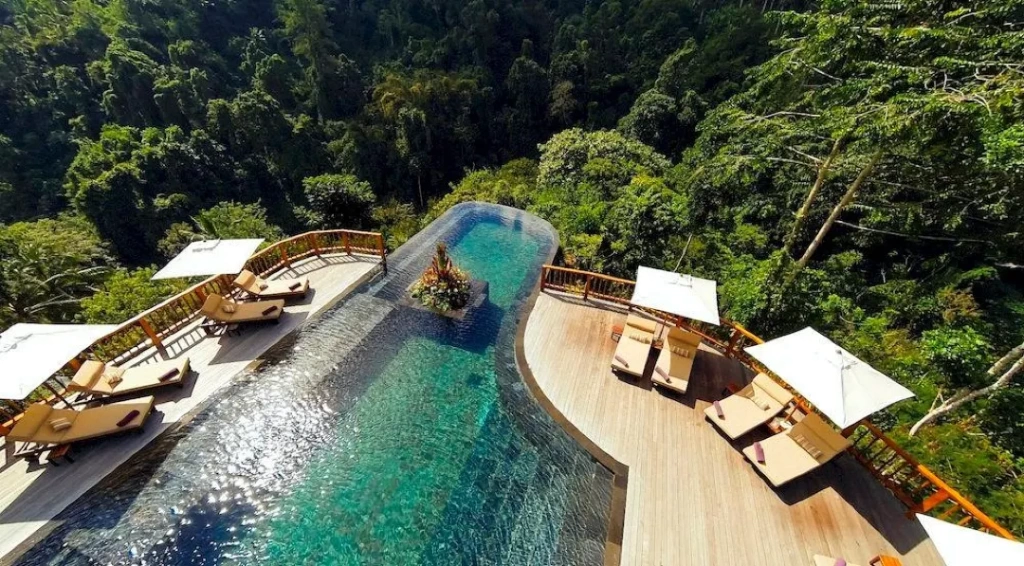 Another one of the most instagrammable hotels in Bali is the Hanging Gardens of Bali, located in the heart of the jungle in a town called Pavangan, near Ubud. It stands over a stunning valley, overlooking the Dalem Segara temple and the Ayugn River.
Our favorite part? The most amazing pool, facing Bali lush green jungle! Taking a photo there, might well be one of your best memories in Bali!
So much so, it has been declared one of the most desirable places to visit. And it's the first resort of its kind to hold the "World's First Seven Stars Boutique Hotel" title. Crazy right!?
Some of the amenities they provide for visitors include:
Shuttle service to Ubud town
Bathrobe and slippers
Fresh tropical fruits
Early check-in and late check-out (subject to availability)
VIP treatment
Hence, if there's a best hotel in Bali, it just has to be this one! You can book directly here.
---
5. The Uluman Eco Luxury resort
The Uluman Eco Luxury Resort is yet another sustainable resort that uses bamboo for its huts. This place feature one of the most incredible design we've seen in Bali. We completely fell in love with this place.
It is a wellness resort situated in the West of Canggu. And its most prominent feature is definitely the brilliant architecture. And if we talk about the most instagrammable hotels in Bali, the Ulaman would definitely top the list! So, when you're planning to visit Bali next, make sure to check out the resort because you won't find a better place to stay!
---
6. Jumana Bali
Jumana Bali is located near the Uluwatu Temple in the south of Bali and overlooks a stunning view of the Indian Ocean.
For people wanted to celebrate their wedding in Bali, this place is ranked as one of the top hotels in Bali for wedding ceremonies. So make sure to check it out!
Also, the hotel hosts around 73 palatial villas, all of which come with an outdoor hot tube, a plunge pool, and a retractable floor-to-ceiling glass that can transform into an open-air cabana.
The overall aesthetic feel of the space is inspired by Asian and traditional Balinese cultures and fused with the Banyan Tree aesthetic. And as if you needed another reason to love the place, Jumana Bali also offers spa services and a unique fine dining experience. Thus, it's definitely one of the most incredible hotels in Bali.
---
7. The Bvlgari Resort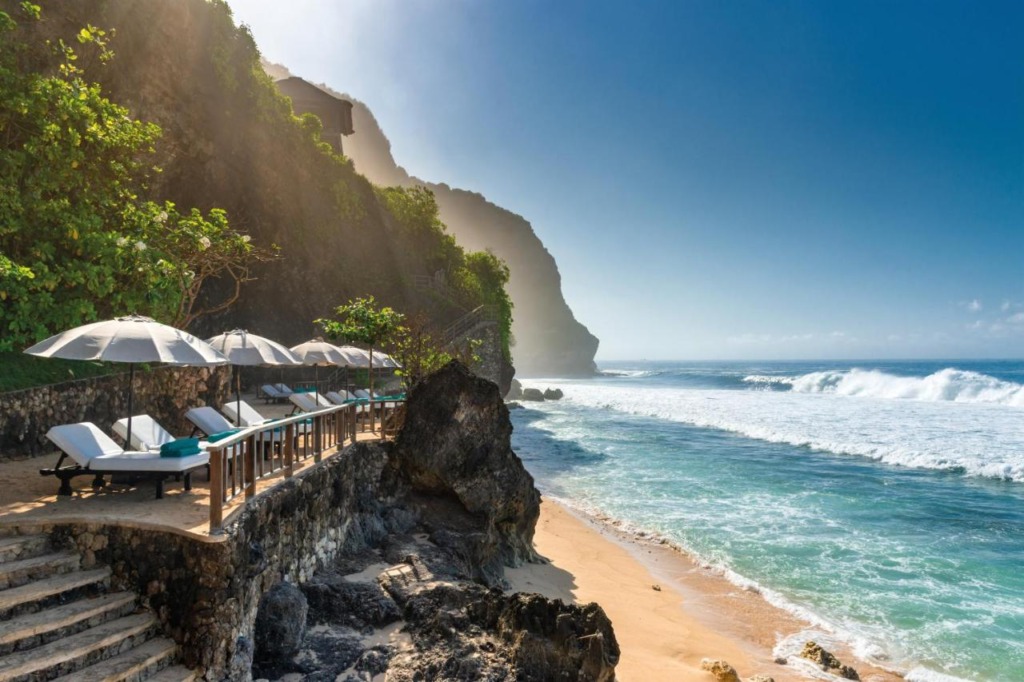 The Bvlgari Resort is owned by the Bvlgari group and is located atop a cliff overlooking the Indian Ocean in Uluwatu. It features 59 individual villas, each with its own terrace, open-air pavilion, and a private plunge pool.
Plus, the villas incorporate nature very well into the overall aesthetic with wood floors, natural lava walls, and manicured tropical plants spanning the entire floor-to-glass ceiling. So, if you go to Bali, you absolutely need to visit this resort because there's truly nothing like it!
This is one of the most exclusive hotels in Bali, absolutely stunning if you ask us!
---
8. Amankila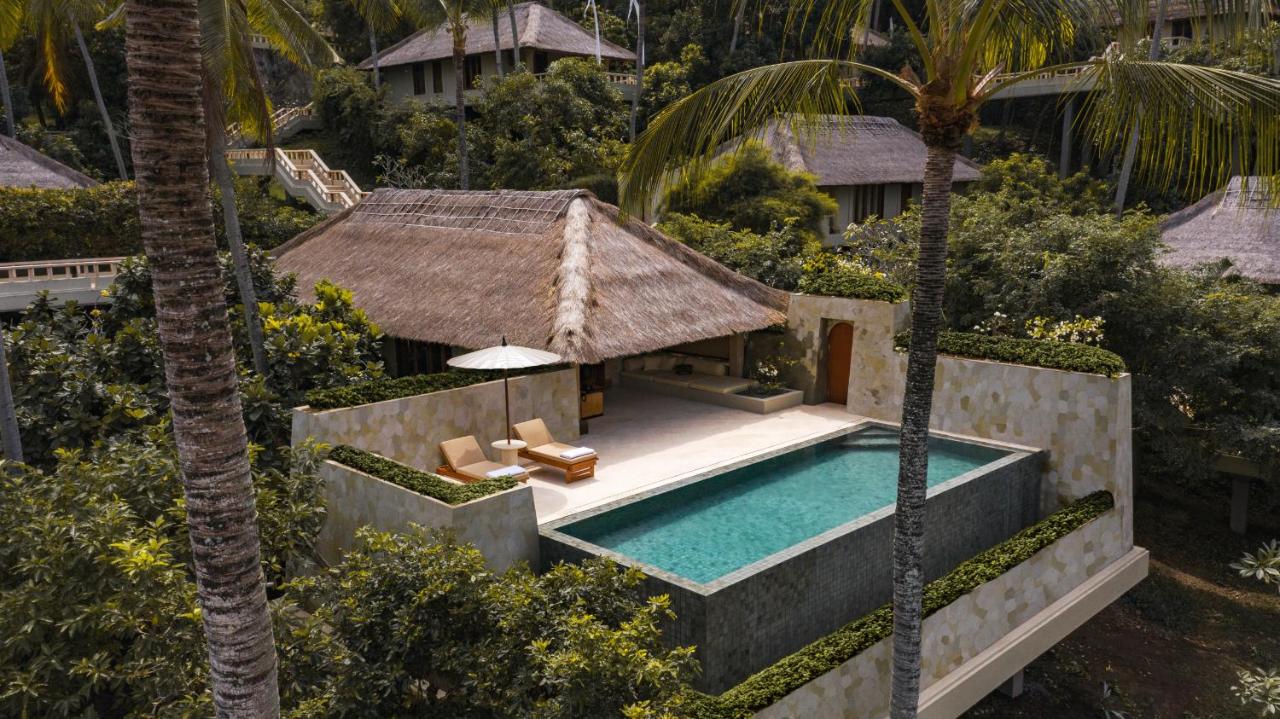 Amankila is located in the Mount Agung region overlooking the secluded Lombok Strait that is managed by a leading hotel brand – Aman.
The resort hosts 34 independent suites that offer exceptional views of the seaside. They're connected to the rest of the resort via raised walkways. The three-tiered pool with its silver-black sands and turquoise waters has a really calming effect on visitors.
And when you choose to stay here, you'll also be able to easily access the rural countryside, the area's royal history, and the local crafts – best vacation ever? We think yes, ABSOLUTELY!
---
9. The Laguna Resort & Spa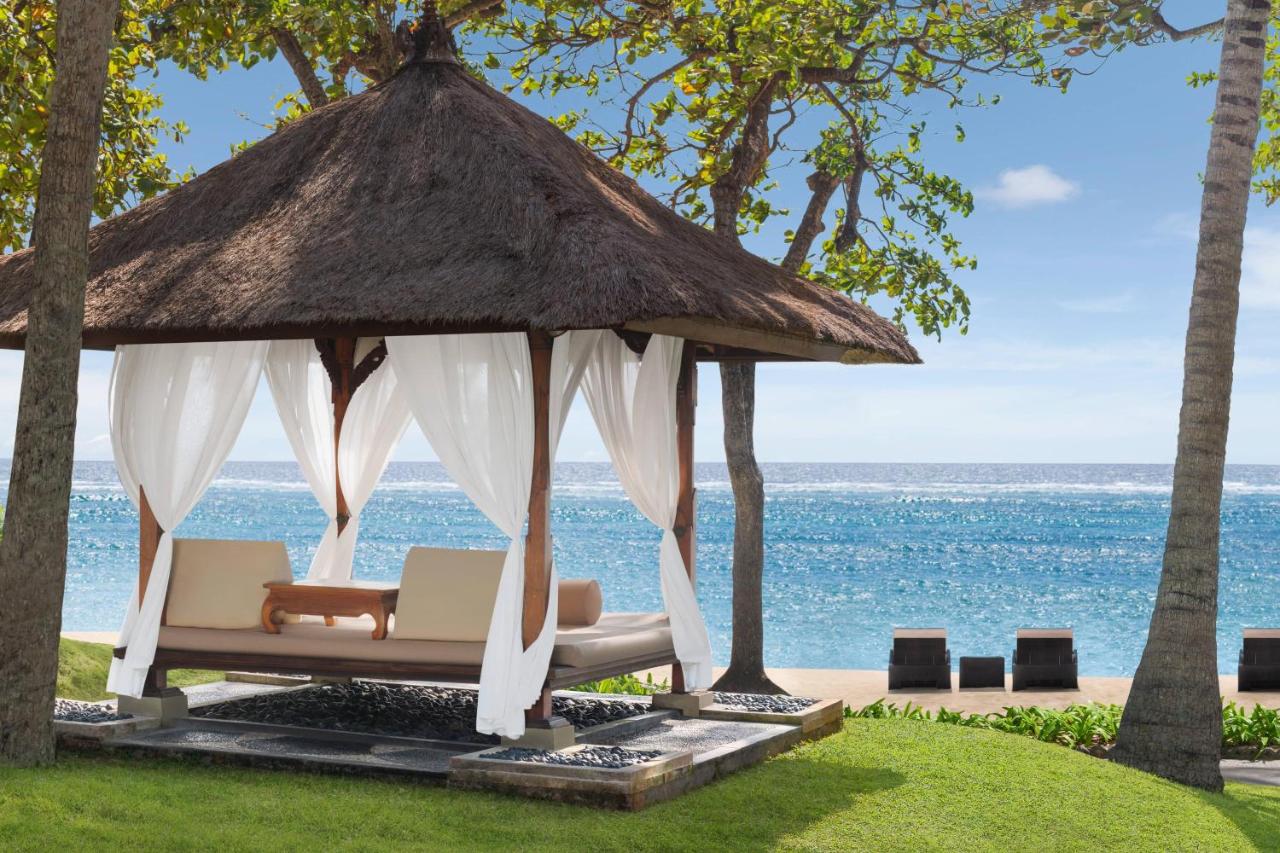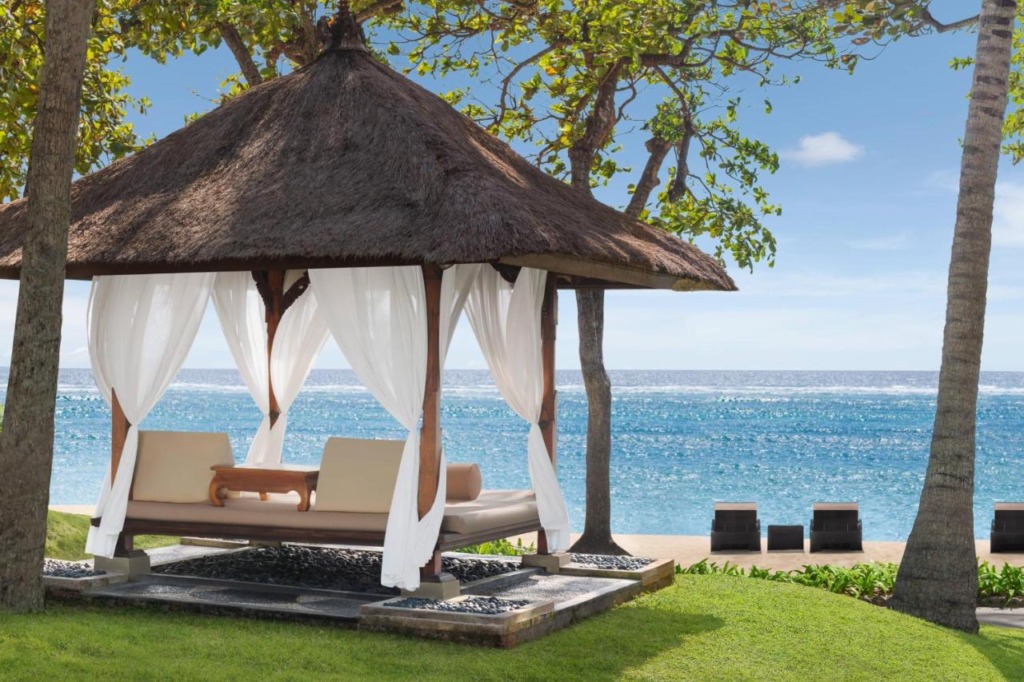 The Laguna Resort & Spa is a breathtaking hotel located in the Nusa Dua region on the southern coast of Bali. And if there's a luxury resort, it's this one for sure!
The staff literally greets visitors with a gong and speaks a lot about the kind of customer service you can expect. And as soon as you enter, you'll be met with the enormous and equally mesmerizing chandelier that is genuinely one-of-a-kind.
What's more, the Laguna features lagoon pools, lush areas, and even sunbathing rooms. And let's not even get started on the bedrooms that provide the best views of the gardens. Plus, breakfast is pretty lavish with even sushi and dim sum making it to the menu. But the day ends on an equally intense note with nightly fire dance performances while cocktails are being served.
---
10. The Camaya Bali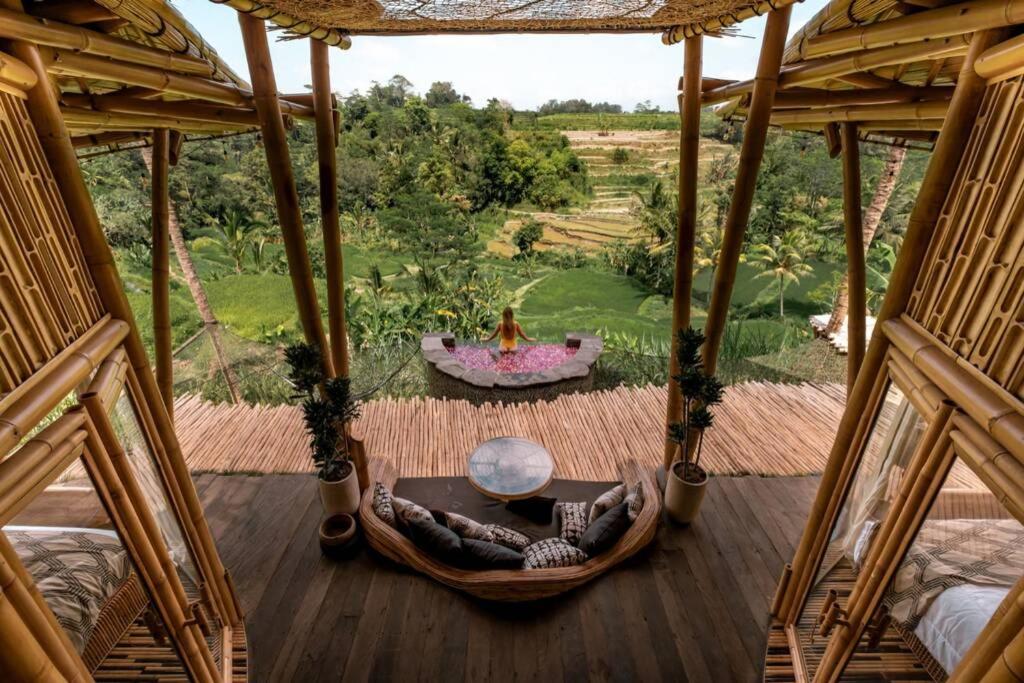 The Camaya Bali is an absolute treat for anyone looking to get a break from life. It hosts 5 individual houses, each with its own unique design and features. This incredible hotel is located near Sidemen, on the west side of Bali.
What's more, the hotel has been featured on CNN, Elle, Lifestyle Asia, The Bali Bible, Confetti Magazine, Trip Canvas, City Nomads, The Venue Report, and Bali Go Live – because yes, it is that good! The space has a really tranquil vibe that will genuinely help you unwind and relax. And overall, it's certainly one of the most incredible hotels in Bali – hands down!
If it's still available, don't hesitate, book now!
---
THE BOTTOM LINE
Bali is a hot holiday destination and tourists come from all over the world. However, they need to book a hotel that's just right, otherwise, it could ruin their entire vacation. And considering there are so many options, it can actually be quite overwhelming.
But thanks to us, you won't have to do your own research – you can simply go through our list of the most incredible hotels in Bali. Plus, they're also some of the most Instagrammable hotels in Bali which means every single picture will turn out great. The views are exceptional and the overall service is also pretty lovely. What's more, these hotels and resorts have a sort of luxurious feel, so you can fully relax and unwind.
Whether you're visiting for your honeymoon or you're just on a holiday with friends or family, Bali is one of the most beautiful places on earth and we guarantee you will LOVE it! But then again, that's exactly why you need to choose the right place to stay. So, go through our list of the 10 best hotels in Bali and ensure that your stay will be most pleasurable. And hurry up while they're still open for bookings!
ENJOY YOUR TRIP !
---
OTHER INTERESTING READS
10 BEST THINGS TO DO IN SEMINYAK
TOP TRADITIONAL DISHES IN BALI
DISCOVER SESEH AND CEMAGI IN BALI
BEST PLACES TO LIVE FOR DIGITIAL NOMADS