WHAT TO SEE IN SHIRAKAWA-GO? HOW TO GET TO SHIRAKAWA-GO? IS SHIRAKAWA-GO WORTH VISITING? WHEN IS THE BEST TIME TO VISIT SHIRAKAWA-GO?
Shirakawa-go: a charming village listed as a UNESCO World Heritage Site
Located between Takayama and Kanazawa (50 minutes from Takayama and 1 hour from Kanazawa – Gifu prefecture), the village of Shirakawa-go is ideal for seeing and visiting gasshō-zukuri houses, an architectural style unique to the region listed as a UNESCO World Heritage Site in 1995.
Gokayama, a little further and often skipped in favor of Shirakawa-go is another UNESCO World Heritage Site.
These two villages have the particularity, because of their geographical isolation far in the Japanese Alps, of having preserved a traditional style unique in Japan.
Both villages are beautiful. Our visit of Shirakawa-go and Gokayama was one of the highlights during our road trip through Japan. We highly recommend a visit of these 2 villages if you are visiting Japan!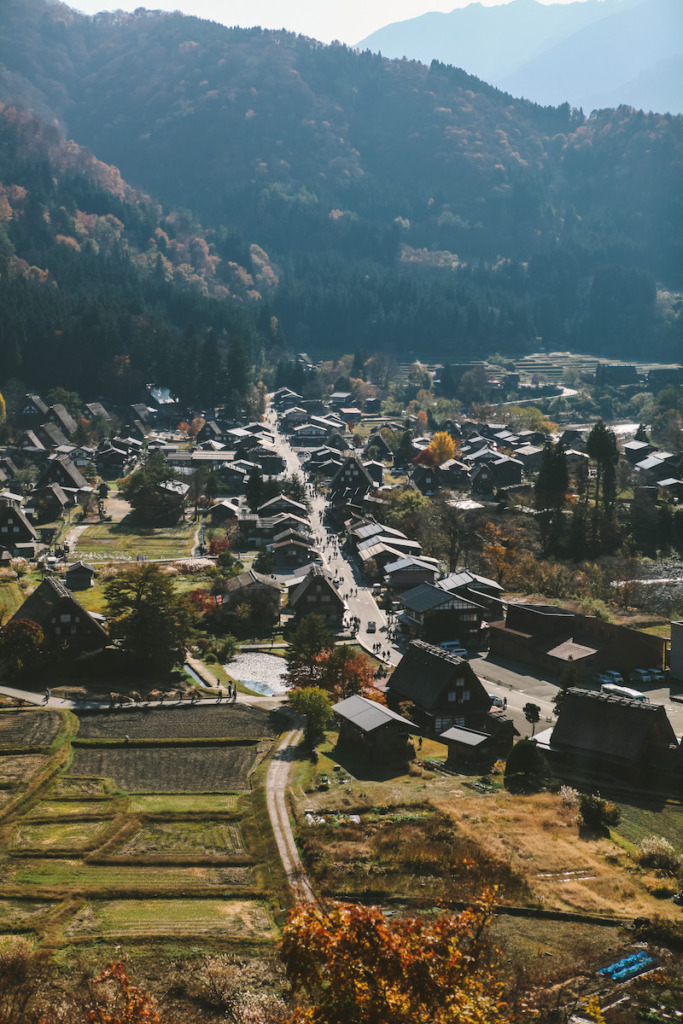 In this post we describe all you need to know to prepare your visit of Shirakawa-go and eventually Gokayama too.
After our stunning visit along the Nakasendo Way with the well preserved post towns of Tsumago, Magome and Narai-Juku, we were once again transported to the ancient Japan. The Japan we like the most in fact!
A visit of Shirakawa-go won't leave your indifferent!
Here is a glimpse of what to expect when visiting Shirakawa-go:
---
WHAT TO SEE IN SHIRAKAWA-GO?
1. Discover the Gassho-Zukuri architecture, typical of the Japanese Alps
The gassho-zukuri style houses, typical of the Japanese Alps region, are large wooden houses with very steep thatched roofs to withstand the thick layer of snow that falls in winter.
They were inhabited at least until the mid-nineteenth century by artisans specializing in the breeding of silkworms. Most houses were built over 250 years ago.
Today, if the village of Shirakawago is still inhabited, the region lives mainly from tourism. No less than 1.5 million tourists go there every year.
Note: these are the same houses as those presented at the Hida Folk Museum in Takayama or in Gero at the Gassho-Mura, except that in Shirakawa-go, the houses are inhabited (110 gasshō-zukuri houses and about 600 inhabitants).
You will therefore visit a place full of life and will be able to exchange with the inhabitants. It is a magnificent place not to be missed if you plan to visit the Japanese Alps region!
---
2. Visit the Kanda family house-museum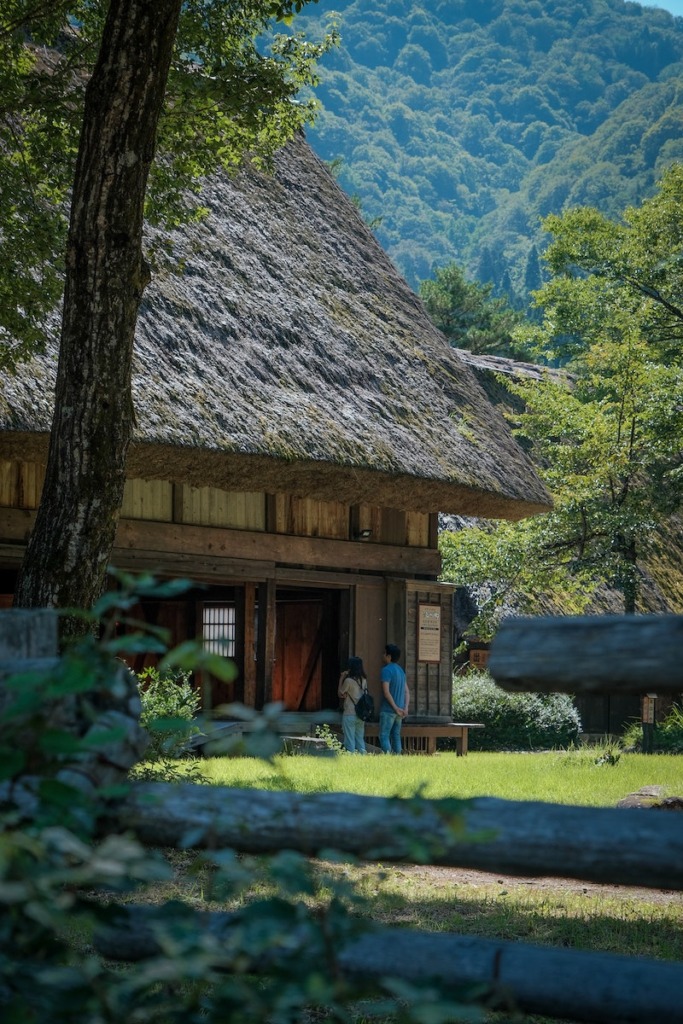 Some of the houses were transformed into a museum at Shirakawa-go.
We recommend the Kanda family home, where you can discover objects dating from the 15th century and you will learn in particular why the roofs of the houses in the area have gradually taken on this very particular shape
Admission: ¥300 with a tea.
Open 9 a.m. to 5 p.m.
Location: here
Website: here
---
3. Check out the Gasho Folk Museum

Cross the bridge to visit the Gasho Folk Museum, a reconstructed village that includes several Gassho-Zukuri style houses dismantled and rebuilt next to each other.
Admission: ¥600.
Open from 8.40 a.m. to 5 p.m. (9 a.m. to 4 p.m. from December to February), closed on Thursdays from December to March.
Location: here
Website: here
---
4. Make sure to go at Shiragawa-go viewpoint!
Reach the Ogimachi Castle Observatory to have the most stunning view of the village.
On foot allow 40 minutes walk uphill.
The best option is to take the shuttle which takes 10min to get you up the viewpoint. It cost 200 yen one way/per person. From there we recommend to go back to the village on foot, or to take the shuttle bus back.
The shuttle bus departs from here.
Location of the viewpoint: here
---
5. Visit Myozenji temple
This unique looking temple in the historic town of Shirakawa-go is a must see.
It was build almost similarly to the traditional gassho houses of the town. The temple also has a bell tower / torii gate of the same design.
Location: here
---
6. A little further visit Shirakawa Hachiman Shrine
This is a beautiful shrine located towards the edge of the village. Worth a visit if you are visiting this part of Shirakawa-go.
Location: here
---
7. Enjoy the local food
There are lots of great local restaurants around the village of Shirakawa-go as well as many stands serving ice creams, coffee and other yummy snacks.
The area where Shirakawa-go is located is famous for its beef, called Hida Beef. Therefore you will find all sorts of restaurant serving the famous beef.
If you don't eat meat, no worries, there are lots of soba noodle shop as well as udon places.
Gohei mochi is another famous snack from the region. It is made from rice with grilled peanut sauce served on a skewer! A must-try in this part of Japan!
---
8. Stay overnight in Shirakawa-go for the ultimate experience!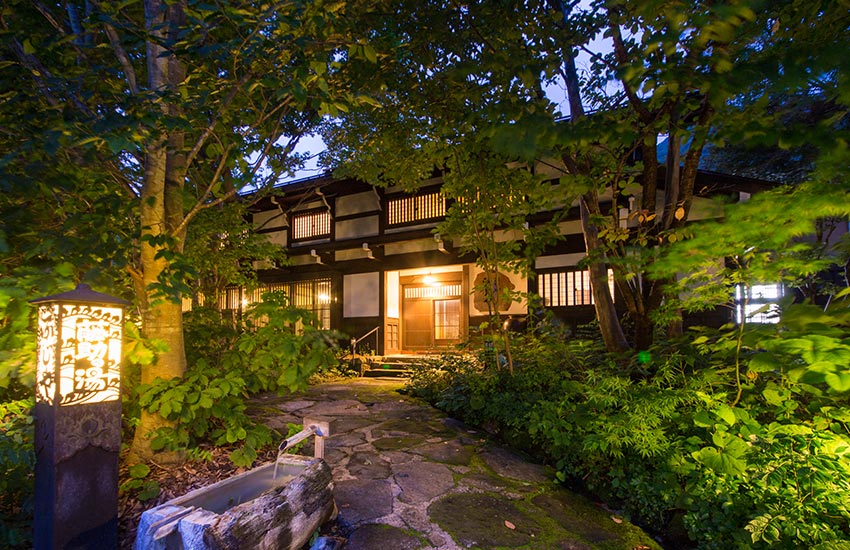 Staying overnight in Shirakawa-go is a unique experience! Most tourists come for a day trip, so after 5pm you will have pretty much the village to yourself!
A dozen of traditional houses have been transformed into minshuku (Japanese family inn).
However, it gets full very quickly as there aren't many rooms. So we highly recommend to book as early as possible to enjoy this unique experience in Japan.
---
How to get to Shirakawa-go?
Getting to Shirakawa-go by bus
From Takayama: Nohi bus company, 1 hour trip, ¥2470 (or ¥4420 round trip).
From Kanazawa: Nohi bus company, 75 minutes, ¥3290.
All buses arrive and depart from Shirakawa-gō Bus Station. This is located a few minutes walk from the entrance to the village. We highly recommend to book your bus tour in advance, as Shirakawa-go attracts millions of visitors every year!
Getting to Shirakawa-go by car
Direct access to the village by car is forbidden. However there are a few car parks around the village. We took our car to get there and it was super crowded to enter the parking! We waited at least 20min before we could park our car. So do come early to avoid the wait!
Private tour
For more convenience you can also book a full private tour. The tour will take you to Shinakawa-go but also it's beautiful surroundings. If you are a group of people, this is one of the best option to visit Shinakawa-go. Check it out here.
---
Visit Gokayama near Shinakawa-go
Gokayama is a set of rural villages in Japan with preserved ancient architecture, located in the Shokawa Valley in the southwest of Toyama Prefecture.
Ainokura, the largest village in the region, is home to twenty-three traditional houses with gassho-zukuri style thatched roofs, listed as UNESCO heritage sites. On site, you can taste the daily life of the inhabitants as well as the excellent local food.
It takes 30min by car to reach the Gokayama villages.
1. Start your visit at Ainokura Village
Located far down the valley, Ainokura is the most remote village in the Gokayama region. It is also the largest of the villages with almost 20 gassho-zukuri farms.
Some of them are private residences, while others have been transformed into restaurants, museums and minshuku.
Being less developed and less accessible than Shinakawa-go, Ainokura is quieter and has much less tourist.
So if you have enough time during a trip to Japan, you will appreciate the peaceful atmosphere at Ainokura compared to Shinakawa-go.
Location: here
BOOK: Day trip to Shinakawa-go and Gokayama
---
2. Suganuma Village
Suganuma is one of the main attractions in Gokayama and it is divided into two areas: Suganuma Village and Gokayama Gassho no Sato.
Pleasant to visit on foot, the two areas are linked together by a tunnel. From here, through an elevator, you can also reach the car park on the hill above the village.
Suganuma Village, and nine of its gassho-zukuri, were designated as UNESCO World Heritage Sites, along with Ainokura and Ogimachi in 1995.
Several gassho-zukuri have been converted into restaurants, minshuku and museums that depict daily life, paper washi and the gunpowder industries.
Location: here
---
How to get from Shinakawa-go to Gokayama
If you have a car, then it will be very easy. It's a 30min drive up north from Shirakawa-go.
There is also a local bus leaving Shirakaw-go to Gokayama villages. It takes about 1h.
However, if you are visiting Gokayama without a car, we rather recommend to join a tour which will make it much easier to visit both places in a day. You can check different options here.
---
Best time to visit Shirakawa-go?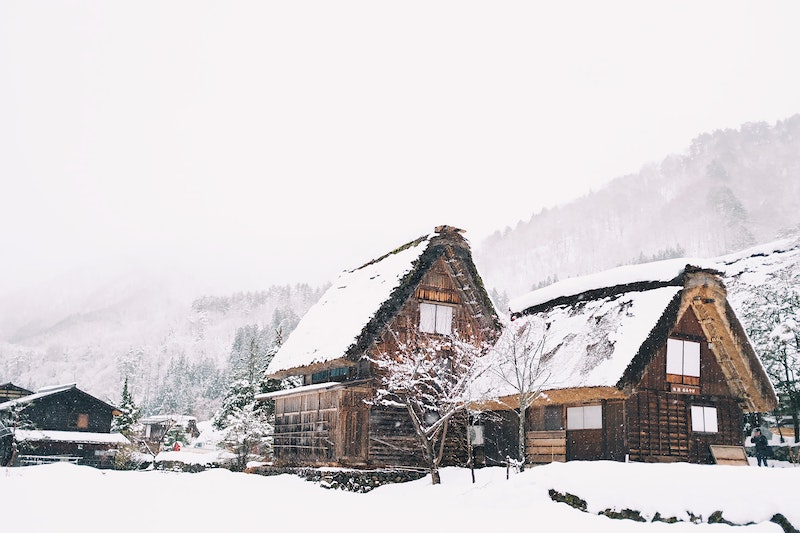 Shirakawa-go can be visited all year round. However the most scenic period to visit the village is during winter when the entire place is covered with a thick layer of snow.
Every seasons has it's particularity when visiting Shirakawa-go. Even in summer, you will be able to see the green rice fields surrounding the village! Absolutely stunning.
---
Is Shirakawa-go worth visiting?
Although it gets very crowded with too many tourists at time, the village of Shirakawa-go is really beautiful and worth the hype! If you stay after 5pm when most tourists leave, you will actually get the village almost all to yourself.
Hence staying overnight wouldn't be a bad idea either!
If you prefer to totally escape the crowd, then head to Gokayama first. Ainokura and Suganuma villages are much less touristy and often completely skipped by tourists.
Enjoy your trip!
---
What else to see near Shirakawa-go?
TAKAYAMA
If you are visiting Shirakawa-go, chances are that you have also inlcuded Takayama in your itinerary! And you did right! Takayama is another great place to visit in Japan, located only 1 hour away from Shirakawa-go.
There are many things to see in Takayama such as the historical center of SANMACHI SUJI, TAKAYAMA JINYA Residence or HIDA KOKUBUN-JI temple.
READ: 15 BEST THINGS TO SEE IN TAKAYAMA
---
KAMIKOCHI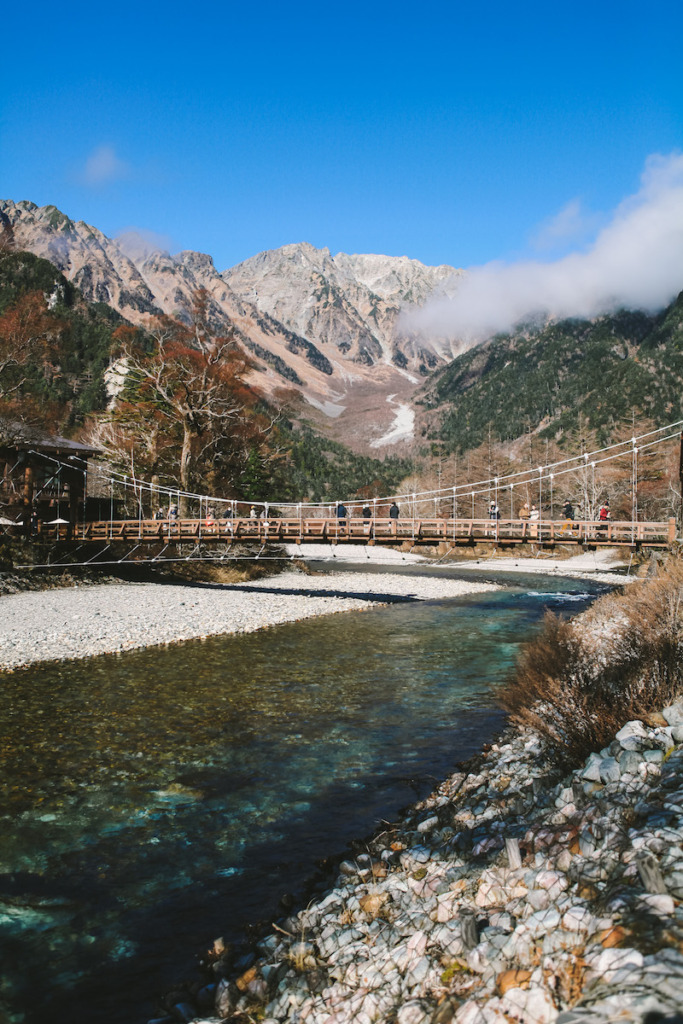 If like us you are planing a road trip through Japan, then Kamikochi should be on your bucket list! Kamikochi is classified as Natural Heritage of Japan.
Kamikochi is a 15 kilometer forest valley located along the Azusa River in the heart of the Japanese Alps in Nagano Prefecture. The site offers a delightful walk that can be done in one day, embellished with magnificent landscapes in spring and autumn.
The Kamikochi plateau is between 1,400 and 1,600 meters above sea level, with peaks reaching over 3,000 meters for the surrounding massifs.
The view from the valley is absolutely stunning!
From Takayama you can reach Kamikochi by bus or by car (1h).
Location: here
READ: FULL GUIDE TO TRAVEL TO KAMIKOCHI
---
GERO ONSEN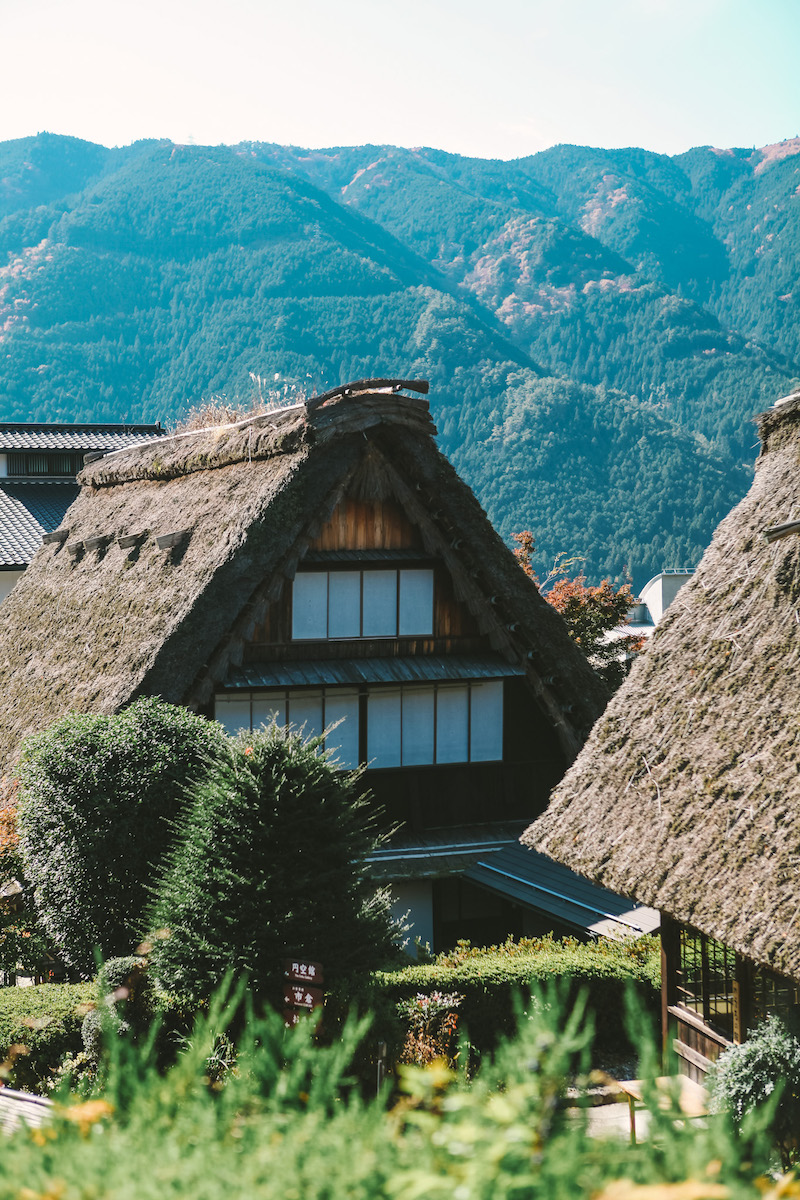 Located in the heart of the Chubu region in Gifu prefecture, between Nagoya and Takayama, Gero Onsen has developed on a transparent alkaline hot spring whose properties have been touted for nearly 1000 years.
Gero is located a little over 1000 meters above sea level. Thanks to an ancient volcano, Gero Onsen is gifted with rich water.
Today Gero Onsen is a great place to rest in the Japanese mountains. Make sure to also visit the Gero Onsen Gassho Village!
Location: here
READ: DISCOVER GERO ONSEN, ONE OF THE MOST IMPORTANT ONSEN TOWNS IN JAPAN
---
Related posts
15 BEST THINGS TO SEE IN TAKAYAMA
EXPLORE KAMIKOCHI IN THE JAPANESE ALPS
BEST THINGS TO SEE IN THE JAPANESE ALPS
GUIDE FOR A VISIT TO NARAI-JUKU
HIKE ALONG NAKASENDO [TRAVEL GUIDE]
GUIDE TO TSUMAGO ALONG NAKASENDO
15 BEST THINGS TO SEE IN HAKONE NEAR MT. FUJI
15 INCREDIBLE THINGS TO SEE AT LAKE KAWAGUCHI
OBUSE, A BEAUTIFUL TOWN IN JAPAN WORTH A VISIT
10 BEST THINGS TO SEE IN MATSUMOTO