HOW LONG DOES IT TAKE TO WALK THE NAKASENDO WAY? WHICH SECTION OF NAKASENDO WAY IS THE BEST? HIKE BETWEEN TSUMAGO AND MAGOME?
Nakasendo Way is an ancient trail built 400 years ago by the Tokugawa shogunate as one of the main roads between Edo (Tokyo) and Kyoto, the imperial capital.
It is a long route, with a total length of 526 km, with 69 stopover villages in between (such as Magome, Tsumago and Narai-Juku).
Due to the construction of new roads and railways most of the traditional Nakasendo Way has disappeared (sadly). However, some parts located in Nagano and Gifu prefectures still remain well preserved!
This post is the ultimate guide to explore the best parts of Nakasendo Way (either on foot or during a road trip) and a detail explanation of Tsumago – Magome trail, one of the most scenic hikes along Nakasendo.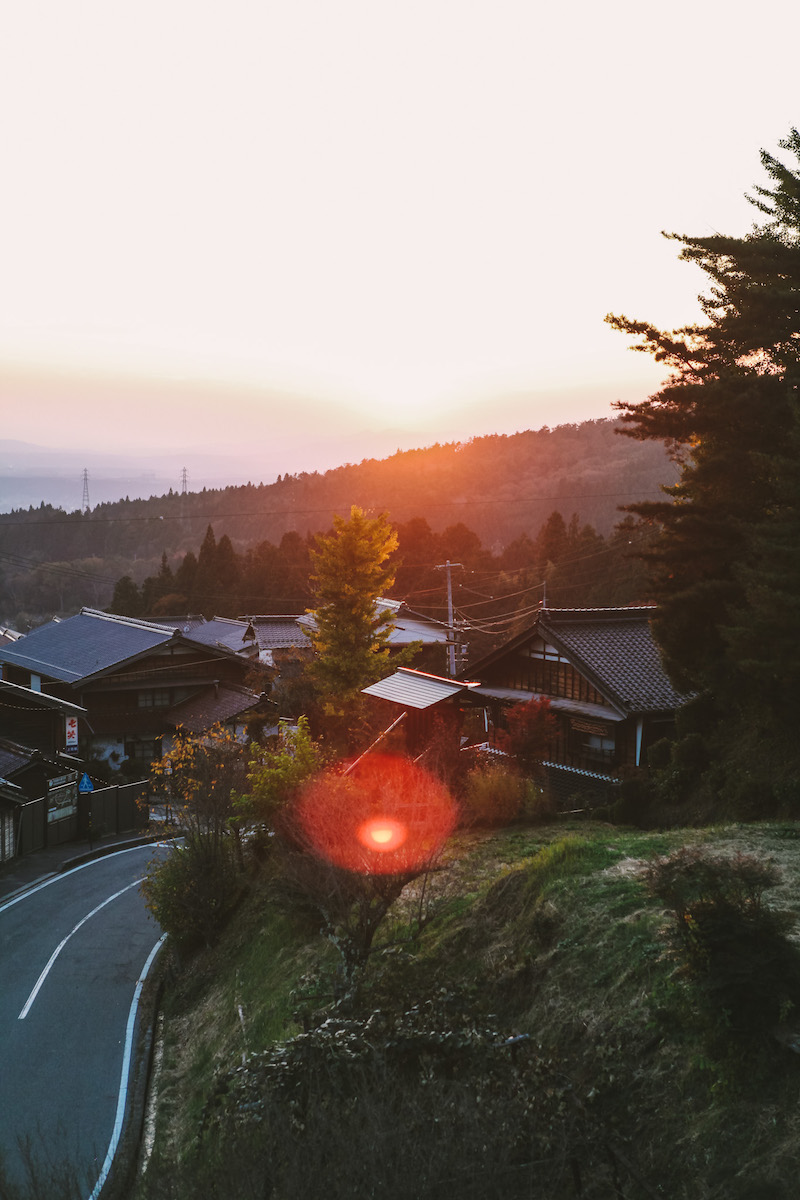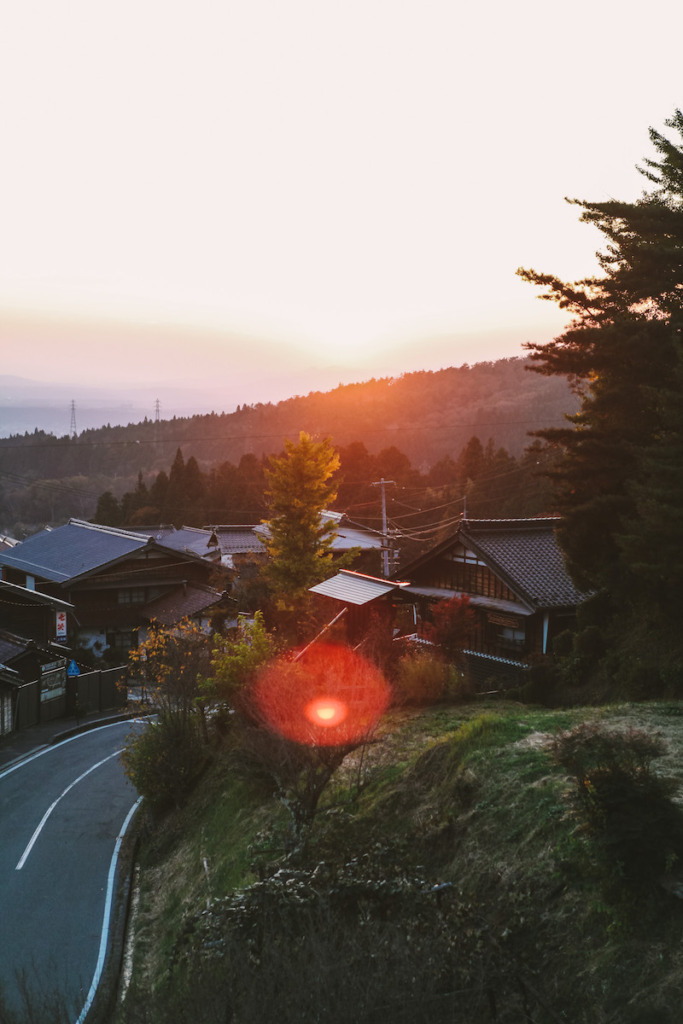 The main highlights along Nakasendo are:
Walk through ancient forest, admire waterfalls and idyllic rural life with rice paddies and vegetable fields.
Visit Matsumoto Castle which is one of only 12 original castles remaining in Japan.
Here is a glimpse of what to expect along the legendary Nakasendo Way:
Are you ready to be transported in the real Japan? Here is all you need to know about a visit of the Nakasendo Way!
---
Ideal 5 days itinerary to explore the Nakasendo Way
---
Day 1: Matsumoto
Start your trip to the highly underrated city of Matsumoto.
In this charming town, wander through Nawate-Dori one of the cutest street in Matsumoto, stop at the beautiful Yohashira Shrine, and of course head to one of the most stunning castles in Japan: The Mastumoto Castle.
Stay at the gorgeous Shoho hotel in Matsumoto.
READ: 10 BEST THINGS TO SEE IN THE MATSUMOTO
---
Day 2: Narai-Juku
Then, take a train at Matsumoto station for Kiso Hirasawa, one of the beautiful post towns of Nakasendo, famous for its lacquerware.
If you take a short walk from "Lacquer Town", you will arrive to the post town of Narai-Juku where you will feel like you have been transported back in time to the Edo period.
Spend the night in Narai-Juku for a unique experience. Stay at the stunning BYAKU Narai
READ: FULL TRAVEL GUIDE FOR NARAI-JUKU
---
Day 3: Narai – Yabuhara – Kiso Fukushima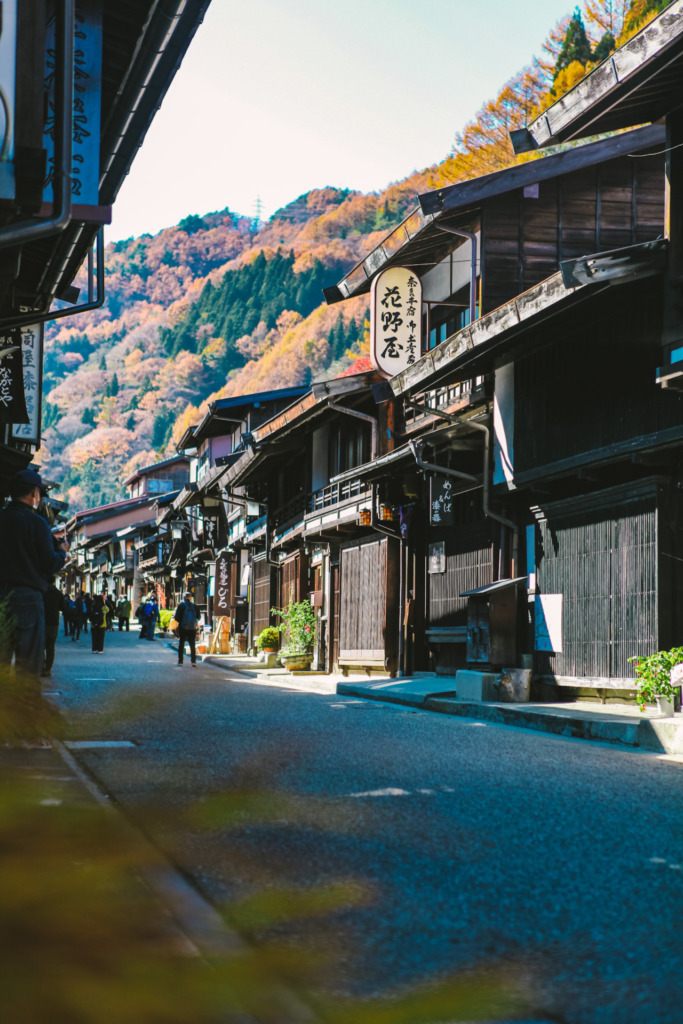 In the morning, start walking the Nakasendo trail from Narai. It takes 3-4 hours to reach Yabuhara town. Along the way, you may see Mount Ontake, the region's highest sacred mountain.
You'll walk through the forest and the mountains, so it is recommended to wear comfortable walking clothes and shoes.
Then take the train to Kiso Fukushima. The local government office was once located in this town. You can walk through the old town.
Stay at the traditional Ryokan Nukumorino-yado Komanoyu.
---
Day 4: Tsumago – Magome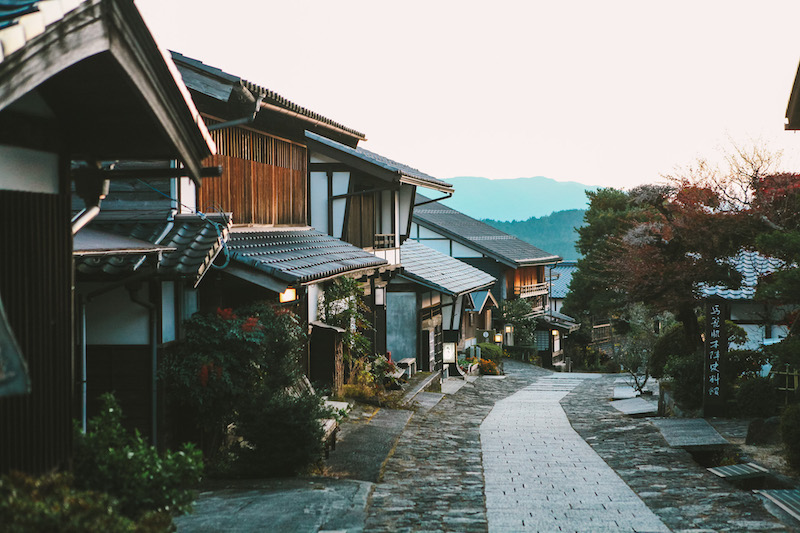 In the morning, take a local train to Nagiso and start hiking the Nakasendo trail. About 4 km to the post town of Tsumago passing through many small villages, temples and the castle ruins of Tsumago.
Tsumago is one of the best preserved post town in Nakasendo. How about tasting "goheimochi" rice cake and soba (buckwheat) noodles before embarking on another hike.
Then hike 8 km through forests, rice fields, traditional tea house, waterfalls and so much more until you reach Magome. Tsumago to Magome is is the best hike along Nakasendo Way! – FULL GUIDE IN THE NEXT PART OF THIS POST.
In the evening take your time to explore the stunning village of Magome. Spend the night at Magome Chaya!
READ: BEST THINGS TO SEE IN MAGOME
---
Day 5: Nakatsugawa – Nagoya
Take a local bus to Nakatsugawa station. From there take a train to Nagoya, one of the biggest cities in Japan. It takes 1 hour.
There are plenty of things to do in Nagoya! You can spend 1 or 2 days to see most attractions around the city!
---
HIKING GUIDE BETWEEN TSUMAGO AND MAGOME
Which way is better? Magome-Tsumago or Tsumago-Magome?
Both ways are absolutely beautiful. However, there is a slight advantage if you start from Tsumago. Indeed, if you start from Magome there is a long uphill trail until you reach the summit. From there it's relatively easy though.
The advantage of starting from Tsumago is that it's mostly flat and the last part before reaching Magome is completely downhill, which is much easier.
Also, you need to consider where you are going to spend the night after your hike. Many tourists decide to stay in Nakatsugawa as there are more hotels.
So if you finish your hike in Magome then you simply need to take a 25min bus ride back to Nakatsugawa. If you finish your hike in Tsumago and want to come back to Nakatsugawa, you will need to take a bus first to Nagiso and then a train to Nakatsugawa station.
However, both ways are relatively easy. In conclusion, it doesn't really matter, you will enjoy the hike either way 🙂
If you decide to explore the Nakasendo way you can also join a guided tour. This offer includes a stay at a Ryokan with breakfast and a guide to show you some of the most beautiful preserved villages along Nakasendo. More information about this offer here.
---
How long does it take to complete the hike between Tsumago and Magome
The journey is about 7km and takes about 3 hours to complete.
However, we decided to start the hike from Nagiso (as the train from Nakatsugawa stops at Nagiso first). From there count 1h to reach Tsumago. You can also take a bus to reach Tsumago from Nagiso, however it takes about the same time as walking. So why not including Nagiso-Tsumago into your itinerary!
Besides there are beautiful things to see on the way such as Kabuto Kannon Shrine and Tsumago Castle ruins.
As we started hiking at 11am, we stopped in Tsumago for lunch and took our time to visit this beautiful post town. From there we continued our journey to Magome and stroll this gorgeous village. On the way there are many things to see as well. So although hiking time is 3 hours, count easily a full day to explore everything.
Don't rush this hike, this is one of the best things we did in Japan!
---
What to see between Tsumago and Magome?
1. CHECK OUT KABUTO KANNON SHRINE
Do you like visiting Japanese temples? Kabuto Kannon Shrine is a place not to be missed. Built towards the end of the 12th century, the place enshrines the samurai Minamoto no Yoshinaka, nicknamed the "General of the Rising Sun", who erected a citadel in Tsumago.
You can visit this temple shortly after leaving Nagiso. If you start your hike from Tsumago you will unfortunately miss this temple.
Location: here
---
2. VISIT TSUMAGO CASTLE RUINS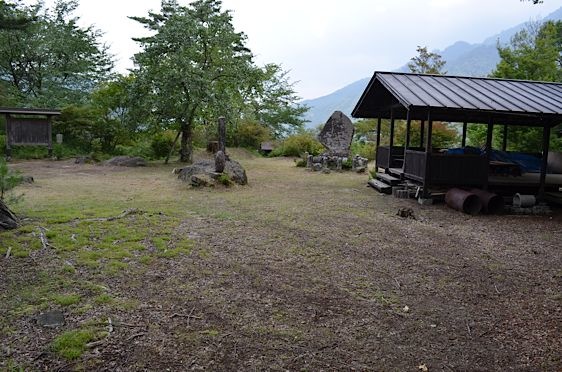 Before arriving in Tsumago, make a quick stop at Tsumago Castle Ruins. Tsumago once had its own castle, but now only the ruins remain.
In the Edo period, the monument erected at the top of the mountain offered a splendid view of the locality and the neighboring village of Midono-juku.
The castle was the scene of a major war in 1584, then was dismantled at the beginning of the 17th century after the declaration of the rule "one country, one castle" during the Genna era.
Location: here
---
3. TAKE YOUR TIME TO VISIT TSUMAGO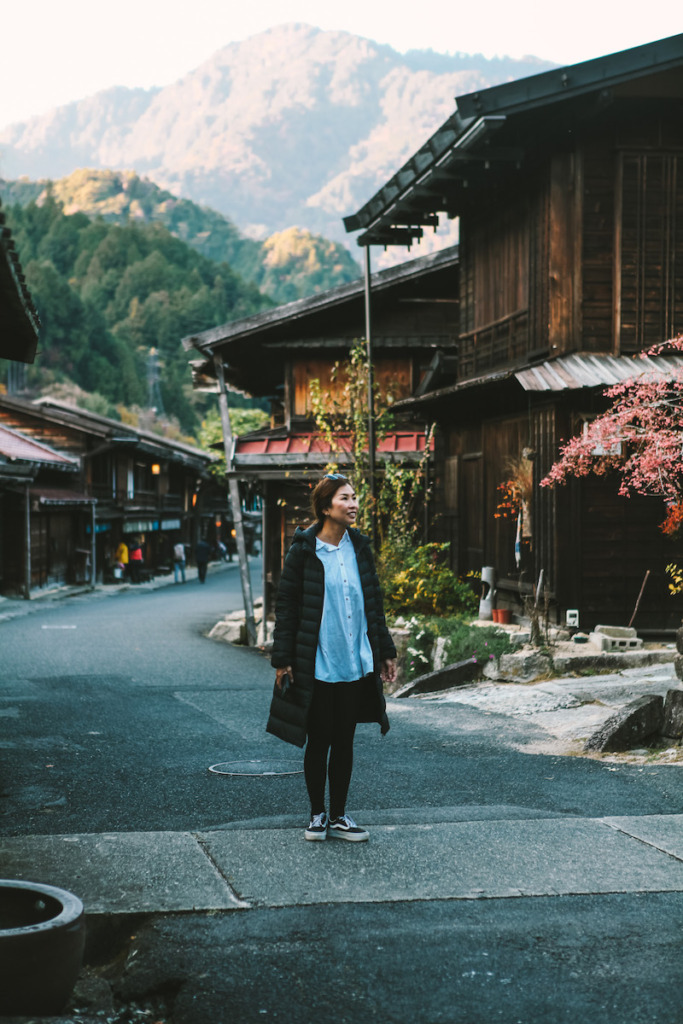 Tsumago is one of the most beautiful post towns along the Nakasendo Way! Take your time to explore this gorgeous place.
There are many things to see in the village, such as Nagiso History Museum, historic ryokans like Honjin, Rurisan Kotoku-ji temple etc. Besides there are many traditional restaurants, which is ideal for a break at lunch time.
READ: ALL YOU NEED TO KNOW ABOUT TSUMAGO
---
4. WATCH OUT FOR THE BEARS!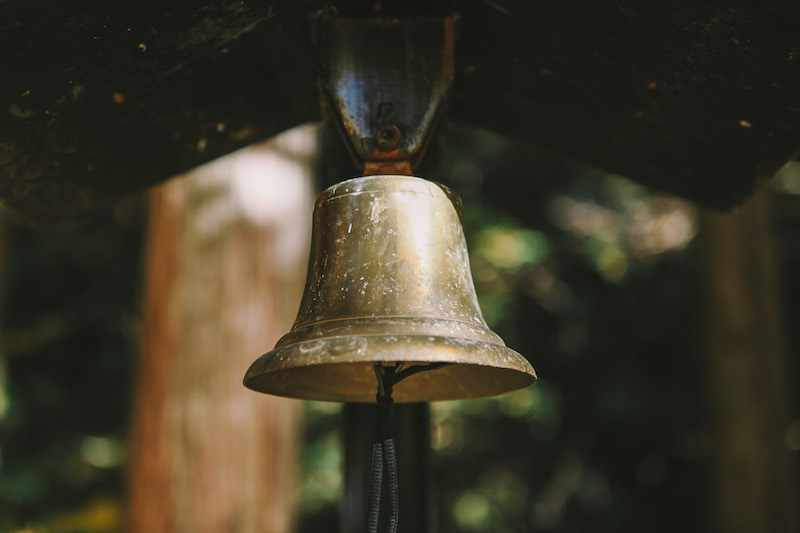 From time to time, there are bells on the way to scare the bears away. It is recommended to ring the bell during the hike. Many hikers in Japan also wear bells on their backpack.
Actually, it is extremely rare to see bears in Japan. Having the bells and the sign about the bears is rather amusing.
---
5. WALK THROUGH MAGNIFICENT BAMBOO FOREST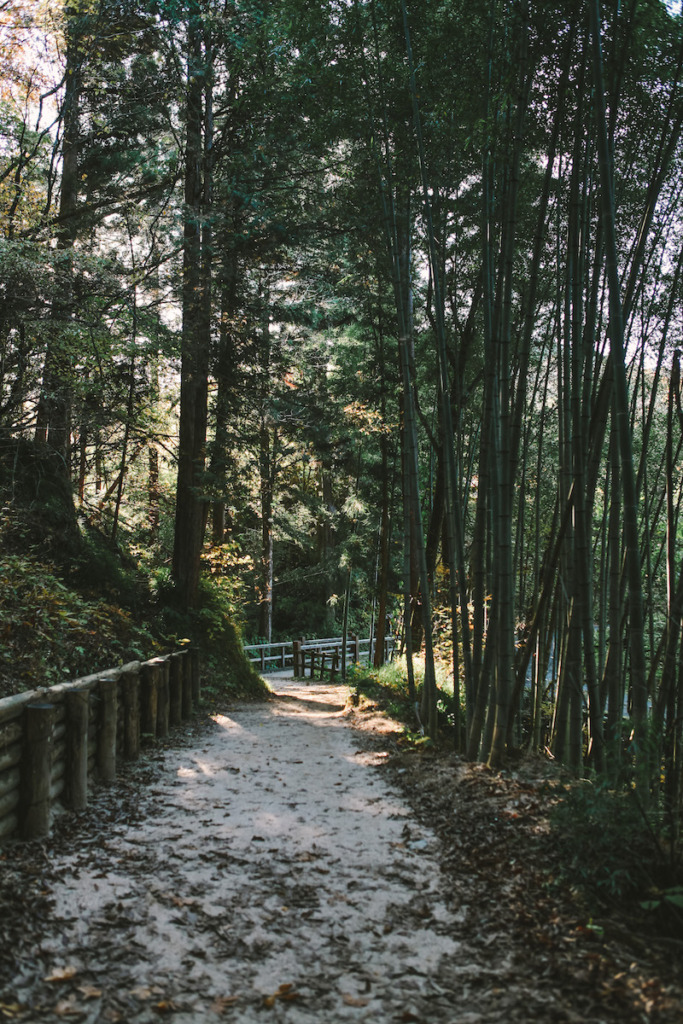 Along the way you will cross beautiful bamboo forest. A good time to take a break and admire the surroundings.
On the road you will also find a tomb dedicated to a 16th century samurai. The story goes that the latter sacrificed his life to protect a hamlet from a gang of bandits.
---
6. ADMIRE 2 WATERFALLS ODAKI AND MEDAKI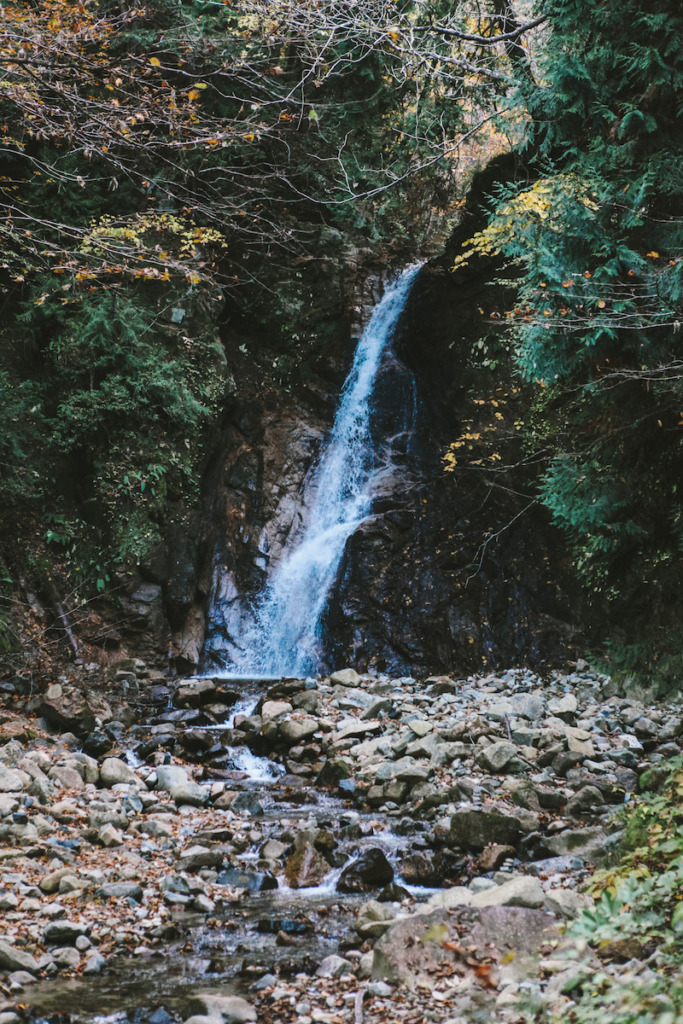 The waterfalls are actually a bit out of the way. However there are clear signs showing the direction of the waterfalls!
This little detour is a MUST! About ten meters high, the two waterfalls are beautiful. The setting is just gorgeous! It is also a refreshing spot. You can enjoy the cold wind from the waterfall.
The bigger waterfall is considered to be the male and the smaller waterfall the female.
Location: here
---
7. NEXT CROSS THE STUNNING CYPRESS FOREST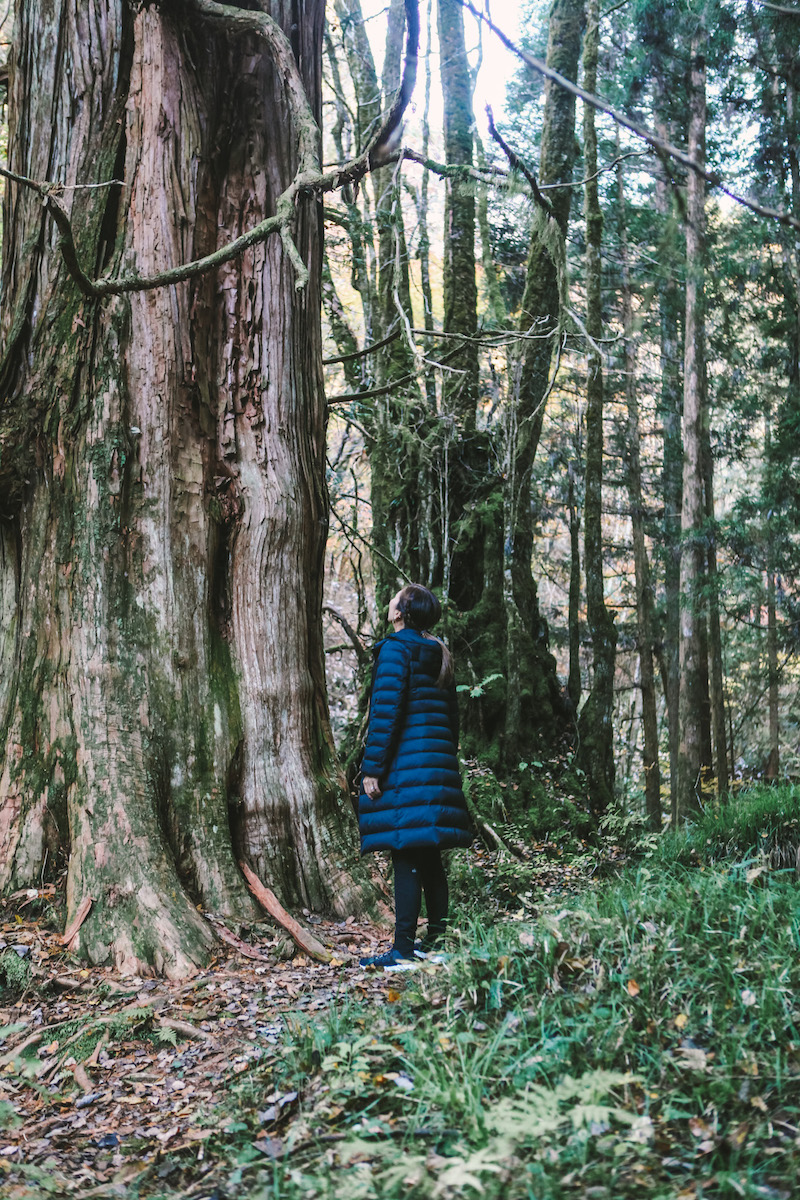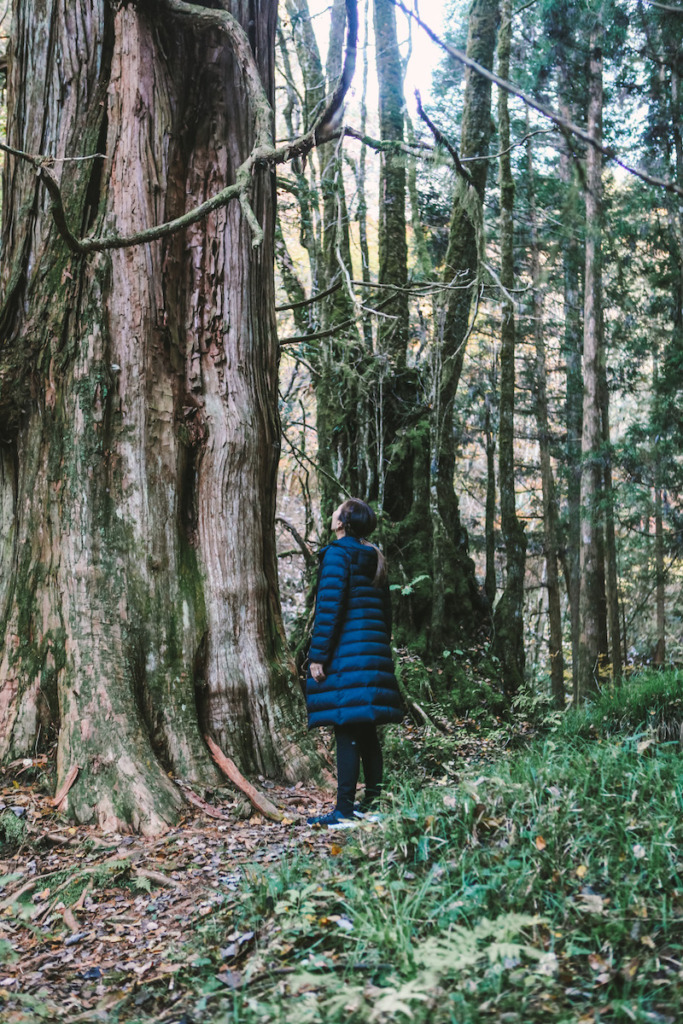 Within the forest you can admire 300 years old cypress. In particular multiple cypresses becoming 1 single tree! It's quite intriguing.The place is called "神居木"
Location: here
---
8. ENJOY A TEA AT TATEBA TEAHOUSE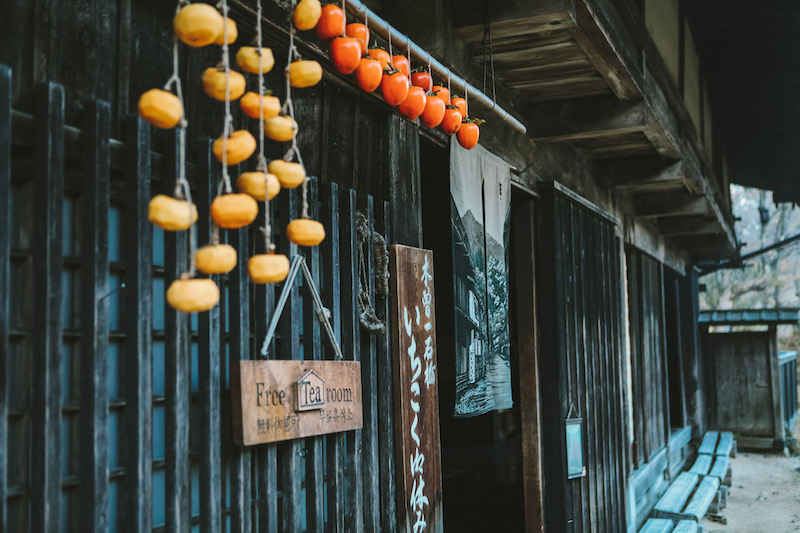 This is another must-see along the Nakasendo Way between Tsumago and Magome!
Enter the traditional tea house for free. You will be offered a tea and a great chance to talk with the owner about life in this part of Japan! This is one of the unforgettable experiences we had in Japan!
The tea and some snacks are served for free. However a small donation is expected to maintain the beautiful tea house. A timeless, quiet gem.
Location: here
---
9. LAST STOP BEFORE MAGOME: KUMANOJINJA SHRINE
Kumanojinja Shrine is a beautiful old shrine near Magome.
The atmosphere at the temple is lovely. Stop a few minutes to admire this gorgeous temple.
Location: here
---
10. AND FINALLY: MAGOME
Right before you enter the village of Magome, stop at the stunning viewpoint. From there you can admire the village and the surrounding mountains. It's beautiful.
Then take your time to stroll through the main road of Magome. Don't miss the Magome Notice Board at the entrance of the village. Also visit the Eishoji temple, Magome scenic watermill and Honjin/Tozon memorial.
READ: MORE ON MAGOME – FULL TRAVEL GUIDE
BOOK: 2 DAYS GUIDED TOUR ALONG NAKASENDO
---
HOW DIFFICULT IS IT TO HIKE BETWEEN TSUMAGO AND MAGOME?
No need to be an experienced hiker to walk between Magome to Tsumago.
Although it's not flat all the time, the route remains quite accessible, even for children.
---
Baggage transfer between Magome & Tsumago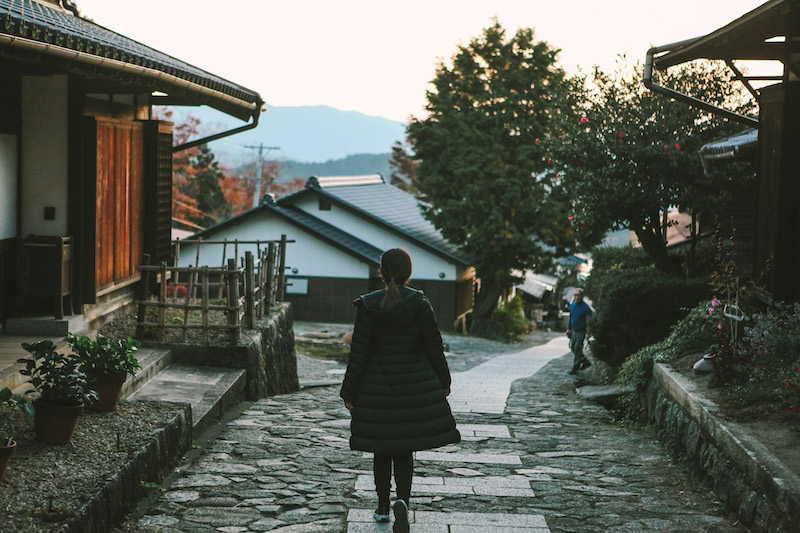 If you were unable to drop off your belongings at your hotel before starting the hike, or if you want to start in Magome and sleep in Tsumago (or vice versa), there is a very useful luggage transport service from the tourist office in each village.
This service only operates between March 21 and November 30 each year. During this period, luggage transport is daily.
You must drop off your luggage before 11:30 a.m. (Tourist office opens at 8 a.m. in Tsumago, 9 a.m. in Magome) and you must collect your luggage from 1 p.m. (Office closes at 5pm). This service costs 1,000 yen per bag.
---
WHERE TO STAY IN TSUMAGO AND MAGOME?
if you decide to spend the night in Tsumago and Magome (which we highly recommend), then you can choose amongst a few traditional Japanese Hotel (Ryokan).
Staying in Tsumago
There aren't many places to stay in Tsumago, however we recommend the lovely Fujioto inn. You will be staying in a traditional inn, feeling like a samurai hundreds of years ago (location)
Staying in Magome
Magome Chaya offer comfortable rooms in a traditional Ryokan. From the guest house you will have a fantastic view of the surrounding mountains. The Ryokan serves breakfast and dinner. The owners are also very friendly! BOOK HERE
---
Final impressions – Is Magome-Tsumago hike worth it?
Waterfalls, bamboo forest, cypresses, teahouse, traditional villages with cobblestones streets, old roads from the Samourai etc. The Nakasendo way is fascinating!
The hike between Magome and Tsumago is one of the most scenic hikes in Japan.
You will be transported back to the beautiful Edo period. So in short, YES hiking between Magome and Tsumago is absolutely worth it!
We hope that you found this post useful to help you prepare for your trip to Japan. We wrote many other posts about Japan here.
---
Related posts
GUIDE FOR A VISIT TO NARAI-JUKU
GUIDE TO TSUMAGO ALONG NAKASENDO
VISIT MAGOME ALONG NAKASENDO WAY
15 BEST THINGS TO SEE IN HAKONE NEAR MT. FUJI
15 INCREDIBLE THINGS TO SEE AT LAKE KAWAGUCHI
OBUSE, A BEAUTIFUL TOWN IN JAPAN WORTH A VISIT
15 BEST THINGS TO SEE IN TAKAYAMA
10 BEST THINGS TO SEE IN MATSUMOTO
FULL GUIDE FOR VISITING HAKUBA IN JAPAN