WHAT ARE THE BEST THINGS TO DO IN HAKONE? WHERE TO STAY IN HAKONE? WHEN IS THE BEST SEASON TO VISIT HAKONE? FROM WHERE CAN I SEE THE MOUNT FUJI IN HAKONE?
This is our ultimate guide about Hakone in Japan. One of the best places to see Mount Fuji, and easily accessible from Tokyo.
Hakone is one of the best places to visit in Japan. It's a region with significant geothermal activity. There are therefore many onsen (Japanese hot springs). Around Lake Ashinoko, you can also visit the famous and stunning Hakone Shrine, the Hakone Checkpoint and admire Mount Fuji of course!
A visit to Hakone is a must if your are in visiting in Japan. For people living in Tokyo, Hakone is also one of the best day trips or weekend trips from the capital
As for us, we spent 2 full days exploring Hakone. AND IT WAS STUNNING!
We recommend visiting Hakone during autumn to see the wonderful foliage colors or in spring for the beautiful flowers all around the region. Also, during these 2 seasons you will have more chances to see Mount Fuji, which is often clouded otherwise.
Here is a glimpse of what Hakone looks like:
---
1. Start your visit with Owakudani, to feel the volcanic activities around Hakone and to see Mount Fuji
During a visit of Hakone, a trip to Owakudani is a must! This is one of the best things to do in Hakone.
Owakudani is a volcano formed approximately 3,000 years ago. At the top you can see the crater with lots of volcanic activities with sulfur gas spreading in the area! So much so that people with respiratory problems or heart problems should be careful when visiting. There are many signs warning people around Owakudani.
Eat a black egg
One of the most famous things to do in Owakudani is to eat a black egg which is said to extend your life by seven years if you eat one.
The eggs are boiled directly from the hot spring which turned the shells in a completely black color! There are a few shops selling bags of 5 eggs. Give it a try, it's actually pretty good.
Enjoy the view of Mount Fuji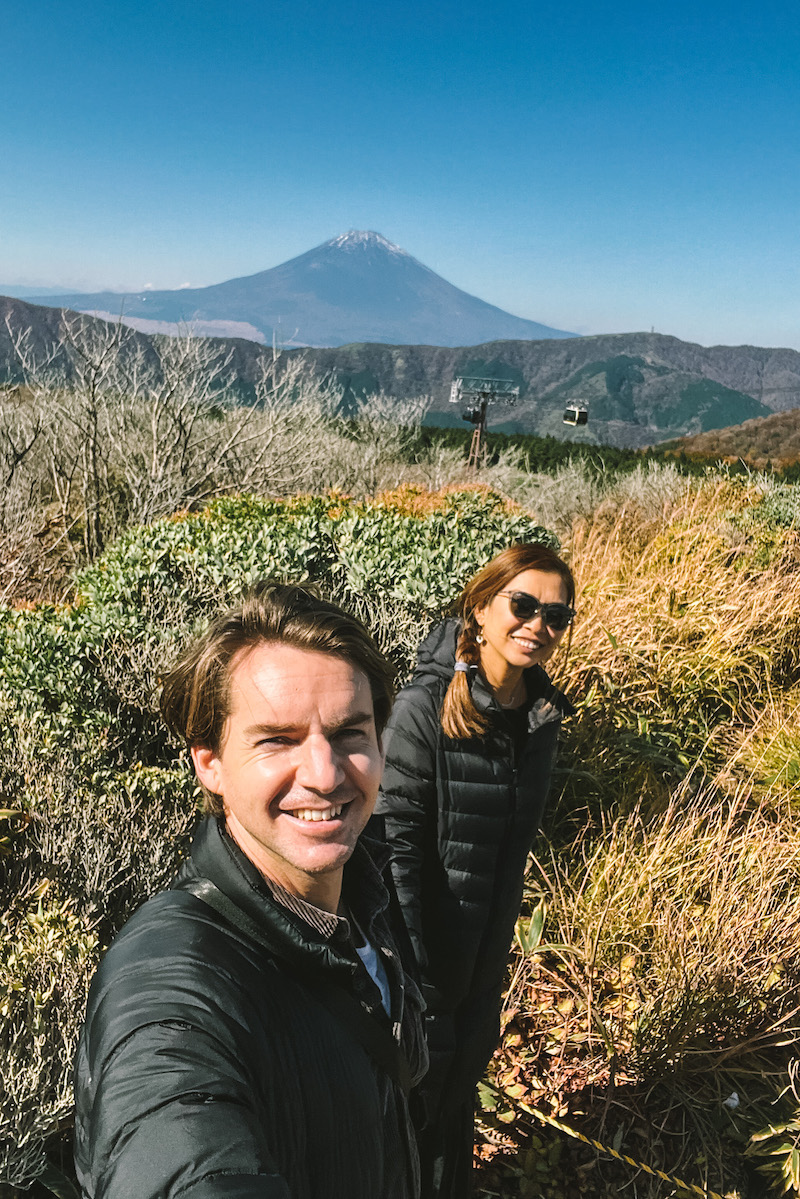 From the top of Owakudani you can enjoy one of the best view of Mount Fuji! On a clear day it's absolutely stunning. It was the first time we saw Mount Fuji from up close. It was quite emotional! This was on our bucket list for a long time. And here it was, majestic, impressive, and with a beautiful snow cap.
How to get to Owakudani?
We want to warn you, that although it is possible to get there by car, the traffic to park the car is absolutely terrible! There isn't enough parking spaces, especially during weekends, which create a massive jam! Driving to Owakudani seems to be the most convenient option, but it is not!
TAKE THE CABLE CAR TO REACH OWAKUDANI:
There are 2 options for accessing Owakudani by cable car. You can either board the cable from Togendai Station (here), right by the lake (THIS IS THE BEST OPTION IN OUR OPINION). Or you can take the ropeway from Gora Station (here) on the other side of the mountain. At mid-point at Sōunzan Station, you will need to change from the ropeway to the cable car.
By taking the cable car at Togendai Station you will have an amazing view of Mount Fuji. Besides the station is right by Lake Ashi which is another best things to see in Hakone.
BUY THE HAKONE PASS to save a lot of money during your trip to Hakone. The Hakone pass includes the cable car ride to Owakudani, Hakone Sightseeing Cruise pirate ship, and discount at more than 70 other shops and attractions. You can a 2 or 3 day pass at discounted price here.
Owakudani information center: website
---
2. Next, go on a boat trip on Lake Ashi one of the best things to do in Hakone
Lake Ashi is one of the best things to see in Hakone!
From Togendai Station (more precisely here), you can directly board a pirate ship which will bring you around the lake. On a clear day, you will have an amazing view of Mount Fuji!
You can also observe the famous Hakone Shrine and it's red Torii gate built in the water (called Heiwa no Tori, location).
Now, let's talk about the Pirate ship. Not sure who had the idea of bringing a pirate boat on lake Ashi as it doesn't fit in the surroundings and Japanese traditions. But this is what Japan is all about sometimes. Something we may never understand… Nevertheless the ship is really comfortable with lots of activities inside!
Besides, it's inlcuded in THE HAKONE PASS, so enjoy the tour!
It's good to combine your visit of Owakudani with a tour on Ashi Lake.
---
3. Hakone Mototsumiya Shrine, another beautiful things to see in Hakone
Hakone Mototsumiya Shrine is located on top of Komagatake peak!
At the summit of Komagatake you can enjoy another amazing view of the mighty Mount Fuji!
Another great feature of Komagatake peak is that you can visit the beautiful Mototsumiya Shrine located at 1,356m above sea level! At the summit of Hakone Motomiya, there is also a stone called Umagori-ishi, which is said to be the rock where the god descended on a white horse.
Lastly, there are lots of great hiking trails starting at the top of the mountain, with many observatories.
How to get to the summit of Komagatake?
To get to the top, you will need to take another ropeway, the Hakone Ropeway. The station is located by Lake Ashi, about 12min drive from Togendai station, or 20min by bus.
The ropeway is also included in THE HAKONE PASS.
Note: if you only visit Hakone for a day, then you can skip that park, as there are a lot of other things to cover in the area 😉
Location: here
Information center: website
---
4. Visit Hakone Shrine, one of the main highlights in Hakone!
"Hakone Shrine" is one of the best photo spots in Hakone thanks to the "Heiwa no Torii" a huge Torii Gate build on the lake. However, beware that there is a long queue to take a photo. Indeed, this photo spot is very famous on social media! (see this post for instance).
Besides the red Torii Gate, you can visit the wonderful temple nestled in the beautiful forest by Lake Ashi!
Hakone Shrine was founded in the early days of the Nara period (757). In the olden days, it prospered as a shrine highly revered by samurai families.
We loved our visit of Hakone Shrine. This is by far one of the best things to see in Hakone!
How to get to Hakone Shrine?
From Togendai station you can take the bus. By car, you can easily reach Hakone Shrine, there is a large parking at the entrance.
---
5. Visit Hakone Sekisho checkpoint for an immersion in the Edo Period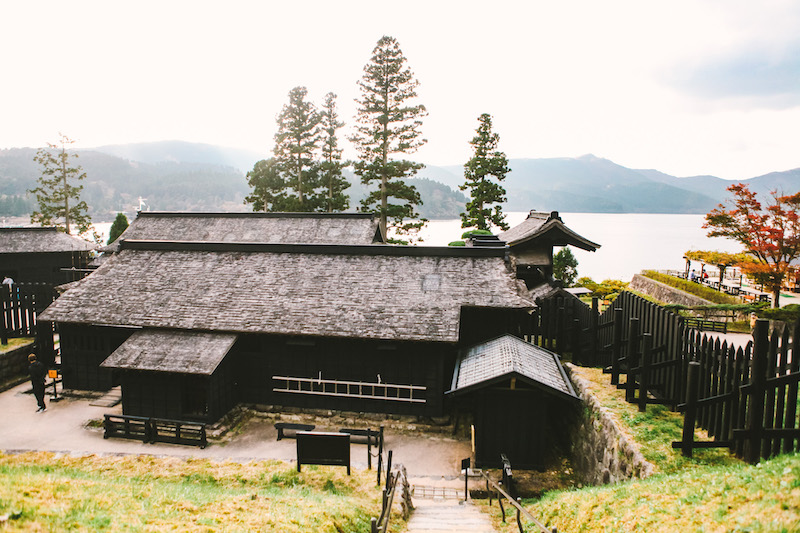 Still by Lake Ashi, continue your visit with the Hakone checkpoint.
The Hakone Checkoint is an important historical site in Japan. It is located in the old Tokaido Road which connected Tokyo to Kyoto during the Edo period (1603-1868).
There were then five main axes through the whole of Japan, but the Tokaido is considered the most important. It was dotted with 53 checkpoints intended (among other things) to control travelers and merchants. Their objective: to prevent the introduction of weapons or prohibited goods into the capital.
Hakone Sekisho, is the reconstruction of Hakone-juku. This is checkpoint No. 10, originally built in 1619. Located at an altitude of 725m, this checkpoint was once the highest of all Tokaido checkpoints.
The visit is not very long, but really interesting. There are some beautiful viewpoints around the checkpoint! Worth a visit if your are in Hakone.
Location: here
Website: here
OUR RECOMMENDATION: The Hakone Sekisho is not far from a little town by the lake. If you are there during lunch, there are many great japanese and western restaurants by the lake. It's also a nice place for a dessert or tea time! If you fancy italian food, we recommend La Terrazza.
---
6. Before sunset go for a walk at Sengokuhara Susuki Grass Fields
We discovered this place randomly as it was located near our hotel. After seeing lots of people around this area when driving pass we decided to make a stop. We then understood why it was such a popular places. This place is magnificent!
This is THE best photo place of Hakone. Especially in Autumn, right before sunset. This trail is full of silver grass!
The golden color of Mt. Daigatake and the silver grass relfecting the sun has been selected as one of the 50 scenic spots in Kanagawa prefecture (where Hakone is located)!
Check out a few of our shots above!
Location: here
---
7. Visit Hiryu Falls, one of the best natural sites in Hakone
Hiryu Waterfalls are one of Hakone's best things to see. It also Kanagawa's largest waterfall.
Hiryu Falls is located in the middle of the Hiryu Falls Nature Sightseeing Trail, and is a dynamic waterfall that is divided into two stages, the upper level is 15m and the lower level is 25m. The unique flow of water is said to resemble a flying dragon.
Apparently the waterfall has great healing effect due to its negative ions…
Location: here
---
8. Visit Hakone Open Air Museum, one of our favorite museums in Japan!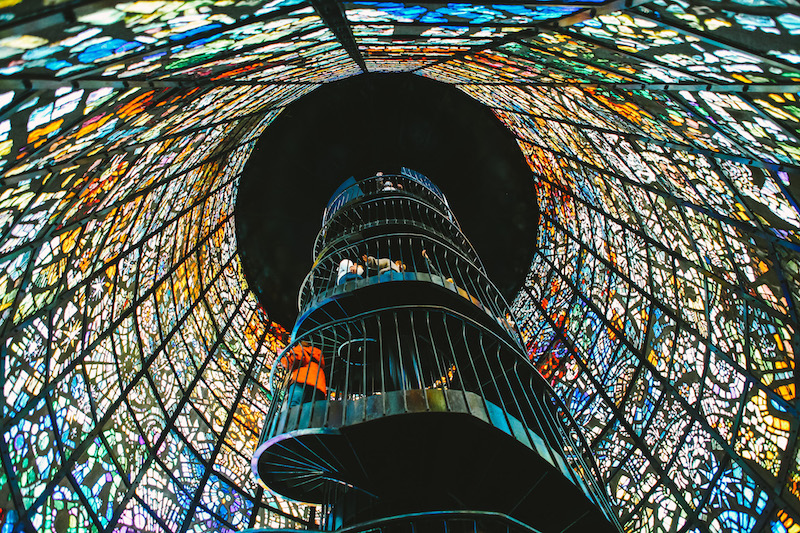 The Hakone Open Air Museum opened its doors in 1969 and houses in its park and its various pavilions more than 700 sculptures by contemporary artists!
It includes art pieces from Klein, Henry Moore, Niky de Saint Phalle and many others. The Picasso pavilion brings together some 200 pieces by the artist.
Our favorite part of the museum is the Symphonic Sculpture. A Tower with a fantastic spiral staircase and colourful glass! (See photo above)
The museum is fully outdoor. On a sunny day, this is one of the best things to see in Hakone!
Location: here
Website: here
BOOK: Ticket for the Hakone Open Air Museum
---
9. Another great museum in Hakone is the Pola Museum of Art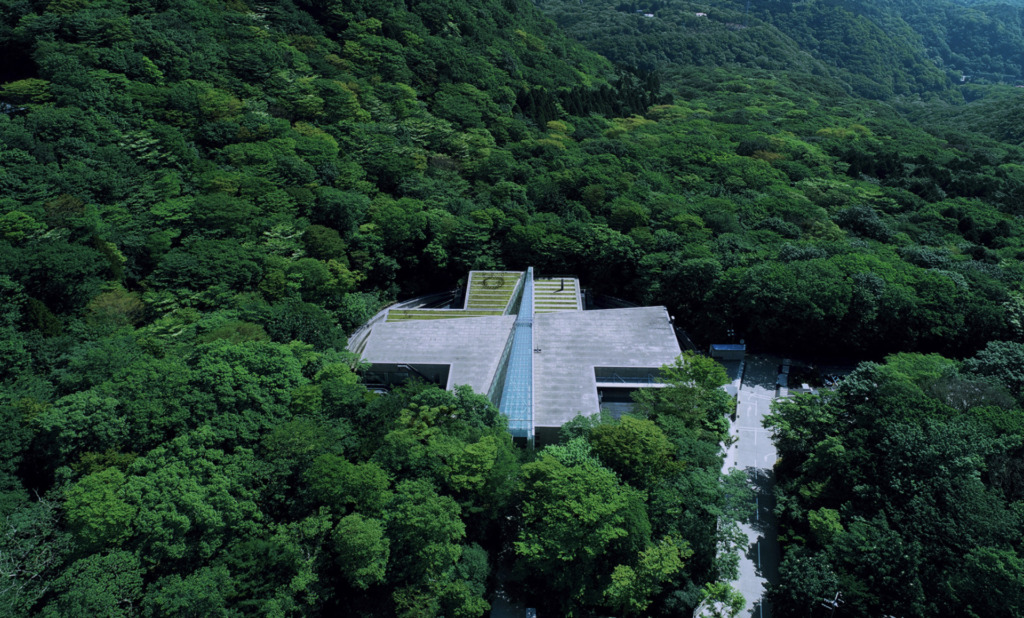 Pola Museum of Art boasts Japan's largest collection of Impressionist paintings.
The Museum opened in 2002. It houses about 10,000 works, mainly Western paintings such as Impressionists. This is a valuable facility where you can see the works of impressionist painters such as Monet, Renoir, and Cézanne in one place.
Since the museum is located in Fuji-Hakone-Izu National Park, we also recommend taking a walk on the promenade where you can see beautiful beech trees and Himeshara trees.
Location: here
Website: here
---
10. Have fun at Hakone Kowakien Yunessun amusement park, the perfect activity for kids in Hakone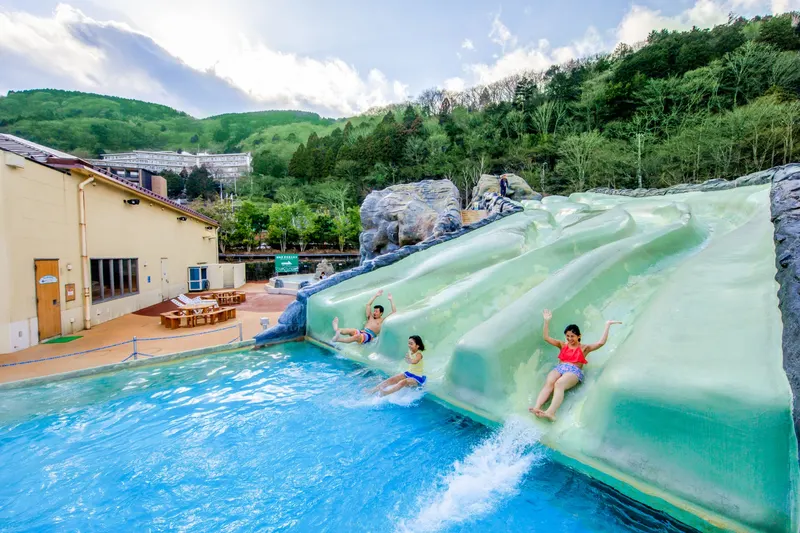 Hakone Kowakien Yunessun is the best amusement park in Hakone.
In addition to full-fledged open-air hot spring baths, there are also unusual pools and baths such as Rodeo Mountain, cave baths, dragon waterside, doctor fish footbaths, wine baths, and authentic coffee baths.
You can also use the popular sauna with your swimsuit on.
This is one of the best things to do as a family in Hakone.
BOOKING IN ADVANCE IS A MUST: BUY YOUR TICKET HERE
---
11. Relax at a beautiful onsen in Hakone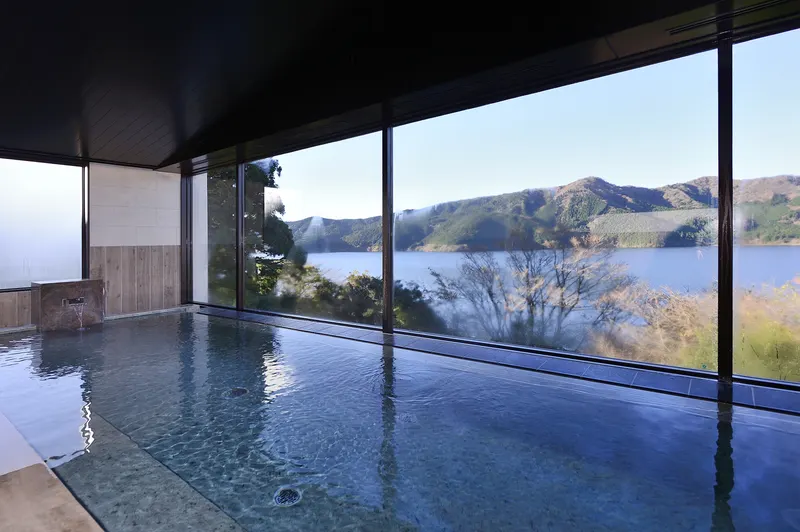 Due to lots of volcanic activities around Hakone, there are many onsen establishments.
Enjoying an onsen, is one of the best experience in Japan!
We recommend the following 3 onsen places in Hakone:
Ryuguden Honkan: For us this is THE most stunning onsen places we visited in Japan! The view of lake while taking the onsen is absolutely stunning (see photo above). This place is located right by Lake Ashi, and it's easily accessible by car or public transport. BOOK HERE FOR THE BEST PRICE.
Hakone Yuryo Onsen is another wonderful onsen establishment! Here you will be surrounded by nature and peace. The perfect place to unwind and enjoy life for a while.
BOOK HERE FOR HAKONE YURYO ONSEN
---
12. Stay in a Ryokan, a traditional Japanese inn
Experience a stay in a Ryokan is a must in Japan. In Hakone you will find many beautiful Ryokan.
Here are our recommendations:
MIKAWAYA RYOKAN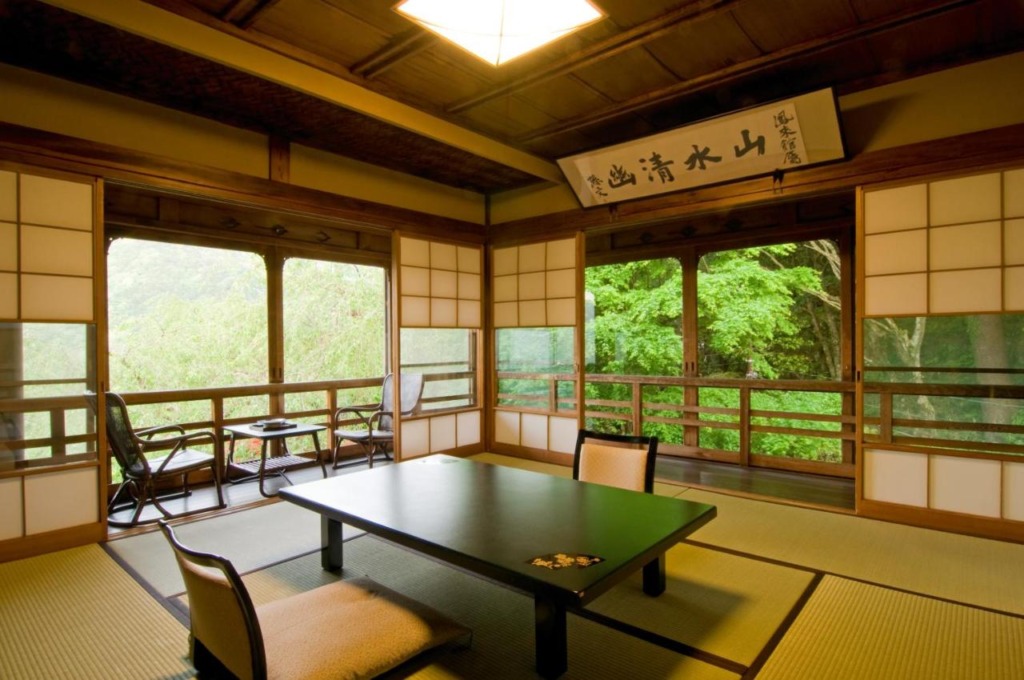 If you want to feel like an emperor for a night, then stay at MIKAWAYA RYOKAN. This traditional hotels is set in a beautiful environment surrounded by nature. Here you can enjoy your private onsen! We love this place. CHECK THE AVAILABILITY!
---
GORA KANSUIRO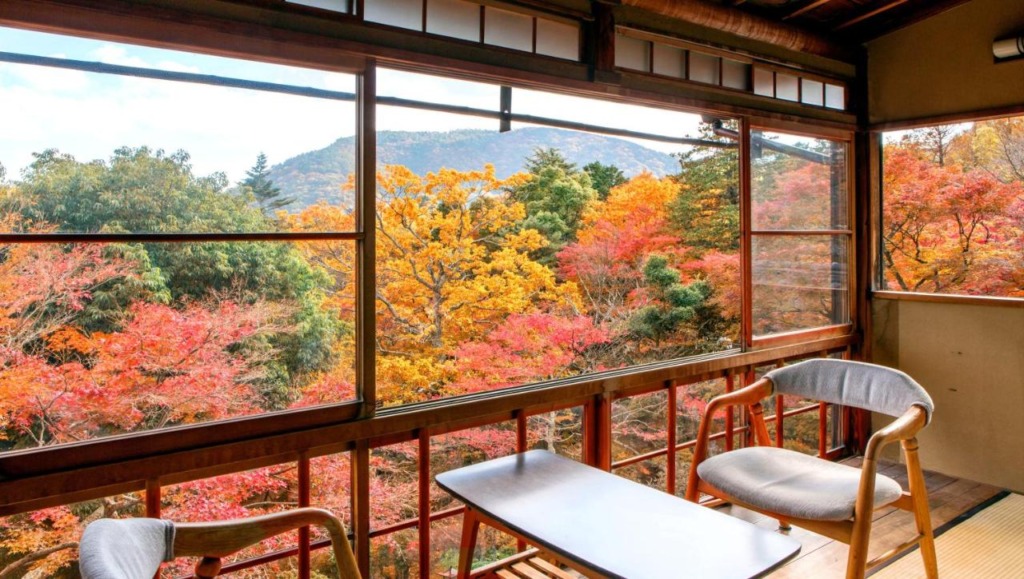 GORA KANSUIRO is another stunning Ryokan in Hakone. This hotel clearly has lots of history. Although a bit older, this is an exceptional place to experience the Japanese Culture! BOOK HERE
---
HAKONE YUYADO ZEN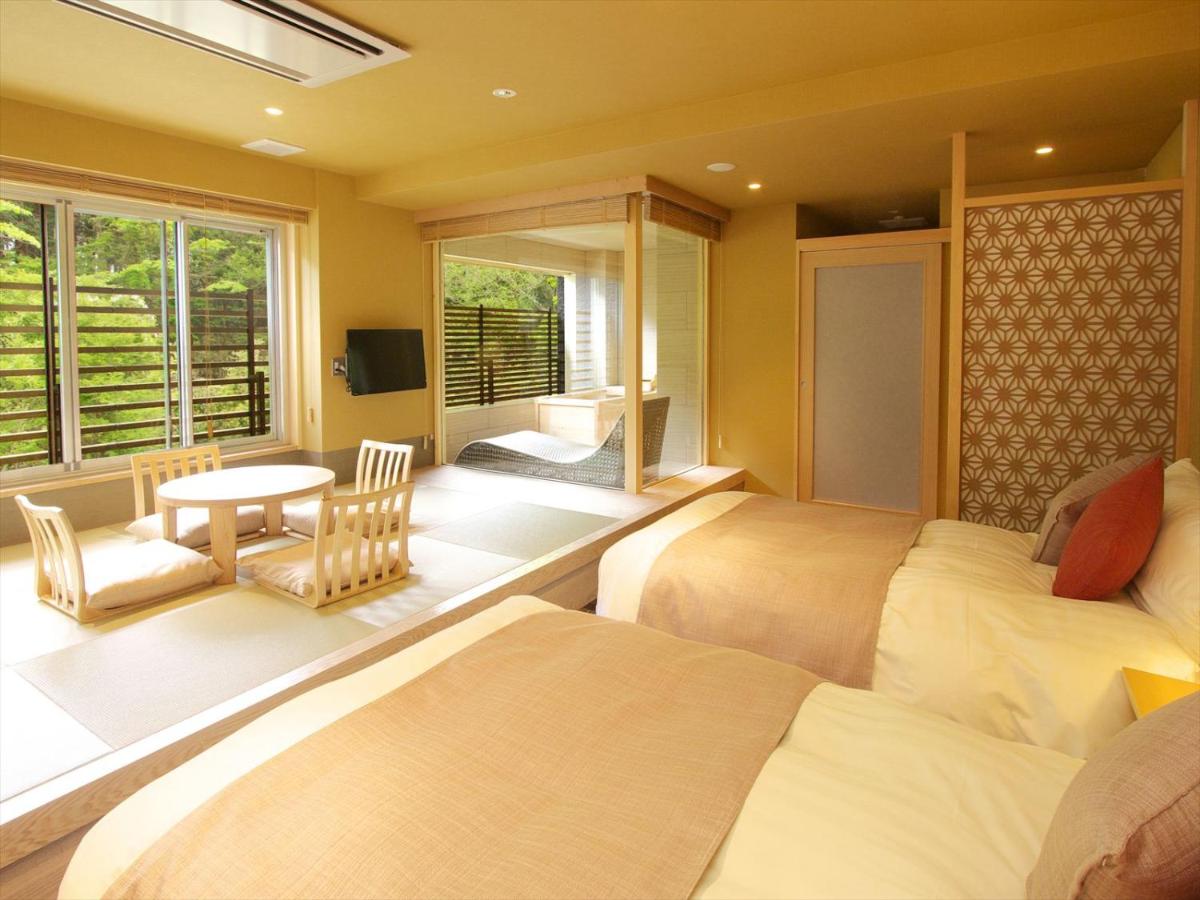 We kept the best for last! While most Ryokans in Japan are much more traditional and slightly older, HAKONE YUYADO ZEN is much newer, and with that much more comfortable.
Sleeping on tatami sounds fun at first, but to be honest it's a tiny bit uncomfortable. At Hakone Yuyado Zen, you can sleep on proper beds. And still, you can sense that the place is made with the Japanese aesthetic you would come to expect from a Ryokan! BOOK THIS PLACE NOW IF IT'S STILL AVAILABLE!
---
13. Visit the beautiful Little Prince Museum in Hakone
Who isn't a fan of the The Little Prince by Saint-Exupéry...
In Hakone, there is an entire place dedicated to this wonderful fairy tale!
In fact, The Little Prince Museum in Hakone is the only museum in the world built to commemorate the 100th anniversary of Saint-Exupéry's birthday.
While tracing the life of the writer and aviator Saint-Exupéry, you can experience the fairy tale "The Little Prince" from the exhibition hall, the European garden, and the streets of France.
The castle and church of Saint-Maurice de Lémance, where Saint-Exupéry spent his childhood, have also been recreated, and from early November to early January, you can enjoy a Christmas tree with a height of 7 meters with plenty of illuminations.
This is a great visit for the whole family!
Location: here
Website: here
---
14. Enjoy a visit at the beautiful Hakone Venetian Glass Museum, one of the most romantic places in Hakone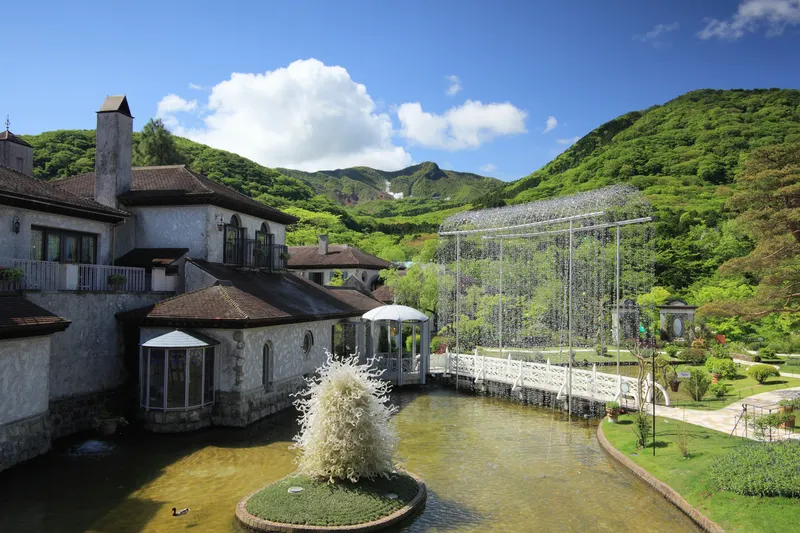 The Hakone Venetian Glass Museum is Japan's first museum specialising in Venetian glass.
The Venetian glass exhibits is stunning! In the garden overlooking Owakudani, a beautiful crystal glass arch called the Corridor of Light is really a must-see. During the Christmas season, crystal illuminations appear in the garden, adding to the romantic atmosphere, making this a must-see spot for couples in Hakone.
Location: here
Website: here
---
15. Enjoy the serene environment at Hakone Wetlands Botanical Garden
Hakone Wetland Flower Garden, a botanical garden where wetland plants and alpine plants bloom seasonally.
At the Hakone Wetland Botanical Garden you can observe seasonal flowers such as marsh plants and alpine plants. About 200 kinds of plants from wetlands all over Japan and about 1,700 kinds of rare foreign mountain grasses are collected. This is pretty amazing!
Here you can enjoy a nice walk through the gorgeous wetland garden.
Location: here
Website: here
---
How to get to Hakone?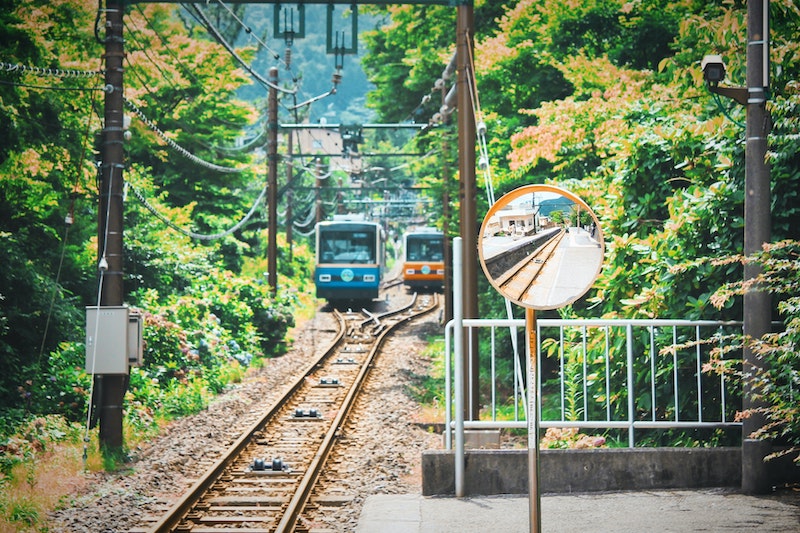 Reach Hakone by train
From Tokyo station take the Tokaido-Sanyo Shinkansen to Odawara. From Odawara you will need to take a bus or the local train to reach Hakone. The journey takes a bit more than 1.5h.
Traveling by train through Japan is one of the most convenient mean of transportation. It's always on time, it's comfortable and the railway network is vast. However, it can be very expensive unless you purchase the JR Pass. This pass will allow you to travel through Japan and taking the train unlimited! You can purchase your pass at a discounted price here.
Getting to Hakone by car
If you have a car, or decided to rent a car during your visit of Japan, then you can easily get to Hakone. The journey from Tokyo takes about 1h45min (depending on traffic).
What many people visiting Hakone do, is that they take the train to Odawara, and from there rent a car to travel through Hakone. Having a car in Hakone is definitely more convenient. We highly recommend Nippon-Rent-A-Car in Japan. We always use them, their service is top notch!
---
How to get around in Hakone?
Unless you have a car, you must take public transport to visit Hakone in Japan.
The bus network is well organized and will allow you to see the main points of interest.
To complete the bus network, boats make the connection from one end of Lake Ashi to the other and cable cars and funiculars form a loop making the complete tour of the region.
Having internet and google map is very handy! We recommend buying an eSim Card online here or direclty when you arrive at the airport (it would be more expensive though). There are also possibility of renting a pocket wifi on arrival at the airport for the duration of the trip (see here).
BUY THE HAKONE PASS to save a lot of money during your trip to Hakone. The Hakone pass includes the cable car ride to Owakudani, Hakone Sightseeing Cruise pirate ship, buses around Hakone, and discount at more than 70 other shops and attractions. You can a 2 or 3 day pass at discounted price here.
---
How many days to visit Hakone?
We recommend 2 full days to cover the best things to see in Hakone! You can visit Hakone during a day trip, which is very common from Tokyo, however, you will have to skip a few things!
For a day trip, we recommend to join a tour group! Unless you have car, you will need quite some times to go from 1 place to another during your visit of Hakone. You can book day trip tour from Tokyo here, at very affordable price!
---
Best time to visit Hakone?
One of the main point for a visit of Hakone is to see Mount Fuji. Now, beware that Mount Fuji is very often covered by a thick cloud… sadly.
However, you will have more chances to see Mt. Fuji in Winter or in the colder days of Autumn and Spring. But you can also have beautiful clear days in summer. It's just that the humidity will be higher and the chances of being cloudy higher too.
We visited Hakone during 2 fulls days in autumn, we we had a breathtaking view of Mount Fuji, without a single clouds. We were probably really lucky as so many people warned us before that it is so often cloudy around Mount Fuji.
---
Other things to see near Hakone?
ODAWARA CASTLE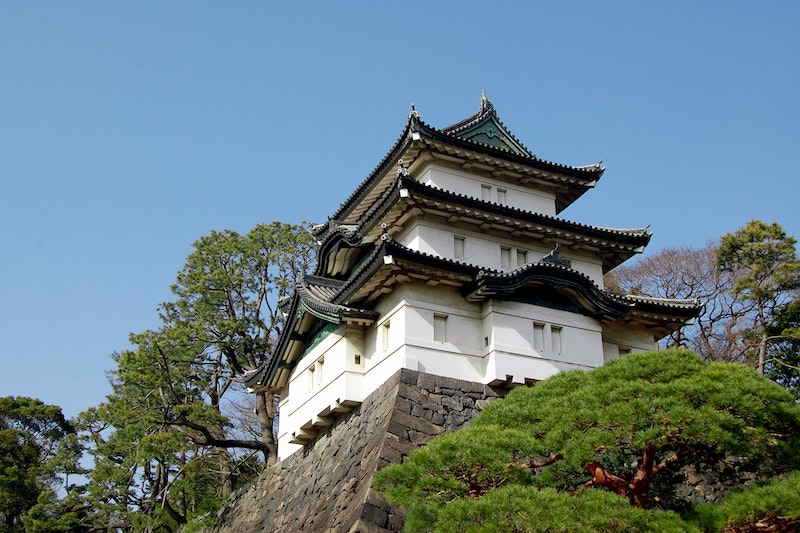 Odawara Castle is located near Odawara train station. You could easily make a stop to the castle if you take the Shinkansen from Tokyo.
The castle stands like a real jewel in the region. Its vast park with amazing flowers and trees, some of which are classified trees, makes a visit of the castle really pleasant!
BOOK A GUIDED TOUR OF THE CASTLE HERE
---
LAKE YAMANAKA FOR ANOTHER AMAZING VIEWPOINTS OF MT. FUJI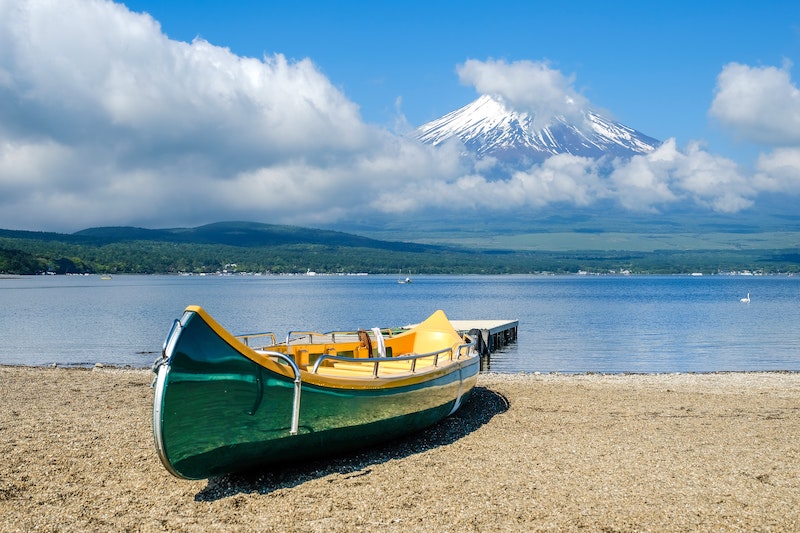 Lake Yamanaka is one of our favorite places to admire Mount Fuji.
This is another excellent day trip from Tokyo as it's only located 1 hour from the capital. At Lake Yamanaka, besides the amazing view of Mount Fuji, you can do plenty of outdoor activities. Hike, Canoe, Cycling etc. It's also a great spot for camping.
From Hakone, it takes about 1h to drive to Yamanaka. By public transportations it's a tiny bit more complicated, as it takes about 3h. You will then to change bus twice.
READ: 10 BEST THINGS TO SEE IN LAKE YAMANAKA
---
Related posts
VISIT LAKE YAMANAKA NEAR MT. FUJI: here
15 INCREDIBLE THINGS TO SEE AT LAKE KAWAGUCHI: here
10 BEST PLACES TO SEE MOUNT FUJI: here
10 BEST THINGS TO SEE IN MATSUMOTO: here
20 BEST THINGS TO VISIT IN HOKKAIDO: here
10 BEST DAY TRIPS FROM TOKYO: here
30 AWESOME THINGS TO DO IN SAPPORO: here
10 BEST THINGS TO SEE IN MONZEN-NAKACHO IN TOKYO: here
EXPLORE KAGURAZAKA, THE LITTLE PARIS OF TOKYO: here
BEST THINGS TO SEE IN KYOTO: here
OBUSE, A BEAUTIFUL TOWN IN JAPAN WORTH A VISIT: here
FULL GUIDE FOR VISITING HAKUBA IN JAPAN: here
12 AWESOME THINGS TO SEE IN LAKE TOYA, HOKKAIDO: here